Nantucket Summer Happy Stripes Quilt
Today I'm sharing the Nantucket Summer Happy Stripes quilt. This is the final Happy Stripes sample quilt to share! Happy Stripes is the newest quilt pattern in the Quilty Love stash buster series. It's fast, it's fun and it's easy!
This Nantucket Summer Happy Stripes quilt was the very first test quilt with this new quilt pattern. I started out by just cutting and sewing without a clear plan. So in the end I ended up ripping and re-sewing a lot of this quilt because I really wanted to be able to show it since these fabrics are so pretty.
The Happy Stripes quilt pattern is in the Quilty Love pattern shop. You can find all of the stash buster quilt patterns here.
Happy Stripes quilt pattern
Happy Stripes is a fun and fast stash buster quilt pattern. It goes together quickly in an afternoon or two using strip piecing methods. Happy Stripes includes tons of quilt sizes and you can use quite a few stash friendly pre-cuts.
Happy Stripes is the next in the Quilty Love Stash Buster Series. If you need some help sewing through your stash or you are looking for quilt patterns that are super stash friendly be sure to check them all out here.
Nantucket Summer fabric by Camille Roskelley
Nantucket Summer is Camille's first fabric line on her own. Bonnie has retired from Bonnie and Camille so Camille is now designing on her own. I have always loved their fabrics and they were some of my first favorites when I started quilting.
Nantucket Summer is a completely new color way and so pretty in these navy's, blues and greens.
This fabric line worked so well for Happy Stripes because I was able to pull out all of the navy prints as the accent leaving everything else as the "stripes". Nantucket Summer has a lot of lighter low volume prints which work perfectly in this quilt pattern.
This Nantucket Summer Happy Stripes quilt is the small throw size.
I used a fat eighth bundle of Nantucket Summer. Fat Eighths will work for Happy Stripes but result in a little more wasted fabric. I don't include them in the material requirements but they would be about double the fat quarter requirement if you want to use them.
Stash Buster quilt pattern
Happy Stripes is a fast and fun stash buster quilt pattern. It's written with your fabric stash in mind! The goal behind all of the stash buster quilt patterns is that you can pull some fabrics from your stash and start sewing. Use Fat quarters, layer cake squares, jelly roll strips or your scrap stash.
Jelly Roll and Layer Cake quilt pattern!
Happy Stripes is a jelly roll friendly and layer cake friendly quilt pattern! I love when these two precuts work out for a quilt pattern. Both jelly roll strips and layer cake squares are fun pre-cuts to collect since you get a little piece of each fabric in a fabric line.
Scrap Stash Friendly quilt pattern
Happy Stripes is also a scrap stash friendly quilt pattern. I've really enjoyed making scrap stash quilts lately so I try to make them work out for these stash buster quilt patterns. Happy Stripes is perfect for your scrap stash. I hope to make a rainbow scrap stash version myself soon!
Here are two scrappy Happy Stripes options below. Try a monochromatic version or a rainbow version 🙂
Pre-made bias binding by Moda
I used these pre-made bias bindings by Moda for the first time recently. I was really excited to see that they were making rolls of pre-made binding. These have probably been available for a while but I just recently found them.
I was excited to try them out since you can buy them by the roll like this and have pre-made bindings on hand. I believe they are made with the Bella Solids so the quality is good. However, the seam quality wasn't the best. Some of the seams were not stitched very well. I'm not sure if I will buy them again but I do love this idea of having binding in bulk on hand.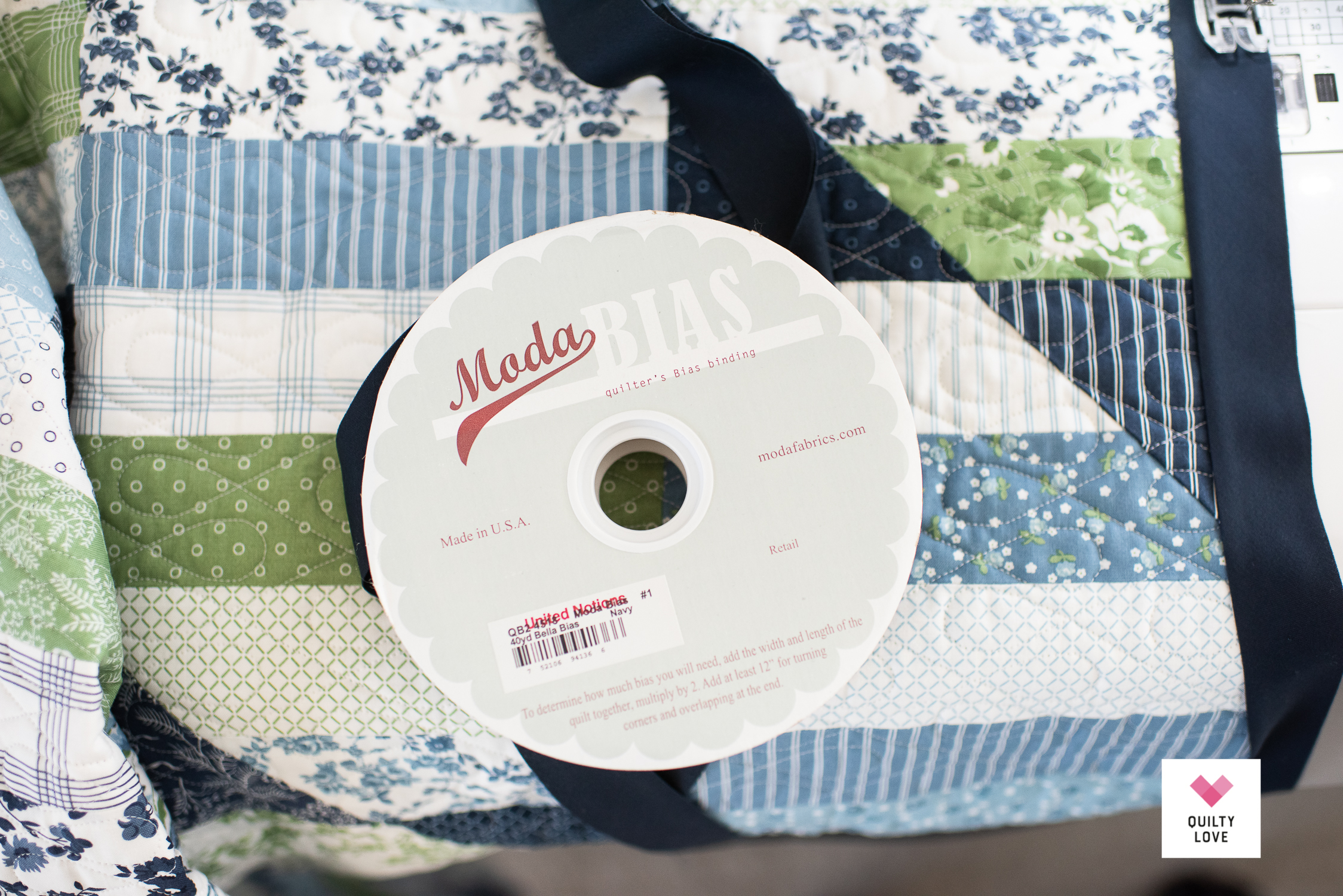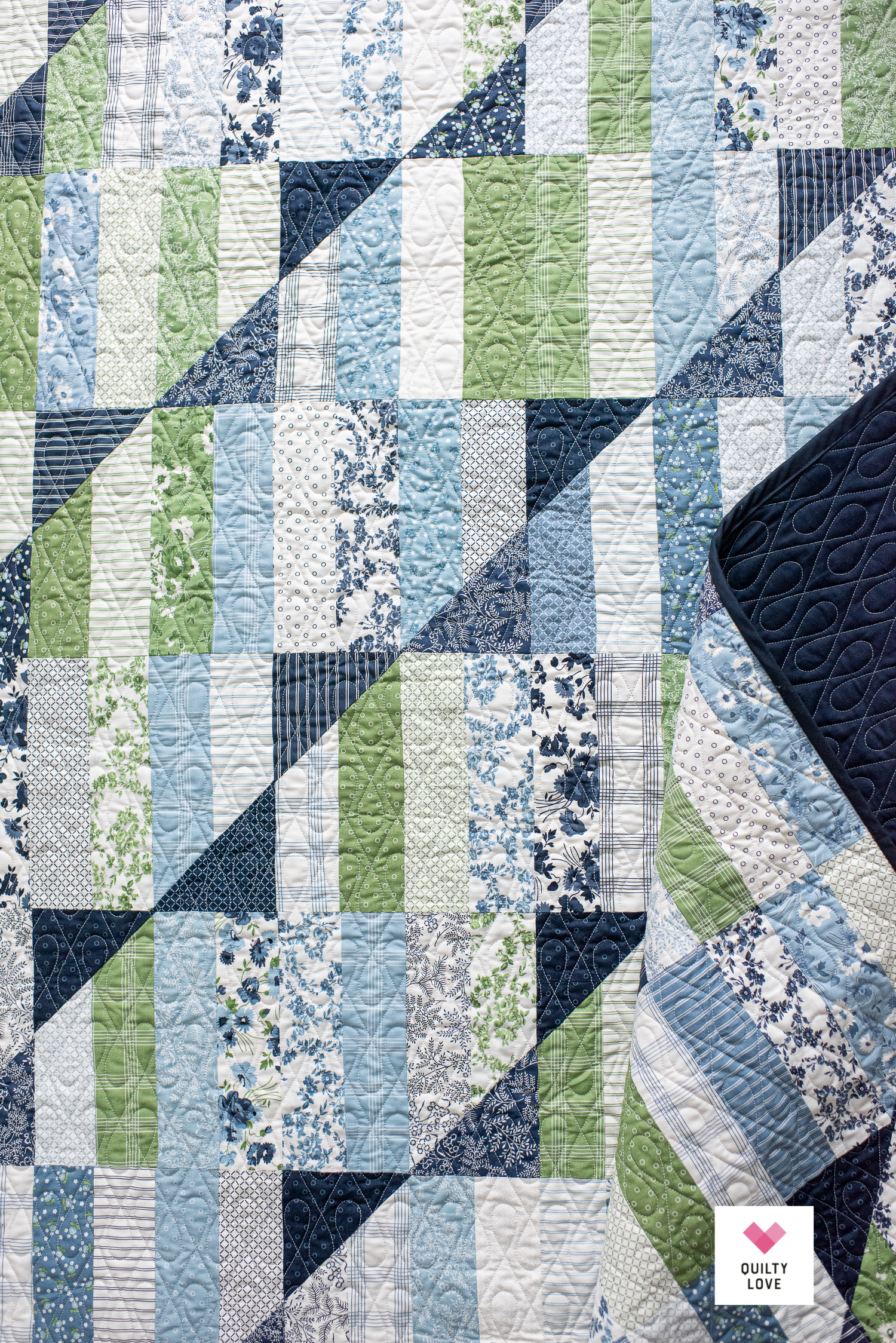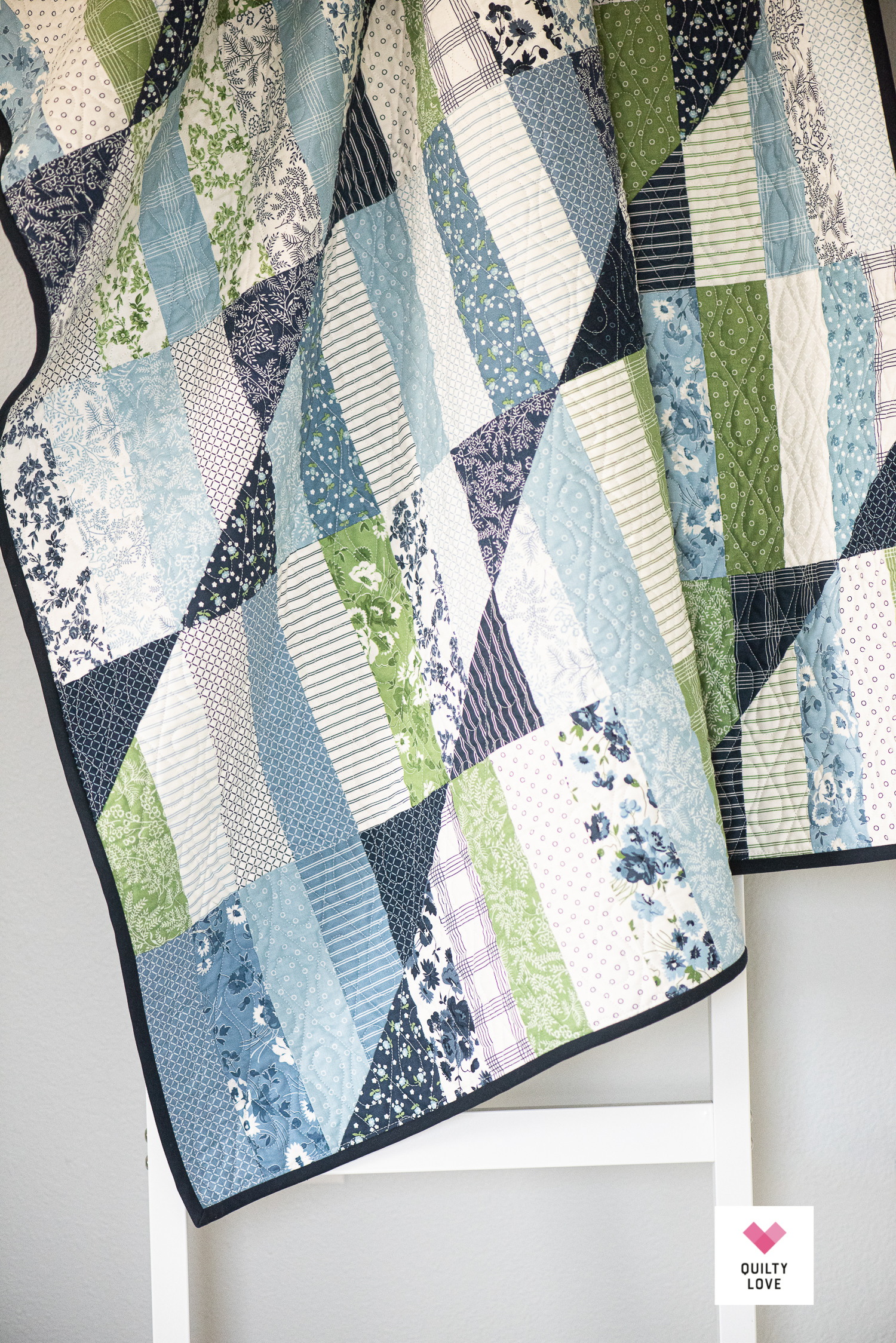 Nantucket Summer Happy Stripes Long Arm Quilting
I sent this Nantucket Summer Happy Stripes quilt off to Modern Textiles for quilting. I chose this simple Wishbone pantograph for this scrappy busy quilt. Wishbone is a really good simple option that works well on so many quilts.
Bella solid Wide Back
This fun and scrappy quilt is finished off with a Bella Solids Wideback. Check out The Wide Back Shop for some wide options for your next quilt backing. I love using wide back fabric as a quilt backing and use them when ever possible.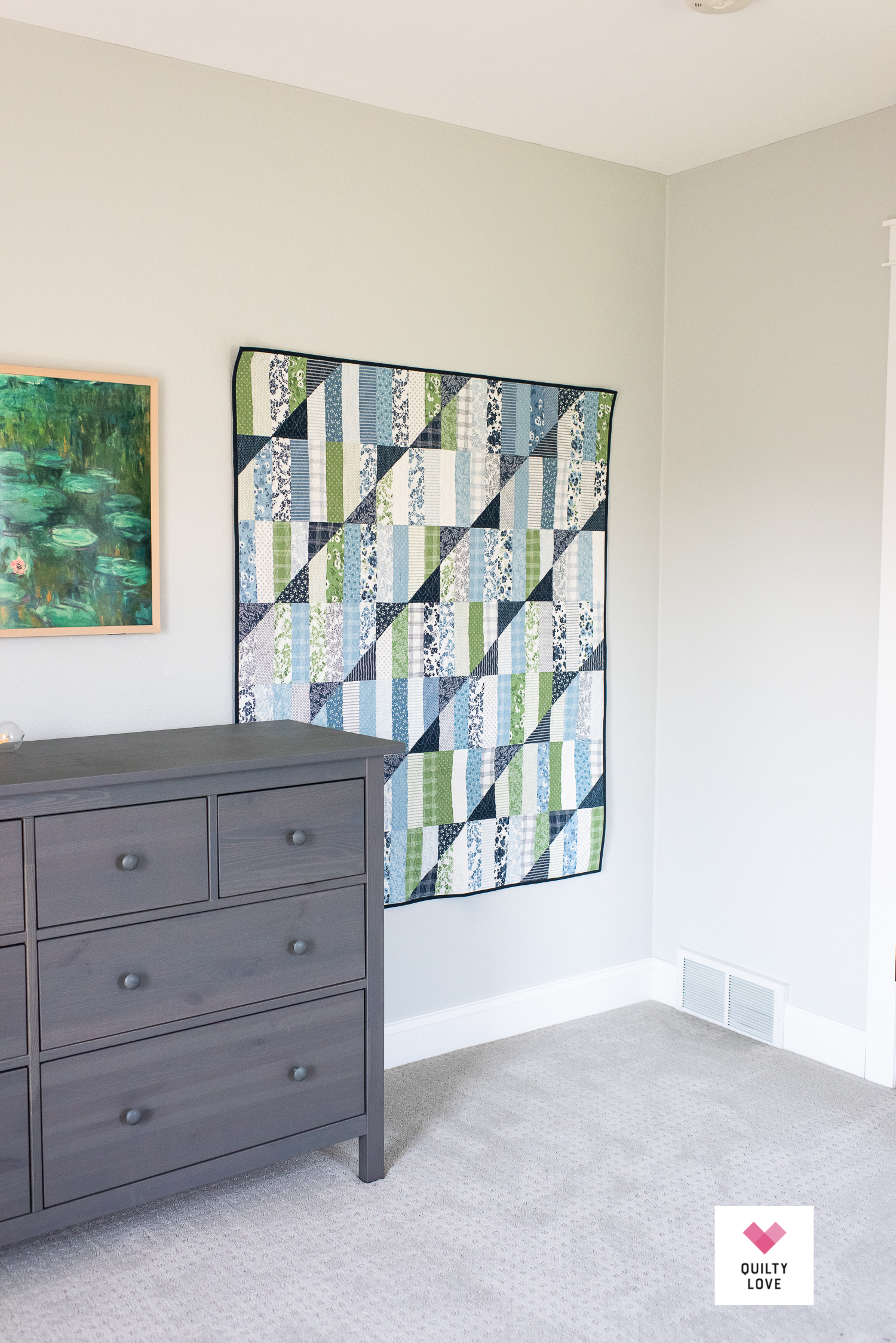 Nantucket Summer Happy Stripes quilt materials Used
Quilt Pattern: Happy Stripes quilt pattern by Quilty Love
Fabrics: Nantucket Summer by Camille Roskelley for Moda Fabrics
Binding: Moda Pre-made Bias Binding
Backing: Moda Bella Solid Wideback
Long Arm Quilting: Modern Textiles