North Star Quilt Along
You all have been asking for the next quilt along so I'm happy to announce just that!  This time around we will be doing a North Star quilt along.  I polled the e-mail list and North Star was a clear winner.  🙂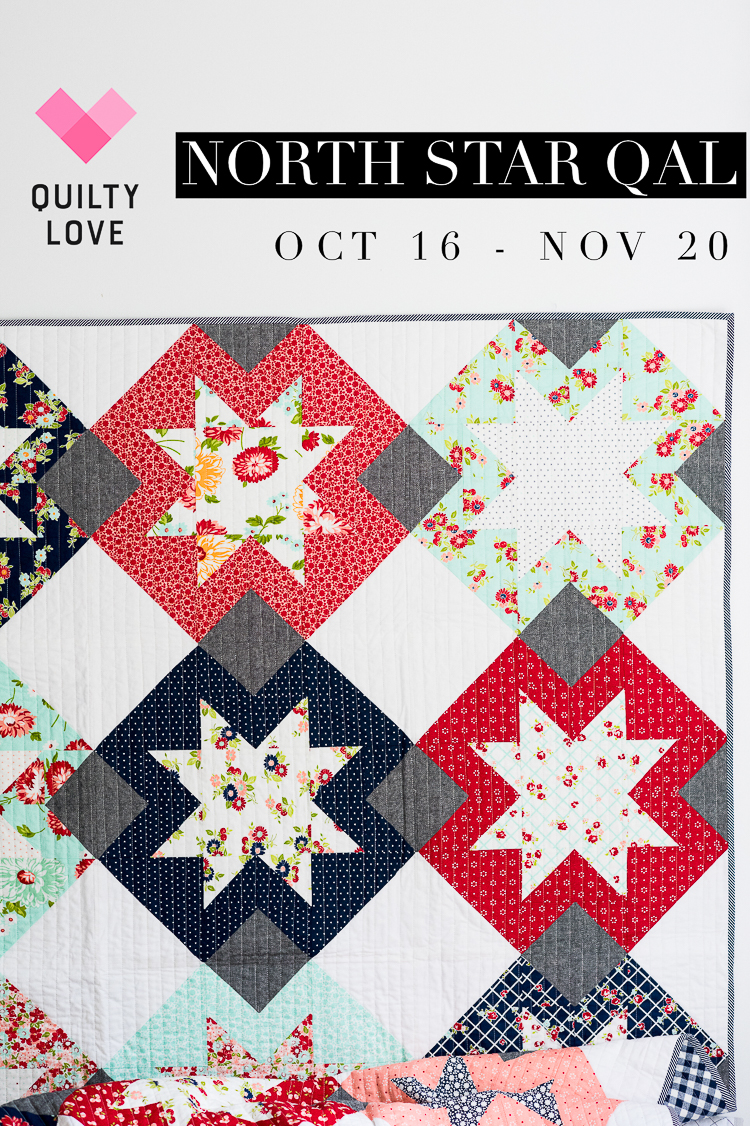 North Star is a good choice right now because it also makes for a really good Christmas quilt.  The timing of this quilt along makes a Christmas quilt a good option.
North Star Quilt Along
Dates:  October 16, 2018 – November 20th, 2018
Duration:  6 weeks
Quilt Size:  Large Throw – 72in x 72in  (But feel free to make any size!)
We will keep this one short and casual as I'm due for that baby shortly after it ends 😉  North Star can be tackled by all experience levels.  There are some points to match up that the beginner may find more challenging.  Some of the techniques are flying geese (making four at a time) and half square triangles.
Schedule:
Week One:  Gather fabrics, Make your first block or a test block
Week Two:  Make 3 or 4 blocks depending if you made one block in week one
Week Three:  Make 4 blocks
Week Four:  Make 4 blocks
Week Five:  Make 4 blocks
Week Six:  Sew together quilt tops.  Quilt or send out for quilting 🙂
How to follow along
Follow along on Instagram using the hashtag #northstarqal
Sign up to receive the weekly e-mails (or just RSVP above).
A new blog post will be up each Monday of the quilt along.
Supplies Needed
The North Star Quilt Pattern – PAPER or PDF
Fabric requirements:
Weekly Prizes
There will be some fun weekly prizes along the way for the participants who post to the hashtag on Instagram 🙂  Be sure to check out the sponsors below!
Bijou Lovely – Gift card to Holly's shop
Figo Fabrics– Figo sent all of their newest fabrics to give away!  Lots of good stuff each week 🙂
Canoe Ridge Creations – Free quilting for one lucky finisher!
Huckleberry Quilting Co – A bundle of Smitten fabric by Bonnie and Camille
Quilty Love – Patterns!
Hand Cut Fabric Co – A bundle of Front Yard fabric by Cotton and Steel
Sewcial Stitch – Kona FQB, Alphabities and Stash N Store
Knotted Thread – A gift card to Knotted thread
Put a Quilt on It – A barn quilt of your choice!
Lo & Behold Stitchery – A beautiful quilt pattern
Simply Macbeth Design Co – Premade bindings
The Wild Sweet Pea – A bundle of hand dyed fabrics
Westwood Acres – A low volume fabric bundle
On Williams Street – Quilt Patterns
North Star Quilt Variations
The quilt along is scheduled for the large throw size but you certainly can join in and make any size of the quilt 🙂  I'm considering adding an extra row to my large throw this time around… we shall see 🙂
The Bonnie and Camille North Star Quilt
I made the large throw size last year using Bonnie and Camille's The Good Life fabric line.  I love how this quilt turned out!  I used Essex linen as the accent fabric in this version.
The Daisy Days North Star Quilt
The original North Star quilt was made using Daisy Days by Riley Blake.  This is the smaller throw size.  I used a print from the fabric line for the accent in this North Star version.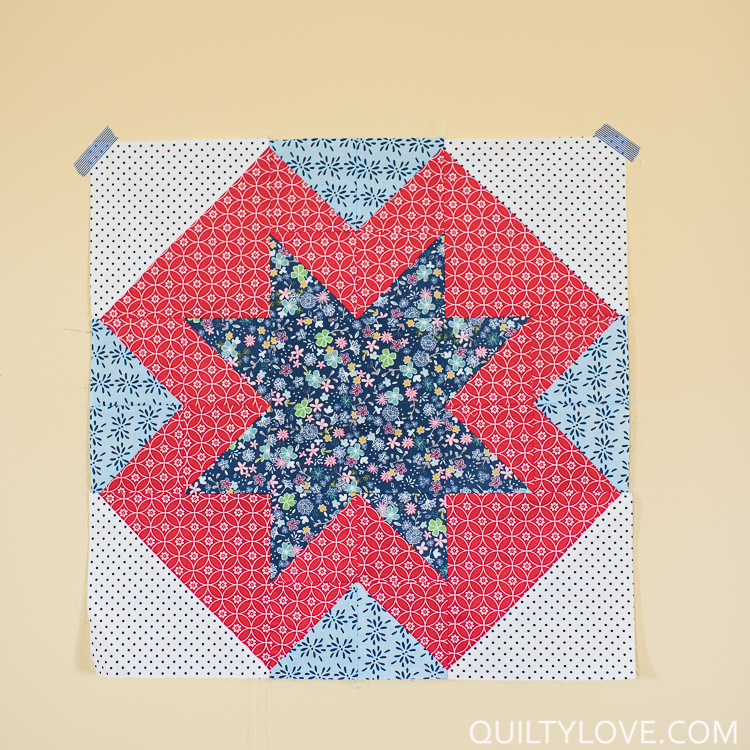 The Tula Pink Christmas North Star Quilt
This Tula Pink Holiday Homies Christmas version is probably my favorite North Star quilt.  I made this one for Christmas last year.  The background is Essex Linen and I backed this one with flannel.  The Holiday Homies fabric line is probably getting a little bit difficult to find these days.   It's a nice and warm winter quilt.
For this version of North Star I opted not to use an accent fabric and instead matched it to the background.  I also added a border.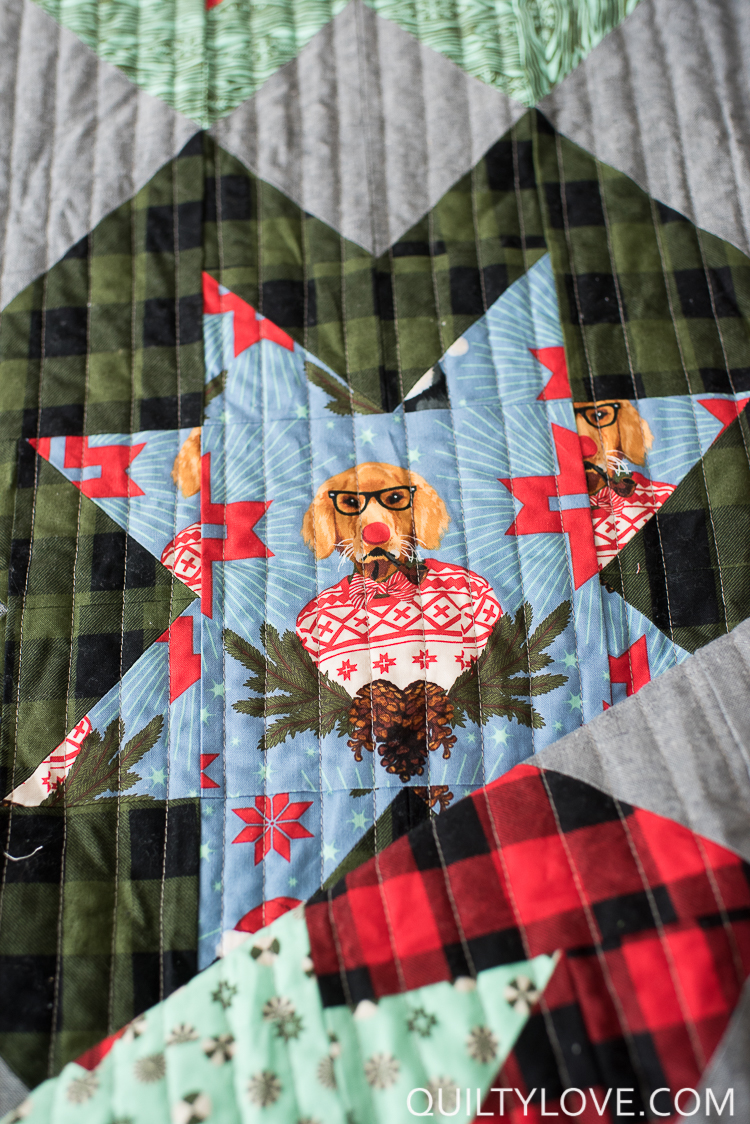 The Baby North Star Quilt
Lastly, I made this baby size North Star quilt as part of a charity auction I held last November.
I hope you will join us!