Observer Log Cabin Quilt
Today I'm sharing my very favorite quilt with you all.  Ha.  It's my favorite because it's my most recent quilt I've completed 😉   I have a list of quilts I want to make and a log cabin has been on that list for a while.   This is my first log cabin quilt!   But it certainly won't be the last.   There are so many neat variations of log cabins and it's a block I don't think you could ever tire of.
This Art Gallery Observer fabric line by April Rhodes seemed like the perfect fit for a log cabin quilt since it has two color ways.  Blues and golds.  I started this quilt mixing all of the blues on one side of the log cabin and all of the golds on the other.
It felt a bit too scrappy (and I almost scrapped this entire quilt) so instead I kept the darker blues in one block and the lighter blues in another block and then alternated them in the final layout for a bit more order.  I used the same dark yellow fabric for each center block.  I used a full fat quarter bundle but left out the two yellows on the right.  It did take a little bit of creative piecing for the last few blocks to keep my blocks separated as darks and lights.

I started making this log cabin quilt on a Monday and realized it would make for the perfect birthday gift for a party on Friday so I had to get it done quickly!   So I kept the quilting simple.   Although, I do that a lot even when not on a time crunch 🙂
I quilted straight lines on each diagonal using my walking foot and then also quilted each block in the ditch vertical and horizontal.   In the ditch quilting means quilting right in the center of the seams.  The quilting line blends into the quilt on the front but you can see this better on the shot of the backing.
I used a khaki colored solid I had on hand for the binding.   I like the subtle color of it since this is already such a busy looking quilt.

This Observer Log Cabin quilt is backed in the softest warmest flannel!   Since I was on a time crunch I didn't have time to order a backing.   I'm so thankful for my local quilt shop and the fact that they carry these beautiful Maywood flannels.  Since we have the longest coldest winters, I thought the recipient might love this flannel addition to this quilt.   And now i need to make myself a flannel backed quilt pronto because my gosh, is it warm and cozy!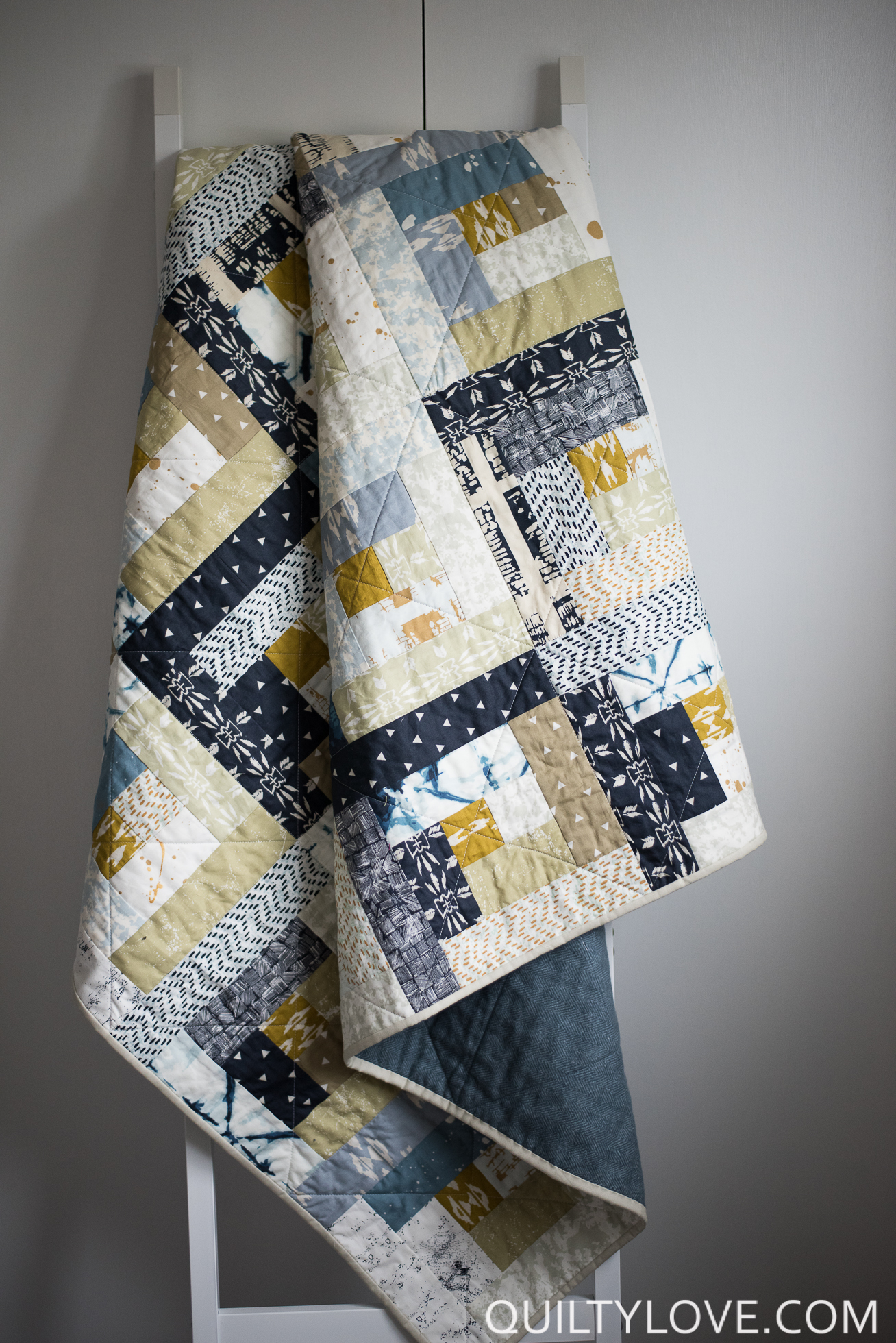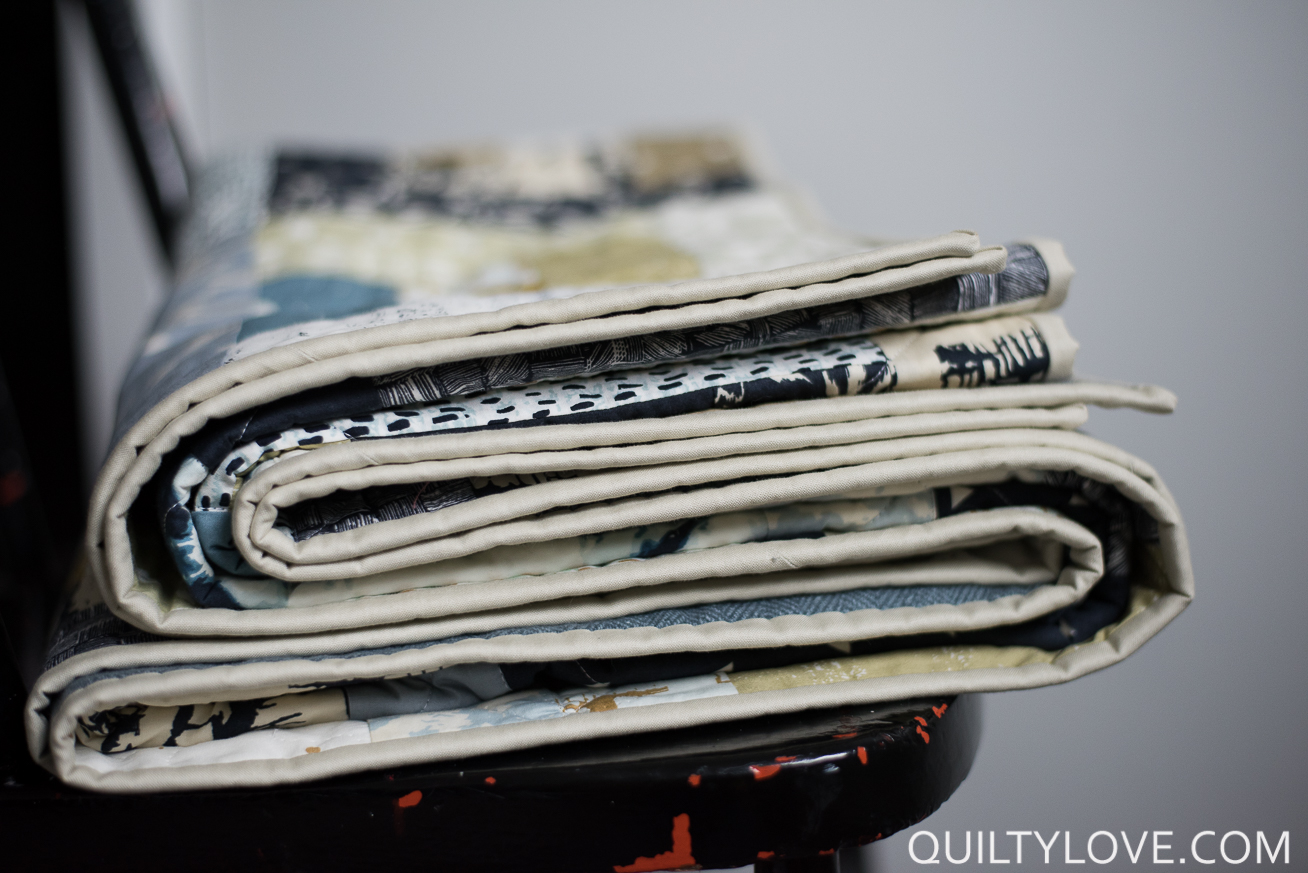 I finished this log cabin quilt on Friday morning, grabbed some quick photos and gifted it to my sister in law later that day.  🙂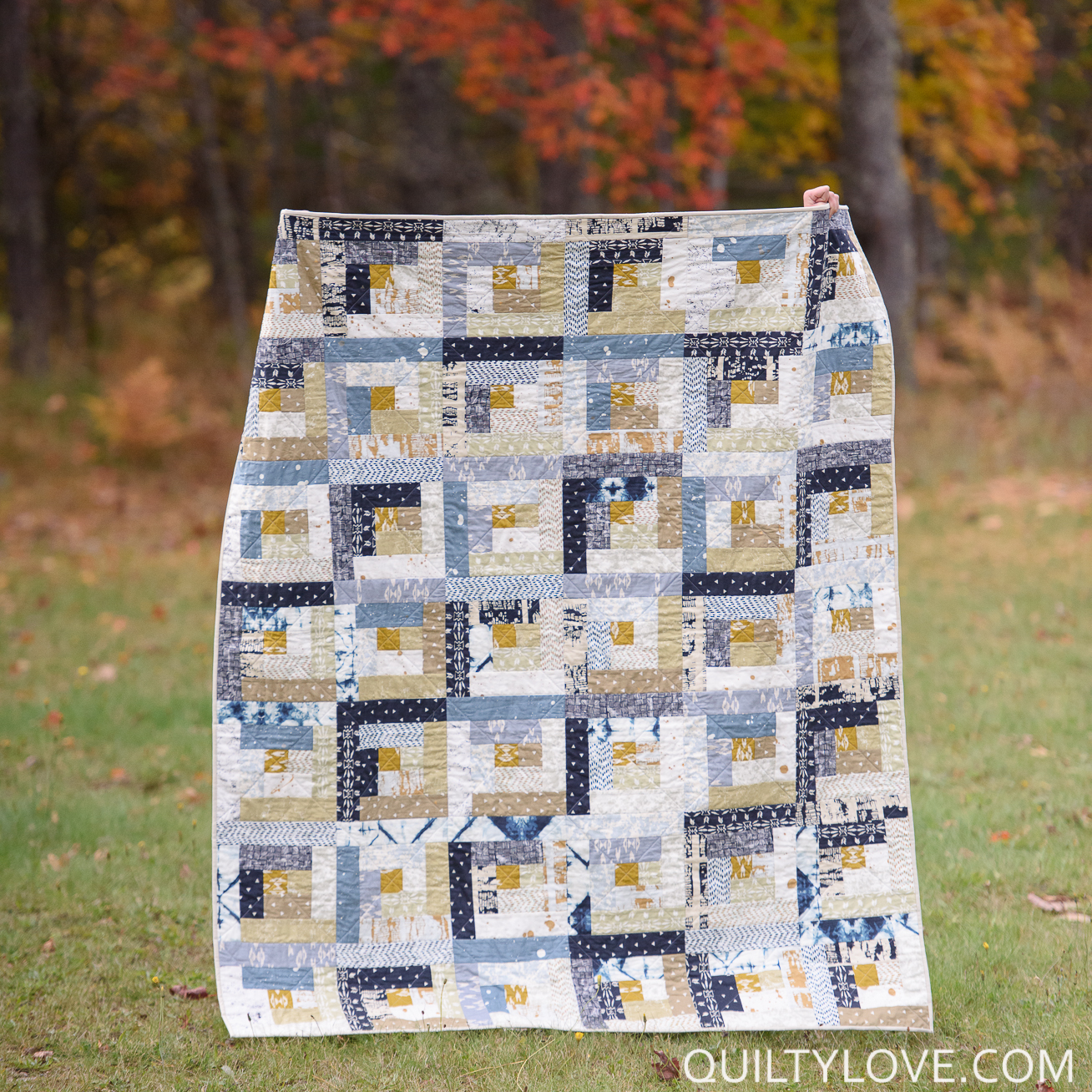 If you want to make your own log cabin quilt, Suzy Quilts has a simple log cabin tutorial for you.   I made a total of 42 10inch blocks.
Materials:
Observer Fabric Line by Art Gallery Fabrics
Backing:  Maywood Flannel
Batting:   Warm and Natural
**This post contains affiliate links.   If you click on the links and purchase through them, I will receive a small commission.  This does not increase or effect your pricing.