Introducing the TRIANGLE POP quilt pattern
Today is all about the triangles!   Triangle pop quilt pattern is the latest addition to the Quilty Love family and is now available in the Quilty Love Pattern Shop as a Paper copy or as an automatic PDF download.

Triangle Pop was first featured in Love Patchwork and Quilting Magazine as the cover girl of Issue 38.  That was a fun surprise! 
Triangle Pop quilt pattern is a modern triangle quilt using traditional piecing and fat quarters.    The sashing makes your fabrics pop and allows each one to stand out on their own.   Choose your favorite fat quarter bundle for this one because each print will be highlighted 🙂
I used the Carkai line by Carolyn Friedlander for my version.   These beautiful bold colors really stand out against Kona White.
I've included 4 size options for this one!   The throw is a nice and generous size as that's how I prefer my throw size quilts 😉   Also included is a smaller baby size, a perfect twin size and a queen.   I made a twin size quilt for my daughter's bed that I'll be sure to share soon!
Despite those angles, this one actually goes together fairly quickly.   I'm currently making my third one using a new Art Gallery line.   I recommend a 60 degree triangle ruler for more accurate cuts.   My triangle ruler gets a lot of use and is handy to have if you tend to work with triangles often. 
I finished off my Triangle Pop quilt with 3/4in straight lines using my walking foot.   I like how it kept with the modern feel of this quilt.  I also used a thinner batting to keep it nice and light weight.  Sometimes you just need a lightweight quilt 🙂
Backing is a black and white Robert Kaufman print.   You know how I like to keep those backings simple 😉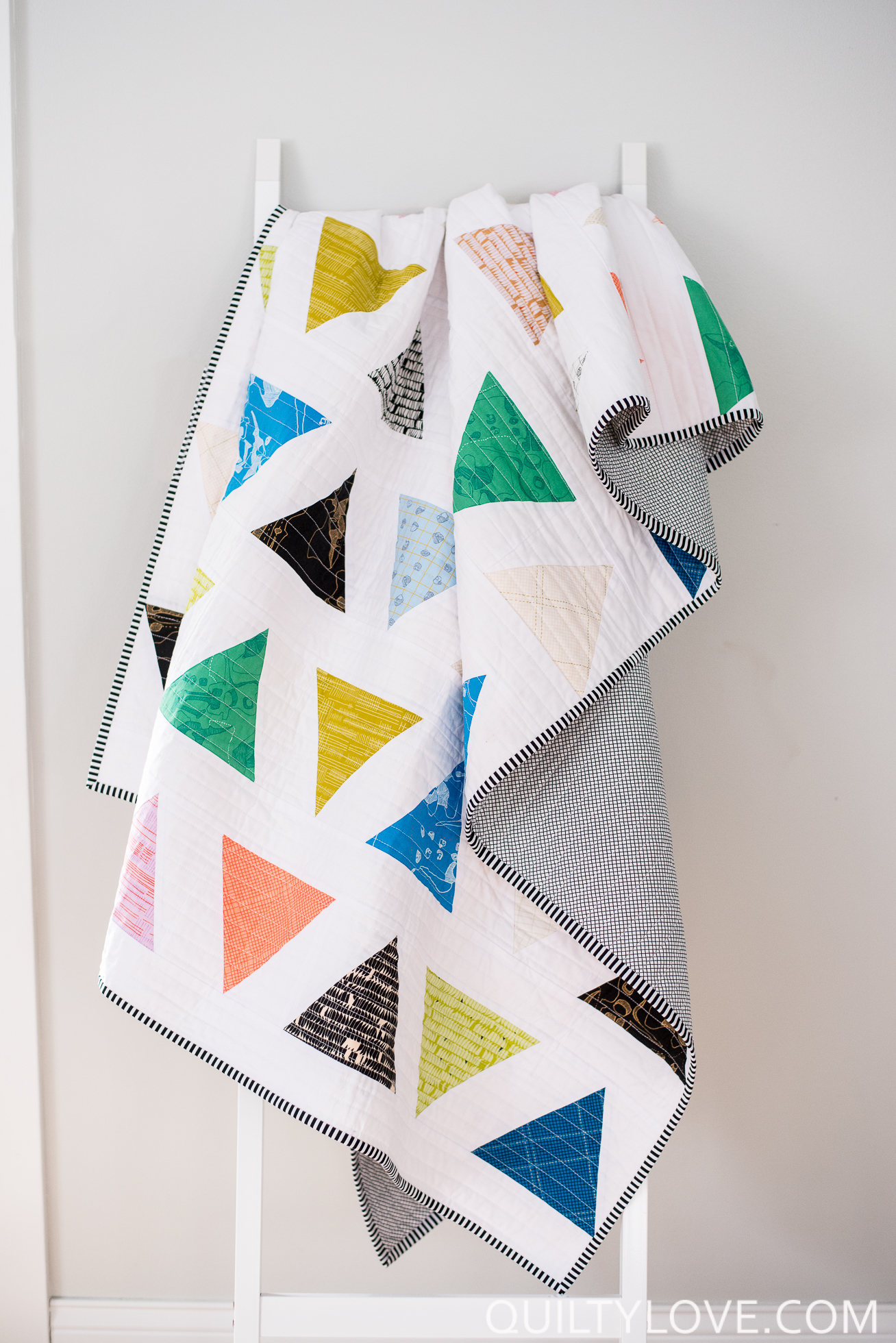 How could I not finish this one off with my favorite black and white striped binding!?   I'm afraid I use this binding far too often but it seems to work with so many quilts!
Go pick up your copy and be sure to share your progress on Instagram with the #trianglepop hashtag!
Materials:
Carkai Fabric by Carolyn Friedlander for Robert Kaufman.
Backing:  Crisscross from the Remix collection by Ann Kelle for Robert Kaufman.
Sashing and background:   Kona White
Binding:   Timeless Treasures black and white stripe  (my favorite binding!)
Batting:  Quilters Dream Request (This one is a little thinner)
Triangle Ruler:  HexNmore