Ombre Gems Quilt Along – The official post
The Ombre Gems quilt alongs are all finished but now you can join and sew along at your own pace!
Sign up for the self paced QAL below and you will have access to all of the planning pages, schedule, and extra tips tricks and videos.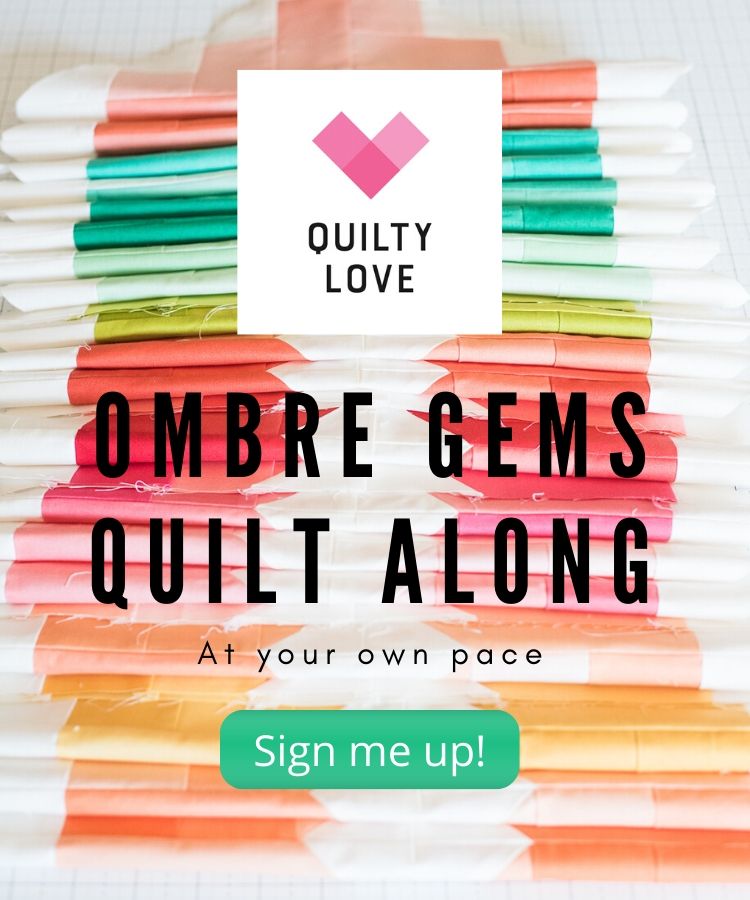 ---

I'm so excited to announce the Ombre Gems Quilt Along!
This has been on my mind for quite some time because while this quilt is beautiful and uses traditional piecing it is a bit tedious.  I think we can all benefit from encouraging one another along the way!   Plus this will give me the opportunity to teach you some tips and tricks for more accurate piecing.
Dates
March 1st, 2017 – May 10th, 2017
What is a Quilt Along
A quilt along is simply that..   A group of quilters quilting along together.   In this case we will be virtually quilting the Ombre Gems quilt pattern along at the same time.  This quilt along will take place on Instagram using the hashtag #ombregemsquiltalong.   By using this hashtag on your instagram posts that are about the Ombre Gems quilt we can all keep up with your progress.   Quilt alongs usually have a host (myself!), a schedule (see below) and a common project (the Ombre Gems Quilt).
The Ombre Gems Quilt
You can click on over to the original Ombre Gems post to see lots of photos of the original VandCo ombre version.   I have recently finished a quilt top using a variety of Bonnie and Camille fabrics also.  So you don't have to use just Ombre fabrics to take place in this quilt along!   I'm excited to see what other variations you all choose.
Who this Quilt Along is for
This quilt along is best for those who have made a few quilts.   You understand the 1/4in seam allowance and your cutting is decent.   If you are a beginner and a perfectionist this might be a little frustrating for you since accurate seam allowances and cuts will be crucial!
But hey, if you are a beginner and aren't afraid of a few seams not lining up… go for it!   If you look closely at my original you will find plenty of seams that don't line up.  This one will test your patience of lining up seams but I'm not a quilting perfectionist so I'm ok with these little flaws.
What you will learn
For the Ombre Gems it all starts with accurate cutting.   Accurate cutting and a consistent 1/4in seam allowance.  You will have plenty of practice to work on both of those things in this quilt so I'm sure you will have grown as a quilter by the end of it!
We will be cutting blocks as we make them for this reason.   I want you to pay attention to your cutting and hopefully see some improvement as we go along.  The same goes for the elusive 1/4in seam allowance.
Materials Needed
The Ombre Gems Quilt Pattern:   PDF or Paper copy
2 Jelly Rolls (you don't use the full rolls)  or a Fat Quarter bundle (min 18 FQ) or a Half Yard bundle
Shops that carry Ombre fabrics
US SHOPS
VandCo
Handmade is Heartmade
Fat Quarter Shop has yardage (Create your own half yard bundle)
New Ombre Confetti available Feb 2017
Craftsy.com has ombre fabrics in their own brand.  Need 2 jelly rolls or a 1/2 yard bundle
Warm Colors  ||   Cool Colors
Sewitup.com
quilterssquare
UK SHOPS
sewsupplyco
CANADA
Dinkydoo
Optional Tools
An extra tool you might find helpful is the Creative Grids Stripology ruler.  Seriously guys, this thing rocks!   It's not cheap by any means but it's such a time saver and a very quality ruler.   I bought mine within minutes of seeing it online and I have zero regrets.   Totally not a gadget quilter and I like to keep things simple but I do love this ruler.   If you take one look at how many 2.5in squares we will be cutting for this quilt you might find yourself running for the nearest Stripology ruler 😉
I bought mine from Craftsy.com.

Creative Grids Stripology Ruler
from: Craftsy
And I'll be giving one of these away for the Quilt along!!   eeeee!
Time Line
Week One:
Get your materials together:
Fabrics
Pattern
Sign up for the Ombre Gems updates (down below) and free coloring pages will be sent your way!
Week Two:
Cut the 2.5in white (background) squares
Make 2 Full blocks and 2 half blocks
Week Three:
Make 6 blocks
Week Four:
Make 6 blocks
Week Five:
Make 5 blocks
Week Six:
Make 5 blocks
Week Seven:
Make 6 blocks
Week Eight:
Make 5 blocks
Week Nine:
Make 5 blocks
Week Ten:
Sew your quilt top together!!!
Location
This quilt along will take place primarily on Instagram.  So be sure to follow along on instagram and use
to participate!   We can all encourage one another by searching this hashtag.
I'll have periodic check-ins here on the blog and I'm even considering doing a weekly Instagram Live session (ahhh).
---
Ombre Gems Official Post
Ombre Gems Week One
Ombre Gems Week Two
Ombre Gems Week Three
Ombre Gems Week Four
Ombre Gems Week Five
Ombre Gems Week Six
Ombre Gems Week Seven
Ombre Gems Week Eight
Ombre Gems Week Nine
Ombre Gems Week Ten