Ombre Gems Quilt Along – Week 4
Welcome to week 4 of the Ombre Gems quilt along!
How is everyone doing?!   This week brings our total blocks to 15!   The next two weeks we are making a few less blocks so that will be a good time to catch up if you are falling behind.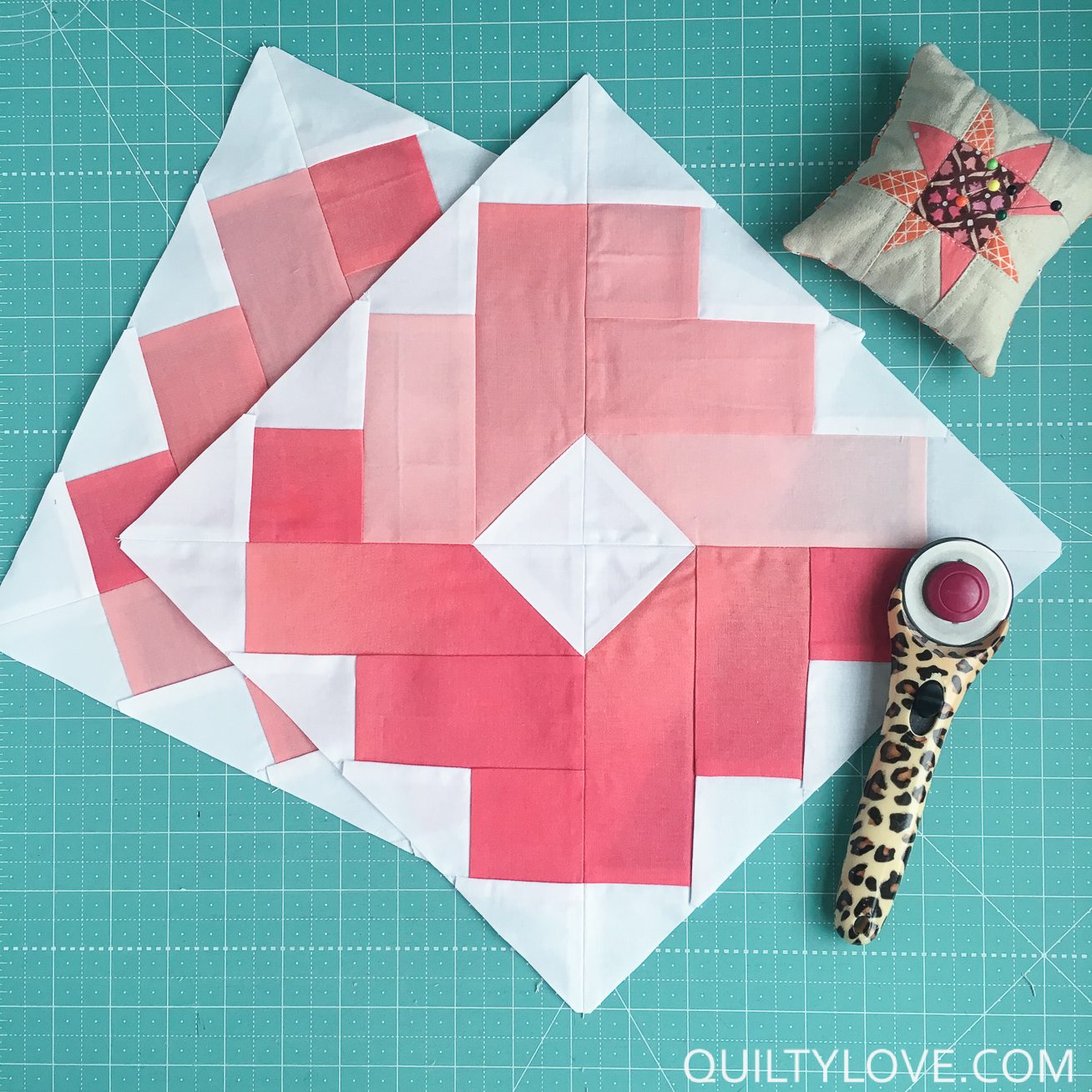 ---
Week 4 / 10
This week we will:
These can be either all full size blocks some full blocks and some full blocks and some half blocks.
---
Here are my 6 blocks for the week! I made 4 full blocks and 4 half blocks.
I've been cutting more from the lighter side of my fat quarters to lighten up my blocks.   I'm liking the results already!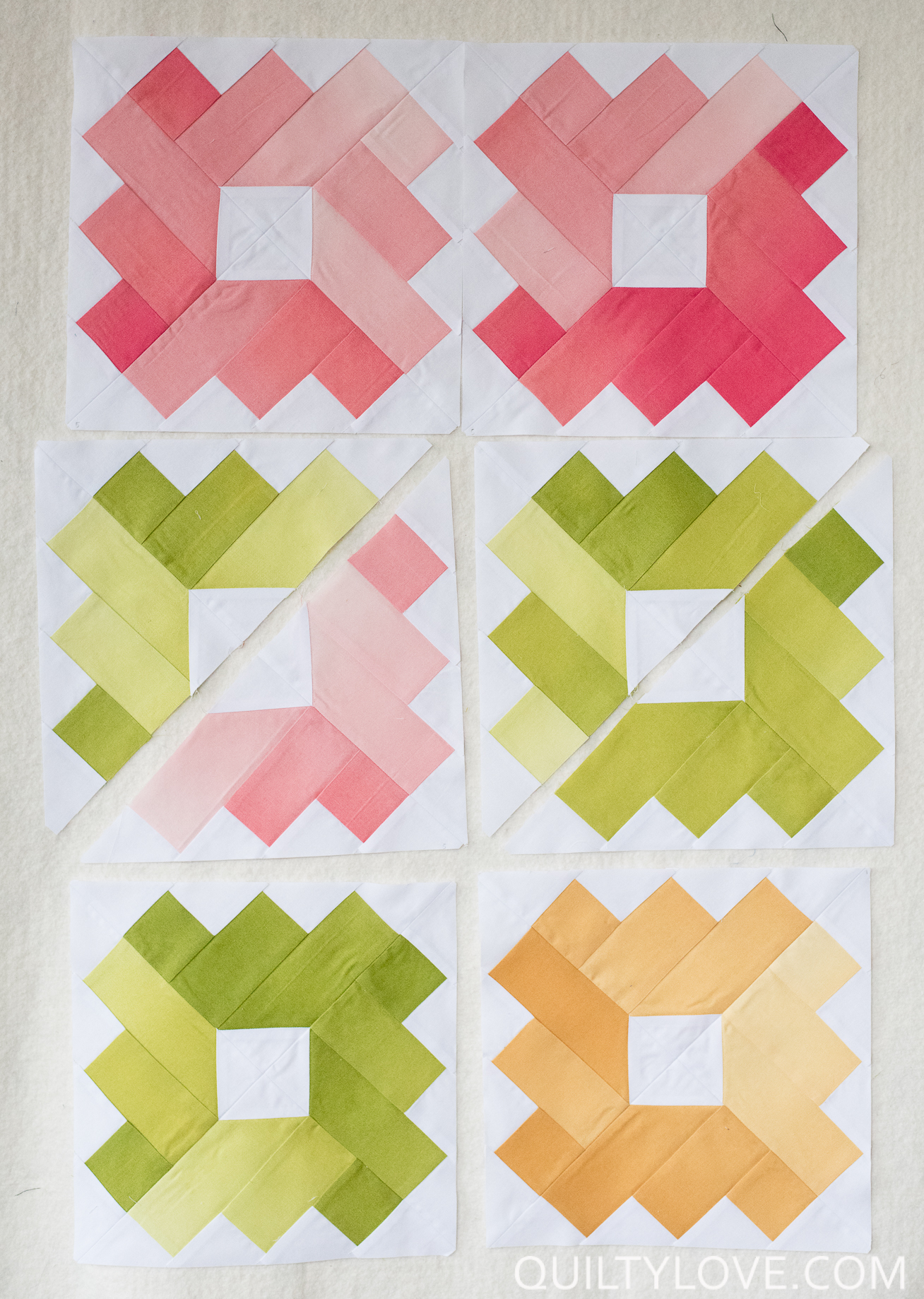 Here are all 15 of my blocks together.   It's starting to look like an Ombre Gems quilt!!
Keeping track of the blocks I still need to make on the coloring page.  The completed blocks have shaded centers.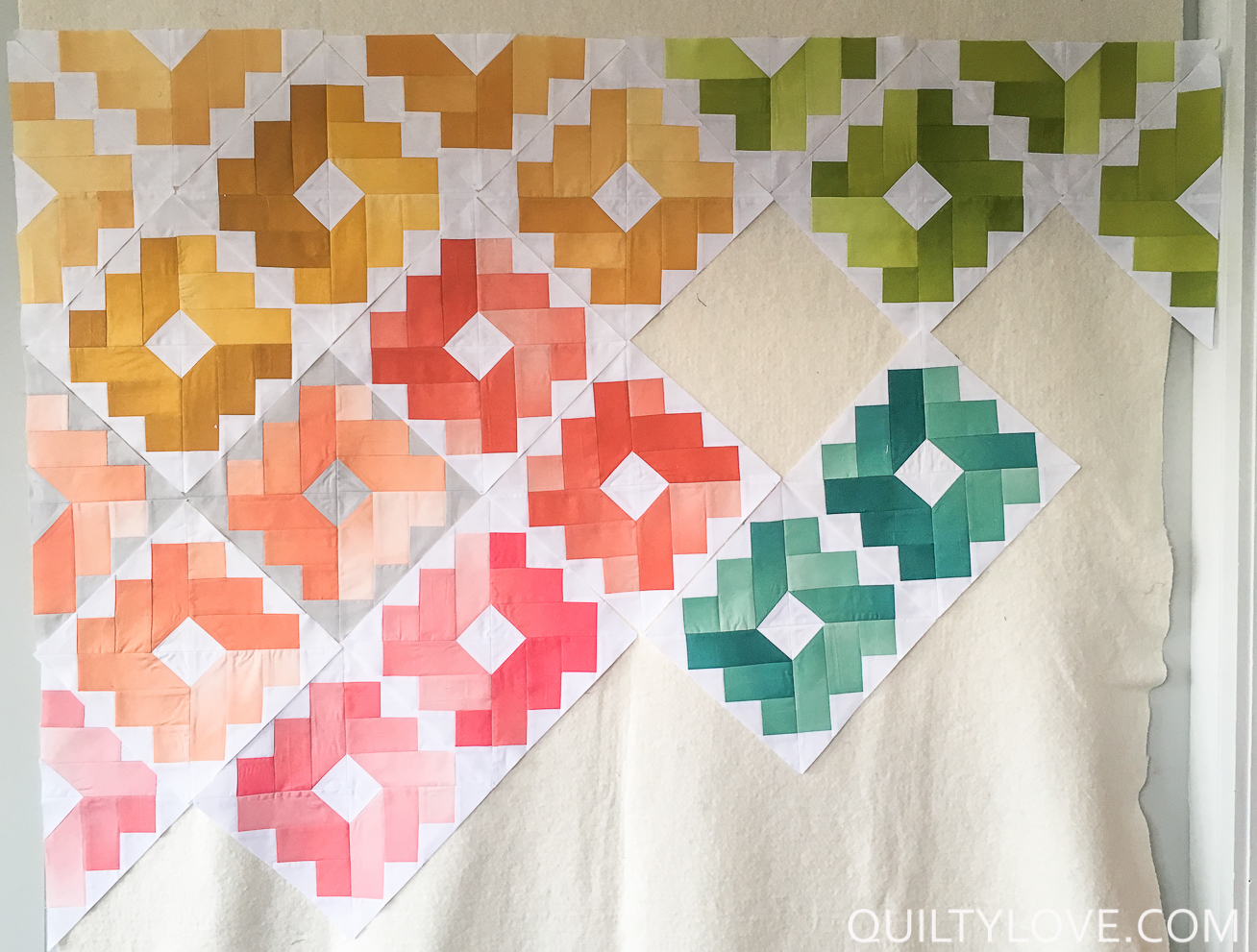 (I need to re-do the light peach block and a half since I ran out of white and used grey instead.)
Working on accuracy
My blocks are coming together so much easier than the original quilt.   I'm using a fat quarter bundle this time which means I'm cutting the width myself.   Jelly roll strips can be really tricky to work with since the widths of them can vary.   I highly recommend trimming them to an exact 2.5in wide before using them.
Cutting consistently will go a long way in lining up your blocks.
Sewing a 1/4in seam consistently will also go a long way.
I admit, I can struggle at doing both of these things!   There are two things that really improve my accuracy.   One is the Stripology ruler.   I have a tendency to not cut exact measurements.   The stripology ruler pretty much forces an accurate cut.
The second thing is my 1/4in foot for my sewing machine.   I love this thing!   It lives on my machine 90% of the time I'm sewing!   My machine came with this foot, so check out your extra parts because you might have one too!
That black guide ensures a 1/4in seam.   Piecing is easy and mindless when you can push it through using that black guide.   A common mistake quilters make is assuming their regular foot is 1/4in to the edge.   This is not always the case!   That distance measure 3/8in on a lot of sewing machine feet.   So if you are having trouble lining up points and seams, measure the distance you are assuming is 1/4in to see if it actually is!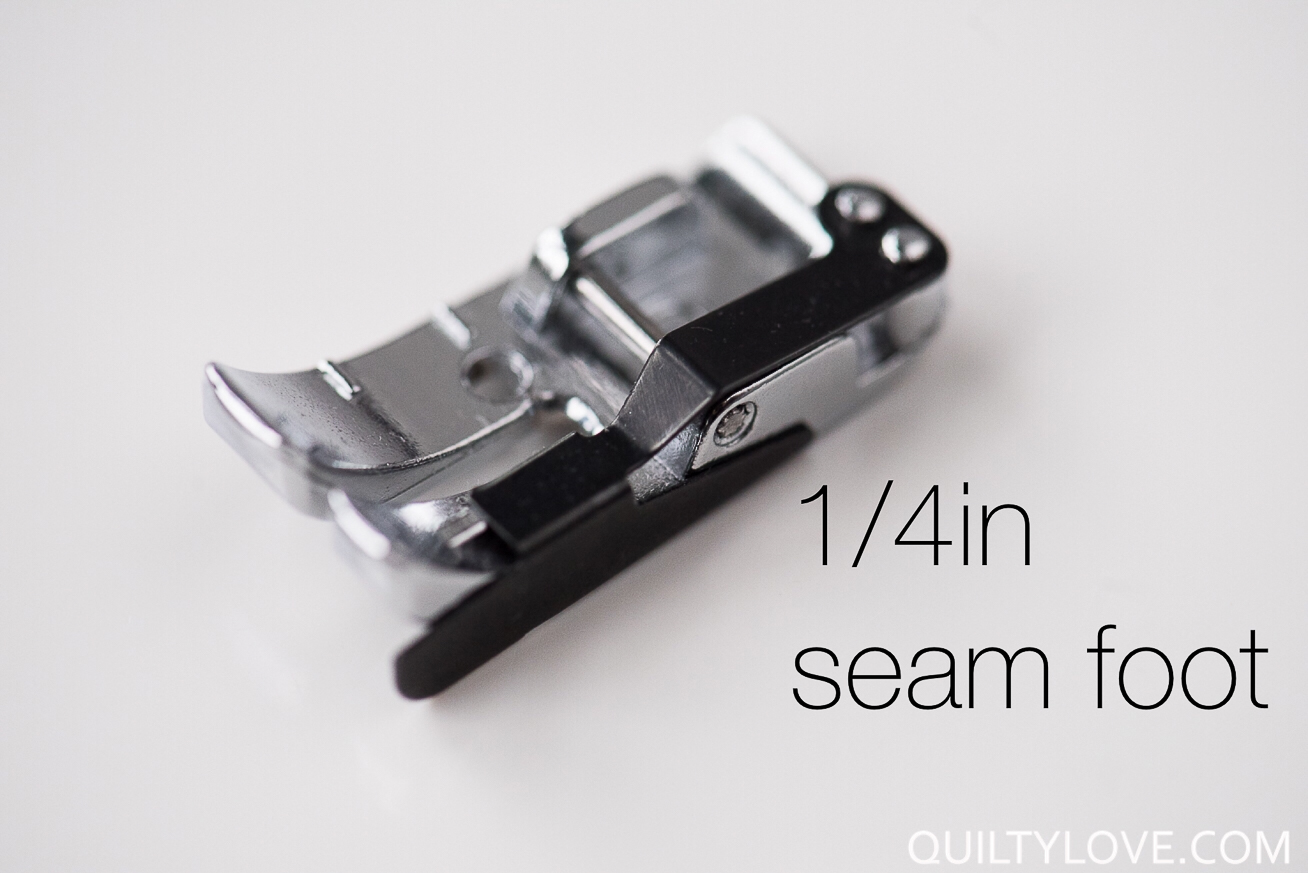 Giveaway this week!
Also, this week there is a giveaway!   One lucky Ombre Gems Quilt Alonger will win this Basic Grey Grunge layer cake!  I'll choose someone from the hashtag so be sure to share your blocks on instagram!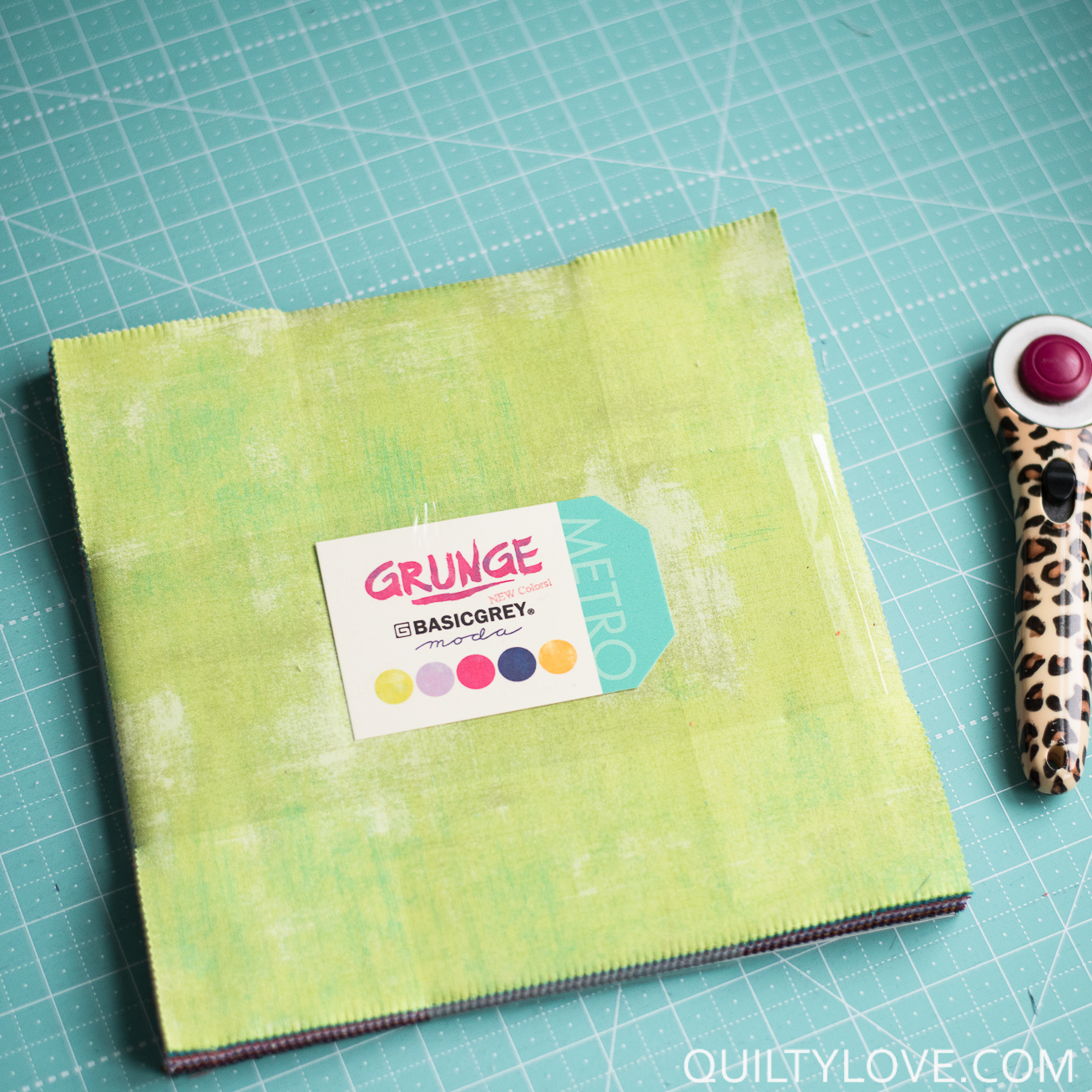 Grab a copy of the Ombre Gems Quilt pattern and join along!
---
Ombre Gems Official Post
Ombre Gems Week One
Ombre Gems Week Two
Ombre Gems Week Three
Ombre Gems Week Four
Ombre Gems Week Five
Ombre Gems Week Six
Ombre Gems Week Seven
Ombre Gems Week Eight
Ombre Gems Week Nine
Ombre Gems Week Ten
[optin-cat id="1731″]