Ombre Gems Quilt Along Week Ten
Welcome to week ten of the Ombre Gems quilt along!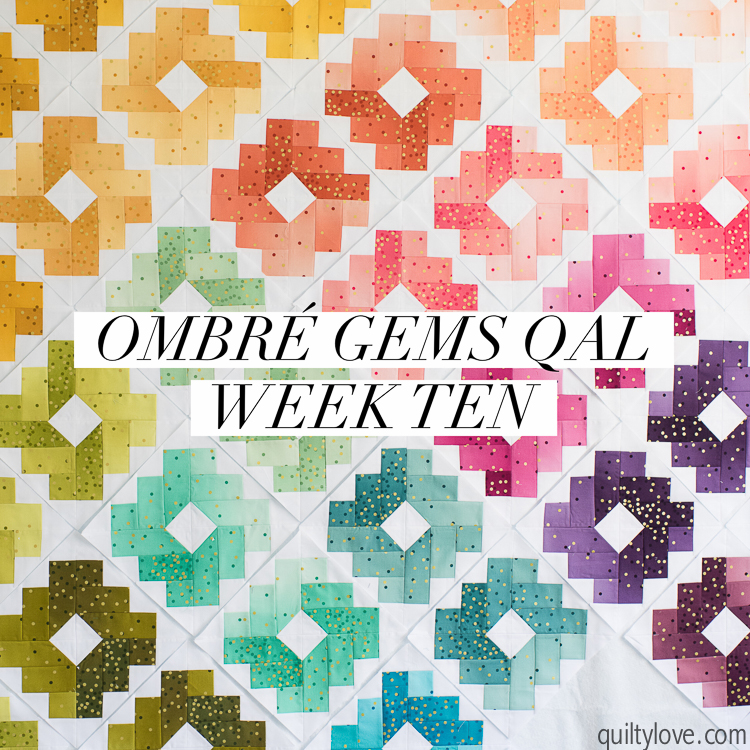 Welcome to the very last week of the quilt along!  This week we are sewing quilt tops together 🙂  There are already so many beautiful quilt tops popping up on Instagram.  I'm so proud of you guys for sticking this one out and finishing up those quilt tops!
If you are still working on blocks, keep going!  I'm sure you will have plenty of company in the hashtag.  If you are running out of steam for this quilt, you can always call it good with the smaller version using way less blocks.
Don't forget about the quilting special with Knot and Thread!  See those details below.
The Quilt Along
Materials needed:
Ombre Gems Quilt Pattern
Ombre fabrics– The quilt along will use all 20 colors! (or feel free to use any other fabrics)
How to Participate: The quilt along takes place on Instagram using the hashtag: #ombregemsquiltalong
Include the hashtag in your captions so we can all see your posts. Browse the hashtag to see what everyone else is up to!
Stay up to date: An e-mail will show up in your inbox on Monday morning with the weeks prompts. A blog post will also go up on Monday morning. There may be a few extra videos and tips and tricks in the e-mails so be sure to be signed up! (Sign up here)
Grab the pattern: If you don't have the pattern already, grab your copy in the shop or below.
Fabrics are being restocked! If you missed out last time since these fabrics sold like hotcakes they are available again! Get them while you can.
Half yard bundle – Catching Stitches
Fat quarter bundle – Catching Stitches
---
Week Ten
---
There isn't really a trick to sewing together these blocks other than using a generous amount of pins.  I literally pin at every point.  Take time to match up the points and pin for the best results.
Don't worry if you lose a few points here an there!  I lose plenty of points but in the end the quilt will be beautiful and you won't even notice those blunt points.
---
Quilting
I want to remind you that Kaitlyn of Knot and Thread Design is offering 20% off of the quilting on all Ombre Gems quilt tops 🙂 I use Kaitlyn for all of my quilting and I highly recommend her.
---
Official Ombre Gems Quilt Along post
Week One – Cutting and Prep
Week Two – Make Magenta, Hot Pink and Popsicle Pink
Week Three – Make Persimmon, Coral and Honey
Week Four – Make Mustard, Mint and Lime
Week Five – Make Avocado, Teal and Lagoon
Week Six – Make Turquoise and Aubergine
Week Seven – Catch up week
Week Eight – Make Plum, Indigo and Taupe
Week Nine – Make Sand, Graphite and Onyx
Week Ten – Sew together quilt tops