Ombre Gems Quilt Pattern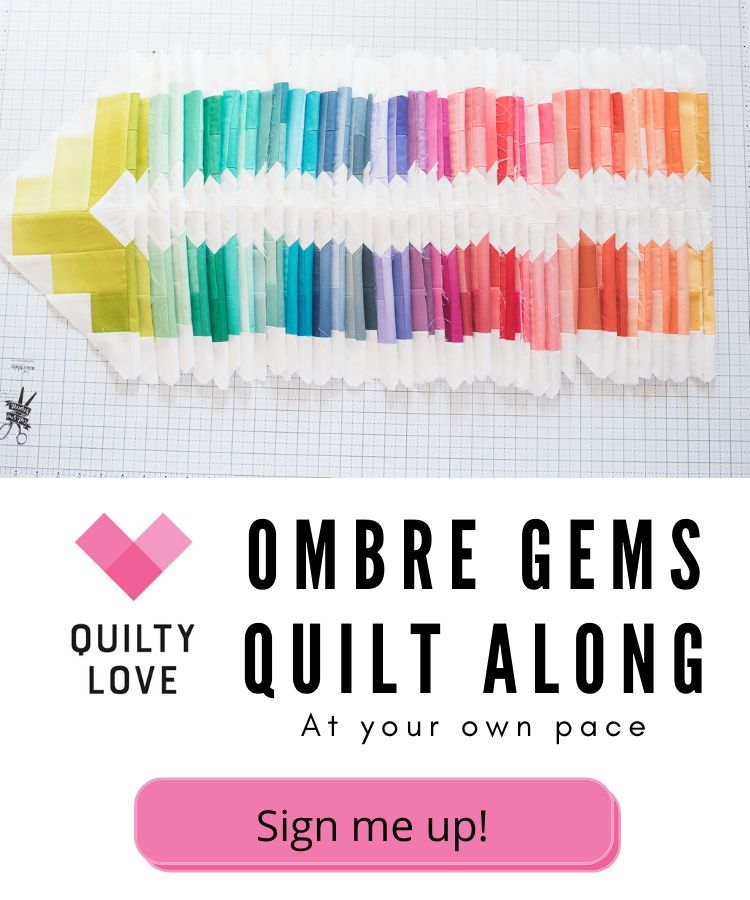 This Ombre Gems Quilt Pattern is the brightest most colorful rainbow quilt I've made and that is what made it so fun to make and to photograph!
Ombre gems started out as a scrappy version of itself but it felt too busy.   I had just gotten a jelly roll of Vanessa Christensen's Ombre fabrics and thought it might look really cool in this new design.   The Ombre tones really surprised me as it went together and gave it so much dimension!   It was one of those quilts that just makes you giddy as it goes together and a case of the end result turning out better than you envisioned 😉
I'm so visual so I have a hard time imagining what something will look like until it's actually made.
This quilt pattern was first featured in Love Patchwork and Quilting.   You can pick up your copy in their past issue or in my pattern shop.
Ombre Gems Quilt
Ombre Gems is not a difficult one to put together but it does have a lot of seams.   It's a generous throw size and absolutely could be made smaller or even larger.   I've added an alternate layout for those of you who would prefer to make less blocks.   (It's down below)
I used 2 jelly rolls for my version but cutting WOF strips also works and can produce more accurate results.    Jelly rolls are not always exactly 2.5in wide which makes lining up seams in this ombre gems block that much harder. 
Find Ombre Fabrics
The ombre jelly rolls are out of print but you can find ombre yardage here.
ETA:  A new ombre line is coming out in February 2017 and will include jelly rolls!  Preorder the jelly rolls here.
I quilted my Ombre Gems quilt with diagonal straight lines using my walking foot.   I use this walking foot with my Janome sewing machine.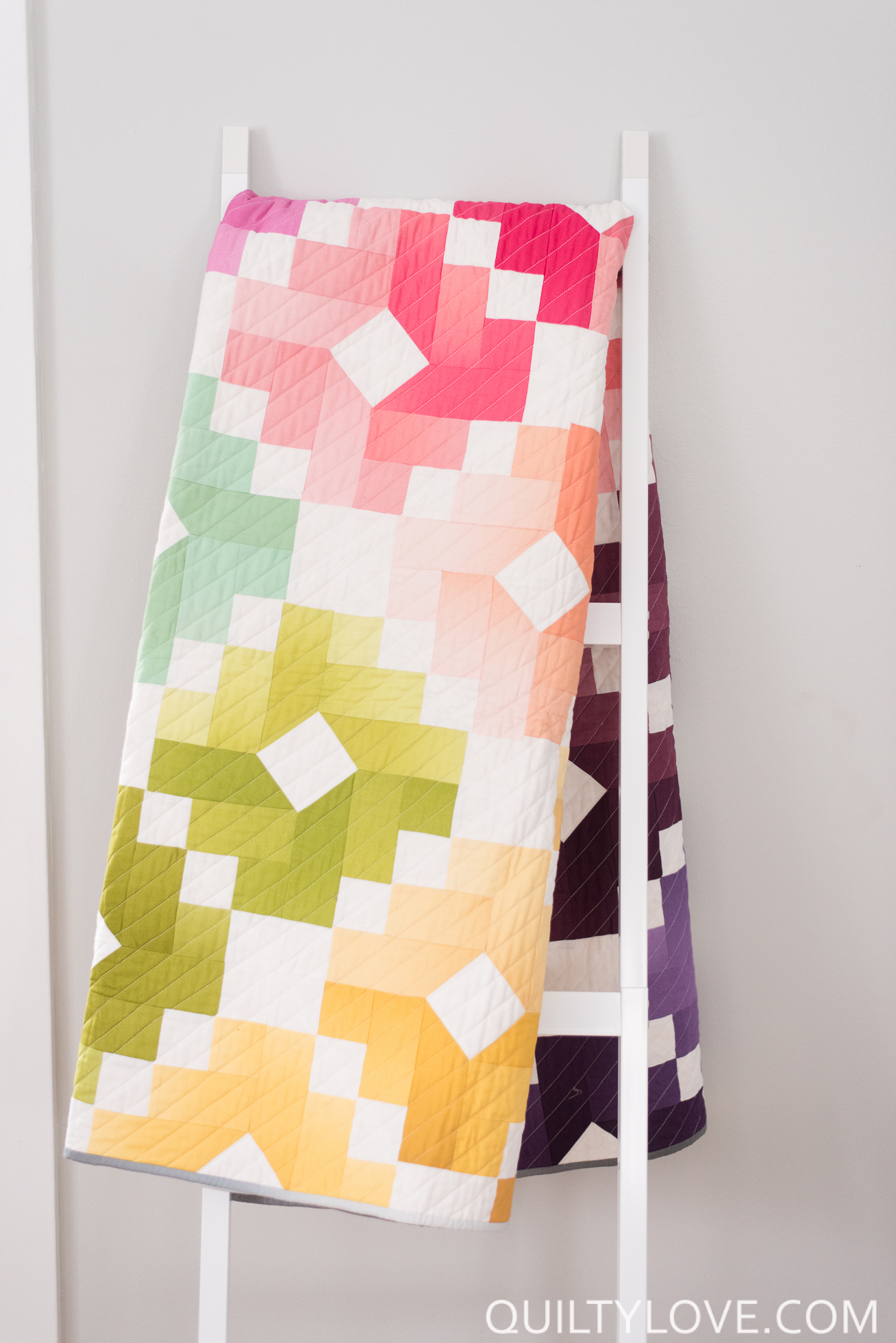 I backed this bright and colorful Ombre quilt with a toned down Carolyn Friedlander print.   I really like the simple black and white backing with such a colorful quilt. 
I arranged my blocks in an Ombre effect but rearranging randomly would also look great.   Or keeping similar colors in a line.   I also think this would look great in solids or scrappy same color blocks.   Check out my Bonnie and Camille Scrappy version here.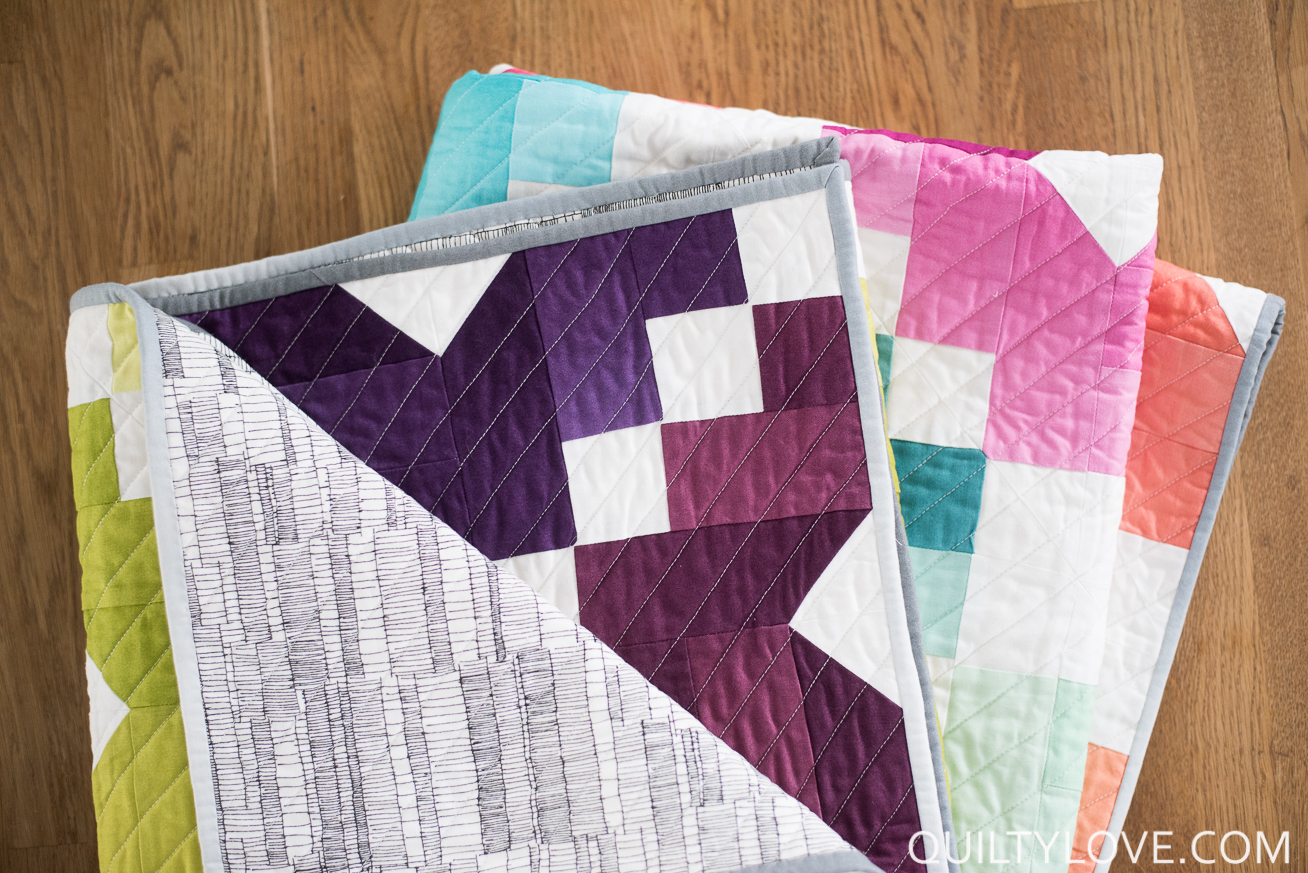 I finished off my Ombre Gems Quilt with a grey ombre binding.   If you have some ombre fabrics sitting around, make up this bright and colorful quilt and wrap yourself in happy 🙂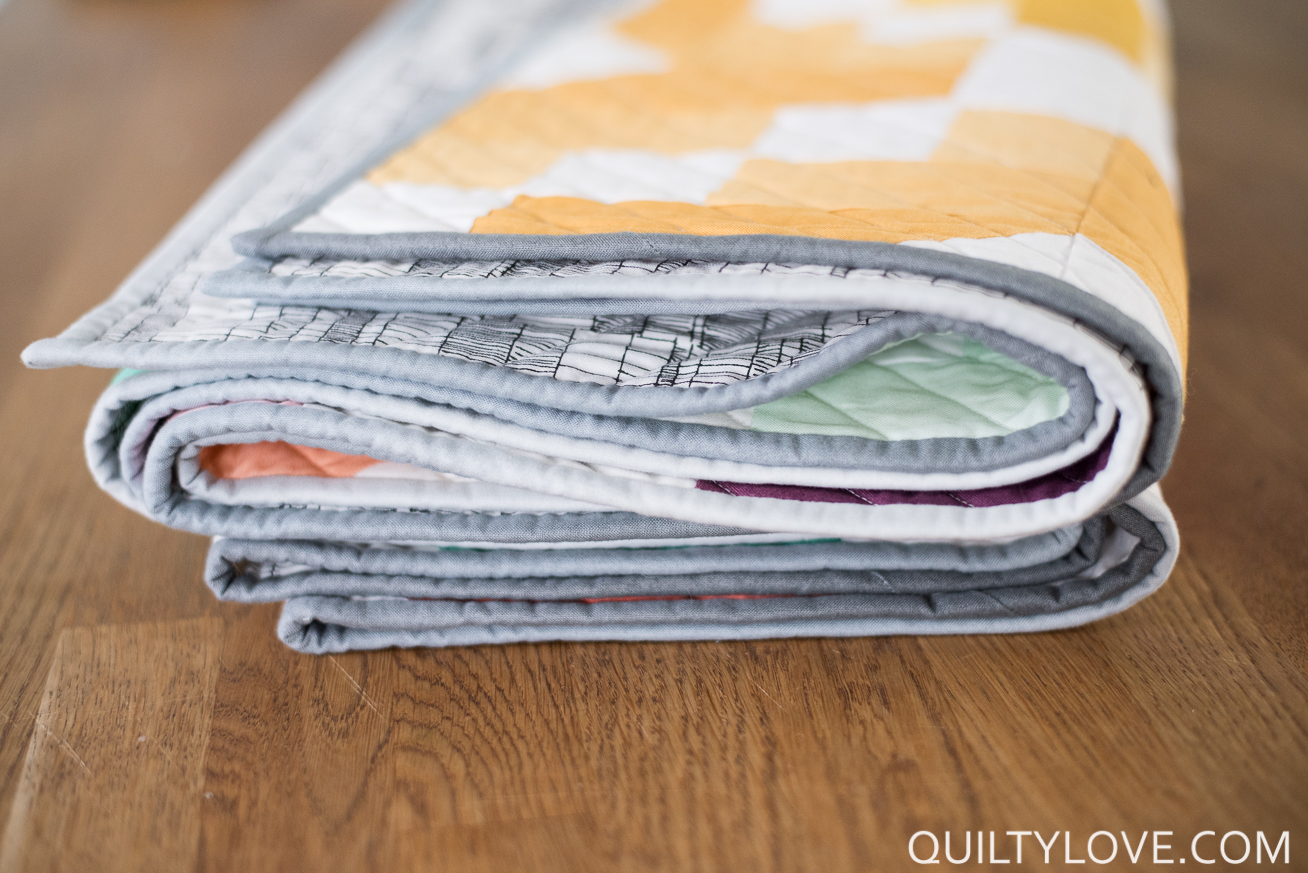 You can find the Ombre Gems Quilt Pattern in my shop.

Materials Used:
Ombre Fabrics by VandCofor Moda Fabrics
Kona White by Robert Kaufman
Backing:   Carolyn Friedlander by Robert Kaufman
Batting:   Warm and Plush   (But I don't recommend it!   Use Warm and White or Warm and Natural)