Preppy the Whale Baby Quilt
Today I'm sharing this adorable Preppy the Whale Baby quilt. I stared this cute little whale quilt years ago and finally got around to finishing it last summer. I made this baby quilt with the toddler in mind and I'm happy to say it is now getting used.
Preppy the Whale is an Elizabeth Hartman quilt pattern.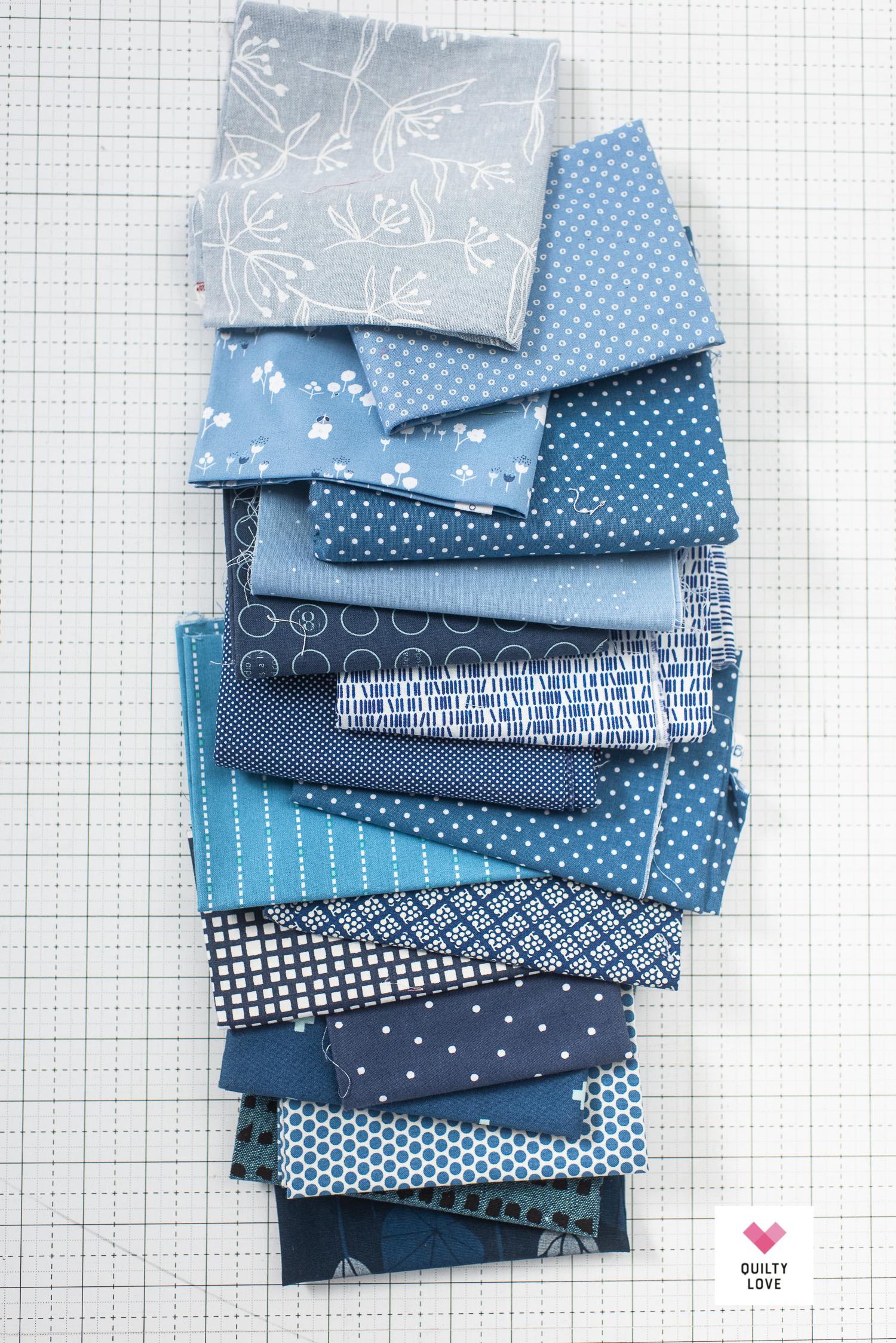 Cute Whale quilt pattern
I have loved all of the Preppy the Whale quilts I've seen so I wanted to make my own. I've actually wanted to make this for years and years. In fact, I'm pretty sure I pulled the fabric for it and made the first block well before the toddler was in the picture. I remember planning on sewing it up on a quilting retreat but it never happened.
Well, that toddler came along and gave me a good reason to actually make this adorable whale quilt. I found my one whale block and my fabric pull and started slowing working on it over the summer.
Blue Stash Quilt
What I love about this whale quilt is the fact that it was a really great stash quilt. A really great blue stash quilt. I think I end up with more blue fabrics than any other color so it was satisfying to pull fabrics from my stash for these whales.
I tried not to repeat a print but there might be a few duplicate whales. Each whale doesn't require a ton of fabric making this Preppy the Whale quilt pattern a good stash quilt.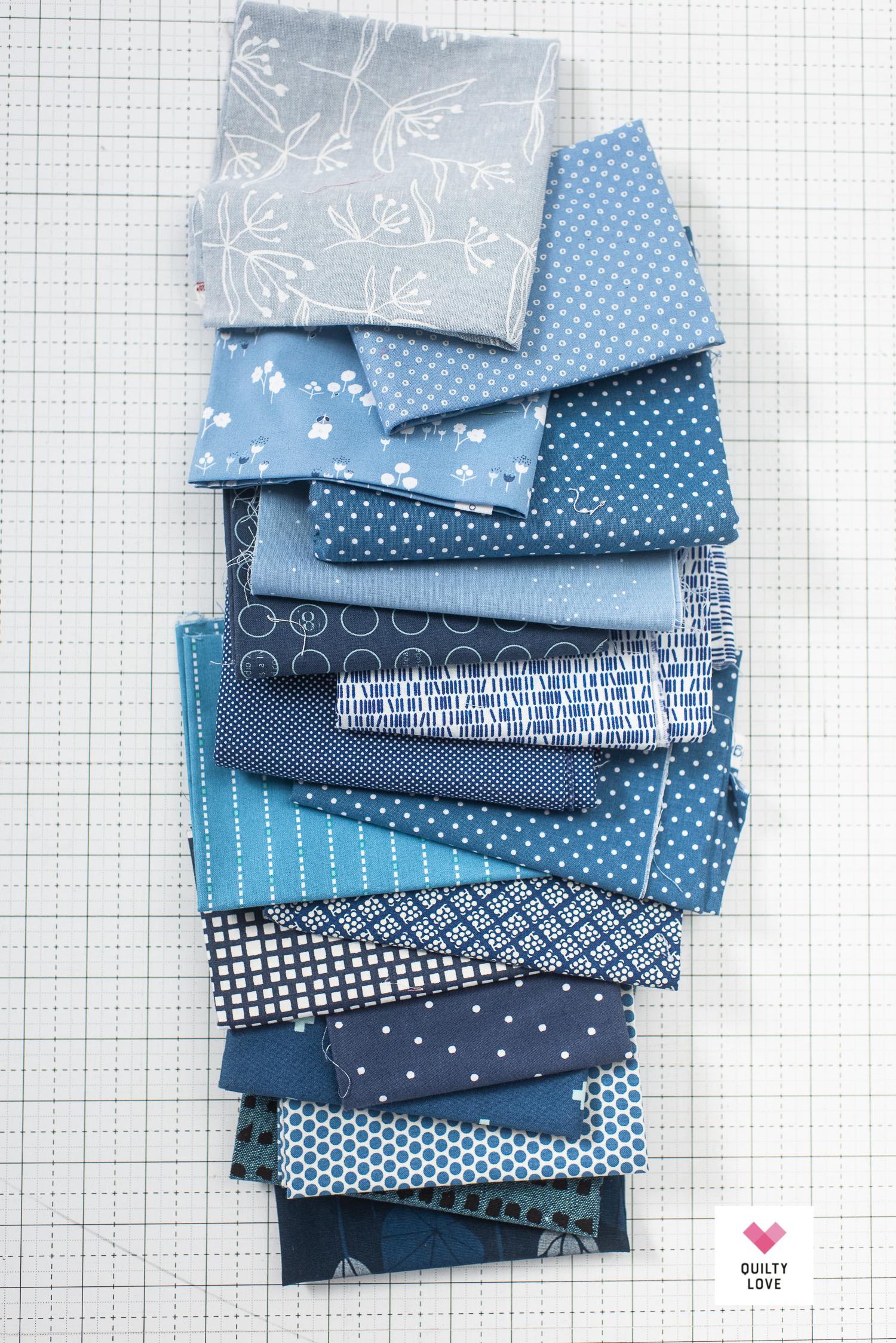 Grey background fabric
The grey background fabric also came from my stash. I think it was some leftover quilt backings. It's a Carolyn Friedlander Wide Screen print.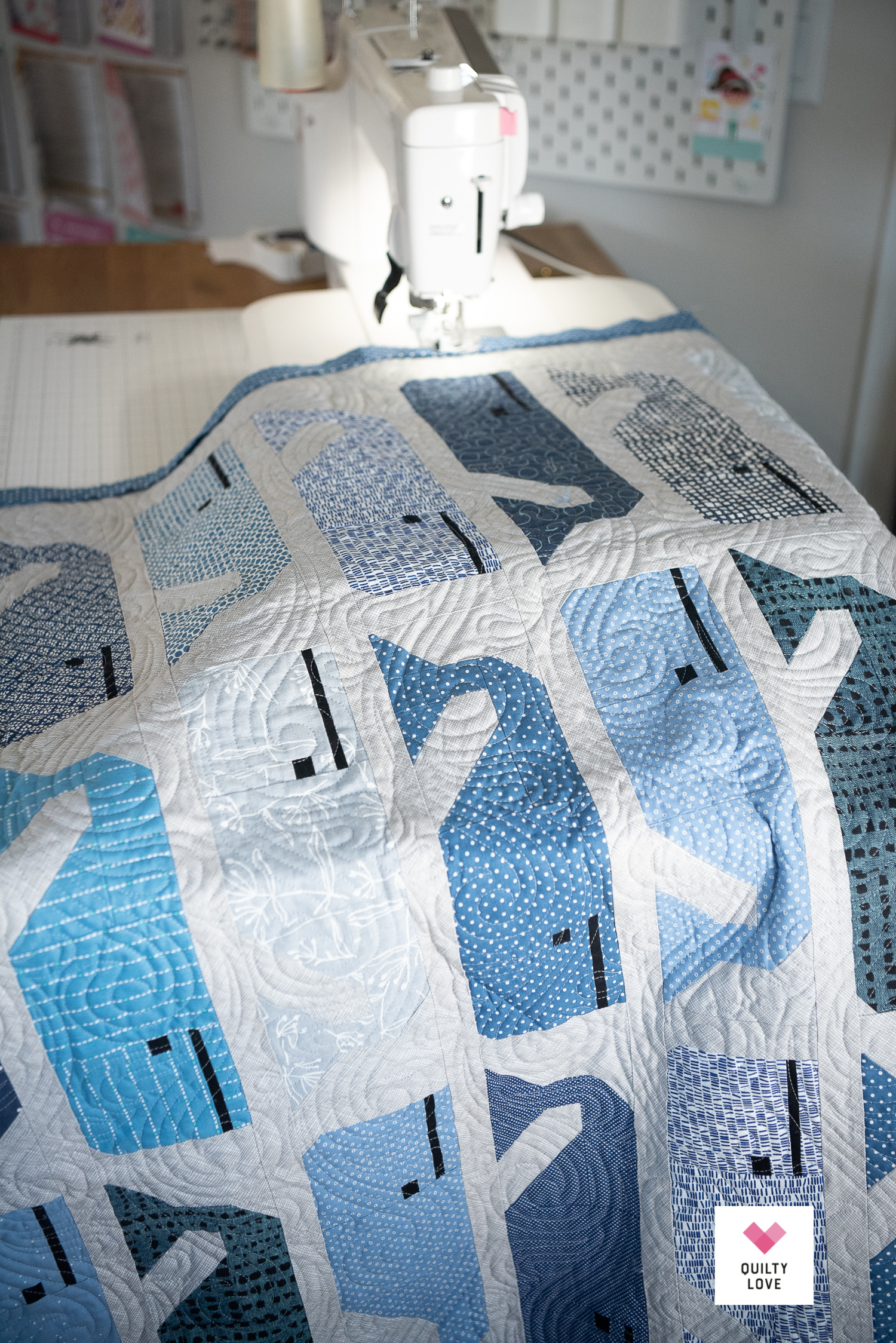 Long Arm Quilting
I sent this Preppy the Whale quilt off to Vintage Stitch for long arm quilting. Since I made this quilt specially for the baby I wanted it long arm quilted. Normally I'll quilt baby quilts myself.
We chose this water looking pantograph which pairs perfectly with these cute little whales.
Shannon Cuddle Minky Backing
And of course this cute little baby quilt was finished off with a cozy minky backing. This is a Shannon Cuddle minky.
I'm happy to say the toddler loves it and it is in fact getting used. All of Elizabeth Hartman's animal quilts are so adorable and I'm sure this won't be the last one I sew up. Many years ago I made this Fancy Fox quilt for my son and it was a very well loved quilt.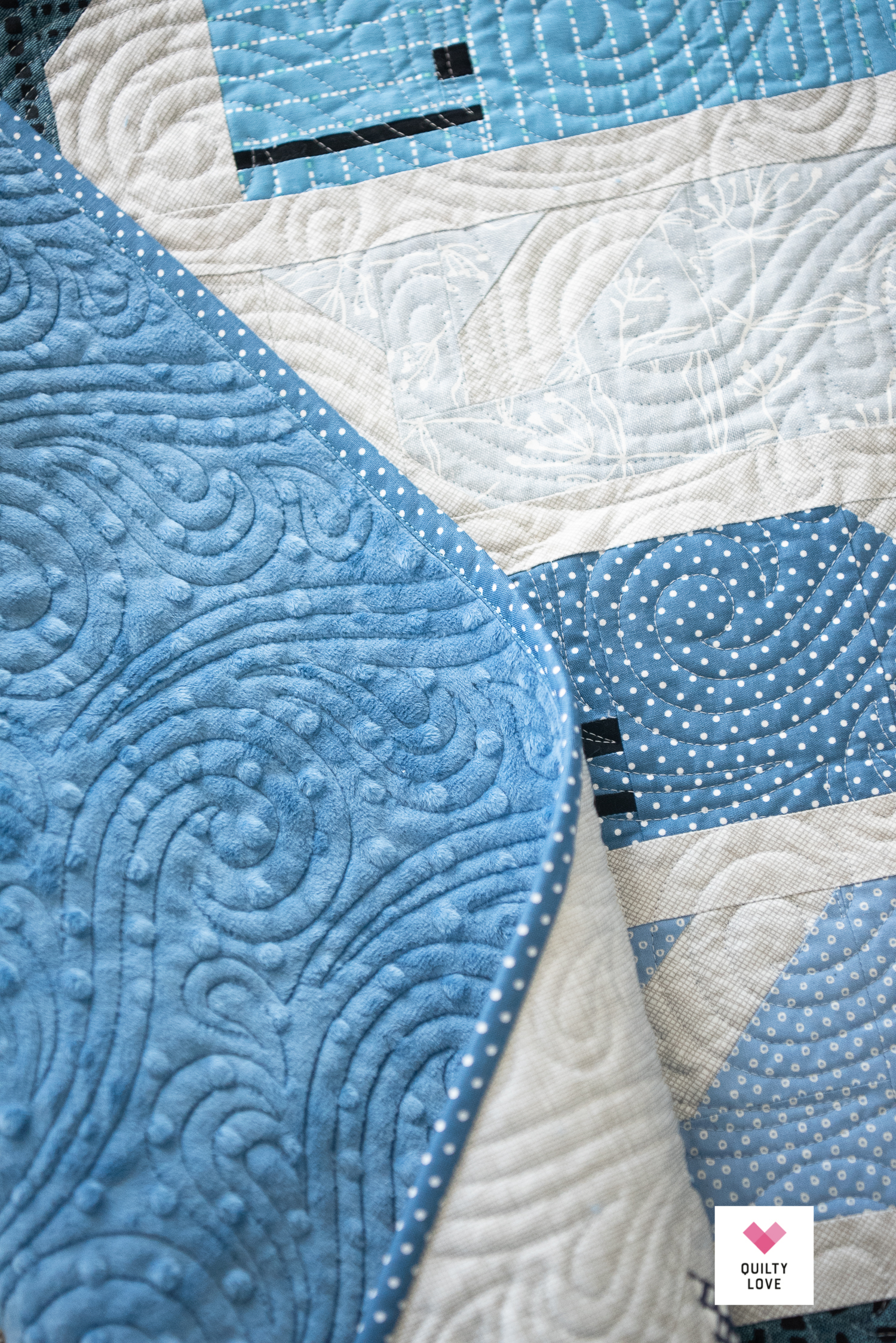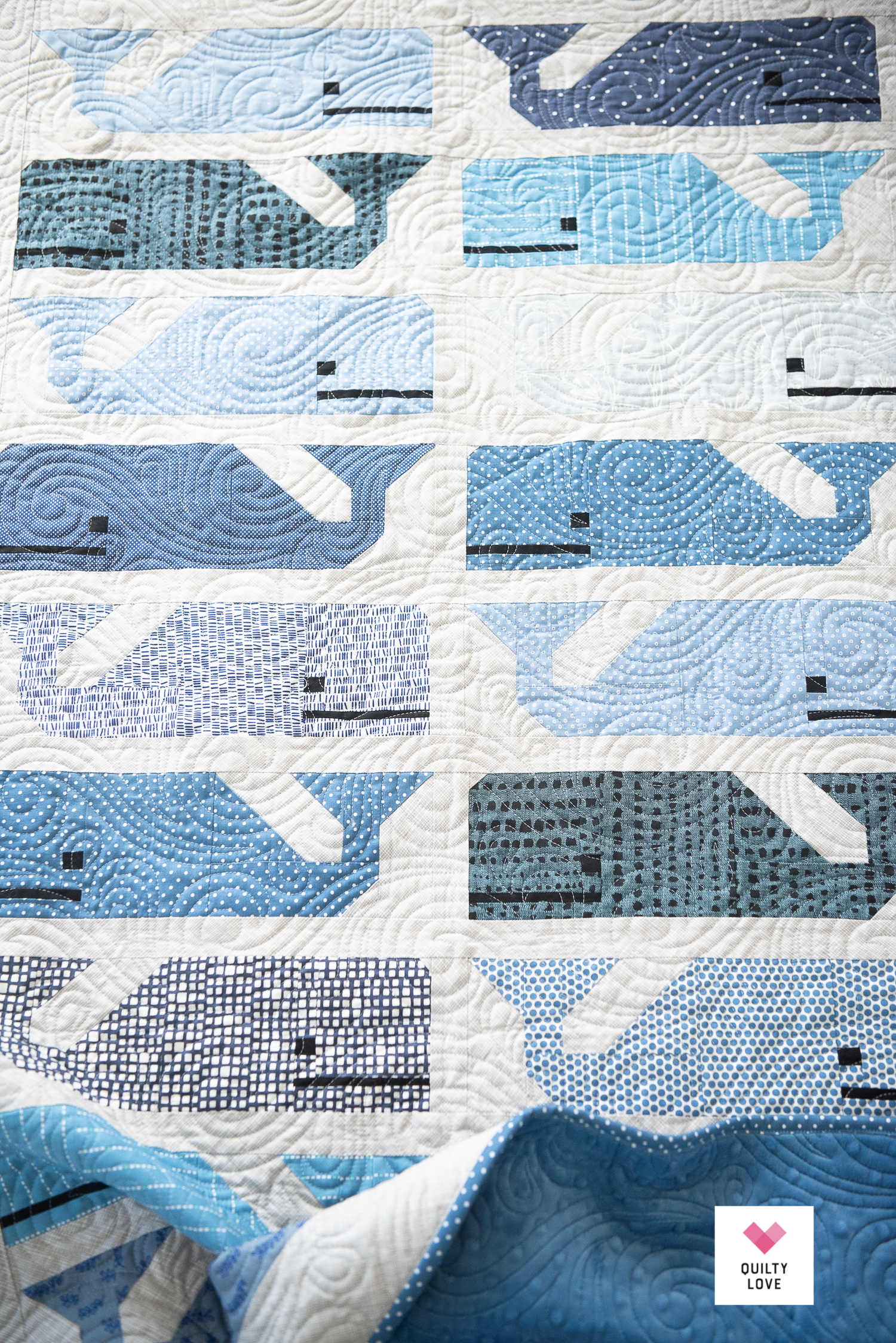 Preppy the Whale Quilt materials
Quilt Pattern: Preppy the Whale by Elizabeth Hartman
Fabrics: Various blues from my stash
Backing: Shannon Cuddle Minky
Long Arm Quilted by Vintage Stitch