The Happy Scrappy Glowing Quilt
I'm so excited to share this Scrappy Glowing quilt today! The Glowing quilt pattern was released last fall and this is the quilt I made during the quilt along that followed.
Glowing is a big block based quilt pattern that uses fat quarters from your fabric stash. For this happy scrappy Glowing quilt, I used a variety of navy blues, teals, greens and low volume scraps. It's easy to modify Glowing into a scrappy quilt like this one.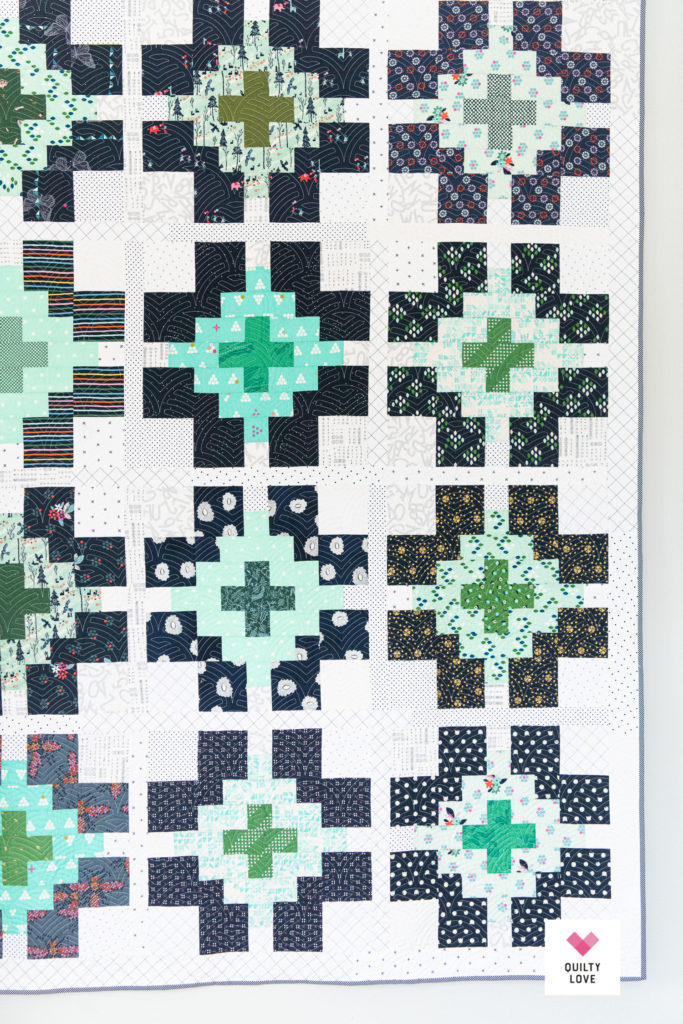 Glowing quilt pattern by Quilty Love
Glowing has been in the works for many many years. I've been tweaking the design for this one for quite some time.
My inspiration for this pattern was an intricate design I saw on a piece of clothing many years ago. Every once in a while I played around with the design in Adobe Illustrator but it was always too intricate. There were always too many seams. Finally I was able to simplify it into an easy to make quilt block.
Whenever I have an inspiration piece like that I try to keep it just that: inspiration. Rather than making an exact replica I like to create a design inspired by it.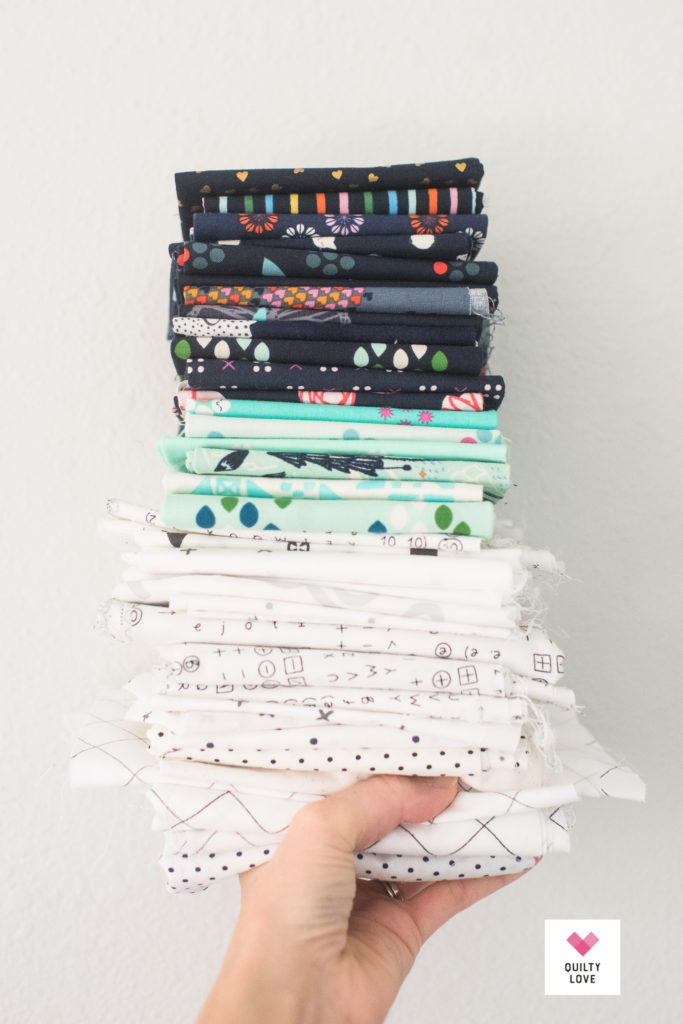 The perfect Stash friendly quilt pattern
This quilt was a fun one! And a very satisfying make. I hosted a quilt along when the Glowing quilt was released and this is the quilt I made during the quilt along.
I encouraged the quilt along participants to use their fabric stash for this quilt. Glowing is a fat quarter quilt and uses only one fat quarter per block. That means you can make a large throw size with just 12 fat quarters from your stash.
Make bundles from your fabric stash
Check out this blog post for tips and tricks on how to mix fabric bundles from your stash.
I dug deep into my fabric stash for my scrappy Glowing quilt. I've had these navy and teal Cotton and Steel fat quarters sitting in my fabric stash for so long! I've been itching to use them though.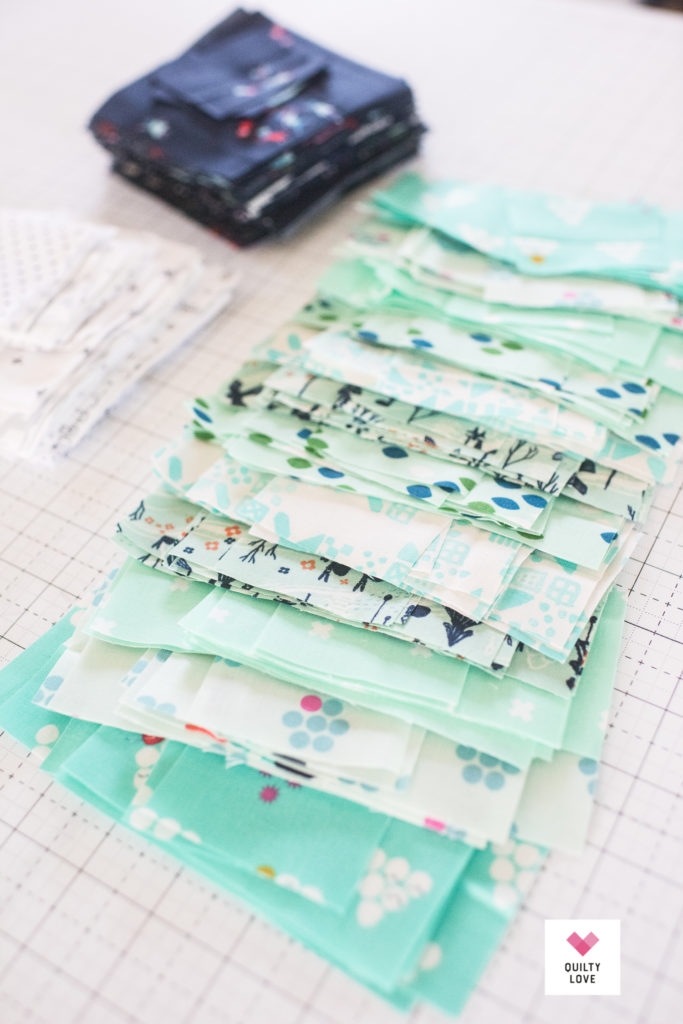 I decided to modify the quilt slightly by using just 3 colors. The outside rings are navy, the inside rings are teal and all of the plus signs are green. I cut all of my block pieces from these colors. I don't think I've ever made a quilt like this before!
I can definitely see more scrappy quilts like this in my future where they are scrappy but use limited colors.
Chain piecing short cuts
I don't miss an opportunity to chain piece a quilt! I'll figure out a way to chain piece most quilt patterns. This Glowing quilt doesn't have a super easy or obvious way to chain piece but I found a short cut you might like.
You can use this method for any block based quilt.
Stack your quilt block pieces up into one large stack. Then you can chain piece sections at a time. This saves a ton of time (and thread) on a quilt like this large block based Glowing quilt.
You can see how I stacked up the blocks and then chain pieced the sections in the videos below.
Scrappy Low volume background
What made this quilt extra satisfying is the low volume background! I cut all of my background pieces from low volume fabric scraps.
A low volume fabric is any lighter fabric with more neutral prints. So this large Glowing throw size quilt is made entirely from my fabric stash. I used low volumes with white backgrounds.
I've made scrappy low volume quilts in the past with a wide mix of low volume fabrics like this scrappy Quilty Stars quilt but for this Glowing quilt I kept the low volumes all white.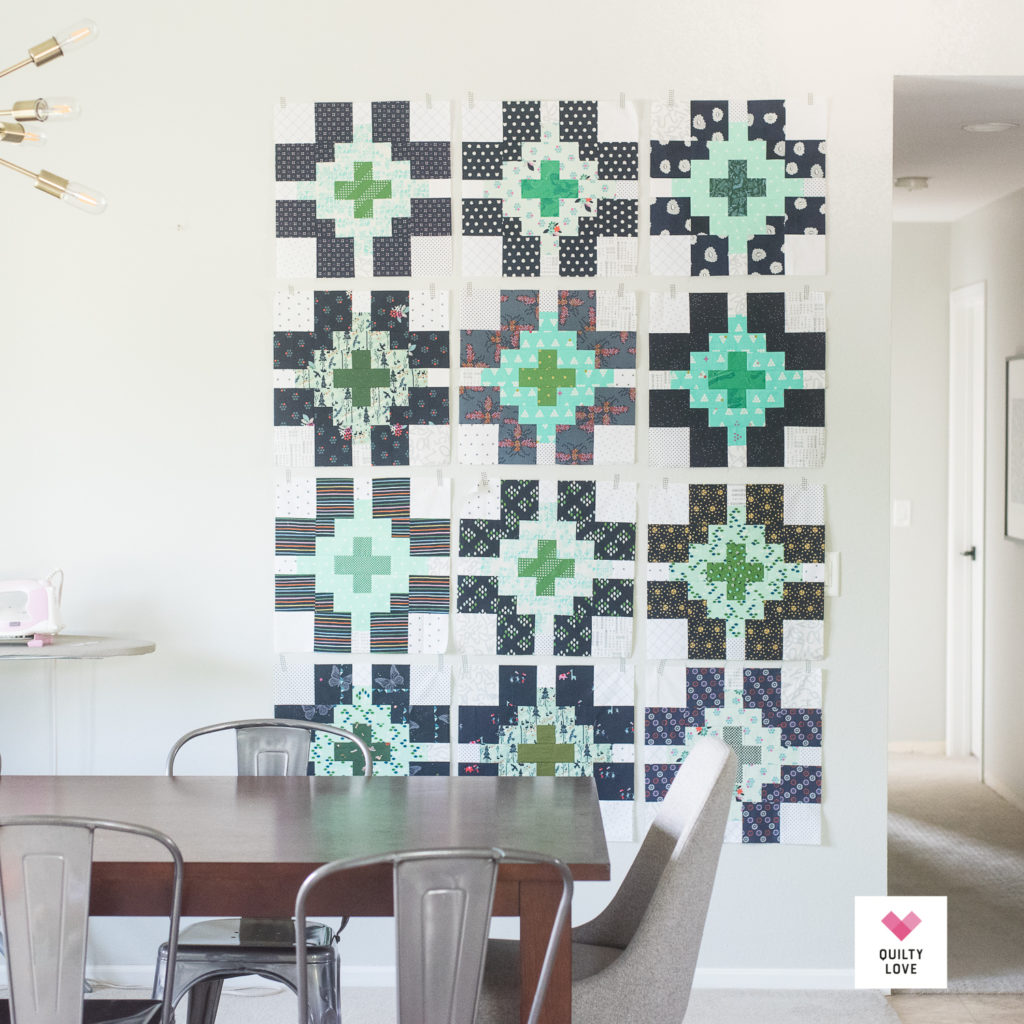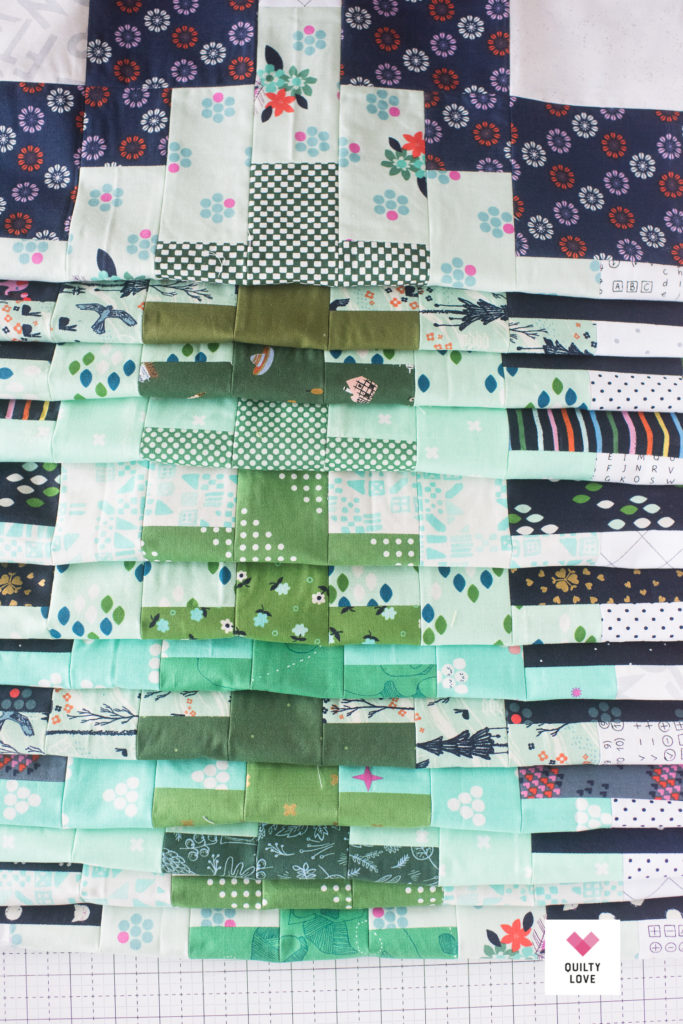 Big Block quilt pattern
The Glowing Quilt pattern has nice big blocks! Big blocks can be fun to make. Each one is satisfying to finish.
Beginner friendly quilt pattern
Glowing is a good beginner friendly quilt pattern.
What makes this quilt pattern beginner friendly are the limited seams to match up. There are very few seams that need to line up perfectly. So it's a very forgiving quilt block good for beginner quilters.
Pre-made Bias Striped binding
I finished off this happy scrappy Glowing quilt with a pre-made bias striped binding from Simply MacBeth.
It's actually pretty amazing to have pre-made bindings on hand…lol. I don't always love the process of making bindings so having a few of these bindings on hand is always nice.
Peppered Cotton Wide back backing
If you have been following for a while then you know I love a good wide back fabric. A wideback fabric is just that… a wide fabric meant to be used for quilt backings.
I'm not a fan of piecing quilt backings so a wideback eleminates that. Most widebacks are around 108 inches wide instead of your standard 44 inch wide bolt of fabric.
I like a nice neutral backing and these are just that. I also love how soft these peppered cotton fabrics are. They fray quite a bit making them a little more challenging to quilt with but make super great backings since no piecing is required. They make for soft and drapey quilts.
Save money by using wide backs on your quilts
Widebacks are a great way to save a little money on your quilt backing too! You need less yardage of a wide back and the total cost generally comes out less than regular width fabric.
I used a grey peppered cotton wide back on this scrappy Glowing quilt. I stocked up on some of these peppered cotton wide backs and have used them quite a bit now. I really love them!
Wide back or quilt backing quilt calculator
If you need to convert your backing fabric on a quilt pattern into a wide back width use this quilting calculator! You enter your quilt dimensions, the dimension of your fabric (108 inch wide or whatever the wide back is) and it will tell you how many yards you need. You can even add overage if your quilter requires that.
Scrappy Glowing quilt pattern – Quilt sizes
Glowing is a fat quarter friendly quilt pattern that includes instructions for a baby size quilt, a throw size quilt and a double or full size quilt. I was excited to offer the full size quilt in this quilt pattern since that size is a little harder to find.
The throw size is a very generous throw measuring 63″ x 82″. It's almost large enough for a twin size bed. You could add a slightly larger border to this quilt to fit a twin size mattress.
Long arm quilting
I sent this large scrappy Glowing quilt off to Jenae at Vintage Stitch for long arm quilting. I had her help me decide on a quilting design and this clamshell look was a winner! This quilting pantograph is called Sashiko.
Materials Used in the Scrappy Glowing quilt:
Quilt Pattern: Glowing quilt pattern by Quilty Love
Fabrics: Assorted Cotton and Steel prints
Background: Assorted low volumes from my stash
Binding: Pre-made binding from Simply Macbeth
Backing: Peppered Cotton in Fog
Pieced on my Janome MC6700p
Quilted by Vintage Stitch