Quilting (and working) in a small space
I don't know about you but I have sewing room envy.   Gorgeous sewing rooms get me every time.   But alas, I don't have one.  At this point, I'm just thankful for the little corner of the house I've been allowed to take over as my small quilting space.
I know a lot of you are in the same boat with little to no sewing space so I wanted to offer up what works for me and maybe even draw from some other inspiration out there.
Quilting in a Small Space
My current quilting space is along a nook in the dining room.
Our house is pretty open so it's basically right in the the middle of it all.   Most days I'm ok with this as I'm always around when the kids are around.  It would be harder to sneak away to a sewing room when the family is home.
My husband is a neat freak a little tidier than me so keeping everything organized and not too chaotic is important.   Plus it's literally the first thing you see when you walk into our house.
Use Furniture for Storage
One of the things I've tried to do to keep my space looking tidier and more intentional is use furniture pieces as storage.   I picked up this teal cabinet from Target and love the pop of color it adds to our house and the practical fabric storage it provides.
The wall shelf to the left of my desk is also from Target.   I use it to display newer bundles or favorite bundles.   It also holds thread and pincushions.  I love the fun happy colors it provides the space also.
My main work space is an IKEA set.  One side is designated for my computer and the other my sewing space.  Those drawers… they hide away a lot of junk!   😉  The matching chairs…als Target…  starting to see a trend here… pretty much all IKEA and Target.
Since my IKEA desks don't fit wall to wall (like i wish) I use an IKEA cart to hold miscellaneous items like works in progress, larger cuts of fabric, rulers and extra thread.  Target has a similar one if you don't have an IKEA near you.
I probably could keep this cabinet tidier by folding everything the same but honestly I don't see myself maintaining that so I'm ok with a little haphazardness.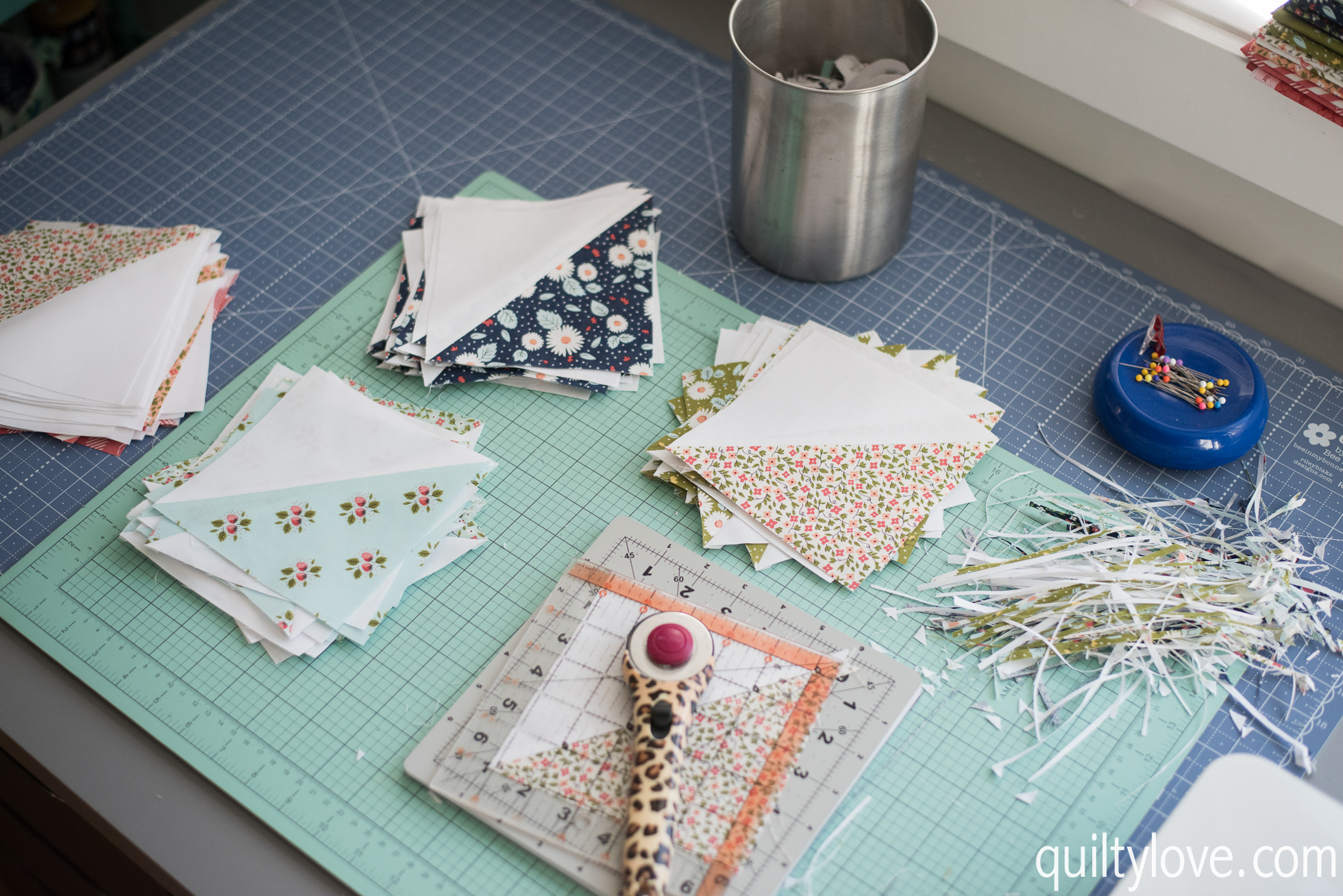 Find cute accessories
Do you even need an excuse to buy an aqua cutting mat 😉   Since my cutting mat is always sitting out I chose a color I would enjoy looking at all day every day.   This double sided Riley Blake one fit the bill.
Before I opted for the larger size mat I used this gorgeous American Crafts aqua one.  I got mine from Amazon but it doesn't look like they have it anymore.   They do have this size in pink.   Or Riley Blake has this cute red and pink option.
Same goes for the other things that stay out a lot like your pin cushions, scrap bin (I'm using a stainless steel canister) and your rotary blade for that matter.
Keep it Minimal
Easier said than done… right!?
I naturally prefer to keep my quilting stash under control because I'm easily overwhelmed.   But it's also a necessity when your in a small quilting space.   I don't really have any other option than to limit my fabric stash to fit the storage I have.
If you are in the same boat, I suggest finding a nice storage piece and only allow what fits to stay.   De-stash and let go of the rest!   Are you really going to use up all of that fabric in your lifetime?!
Stick with the Basics
I'm not a gadget collector.   I'm not a thread collector.   I'm not a fabric collector.
I don't have a lot of threads and the ones I do have are basic colors like white, grey and black.
Keep rulers to a minimum.   Use your favorites and let the rest go.   Or find your favorites and then stop collecting them 😉
De-stashing
While I have never actually done a destash, I have bought from others who are destashing 😉   Instagram is a great place to do this using the hashtag:   #thegreatfabricdestash
Etsy could also be a good place to sell off some extra fabric.
I admit, I also get fabric stash envy when I see beautifully organized shelves that look like they belong in a fabric shop.   But the truth is, that doesn't work in my current situation and really I don't think that works with my personality type either.   I tend to have weird guilt around all this unused fabric sitting around.   Not sure what that is all about 😉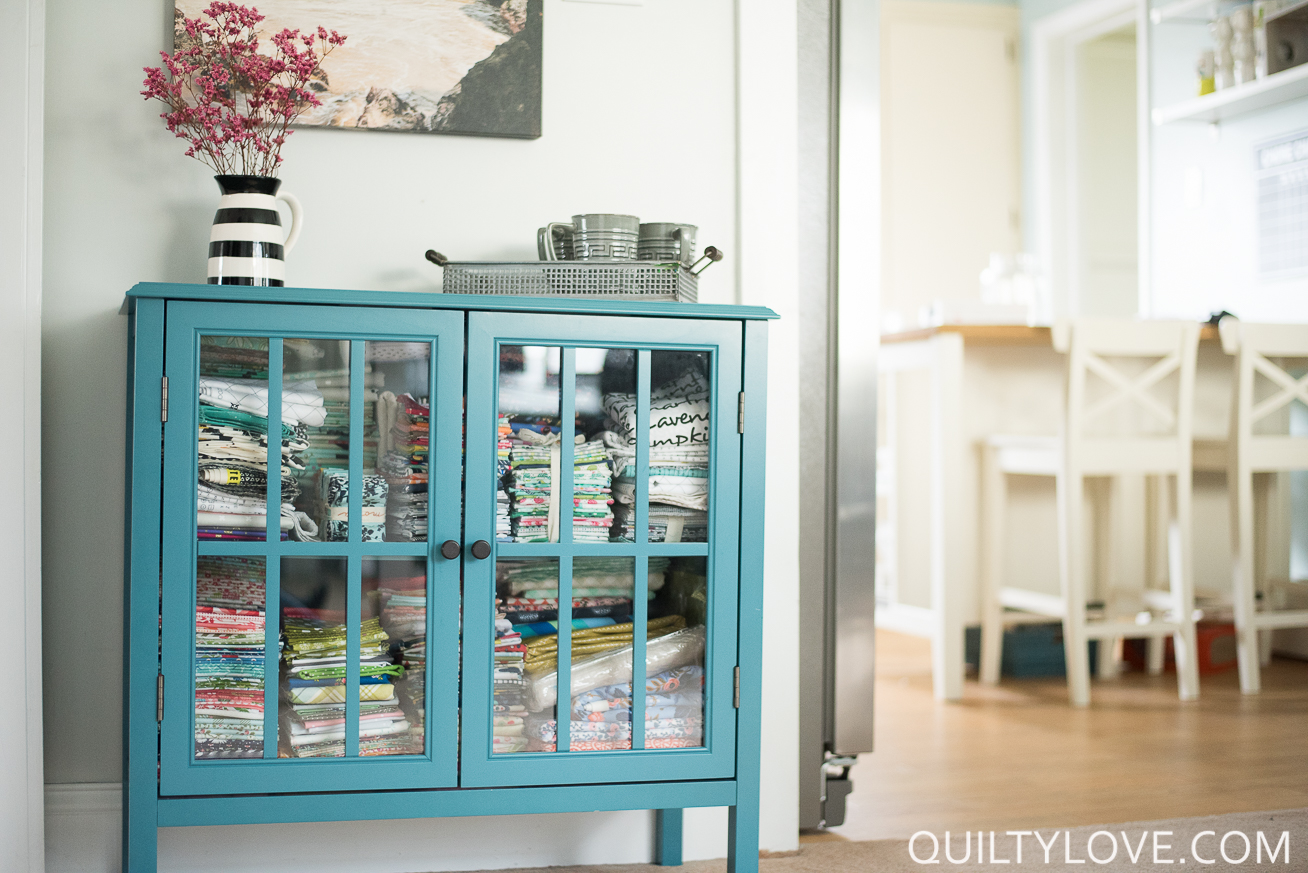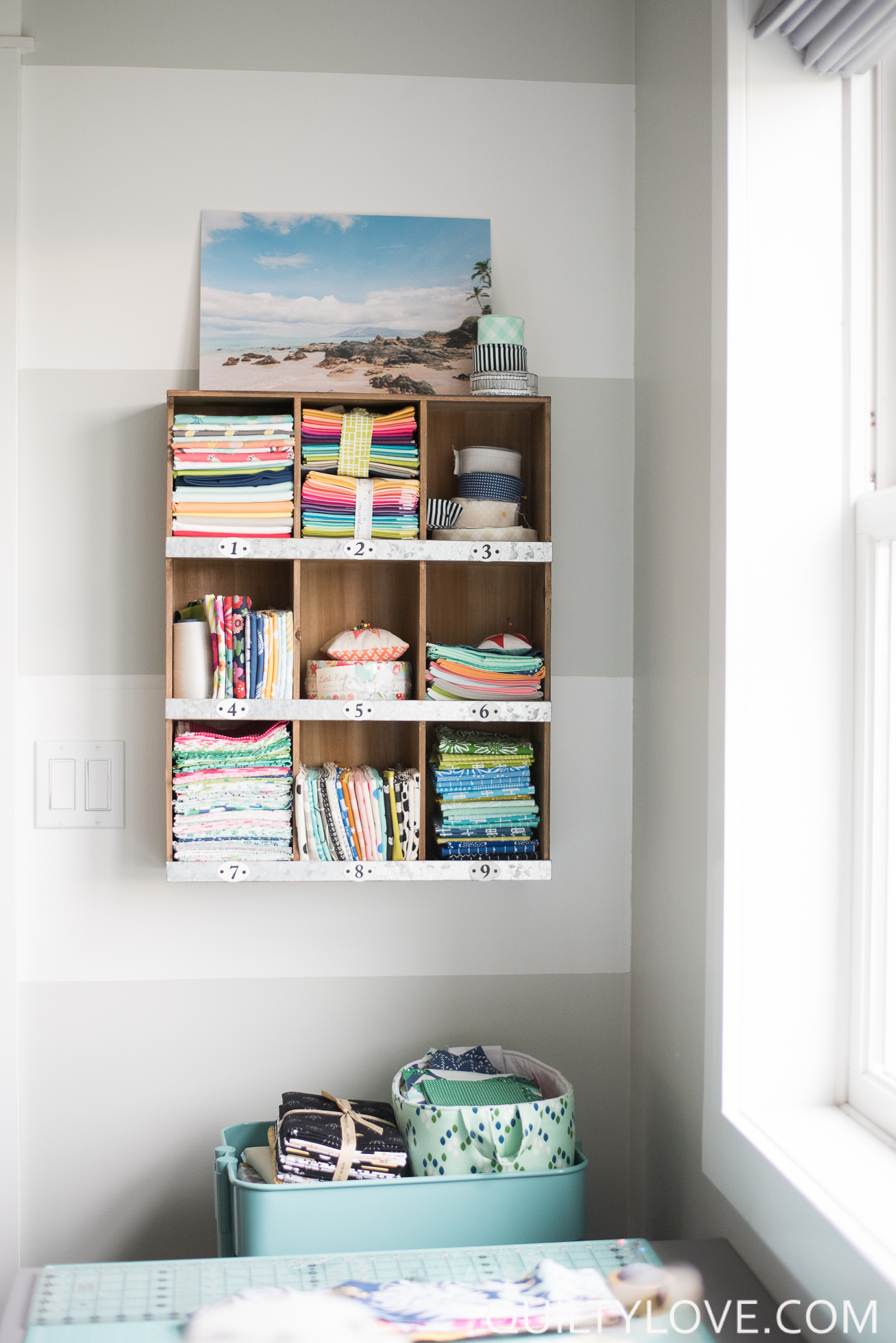 Having fabric out in the open like this is a good reminder that it needs to get used!  These Target shelves get shuffled around a lot usually holding either new stuff or favorite stuff.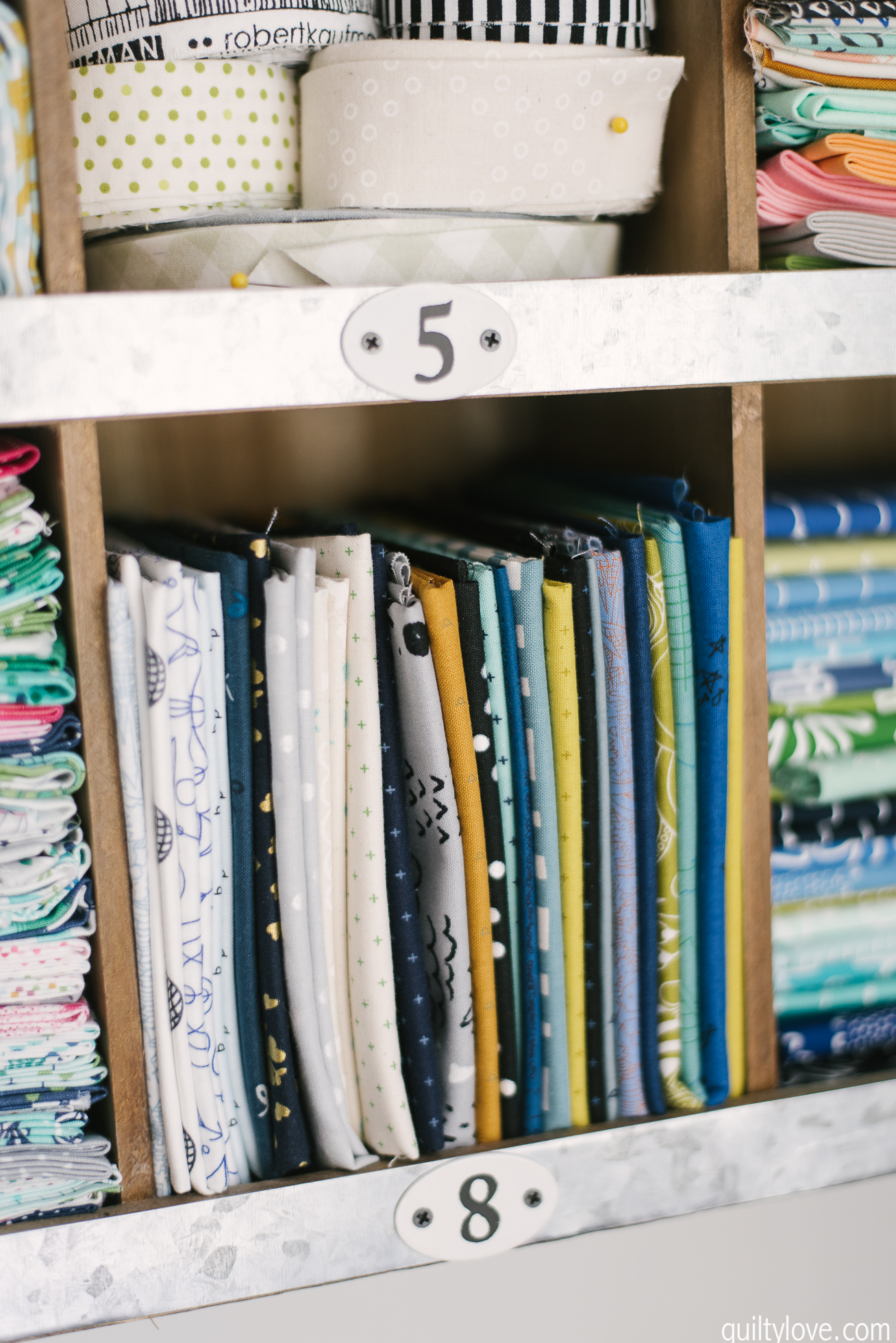 Since my quilting space is small I usually switch over to kitchen table quilting when it's time to quilt a quilt.  (How many more times can I add quilting to that sentence..hahah)
Our kitchen table is nice and big which makes for the perfect surface to wrangle a big quilt.   And it's just behind my actual sewing space so swapping my machine back and forth is no big deal.
See…. these are the perks of not having an actually sewing room… you pretty much can have a sewing HOUSE.    Or at least that's what my husbands calls it.  😉
---
Creative Spaces
I'm pretty much a minimalist and never quite polish off my spaces so I had fun scouring the web for others who make small spaces work for them.   I hope you enjoy!
Here are some of my favorite small space ideas from the web:
A house full of sunshine uses a nook in her home also for her work space.  Looks like plenty of room for a computer and sewing machine.   She is also using IKEA furniture to customize her space.
Our Fifth House took over a wall in the basement for her work space.  Love the chalkboard wall.   Do you see how the calendar is just drawn into the frame.   So clever!
Fabric Paper Glue has an actual room but this little set up right here looks good enough to go anywhere you have an extra wall space.   All the black and white!!   Good stuff.
This built in nook is pretty much amazing.
Thread Storage
Fabric Storage
Favorite small space finds