Quilty Stars Quilt – The solid baby ones
The Quilty Stars quilt pattern includes a nice and easy baby size quilt. Quilty Stars is the brand new Quilty Love pattern available in the shop.
Use solids or prints
I used my leftover At Then Came June Kona bundles for two Quilty Stars baby quilts. I separated the colors out into two different versions. This baby size doesn't need a lot of fabric so it was great for these leftover pieces.
Beginner friendly quilt pattern
Quilty Stars is a good beginner friendly quilt pattern. The measurements leave plenty of room for trimming up perfectly sized half square triangles. The trimmings of these two solid quilts were too pretty not to photograph 🙂
The original Quilty Stars Quilt is made up using prints from my scrap bins so I wanted to see how this quilt might look in solids. It turned out so fun in these range of colors. Each quilt sticks with two colorways to keep it a bit more cohesive.
All the quilt sizes
The Quilty Stars quilt pattern includes instructions for a baby size, throw size, twin size and king size. It also includes instructions for a solid background like these quilts or a super scrappy background.
Since I quilted these baby quilts myself I went with my favorite wavy stitch pattern. It's simple, easy and so forgiving. Plus, look at that texture!
I have a similar tutorial for this kind of quilting here. Swap out the multi stitch zig zag setting for the wavy stitch on your machine.
Our little babes is already 6 months old! I brought her outside for a fun photo shoot with these two new baby quilts.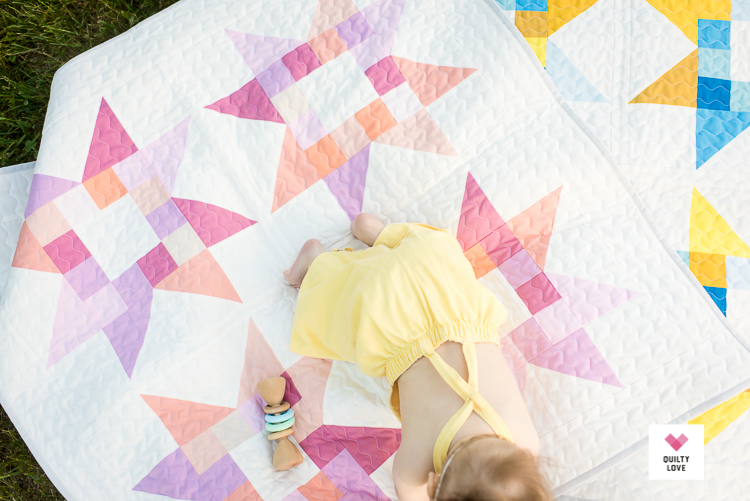 Make Quilty Stars for your next quick and easy baby quilt! Use up that stash of scraps or fat quarters for this fun scrappy star quilt
Quilty Stars is available in the Quilty Love shop in paper and PDF versions.
Go check out the original scrappy cover version of Quilty Stars here!