How to quilt – Zig zag walking foot quilting on a home sewing machine
This Zig Zag walking foot quilting tutorial is long over due!  It's one of the most requested tutorials since I use and post this walking foot quilting technique quite a bit.
Zig zag quilting is an easy way to quilt up your quilts using a walking foot and your own home sewing machine.  Zig zag walking foot quilting has the most amazing quilting texture and looks like you put in a lot more effort than you did.  It's a simple walking foot quilting technique that looks a lot harder than it is.
Here's what you need for zig-zag walking foot quilting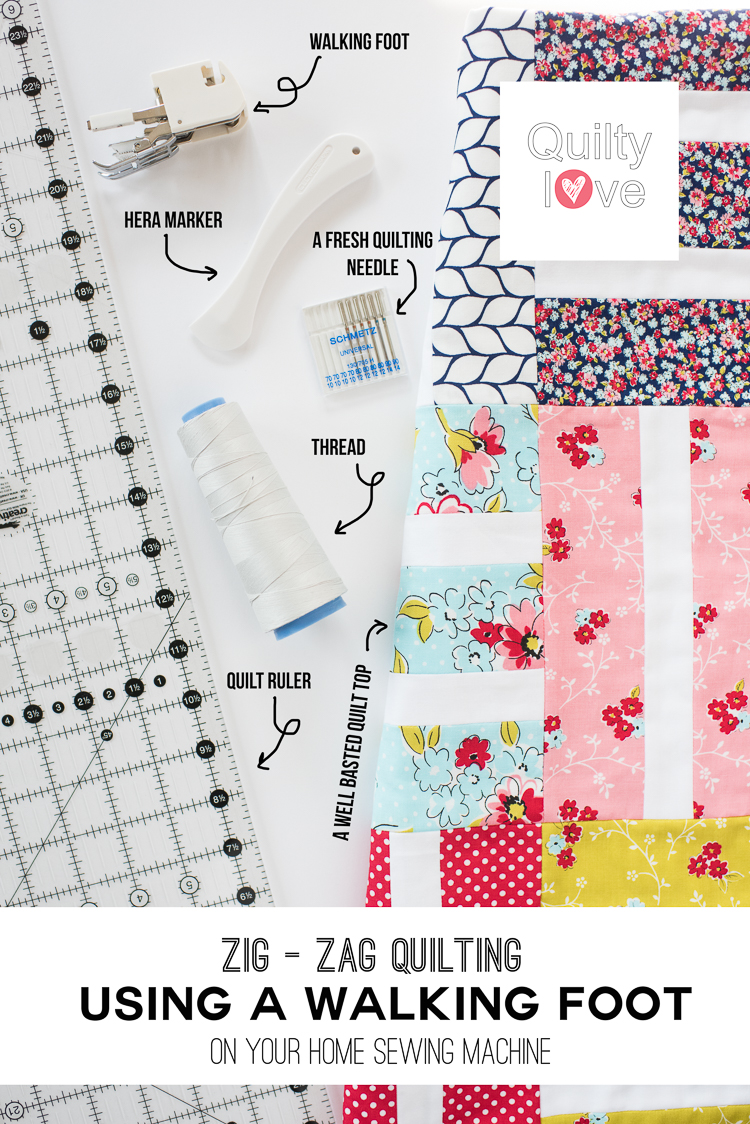 A walking foot – If you plan to quilt more than one quilt in your life, I highly recommend a walking foot!  Some walking foot brands are interchangeable so you don't necessarily need the one that comes with your machine.  I use a cheap singer walking foot for my Janome machine.  I like it better than the expensive Janome walking foot that came with my machine.
A sewing machine that has the multi zig-zag stitch.  If your machine has a few stitches and is not just a straight stitch machine, there is a good chance it has it.  Below is what the multi zig zag stitch looks like on my Janome machine.

A walking foot guide or Hera marker to mark your lines.  I used a Hera Marker on this quilt since it was smaller.  My walking foot casing broke that holds my guide so it's not as reliable as marking the lines ahead of time.  It can still work.  I just tape the guide to the back of the walking foot when I want to use it!
Quilting Needles.  I don't use actual quilting needles because they are hard to find.  Most of the time I machine quilt with a universal needle like a Schmetz 80/12.
Thread.  I like to use 50wt cotton thread for quilting.  My favorite quilting thread is this Connecting Threads brand.  It's a little thicker than most 50wt threads.
Getting Started
Baste the quilt.  Make sure your quilt is basted well.
Choose which direction your lines will run.  Vertical or horizontal?  I often choose to run my quilting lines vertically so there is less bulk in my machine as I quilt.
Mark the lines 3/4in apart.  If you don't have a walking foot guide, mark your lines with a Hera marker and quilt ruler before you start quilting.  I prefer my lines to be 3/4in apart when zig zag walking foot quilting.  1in is just a little too spaced in my opinion.
The Hera Marker leaves indented lines on the quilt top.  Now I just have to quilt right down the middle of each line with my walking foot.
Sew a basting stitch along the top edge.  Lately I've taken to basting the top edge of my quilts before I start quilting them.  This will prevent the quilt layers from shifting and pulling as you quilt.  This is a loose straight stitch right along the top edge.  Try to keep it under 1/4in from the edge so you don't have to remove it later.
Having the basting stitch also reminds you which side is up if you don't get through quilting in one sitting.
Zig Zag Stitch settings
Set your stitch length and width.  I like my multi zig zag stitch to have about these settings:
Stitch length:  3.0   Stitch width:  7.0 (the widest it will go on my machine)
Test your stitches first.  Before you start zig zag walking foot quilting on your quilt, it's a good idea to run some test stitches.  I have a few swatches around for this purpose.  Test different stitch widths and lengths until you find something you like.  Note these numbers though if you need to come back to quilting later!
This is also where you will test your tension.  Adjust the tension as needed if the stitches are coming through either side.  Refer to your manual to adjust the tension on your machine.
Start quilting
Start quilting on the Right side.  I always start quilting my quilts on the edge and work the same direction the entire way through without ever flipping the quilt.  I prefer to do this instead of starting in the middle so I don't have an obvious pulled stitch line where the quilt was flipped.  It can get a little tricky towards the end as the quilt starts to fill up my machine throat but it's worth it to me.  I'll even do large size throws like this.
Go slow and Steady!   The number one thing that helped improve my walking foot quilting was SLOWING DOWN.  Trust me, I'm super impatient but this makes a big difference!  Slowing down will help prevent puckers, and pulled fabric.  Plus your stitches will be prettier.
Start quilting and skip every other line.  I'm finding lately that I prefer to start quilting every other line.  This gets you through the quilt top faster and secures the layers.  Once every other line is quilted, go back and repeat the process for the lines you skipped.  I either keep the quilt in the machine and unravel it out as I go or start over on the same edge again.  Either way works!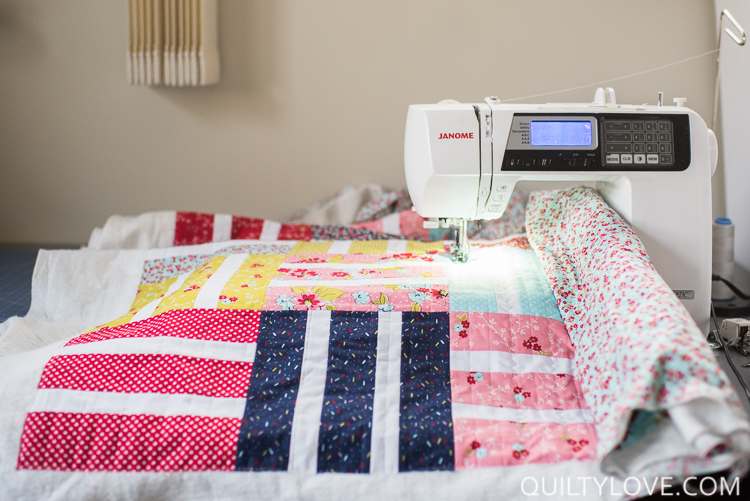 Common problems with zig zag walking foot quilting
Uneven zig zag quilting.  Here's the thing, your stitches will not be perfectly uniform when zig zag walking foot quilting.  And that's ok!  You can see above that the quilt stitches kind of go all over the place.  But when you step back and stop inspecting it will look good!
Your machine will also make a difference.  This tutorial is done on my Janome 4120QDC.  I'm currently testing out a Janome MC6700P.  It handles walking foot quilting like a dream.  My stitches were SO much more even on this nicer machine.
Running out of bobbin thread in the middle of a line.  This will happen!  There are two ways you can handle starting the quilting back up in the middle of a line.
Backstitch to keep quilting.  You will end up with a little blobby mess of quilting where you back-stitch but again, it will be super hard to find once you are done!  I do this all the time.  You can see what it looks like below.
Bury your threads.  The other option is to bury your threads where you start and stop.  Unpick enough stitches where you stop to make a knot to bury the threads.  Starting back up in the same zig or zag can be tricky though.  I usually guess where about my needle is on the machine and it ends up pretty close.  But again, this will be super hard to find once you are done quilting!  Don't over stress about this.  There is a video below showing how to bury threads.
Zig Zag walking foot quilting videos
Here are some short clips showing the zig zag walking foot quilting in action.
Quilted quilts using the multi stitch zig zag
I have quilted SO MANY quilts using this walking foot stitch.  Here are a few below.
Fox glove Triangle Hexies Quilt
Scrappy Granny Squares Quilt – This is a free tutorial!
I didn't even realize this but the very first quilt I ever made (actually second.. the first was a t-shirt quilt) has the zig zag stitch!  It's this Quilt here.
This Flying Geese arrows quilt has zig-zag quilting.
City Tiles quilt one and City Tiles quilt two.  
Look at that texture above!!!
The Red scrappy Swiss quilt has zig-zag quilting.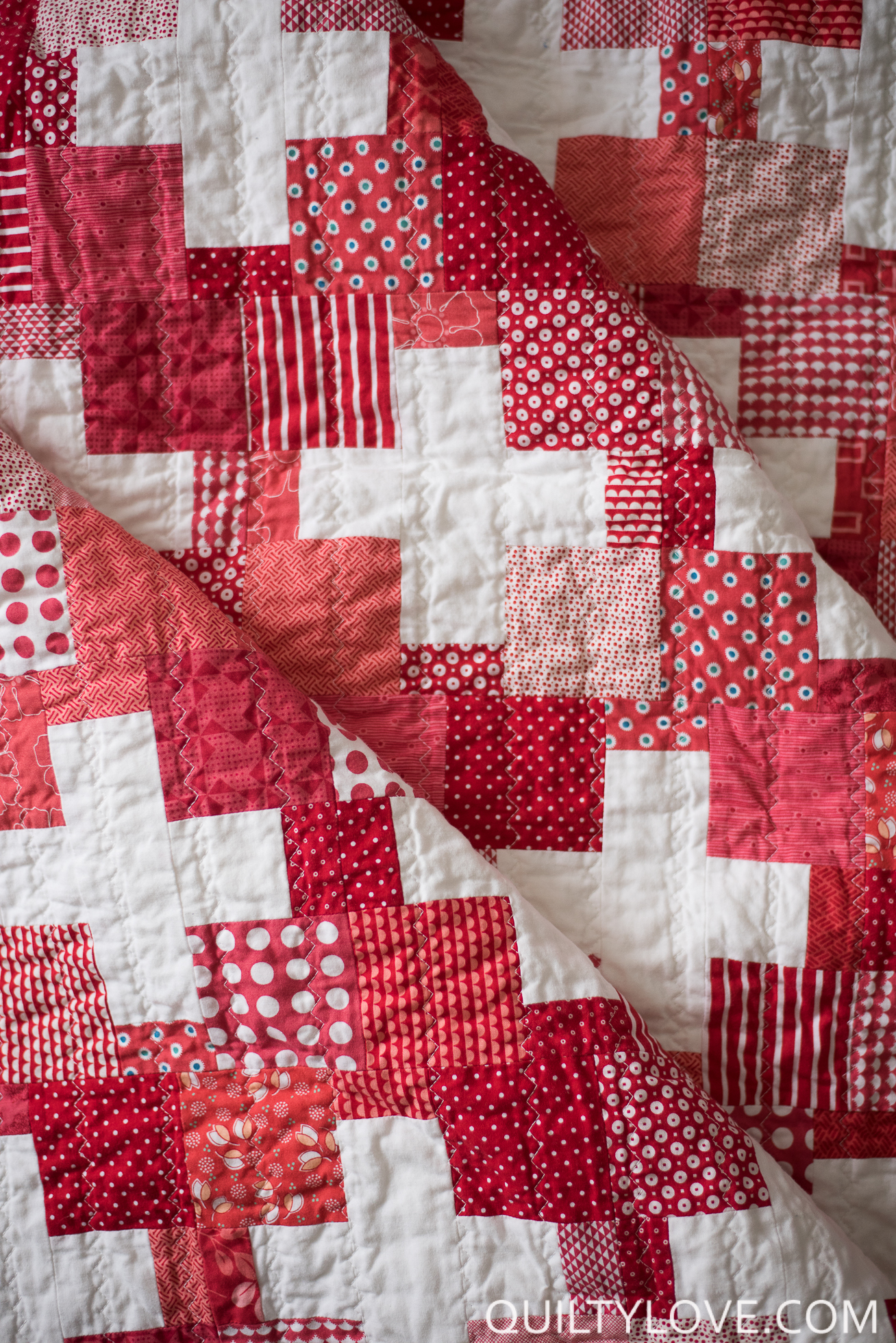 My favorite Plus Squared quilt
Zig zag quilting on Jelly Rings Quilt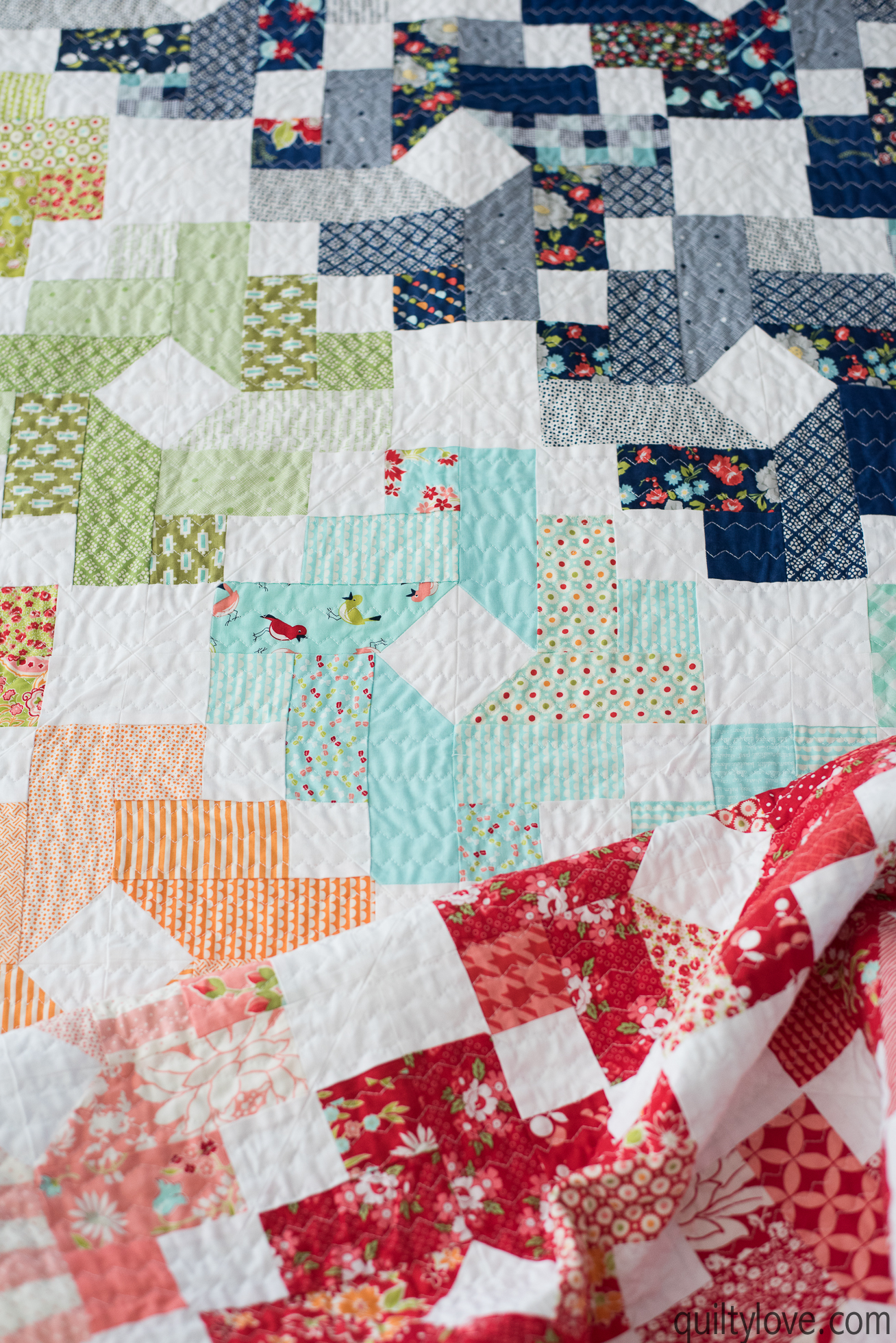 The low volume Triangle Pop quilt
There you have it!  A new walking foot quilting technique to try on your next quilt!  I don't think I will ever grow tired of zig zag walking foot quilting since it offers such amazing texture and looks so good when it's all done.
Here are the materials I used for this tutorial again:
A walking foot
My Janome QDC4120
50wt thread
A universal needle
Hera Marker
Tutorial quilt uses:
Boundless Flower Shoppe Fabric
Find the Cake Dash pattern here