Sassafras Lane Lucky Log Cabins Quilt
I have a fun one to share today! This Sassafras Lane Lucky Log Cabins quilt is a bright and cheerful quilt.
This fast and easy quilt is the first in the new Quilty Love Stash Buster series and a stash buster it is! Lucky Log Cabins does not require background fabric making it a really great quilt to sew up your stash.
This version of Lucky Log Cabins uses the newly released Favorite Things fabric by Sassafras Lane for Windham Fabrics. So while it is not technically fabric from my stash, it was a full fat quarter bundle that was cut up and sewn together in no time.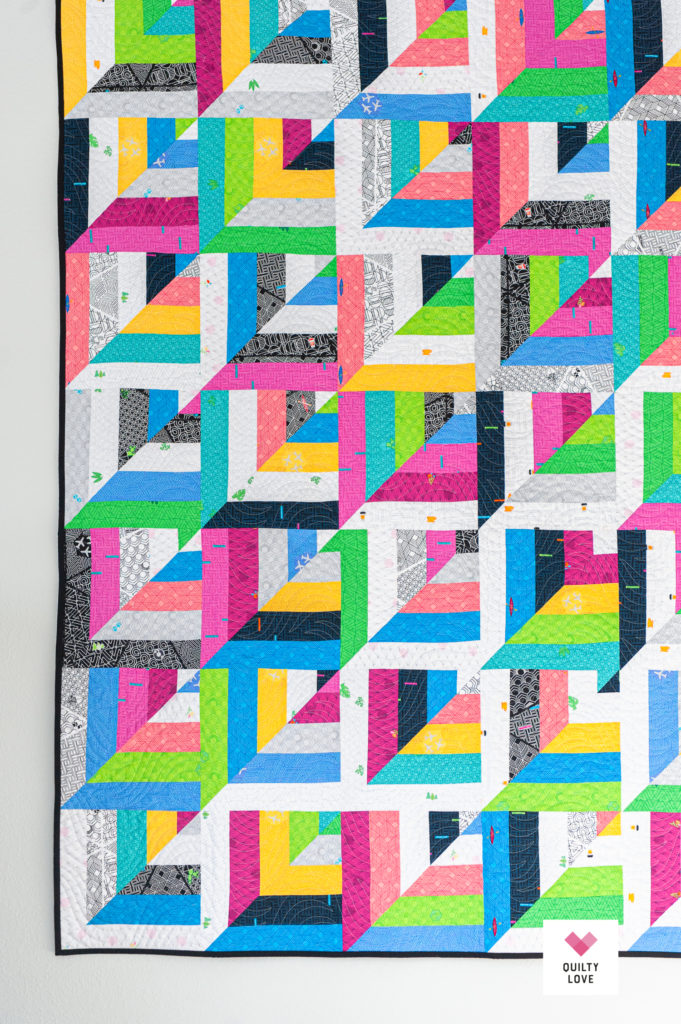 Sassafras Lane Favorite Things Fabric
I was thrilled to participate in the Sassafras Lane Favorite Things Instagram (and blog) tour to help show off their newest fabric line.
Favorite Things hosts a vibrant spectrum of fun prints, a few functional low volume fabrics and a handful of unique neutrals
Favorite Things features Sassafras Lane's signature rainbow of vibrant color. This fabric line includes little motifs of all of your favorite things.
Sassafras Lane Lucky Log Cabins quilt
I knew immediately that I wanted to make a Lucky Log Cabins quilt using this colorful and vibrant fabric line. It has some really great low volume prints in it making it the perfect choice for Lucky Log Cabins.
I chose 15 prints from the Favorite Things fat quarter bundle for the medium throw size. I ended up leaving out the oranges and purples.
Stash Buster Quilt Pattern
Lucky Log Cabins does not require any background fabric making it the perfect stash quilt or in this case fat quarter bundle quilt. I could use the low volumes throughout the quilt since they wouldn't get lost in the quilt.
What I love about Lucky Log Cabins is that is uses every inch of a fat quarter.
Fast and Easy stash buster quilt
This Sassafras Lane Lucky Log Cabins was sewn up in about a day. Lucky Log Cabins is a fast quilt to make! It uses strip piecing shortcuts and requires almost no fabric placement planning. It really is an enjoyable quilt to sew up if you are looking for some good mindless sewing.
All the quilt sizes included
Lucky Log Cabins is one you will find yourself sewing more than once! The pattern includes eight quilt sizes from baby all the way up to king size! The Lucky Log Cabins quilt pattern includes all of the bed sizes and several throw sizes.
This Sassafras Lane Lucky Log Cabins quilt is the medium size throw.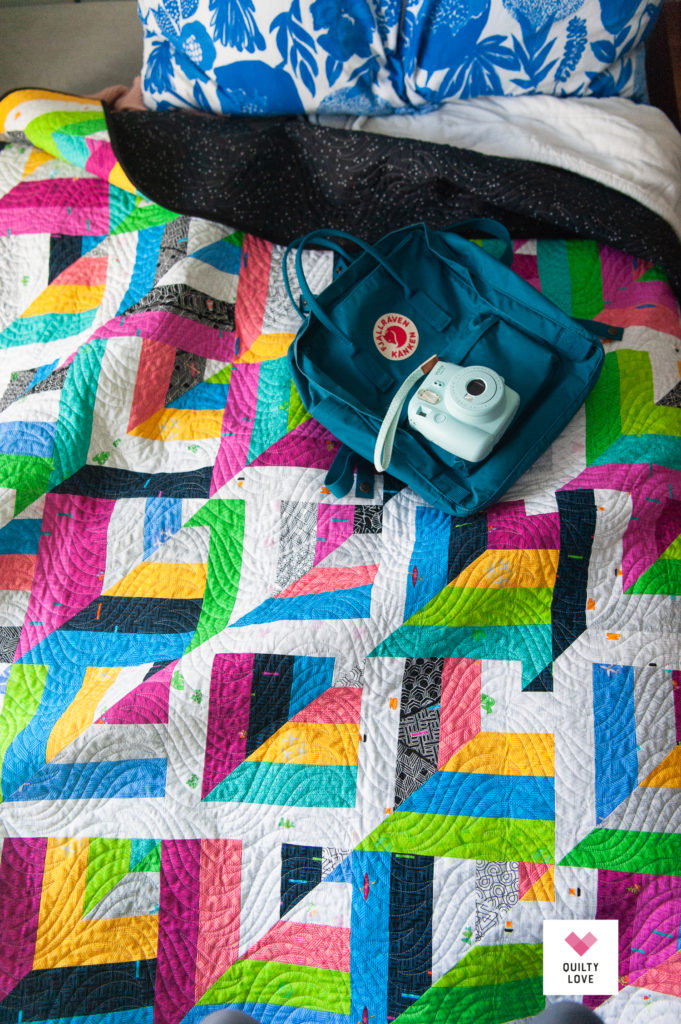 Perfect Teenager Quilt
My teen saw this quilt in my sewing studio and commented on how cool it was. Favorite Things by Sassafras Lane is teenager approved..lol. All of the Sassafras fabric lines with their pretty rainbow of color are perfect for quilts for teens.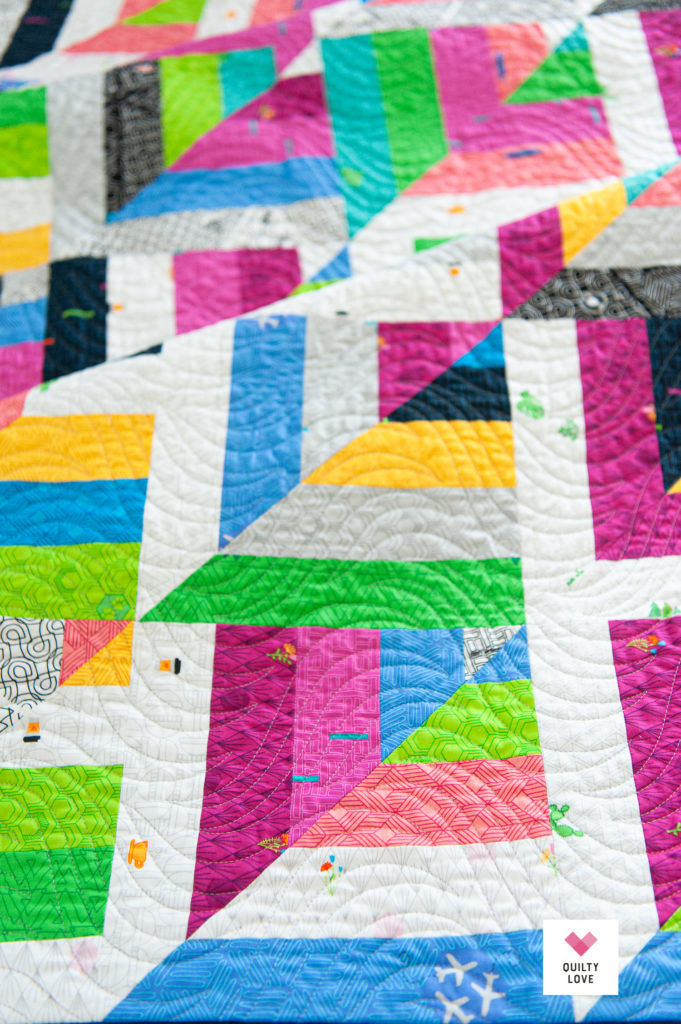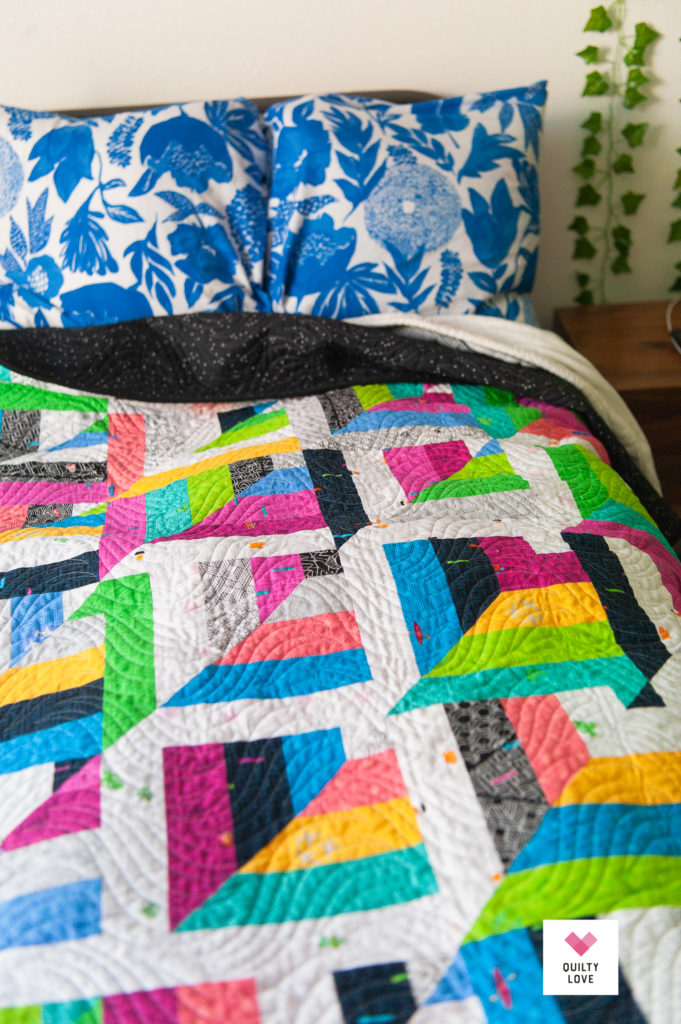 The lights and whites in this Favorite Things fabric line are so fresh!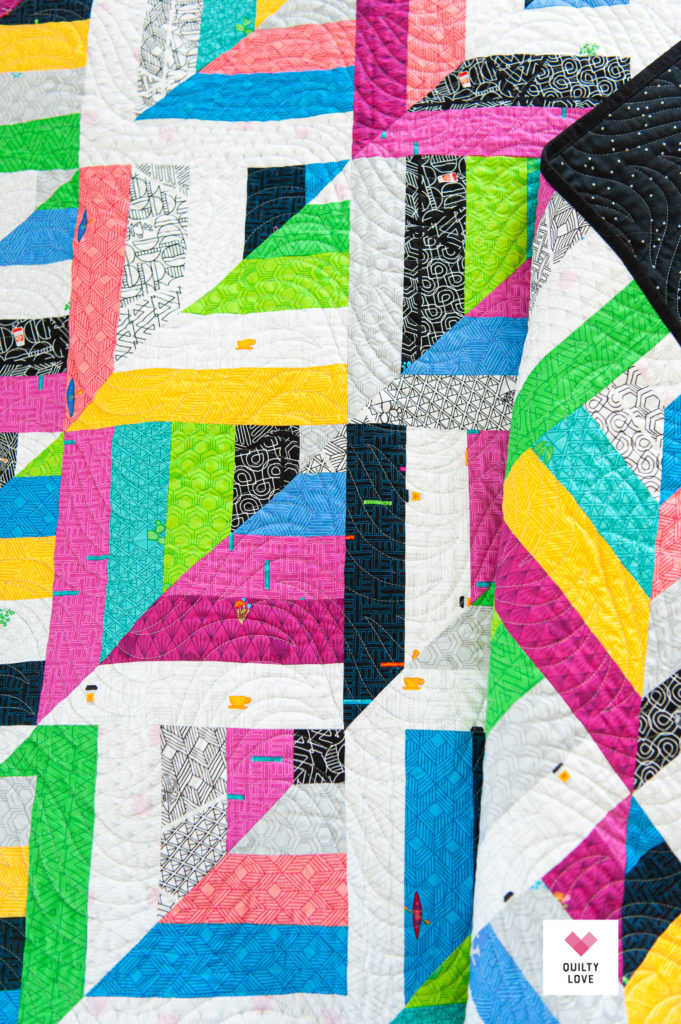 Long Arm Quilting
This Sassafras Lucky Log Cabins quilt was long arm quilted by Jenae of Vintage Stitch. She sent me some quilting ideas and this Macrame computerized quilting pattern was the perfect choice!
I actually had Jenae finish this quilt off for me! It came back completely done! She offers binding as part of her add on services. It was amazing!
Blossoms Wide Back fabric
Let me tell you about this backing fabric! This black backing is a Blossoms wideback by The Tattooed Quilter for Riley Blake Designs. I was so excited when these widebacks were introduced because I'm always on the hunt for a good neutral modern wide back fabric.
Quilting widebacks save you time and money. I really don't like piecing backing fabric and a wideback eliminates that. A wideback is just that… a wide bolt of fabric intended to use as the backing of quilts. Most wide back fabrics are 108 inches wide.
So when I find one I like, I stock up! And use it over and over again…lol. These Riley Blake Blossoms wide backs are one of them that I'll be using over and over again. I love a backing with a nice subtle print like these especially when the front of the quilt is busy and colorful.
Black quilt binding
This Sassafras Lane Lucky Log Cabins quilt is finished off with a Kona black binding. I liked the black binding with the black backing fabric and the splashes of black through the quilt top itself.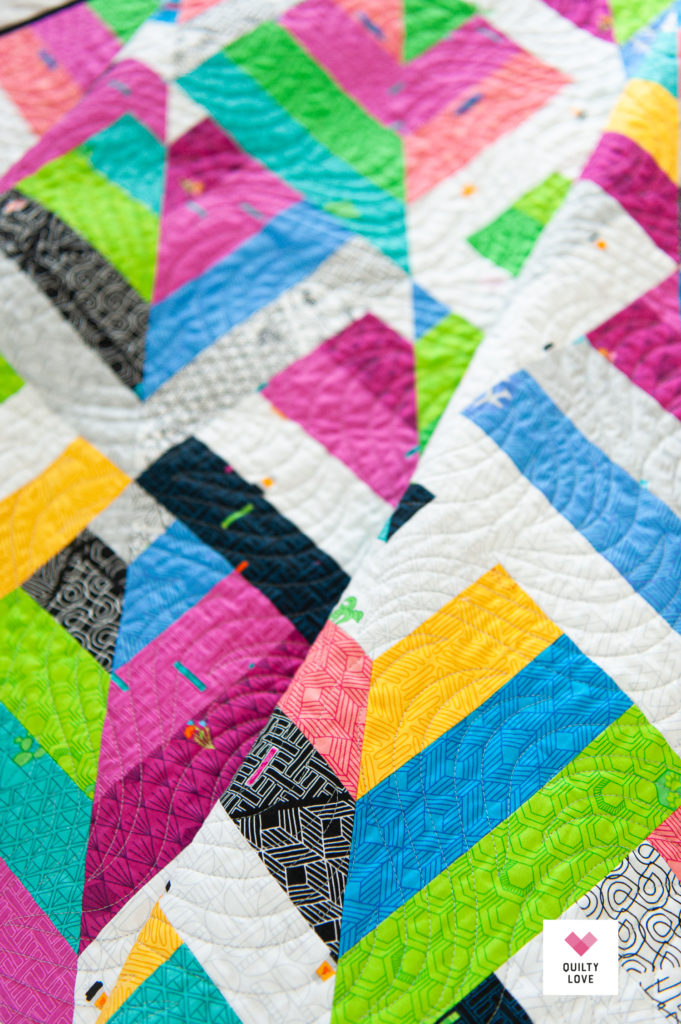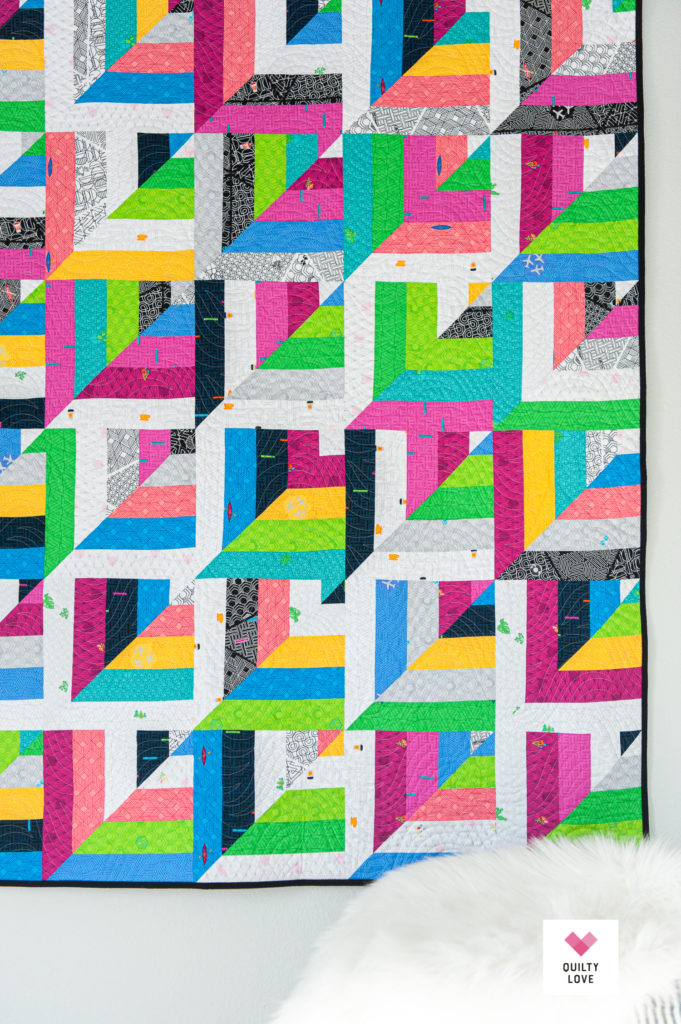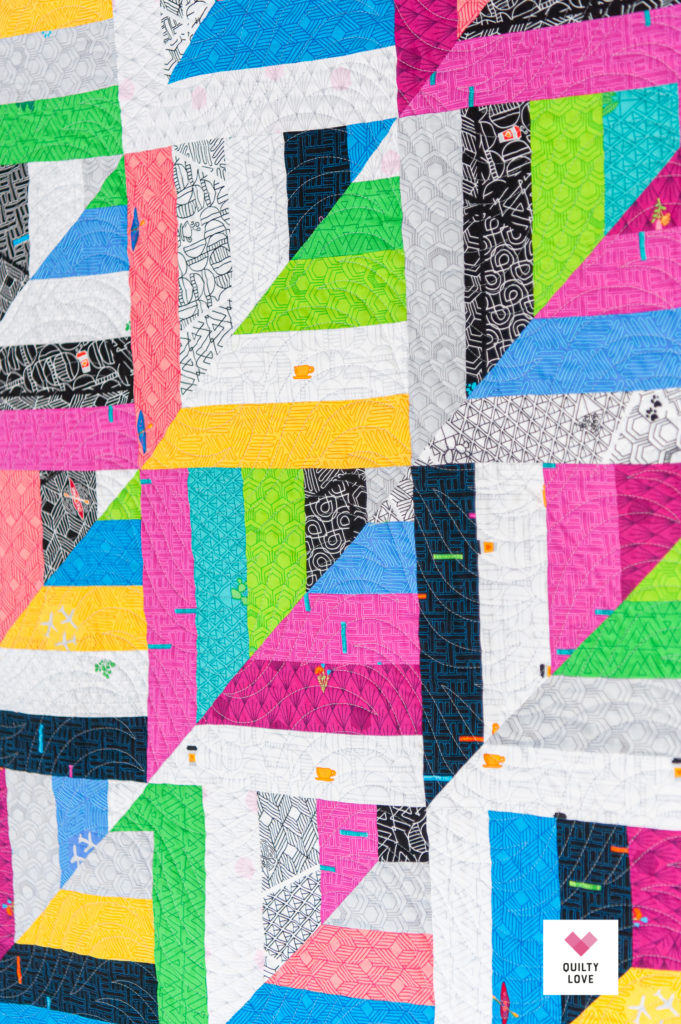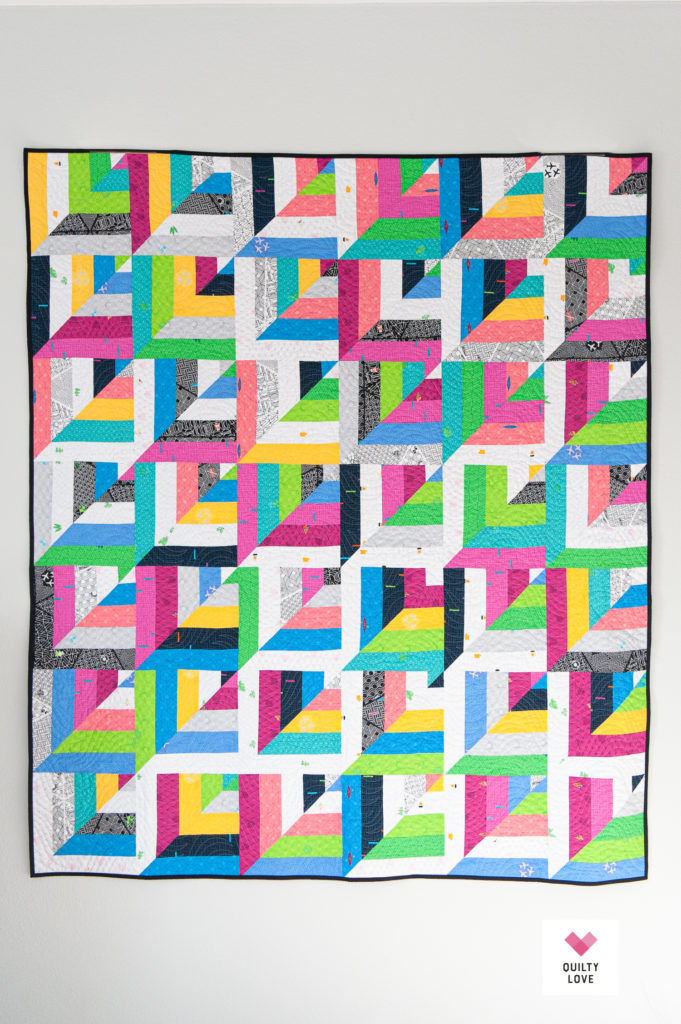 Materials Used:
Lucky Log Cabins Quilt Pattern
Favorite Things fabric by Sassafras Lane
Blossoms wideback fabric by Riley Blake Designs
Kona Cotton black binding
Pieced on my Janome MC6700P
Long arm quilted by Vintage Stitch