The Scrappy Arrows quilt pattern is brand new and in the shop today! I revisited an oldie I made early on in my quilting days and wrote it into a full quilt pattern with lots of options. Scrappy Arrows is a flying geese quilt pattern that is fat quarter or scrappy friendly. Use fat quarters or your scrap stash for a fun scrappy background or find some yardage for a solid background.
Today I'm sharing two Scrappy Arrows quilts that I made using Unruly Nature fabric by Ruby Star Society. One version has that scrappy and happy background and the other version has a solid speckled background.
The Scrappy Arrows quilt pattern is in the Quilty Love pattern shop.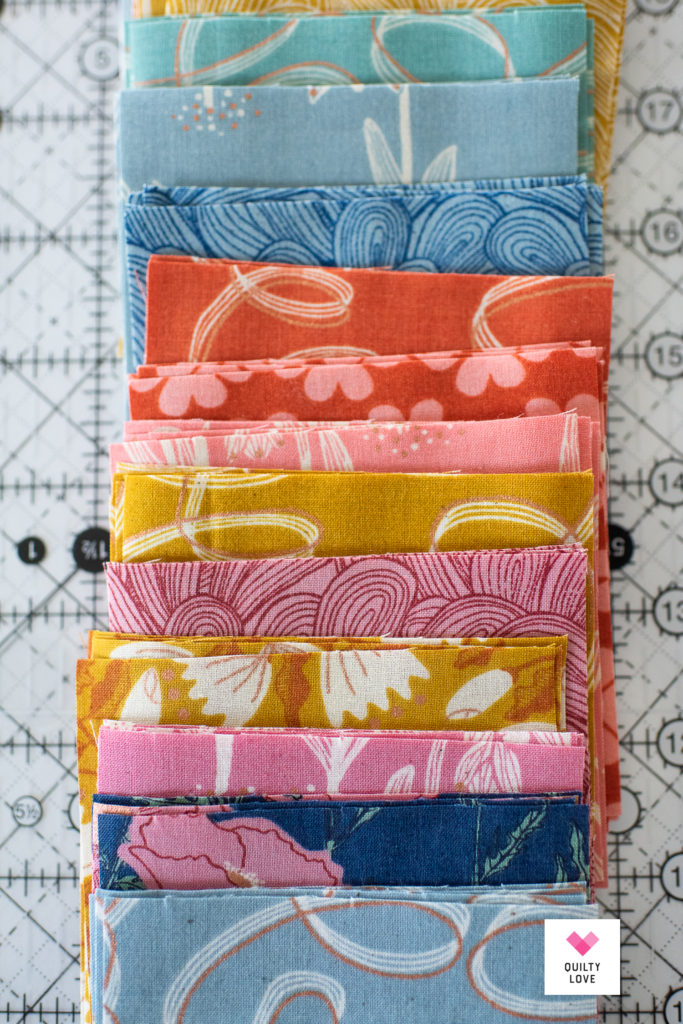 Scrappy Arrows Quilt Pattern
Scrappy Arrows is a fun flying geese quilt pattern. The pattern uses the four at a time flying geese method for faster piecing and no waste. It includes tons of sizes and a few different options to choose from. It kind of ends up being a "choose your own adventure" type of quilt pattern. Choose solid or scrappy arrows and choose solid or scrappy backgrounds.
I'm showing two different versions in this blog post. One has a scrappy background using the unruly nature fat quarters and solid arrows. The other is a solid background and scrappy arrows.
I'm really loving scrappy quilts lately so you have been seeing a lot of them from me. I just love how the fabric all mixes and plays together.
Lots of quilt sizes included in Scrappy Arrows Quilt Pattern
Scrappy Arrows includes instructions for seven different quilt sizes:
Baby size
Small throw size
Large throw size
Twin size bed quilt
Full size bed quilt
Queen size bed quilt
King size bed quilt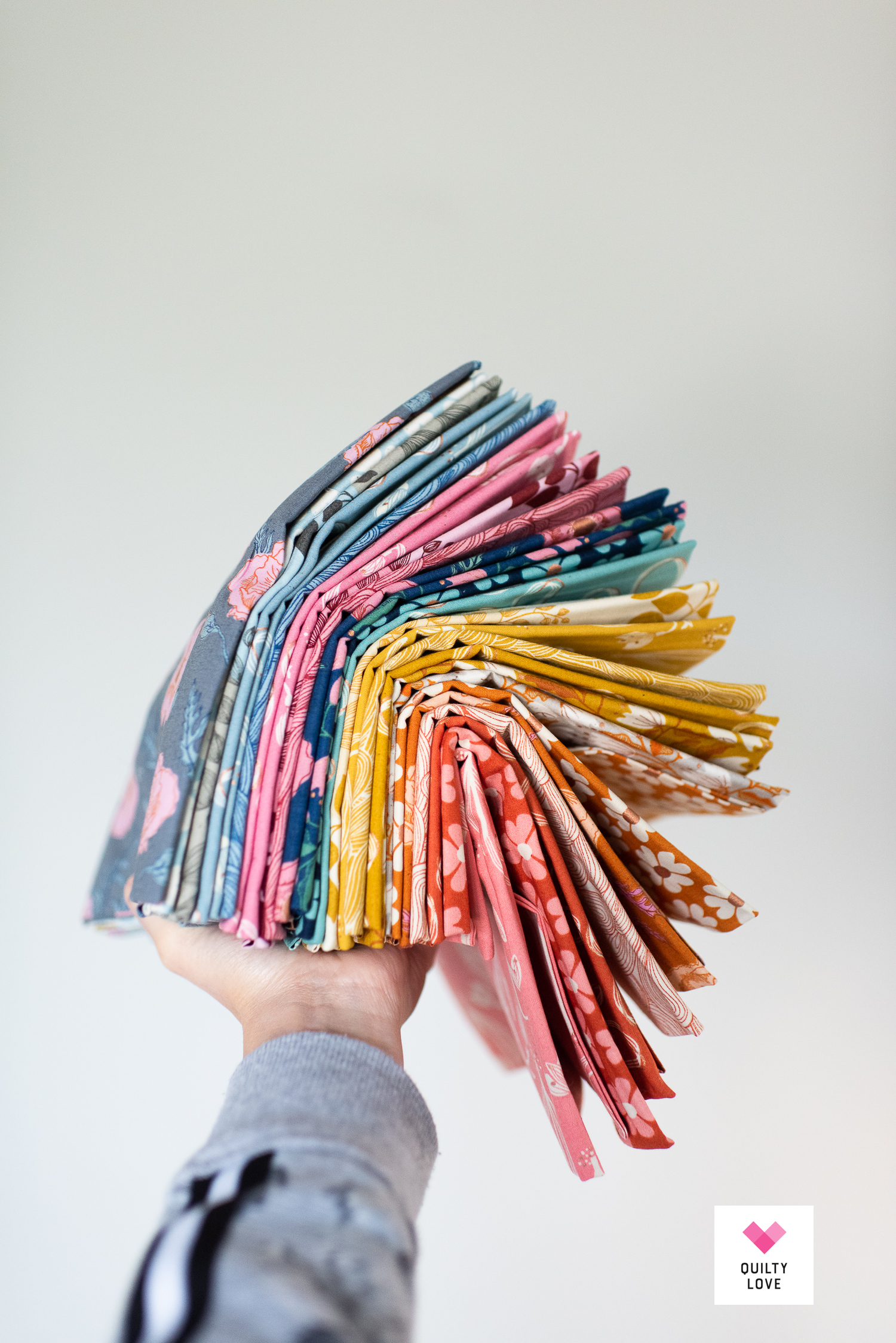 Unruly Nature Fabric
Both of these Scrappy Arrow quilts use Unruly Nature fabric by Jen Hewitt for Ruby Star Society. It's such a beautiful fabric line with pretty colors.
For the scrappy background version I left out the yellow prints in the line and the end result is a more muted looking quilt. I used the entire range of fabrics in the solids version. You can see how the solids version is a little brighter with the entire fabric line.
The teal fabric is a Speckled Basic in teal by Ruby Star Society.
I had a half yard bundle of Unruly Nature so I used half of that for the scrappy background and a little more of it for the second version. I'm making one more quilt coming soon with this same half yard bundle. So that half yard bundle went a long way!
Scrappy Background or Solid Background
As I've already mentioned I'm really into scrappy quilts lately and my recent patterns have reflected that 😉 But I know it's not everyone's cup of tea so I also included a solid background version in the quilt pattern. The solids version is a nice simple and modern arrow quilt.
Both are a lot of fun to sew up.
Flying Geese four at a time
The Scrappy Arrows quilt pattern uses the four at a time flying geese method. I really love this method because there is no wasted fabric. You don't have to cut off any corners.
I have a four at a time flying geese tutorial on the blog here.
When I first started quilting I put off the four at a time flying geese method for a while because I thought it would be too confusing. It turns out it's super simple! Once I realized how slick it is I started using this method all of the time.
I prefer to make my flying geese a little oversized and then trim to size. The pattern includes the measurements for exact sizing or upsizing. I like upsizing and trimming perfectly to size using the Wing Clipper Flying Geese ruler.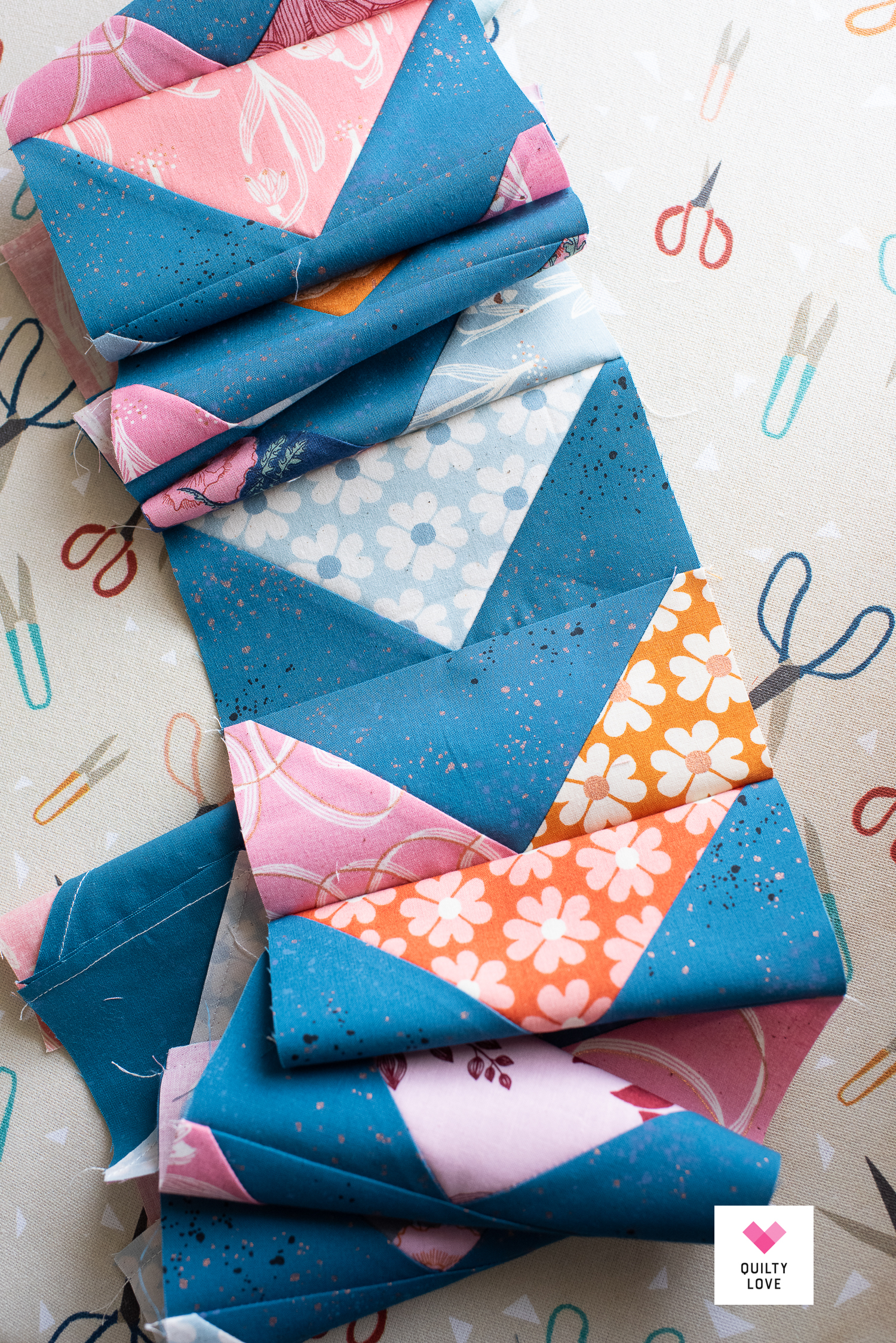 Floral Binding
I used this same floral binding from the Unruly Nature fabric line for both quilts. I love how both of these quilts complement each other.
Lately I'm a machine binder all the way. I wrote this machine binding tutorial a while back on machine binding. I still follow this same method but now I attach to the front first and back second.
Long Arm Quilting
Both of these Scrappy Arrows quilts are long arm quilted by Modern Textiles. The pantograph designs are so cute and both complement each other so well. The scrappy version uses a pantograph called Posy Patch and the solids version uses a pantograph called Modern Lattice Flower.
I love how they are both floral designs for this floral fabric line.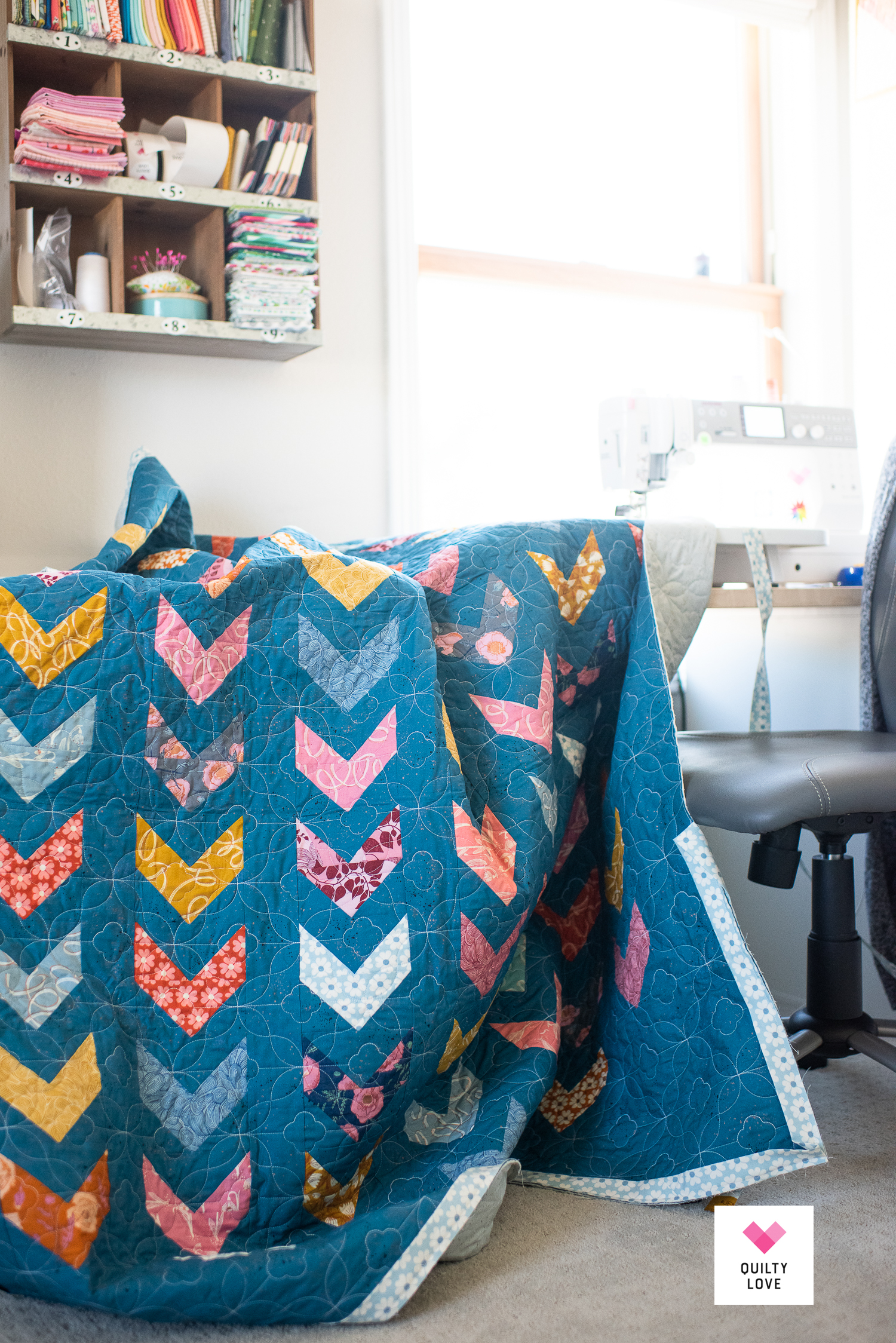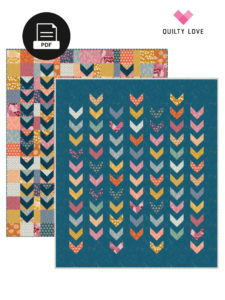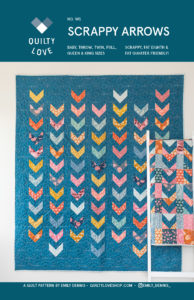 SCRAPPY BACKGROUND – SCRAPPY ARROWS QUILT
I decided to include both of these quilts in one blog post but I'm breaking them up into their own sections. First up is the scrappy background Scrappy Arrows quilt.
You can see the cute floral quilting design really well in the photo with the quilt backing below.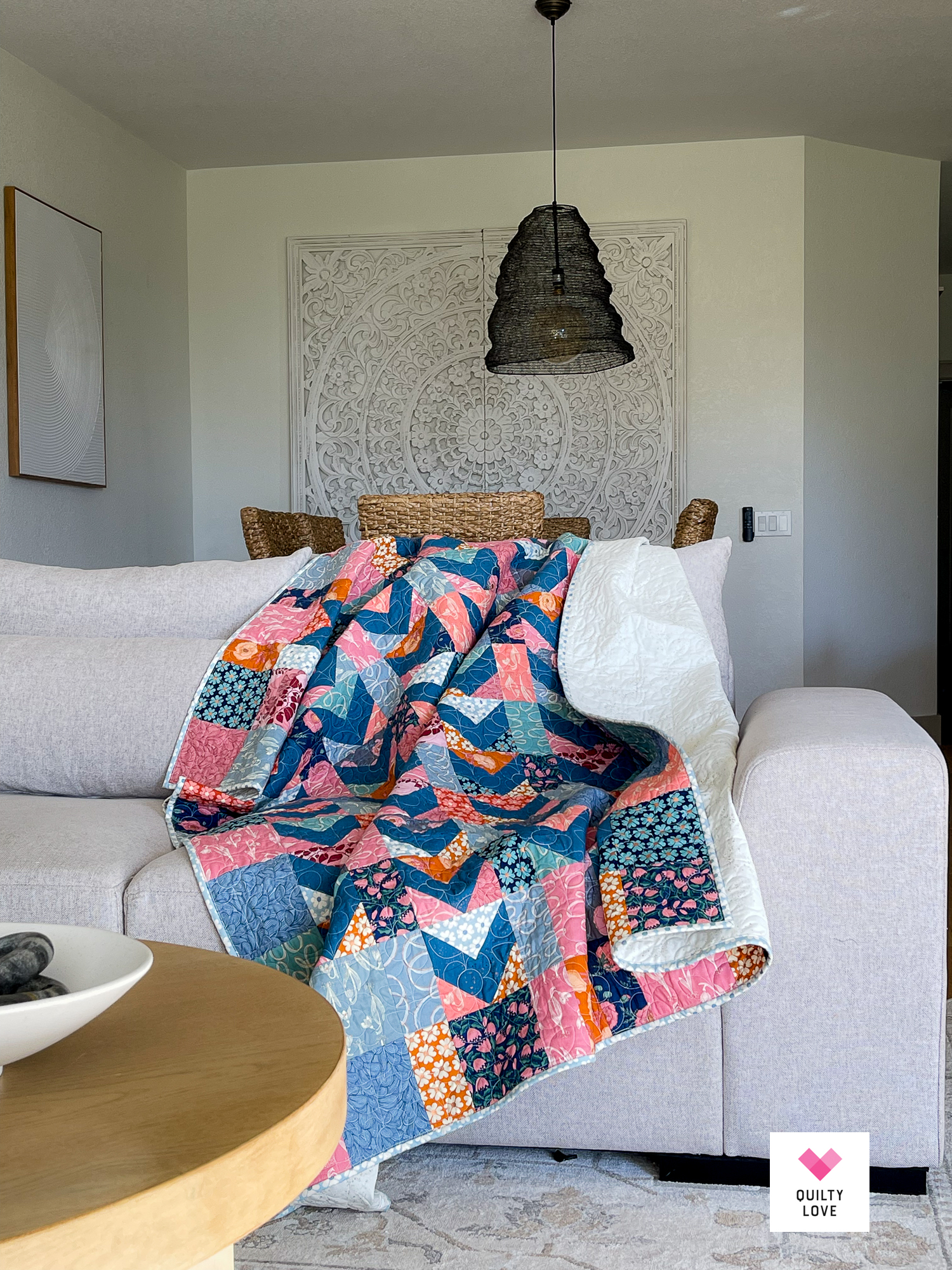 Speckled Wide back quilt backing
Both of these Unruly Nature Scrappy Arrows quilts use a Ruby Star Society Wide Back. I love their wide backs and use them often. The scrappy version uses speckled in Cloud and the solids version uses speckled in dove.
I carry some of the Ruby Star Society Speckled wide back fabrics in The Wide Back Shop.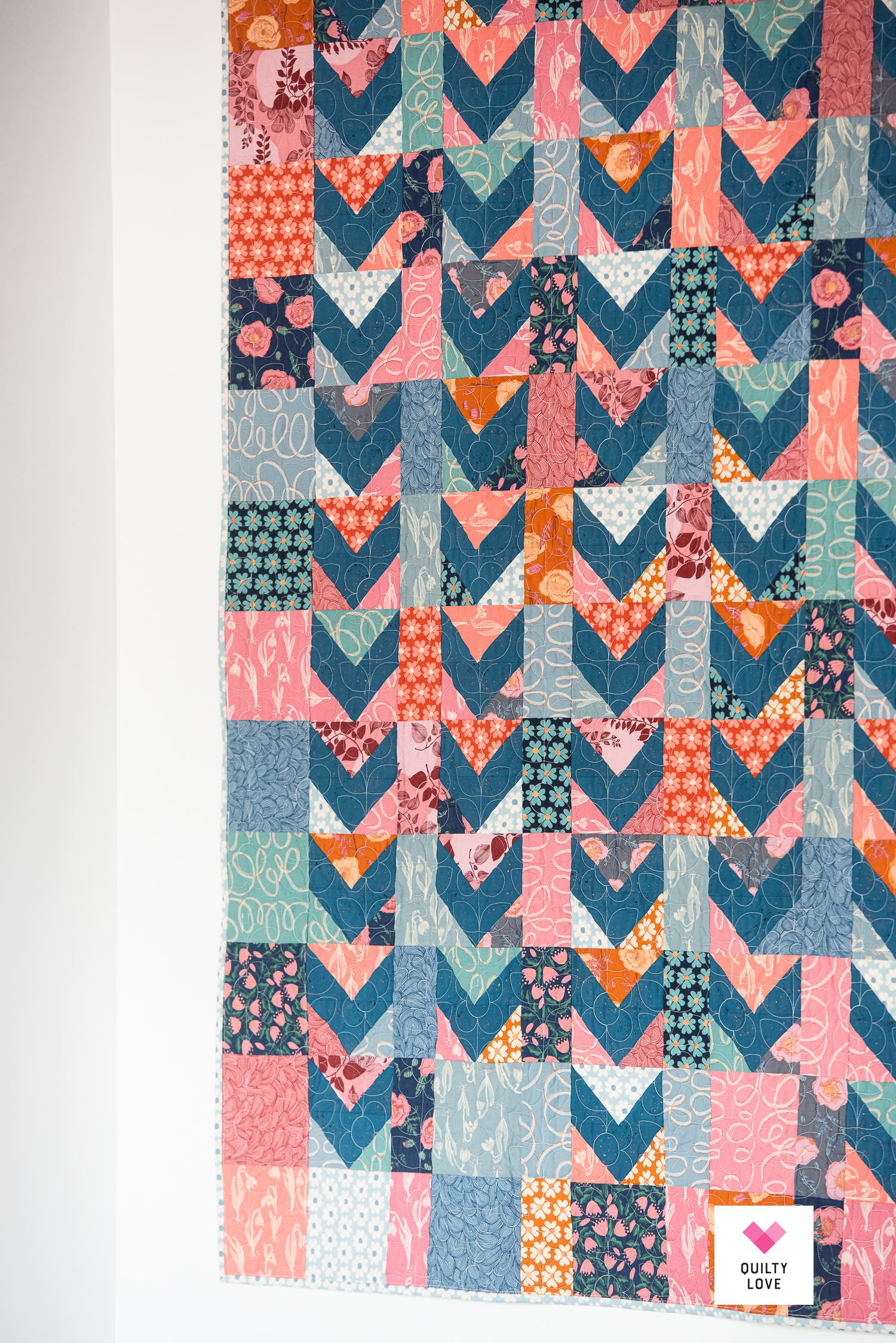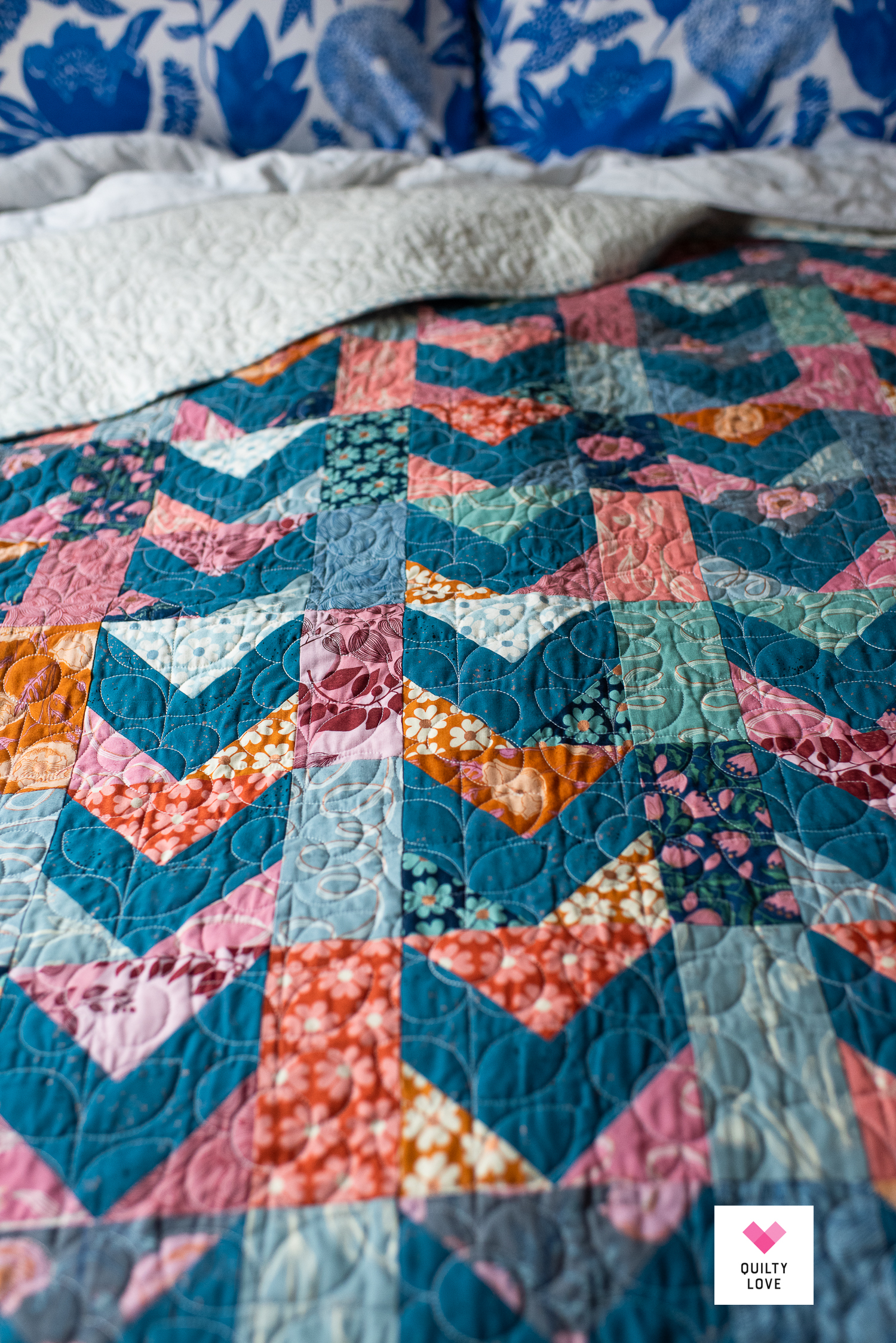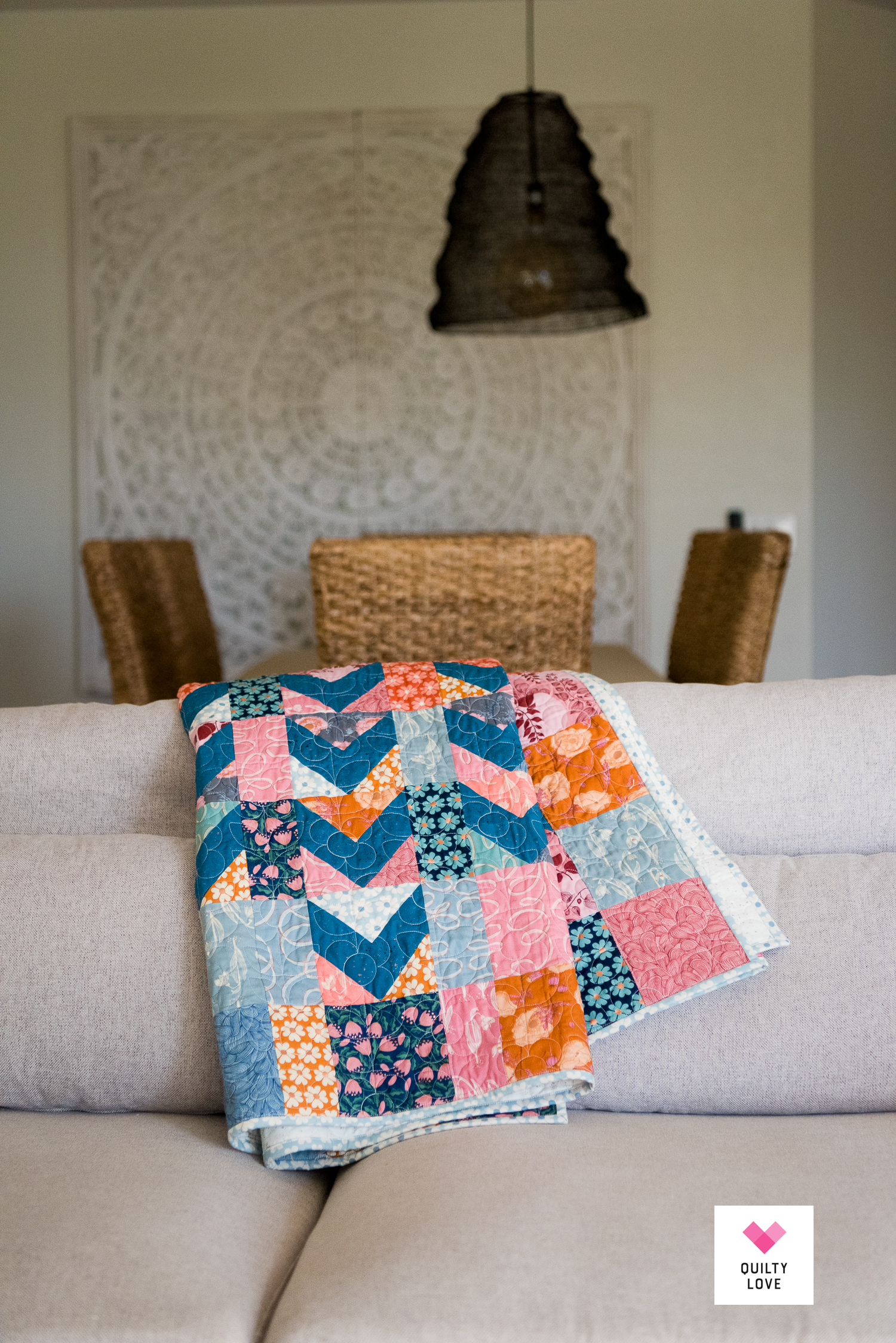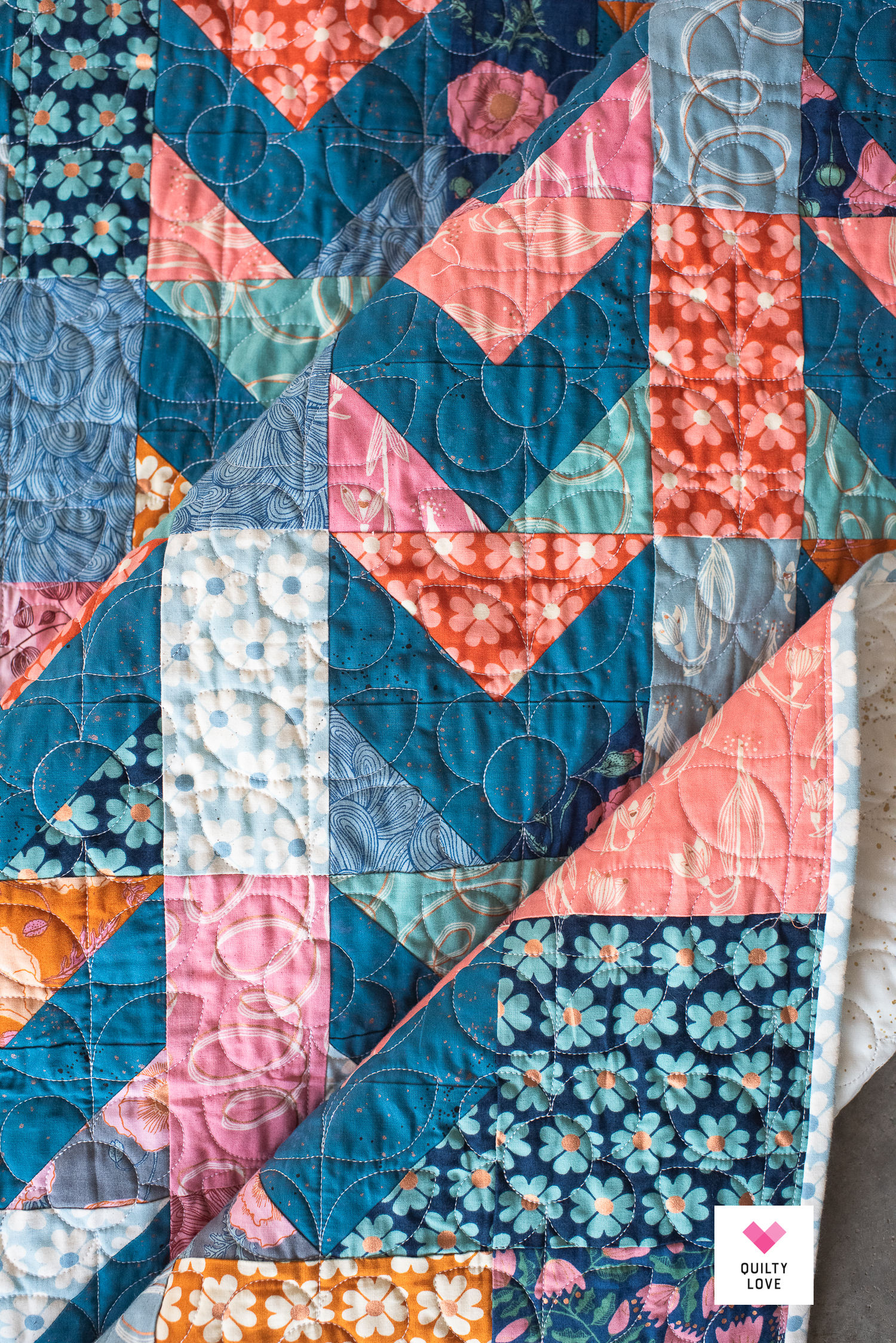 SOLID BACKGROUND – SCRAPPY ARROWS QUILT
And then the solids background option 🙂 Both of these quilts are the large throw size.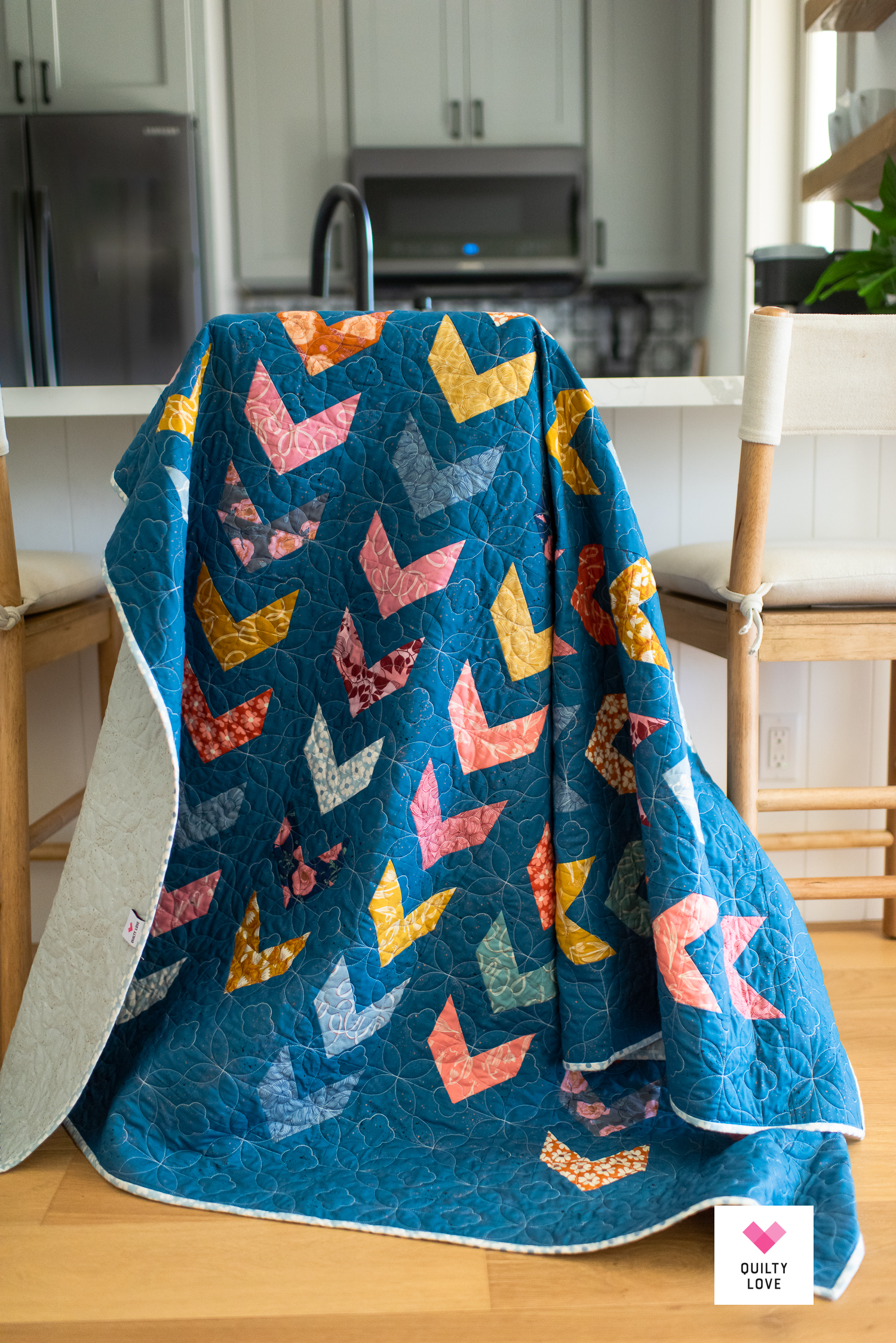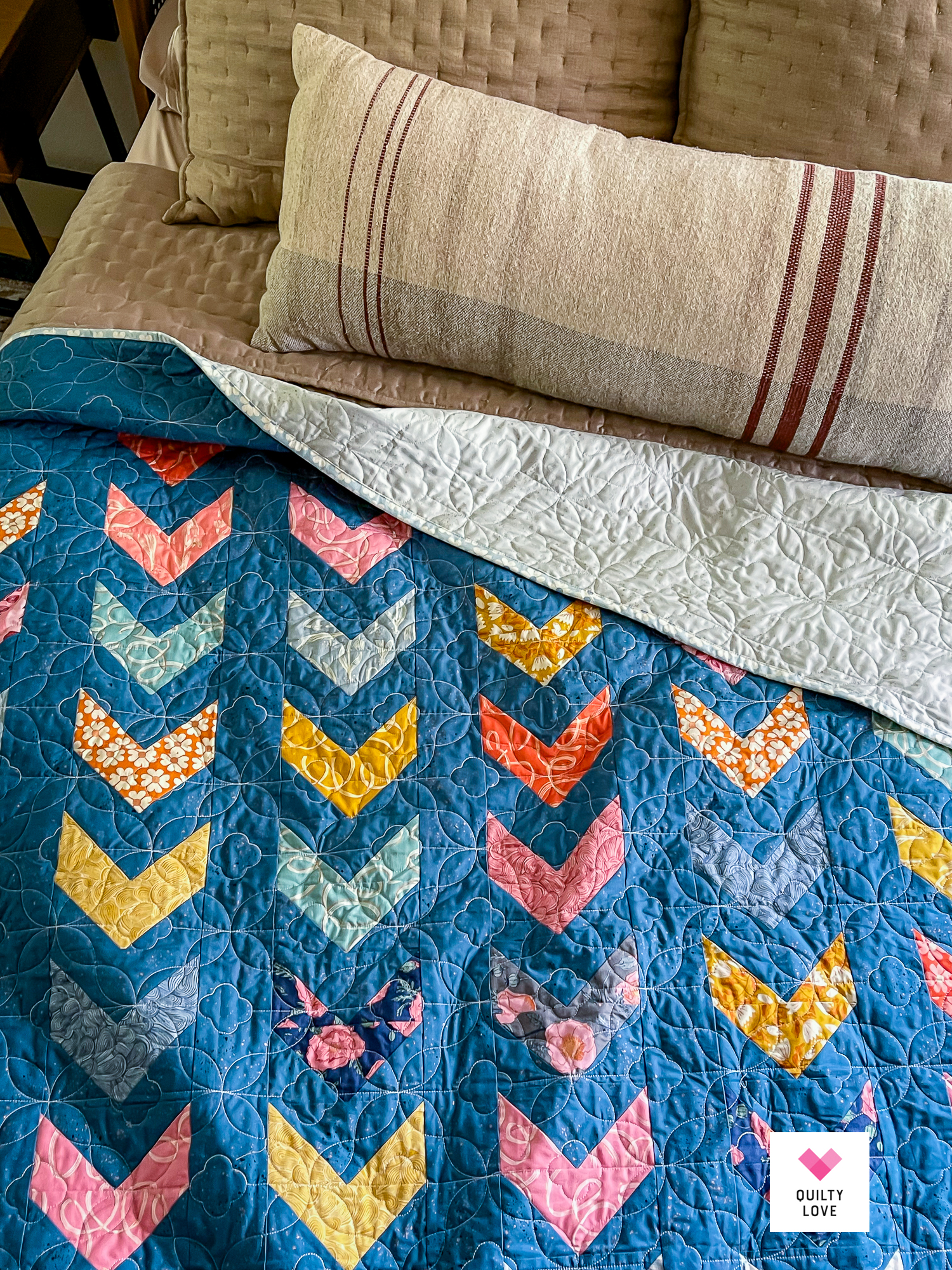 Scrappy Arrows Quilt Materials
Quilt Pattern: Scrappy Arrows quilt pattern by Quilty Love
Fabrics: Unruly Nature by Jen Hewitt for Ruby Star Society
Teal fabric: Speckled Basics in teal by Ruby Star Society
Pieced on my Janome MC6700p
Long Arm Quilting: Modern Textiles