Scrappy B&C Lucky Log Cabins Quilt
I have a fun and scrappy B&C Lucky Log Cabins to share today! Lucky Log Cabins is the perfect scrappy stash quilt and I've been wanting to make this particular one for a while now. I had an assortment of older Bonnie and Camille fabrics in my stash just waiting for the perfect project.
I'm convinced Lucky Log Cabins works with just about any fabric! I was excited to sew it up in these Bonnie and Camille fabrics. I've made quite a few Lucky Log Cabin quilts and I know there are still many more to come because this is one of my favorite quilts to sew up.
Lucky Log Cabins is part of the Quilty Love Stash Buster Series. I promise you, it will help you sew through your stash! You can use so many different pre-cuts for this fun log cabin quilt.
Lucky Log Cabins is available in the Quilty Love pattern shop.
Scrappy B&C log cabin quilt
Bonnie and Camille fabrics were some of my favorites early on in my quilting adventures. The bright happy colors sucked me right in. In fact, it was Camille's blog that inspired me to start quilting in the first place! I was searching Pinterest for T-shirt quilt instructions and I came across some of Camille's quilts on Pinterest. That was my introduction to modern quilting. I had never seen quilts made with such happy fabrics before that.
So yes, they were my first fabric crush..haha. And since I'm not a fabric hoarder it actually bothered me that these beautiful fabrics were sitting in my stash un-sewn. So I made a plan to cut them all up and sew a few quilts.
Lucky Log Cabins is the first B&C quilt of the two I have planned. The other is a scrappy B&C postage stamp quilt.
Scrappy friendly stash quilt pattern
Lucky Log Cabins can be made using 2.5 inch strips so it was easy to start cutting strips from all of the miscellaneous sized B&C fabrics in my stash.
It turns out I had more than enough for this Lucky Log Cabins quilt plus that second quilt I have planned.
Quick and easy strip pieced quilt pattern
Lucky Log Cabins is a super fast and fun quilt to sew up. That's why I've made so many. It goes together quickly with strip piecing. Plus it's scrappy so fabrics can be placed and sewn together randomly.
These B&C scraps were too pretty not to photograph! They really have the best colors in their fabric lines! For this quilt I ended up leaving out the brighter greens and the yellows that so many of their fabric lines have.
The best part about using my B&C fabrics for this Lucky Log Cabins is that I could easily use the low volume prints. Those low volume prints can be tricky to use when you are using a lighter background. But this quilt doesn't use any background fabrics so you can mix those lighter fabrics right in!
Machine Binding
I used some leftover B&C gingham fabrics for the binding of this Scrappy B&C Lucky Log Cabins quilt. Lately I've been machine binding all of my quilts. I just don't have the time to sit and hand bind with a toddler. Plus my shoulder doesn't like hand sewing 🙁
Machine binding is super fast and you can still get a nice finish. I have a really thorough machine binding tutorial here. I still follow that same method but attach to the front of the quilt first and then the back last. You end up with more of a hand stitched binding look on the front this way.
This scrappy quilt is such a happy quilt!
Long Arm quilting
I sent this scrappy B&C Lucky Log Cabins quilt to Knot and Thread for quilting. She chose these fun modern loops.
Peppered Cotton Wideback
This scrappy log cabin quilt is finished off with a Peppered Cotton wide back in the color Oyster. It's a beautiful cream color. It is a very light quilt backing. I love it! Maybe not the most practical color for a quilt that will get tons of use though.
I've used these Peppered Cotton wide backs quite a bit now and really like them. Of course my favorite thing about them is the fact that they are a wide back. That means no piecing needed for your quilt backing.
Lucky Log Cabins quilt pattern
As I've already mentioned, Lucky Log Cabins is one of my favorite quilt patterns to sew up. It's a log cabin look alike that works so well with jelly roll strips, fat quarters, fat eighths or even 1/4 yards. It's a scrappy pattern so you really don't need to plan any fabric placement.
I call it a log cabin look alike because it isn't a true log cabin quilt block. A log cabin usually starts with a center "log" and you continue to add strips or "logs" around that center. This log cabin quilt is constructed with strip piecing but the end result looks similar to log cabins.
I really love when like fabrics start to touch in this quilt so you really don't need to worry about fabric placement. The only time I consider fabric placement is when I'm making my strip sets. I do try to choose fabrics that flow together during that stage.
All the quilt sizes
Lucky Log Cabins includes instructions for eight different sizes!
Baby size
Small throw size
Medium throw size
Large throw size
Twin bed size
Full bed size
Queen bed size
King bed size
This scrappy B&C Lucky Log Cabins quilt is the medium throw size.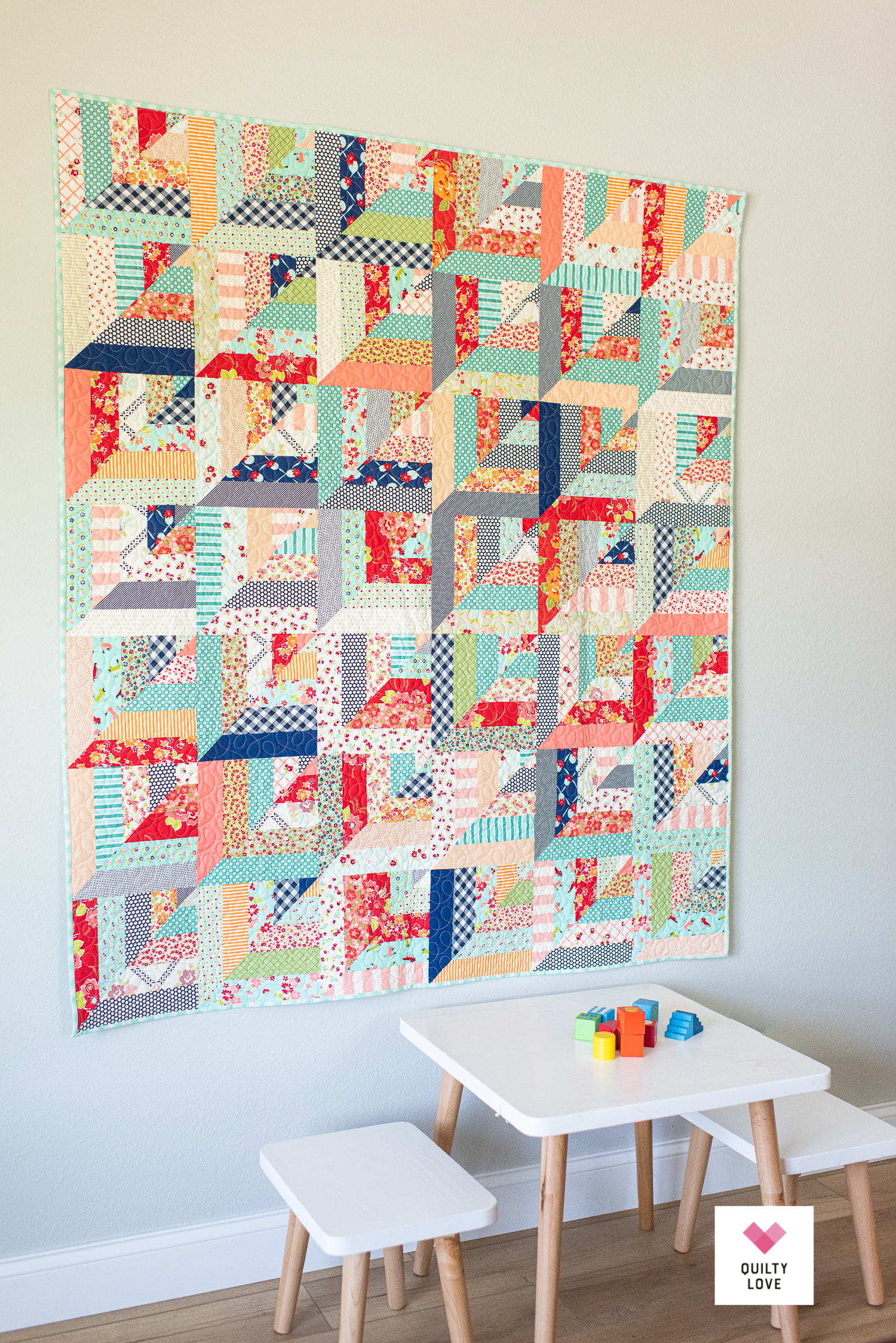 Materials Used:
Quilt Pattern: Lucky Log Cabins by Quilty Love
Fabrics: A mix of B&C fabrics by Moda
Pieced on my Janome MC6700p
Quilted by Knot and Thread