Flannel Star Pop quilt
There are a few more Star Pop quilt samples to share and today is all about the flannel Star Pop quilt. I love this quilt. I love this flannel. I'm sure this won't be the last time I sew with these flannels.
This flannel Star Pop quilt is sewn up using a mammoth flannel junior fat quarters that I curated. This turned out nice and cozy with the flannels. This is the large throw size from the quilt pattern.
Star Pop is a fun and modern sawtooth star quilt pattern. It's stash and scrap friendly.
Star Pop is available in the Quilty Love pattern shop.
Flannel Star Pop quilt
I curated this bundle of Mammoth Junior flannels for this Lucky Log Cabins quilt and loved how it turned out so I decided to use it for this new Star Pop quilt too. I went with a very very light grey for the stars but in all honesty I wish I had went with either white or dark grey. A dark grey would have probably looked better.
The stars didn't stand out as much as I thought they would. The end result is a really soft low volume looking quilt so it's still pretty but I think it could have looked better. You sew and you learn 😉
These Mammoth Flannel juniors are so much fun to sew with. They are called juniors because the prints are a smaller scale than their regular mammoth flannel which work well for cutting up into a quilt.
Star Pop quilt pattern
Star Pop is a stash friendly sawtooth star quilt pattern. Use fat quarters, layer cake squares or scraps for this fun and modern quilt.
You can also use fat eighths or 1/4 yards but keep in mind you need the entire 9 inches for those two precuts.
The quilt pattern includes cutting instructions for all options.
All the quilt sizes
Of course I've included all of the quilt sizes in this Star Pop quilt pattern:
Baby Size
Small throw size
Large throw size
Twin size bed quilt
Full size bed quilt
Queen size bed quilt
King size bed quilt
This flannel Star Pop quilt is the Large throw size.
Confident Beginner star quilt pattern
Star Pop piecing is pretty simple and would be a good confident beginner quilt. You might lose a few points on your stars but if you look closely, you'll see a few of mine missing too.
Quilting with Flannel
The number one question that comes up when I start posting flannel is "Do you prewash?"
Usually…no. I hate pre-washing. I'm impatient to wait for it to wash. And I prefer working with fabric when it's still nice and crisp.
But…. I did prewash for this quilt! And the only reason I did was because I was curious how it would be. And to be honest, I hated it…lol.
It was SO dusty working with it after it was washed. I don't know why it would be so much worse but it was. My nose itched the entire time I sewed with it. It also fluffs the fabric up quite a bit. I guess that's not really a problem but it kind of surprised me.
Also, it came out of the washer as a big tangled mess…haha. It took some time to work it apart with scissors.
Another question… "Do you use a larger seam allowance with flannel?"
I don't. I know, I throw all caution to the wind and sew with abandon. Would it be safer. Probably. Is it necessary? According to majority of the quilters on Instagram, no.
I wrote a lot more about sewing with flannel in this blog post. Check it out if you are nervous about sewing with it!
I ended up using a light grey color for the stars. It's a Robert Kaufman solid flannel in the color cloud. I would recommend something darker like Shetland flannel in Shale.
Below are some mock ups with darker or lighter stars.
Binding is Kona Cotton in the color Denim.
Long Arm Quilting
I sent this one off to Katie of Modern Textiles for quilting. She's not far from me here in southern Minnesota so it didn't have far to travel.
We chose this cable quilting design.
Peppered Cotton Wide Back
I would have liked to back this flannel Star Pop quilt with a flannel fabric but I didn't have any on hand. So instead I used this Peppered cotton in the color Fog.
I started carrying Wide backs in the shop! I love wide backs for quilts and have started curating a collection of modern wide backs.
Be sure to check it out for your next quilt!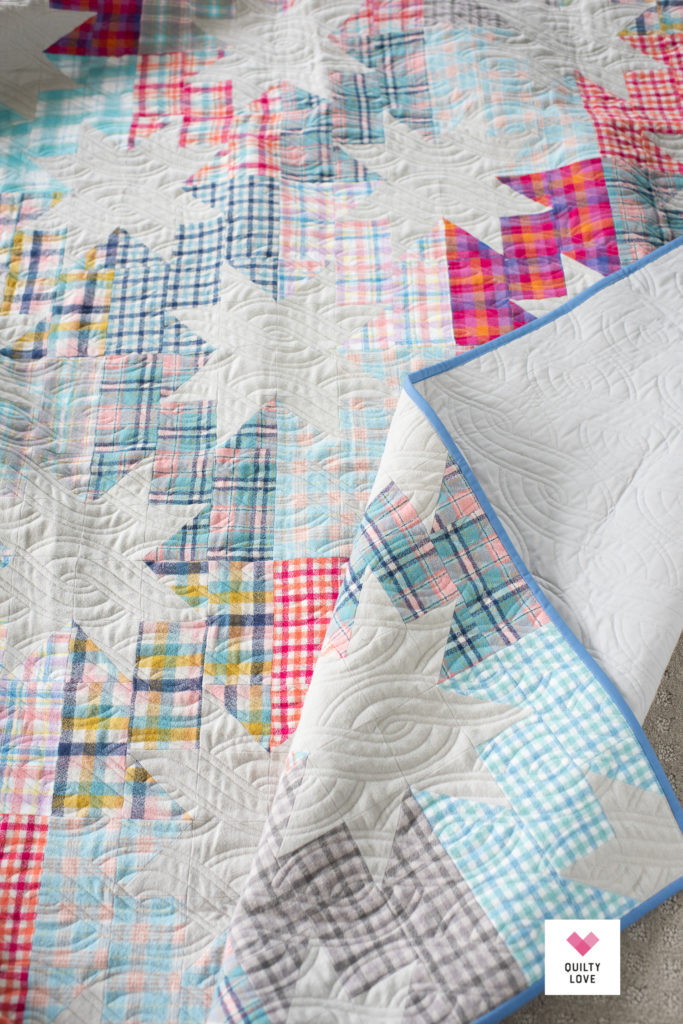 Flannel Star Pop quilt Materials
Quilt Pattern: Star Pop in the Quilty Love pattern shop
Fabrics: Mammoth Flannel Juniors by Robert Kaufman
Binding: Kona Cotton Denim
Backing: Peppered Cotton Wide back in Fog
Pieced on my Janome MC6700p
Long Arm quilted by Modern Textiles