Scrappy Triangle Quilt – the Christmas one
After several years of quilting I finally made us a Christmas quilt!  A red and green traditional colors Christmas quilt.  Per the husband's request.  I'm still not sure if it was a sarcastic request or not..lol..  But I love it!
I wanted to keep it very traditional so I went with scrappy Christmas colors.   Coming up with enough red from my stash was a challenge and I'm pretty sure I don't have any greens left 😉   I used the last of my gold fabrics also.   After debating between patchwork squares and triangles I decided to go with a triangle quilt.   I love triangle quilts and have made a few in the past.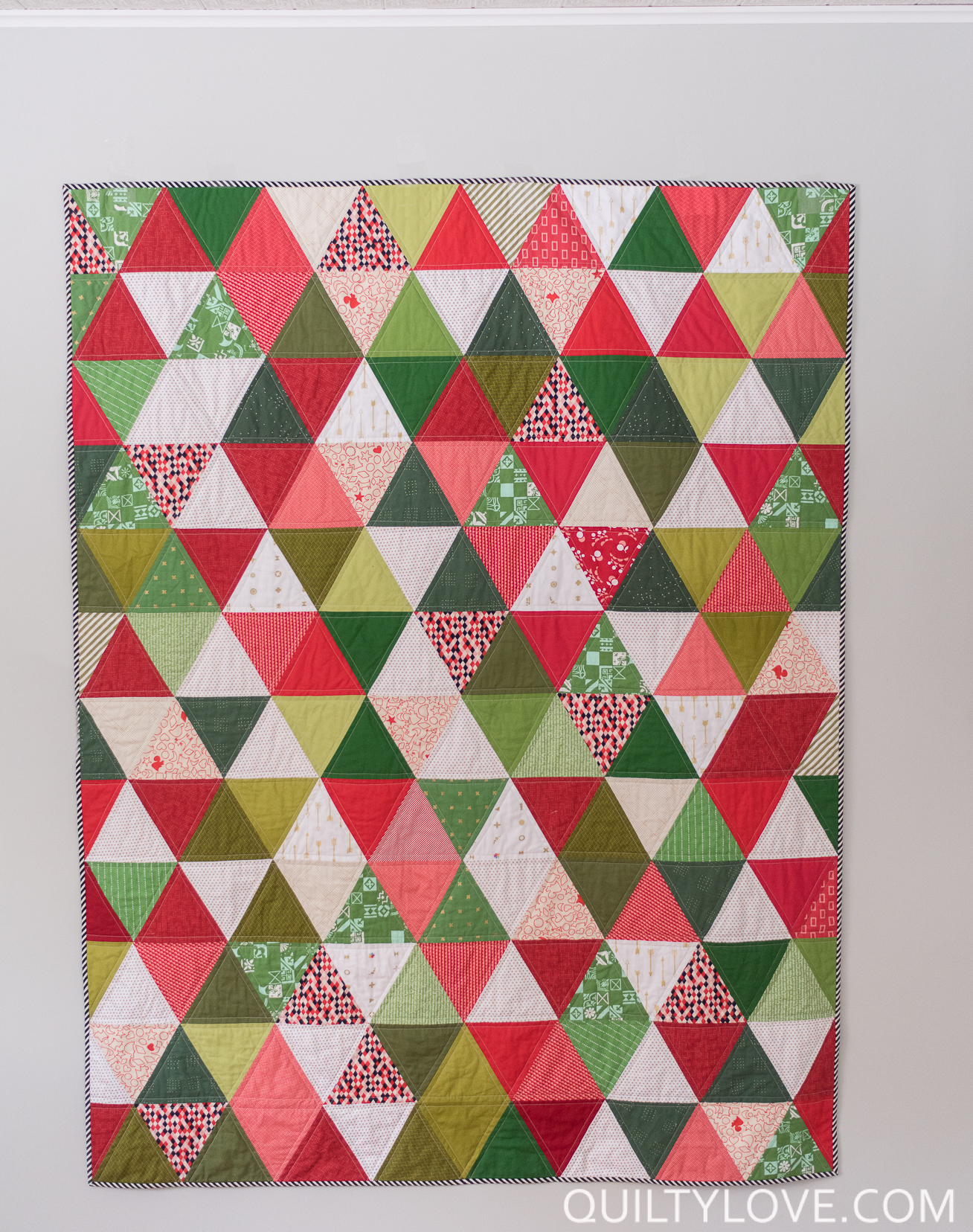 I pulled all of the fabrics for this scrappy triangle quilt from my stash.  I've made a few quilts lately from my stash.  I love the feeling of actually using up what I have!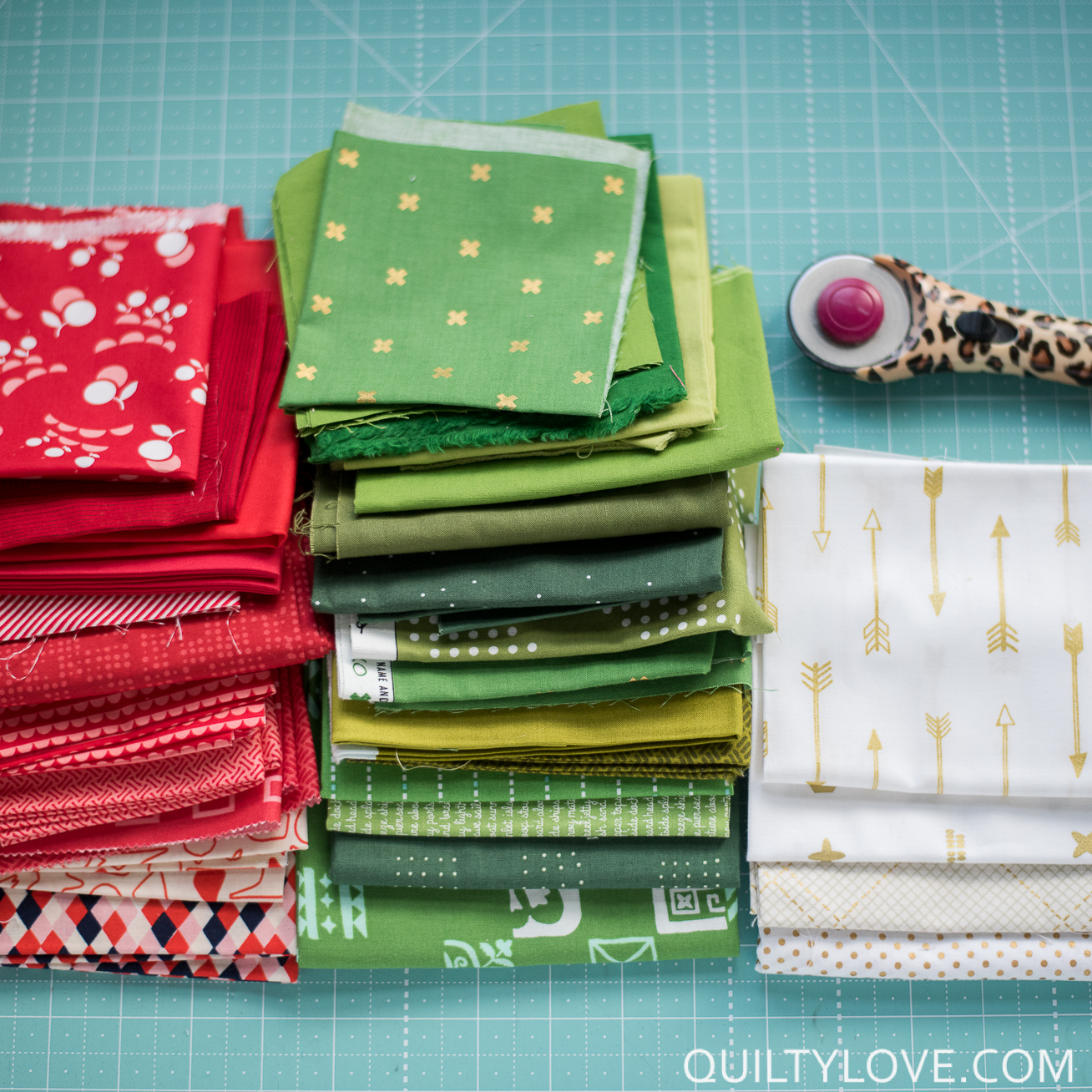 If you want to attempt your own triangle quilt I highly recommend a triangle ruler!   That lopped off top on these rulers really help with lining up seams.   I used this Fons and Porter Ruler for mine.  It's my favorite 6.5in triangle ruler.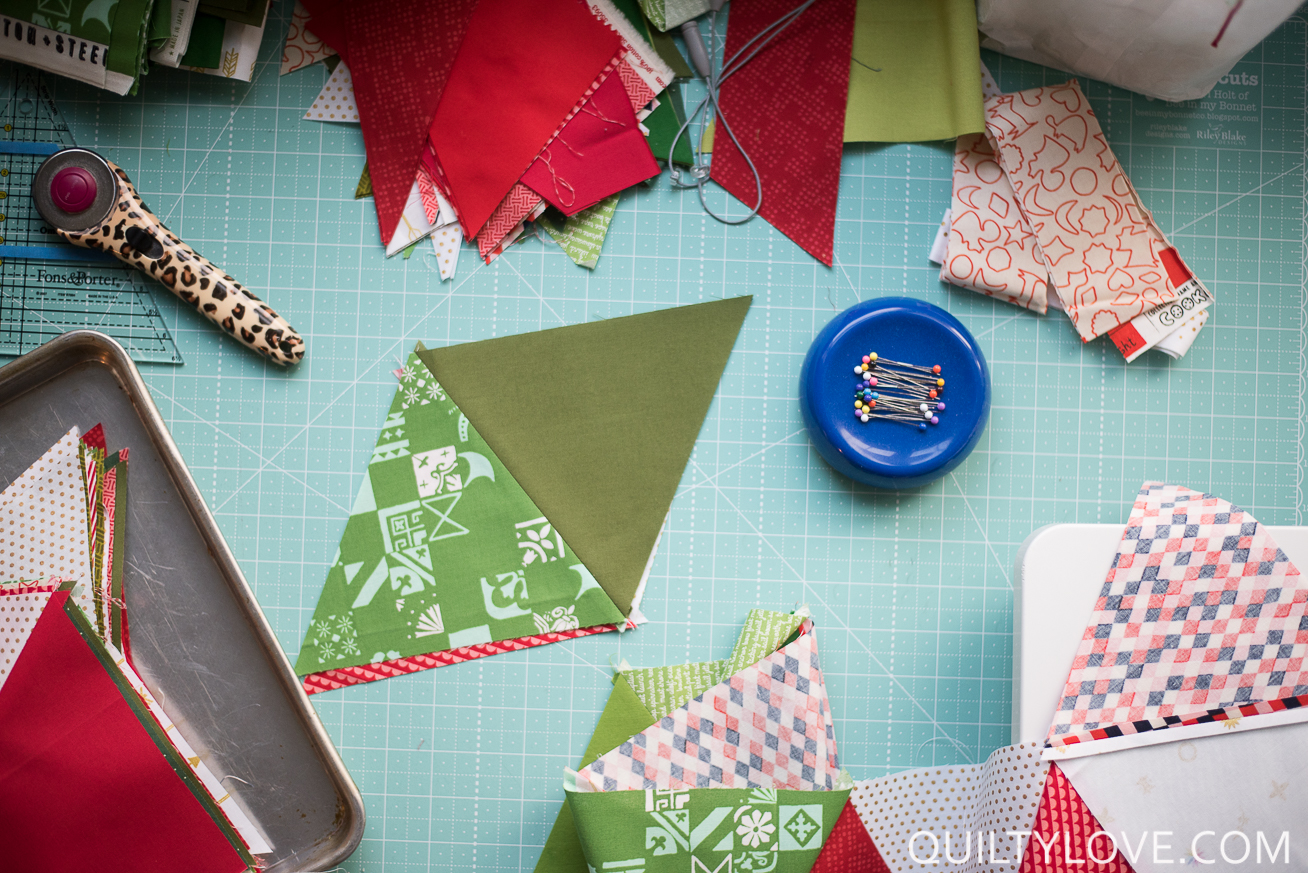 I didn't use a pattern for this one.  I just cut a bunch of 6.5 in strips from my fabrics and started cutting out triangles.
My triangle quilt measures about 55in x 75in.
I used 204 triangles including those end pieces.
I find it easier to just trim the edges straight after quilting instead of using half triangles on the edges.   One fat quarter will give you 8 triangles.  So if you are using only fat quarters you will need 26 fat quarters or 12 half yards.
Or just find a whole bunch of scrap pieces and start cutting triangles 🙂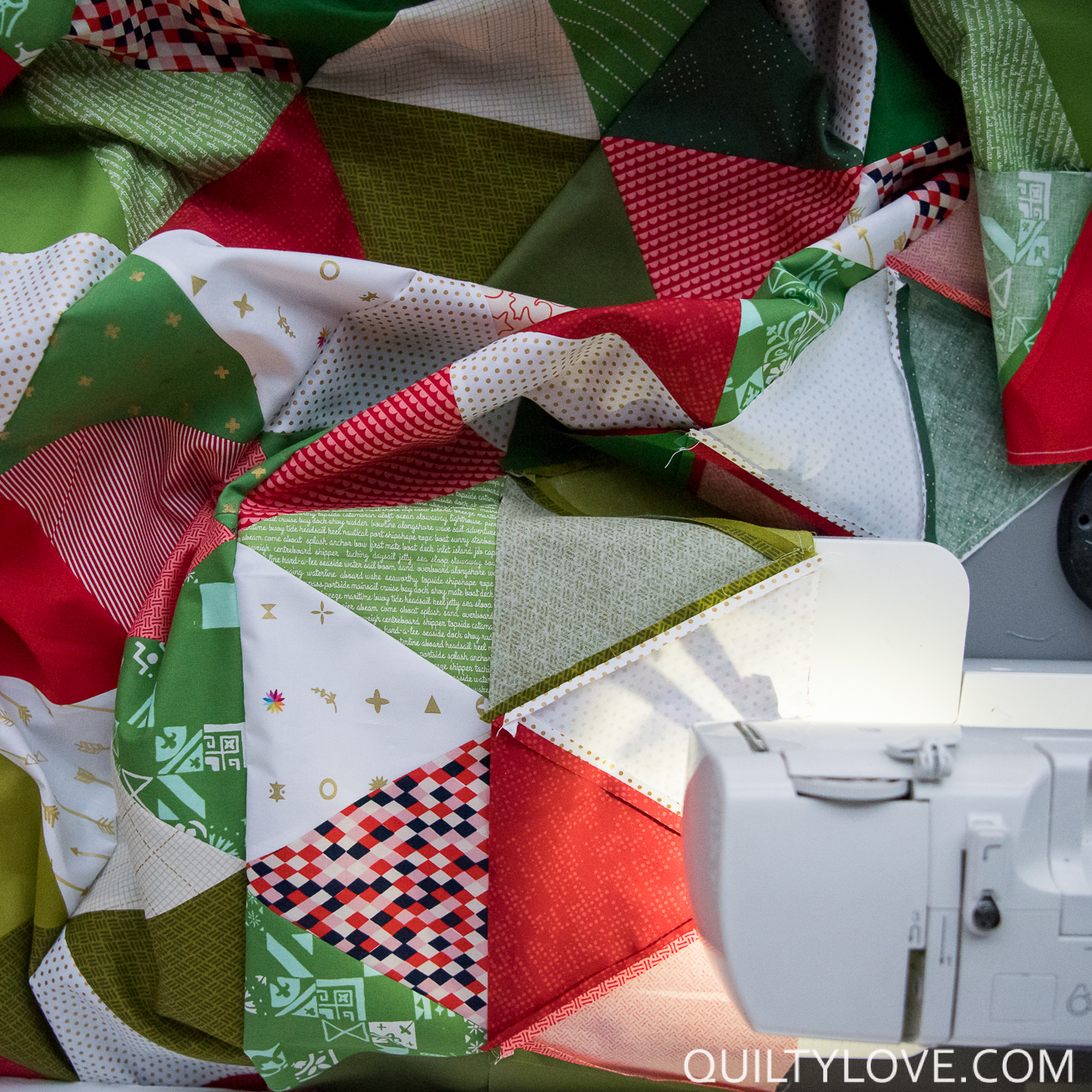 I quilted this one with simple straight lines following all of the seams using my walking foot. (I just use this cheap walking foot for my Janome.)
Christmas is definitely my favorite holiday and this quilt is so happy to look at 🙂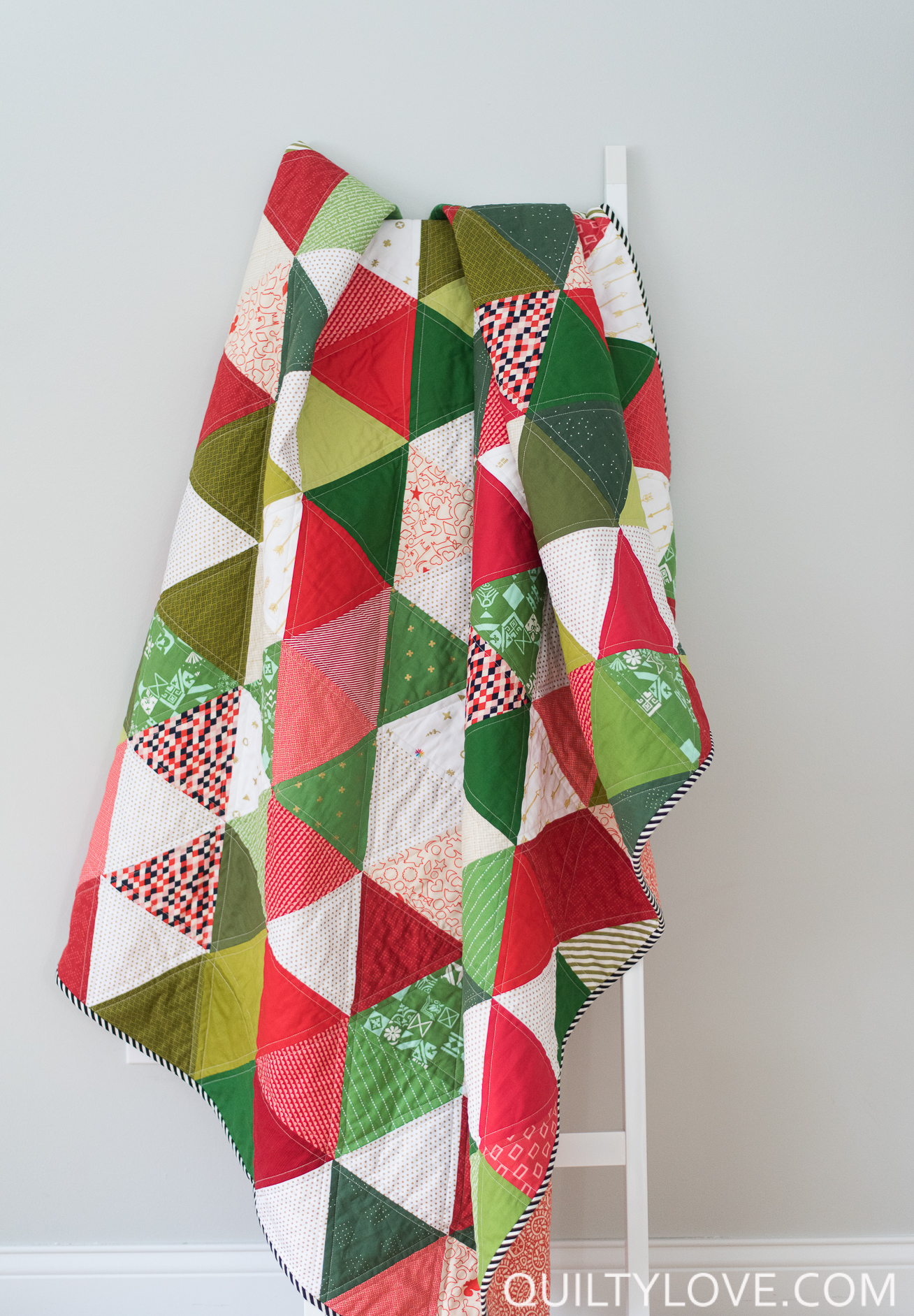 I took home this flannel Kate Spain fabric from a retreat this summer and was super happy that it worked for this Christmas quilt 🙂   The backing is a bit of an orangey red but with the various red shades on the front I thought it worked just fine.   Plus it's flannel!   Perfect for a Christmas quilt around here. 
Here's a random fact.   LED Christmas lights are difficult to photograph!   They will actually flicker so the camera does not always catch them on!   You can see the top portion is actually missed and not lit in this shot.   Isn't that kind of crazy!  Our eye doesn't see the flicker but the fast shutter speed on my camera doesn't always catch them on.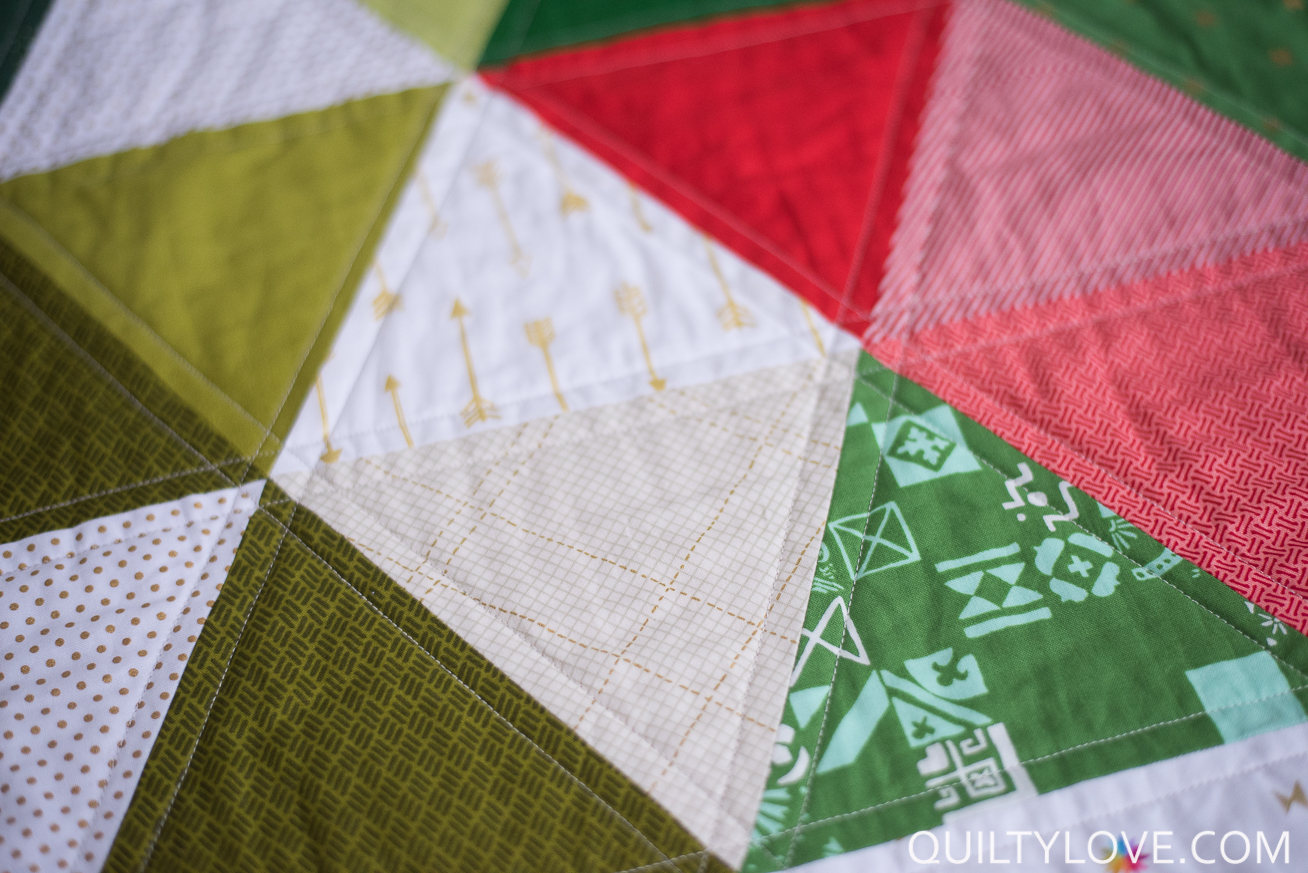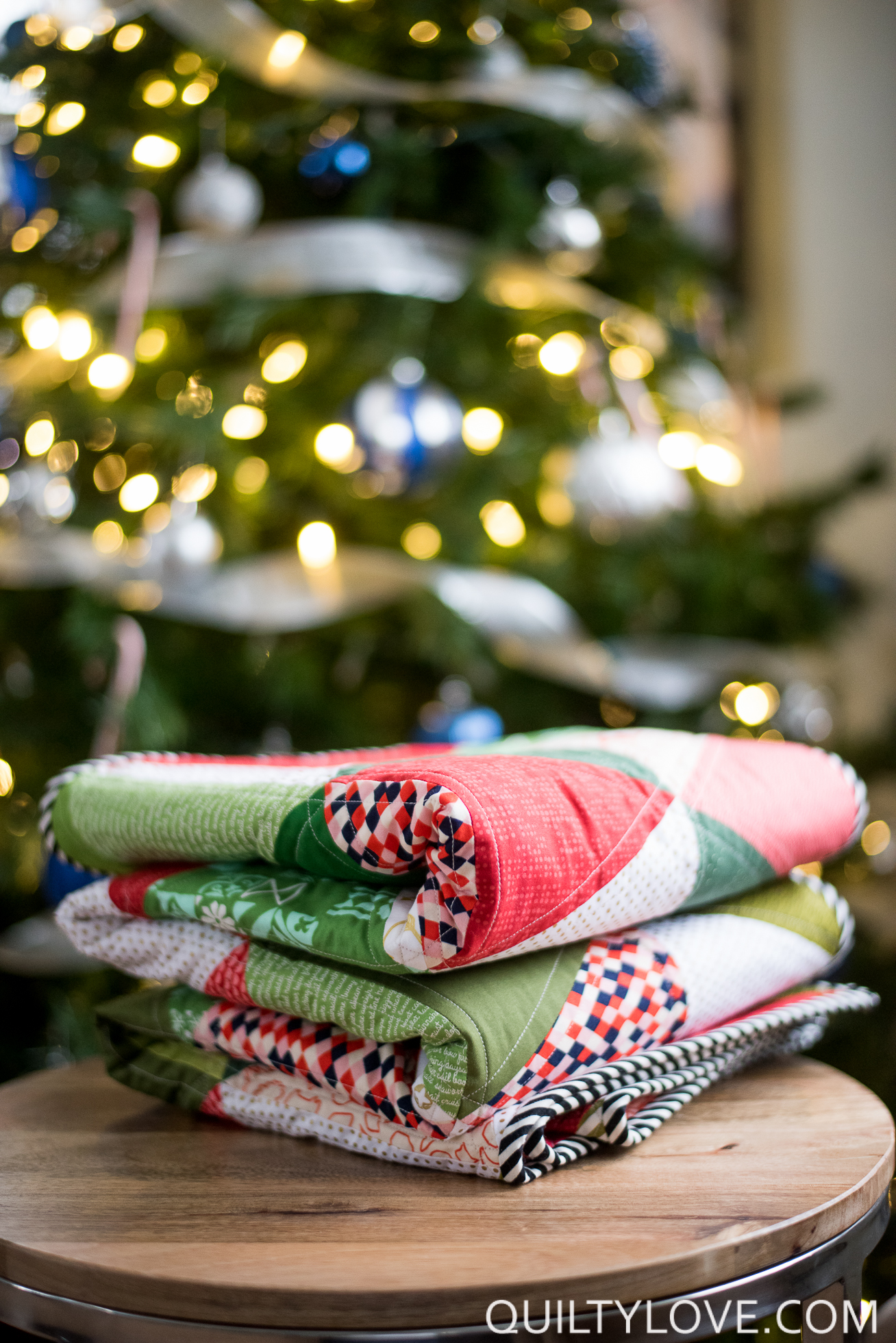 A black and white bias stripe binding finished this festive Christmas quilt off.   I know this will be such a fun seasonal quilt to pull out every year 🙂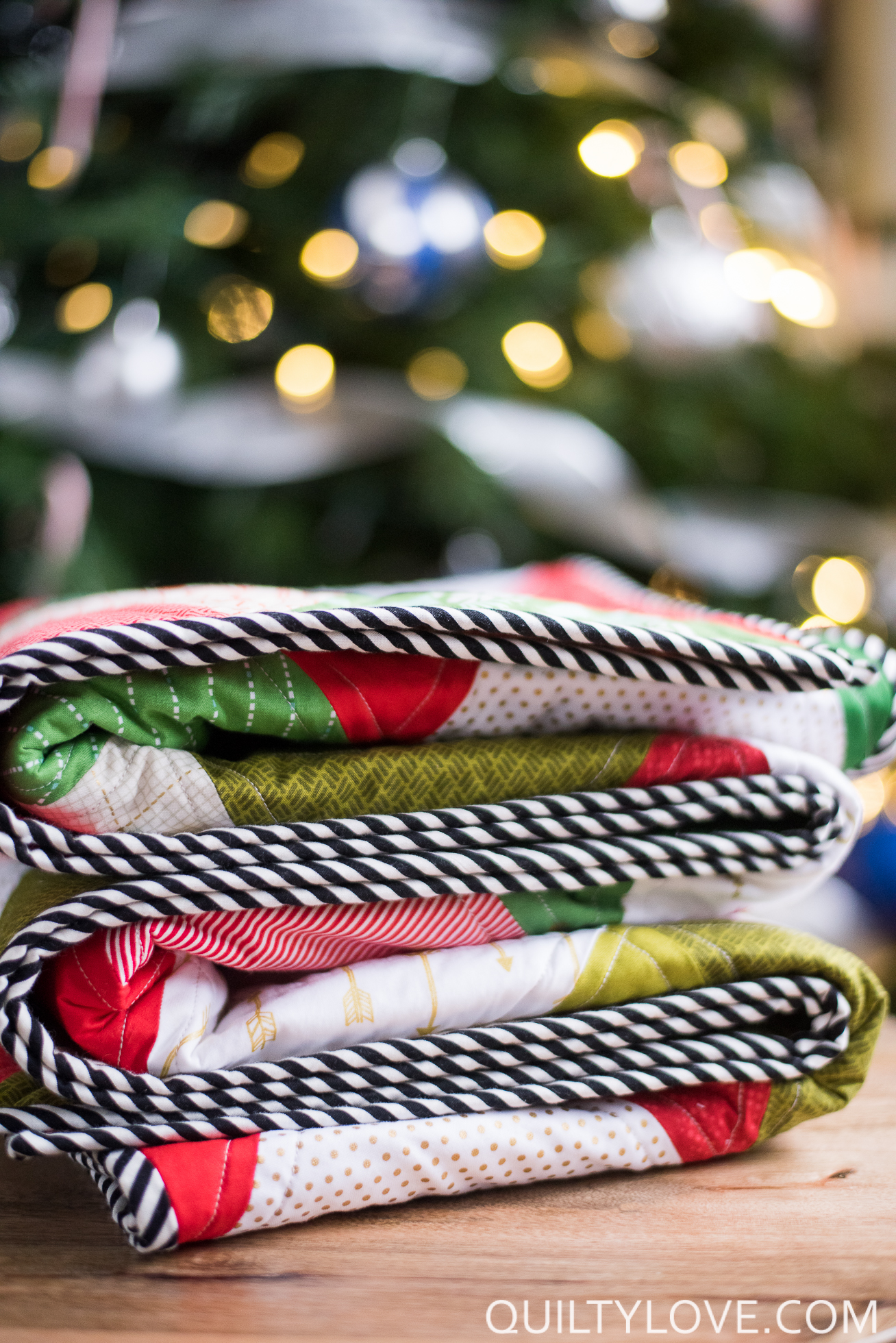 Materials Used:
Scrappy fabrics from my stash
6.5in 60 degree triangle ruler
Flannel backing by Kate Spain
Warm and White batting
505 spray basted
Aurifil thread
Black and white bias binding
Pieced and quilted on my Janome QDC4120