Stained Glass Windows Quilt
The Stained Glass Windows Quilt pattern is here and ready for you all!  Stained Glass Windows is a fat quarter friendly (or even fat eighth) quilt pattern.
Find Stained Glass Windows Quilt Pattern in the Quilty Love pattern shop.
This quilt design has been in the works for a very long time.  I sketched it up earlier this year and then submitted it with the sketches for my new book Modern Quilts Block by Block.  It didn't make the cut so now it's finally it's own pattern.
Stained Glass Windows quilt was first featured in a summer edition of Quilter's Candy Box so you might have seen it made up a few times.  But today, it's available for everyone in the shop!  I know some of you have been patiently waiting 😉
The plus design is a design I love bringing into my quilts so this is yet another play on the popular quilting shape.  Each block features it's own fabric keeping the design clean and modern. 
Fat Quarter Friendly
Stained Glass Windows quilt is designed with fat quarters in mind.  It takes a minimal amount of fat quarters but I encourage you to use more than required for more variety.  It's a good quilt pattern to use up those fat quarter bundles with a lot of prints.  Or make one up in solids.  My baby version is made up of solids.  You can see a picture of it at the bottom of this post.
All the quilt sizes
Stained Glass Windows quilt includes instructions for a baby size, a throw size and a queen size.  This is the throw size shown here.  I made up the cutest baby size that I'll be sharing soon.  The baby size is a quick quilt to make.
Accents
Lately I've been sketching up a lot of quilts with a background fabric and an accent fabric.  Use a bold white as the accent like this quilt shown here or mix it up with a bright colored accent and more neutral background.
Background
I couldn't resist using Essex Linen as the background for this version of Stained Glass Windows.  The white really pops against the linen.   Plus, that linen provides the most beautiful texture and a whole lot of warmth.  I'm not sure why that is but linen quilts make for warm quilts!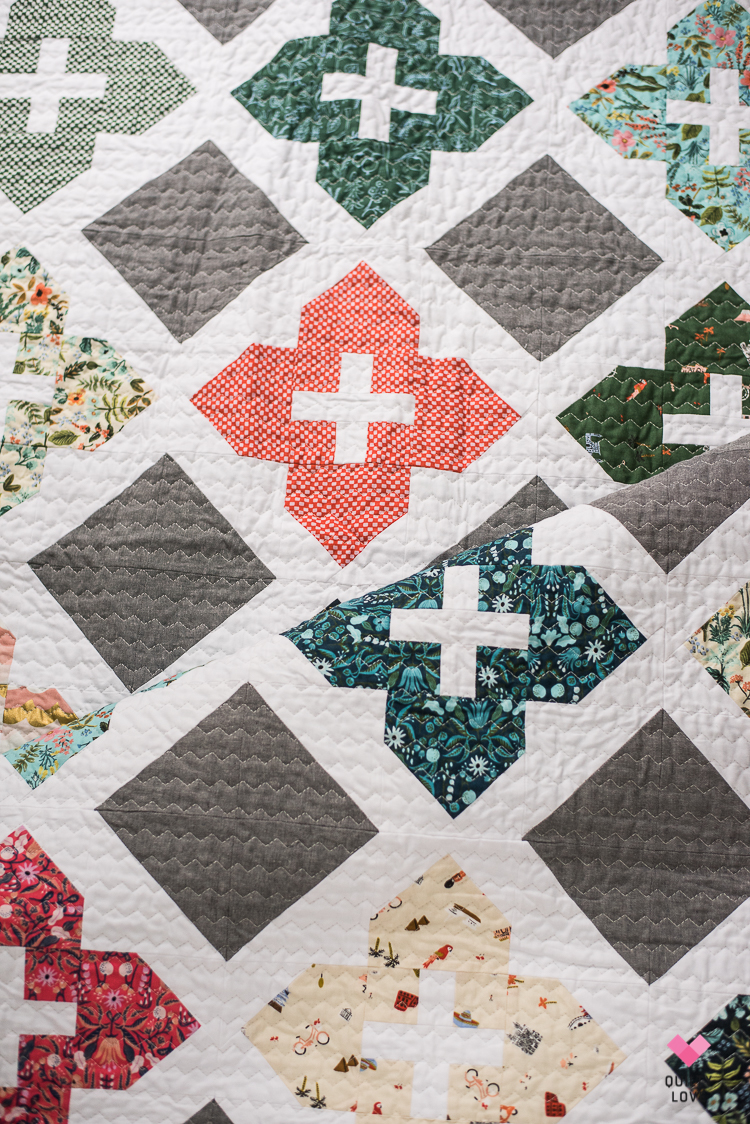 Fabrics
For this version of Stained Glass Windows I used Amalfi fabric by Rifle Paper Co for Cotton and Steel.  Amalfi is such a pretty fabric line and worked great with the pop of white and the darker essex linen.
The white accent is Kona Cotton in White.  It's my favorite stark white.
The background is Essex Linen in Graphite.  I love quilting with Essex Linen.  It can be a little finicky though.  Find helpful tips and tricks when sewing with Essex Linen in this blog post.
Quilting
This Amalfi Stained Glass Windows quilt is pieced and quilted on a Janome MC6700p.  It's been a while since I've quilted a quilt with the multi stitch zig zag.  It's such an easy quilting technique to do using a walking foot.  I have a full zig zag quilting tutorial here.  I like to space my lines 3/4in apart.  Zig zag quilting makes for the most amazing quilty texture!
This quilt is backed with a Dear Stella print that I had on hand.  It's finished off with an Essex linen binding.  I'm a little hesitant to use Essex linen as a binding because I don't have enough experience with how well it will hold up.  But I'm all for experimentation and willing to take lots of quilting risks so I went for it.  
Below is the baby quilt version of Stained Glass Windows.  I have this quilt done and will blog it very soon!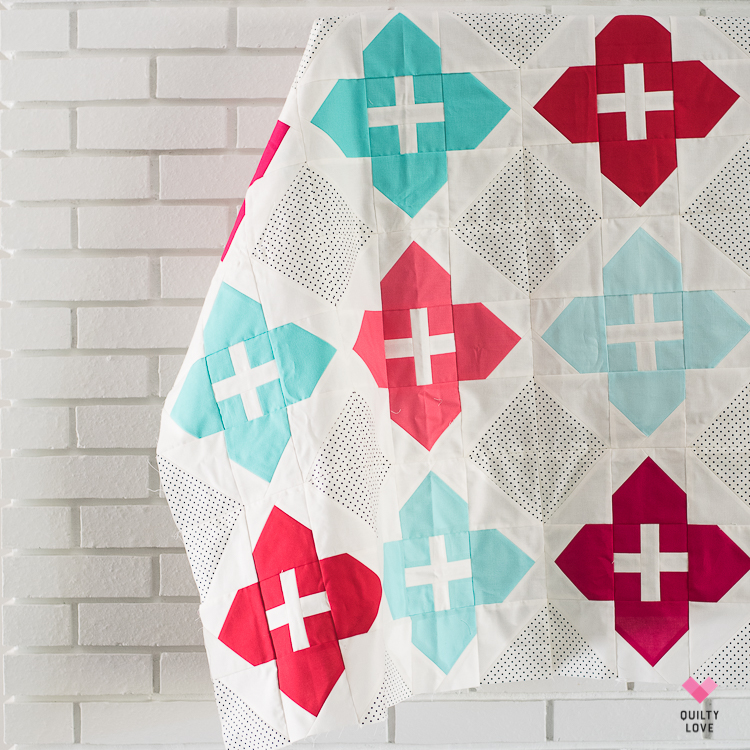 Grab a copy of Stained Glass Windows in the pattern shop.
Supplies Used:
Prints:  Amalfi fabrics by Rifle Paper Co for Cotton and Steel
Accent:  Kona Cotton in White
Background:  Essex Linen in Graphite
Batting:  Warm and White
Backing:  Dear Stella fabric
Pieced and Quilted on a Janome MC6700p