The Figo Fabrics Lucky Log Cabins quilt
Good morning! Today I'm sharing the Figo Fabrics Lucky Log Cabins quilt!
You can find the Lucky Log Cabins quilt pattern in the Quilty Love shop here.
Lucky Log Cabins is the first quilt pattern in the Quilty Love Stash Buster series. Lucky Log Cabins is a quick and easy stash friendly quilt that you can have sewn together in a weekend.
This log cabin look alike quilt is jelly roll friendly, fat quarter friendly, fat eighth friendly and 1/4 yard friendly! Find one of those in your stash and lets start sewing! Without any background fabrics, this one is a true stash buster.
The original – The Figo Fabrics Lucky Log Cabins quilt
This Figo fabrics version of Lucky Log Cabins is the original one. This was my test quilt or more like my play quilt. Lucky Log Cabins was designed over the course of several months. Usually I have a design in mind before I start sewing but not for this one!
This fat quarter bundle from the Figo Fabrics Sunkissed line was sitting in my stash for a while. I started cutting into without a plan and just enjoyed the process of playing with fabric.
I would work on it here and there as inspiration struck. There was one point where I was pretty sure it would never turn into anything because I just wasn't feeling it. But I figured if I felt inspired I would go back to it.
And that did happen! I did end up taking out the WIP and working on it again. The Lucky Log Cabin blocks emerged. Once I finished this quilt top, I could not wait to try it again in other fabrics!
Fast and easy quilt pattern
I ended up making five, so as you can see it is quite addicting to make! You will find yourself thinking about other versions as you sew it together ;). Lucky Log Cabins is a quick and easy quilt so you will find yourself sewing up more than one!
Lucky Log Cabins works with so many fabrics
This Sunkissed line by Figo Fabrics is a busier print line when all together like this. But I love how it looks! Since this fabric line really only has a few colors in it, it really works!
All quilt sizes available
As I started working on Lucky Log Cabins and writing it up, I got excited with how versatile it became. It worked so well using so many different pre cuts and it worked easily into just about any quilt size you would need.
The quilt pattern includes instructions for a baby size quilt, a lap size quilt, a throw size quilt, a large throw size quilt, a twin size quilt, a full size quilt, a queen size quilt, and a king size quilt!
I'm so happy that all of the bed sizes are covered in this Lucky Log Cabins quilt pattern. It can be harder to find some of those bed size quilt patterns such as twin and full.
This Sunkissed Figo Fabrics Lucky Log Cabins quilt is the medium throw size.
Stash Buster quilt pattern
As I mentioned before, this is the first in the upcoming Quilty Love Stash Buster quilt pattern series. I'm so excited about this series! The quilts in this series are meant to provide a quilt pattern for you to sew your stash! All of the quilts in the series do not need background fabrics. Without background fabrics, it's all about using up your fabric stash!
Lucky Log Cabins includes instructions for using jelly rolls, fat quarters, fat eighths, or quarter yards. The larger sizes even include half yards.
So choose your fabrics from your stash and this pattern will help you with cutting for any of them.
Perfect Jelly Roll Quilt Pattern
I always get excited when a Quilty Love quilt pattern is jelly roll friendly. Jelly Rolls are such a fun precut to have and to collect. They are 2.5 inch strips of fabric and usually contain 2 prints each of the entire fabric line. They are one of the more affordable ways to get the entire fabric collection all together.
Plus they are so fun with their little round shapes…lol. Below is an older jelly roll I had just pulled the ribbon off of.
Anyways, Lucky Log Cabins is the perfect Jelly Roll quilt! You will need one or two jelly rolls depending on the size quilt you make. Or if you just have one jelly roll, you can supplement it with some solid or neutral fat quarters or yardage from your stash.
Log Cabin quilt pattern
So Lucky Log Cabins is not a true Log Cabin quilt pattern since the construction is a bit different. But the end result comes out looking very similar to a log cabin quilt block. A true log cabin quilt block is constructed by adding a new log to each side of the block.
Log cabin quilt blocks are so classic though! Lucky Log Cabins is a spin on the log cabin block. I actually named this quilt pattern "Lucky" Log Cabins because it felt kind of lucky that the blocks ended up looking like log cabins. I had no visions of what this quilt would turn into since I started cutting fabric with no plans so the end result did feel lucky 🙂
Figo Fabrics Lucky Log Cabins binding and backing
I used a Peppered cotton wideback on this Figo Fabrics Lucky Log Cabins quilt. I tend to keep a handful of neutral wide backs on hand since they work with so many quilts. With a busier quilt top like this one, that solid backing really tones down the quilt. I've used these peppered cottons for quite a few quilts now and really like them. They are more like a linen and nice and soft.
The binding on this Lucky Log Cabins quilt is Kona cotton in the color denim. This denim color has worked on a few of my quilts recently! It's a really pretty blue solid fabric.
Free motion quilting a stipple pattern
I almost forgot to tell you about the quilting on this log cabin quilt! I actually attempted some free motion quilting! I attempted..(ha) a free motion stipple pattern.
Here is what I have to say about free motion quilting…. It is so enjoyable! But… it is challenging. You will feel like you are doing a terrible job quilting the entire time as a newbie. But it always looks better when you step back and observe the entire quilt!
So while my free motion quilting skills have a lot of room for improvement, I still enjoy doing it every once in a while. A quilt like this one is the perfect free motion practice quilt because it's busy in its pattern and I wasn't particularly attached to it or afraid to mess it up.
I pieced and quilted this Figo Fabrics Lucky Log Cabins on my Janome MC6700p. If you want to try free motion quilting you will need a free motion quilting foot that looks like this. Your machine might have come with one so take a look at those extra feet!
Free Motion quilt in sections
I try to work in sections when free motion quilting. Big rectangle sections. Sometimes the hardest thing to figure out about free motion quilting is where to start and where to go. But break your quilt up into sections and start quilting! There is only one way to improve your free motion quilting skills…! And that is by doing!! And possibly messing up a few quilts along the way.
If you look closely at this quilt you can see my stipple isn't very loopy and swoopy. Instead they are a little more jagged and rough but when you step back and look at the quilt as a whole, it looks much better…lol.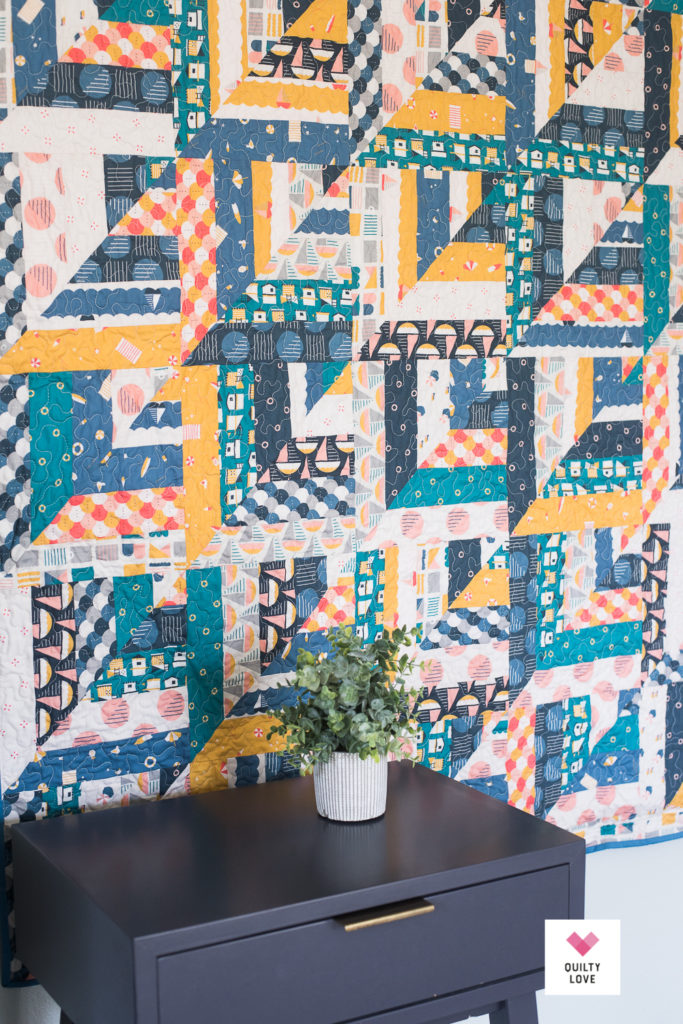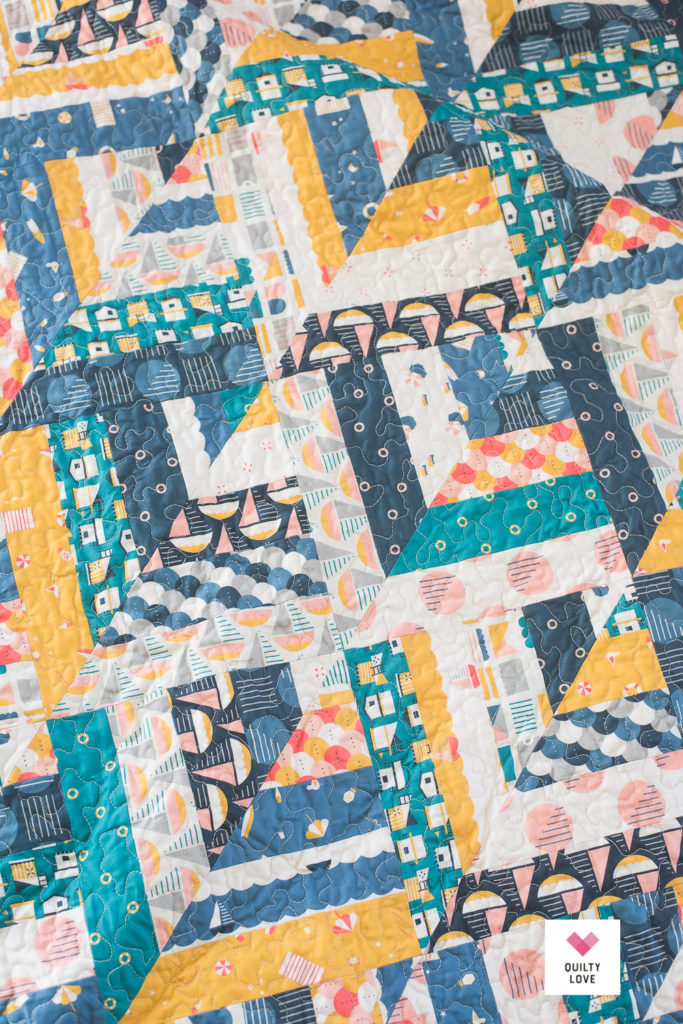 You can find Lucky Log Cabins in the Quilty Love Shop.
Materials Used:
Figo Fabrics Sunkissed
Binding – Kona in Denim
Backing – Peppered Cotton Wideback
Batting – Quilters Dream Select
Pieced and quilted on my Janome MC6700p
Connecting Threads thread