Glowing quilt – the Figo fat quarter one
I have another Glowing quilt to share with you today! This is the second Glowing quilt I made (here is the first) but I'm sure it won't be the last.
Glowing is now available in the Quilty Love pattern shop.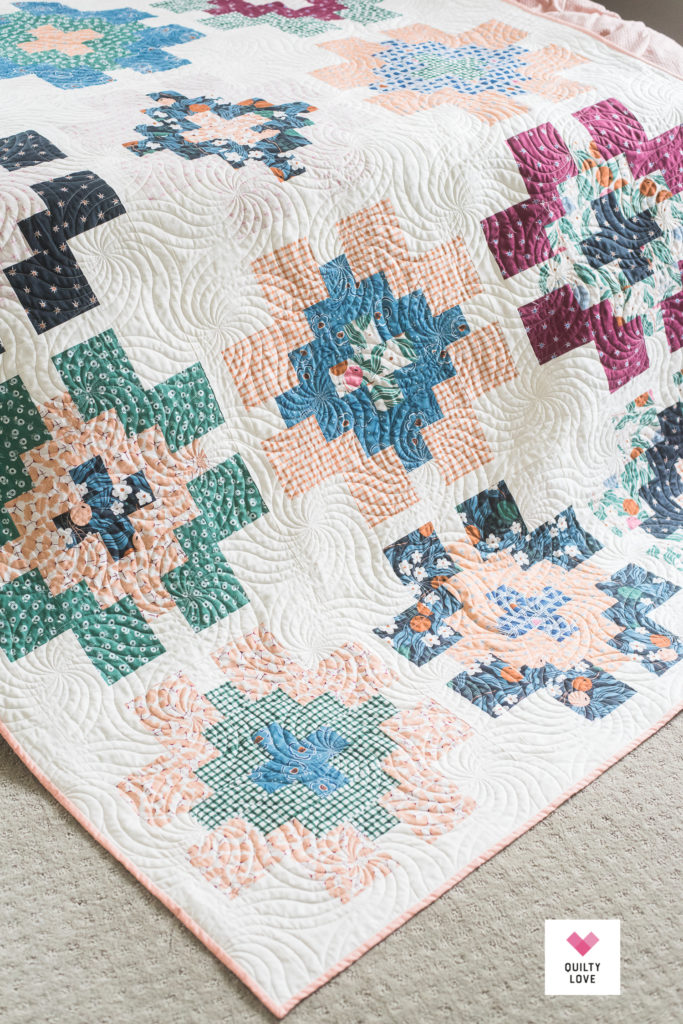 Figo Fabrics
This version of the brand new Glowing quilt pattern is done up using the A life in Pattern fabric line by Cathy Nordstom for Figo Fabrics.
This fabric line is so pretty! I love the blue, green, and peach combo. And those plaids! They were my favorite.
The Glowing quilt throw size needs just 12 fat quarters so I chose my favorite 12 from this Figo Fabrics line.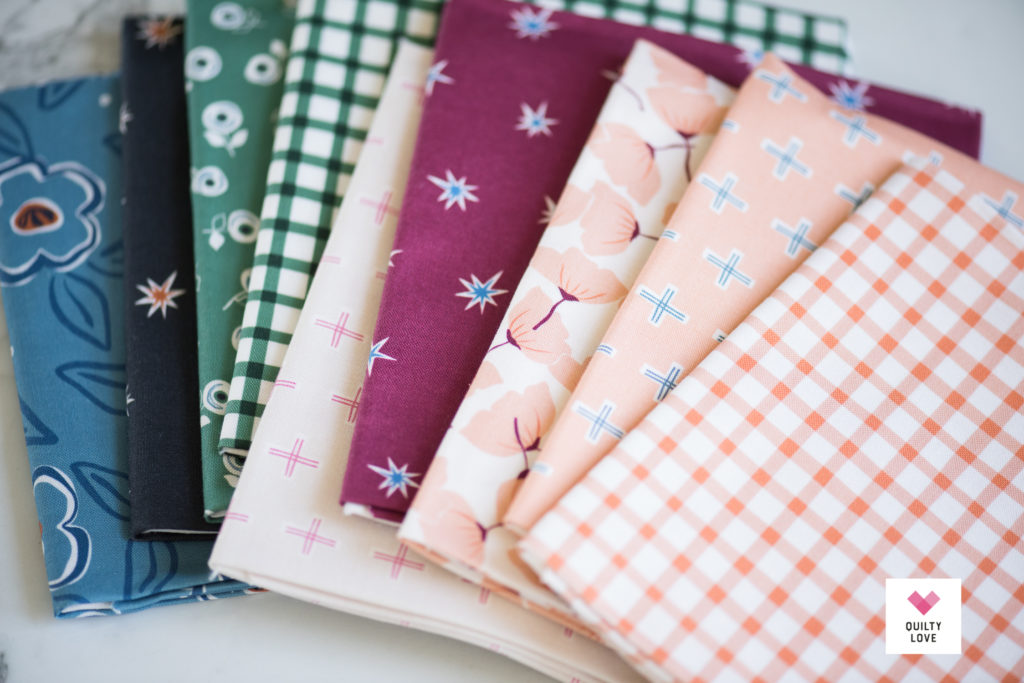 Mix and match fat quarter quilt
Glowing is a mix and match fat quarter quilt. That means you cut one entire block from one fat quarter and then you mix all of the pieces together to make your blocks. This quilt uses up a full fat quarter perfectly! I love when that happens!
The quilt pattern also includes instructions for a 1/4 yard cut of fabric. It doesn't always work out to use a quarter yard when you write patterns for fat quarters but it did in this case! So whatever your preferred cut of fabric is, quarter yard or fat quarter, this pattern will work!
I always buy my fabrics as fat quarters. I really like fat quarters in my stash and I tend to write most of my patterns for them.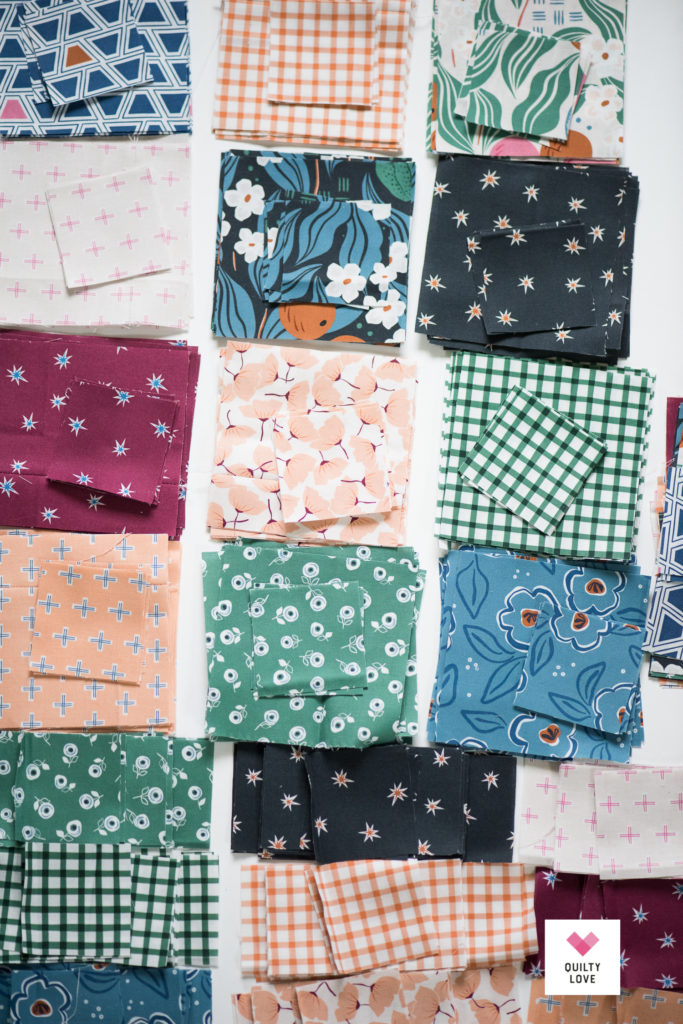 Look at those pretty stacks of fabric all ready to be made in to big bold quilt blocks!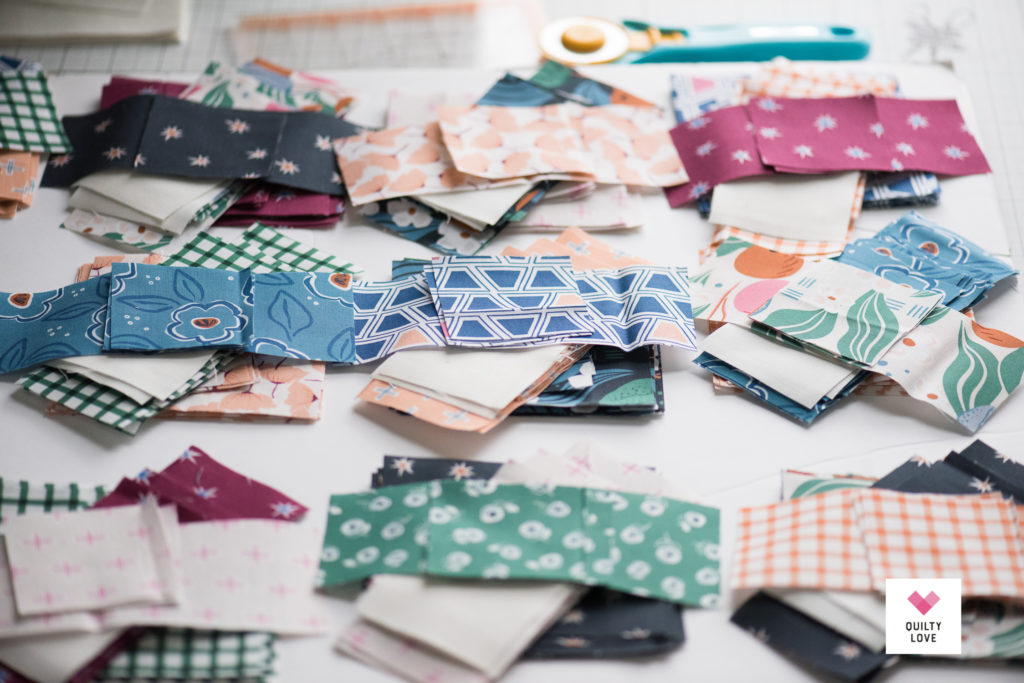 My brand new Janome MC6700p
I took the photo below to share my brand new sewing machine on Instagram. This Figo fabrics Glowing quilt was up on my design wall at the time.
But yes, I purchased my own Janome MC6700p! I love this machine so much and can't recommend it for quilters enough! I have been a Janome Maker for the past few years sewing on this machine on loan from Janome and I just couldn't imagine trying to quilt without it anymore.
One of these days I'll do a full review on this machine. I purchased mine from my friend Holly over at Bijou Lovely.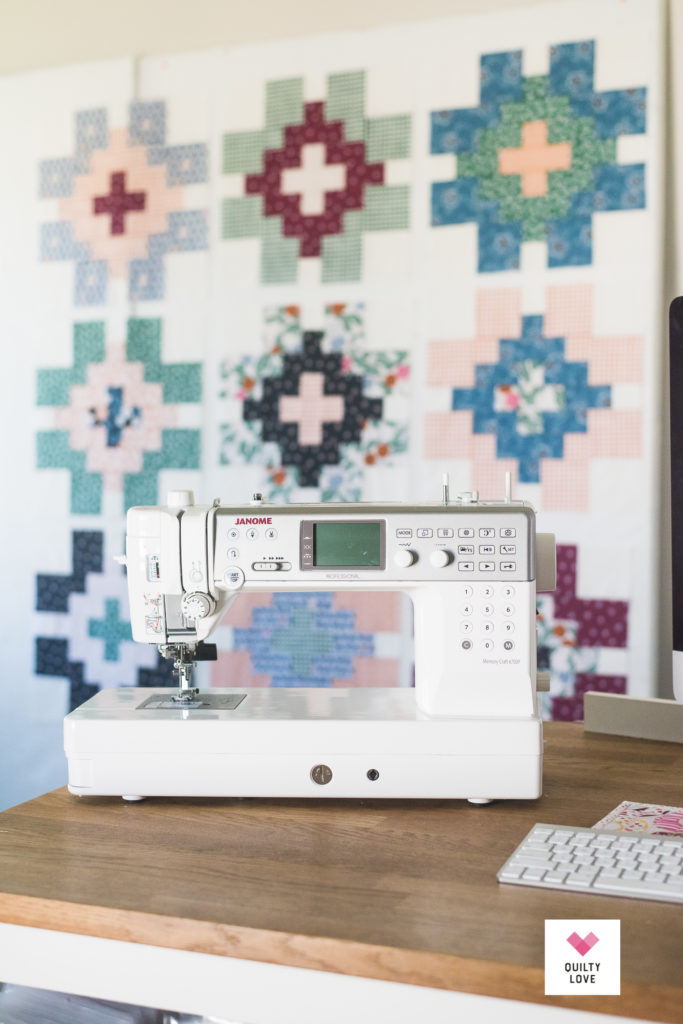 Big quilt blocks
The Glowing quilt has nice big quilt blocks! I kept them nice and large so the blocks didn't get too tedious. While there are quite a few seams in each block, very few of them need to line up.
The throw size quilt only has 12 quilt blocks to make. I wouldn't call this a fast quilt to make but it does go together fairly easily without taking too much time.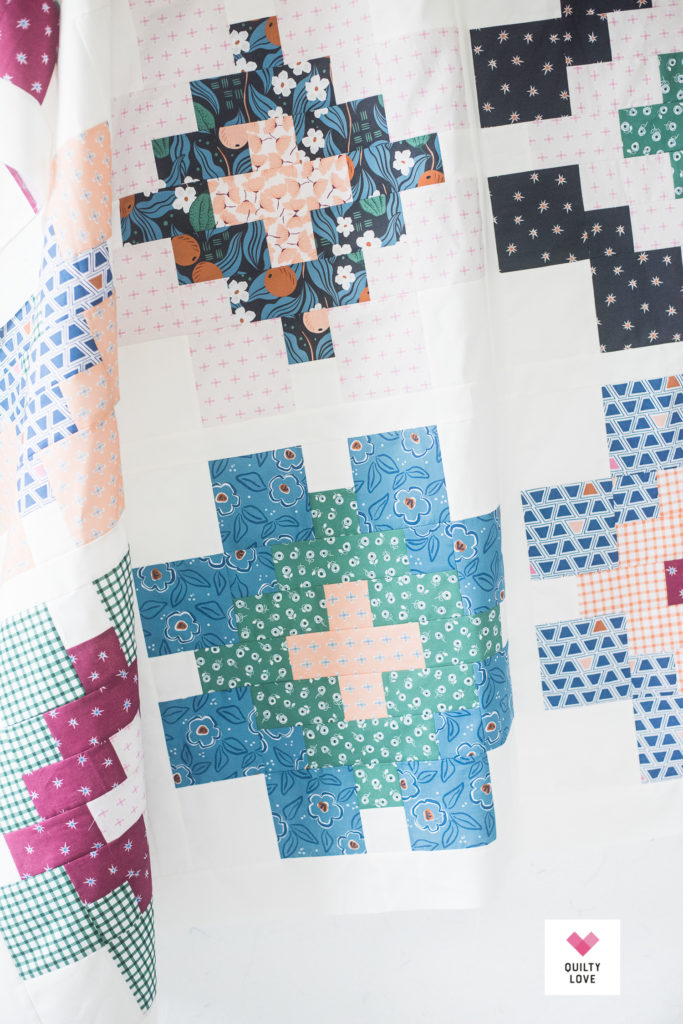 Baby, throw and full size quilt
Glowing includes instructions for a baby size quilt, a throw size quilt and a full or double size bed quilt. I didn't include a larger queen or king size because the block measurements didn't work out perfectly but you could always enlarge it by adding a row and a column. And since each block uses one fat quarter, just add an extra fat quarter for each block.
I'm excited to offer this one in a full size quilt! I think this is the first full/ double bed size quilt I've had. That size can be a little hard to find quilt patterns for.
Long arm quilting
This Figo fabrics Glowing quilt was sent off to Knot and Thread for quilting. Isn't this quilting design so good!!? I always have Kait pick the quilting design and surprise me now because it's way more fun that way. This quilting design did not disappoint.
Quilt binding
This larger throw quilt is finished off with a Kona cotton solids binding in the color peach. I used a solid from my stash since I didn't have enough of the Figo prints for a binding.
My stash is getting pretty low right now and I'm struggling to find enough fabrics for binding lately..haha. I've been making a lot of quilts and therefore binding a lot of quilts and like I said before I mostly have fat quarters so finding binding has been a struggle. I really need to stock up on some fabrics. This is also why I use the leftover cut off backing as my binding majority of the time!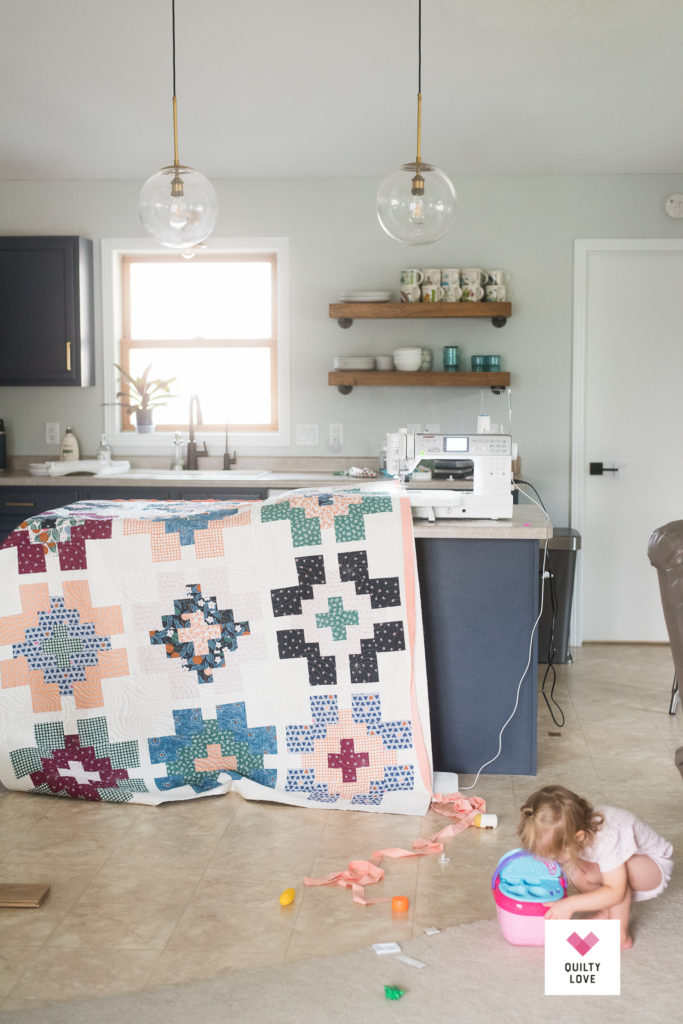 Quilting with a toddler – stand and sew
Here is what my days look like most of the time with a toddler..haha. I have my own sewing room but most days I'm sewing out on the kitchen island with toddler music playing.
A lot of quilters are surprised to see this stand and sew situation going on. Yes, I love to stand and sew! When you need to tend to a toddler it's so much easier to be standing than sitting. Plus, the toddler tends to ignore you more when you are standing. Why is it the second you sit down, they want your attention!?? haha.
I wouldn't recommend standing and quilting for long periods of time but let's be real, that doesn't happen with a toddler.
I feel like I need a disclaimer that our home is a work in progress…haha Come back in a few months when I finally have some new flooring down 😉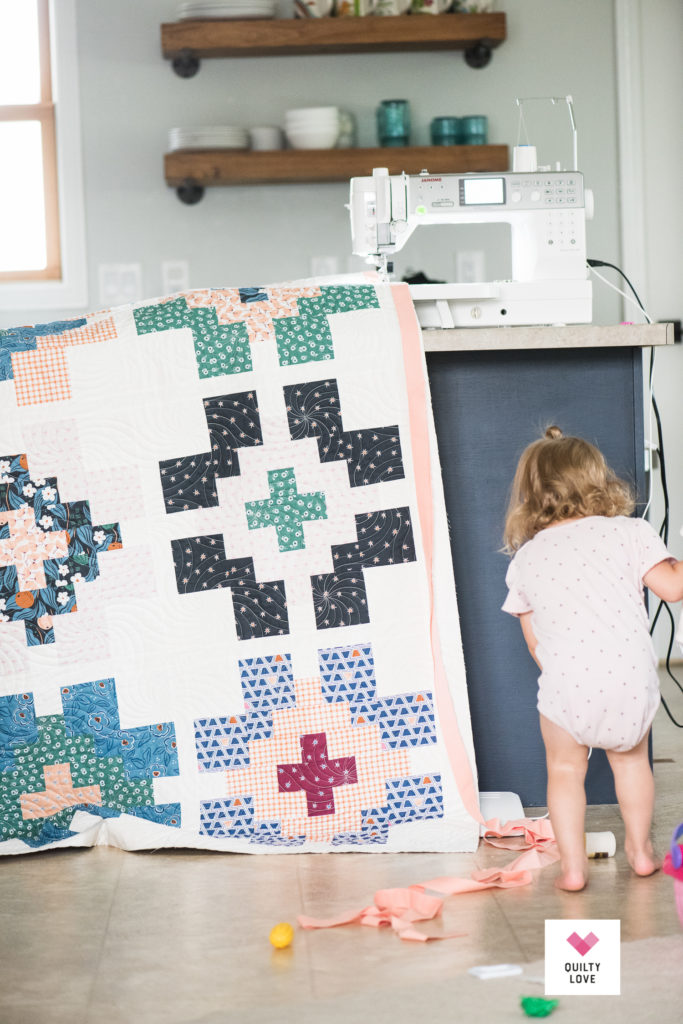 Look at that beautiful quilting texture! The movement in this quilting design is just so good! I never would have chosen a quilting design like this so that is why I love to leave it to the professional..lol.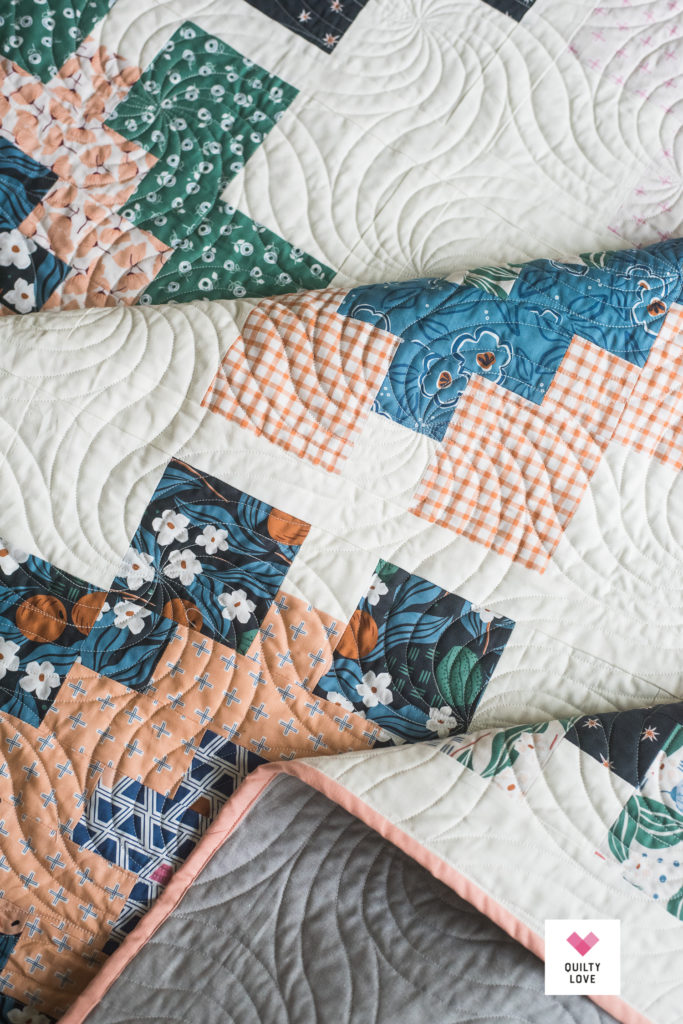 I had fun photographing this Figo fabrics Glowing quilt. It sure is pretty!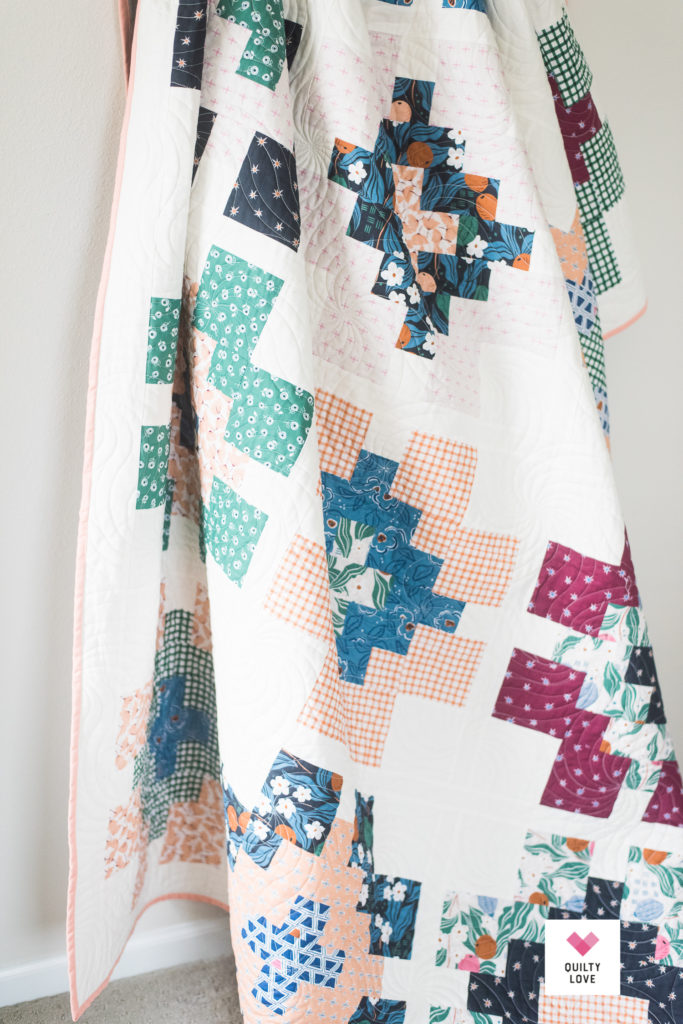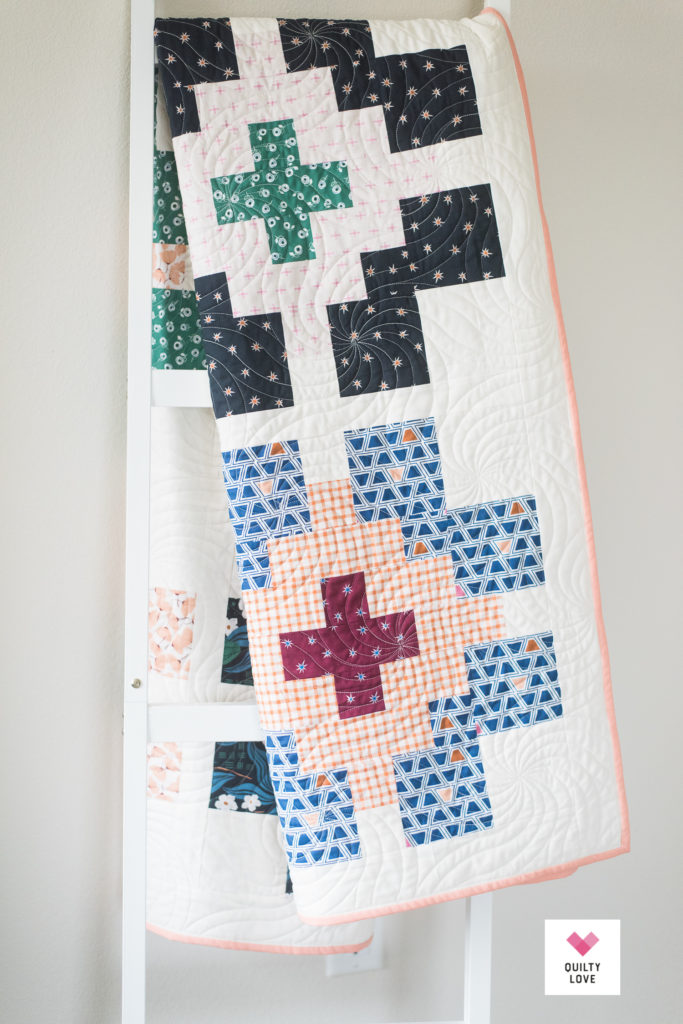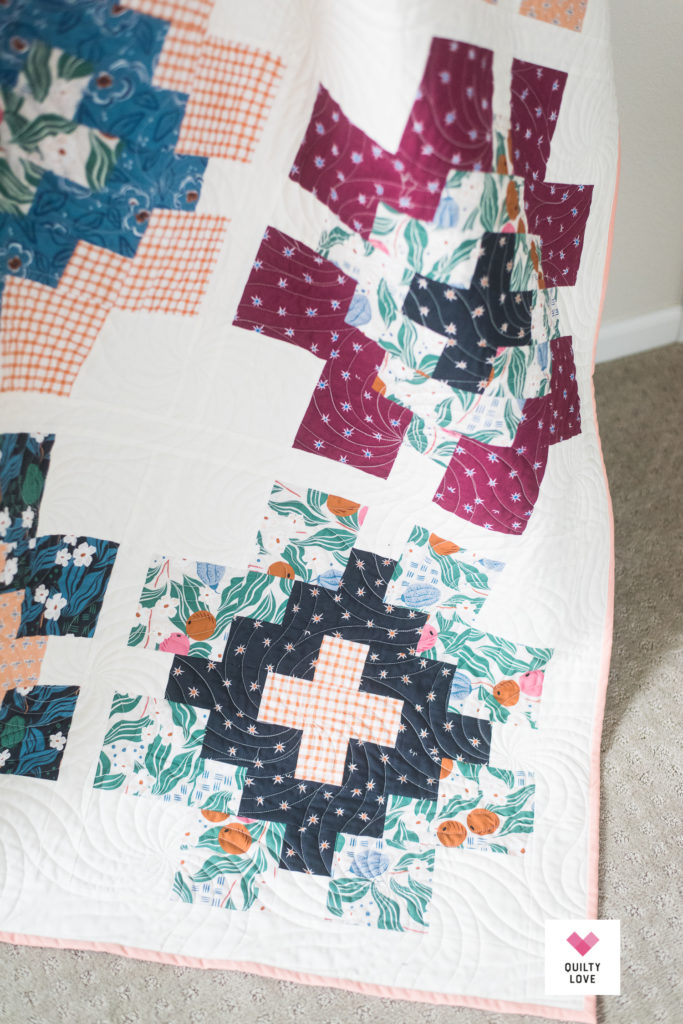 Show off those prints
Glowing is perfect for showing off your favorite prints. Since the fabric pieces stay nice and big, you can really highlight the fabrics. This figo line has some fun patterns that are on the larger scale. I love that you can still see the fabric designs well.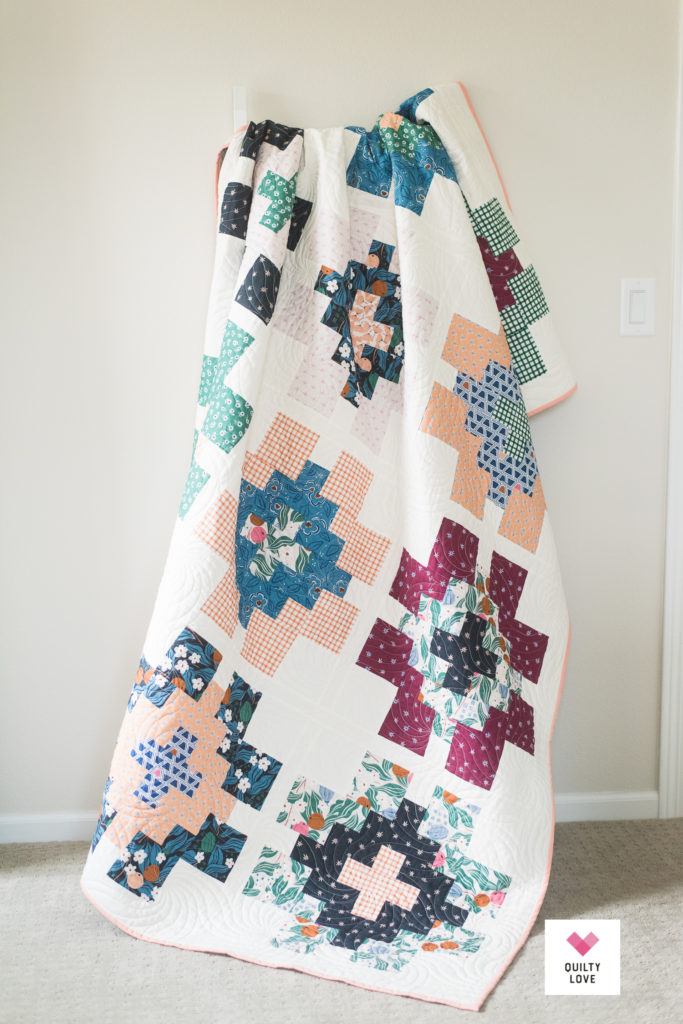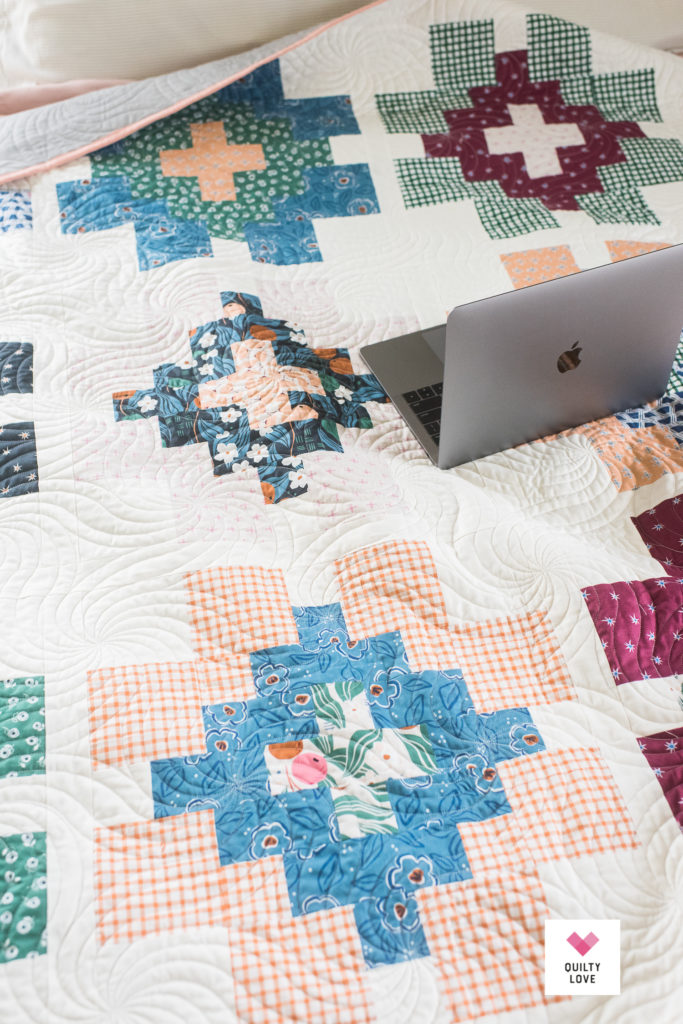 Peppered cotton wide back quilt backing
I finally started using all of the Studio E Peppered Cotton wide back fabric I purchased! These Peppered Cottons are a shot cotton by Pepper Cory in 108″ widths! I don't know about you, but I love wide back fabrics as backing. No piecing required!
This Peppered Cotton is the color fog. I also bought a ton of the color Charcoal. Shot cottons are really nice and soft and drapey. I'm really happy with how they are working out as quilt backings.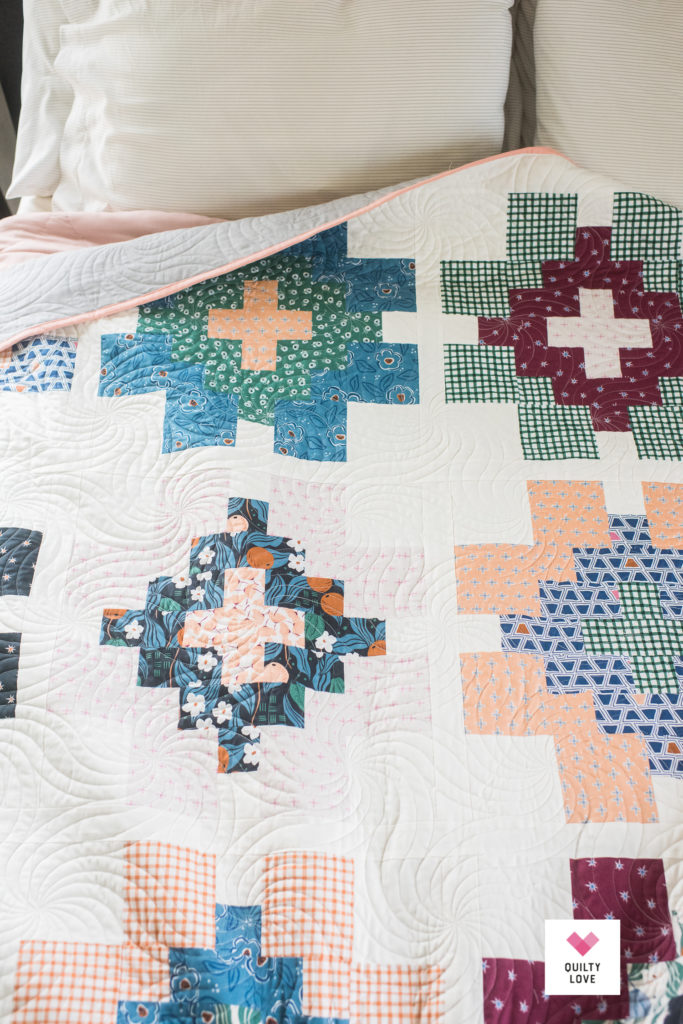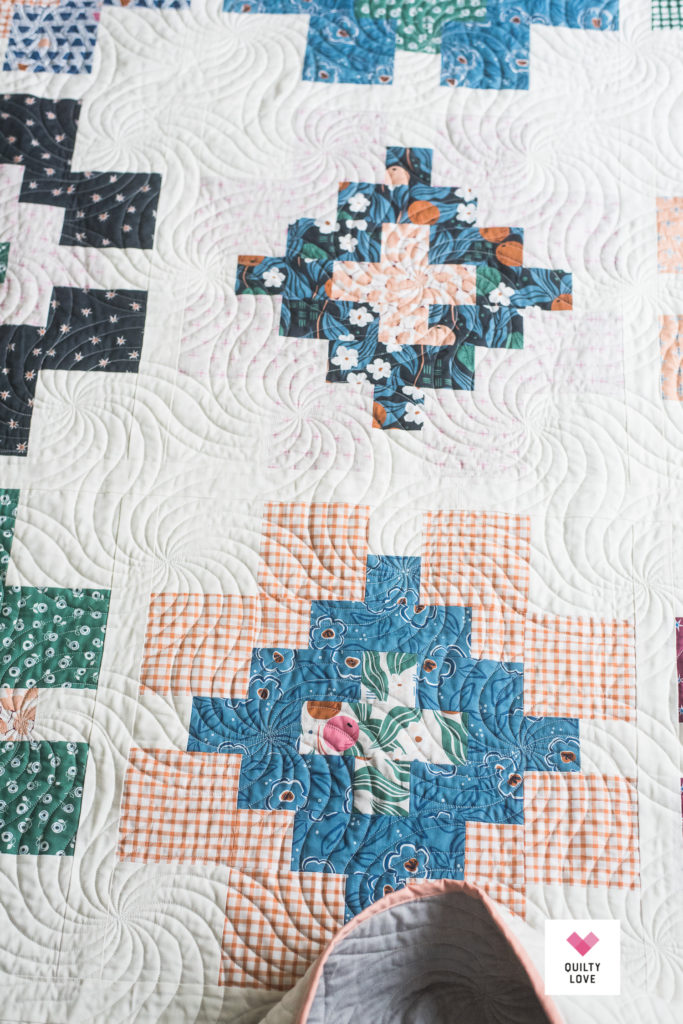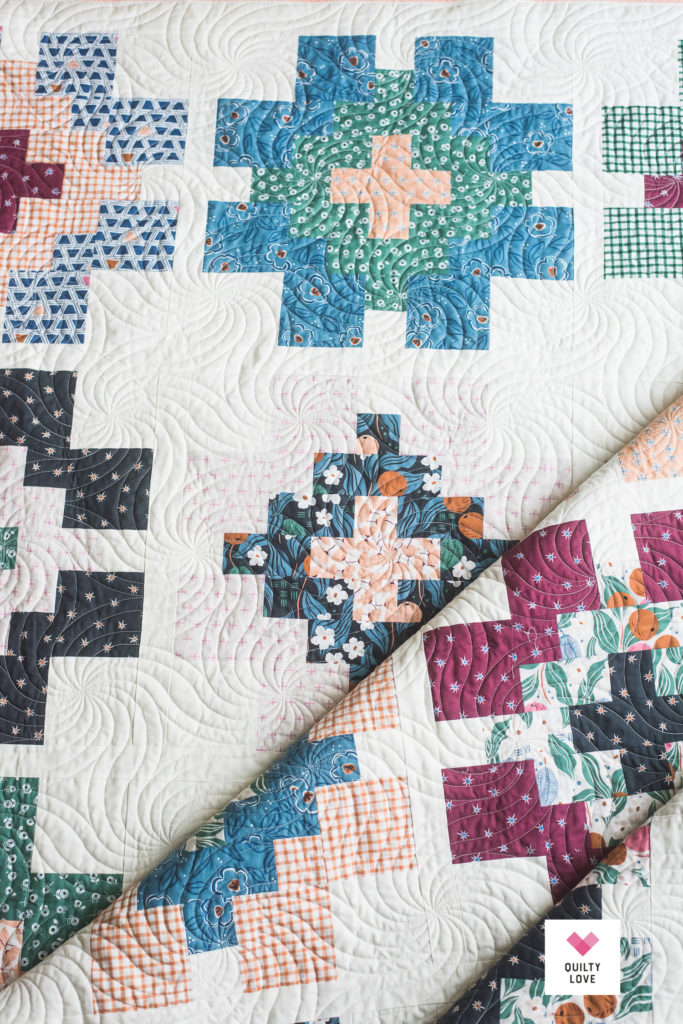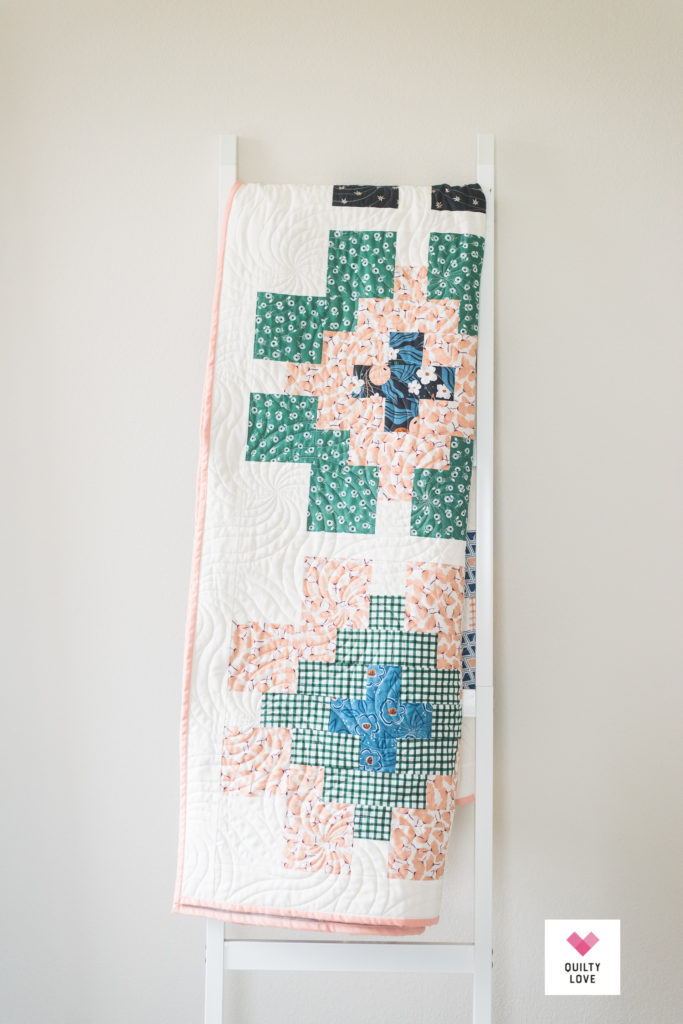 The block below is my favorite block in this Glowing throw quilt. That peach plaid fabric is just so good!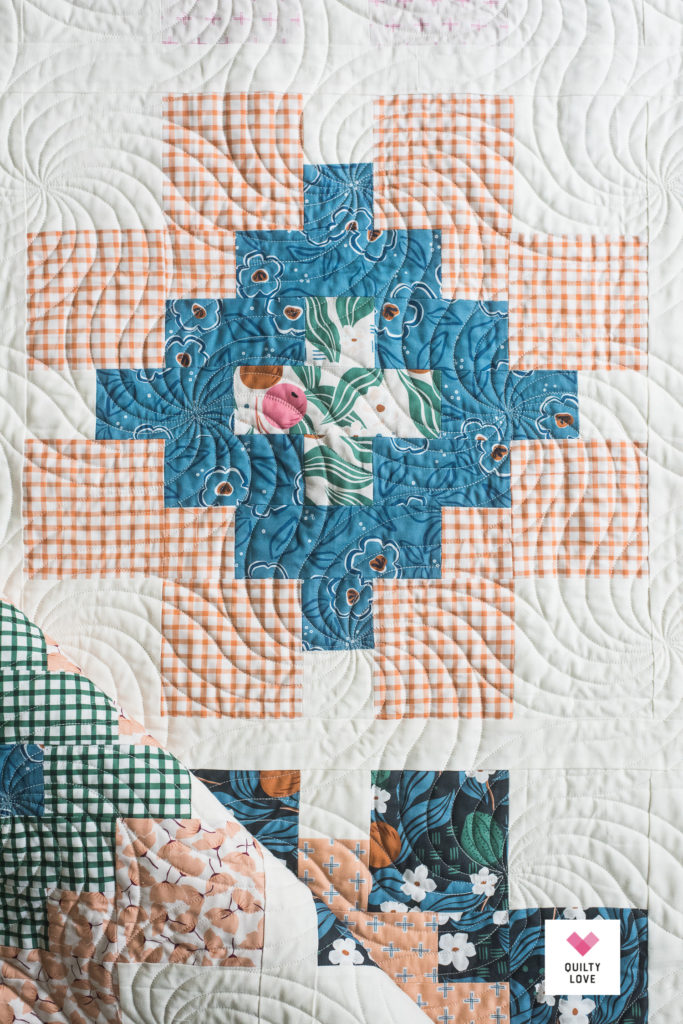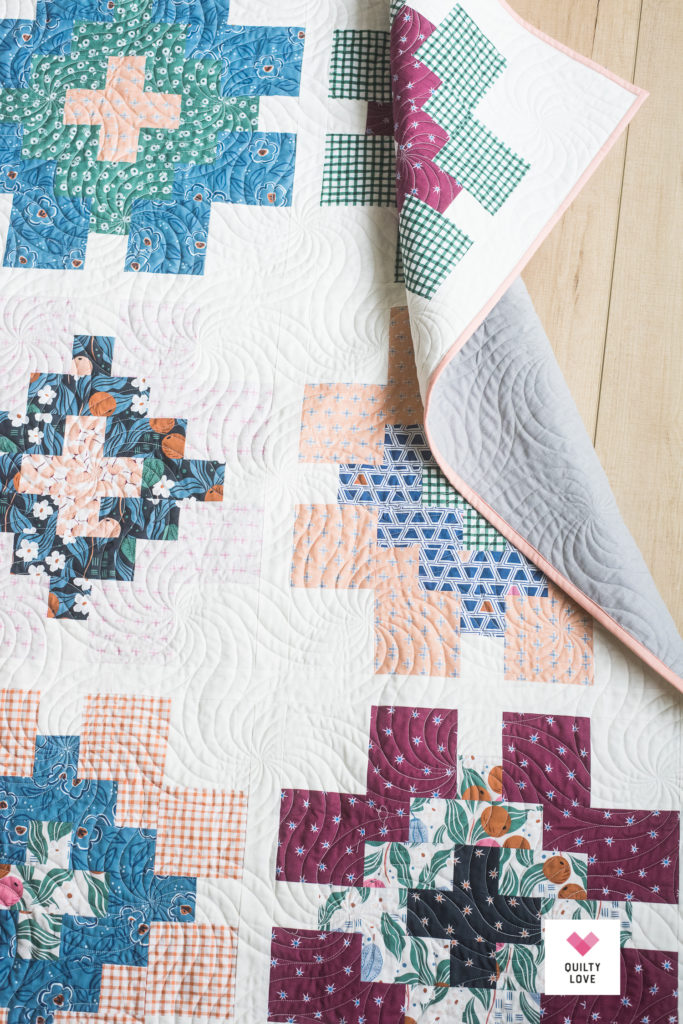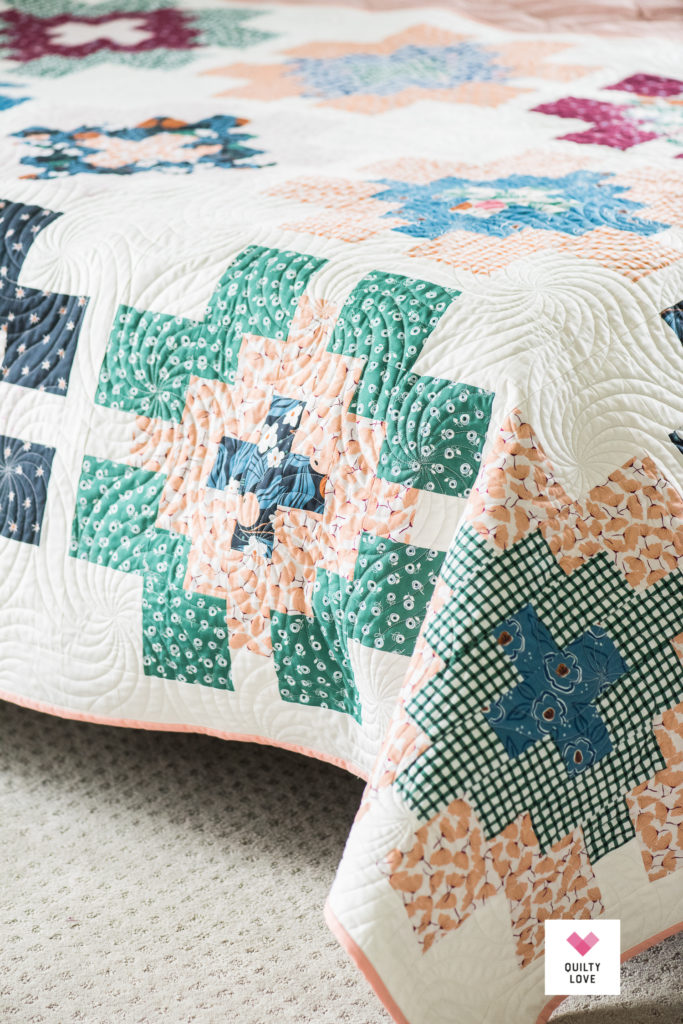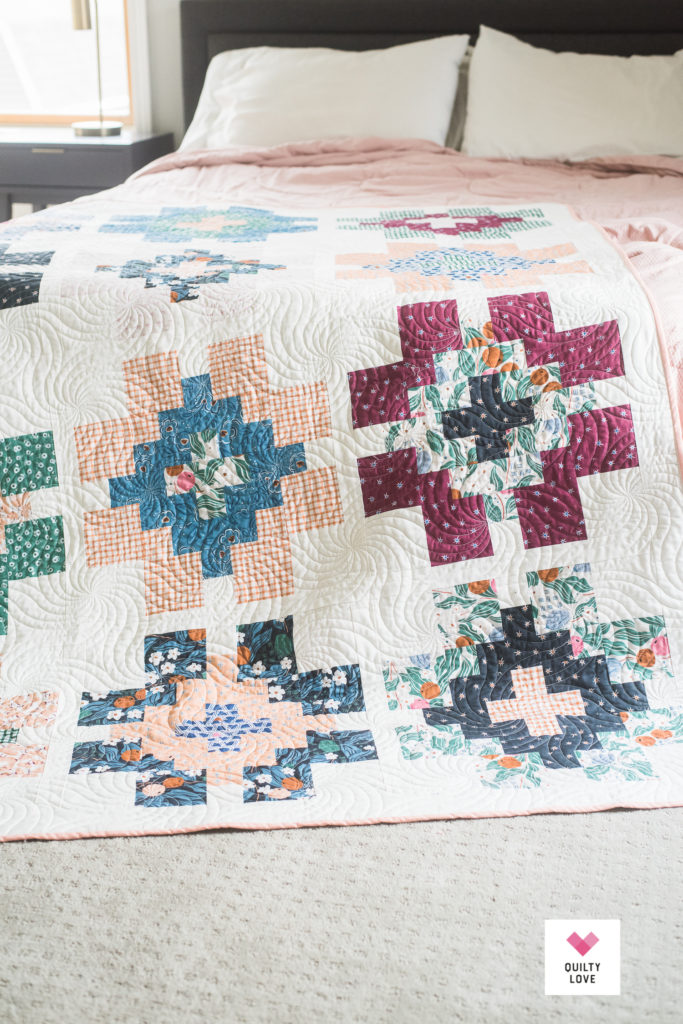 Materials Used:
Quilt Pattern: Glowing quilt pattern by Quilty Love
Prints: A life in pattern fabric line by Figo Fabrics
Background: Kona cotton Snow
Binding: Kona cotton Peach
Backing: Peppered Cotton in Fog
Pieced on a Janome MC6700p
Quilted by Knot and Thread Design
Take a look at the other Glowing quilt here.