Take Me Home Quilt – Zakka Home book tour
Today it's my turn on the Zakka Home book tour!  Zakka Home is Sedef Imer's second book full of modern and stylish projects for your home.
Most of the projects in the book are simple items such as bags, pouches, table toppers and pillow covers that can be finished in an afternoon.  There is one quilt pattern in the book which of course pulled me right in 🙂  The Take Me Home quilt is a nice generous size throw but goes together quickly.  I had this top pieced in a day.
I loved how Sedef arranged her version of the quilt in color order and decided to arrange my version the same way.  I used this brand new Garden Variety fabric line by Lella Boutique for Moda Fabrics. 
Lately I've been enjoying the process of quilting up a quilt top again.  I went with 3/4in spaced straight lines for my Take Me Home quilt.  Straight lines always make for fast and easy quilting that looks nice and modern when finished.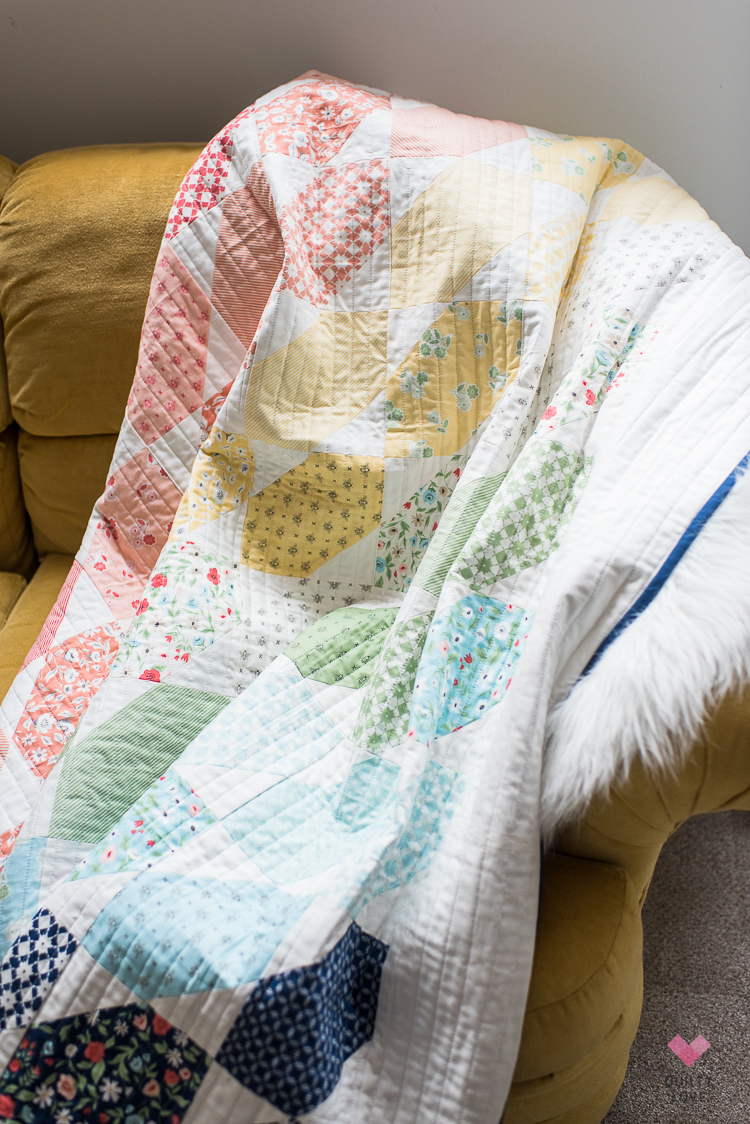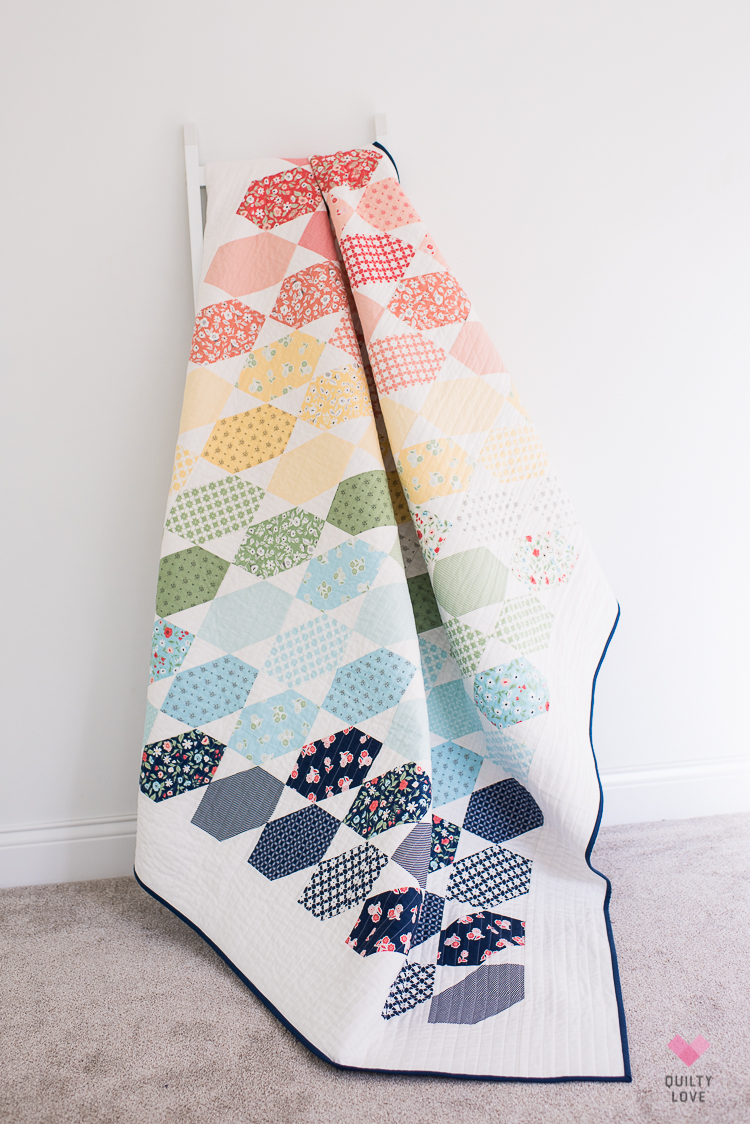 I backed my Take Me Home quilt in a grey Essex Linen. I've backed a few quilts in Essex Linen now but can't really advise if this is a good idea or not yet since none of them have been washed 😉  I used linen in this case because I didn't have anything else on hand that would work.  But I love linen!  It makes for really warm quilts which is why I like to include it when possible.  We need some really warm quilts up here in Northern Michigan 😉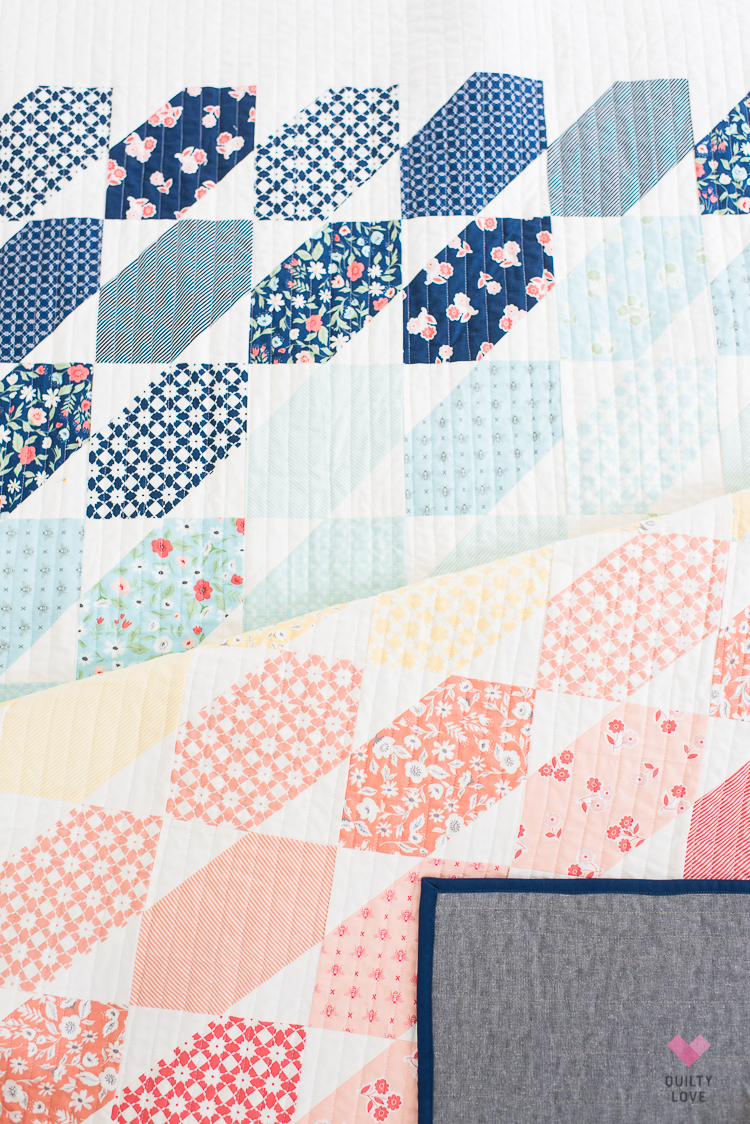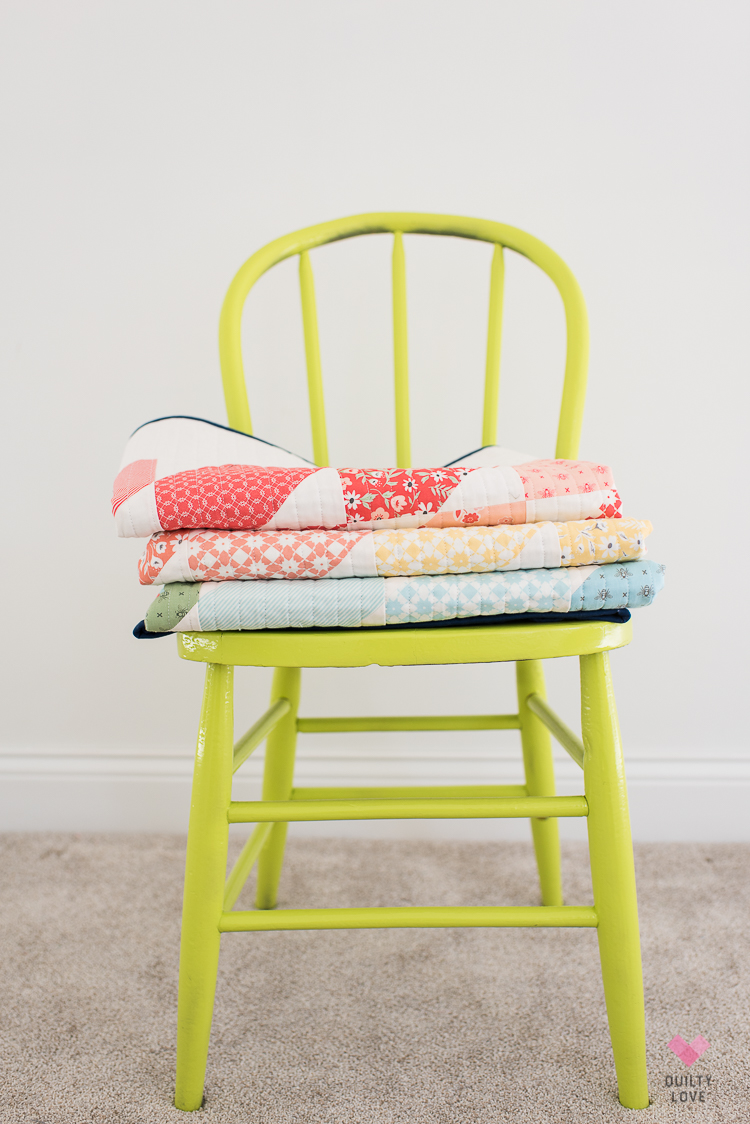 The Take Me Home Quilt is finished off with a solid navy binding.  I wanted a binding that would frame the quilt nicely and navy does just that.  This navy is a Moda Bella Solid.
You can find Sedef's beautiful new book Zakka Home on Amazon.  It is full of fun projects that are perfect for around the house of gift giving.
Supplies Used:
Pieced and Quilted on a Janome MC6700p
Prints:  Garden Variety by Lella Boutique
White background:  Kona Snow
Binding:  Navy Bella Solid
Batting:  Warm and White
Backing:  Essex Linen
Spray basted using 505 Spray baste
Follow along on the rest of the book tour:
22 October – Sedef Imer – Down Grapevine Lane – @downgrapevinelane
23 October – Jemima Flendt – Tied With A Ribbon – @tiedwitharibbon
24 October – Minki Kim – Minki's Work Table – @zeriano
25 October – Jane Davidson – Quilt Jane – @quiltjane
26 October – Elizabeth Chappell – Quilters Candy Box – @quilterscandybox
27 October – Lauren Wright – Molly and Mama – @mollyandmama
28 October – Sarah Scott – Piccolo Studio – @piccolostudio_sarah
29 October – Alyce Blyth – Blossom Heart Quilts – @blossomheartquilts
30 October – Emily Dennis – Quilty Love – @emily_dennis_
31 October – Sharon Burgess – Lilabelle Lane Creations – @lilabellelane
1 November – Wynn Tan – Zakka Art – @zakkaArt
2 November – Amanda Woodruff – A Crafty Fox – @a.crafty.fox
4 November – Samantha Dorn – Aqua Paisley Studio – @aqua_paisley
5 November – Love Patchwork & Quilting – @lovequiltingmag
6 November – Kate May – The Homemakery – @thehomemakery
7 November – Ayda Algin – Cafe Nohut – @cafenohut
8 November – Faith Essenburg – Sarana Ave – @faithessenburg
9 November – Nadra Ridgeway – Ellis & Higgs – @ellisandhiggs
10 November – Fat Quarter Shop – @fatquartershop
11 November – Laura Cunningham – @laura_zuckerkuss
12 November – Bev McCullough – Flamingo Toes – @flamingotoes
13 November – Amy Smart – Diary of a Quilter – @diaryofaquilter
14 November – Riley Blake Designs – @rileyblakedesigns
15 November – Michelle Hickson – @coleandtaffy
16 November – Christopher Thompson – The Tattooed Quilter – @the_tattooed_quilter
17 November – Ange Hamilton – A Little Patchwork – @alittlepatchwork
18 November – Sarah Ashford – Sarah Ashford Studio – @sarahashfordstudio
19 November – Sedef Imer – Down Grapevine Lane – @downgrapevinelane (ROUND UP)