Triangle Hexies Quilt – The Spectrastatic one
Happy Monday! Do I have a bright and colorful quilt to share with you today! This Spectrastatic Triangle Hexies quilt is made up using Spectrastatic fabrics by my friend Giucy Giuce.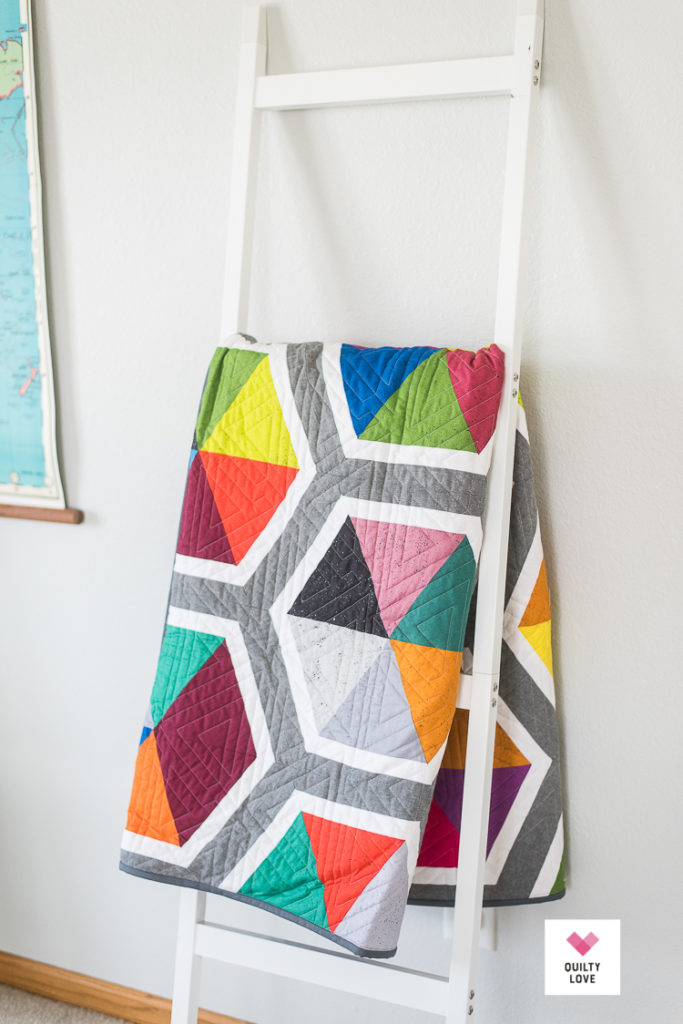 Fat quarter friendly quilt pattern
Triangle Hexies is one of my favorite quilts to make. It actually goes together pretty quickly and easily. It's written for fat quarters but yardage could be used in it's place.
Use a triangle ruler
Triangle Hexies is made up using 60 degree triangles. I highly recommend using a triangle quilting ruler for this quilt. It really helps. This triangle ruler works great.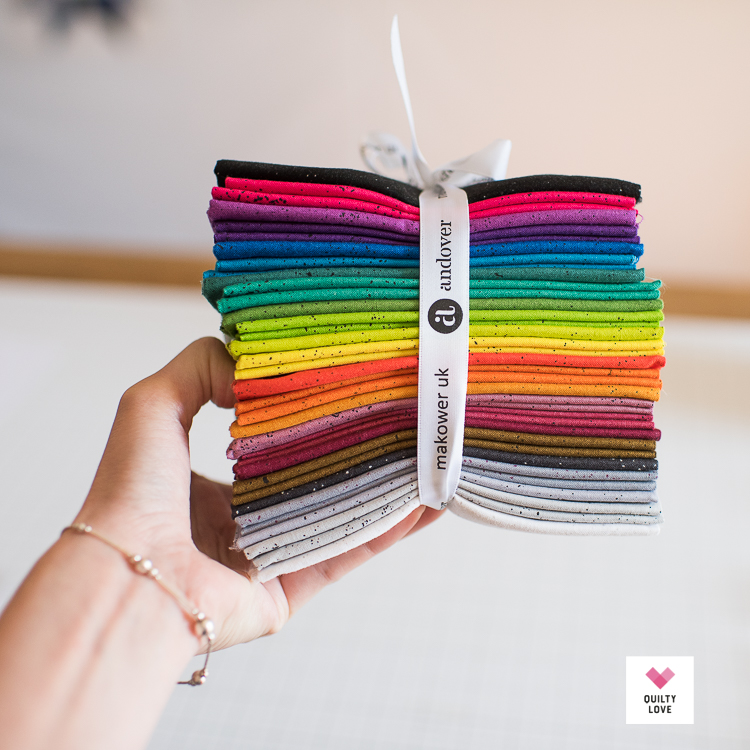 So I started out with this gorgeous Spectrastatic fat quarter bundle for this triangle quilt. I used majority of the colors. I might have left a few colors out.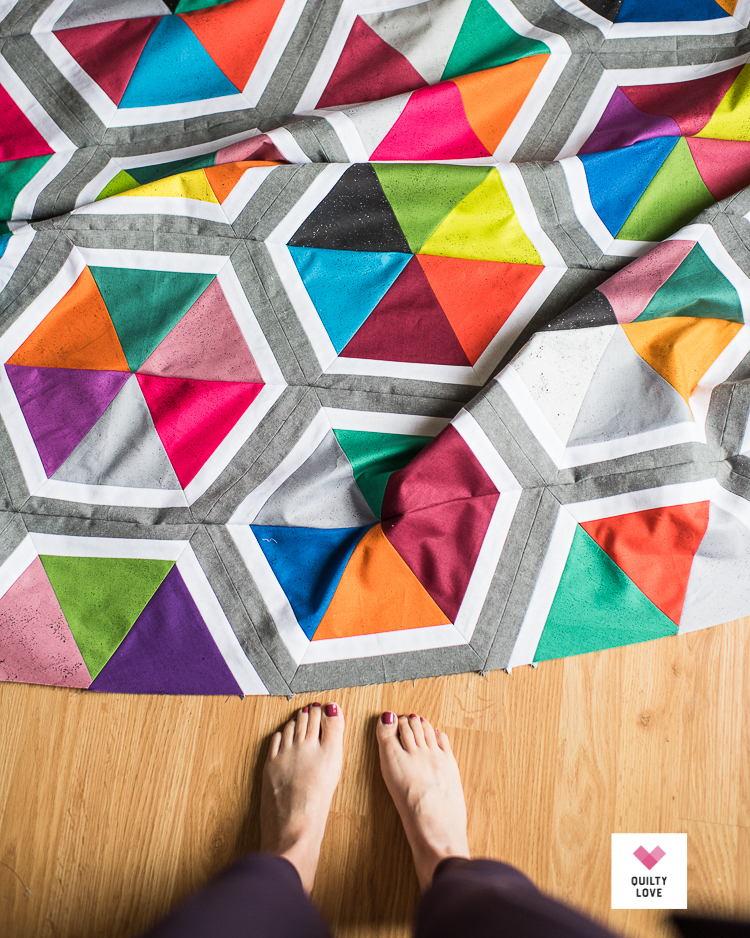 Quick and easy triangle quilt
Like I said before, Triangle Hexies is actually pretty quick to make. It can go together faster with chain piecing. Since the placement of the fabrics is random you can just start sewing triangles together. I kind of like how it looks when the same color ends up next to each other too. You'll see a few of those throughout the quilt. So no need to overthink placement! Just sew away 🙂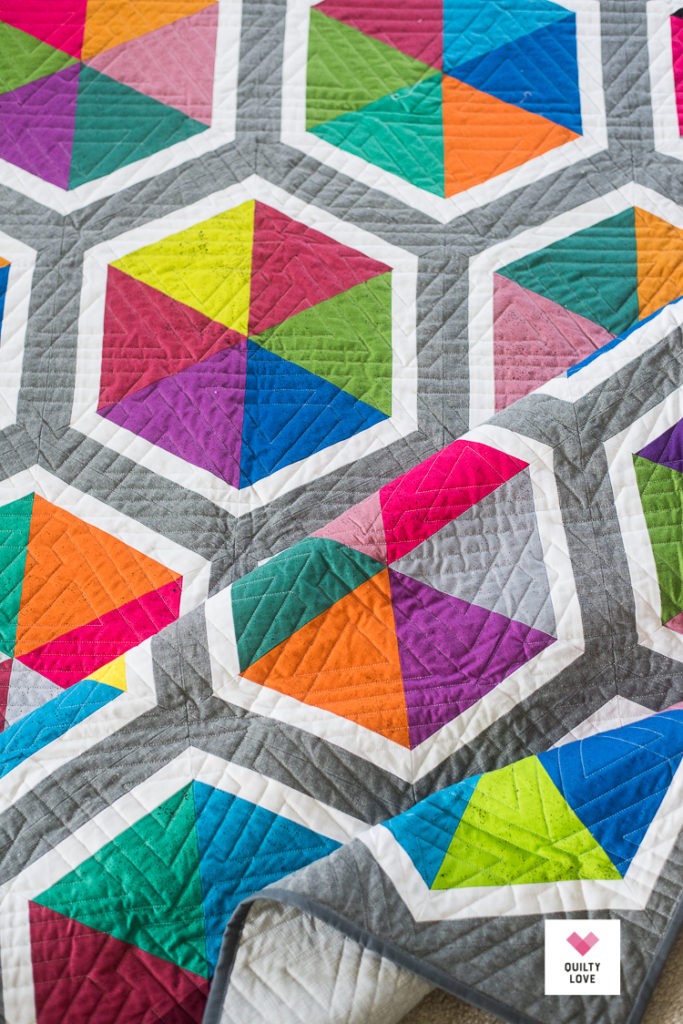 Sashing and Background
I absolutely love how the sashing around the hexies really make them pop. I tend to make this quilt with white sashing and a darker background a lot. I've seen it with colorful sashing and lighter backgrounds though too.
It also looks great when you use the fat quarters as the sashing.
The sashing on this Spectrastatic Triangle Hexies quilt is kona snow and the background is Robert Kaufman Essex Linen in the color Graphite. Using these linens in quilting provides the most beautiful texture.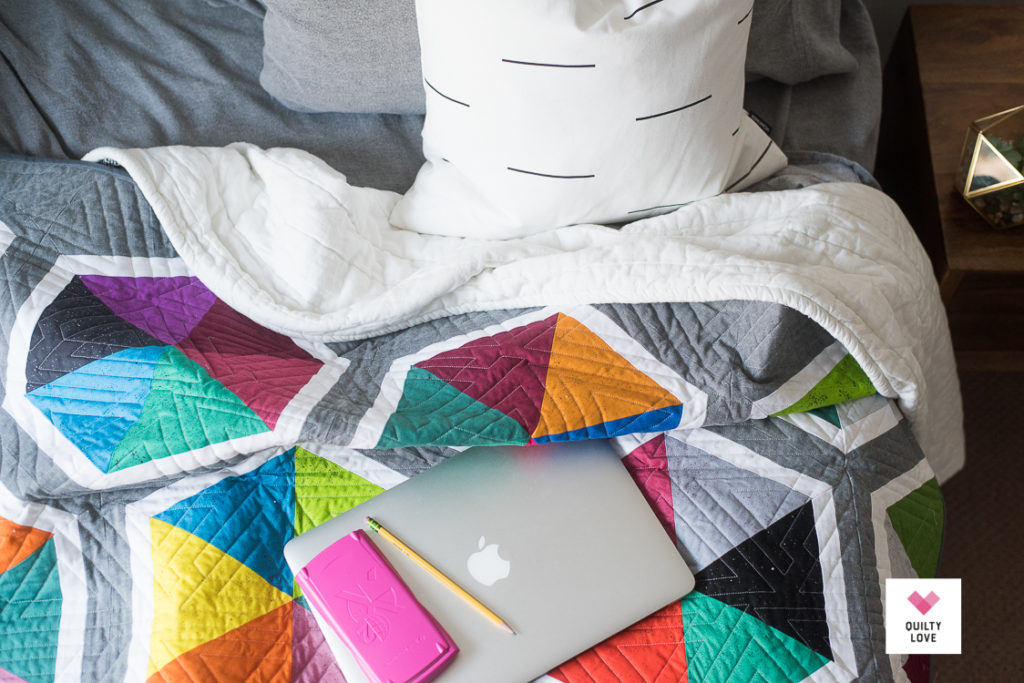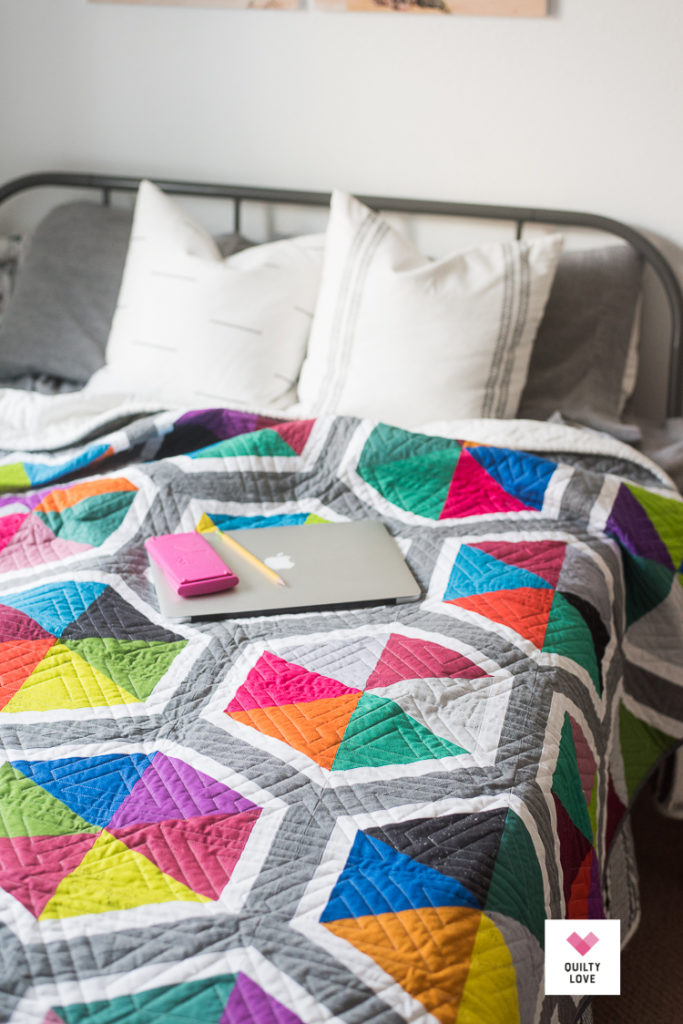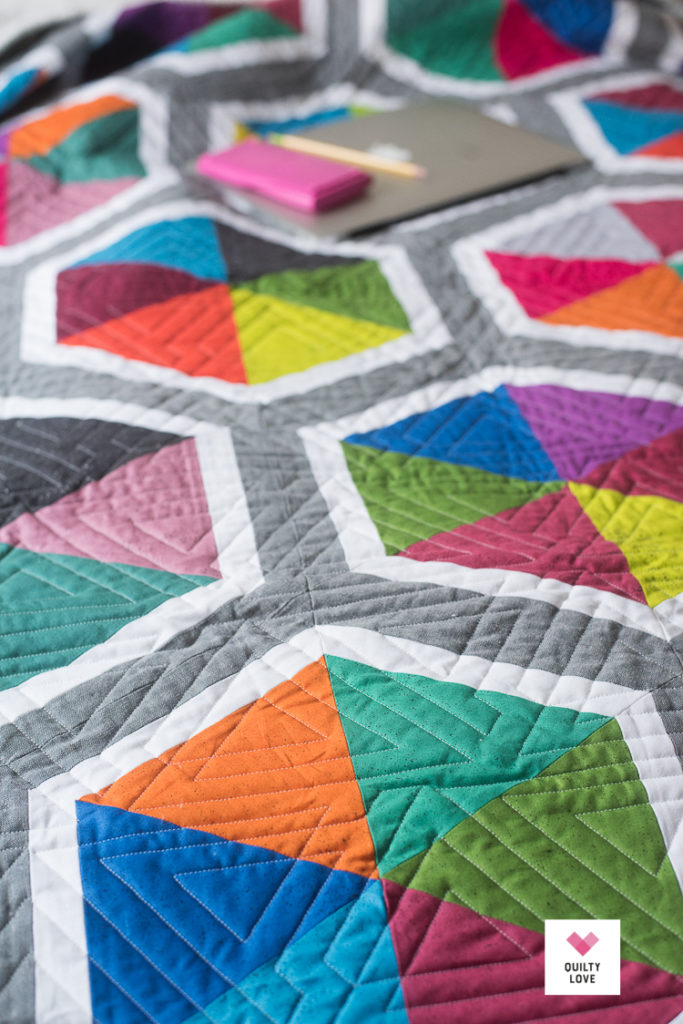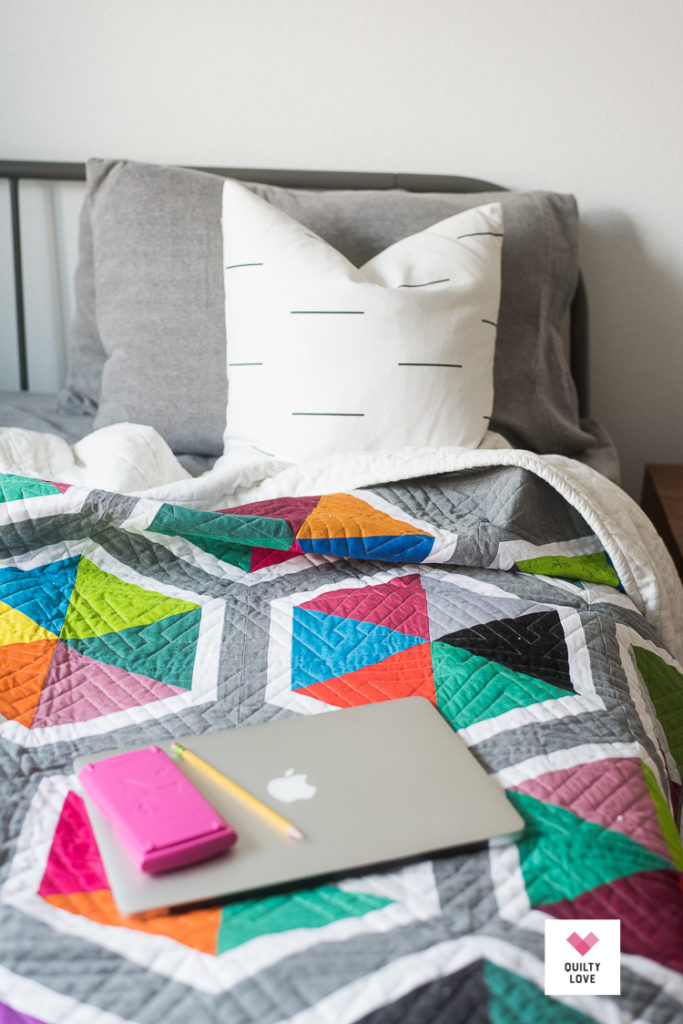 Quilt pattern sizes
Triangle Hexies comes in all the quilt sizes! This version is the throw size that I styled on my daughters bed but the pattern includes instructions for a baby size, a throw size, a twin size and a queen size.
This would make a really fun twin size quilt. Those twin size quilt patterns are not as common so I'm excited this pattern offers it.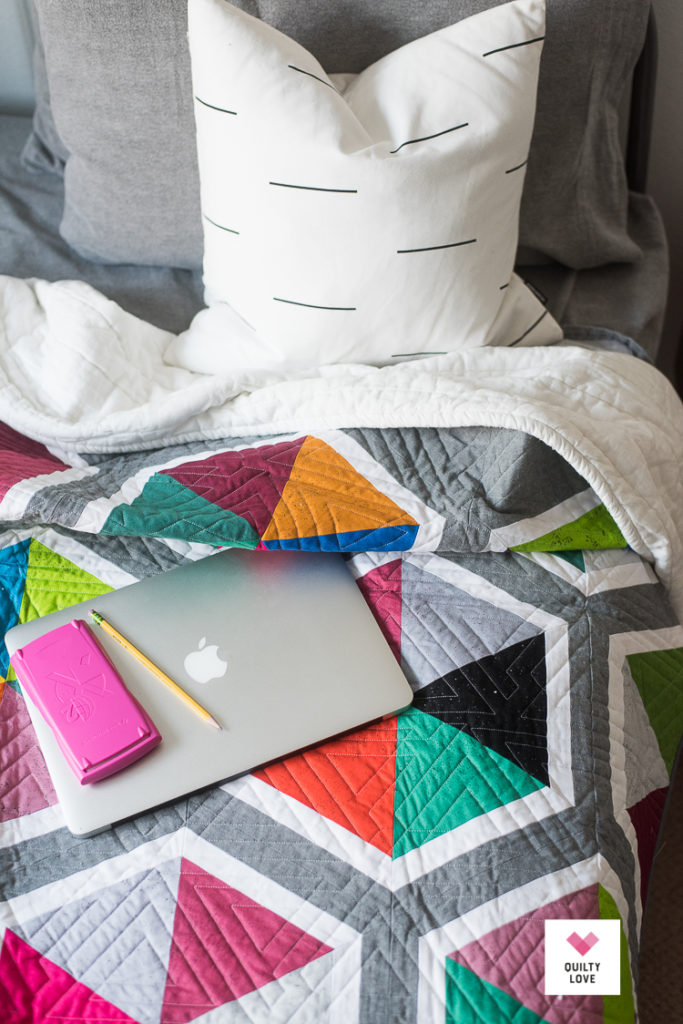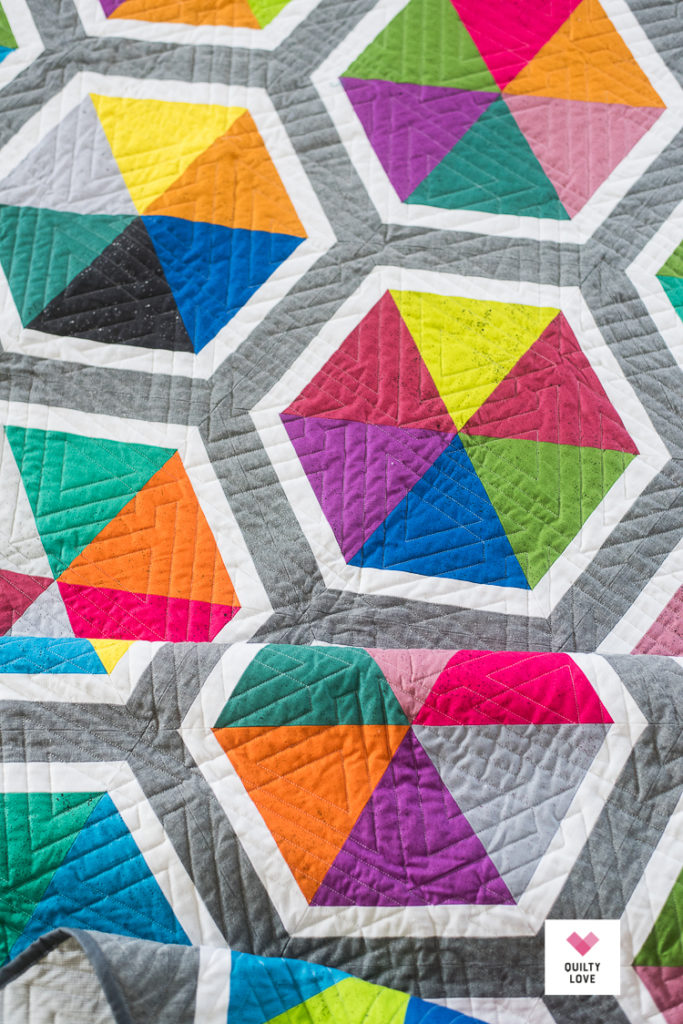 Colorful rainbow quilt
It was so much fun to photograph this colorful rainbow quilt. These bright colored fabrics just pop. Do you see the subtle speckle pattern on the fabrics. I love fabrics like this that almost read as a solid but are actually a subtle print.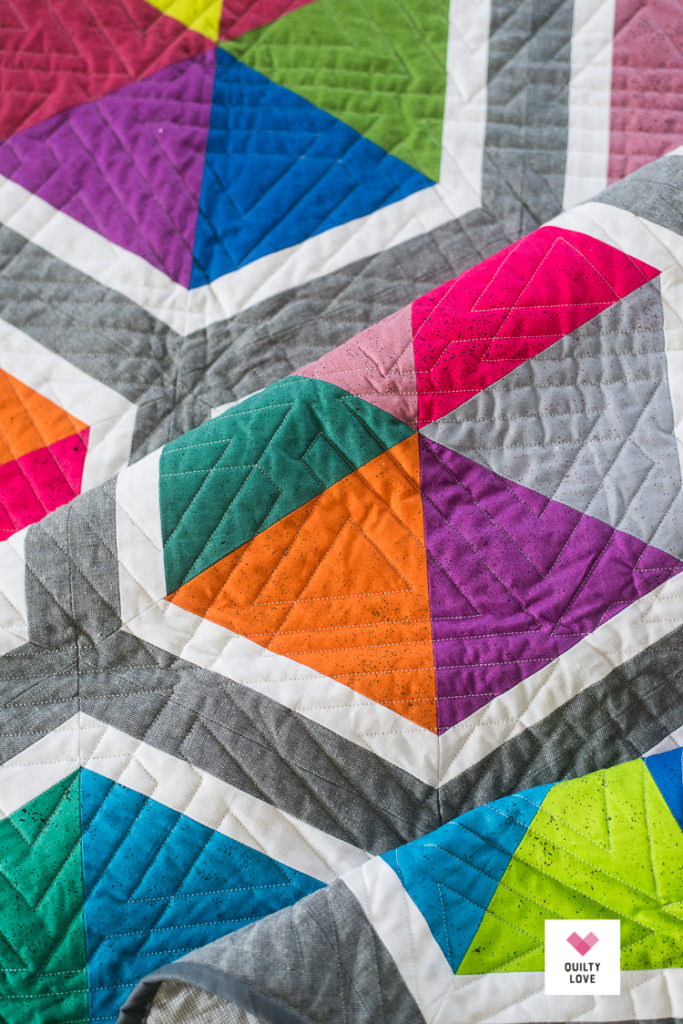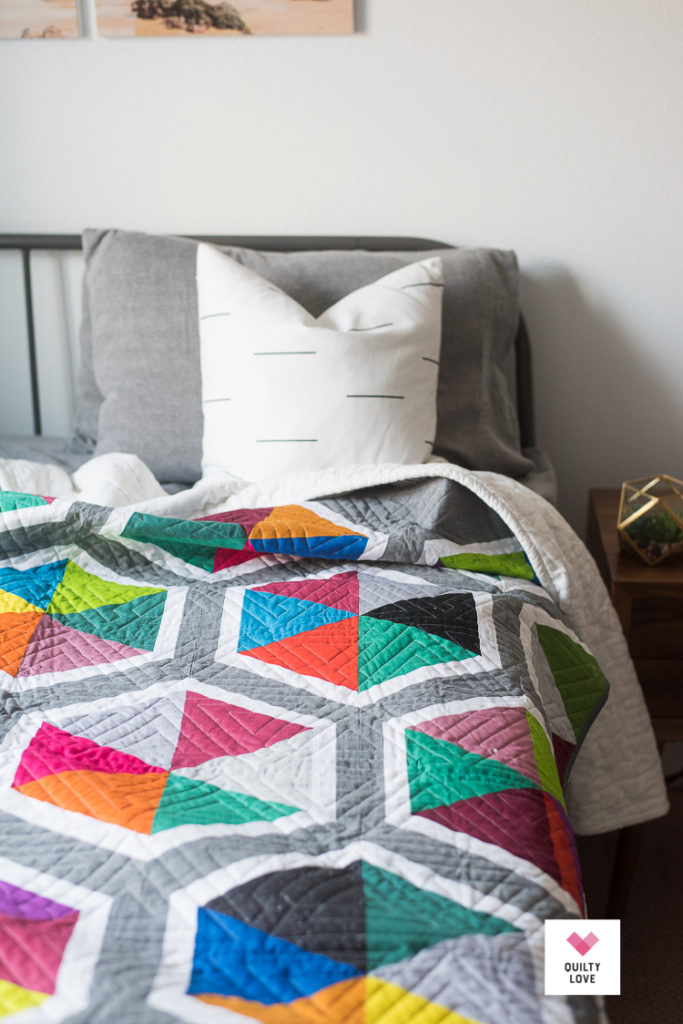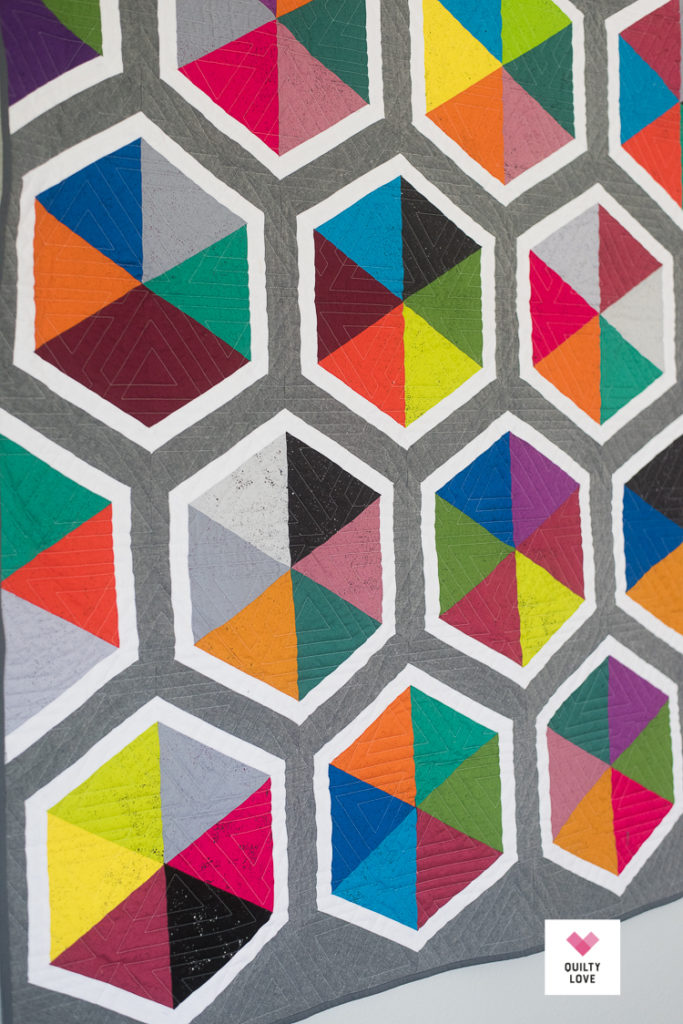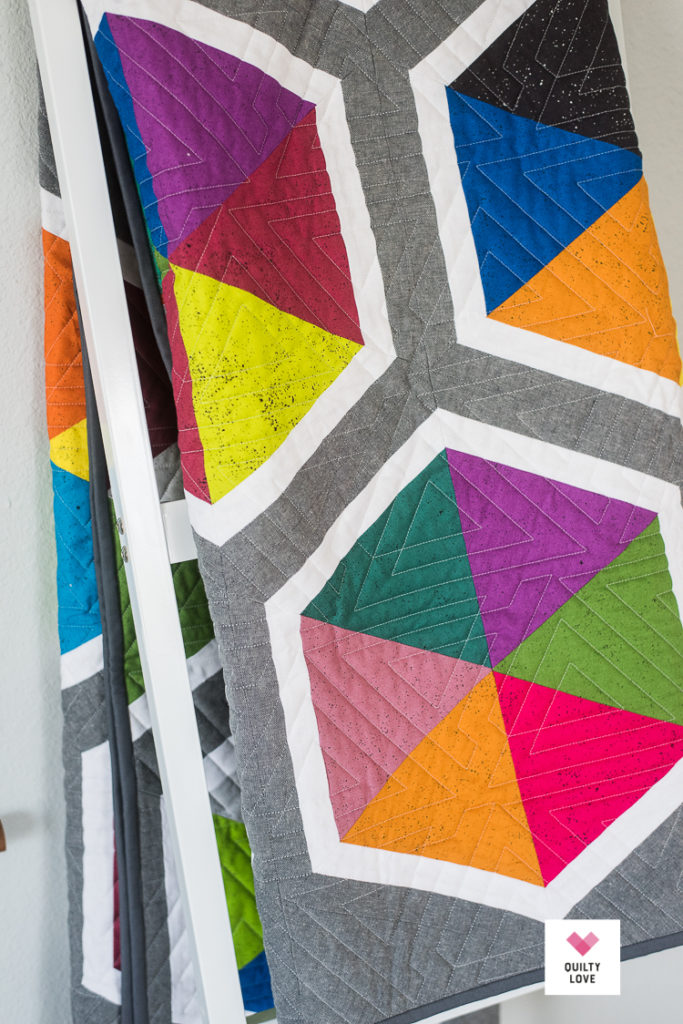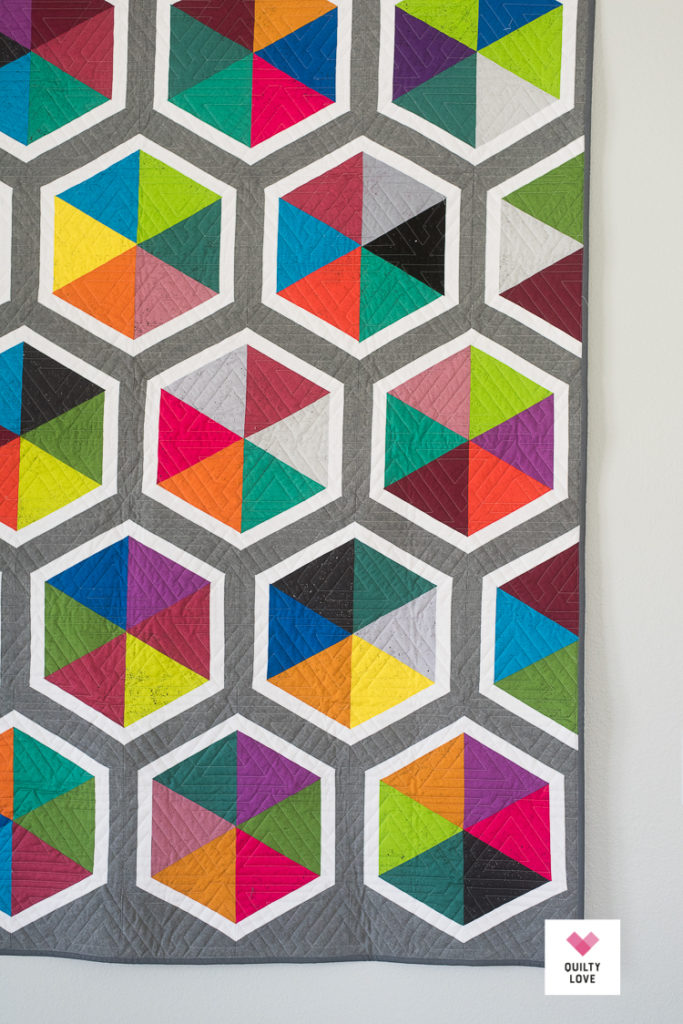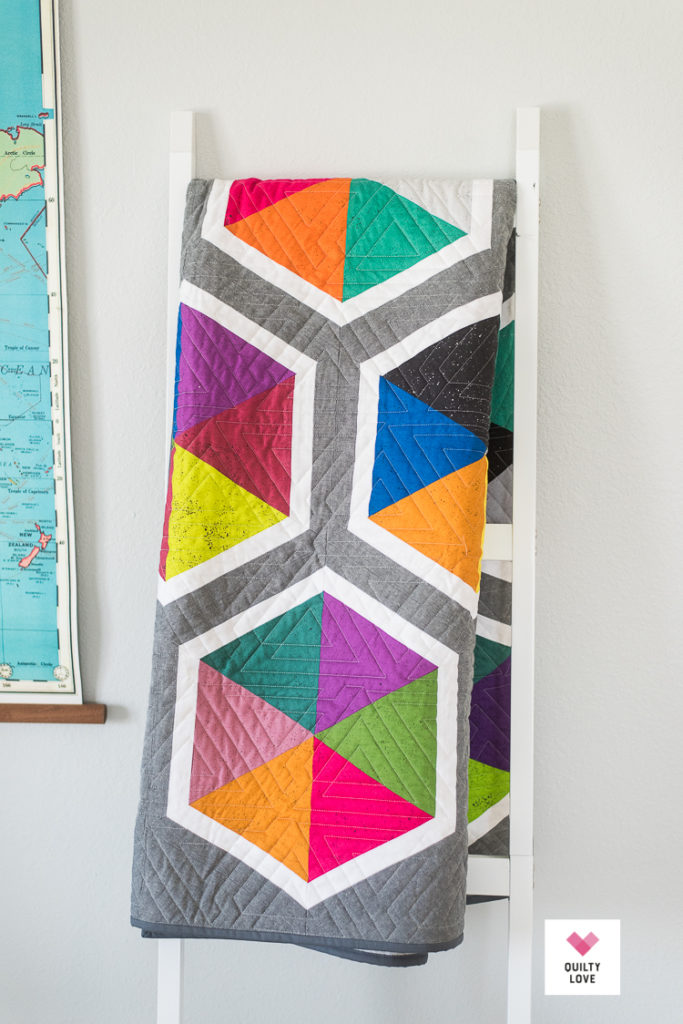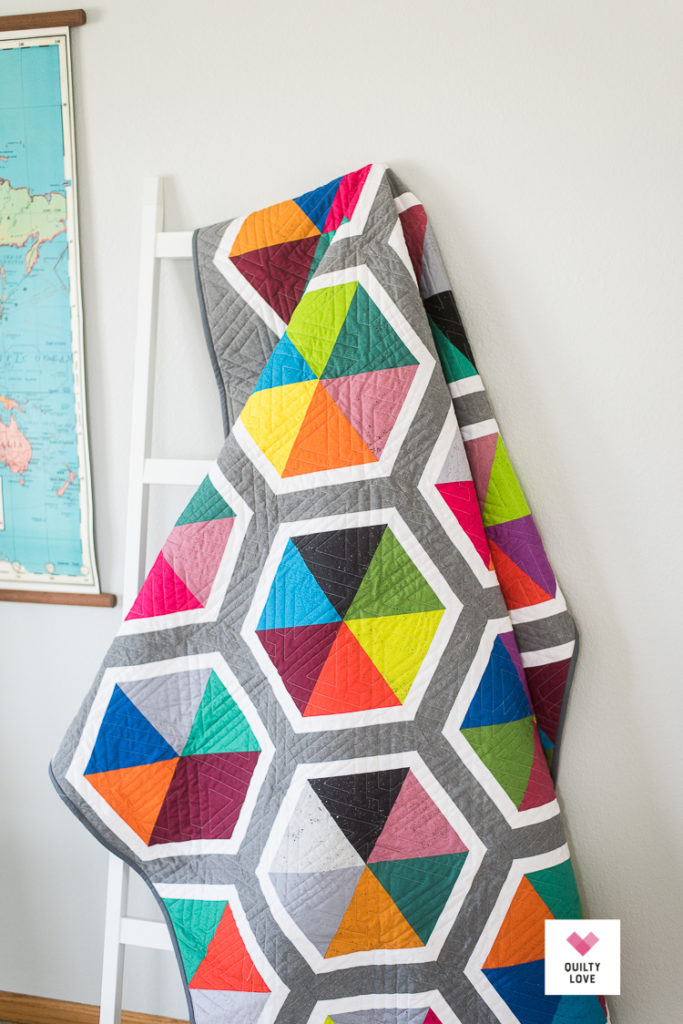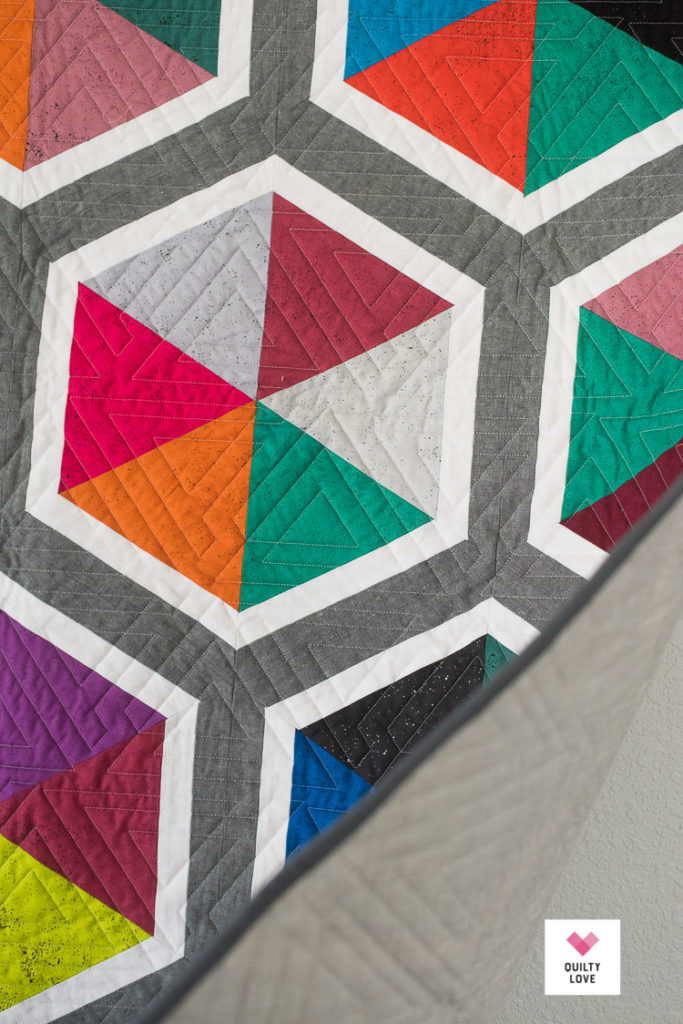 Knot and Thread quilting long arm quilted this Triangle Hexies quilt for me. I love the pattern she chose for it! It works perfectly with the triangle shapes in this quilt.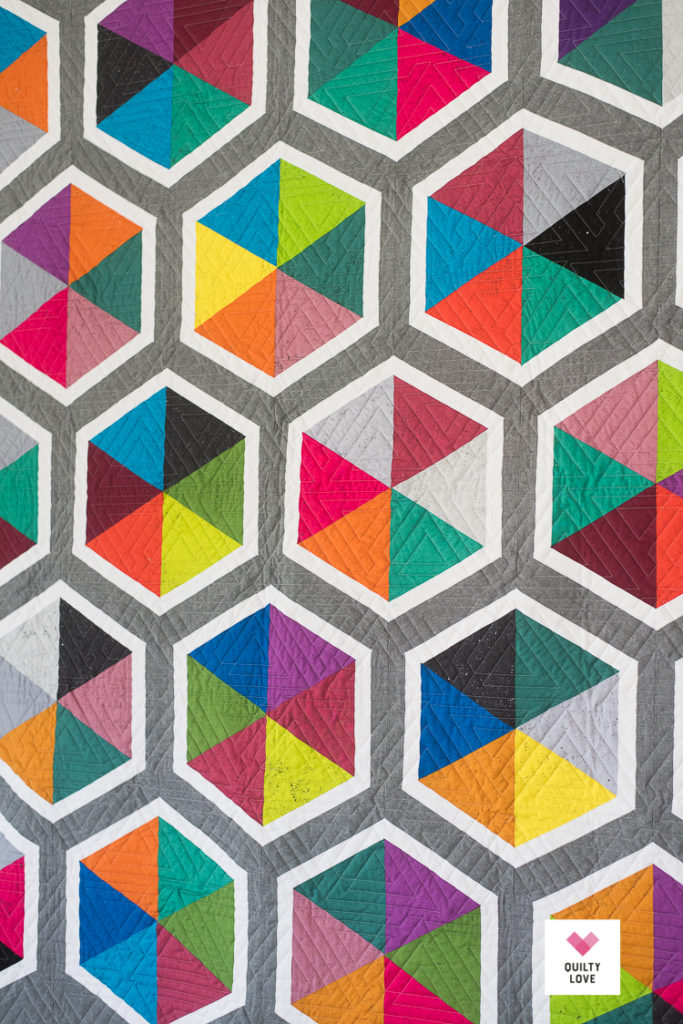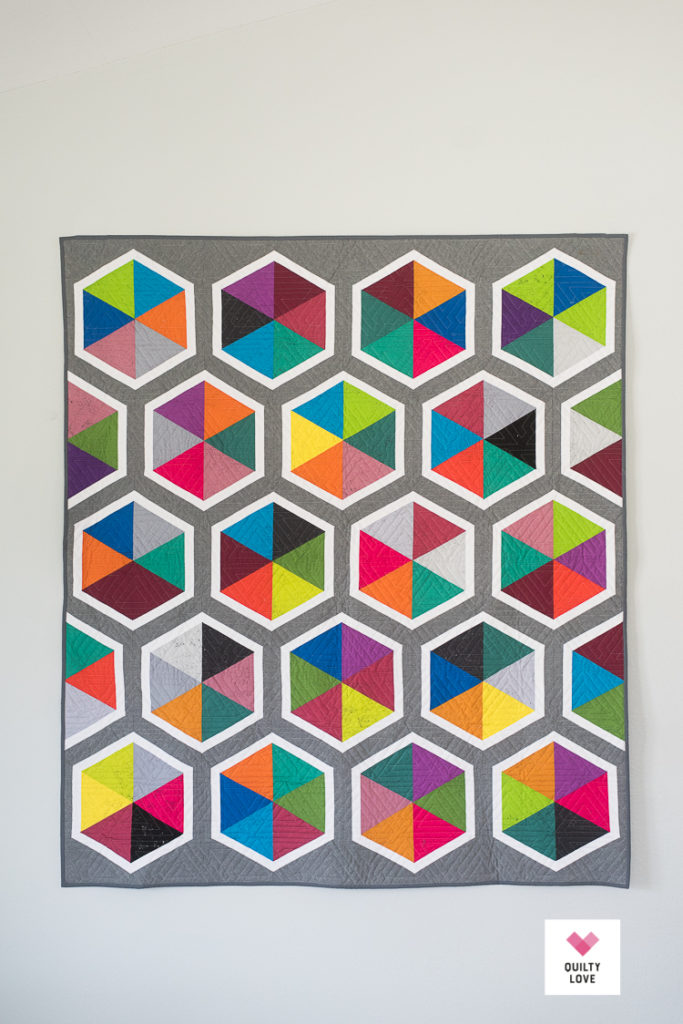 Triangle Hexies quilt pattern is available in the Quilty Love shop as a PDF instant download or a paper booklet.
Materials:
Spectrastatic fabrics by Andover Fabrics
Sashing: Kona Snow
Background: Essex linen in Graphite
Binding: Kona in Graphite