Hopscotch II – Figo Butterscotch one
I have another Hopscotch II quilt to show you today! This time it's made up in Butterscotch fabrics by Dana Willard for Figo Fabrics. Let's call this one the Butterscotch Hopscotch II. 🙂
Hopscotch II is available in the Quilty Love pattern shop.
Butterscotch fabric by Dana Willard for Figo Fabrics
This bright and happy Butterscotch fabric line is the star of the show here. I could not wait to cut these fabrics up. Look at all that color!! Lately this purple color has been a favorite of mine in quilting which is so bizarre because it used to be my least favorite color.
The accent fabric in this quilt is Kona in the color gumdrop and it matches the purples in this fabric line almost perfectly.
Take a closer look at the adorable motifs in this fabric. Pyrex??!! And frosted animal crackers. It really is a fun and playful line and Dana nailed it with this one.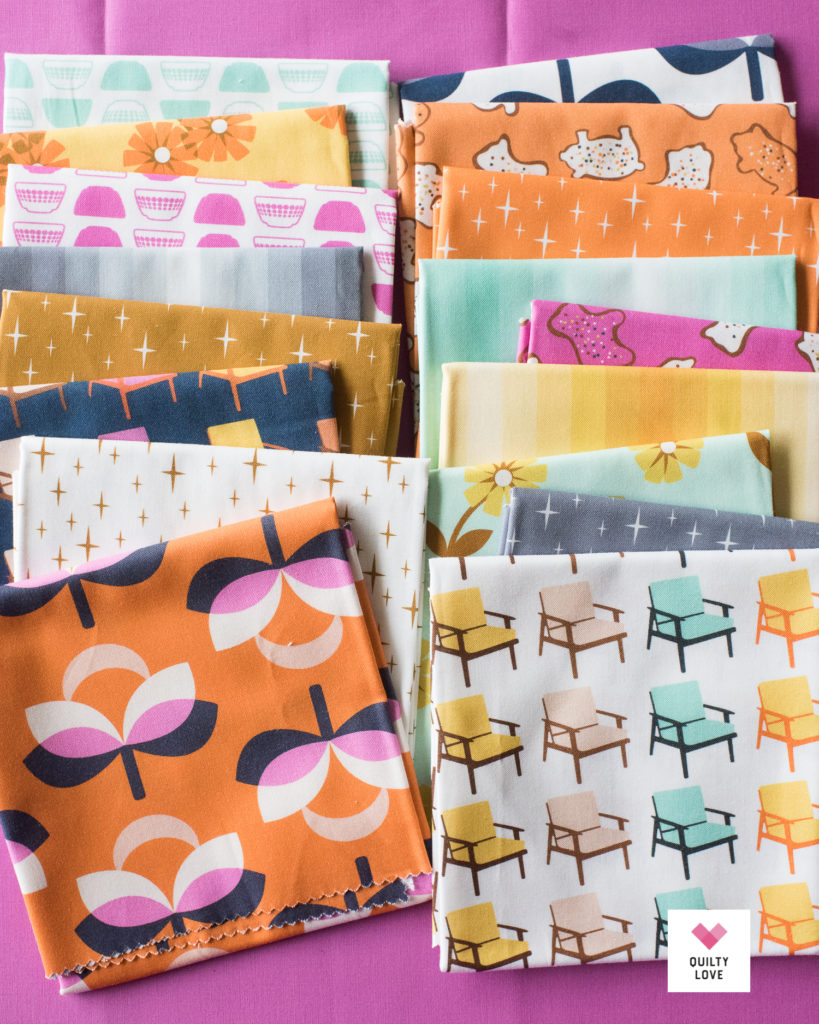 I had this bundle for a little while before cutting it up, just waiting for the right quilt. And Hopscotch II was that. It uses larger pieces so the designs in this Butterscotch fabric line really stand out.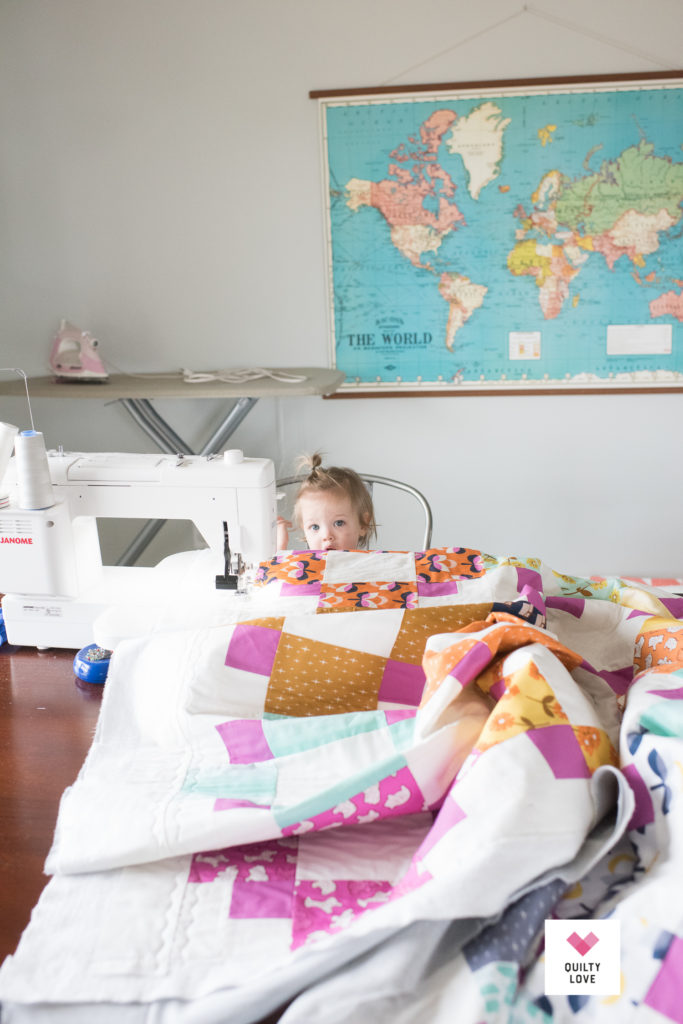 Machine quilted using the Serpentine stitch (or wavy stitch)
This Butterscotch Hopscotch II quilt is quilted on my machine (with the help of my super helpful helper..ha) using the serpentine stitch and a walking foot.
If you have seen more than three of my quilts then I'm sure you have seen me use this stitch. It honestly looks good on EVERYTHING! And it's super easy to do because it's basically just straight lines and the machine makes the curves. I believe these lines are spaced one inch apart.
It's a really forgiving stitch and I would highly recommend newbie quilters to give it a try.
I have a tutorial here on how to do this quilting with the multi zig zag stitch. The method is the exact same. One of these days I'll have to do a new tutorial with this stitch.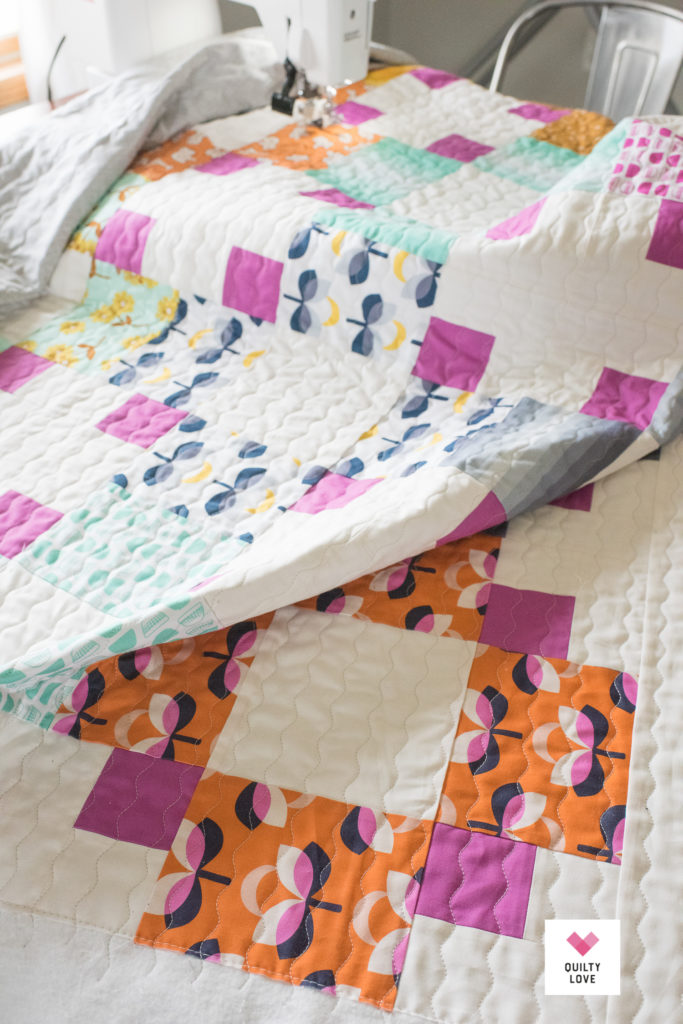 Now back to the quilt pattern…
Hopscotch II quilt pattern
Hopscotch II is inspired by Hopscotch from my book Modern Quilts Block by Block. The original Hopscotch has cute little blocks and makes a small baby size quilt. This newer version has much bigger blocks and much bigger quilt sizes. It also has a different layout of the fabrics.
All the quilt sizes
I'm not kidding when I say it has all the quilt sizes! Hopscotch II includes instructions for a crib size, a throw size, a twin size AND a queen/king size. I have you covered on every single size!
Fat Quarter Quilt (Stash quilt)
Hopscotch II is a fat quarter quilt which makes it a really great stash quilt! The throw size uses just 10 fat quarters! Or you could double that and use up to 20 fat quarters for more variety.
You could even use fat eighths so long as your fabrics are not directional. Or you don't care about fabric directions like me 😉
Quick and easy and beginner friendly
This one is a quick and easy one! The blocks are nice and big and they go together in no time. I've made three so far and all were pretty fast makes. The instructions include strip piecing shortcuts that help it go together a little faster.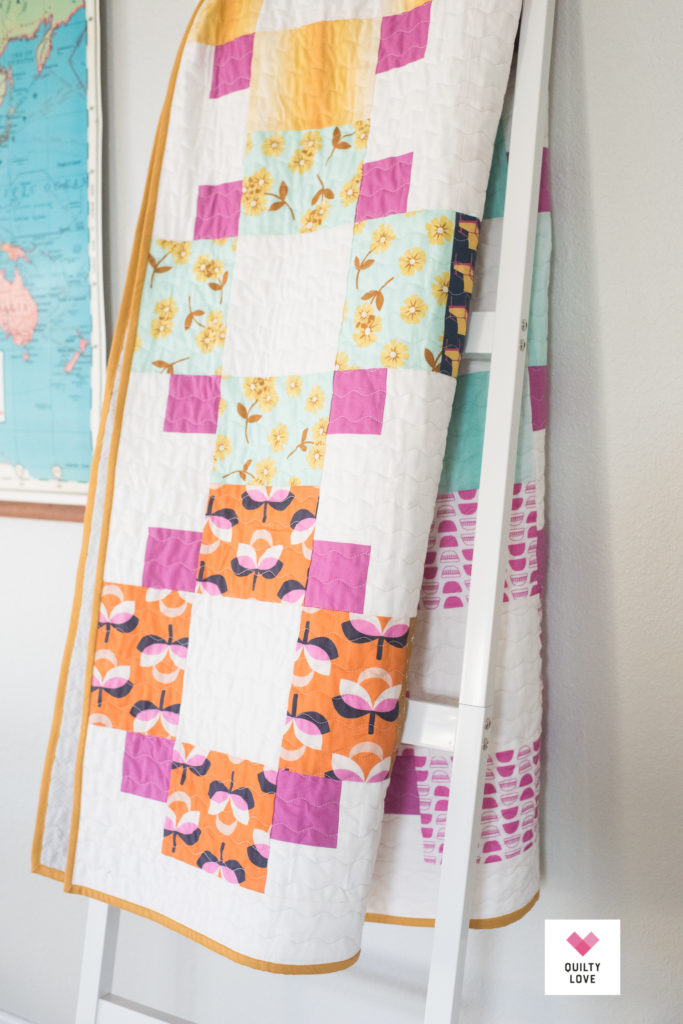 My little quilt model snuck into these ones 😉 I wasn't planning on having her be in them with her sweats and tshirt but it was too cute when she climbed up on this stool. And started pulling her pony tail out…ugh. She will not keep anything in her hair these days 🙁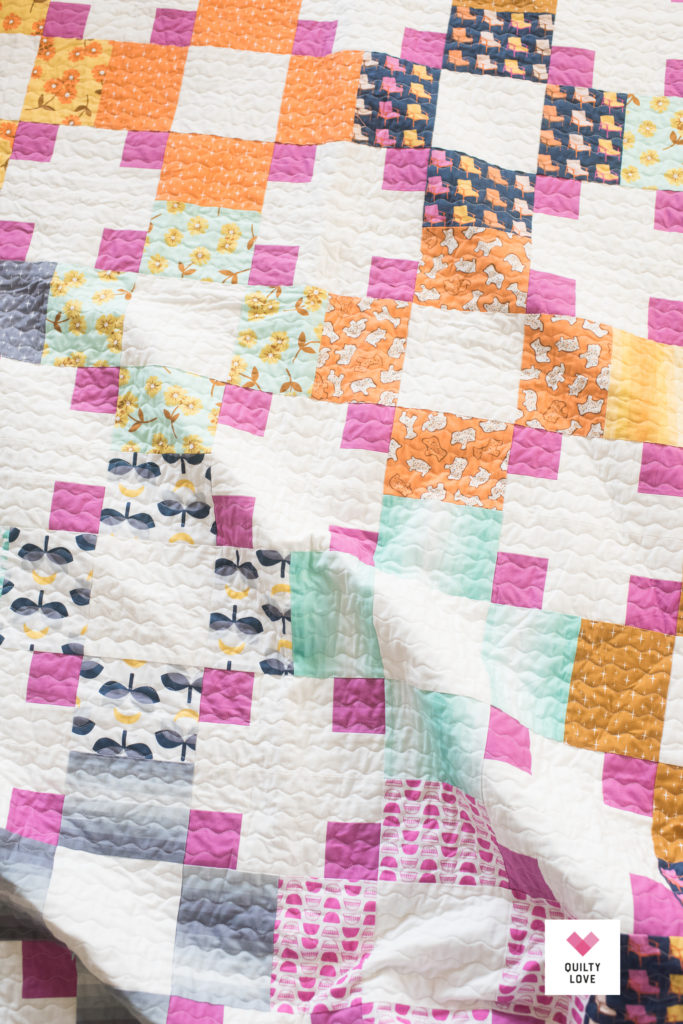 Accent fabric, background fabric and binding
The accent fabric is Kona cotton by Robert kaufman in the color gumdrop. Background is my go to white which is Kona cotton in the color snow. It's a really nice creamy white.
The binding is another kona cotton in the color curry. And the backing is a Carolyn Friedlander wideback in a grey crosshatch.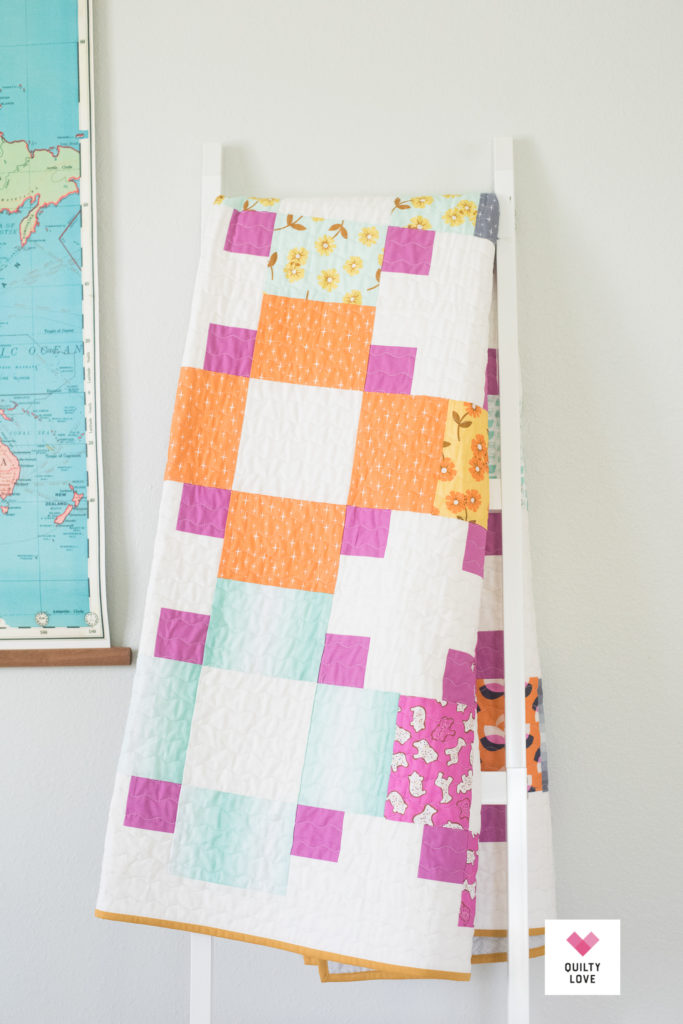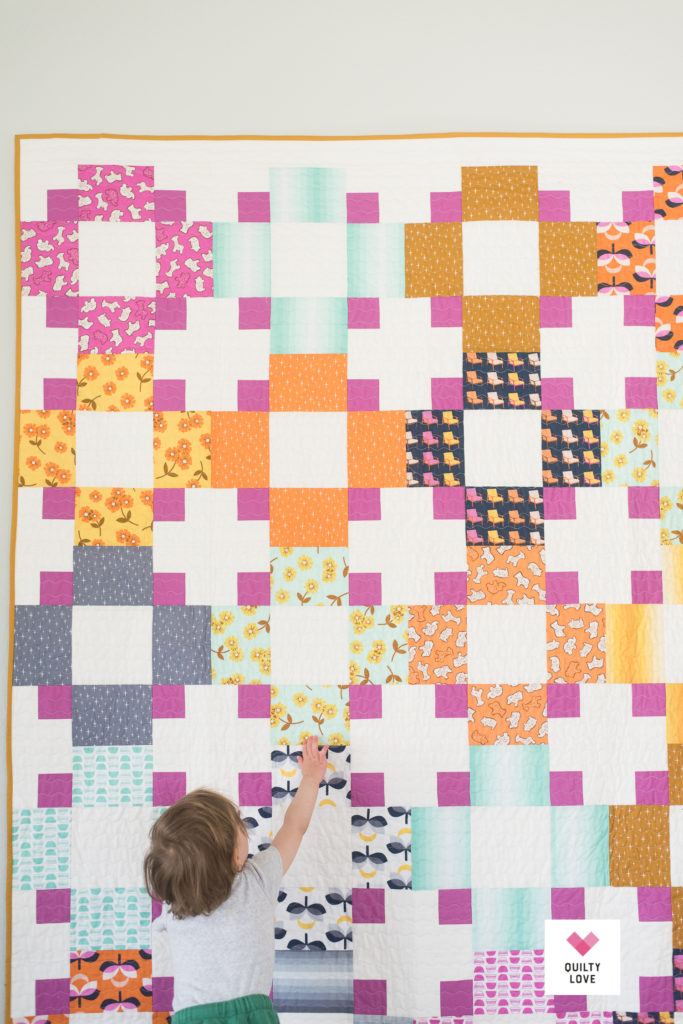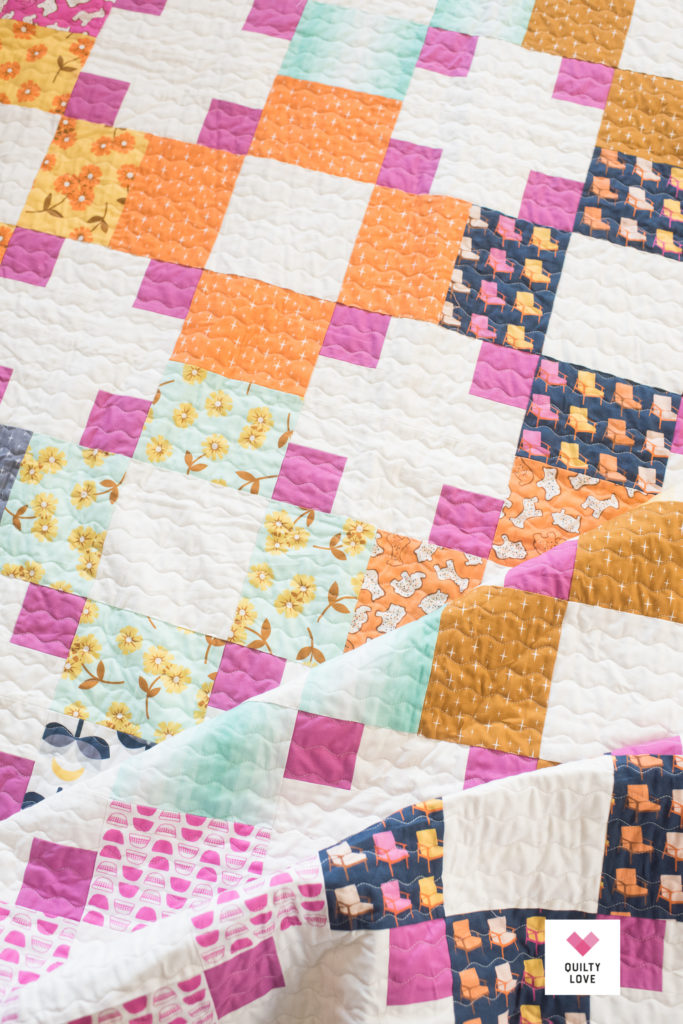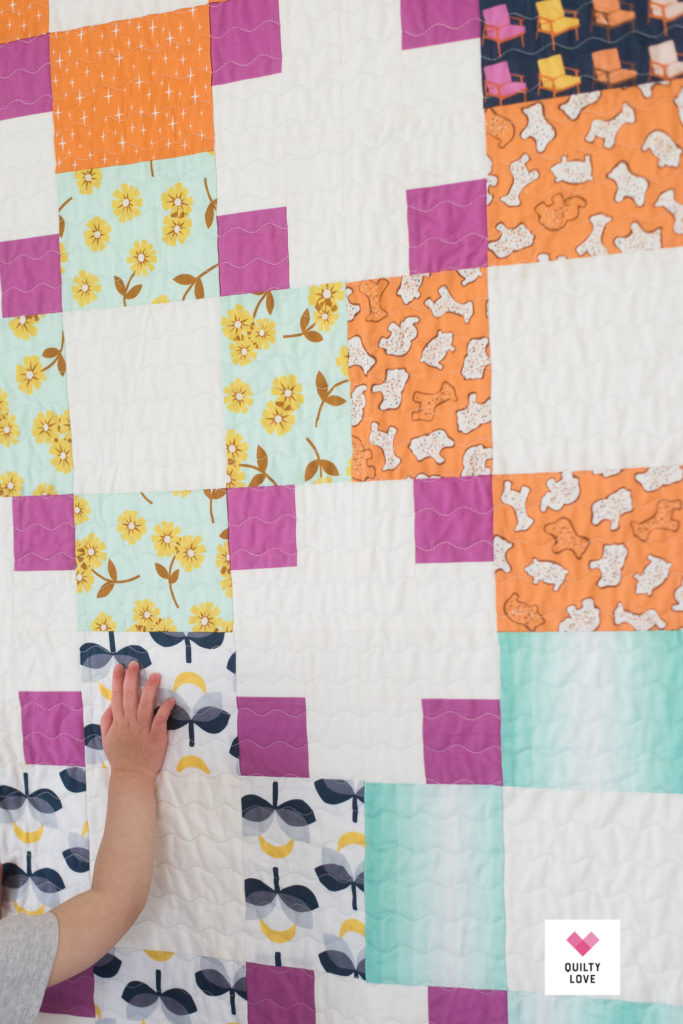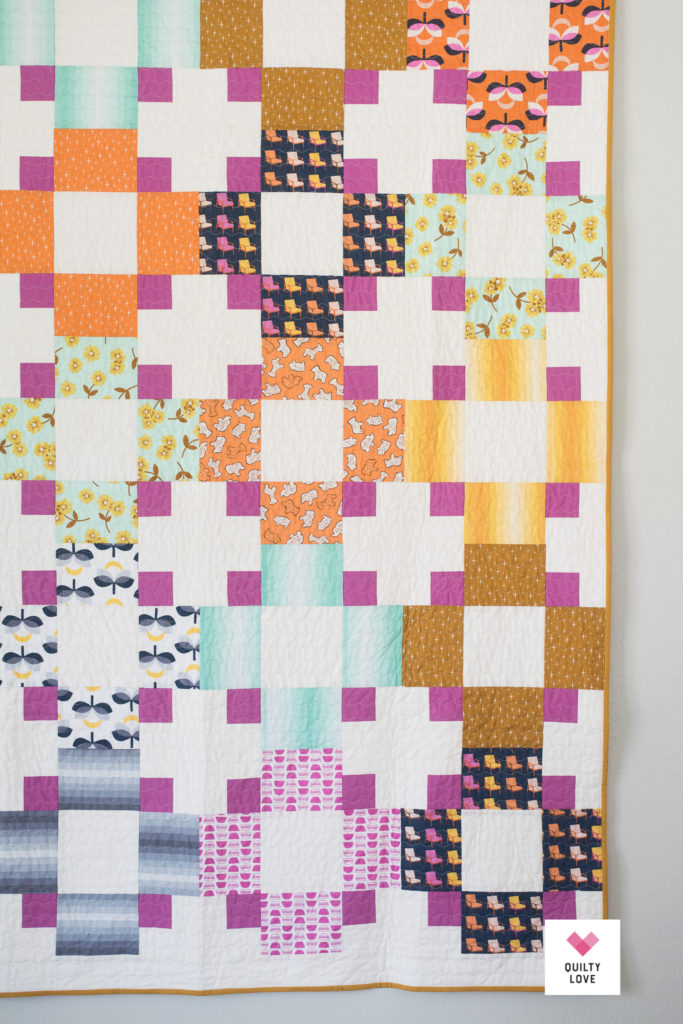 Someone mentioned on Instagram that this is the perfect picnic quilt they have been looking for. I totally agree! Check out the darker version I made here. Much better as a picnic quilt than this white one 😉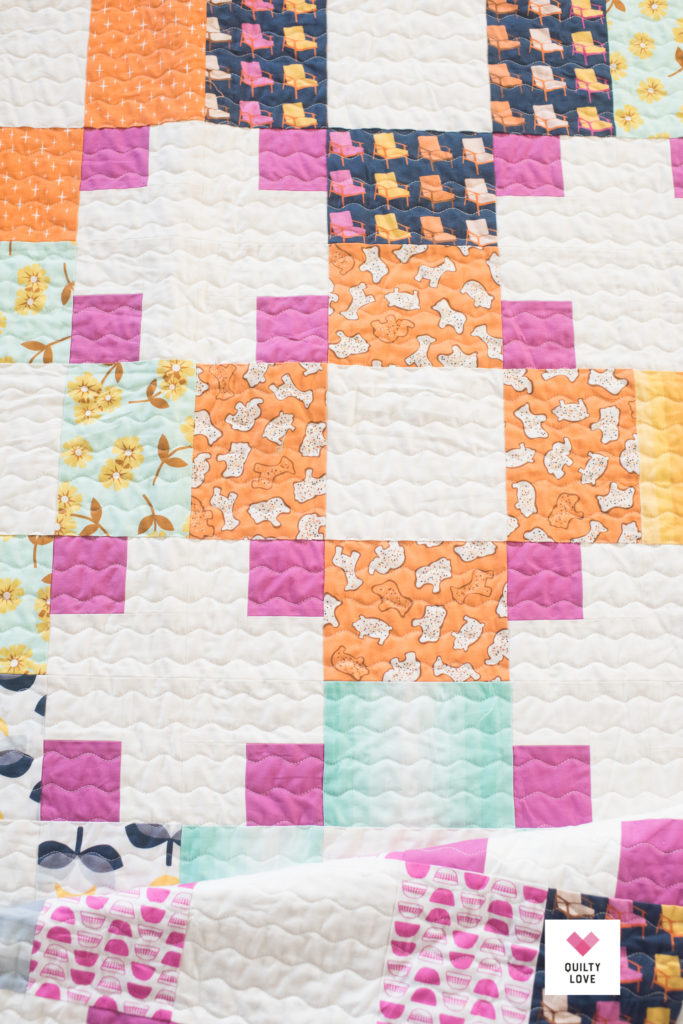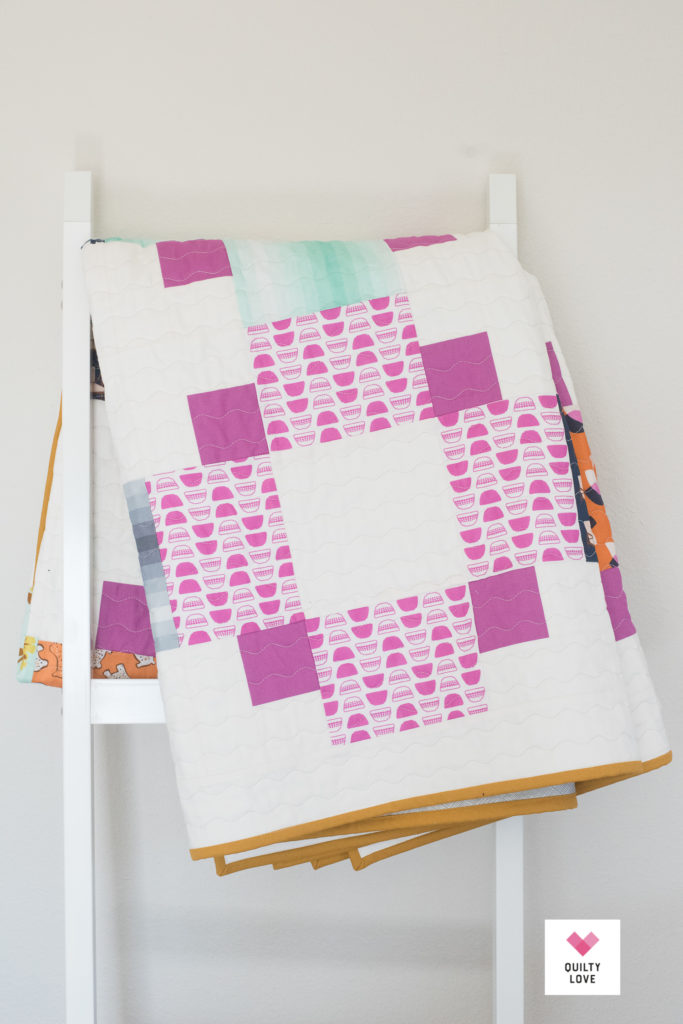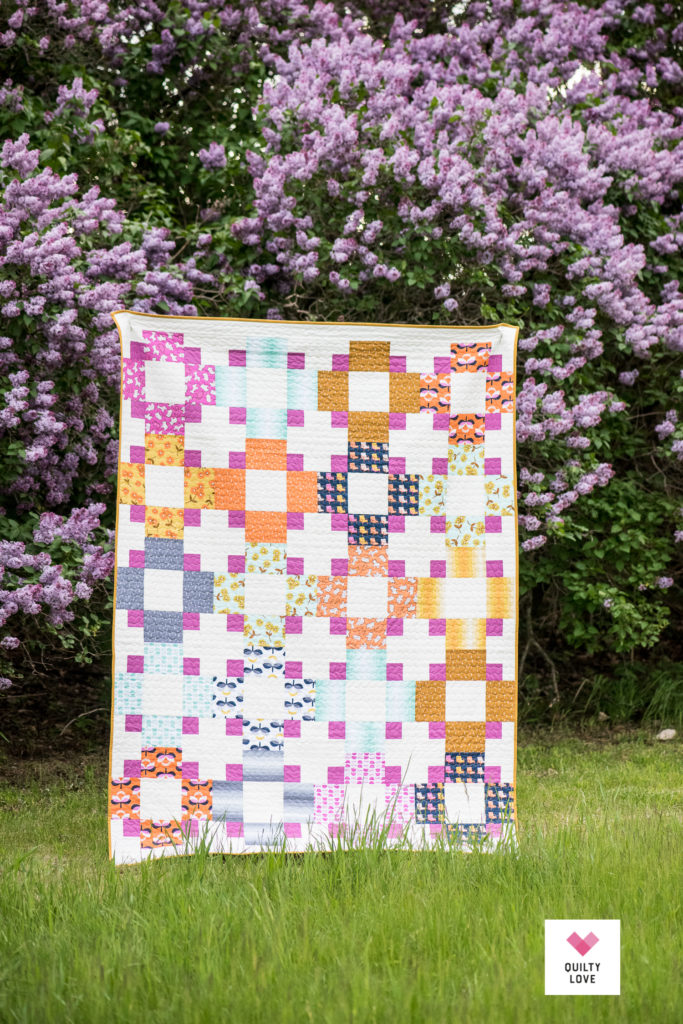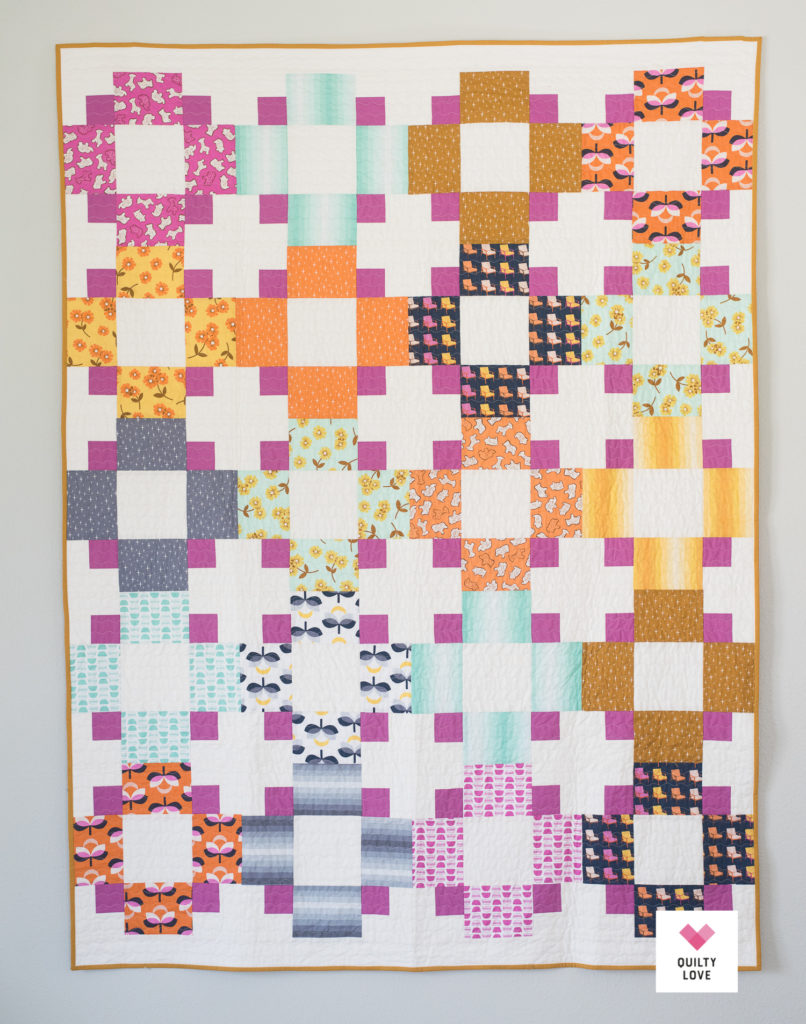 Materials:
Hopscotch II quilt pattern
Butterscotch fabric by Figo Fabrics
Accent: Kona in gumdrop
Binding: Kona in curry
Background: Kona in snow
Backing: Carolyn Friedlander Crosshatch