Modern Farmhouse Christmas quilt – Quilty Trees
I have the cutest modern farmhouse Christmas quilt to share today! If you need a quick and easy Christmas quilt, this version of Quilty Tree's is just that.
You can find Quilty Trees in the Quilty Love shop.
Gingham Quilty Tree quilt kits now in the shop!
I made this quilt for my sister. It's actually last year's Christmas present…oops! My sisters and I exchange names for Christmas each year and gift each other a handmade gift.
Since my sister already has a few of my quilts I thought she might be sick of getting quilts…lol. But it turns out that's not the case. She suggested a Christmas quilt. I immediately thought of a Magnolia style modern farmhouse Christmas quilt for her.
I started searching for the perfect quilt to make but then realized Quilty Trees done up in a gingham would be perfect!
Quilty Trees Quilt pattern
The original version of Quilty Trees is written around fat quarters and comes out a little more scrappy. I modified (and updated) the Quilty Trees quilt pattern to include this repeating block version.
Quick and easy Christmas quilt
The best part about this repeating block version is that it's fast and easy to make! Since this Christmas quilt is a year late, I needed fast and easy..haha. This version has piecing shortcuts that really speed up the quilting process. I had my quilt top done in about a day.
Or if you are like me, and like to sew up your Christmas quilts around Christmas time a fast and easy one like this is perfect. You can sew it around the holidays and maybe even use it that same season.
About the Quilty Trees quilt pattern
The Quilty Trees quilt pattern is full of options! Especially now that it has been updated!
All the quilt sizes
This farmhouse style Christmas quilt pattern includes instructions to make four different quilt sizes! The pattern includes a baby size quilt, a throw size quilt, a twin size quilt and a queen/king size quilt.
All the quilt options
Quilty Trees has options..lol. The original Quilty Trees quilt is written around fat quarters. You choose some green fat quarters from your stash and make up a fat quarter version.
The original also included a full on scrappy version made up from your scrap stash. You can even use low volume scraps for your background. You can see these quilt block options below.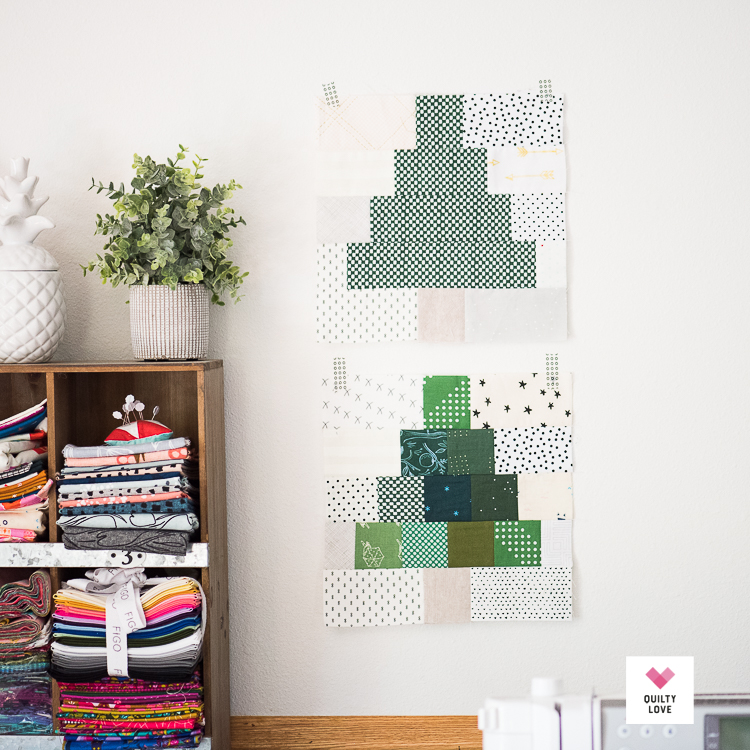 The new modern farmhouse style quilt option
I call this new version a modern farmhouse style but only because the one I made looks very Magnolia Christmas thanks to the gingham fabric. But this new version I added to the pattern is a repeating block version. So you use yardage instead of fat quarters. The repeating block version is quick and easy to make!
You could make the repeating block Quilty Trees quilt in a green fabric also. Or a green gingham!
Modern Farmhouse Christmas quilt
So I'm super excited about this modern farmhouse style Christmas Quilty Trees quilt! This quilt is very simple in it's colors and the Carolina Gingham is the star of the show here.
I kind of want to try other quilts in gingham and grey now after this quilt! I kept it simple and farmhouse feeling with a grid flannel backing.
Fabrics used in this Farmhouse Christmas quilt
The black gingham is Carolina gingham by Robert Kaufman.
The background is Essex Linen in steel by Robert Kaufman.
The binding is Kona Charcoal.
The backing is a grid flannel by Robert Kaufman.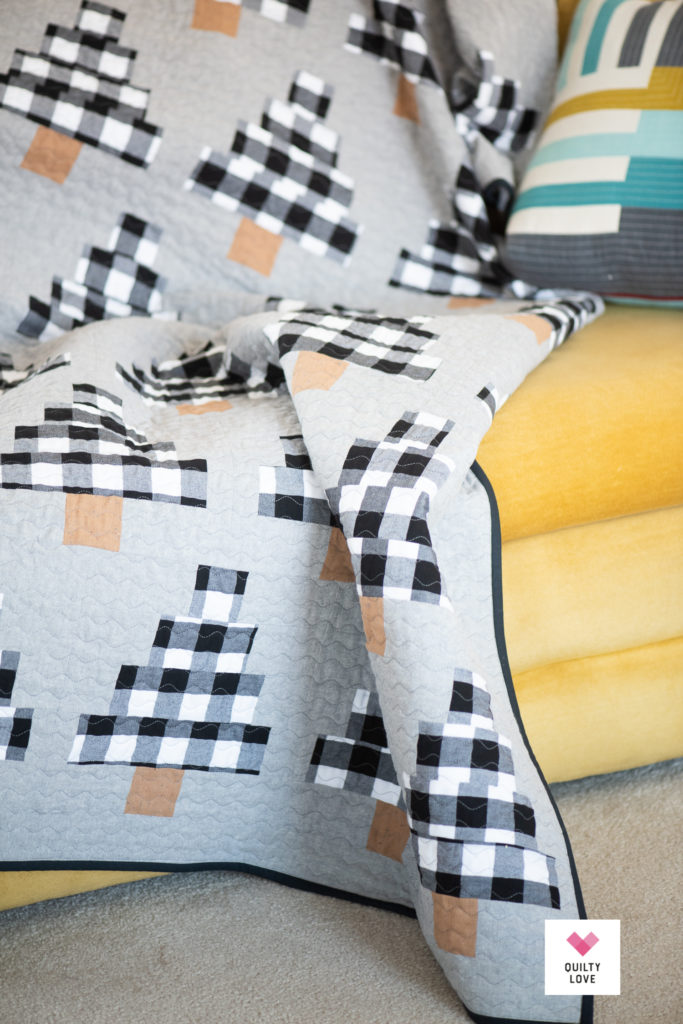 Wavy Machine quilting
I quilted this farmhouse Christmas quilt myself on my Janome MC6700p. I went with the usual wavy stitch. I can't even bring myself to do straight line quilting anymore because I just love how this wavy stitch crinkles up!
I usually space my lines 3/4 inch apart. I start on one edge and quilt 1.5 inch lines. I then go back and fill in lines 3/4 inch apart. This wavy stitch is a stitch on my machine and does all of the work! You basically quilt in straight lines using a a walking foot and the stitch makes the waves.
This quilting tutorial will walk you through a similar style of quilting. Just switch up the stitch and it works the same!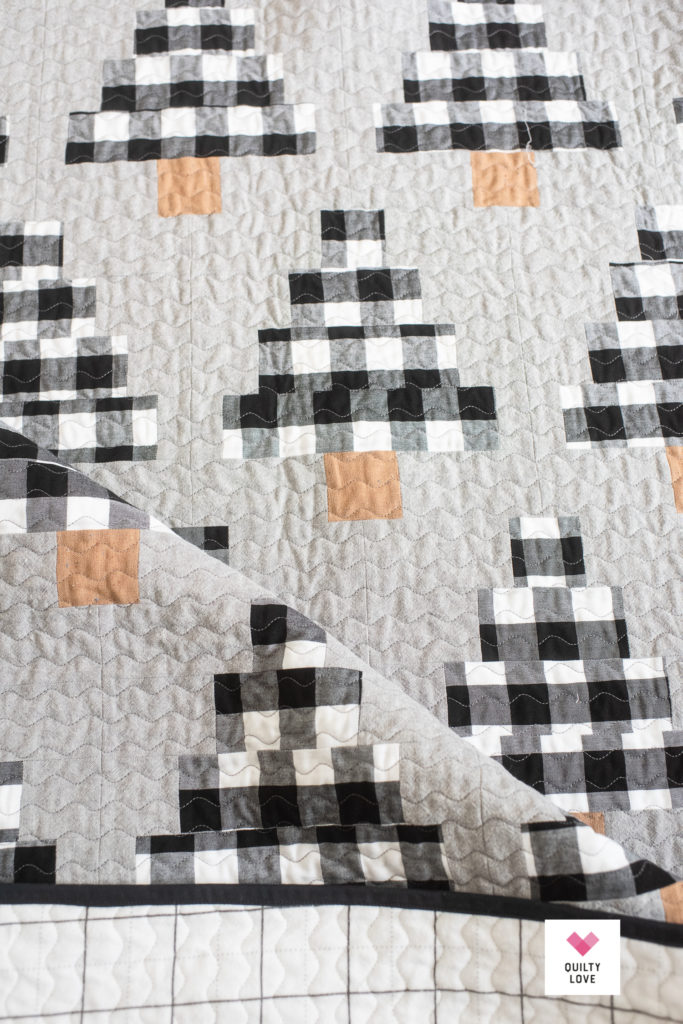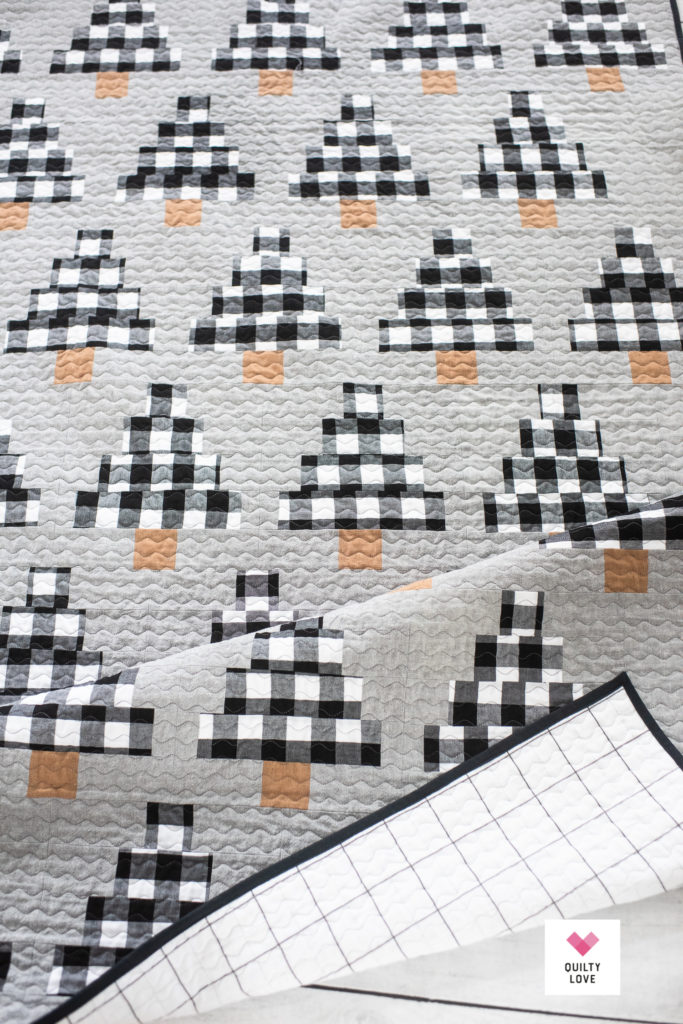 Quilty Trees quilt kits in the shop.
You can find the pattern to make your own farmhouse Christmas quilt in my pattern shop.