Triangle Pop quilt – Bountiful Blog Tour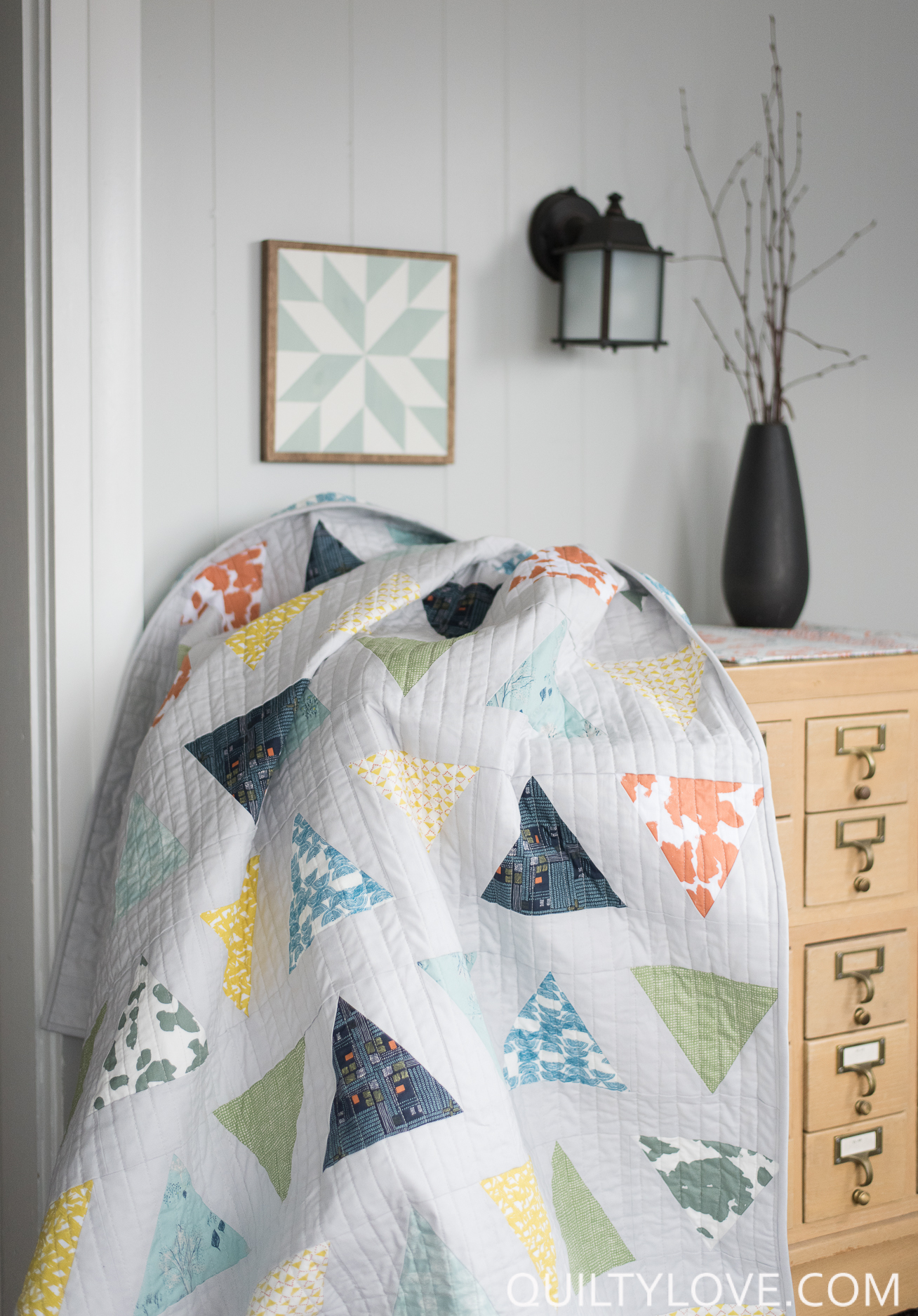 Today I'm excited to share this Triangle Pop Quilt  for the Bountiful blog Tour.   Bountiful fabrics are Sharon Holland's newest fabric line with Art Gallery Fabrics.  I was thrilled to work with these beautiful tones and prints.  The yellows, blues and greens in this line are so good!
These fabrics are gorgeous and come in two colorways:  Plant and Harvest.   I chose a mix of the two for my triangle pop quilt but mostly used the Plant colorway.  I'm on a mission to create more man friendly quilts for the men in my family and hoped this might fit the bill 😉
The Triangle Pop quilt shows off these beautiful fabrics perfectly.   Triangle pop is such a quick quilt to make so I've made several of them already.  I used my go-to grey background fabric for this one.   It's Kona in the color silver.   As much as I love white backgrounds (and will never stop using it!) a grey background is so practical.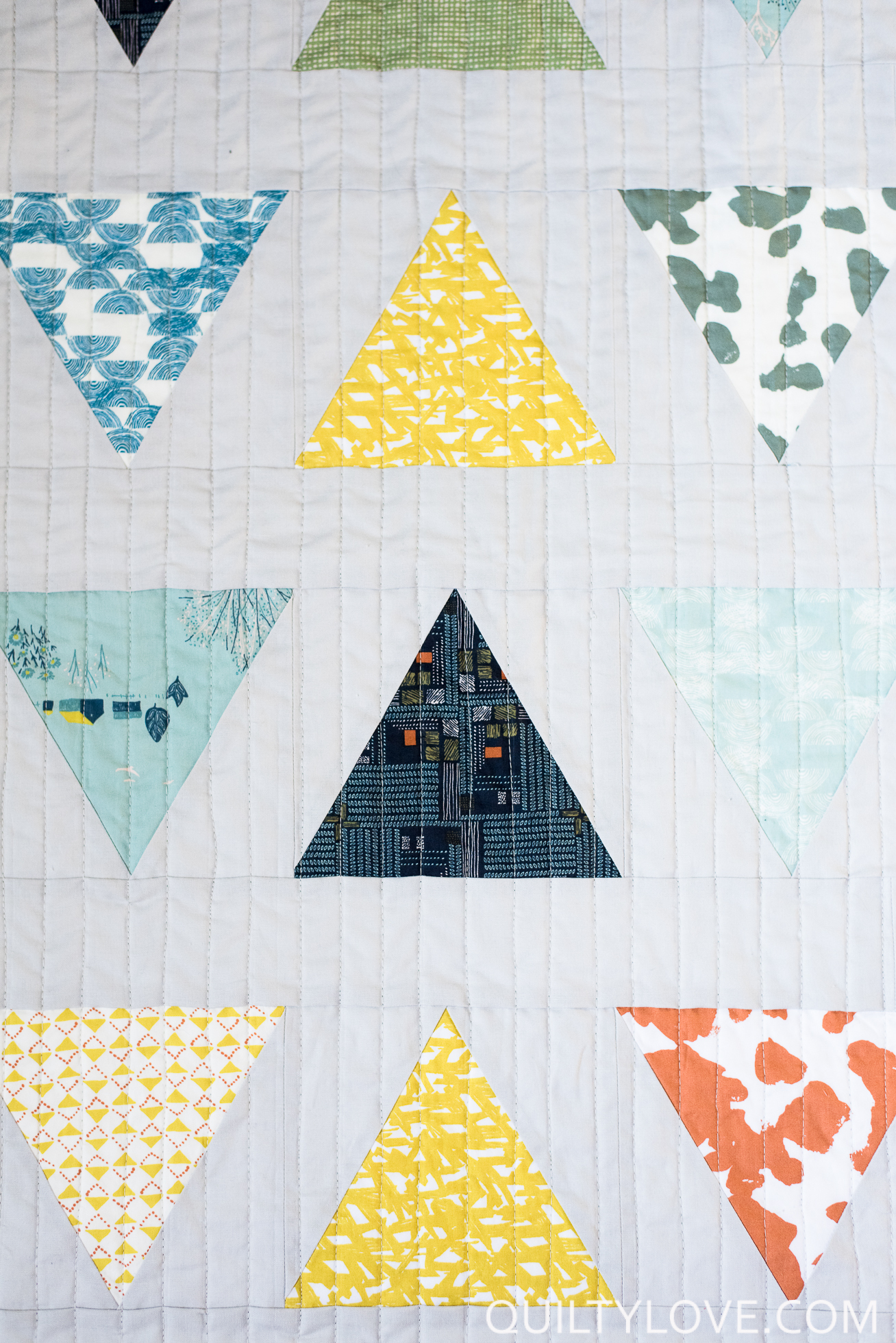 To keep with the modern feel of this quilt, I straight line quilted 3/4in lines using my walking foot.  I used a Hera Marker for the first time on this quilt!   I took some photos and will share how to use this neat tool in a future post. 
This Triangle pop quilt is backed with this fun blue Haymow stack print.    I really love it as the backing! 
I wasn't quite finished binding in this photo above but I had to take advantage of the sunny day we had to grab some photos 😉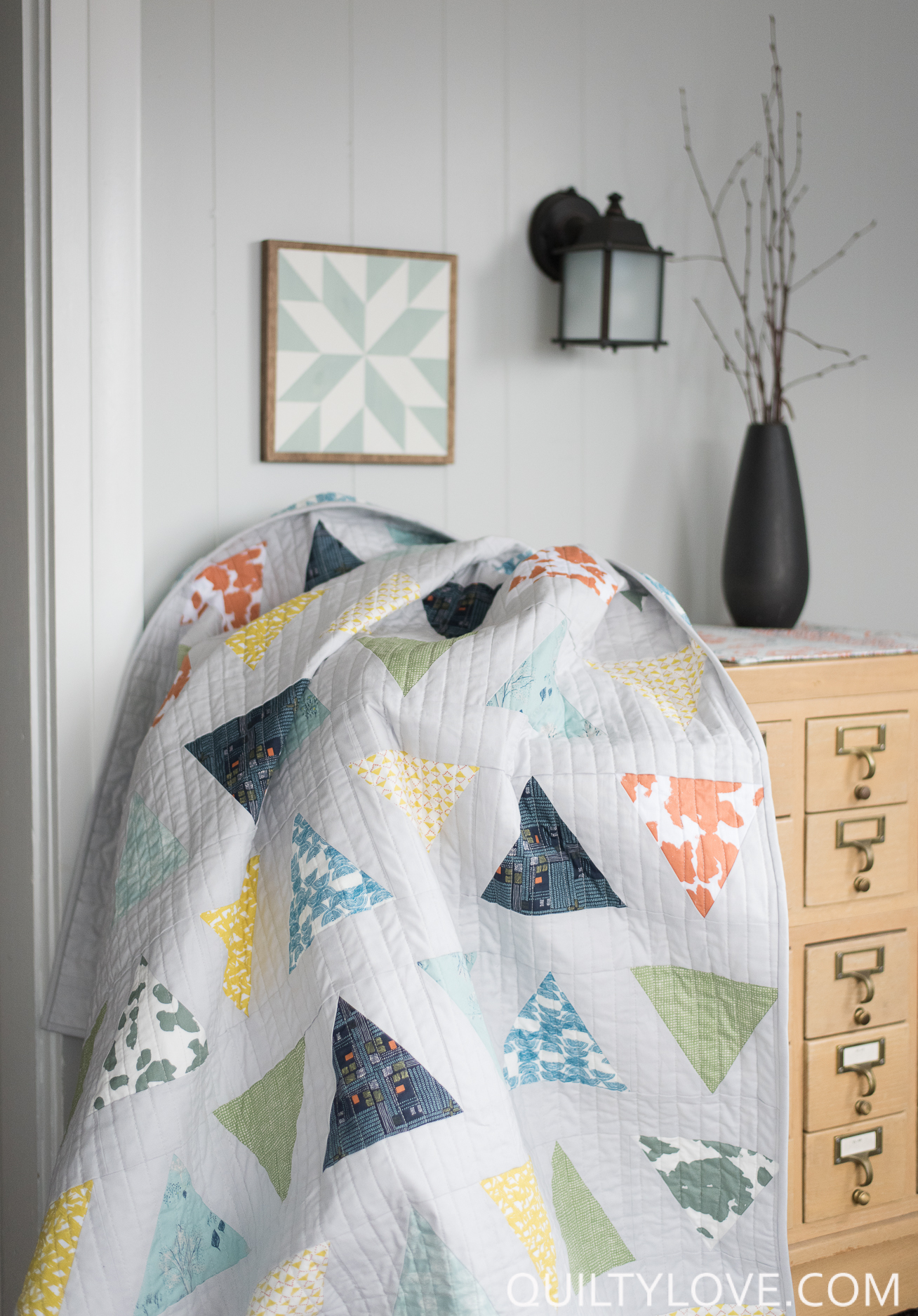 Fabrics:   Bountiful by Sharon Holland for Art Gallery Fabrics
Background:   Robert Kaufman Kona in Silver
Tools Used:
Hera Marker by Clover
Warm and White Batting
505 Spray Baste
60 degree Triangle Ruler
Triangle Pop Quilt Pattern
---

Follow along with the Blog Tour:
Monday, April 3
Heidi Staples
Blog: fabricmutt
Instagram: @fabricmutt
Tuesday, April 4
Emily Dennis
Blog: quiltylove
Instagram: emily_dennis_
Wednesday, April 5
Minki Kim
Blog:   minkikim.com
Instagram:@zeriano
Thursday, April 6
Heather Andrus
Blog: quiltstory
Instagram: quiltstory
Friday, April 7
Sharon McConnell
Blog: colorgirlquilts
Instagram: @colorgirlquilts
Monday, April 10
Silvia Sutters
Blog: astrangerview
Instagram: @astrangerview
Tuesday, April 11
Elina Temmes
Instagram: @elinatemmes
Wednesday, April 12
Kim Niedzwiecki
Blog: gogokim
Instagram:gogokim
Thursday, April 13
Katie Skoog
Blog: TheSimpleLifeCompany
Instagram: @SimpleLifePatterns
Friday, April 14
Cindy Wiens
Blog: liveacolorfullife
Instagram: @liveacolorfullife
Monday, April 17
Maureen Cracknell
Blog: maureencracknellhandmade
Instagram: @maureencracknell
Tuesday, April 18
Name: Lynn Harris
Blog : LynnCarsonHarris
Instagram: @LynnCarsonHarris
Wednesday, April 19
Anjeanette Klinder
Blog : anjeanettek
Instagram: @anjeanetteklinder
Thursday, April 20
Mathew Boudreaux
Blog: misterdomestic
Instagram: @MisterDomestic
Friday, April 21
Alexis Wright
Blog: mysweetsunshinestudio
Instagram: @myysweetsunshine
Sue Stone
Blog: needleinafabricstash
Instagram: @needleinafabricstash