Mammoth Flannel Junior Lucky Log Cabins quilt
Today I am sharing the Robert Kaufman Mammoth Junior Flannel Lucky Log Cabins quilt. Now I know I've said this a few times in the past but this one really is my favorite quilt..lol.
Lucky Log Cabins is the first in the Quilty Love Stash buster series and you can find it in my shop here.
So yes, this one really is my favorite! As I was sewing up this mammoth flannel quilt I knew it was going to actually get used around here. I suspected it would end up in the regular quilt rotation and it sure has!
Let me tell you about this Mammoth flannel junior Lucky Log Cabins quilt.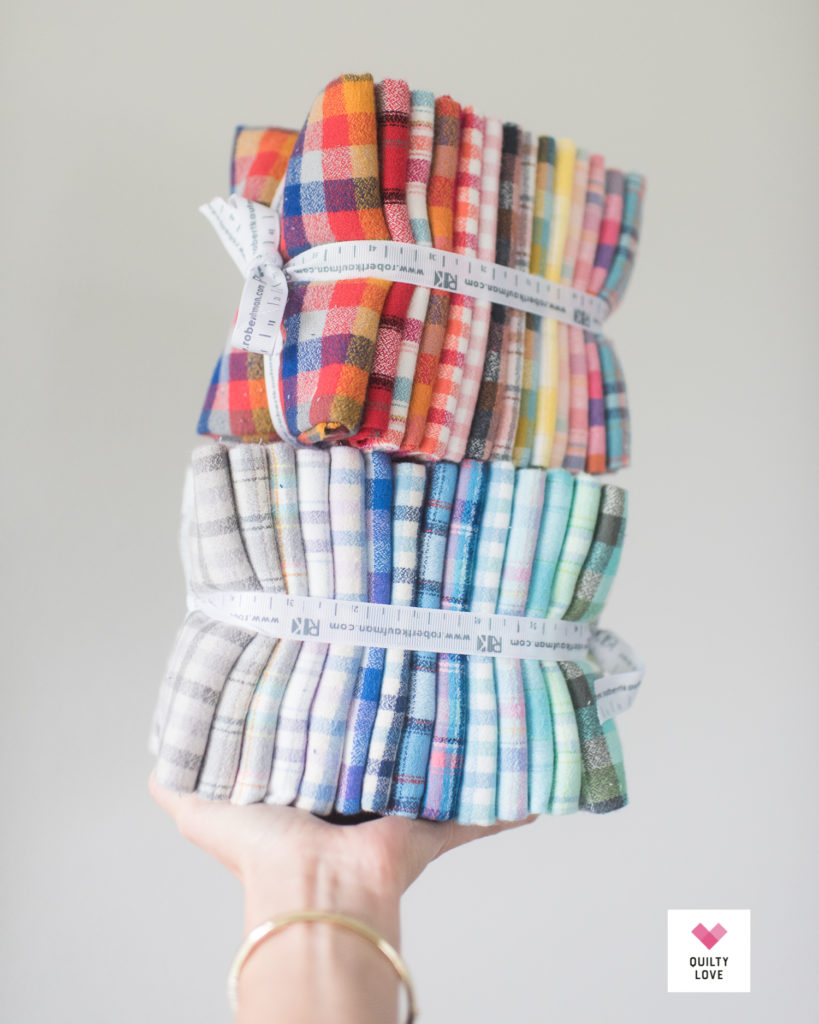 Robert Kaufman Mammoth Junior Flannels
Robert Kaufman has released a few new mammoth junior flannel fat quarter bundles recently and I ended up with a warm and cool bundle. They are so gorgeous!
Robert Kaufman Mammoth jr WARM flannel bundle
Robert Kaufman Mammoth jr COOL flannel bundle
To be honest, I wasn't sure what to do with them. Can you really mix all of these flannels together without it looking like a hot mess? The bundles themselves looked so pretty so I went for it and started mixing!
I wanted to make the large throw size of Lucky Log Cabins so I needed fat quarters from both bundles. But wouldn't it be pretty to make a quilt with just the warms or just the cools!? You could easily make a small throw size Lucky Log Cabins quilt with just one bundle or even a medium size throw if you add in an extra fat quarter!
I was apprehensive the entire time I was sewing up this quilt. I almost didn't finish it because I wasn't sure I would like how it turned out. But experience tells me that it always looks better in the end so I kept sewing.
As soon as this flannel quilt top was done and I stepped back and took a photo I got excited. It did come together and turned into a really pretty cozy flannel quilt.
In the end the blues, teals and pinks became dominant colors preventing it from looking too much like a hot mess…lol.
Below are the 20 fat quarters I used from both the Warm and Cool Robert Kaufman Mammoth junior bundles. You can see I tried to stick with the softer colors from the bundles. I believe I also kept most of the purples out.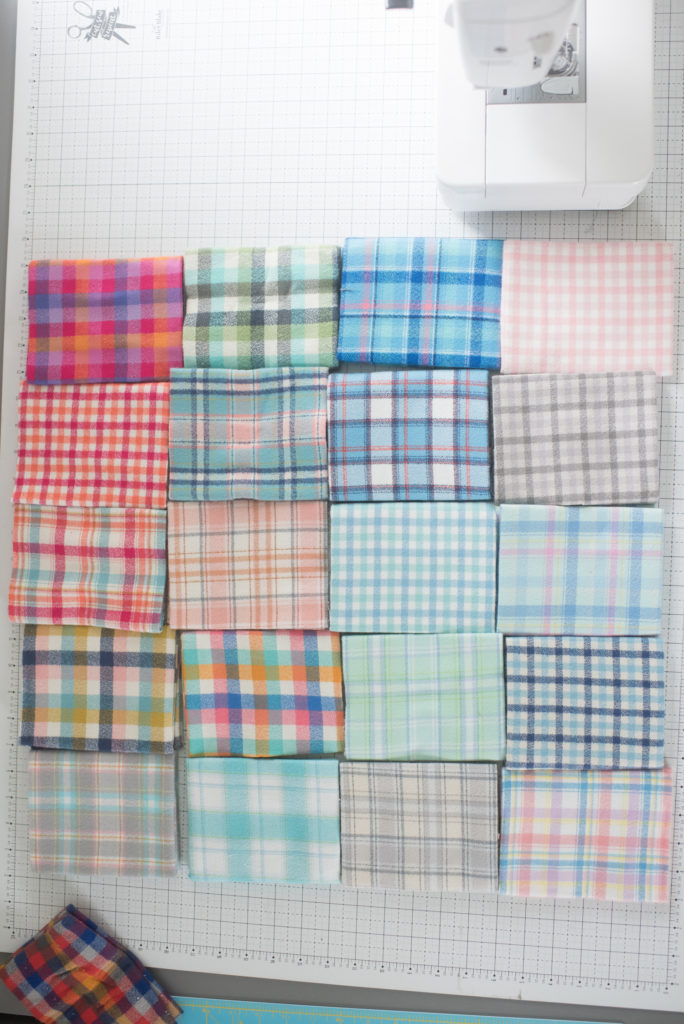 Quilting with flannel
A lot of quilters sew flannel with a 1/2 inch seam allowance. Flannel tends to fray (and shrink) more than a quilting cotton does.
I'm going to warn you guys that I did not use a 1/2in seam allowance on this flannel. I have no idea what that means for the future of this quilt but I pretty much sew everything at a 1/4in. I did use a really small stitch length (1.8) and reinforced my half square triangle seams with an extra basting stitch.
So just a word of warning if you want to make the same quilt… You could use a 1/2 inch seam allowance and leave all measurements as is but then your blocks will all be smaller. No big deal though! Or you could cut larger to compensate for the 1/2in seam allowance. It's just going to get really tight since you need the entire width of fabric. I honestly don't really recommend that for this pattern.
Most quilters have had no issues using a 1/4 inch seam allowance on flannel
Quilters weighed in on this post on Instagram and most have had zero issues using a 1/4in seam allowance on flannel! So that is good news!
I pretty much sew everything at 1/4 inch and rarely prewash. I really thought Essex Linen frayed worse than this flannel as I was working with it and I always sew Essex linen at 1/4 inch without issues.
Both linen and flannel will shrink quite a bit when they are washed so that also could be why having a larger seam allowance is recommended. Don't be surprised if your flannel or linen quilt comes out of the dryer several inches shorter on each side! I'm hesitant to wash this one for the first time because I know it's going to shrink…lol. But it could also make it cozier..
Lucky Log Cabins quilt pattern
Let me tell you about the Lucky Log Cabins quilt pattern!
I am so excited about this quilt pattern. It is the first in the Quilty Love Stash Buster series coming out over the next few months.
Stash buster quilt pattern
Lucky Log Cabins is a true stash buster quilt! There is no background fabric and many different fabric sizes can be used making it the perfect stash quilt!
All the fabric precuts friendly including jelly rolls!
You can use fat quarters, jelly rolls, fat eighths or quarter yards for this quick and easy strip quilt.
I'm so excited that jelly rolls work nicely with Lucky Log Cabins because we could all use a good jelly roll quilt pattern.
Fast and easy quilt pattern
Lucky Log Cabins is a fast and easy stash quilt. It goes together with strip piecing shortcuts making it a quick and easy one to chain piece. It's quite addicting to make actually, and you will find yourself planning out your next one (or five) as you make it….lol.
Lucky Log Cabins is perfect for the jelly rolls in your stash or that fat quarter bundle you just have no idea what to do with. I'm finding that Lucky Log Cabins looks great in a wide array of fabrics!
Or mix up a bundle from your fat quarter stash for this this quick and easy Log cabin look alike quilt. This blog post talks about sewing from your stash and creating your own bundles.
All the quilt sizes in this fast and easy quilt pattern
I have you covered for every quilt size with Lucky Log Cabins! The quilt pattern includes a baby size, a small throw (lap) size, a medium throw size, a large throw size, a twin size, a full size, a queen size AND a king size! Every quilt size you would need to make is covered!
There are multiple throw sizes. I like them large! This mammoth flannel junior Lucky Log Cabins quilt is a large throw size.
Bed size quilt pattern
And there are multiple bed size quilts in this pattern! Some of those bed size quilt patterns are harder to find. Every bed size quilt is included in Lucky Log Cabins: Twin, full, queen and king.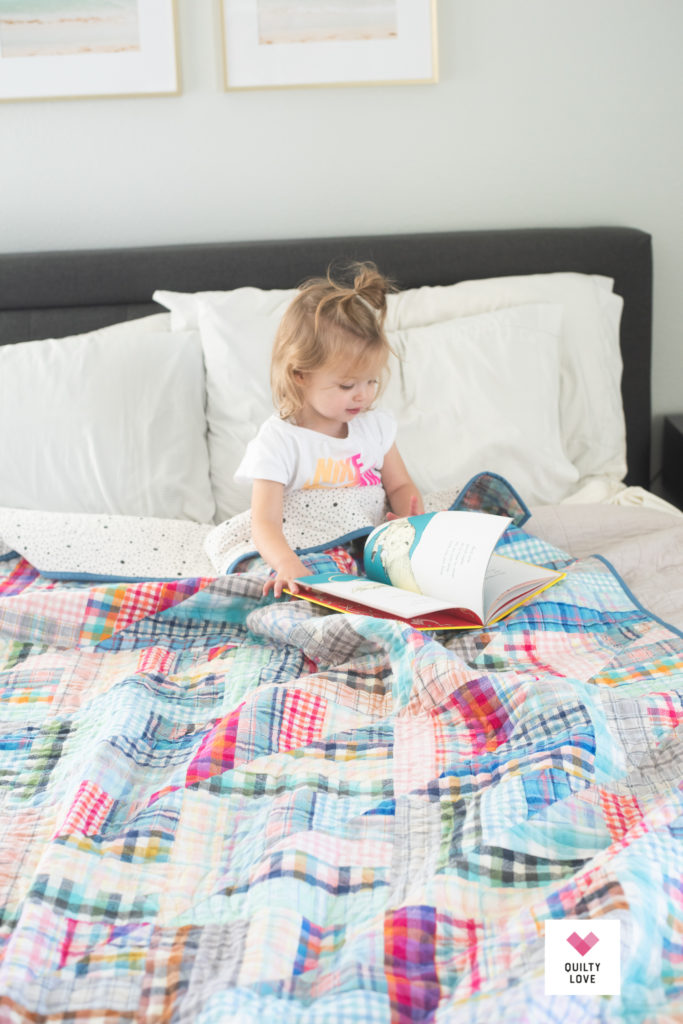 Back to this flannel Lucky Log Cabins quilt… It really is our new favorite around here! Not only has it made it in to the rotation, it's the one we all grab first. I actually have it on my lap right now as I type this out on the couch…haha.
Flannel quilt backing
To keep this one super cozy I backed it in flannel also! The backing is actually a flannel duvet I picked up from Ikea a while back. Isn't it cute! I really love to tone down busy quilt tops with a subtle neutral backing. This polka dot duvet cover couldn't be more perfect.
Another great flannel backing to use!
If you are looking for a flannel backing with a similar feel, try this grid one from Robert Kaufman! It would be perfect paired with the Mammoth flannel junior bundles.
I used it in this Farmhouse Christmas quilt and actually have more on the way for another quilt.
Piecing my Mammoth junior flannel Lucky Log Cabins
The nice thing about Lucky Log Cabins is the random placement of the fabrics. It's a quick and easy quilt to put together because you don't have to put a lot of thought into fabric placement.
However, I did try to put fabric next to each other that flowed. So each strip set coordinates a little bit. Rather than have a high contrast, low contrast, high contrast situation going on in the quilt, it flows a little better when you place fabrics next to each other that play nicely together.
This wasn't a hard and fast rule and it didn't always work out but that is how I pieced my Mammoth flannel junior Lucky Log Cabin quilts.
Creative fabric placements in Lucky Log Cabins
You could also start to create all kinds of emerging patterns in Lucky Log Cabins if you started to get intentional with your fabric placements. For example, you might use the same rainbow of color in your strip sets. Or you might place the same color strip in the center each time.
I'm excited to see some clever quilters play around with their fabric placements like that.
Binding fabrics used in this flannel Mammoth Jr Lucky Log Cabins quilt
The only fabric that isn't flannel in this quilt is the binding! I used a Kona cotton in the color Denim for this cozy flannel Lucky Log Cabins quilt.
Flannel quilt long arm quilting
I sent this flannel Lucky Log Cabins quilt off to Knot and Thread for quilting. Kait chose this fun repeating circle quilting pattern. The batting is an 80/20 quilt batting. Sometimes flannel and linen quilts can get really heavy and thick. This one really isn't too bad! It doesn't feel a whole lot heavier than a regular cotton quilt.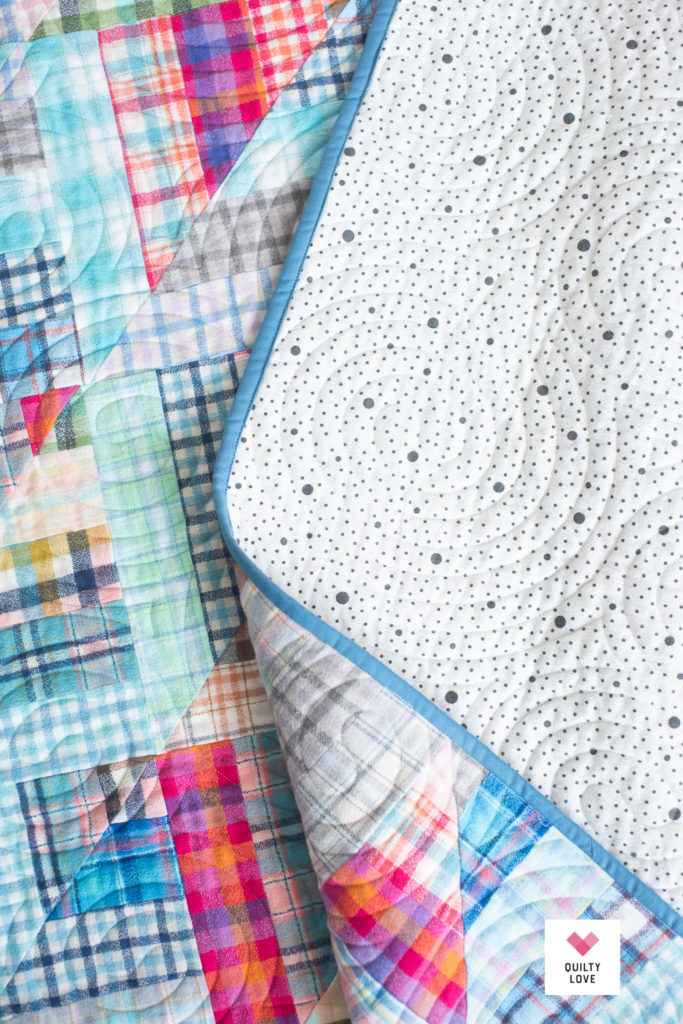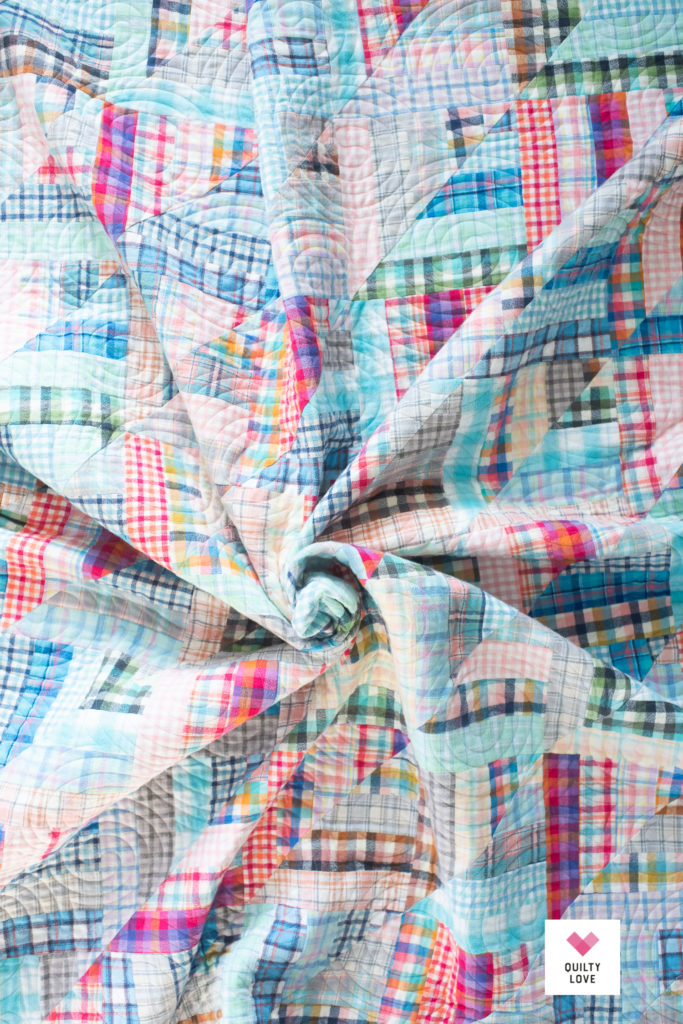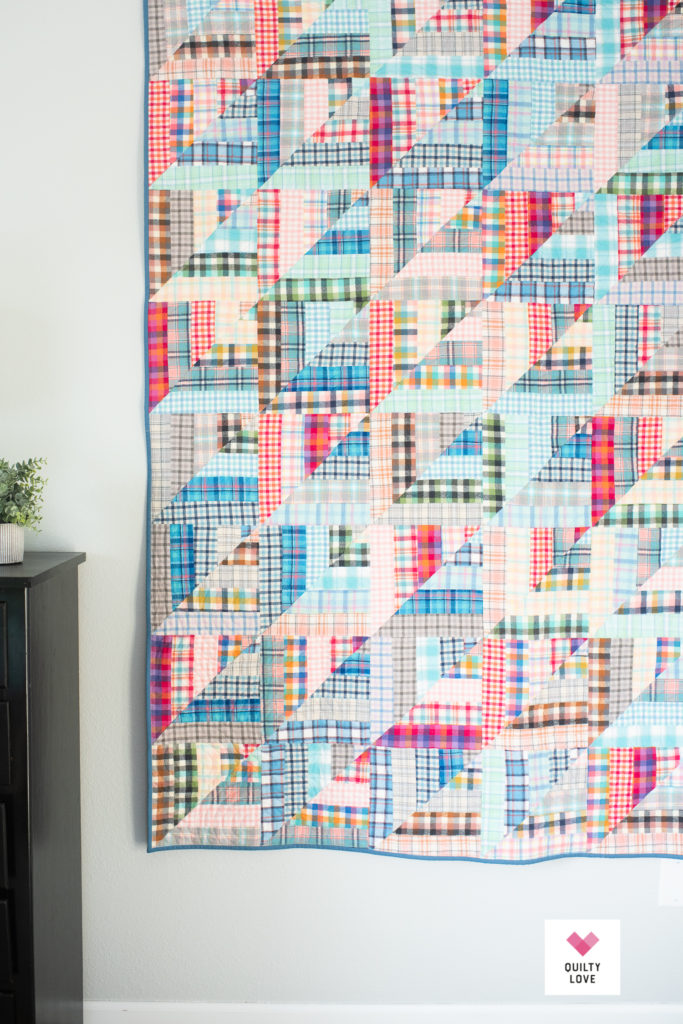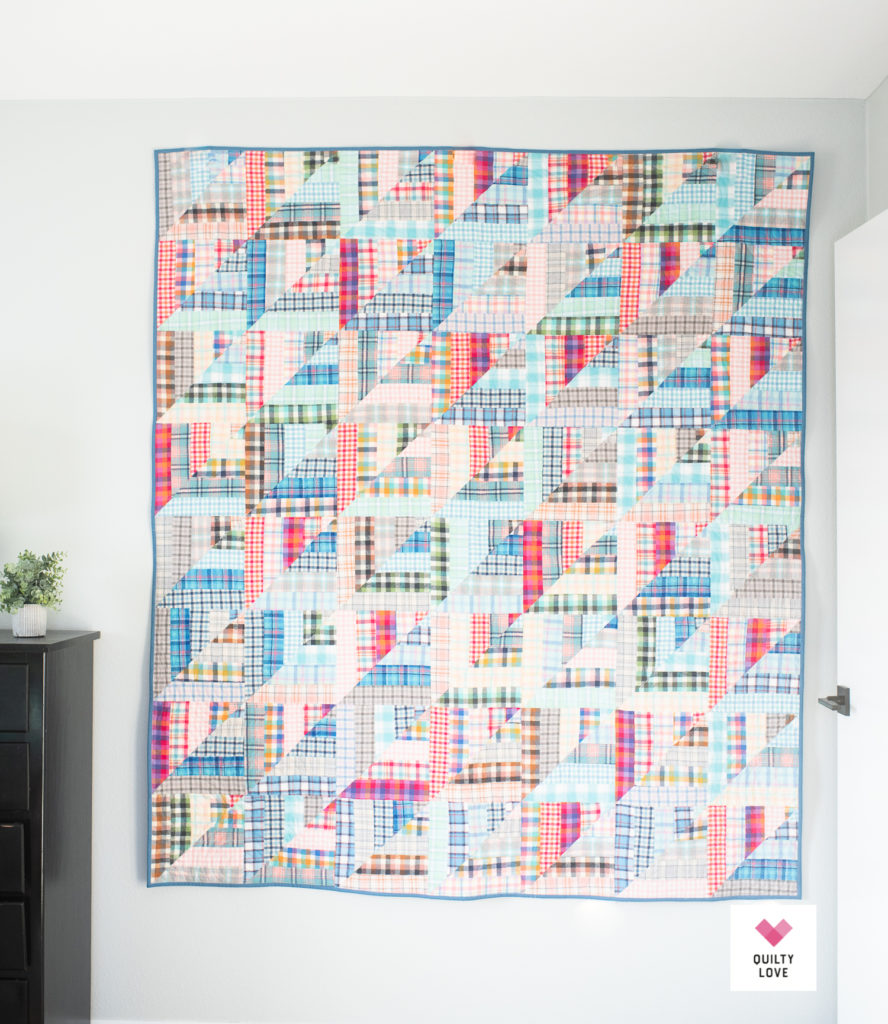 Log Cabin Quilt Pattern
I call Lucky Log Cabins a log cabin look alike quilt. It's not a true log cabin quilt since the construction is different than an actual log cabin quilt block. But the end result of this quilt block ends up looking very similar to a log cabin quilt block.
This quilt probably goes together a little faster than a true log cabin quilt would.
You can find Lucky Log Cabins in the Quilty Love pattern shop:
PDF automatic download – Lucky Log Cabins
Mailed paper copy – Lucky Log Cabins
Fabrics Used:
Robert Kaufman Mammoth Junior bundle in WARM
Robert Kaufman Mammoth Junior bundle in COOL
Binding: Kona Cotton in Denim
Backing is a flannel Ikea Duvet cover – similar option here