Quilting successfully with Essex Linen Fabric
Today I want to talk to you guys about my current quilting obsession.
I can't get enough of the stuff.
I'm talking about  Essex linen by Robert Kaufman.   Just about every other quilt I make uses it.   It gives the best texture and some really great added weight.   Our quilts need to actually be warm around here 😉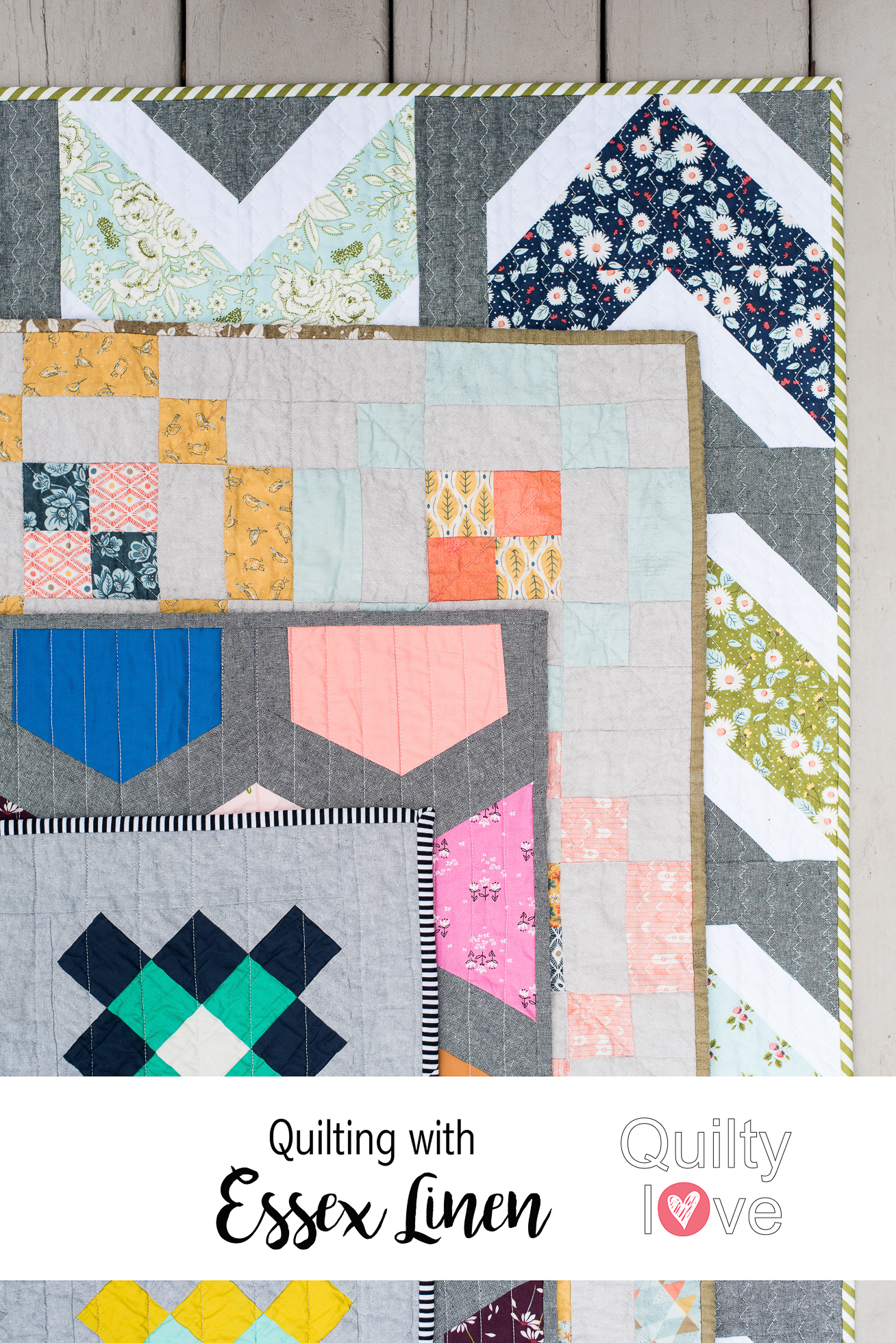 Essex Linen is a linen cotton blend used mostly for garments but has been quickly adopted by modern quilters.   There are a few sad quilting stories using Essex Linen but so far that has never been my experience.
Essex Linen is heavier and warmer (love that about it!) than quilting cottons
Essex Linen shrinks more than quilting cottons
So much yummy texture
It's a looser weave than quilting cotton so fraying is a concern
Stretches easier than quilting cotton
Extra Wrinkly and Crinkly when washed
With a few tips and precautions I say quilt away with Essex Linen!
The three colors I've been using the most are Steel, Flax and Black.  I swear these colors go with just about any fabrics.  I've been using it to replace my normal white backgrounds in quilts.   It's a fun change.
I buy my linens multiple yards at a time from Fabric.com:
Steel Yarn Dyed Essex Linen
Flax Yarn Dyed Essex Linen
Black Yarn Dyed Essex Linen
Here are a few tips when working with Essex Linen:
Use a smaller stitch length
I tend to put my stitch length down to about 1.8 when sewing with linen.   It's more prone to fraying and shrinking.  A smaller stitch length will ensure it holds better.
Consider Pre-washing
Pre-washing will help take care of the shrinkage before you start sewing with it.   When in doubt, pre-wash.
Having tested both pre-washing and not pre-washing Essex linen, I have found I actually prefer to not pre-wash.  I didn't feel it made a huge difference either way.  I don't pre-wash any of my fabrics though and don't care to work with pre-washed fabric.
Samples of Essex Line before and after washing
Pre-washed but before final wash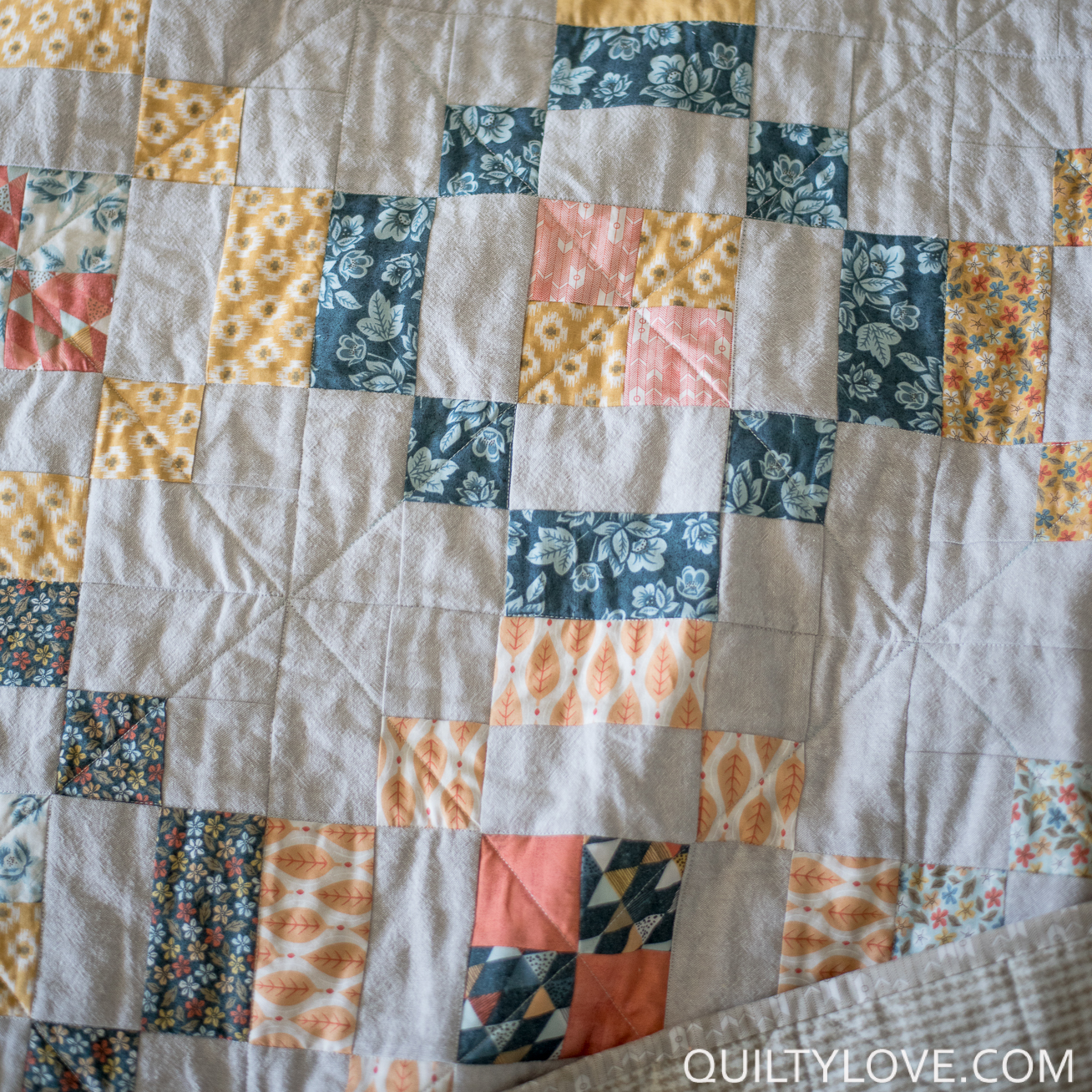 Final Wash below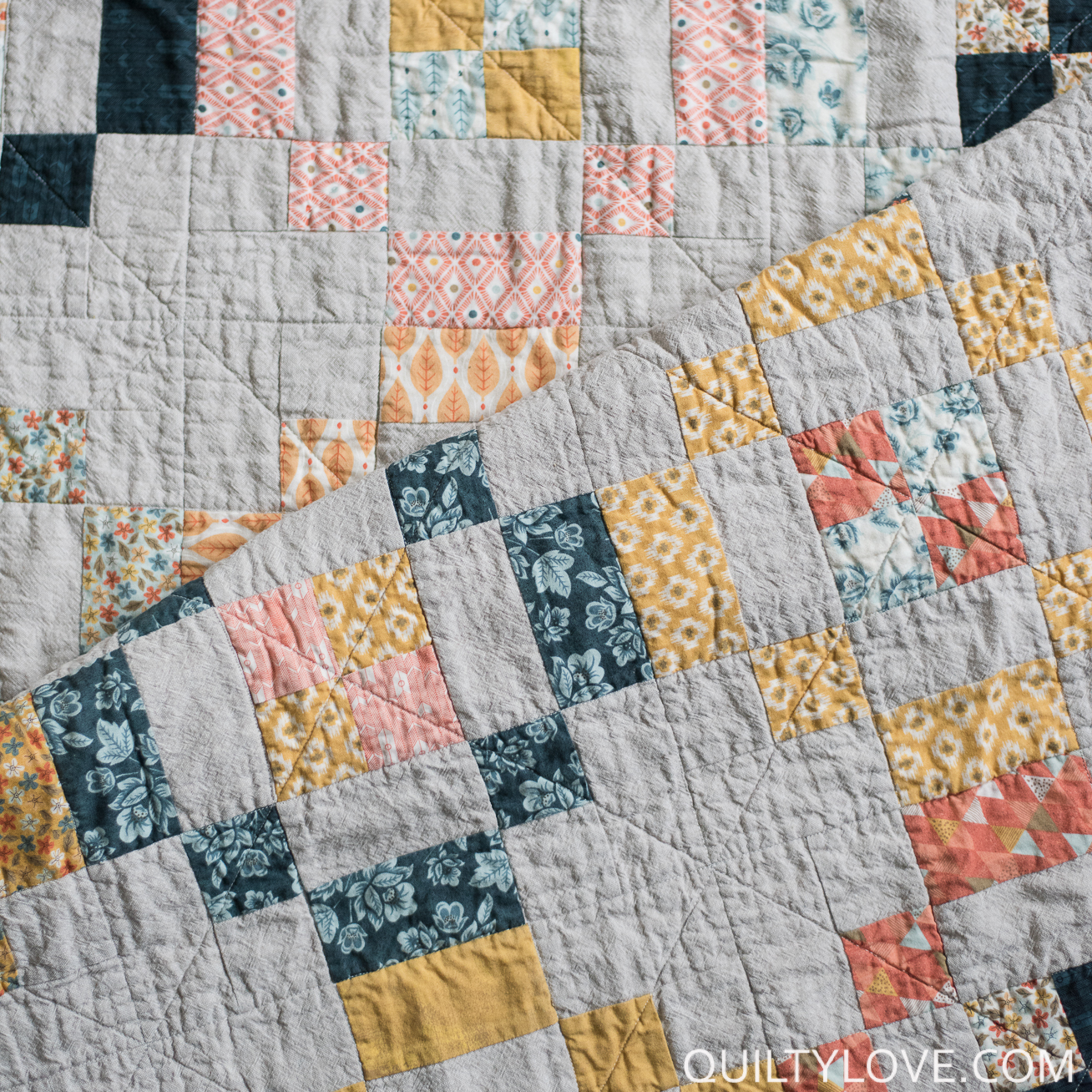 Never washed below
Not Pre-washed below
Post quilting and washing below

Starch it up
Starch is my new best friend especially when working with Essex linen.  It really helps keep it's shape and just makes it all around easier to cut and sew accurately.   I find linen presses really nicely especially when using starch.
Starch will help it keep it's shape as it does stretch easier than cotton fabrics.   I use this starch quite liberally while piecing but buy it at the big box stores for a few bucks a bottle.
I also love the Lavender Best Press.   It smells so good!
Quilt it up
If you are worried about your Essex linen fraying or falling apart consider quilting it a little more densely.   Dense quilting with help hold the fabric in place so it is less likely to come loose or fray after it's all stitched up.
Quilting it up more also helps prevent the fabric from stretching and becoming looser over time.   The quilt below is not quilted very densely at all and the linen has become looser over time.  I like nice flat and smoothly taut fabric on my quilts and this is not like that at all.  Linen easily stretches.
Densely quilted Essex Linen below ensures there is no stretching or shifting of the fabrics over time.  Just about every seam gets quilted for added stability.
The pros of working with Essex Linen far outweigh the cons and until I have any major issues I'll keep using it!
Here are a few of my favorite Essex Linen quilts: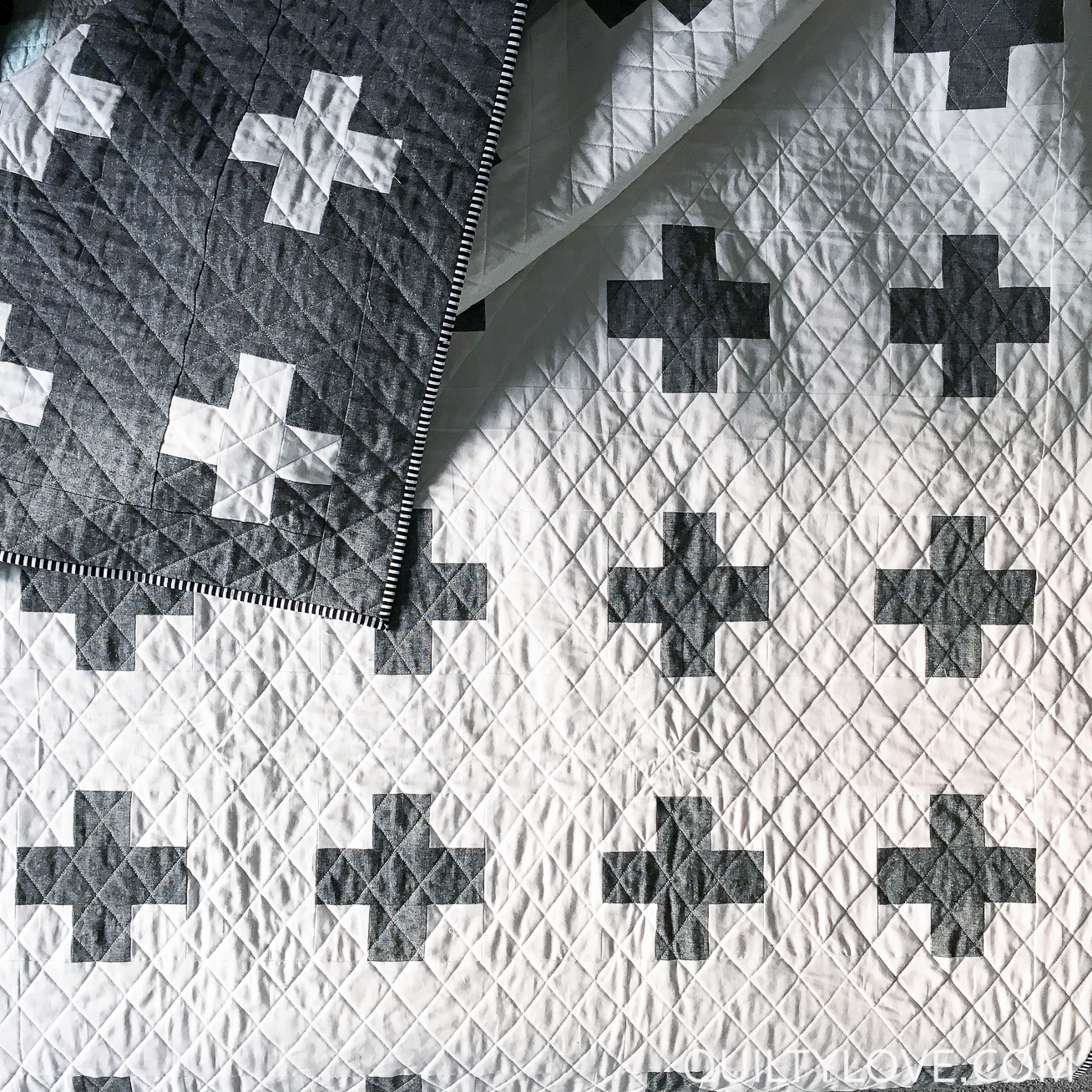 Double the Plus Quilt
Essex Linen in Black
Kona White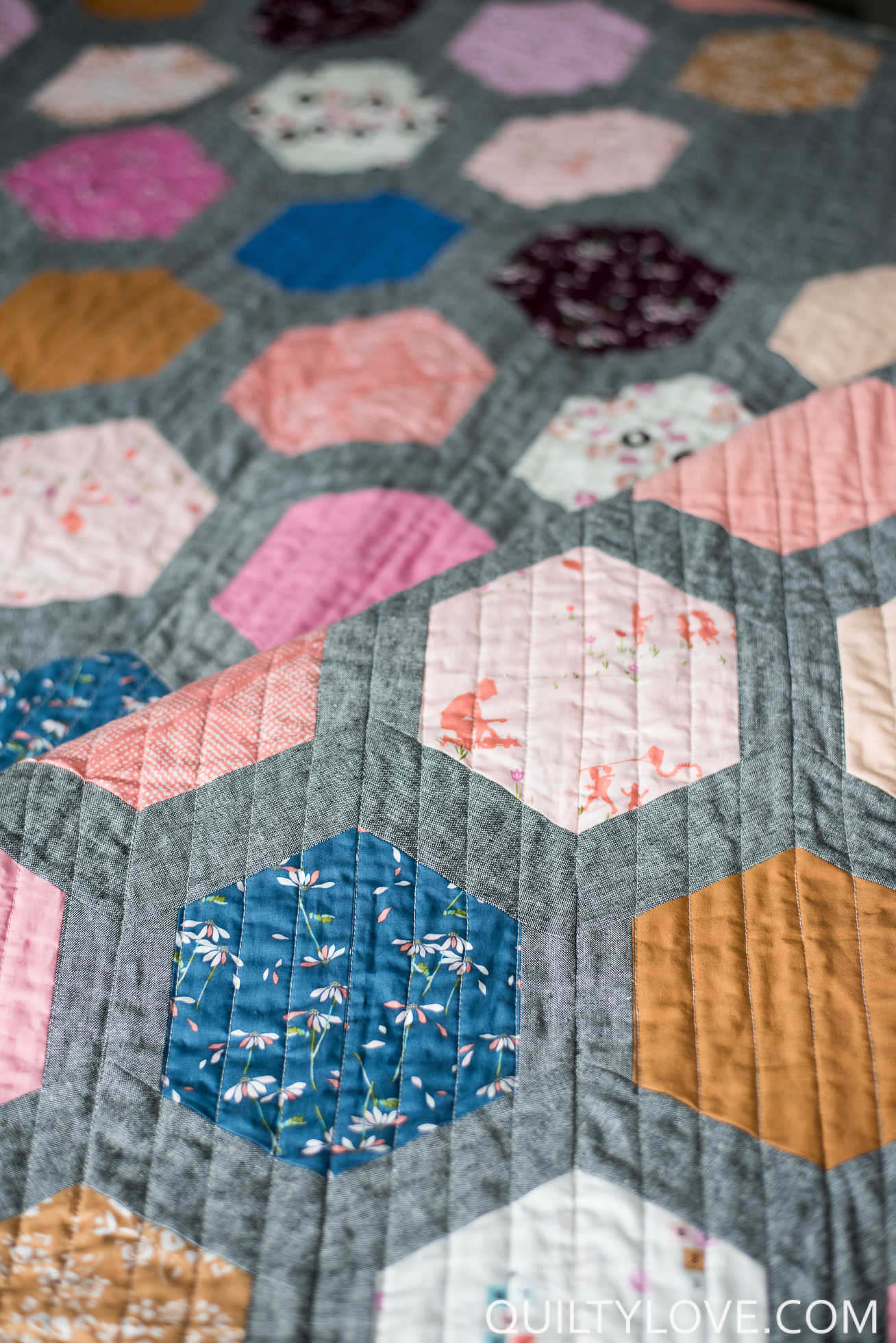 Hexie Framed Quilt Pattern
Essex Linen in Black
Playground Fabrics by Art Gallery Fabrics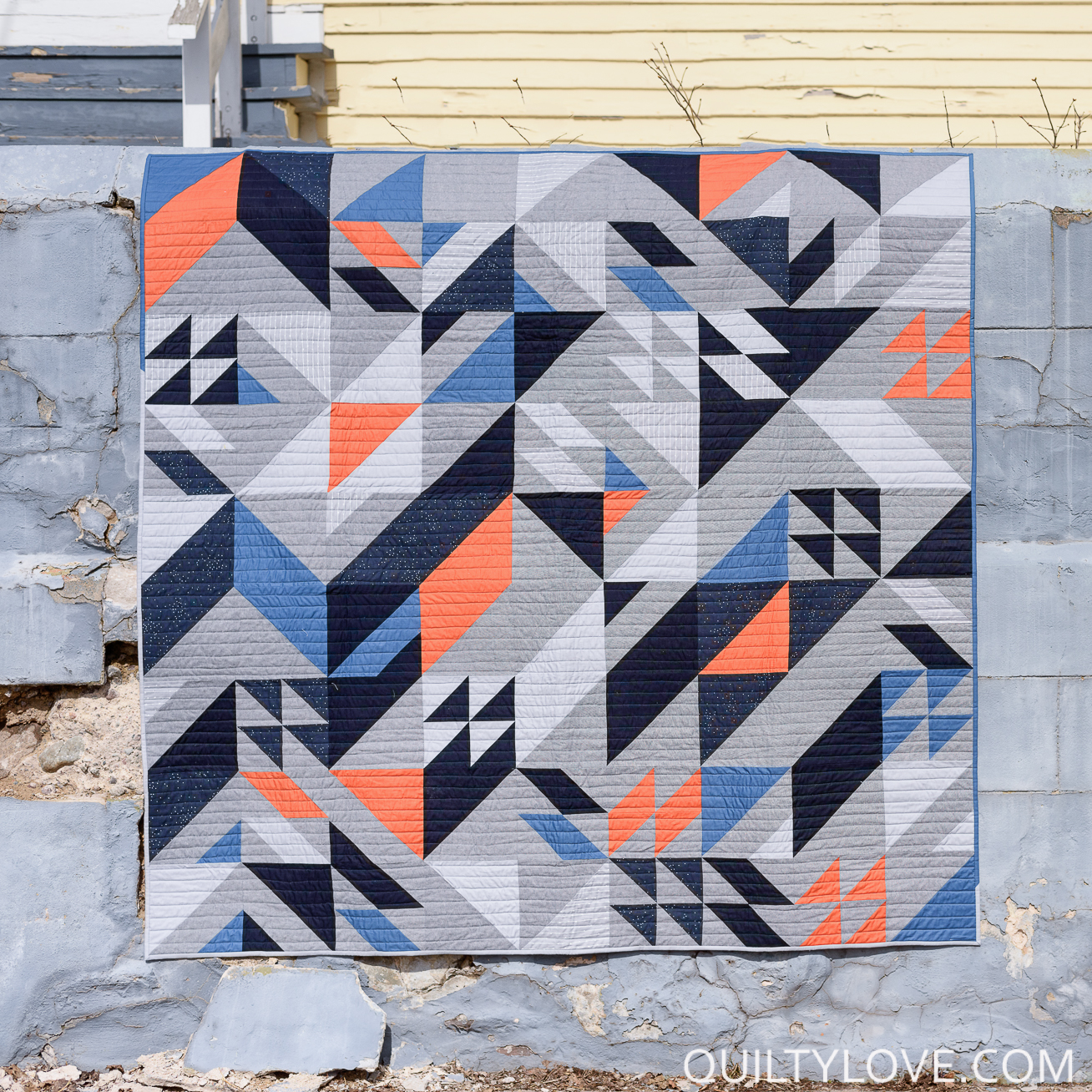 Rebel Quilt Pattern
Uses Essex Linen in Steel
Cotton and Steel Sprinkles
Cotton Couture Solids
Plus Squared Quilt
Essex Linen in Steel
Lella Boutique by Moda
City Tiles Quilt
Essex Linen in Flax
Cotton and Steel bluebird fabrics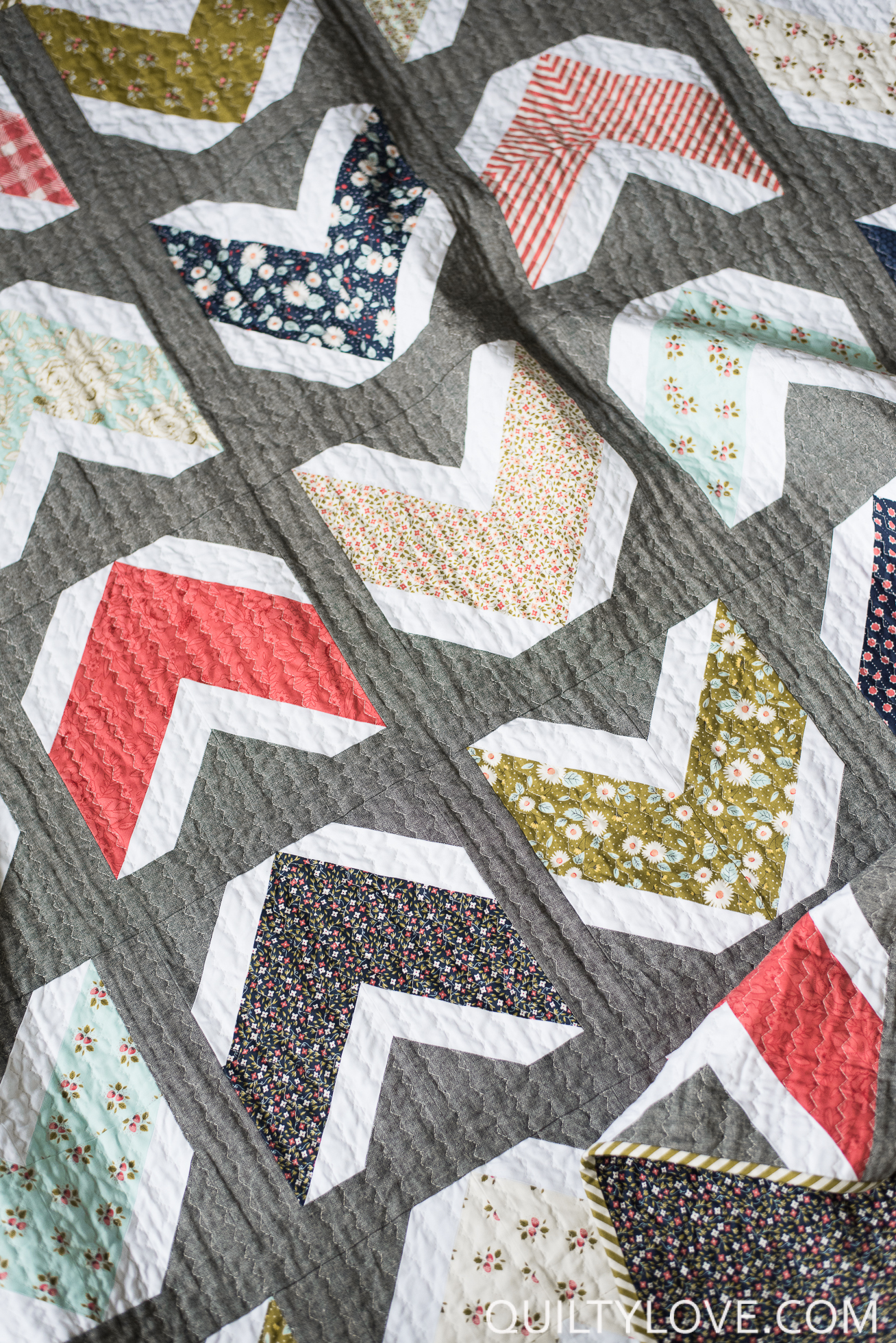 Quilty Arrows Quilt
Essex Linen in Black
Lella Boutique for Moda Fabrics