Expanding Stars Quilt Pattern
I have a new star quilt pattern for you today!
I'm so excited to send this Expanding Stars Quilt pattern out into the quilty world!  This quilt is something a little different for me.   First of all it's a large scale quilt design which is something I have never done.   I love the bold modern statement this star quilt makes and I look forward to seeing different versions you quilt makers come up with 🙂
The second thing that makes this Expanding Stars quilt different is it doesn't have a single solid fabric!   My quilts tend to have a lot of white or light grey and for this one I went with the beautiful cream stars as the background.   I think switching those out for white or another solid would be just as good though!
The Cotton and Steel Print Shop line is one of my favorite quilt fabric lines!   I used it on this Triangle Hexies quilt also.
Expanding Stars quilt has so much potential for variety!  It's one of those quilts that I want to make a million of just to see what it looks like 😉  I made a scrappy Christmas version of it also.
Choose 5 different fabric prints and make your own Expanding Stars quilt.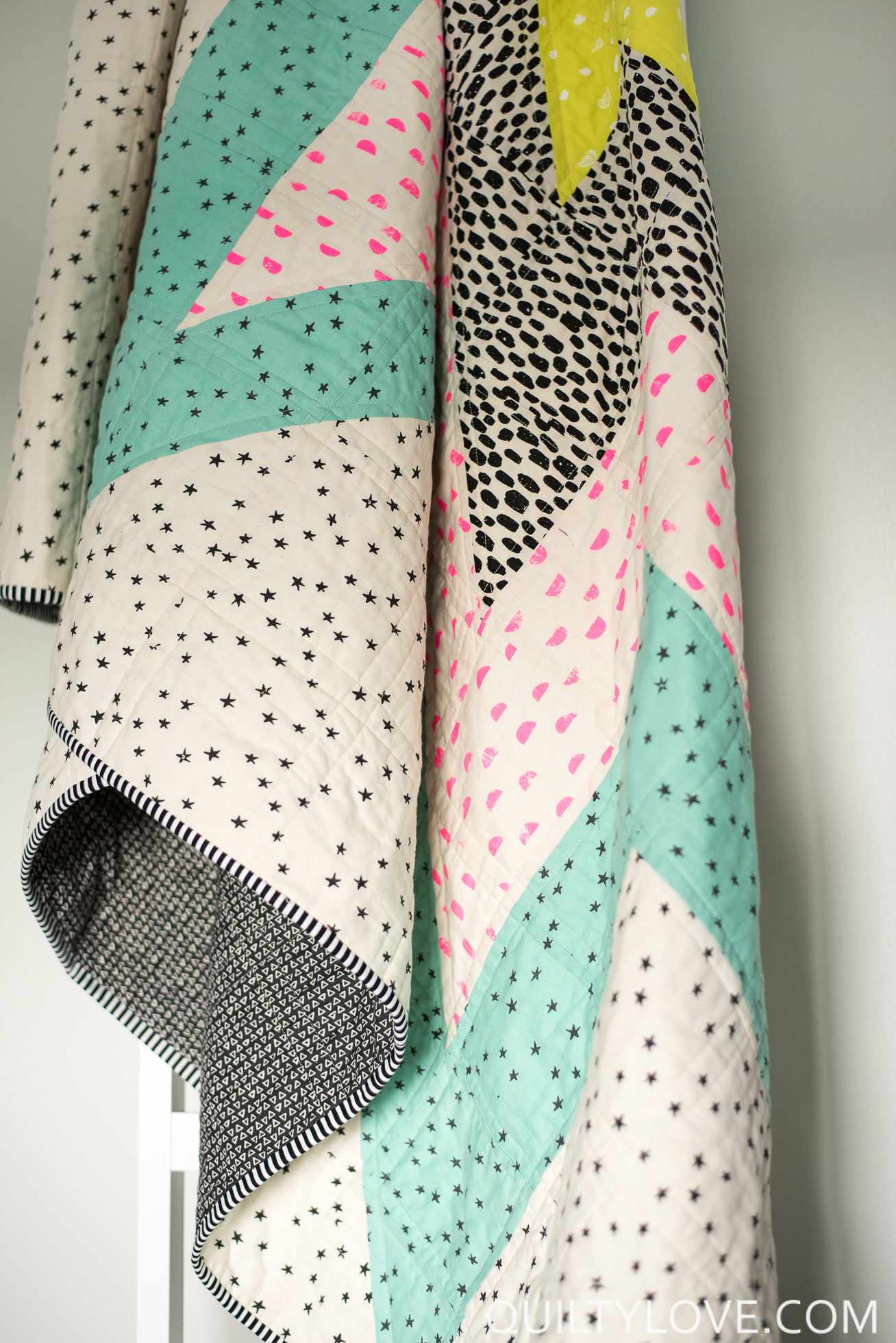 The Expanding Stars quilt goes together rather quickly despite it's larger size!   Every single tester made that comment.   The instructions include a super fast way to make the pieces you need for this bold star quilt.
Expanding stars includes instructions for a baby size and a generous throw size.  It's the perfect baby quilt and I've seen some really cute versions.  Check out and be sure to share on the hashtag:  #expandingstarsquilt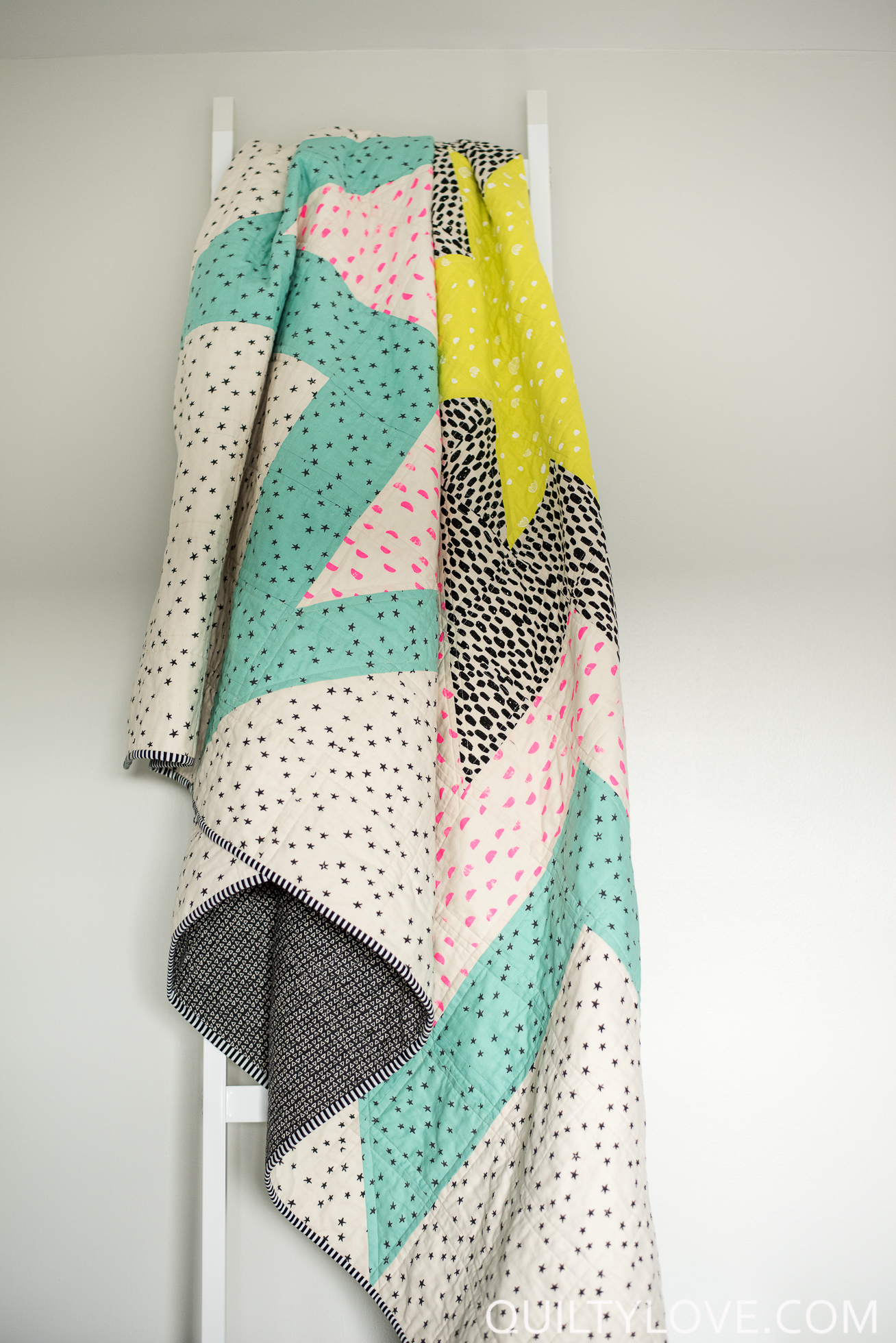 I went with Cotton and Steel's Print Shop line for my version starting with the fun citrus colored center sawtooth star.  These bright happy colors on the unbleached cotton backgrounds are so good!   The black triangle print as the backing helps tone down the bright quilt front.  Most of my quilt backings are more neutral like this one.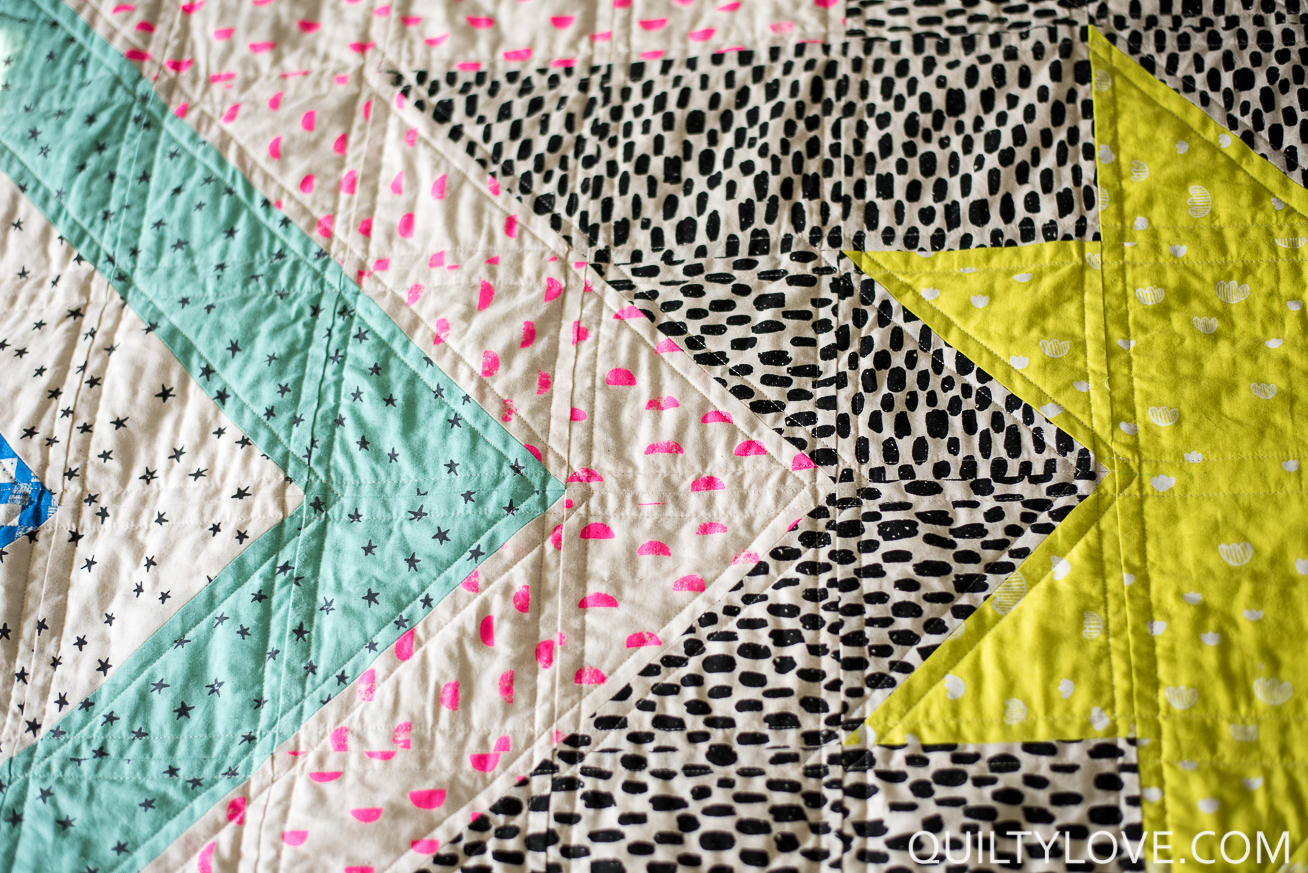 This quilt quilted up in no time by just by following the seams.   The looser quilting keeps the quilt nice and soft and drapey too.
I used my walking foot to outline the seams.   This is the walking foot I use for my Janome machine.  I stick with Connecting threads 50wt thread for quilting.   When quilting straight lines I increase my stitch length to about 3 for a longer stitch.   A walking foot really does make all the difference!   It pulls all the layers evenly through your machine so there is way less pulling on the fabrics.
A good baste will also leave you with better quilting results.  I exclusively spray baste my quilts using this spray baste.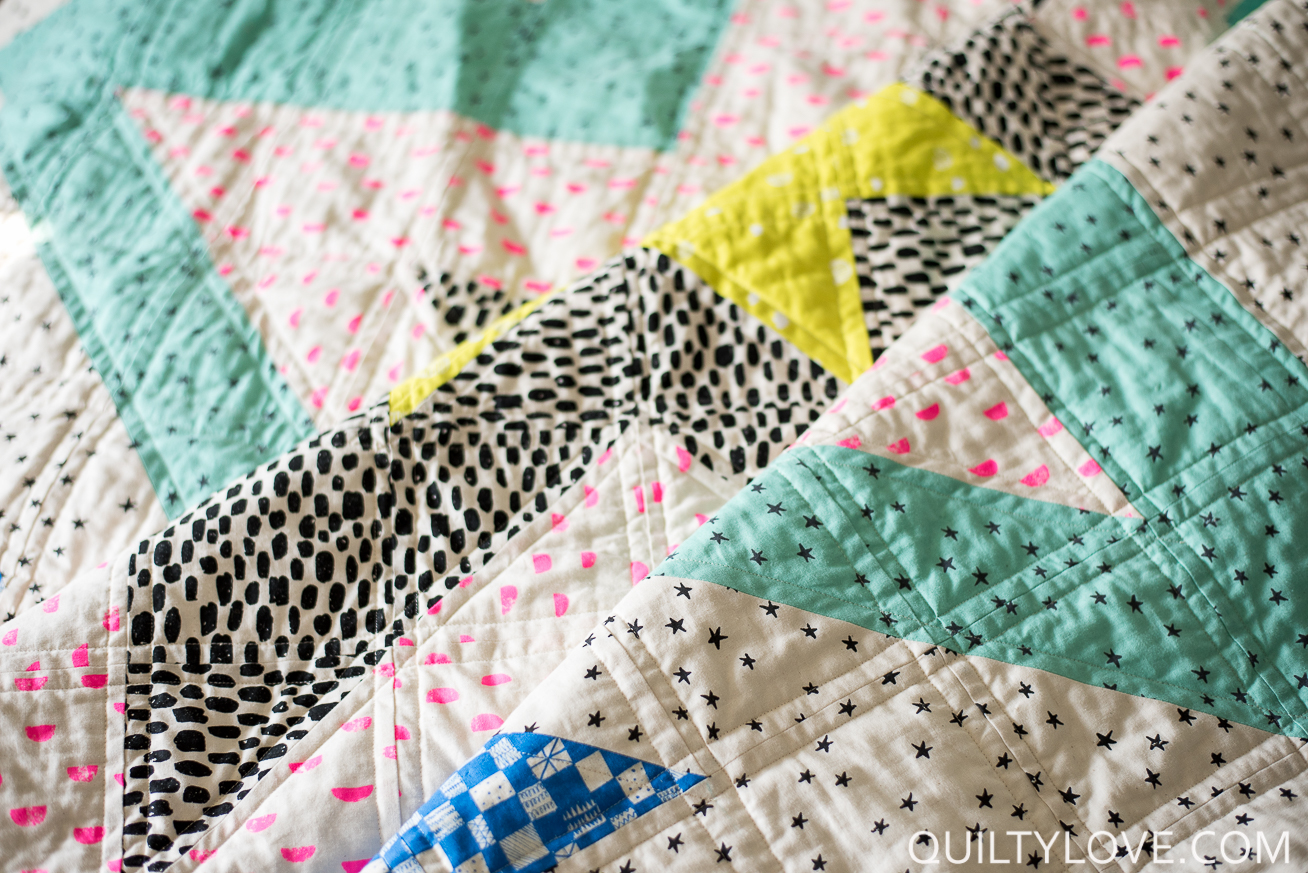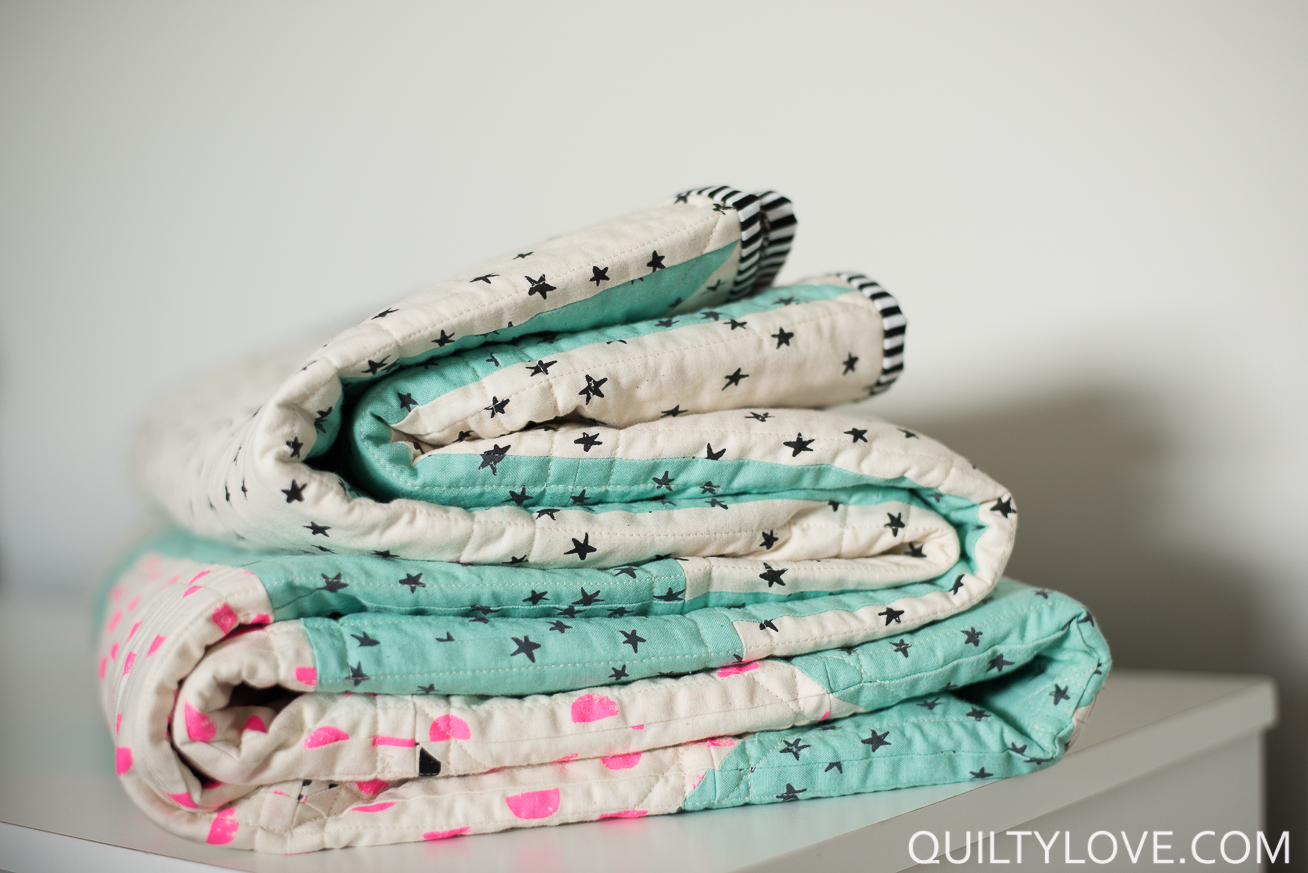 A black and white striped binding finishes this Expanding Stars Quilt off.   I love the modern touch this black and white striped binding has.  I always have this striped fabric on hand.
Expanding Stars measures 80in square which makes it the perfect large throw size.   Add a border using the same background fabric and you have yourself a bed size quilt.
You can find the Expanding Stars Quilt Pattern in my shop in PDF and Paper form.

Materials Used:
Cotton and Steel's Print Shop fabric Line
Warm and White Batting
Timeless Treasures striped binding
Spray basted with this spray baste
Pieced and quilted on my Janome sewing machine
Quilted with Connecting Threads 50wt thread