Flying – Clementine Flying Geese quilt
Flying is a brand new flying geese quilt pattern available in the Quilty Love pattern shop.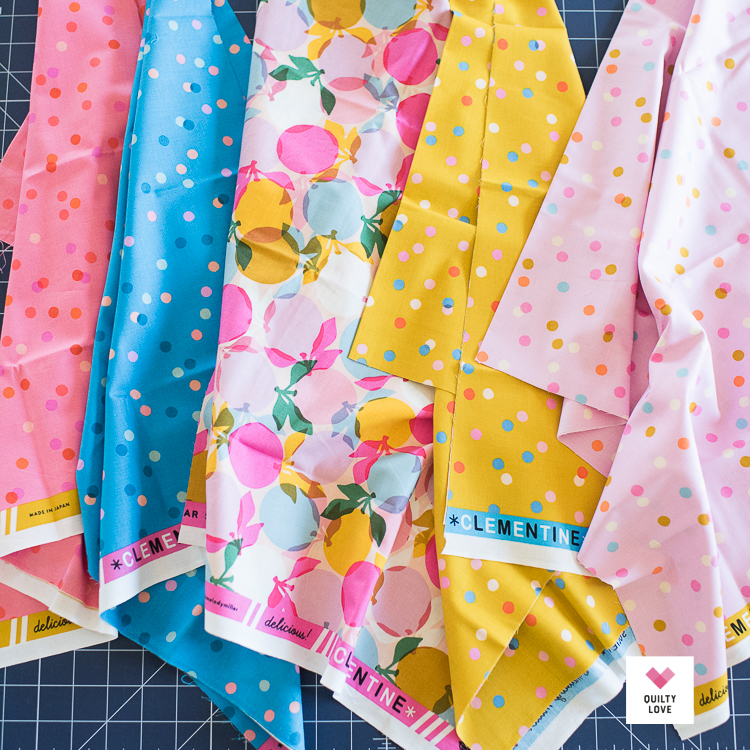 I am so excited to share this bright and cheerful quilt flying geese quilt. It was the perfect pick me up during this stay at home quarantine. The bright cheerful colors in this quilt just ooze happiness. Dare I say, this flying geese quilt is a new favorite 🙂
Fabrics used in Flying
Clementine is a brand new fabric line by Ruby Star Society that is showing up in quilt shops this month. It was so much fun to use these fabrics as this was a fabric line I was looking forward to so much.
And that grid…. it's basically my new white replacement…haha. The grid is a basic print from Ruby Star Society in the color cloud. I have used yards and yards (and yards) of this grid lately.
If you have never used Ruby Star Society fabrics you might be surprised by the soft silkiness of them. They are not quite a quilting cotton. Instead they are a little thinner and drapier but amazing to quilt with. They make for the softest quilts ever. And trust me, the fabric is soft and smooth, not stiff and slippery like other thinner quilting fabrics on the market.
So using their fabrics for the entire quilt, backing included makes for a really soft completed quilt.
But now on to this quilt….
Flying Quilt Pattern
Flying is a simple and modern take on the popular flying geese shape used in quilting. My sewing time is limited these days with the busy toddler so quick and easy quilts have been much more satisfying. This one fits the bill.
Flying goes together quickly and easily and showcases fabric so beautifully. This flying geese quilt is super versatile and works well with solids, prints and your scrap stash.
All the quilt sizes
This flying geese quilt pattern includes instructions for a crib size, throw size, twin size and a queen size. Twin size quilts are not all that common so I was happy to be able to include it with this one.
The layout stays the same with this quilt so each size needs six prints or solids (seven for the twin size) and the flying geese get larger with each quilt size up.
Quick and easy quilt pattern
Flying uses the four at a time flying geese method which means quick construction and no waste! No cutting off corners to toss. If you have never done flying geese four at a time, it's pretty slick and this pattern will walk you through it.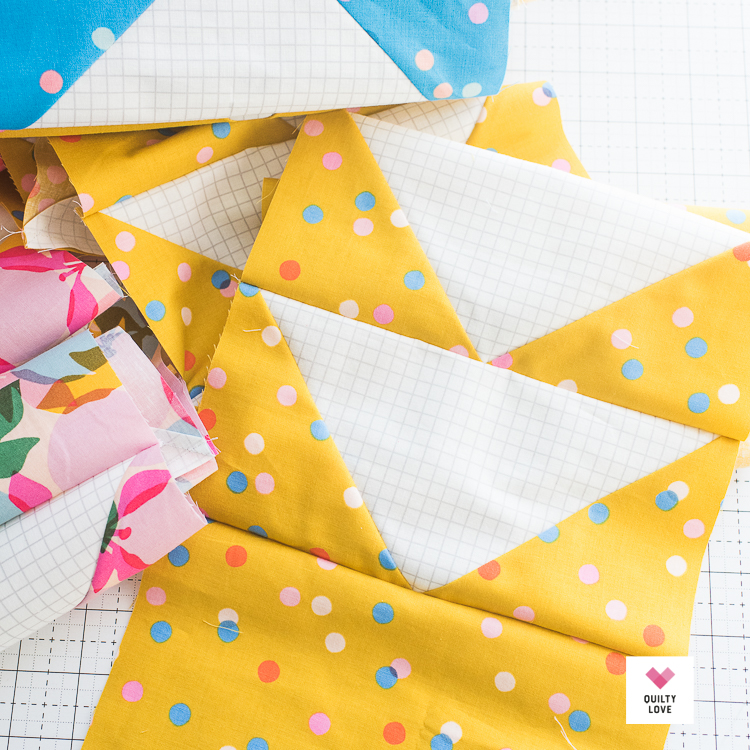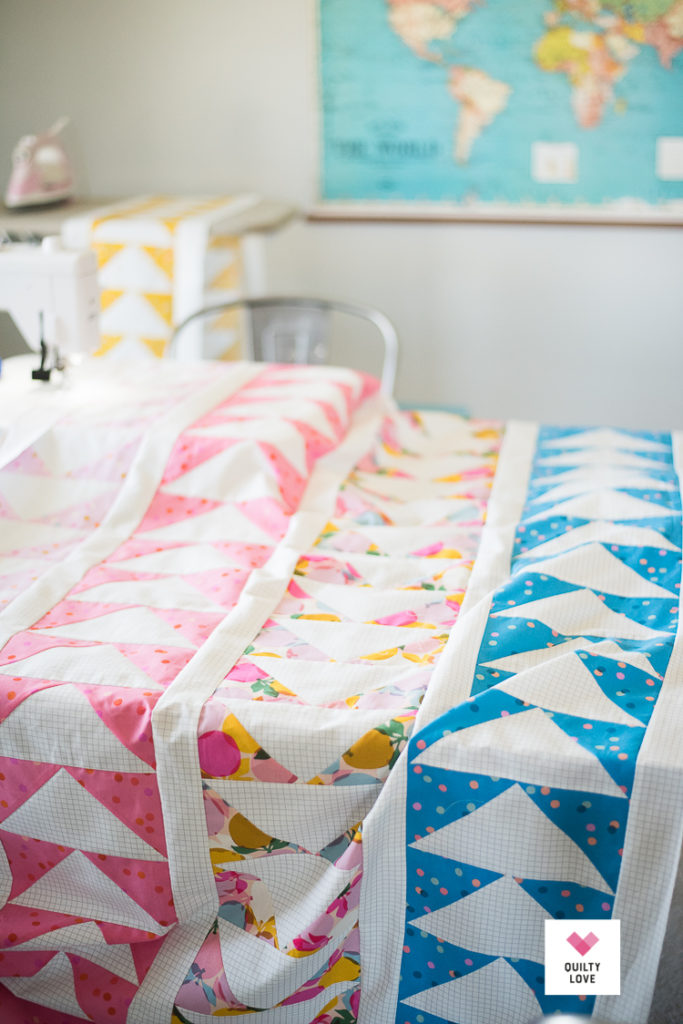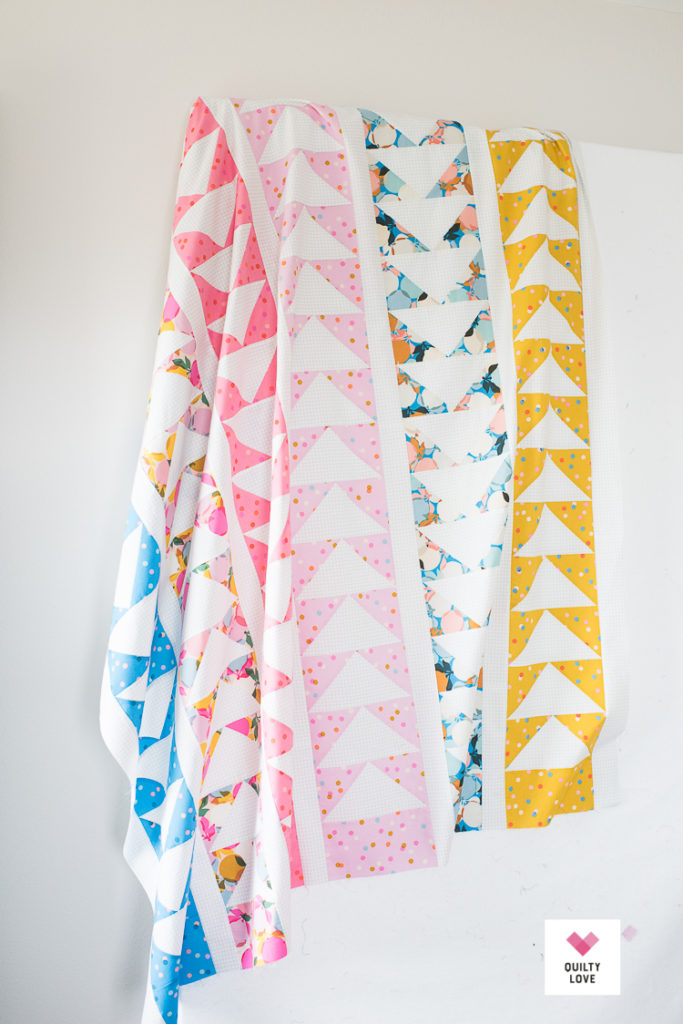 Photographing this quilt was so fun because it is so bright and cheerful! We have been blessed with an abundance of sunny days here in Minnesota too so that definitely helps the photos 🙂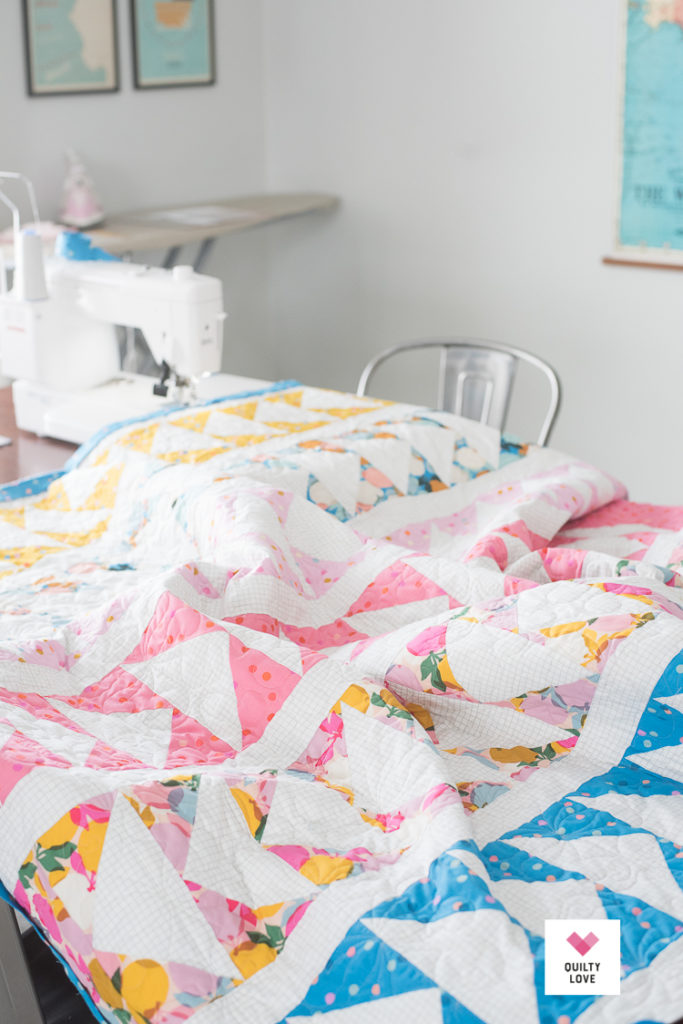 My local quilter quilted this Flying quilt with this whimsical fun design. I love how it works with such a geometric quilt.
The binding is a favorite print from the Clementine line.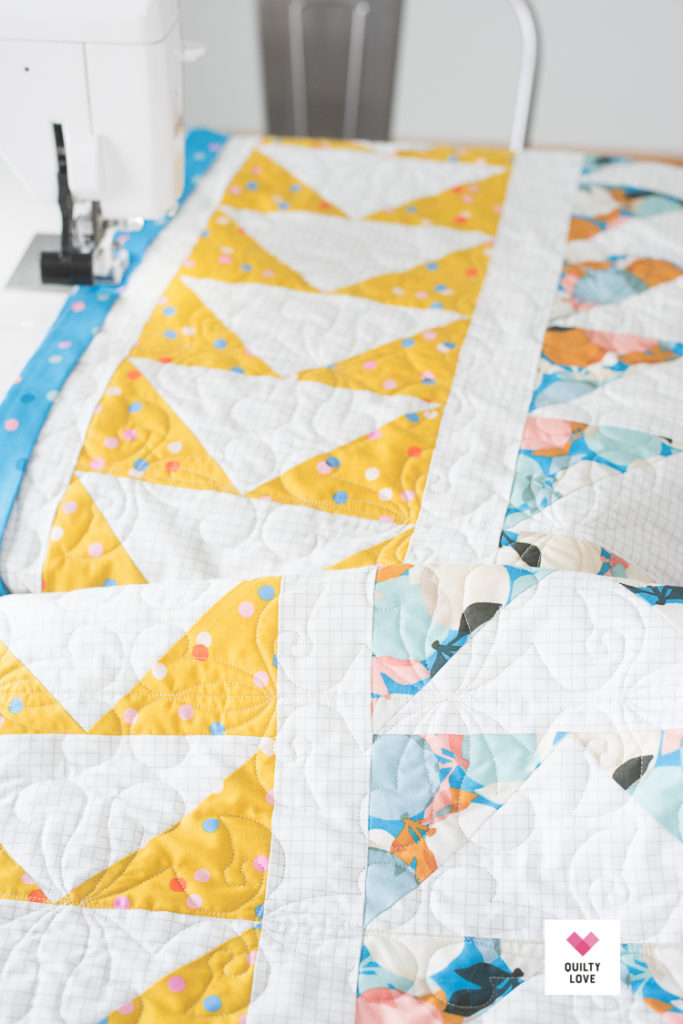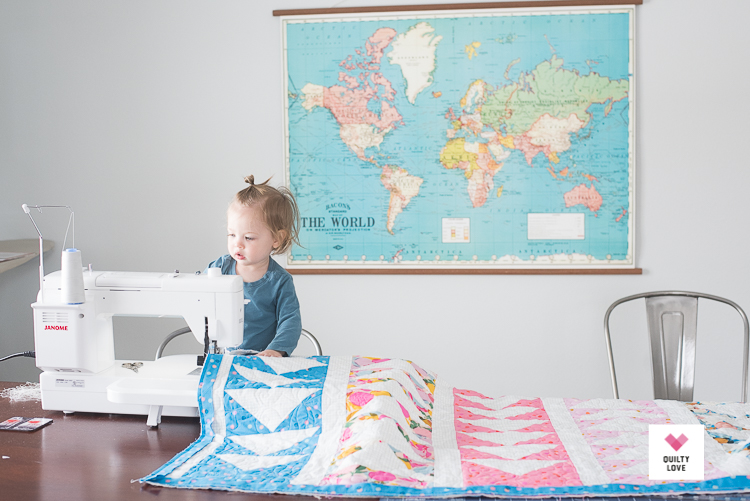 I had a little help binding this one…. yeah right… The babes is at the stage where if you leave a chair unattended for even a nanosecond she will climb it. It's like she has some 6th sense about unattended chairs….lol.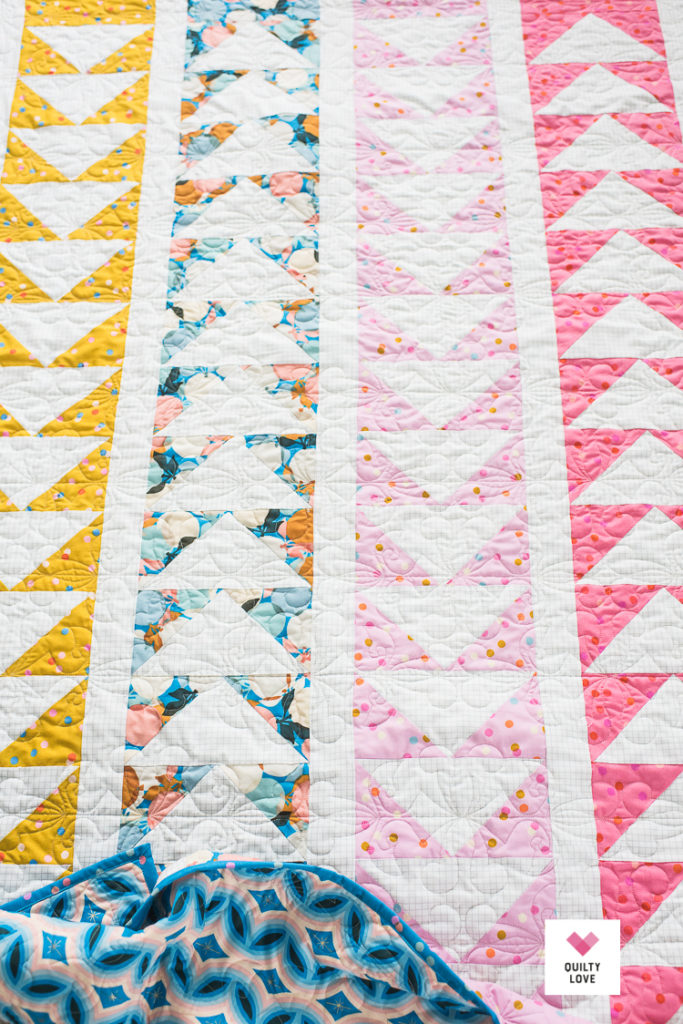 This Flying quilt is backed with another print from this Clementine line.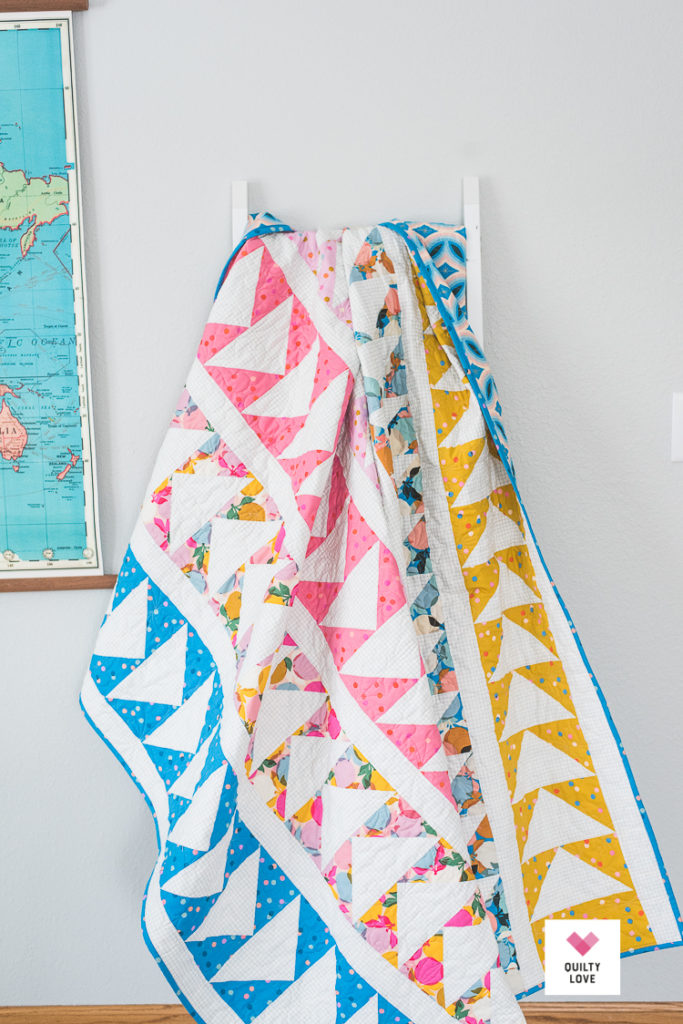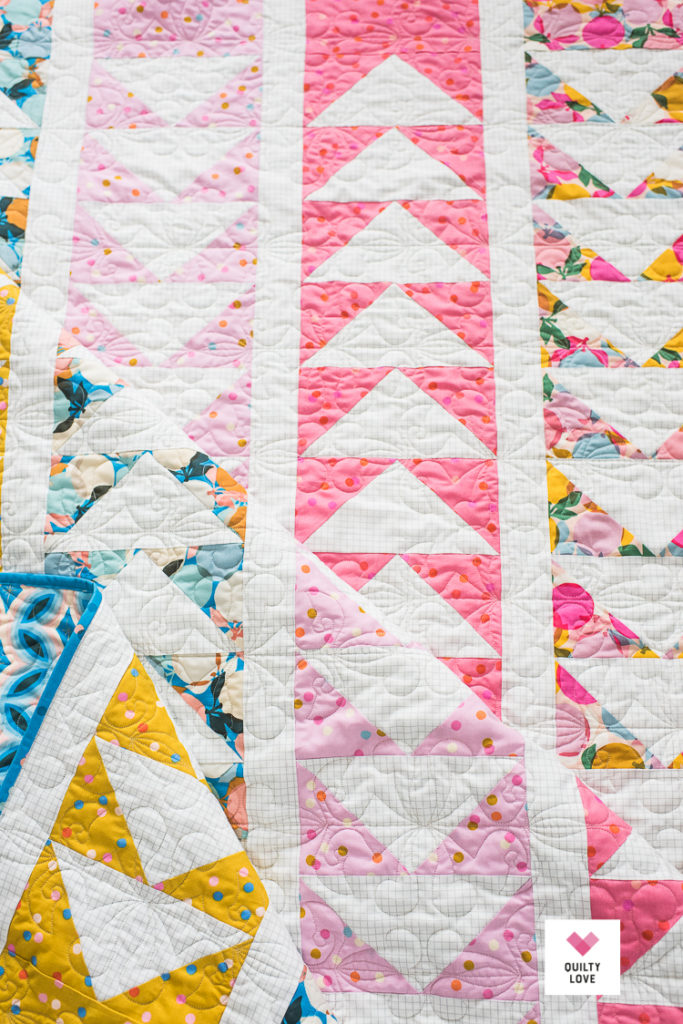 Between the happy colors in this flying geese quilt and the sunshine, I may have took a few more photos than needed 😉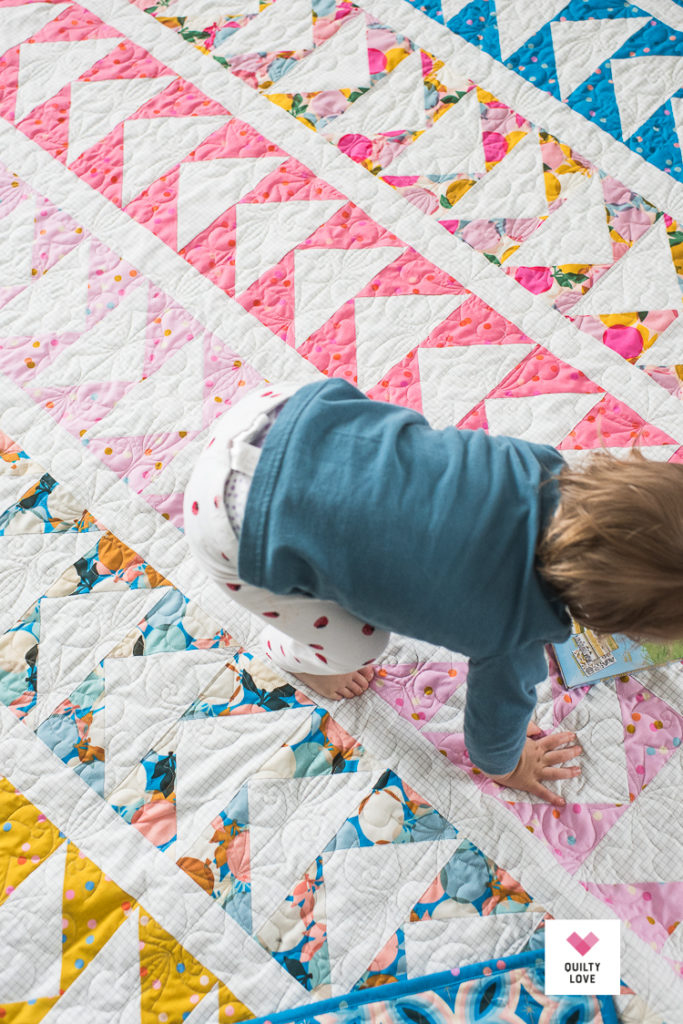 Oh look, my helper showed up again.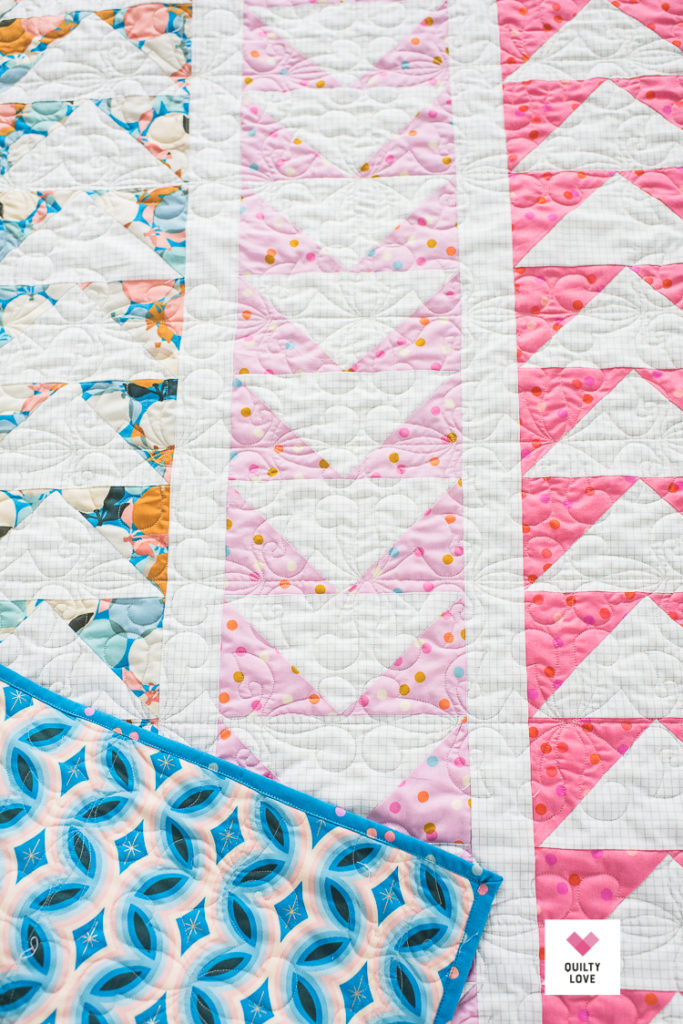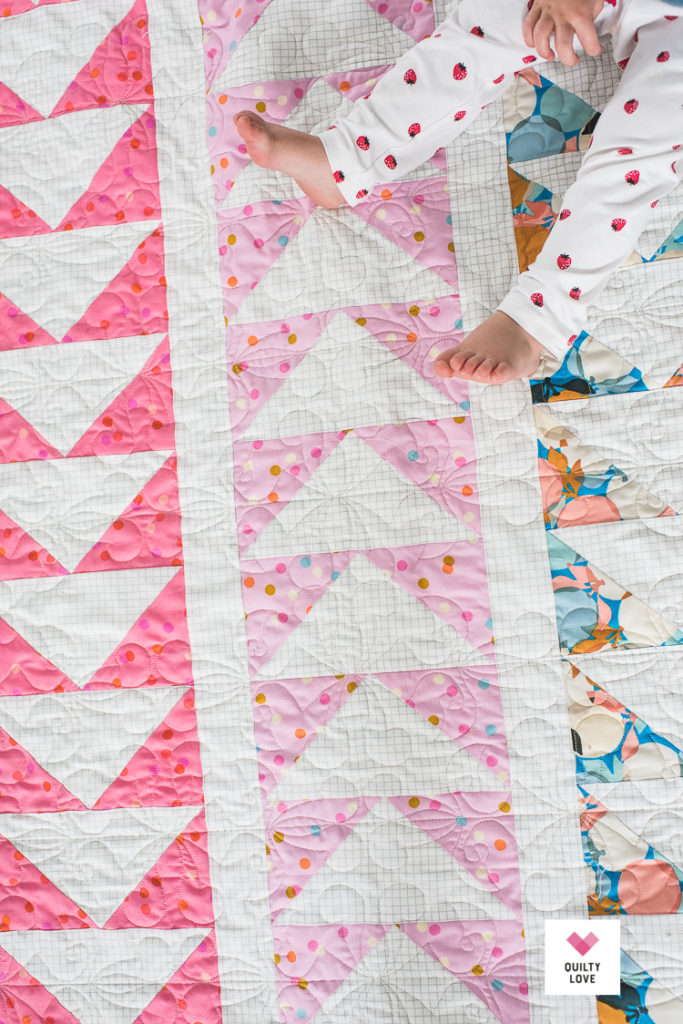 Polka dot fabric will always be a win in my book and this Clementine fabric line by Ruby Star Society does not disappoint. The polka dots in these fabrics are the reason it's a new favorite.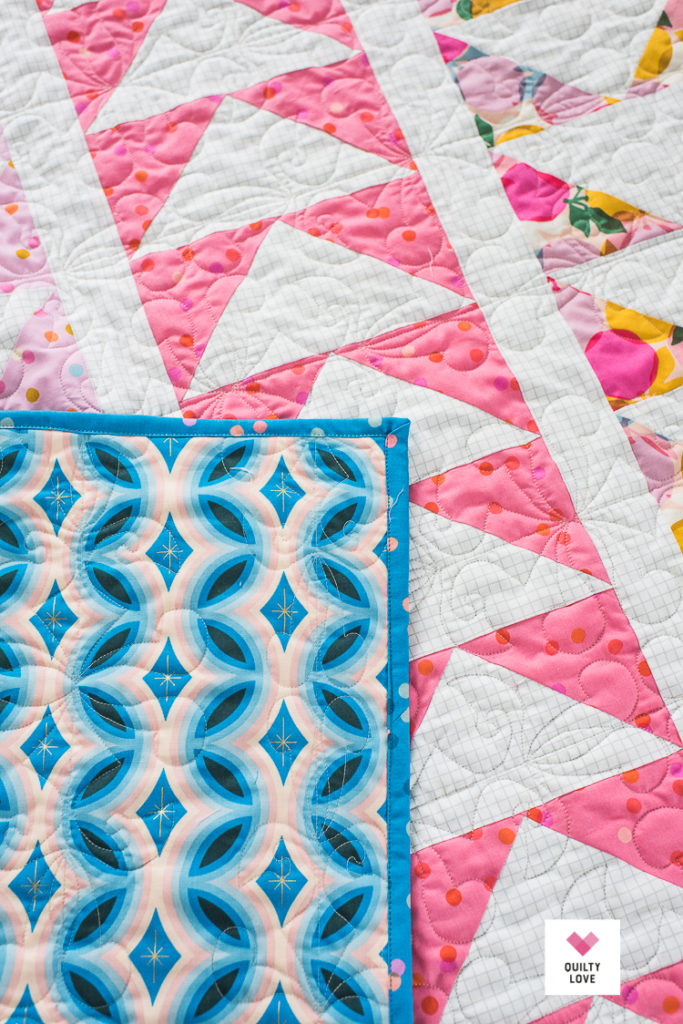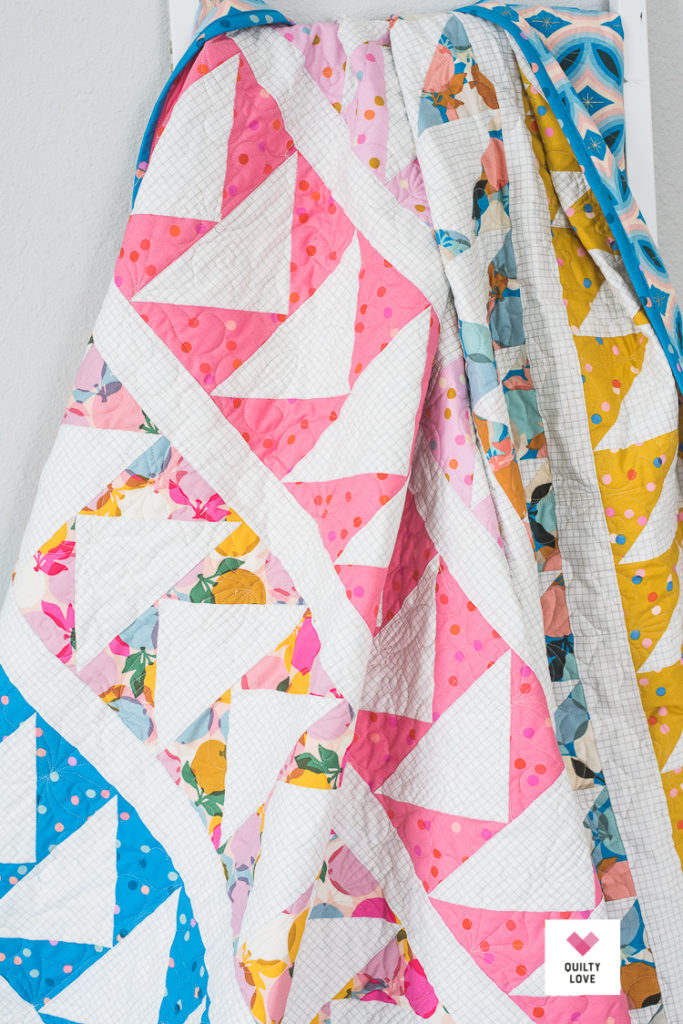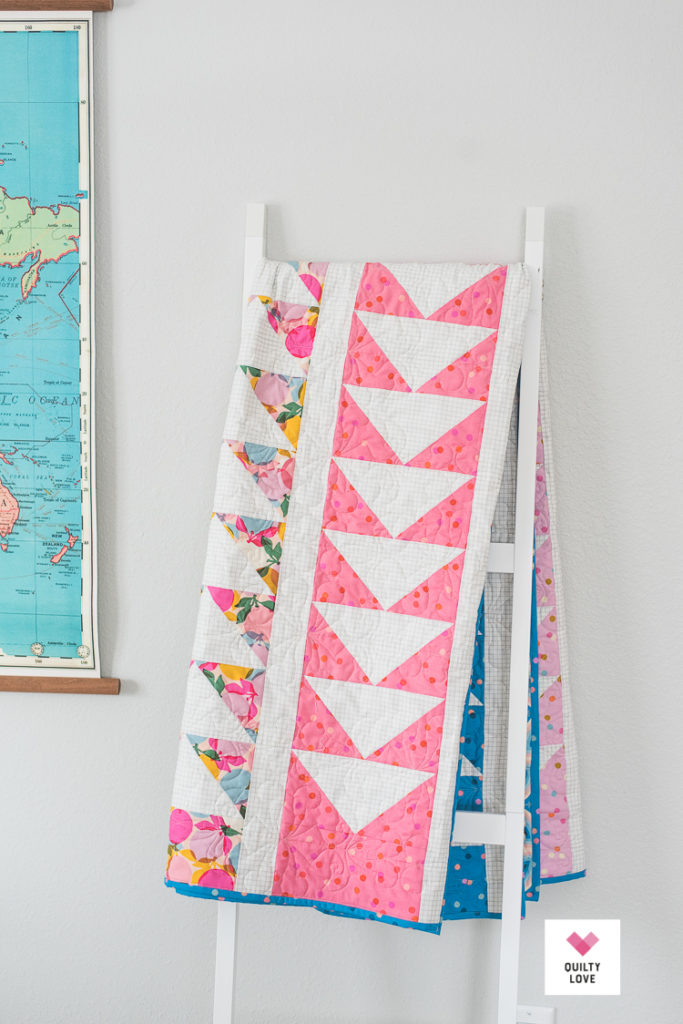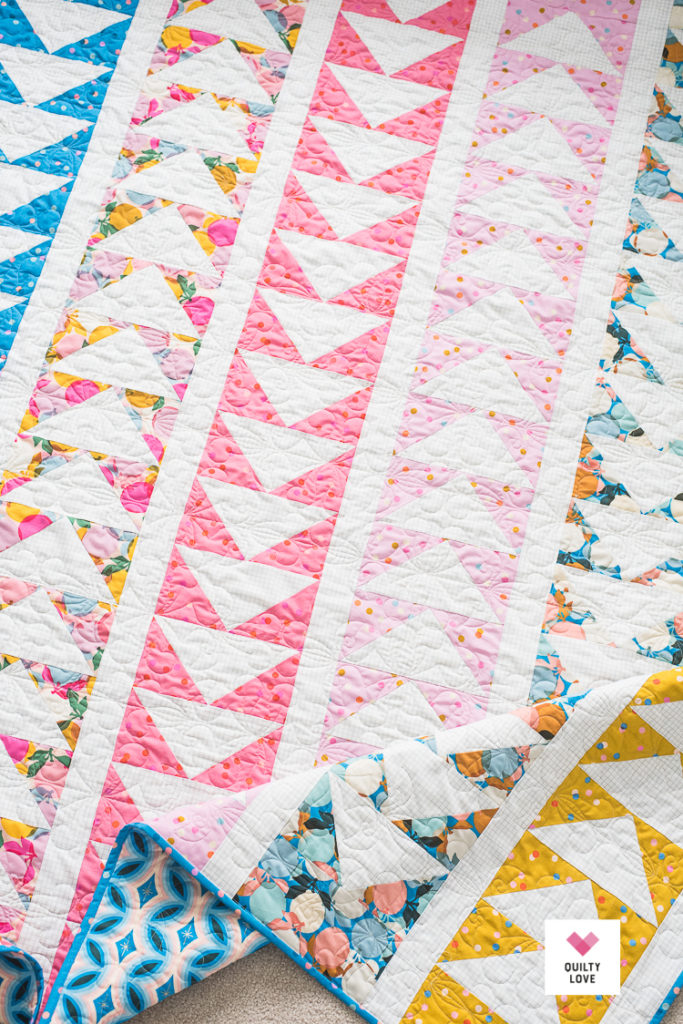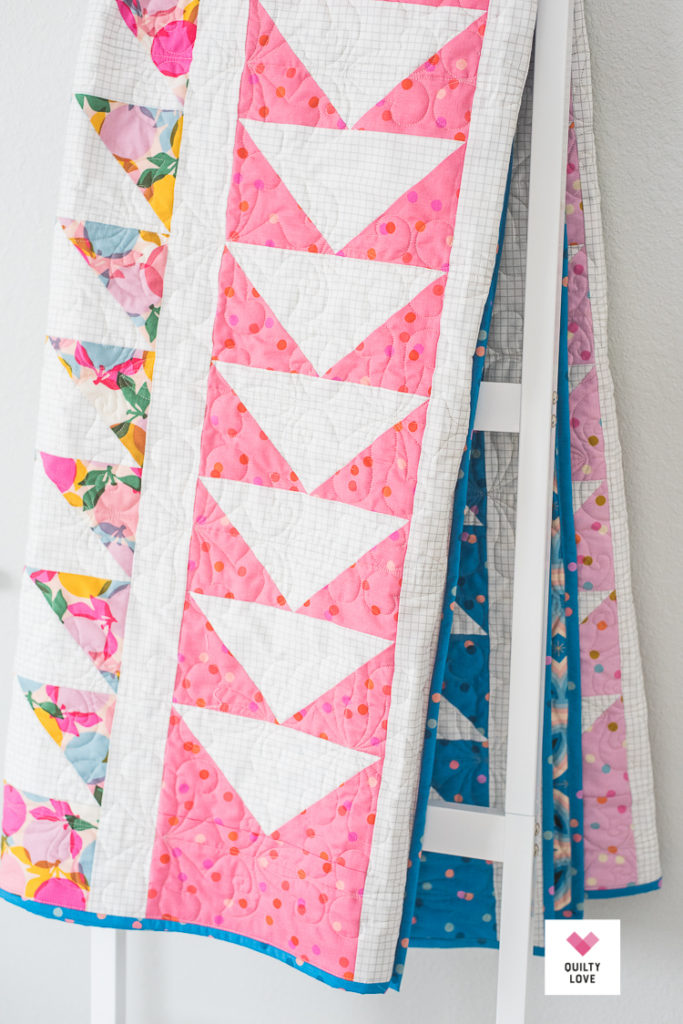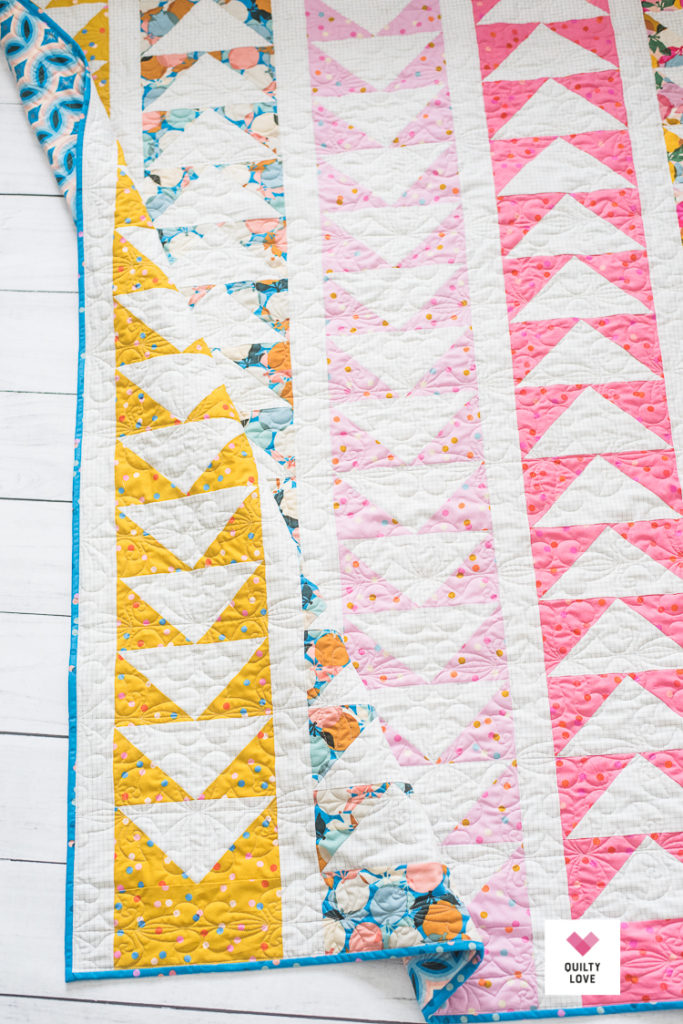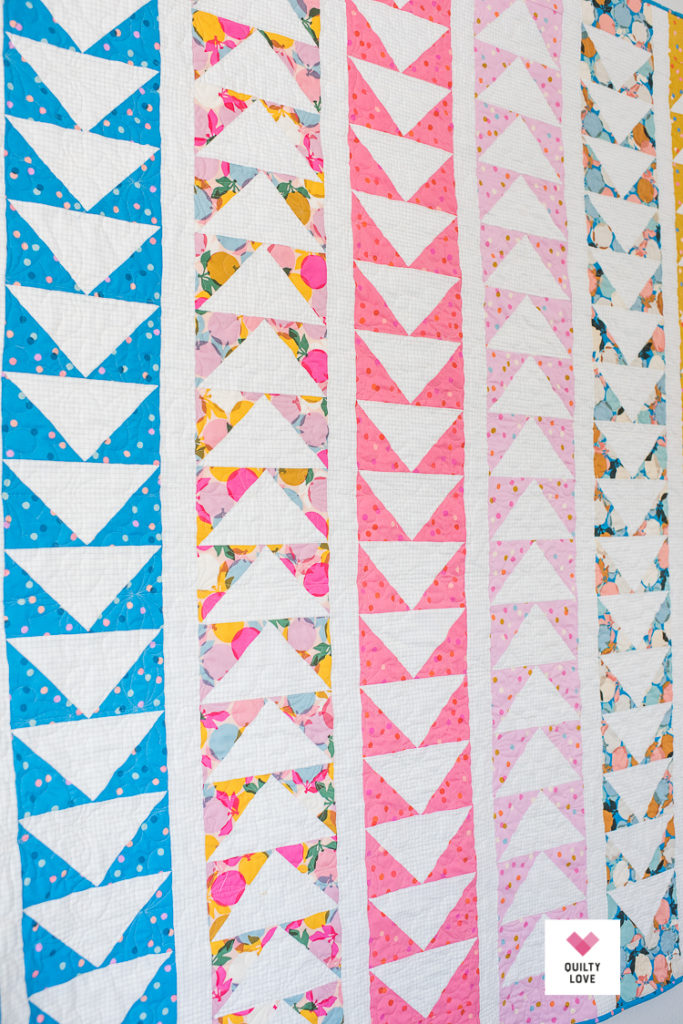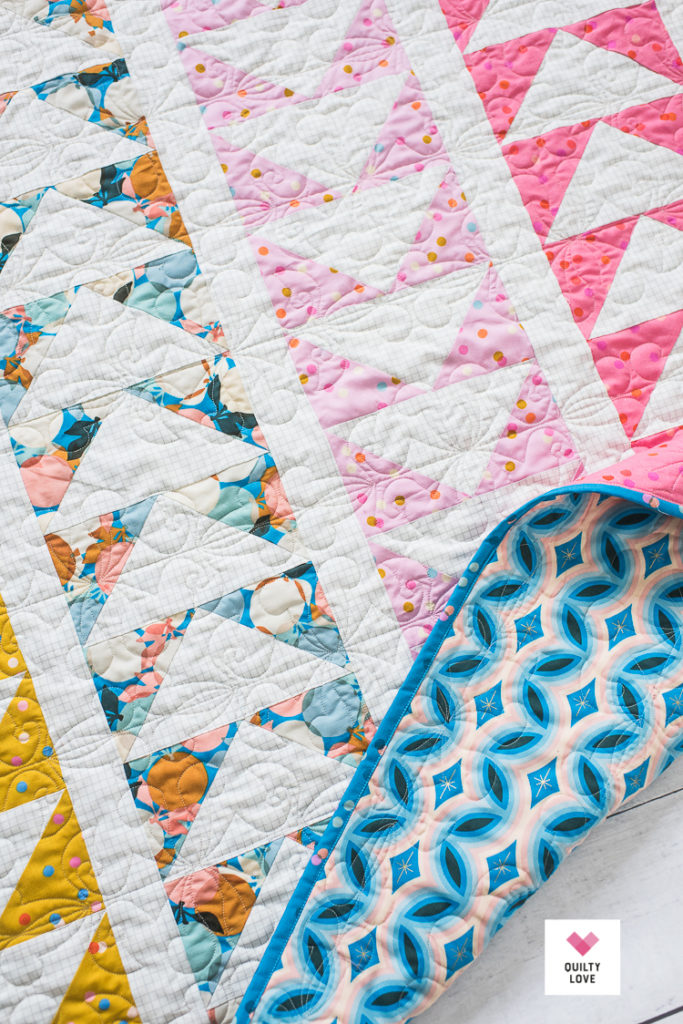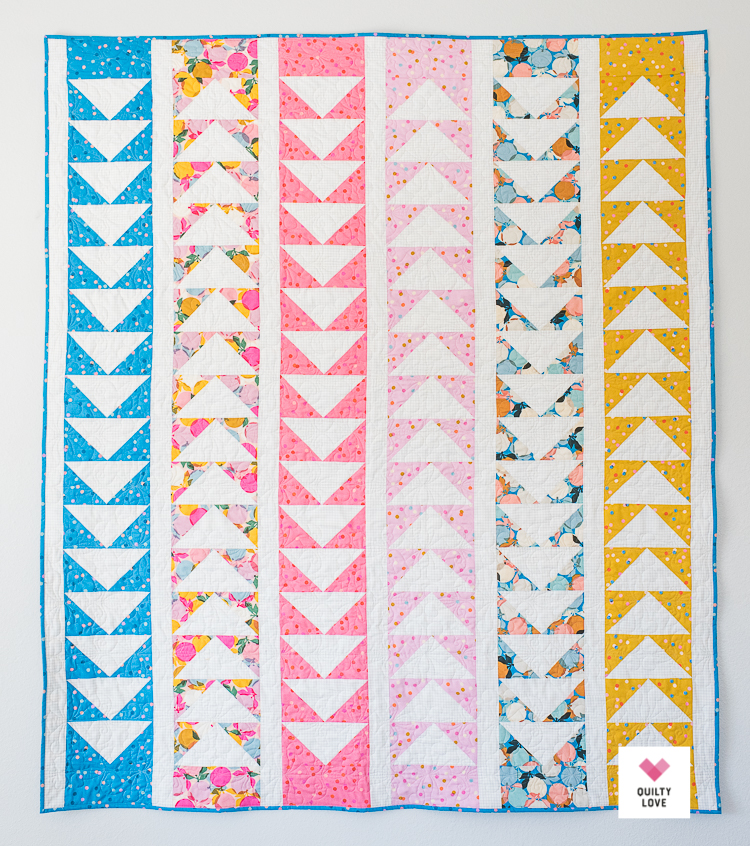 Flying can be found in the Quilty Love pattern shop as a PDF instant download or a printed booklet.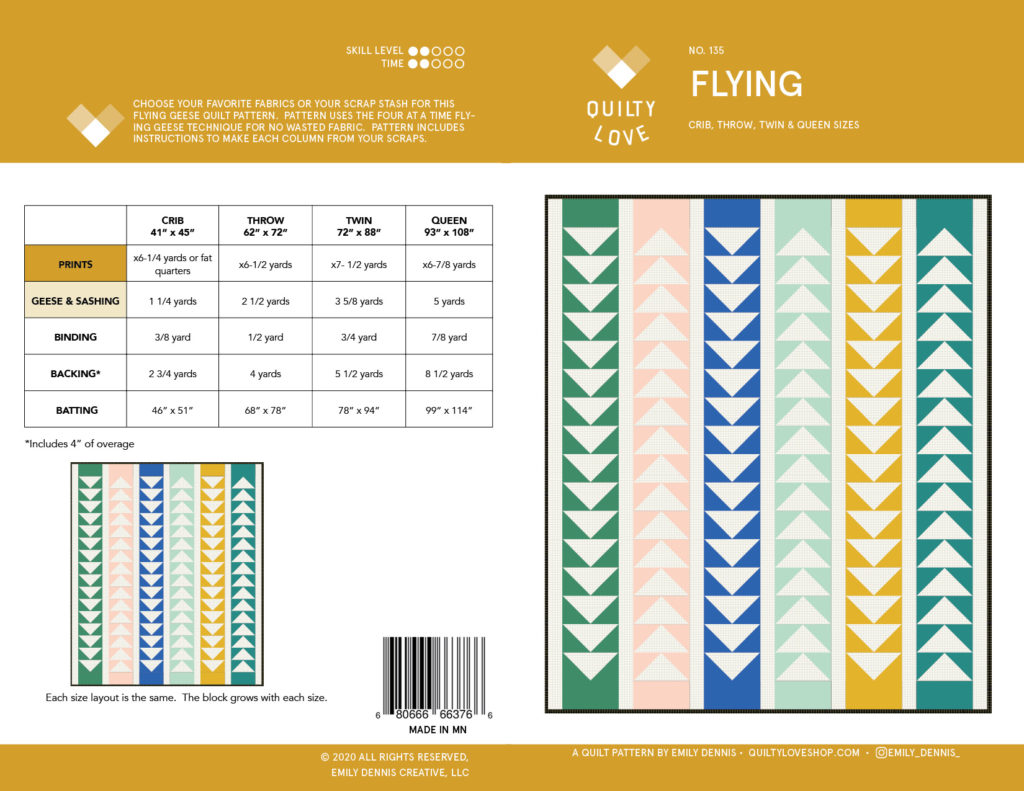 Materials:
Clementine fabric by Ruby Star Society
Background is Ruby Star Society Grid in the color Cloud
Pieced on a Janome MC6700p