Rainbow Ombre Lucky Log Cabins quilt
Do I have a colorful quilt to share with you today! Today's post is the Rainbow Ombre Lucky Log Cabins quilt.
If you have never sewn with ombre fabrics yet… run and get yourself some! They turn every quilt into magic!
The Lucky Log Cabins quilt pattern is available in the Quilty Love shop.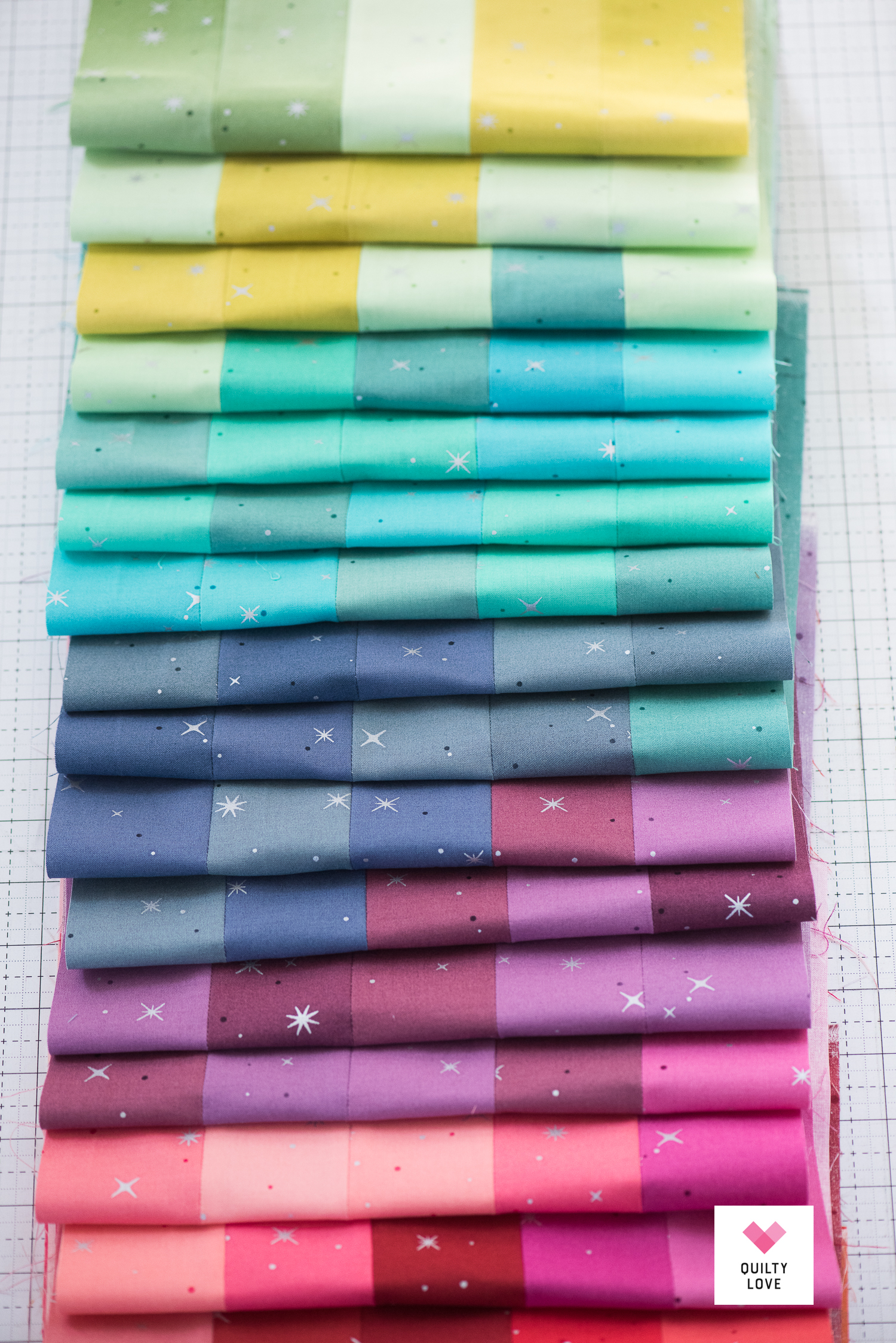 Ombre Lucky Log Cabins quilt kit
You can find an ombre Lucky Log Cabins quilt kit here! The kit includes all of the fabrics you need for the quilt top.
The quilt pattern is in my shop here.
Stash buster quilt pattern
Lucky Log Cabins is the first quilt in the new Stash Buster quilt series coming out over the next few months. This one is a true stash buster!
You can use various cuts from your stash such as fat quarters, fat eighths, jelly rolls or 1/4 yards. This stash buster quilt doesn't require any background fabric so it actually uses up that fabric in your stash!
You can see the pretty rainbow trimmings in the photo above. Those trimmings are all that get left when using fat quarters. So you really use up every square inch of a fat quarter.
Rainbow Ombre Lucky Log Cabins quilt
This ombre version of the Lucky Log Cabins quilt uses the popular VandCo ombre. This is the newest ombre fabric in the collection and it's called Fairy Dust Ombre.
You can find this exact quilt kit here!
Lucky Log Cabins would look amazing in any of the ombre lines!
Piecing this Ombre Lucky Log Cabins quilt
The nice thing about this Log Cabin look alike quilt is the fact that you don't have to overthink fabric placement. It's a quick and easy quilt because it has a lot of chain piecing and basically random piecing.
I placed like colors together when making my blocks and a lot of times the blocks were made from just one or two different fat quarters. Just flip the strips so the light and darks are on opposite sides as you piece your strip sets.
You can see some of my blocks actually bleed into another color. So my color placement isn't perfect but the nice thing about Ombre is that in the end it's going to look super cool! There is no need to overthink Ombre!
Modern Ombre Fade Quilt
I arranged my quilt blocks in an Ombre Fade. I stuck with the color order in the original bundle. So if you want to do something similar, keep your colors and strips in that general order as you work on the quilt.
I think Lucky Log Cabins would look really good with a completely random placement too! With each block being a mix of colors and no ombre fade. I might try that some day with all of my extra ombre fabric stash.
Lucky Log Cabins quilt
Lucky Log Cabins is a log cabin look alike. It's not a true log cabin quilt as the construction is a bit different. However, when I was creating this quilt, the fact that the end block looked similar to log cabins felt like a lucky find. That's where the name Lucky Log Cabins comes from.
A true log cabin quilt block is constructed by continuing to add "logs" to each side as the block grows. Lucky Log Cabins is a strip pieced quilt with a few shortcuts that end up looking like a log cabin block.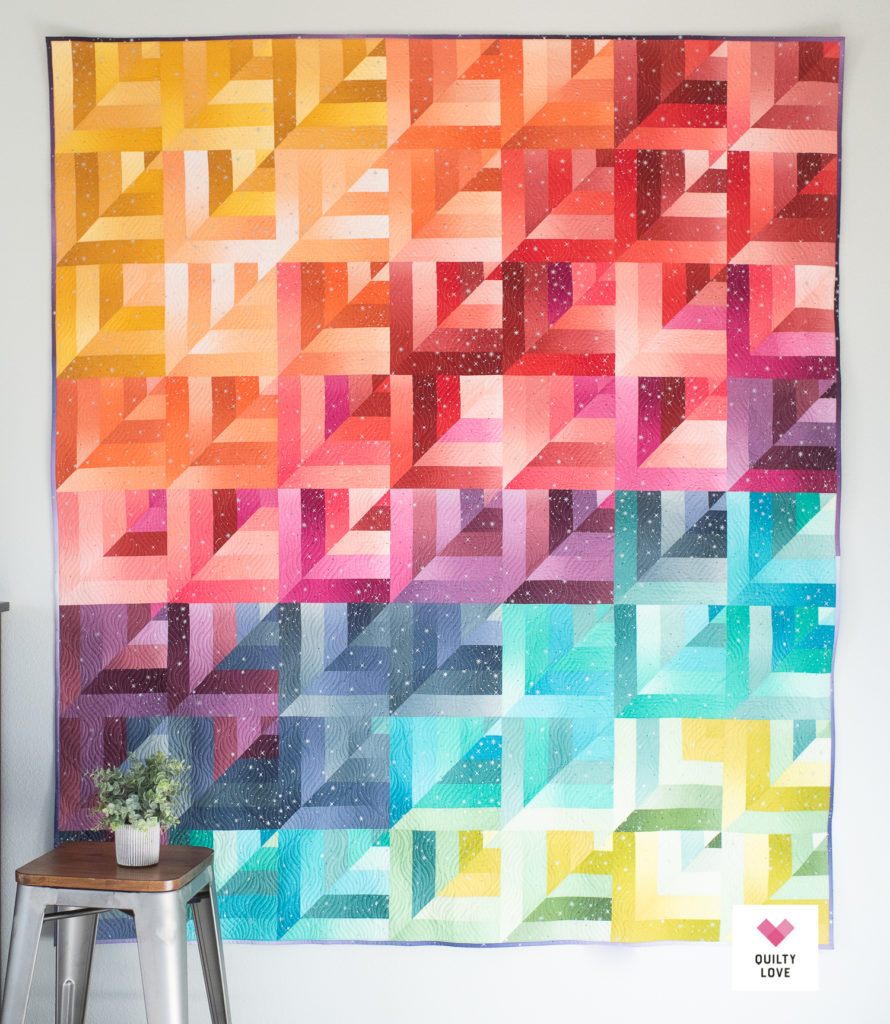 Jelly Roll quilt pattern
I'm really excited that Lucky Log Cabins ended up being such a great jelly roll friendly quilt pattern. Jelly Rolls are a really fun precut to collect but they require specific patterns since they are all 2.5in strips.
Lucky Log Cabins is the perfect way to use up those jelly rolls in our stash. Depending on the throw size you choose, you will need one to two jelly rolls.
Lucky Log Cabin Quilt sizes
This rainbow ombre Lucky Log Cabins quilt is the large throw size. You will also find a baby size, lap size, medium throw size, twin size, full size, queen size and king size in the pattern instructions.
The fact that this quilt pattern is super stash friendly and includes any size quilt you could possibly need, its super versatile. Have I mentioned how fun and addicting this one is too?! It's going to be the quilt pattern you can reach for again and again.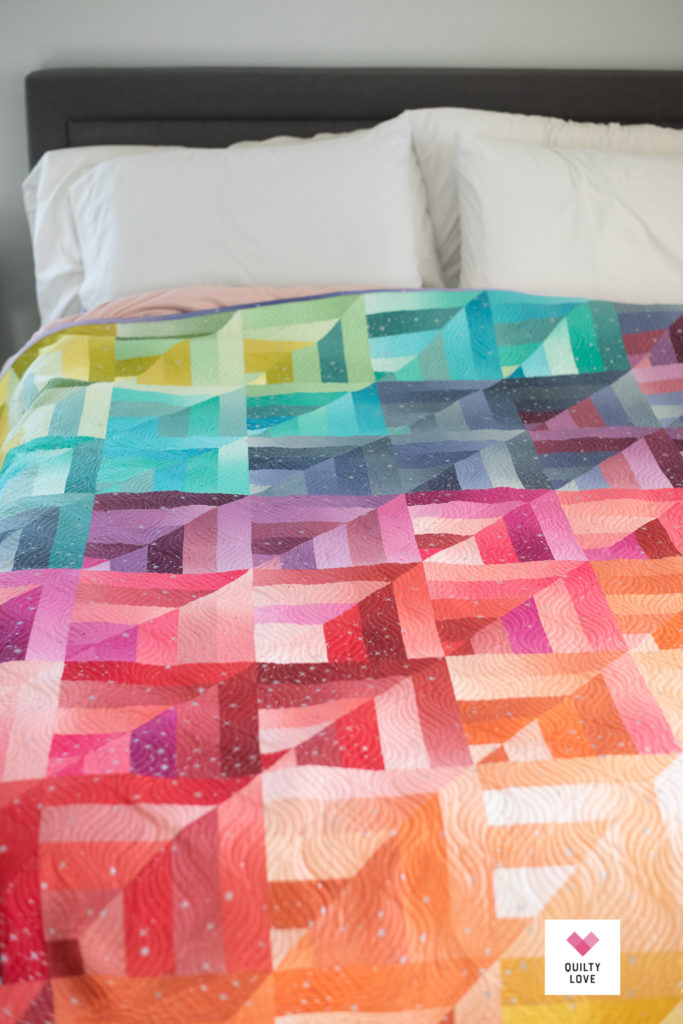 The quilting on this Rainbow Ombre Lucky Log Cabins quilt
I sent this rainbow Lucky Log Cabins quilt off to a long arm quilter. Jenae of Vintage Stitch did an amazing job finishing off this colorful quilt. I love this quilting design she chose as it adds a lot of movement to this already glowing quilt. I highly recommend Jenae! She has done a handful of quilts for me lately and all look amazing!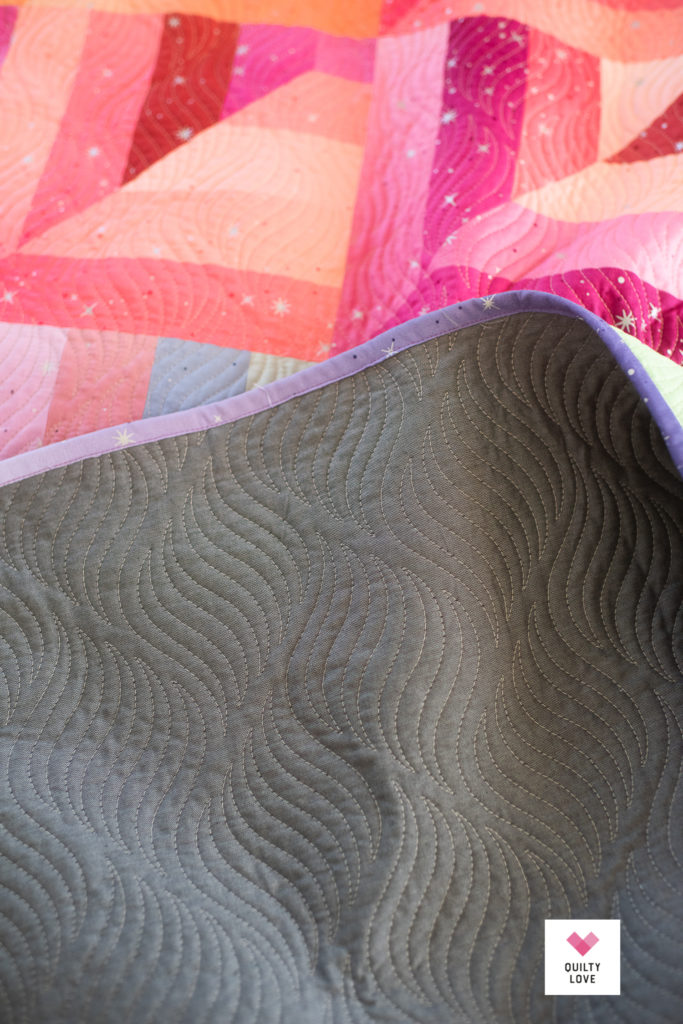 Ombre Lucky Log Cabins backing and binding
The backing of this super colorful rainbow quilt is a peppered cotton wideback. I had this grey wideback fabric on hand so it was an easy choice to use. I tend to tone down my ombre quilts with pretty neutral backings.
The binding is a purple ombre from the VandCo Ombre Fairy Dust fabric line. I believe its two purple fat quarters from the bundle that I didn't use in the quilt.
Any one of the ombres will work well as a binding for an ombre quilt. If you have extra Ombre fabrics you could even use them to make a scrappy binding. That would look really good on an ombre quilt like this.
Quick and easy quilt pattern
The ombre fabrics in this Lucky Log Cabins quilt make this look more intense and involved than it is. This modern log cabin look alike quilt is super fast and easy and such a great way to use up the ombre in your stash.
Or just your stash in general! Below are some of the other Lucky Log Cabin quilts I've made! I'll add links below as the blog posts become available.
Check out this blog post if you need some tips and tricks for mixing fabrics and making bundles from your stash!
Flannel Lucky Log Cabins – not blogged yet
Solids Lucky Log Cabins quilt blog post
Figo Fabrics Lucky Log Cabins quilt – not blogged yet