Friendly Stars Quilt: The Kona Solids One
Friendly Stars Quilt – A modern take on the traditional Friendship Star block
I'm excited to share this version of Friendly Stars quilt today.  Lately I have really been loving solids and have the urge to remake a lot of my quilt patterns in solids.  I plan to do just that 😉  I started with Friendly Stars.
Friendly Stars is available in the Quilty Love Pattern Shop.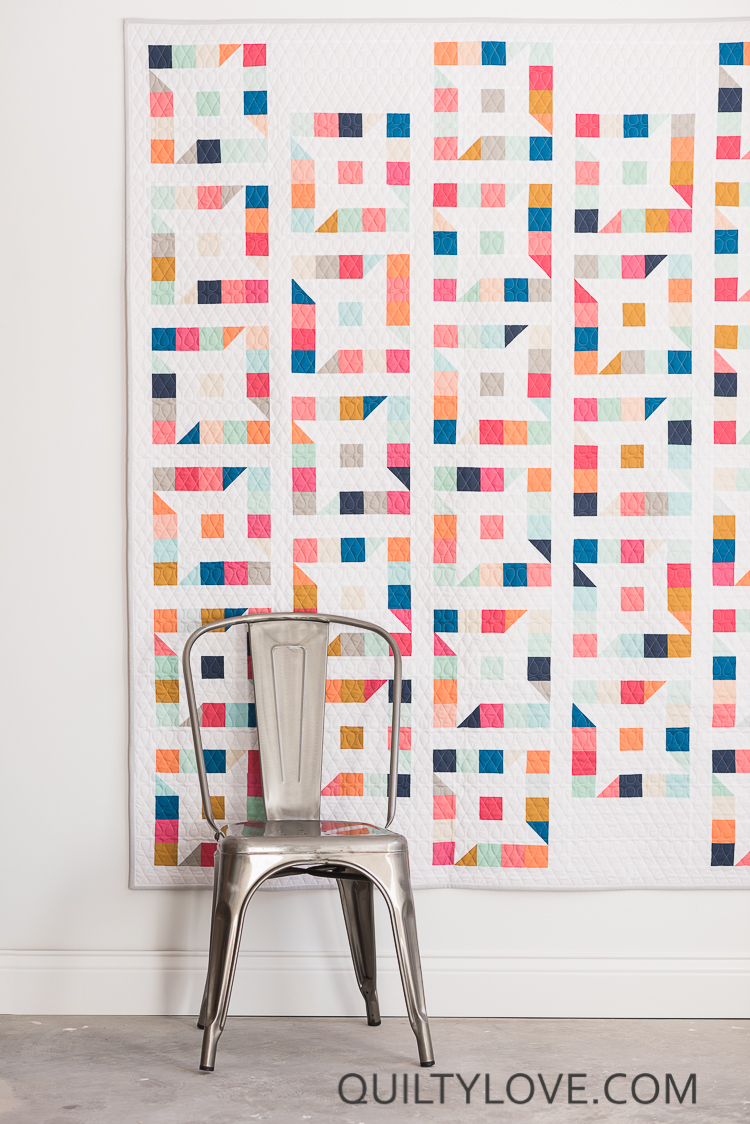 Friendly Stars quilt is formerly the Ninja Stars quilt.  I renamed it, redesigned it and rebranded it 🙂  I found out recently that the name of the star in this quilt block is often referred to as a Friendship Star.  Since I never did love the name of this quilt I renamed it to match the name of the star.
I thought this quilt would look really fun in bright and colorful solids  so I couldn't resist finding out if that would be the case.  As I was making it, I loved how the blocks looked before rounding out the corners so I kept them square.  I think I like it more than the original.  I've updated the pattern to include both versions.
Jelly Roll and Fat Quarter friendly
Friendly Stars quilt is a really good Jelly Roll quilt but also includes instructions for Fat Quarters.  Or use yardage instead of a jelly roll.  Or use your scrap stash for the scrappy version.  It's full of options including a scrappy version, non scrappy version, rounded corners or square corners.
Strip piecing shortcuts
Friendly stars also includes strip piecing shortcuts for faster quilt construction.  I used strip piecing for this version since I was using WOF strips.  Strip piecing is when you can sew many long strips together and then trim those long pieced strips to the sizes you need.  It saves a lot of time sewing and pressing.
Baby and Throw Sizes
Friendly Stars includes instructions for a baby size quilt or throw size quilt.
This version is the scrappy throw size quilt without the optional rounded corners.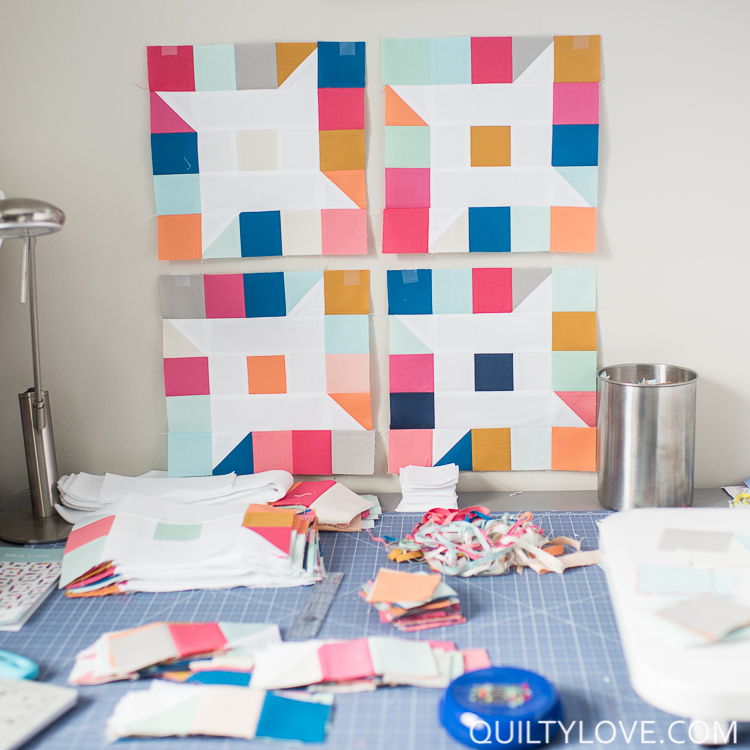 Friendly Stars is made up of these Robert Kaufman Kona Cotton Solids:
Putty
Windsor
Aqua
Camellia
Sky
Pond
Silver
Pink Flamingo
Yarrow
Azure
Punch
Mediterranean
Ice Frappe
Mango
 
Quilting and Backing
Friendly Stars is backed in this fun speckled print by Jen Kingwell for Moda Fabrics.  The quilting was done by Kaitlyn of Knot and Thread Design.  The modern loops quilting design turned out so fun on this geometric quilt.
Binding
Friendly stars is finished off with a Kona Silver binding.  One of my go to binding colors is Kona Silver but I kind of forgot about it since I haven't used it in a while.  It seemed like the perfect neutral for this colorful quilt.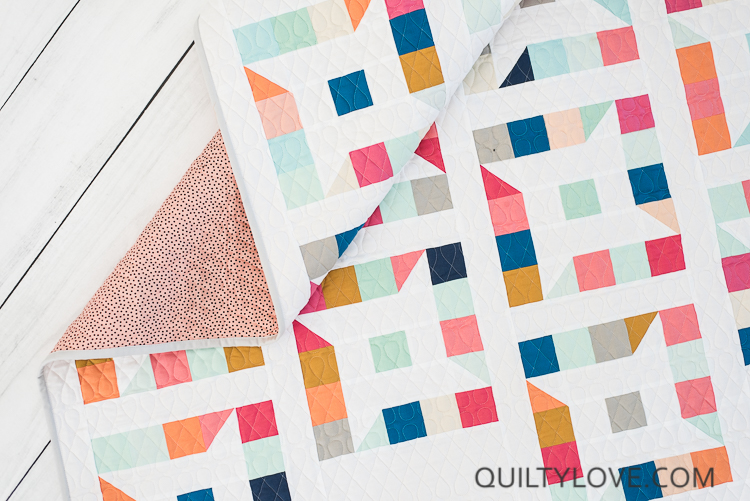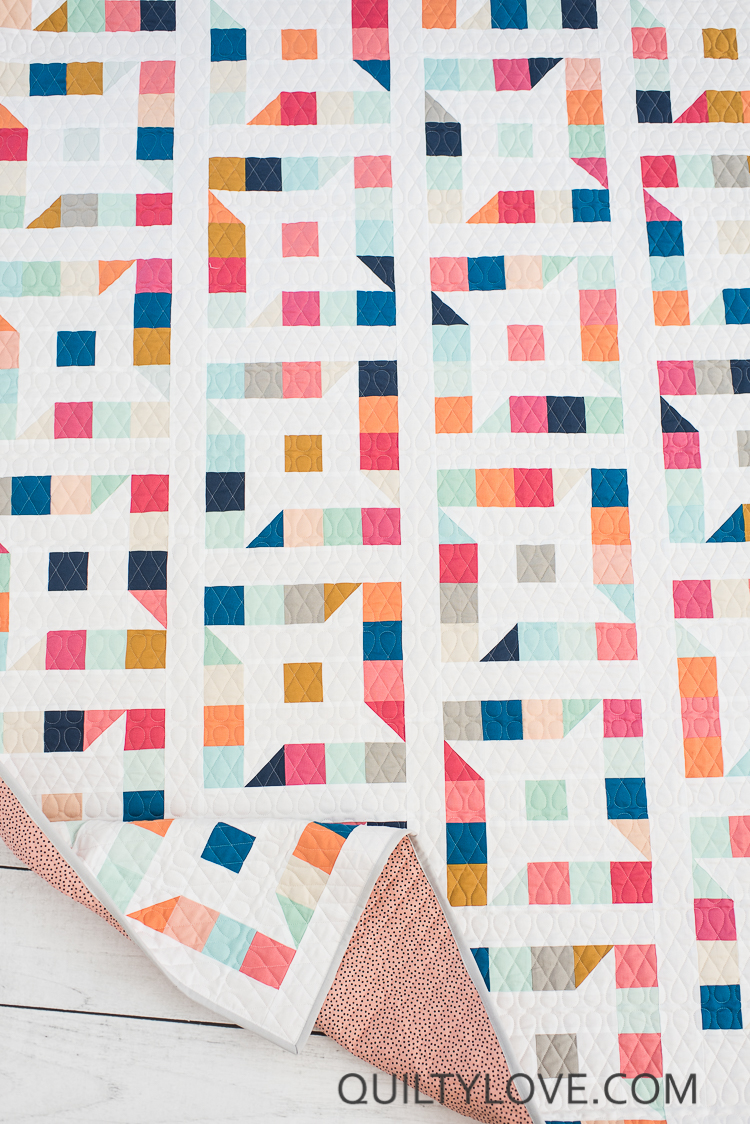 If you follow along on Instagram you have been getting updates about my quilting studio.  It's getting remodeled and I'm anxiously waiting to move in.  I  tested it out with the photo below the other day and now I'm more excited than ever.  The space gets really good natural light which will make taking quilt photos all the easier. 
Find Friendly Stars in the pattern shop:
Materials Used:
Kona Cotton Solids
Jen Kingwell Speckled backing
Spray Starch
My favorite quilt rulers
Pieced on a Janome MC6700p