Happy Stripes quilt pattern – Starry Fabrics Stash Buster
Today I'm so excited to share the Happy Stripes quilt pattern! Happy Stripes is the latest in the Quilty Love Stash Buster quilt pattern series. The stash buster quilt pattern series was created to help quilters sew through their stash. The idea behind these stash buster patterns is that you can grab some fabrics from your stash and start sewing.
Happy Stripes is a fast and easy strip pieced quilt. This one uses fat quarters, layer cake squares, jelly roll strips or your scrap stash. Use additional fat quarters as the accent fabric or find some coordinating yardage in your stash.
The Happy Stripes quilt pattern is available in the Quilty Love pattern shop. Check out all of the other Stash Buster quilt patterns here.
Happy Stripes Quilt Pattern
Happy Stripes is a fast and easy stash buster quilt pattern. One of these first versions I sewed up of this new stash buster is this Starry Fabrics version. It turned out so happy looking that I had to name it Happy Stripes.
Happy Stripes comes in tons of quilt sizes and can use a variety of fabrics.
Ruby Star Society Starry Fabrics
I'm obsessed with this new Starry fabric line by Ruby Star Society. It comes in the happiest assortment of colors. This is the second cover quilt using Starry. The first was this Star Pop quilt. Currently it's not a basic but I sure hope Ruby Star Society turns it into one! For that reason it might be hard to find soon as a lot of the colors are already sold out with the manufacturer.
I have some bundles in my shop or you can find it here. I used 14 fat quarters and one yard of of the light Starry fabric as an accent.
Stash Buster Quilt Pattern
The Happy Stripes quilt pattern is part of the Quilty Love Stash Buster quilt pattern series. I started this pattern series a couple of years ago as a way to provide quick and easy patterns that will help quilters sew through their stash.
I've always considered myself a little bit of a minimalist quilter in that I don't enjoy collecting fabrics. I get overwhelmed when my fabric stash starts to get too big. Maybe that's why I make so many quilts…I feel a need to sew through my fabric…haha.
These quilt patterns are made for your fabric stash. Of course, they don't have to use your current stash but if you need some help in that area, these stash buster patterns are perfect for that.
Most of these stash buster quilt patterns don't have a background or accent fabric. Happy Stripes is the first in the series that has an accent fabric but I made sure that fat quarters or your stash could be used for that also.
This Starry fabrics version uses yardage as the accent but other samples show fat quarters as the accent.
All the quilt sizes
Happy Stripes includes all of the quilt sizes from Baby all the way up to King:
Baby Size quilt
Small throw size quilt
Medium throw size quilt (pictured here)
Large throw size quilt – my fave 🙂
Twin size bed quilt
Full size bed quilt
Queen size bed quilt
King sizes bed quilt
Pre-cut and stash friendly quilt pattern
Happy Stripes is stash friendly! Use your fabric stash or even your scrap stash to sew up this fun and easy quilt pattern.
Use fat quarters, layer cake squares, jelly roll strips or half yards for Happy Stripes.
Jelly Roll or Layer Cake friendly quilt pattern
Happy Stripes is a jelly roll and a layer cake friendly quilt pattern! I love when Layer Cakes (10″ squares) and jelly roll strips work in a quilt pattern. See the material requirements in the shop listing (last photo) for the number of layer cake squares and jelly roll strips to use for each quilt size.
Happy Stripes Long Arm Quilting
This Starry Happy Stripes quilt was sent off to Modern Textiles for long arm quilting. We chose this Abacus pantograph. We used Abacus on my Starry Star Pop quilt as well and loved how it looked so we used it again 🙂
I recently bought some quilt labels from Dutch Labels. I've been wanting to get labels for so long and I'm so glad I finally did. It's such a nice touch to finish off a quilt.
Happy Stripes is a fun one! If you enjoyed Lucky Log Cabins then you will for sure love this one. Just like Lucky Log Cabins, it's hard to stop at just one. You will be eyeing up your fabric stash wondering how it all looks in a Happy Stripes quilt 🙂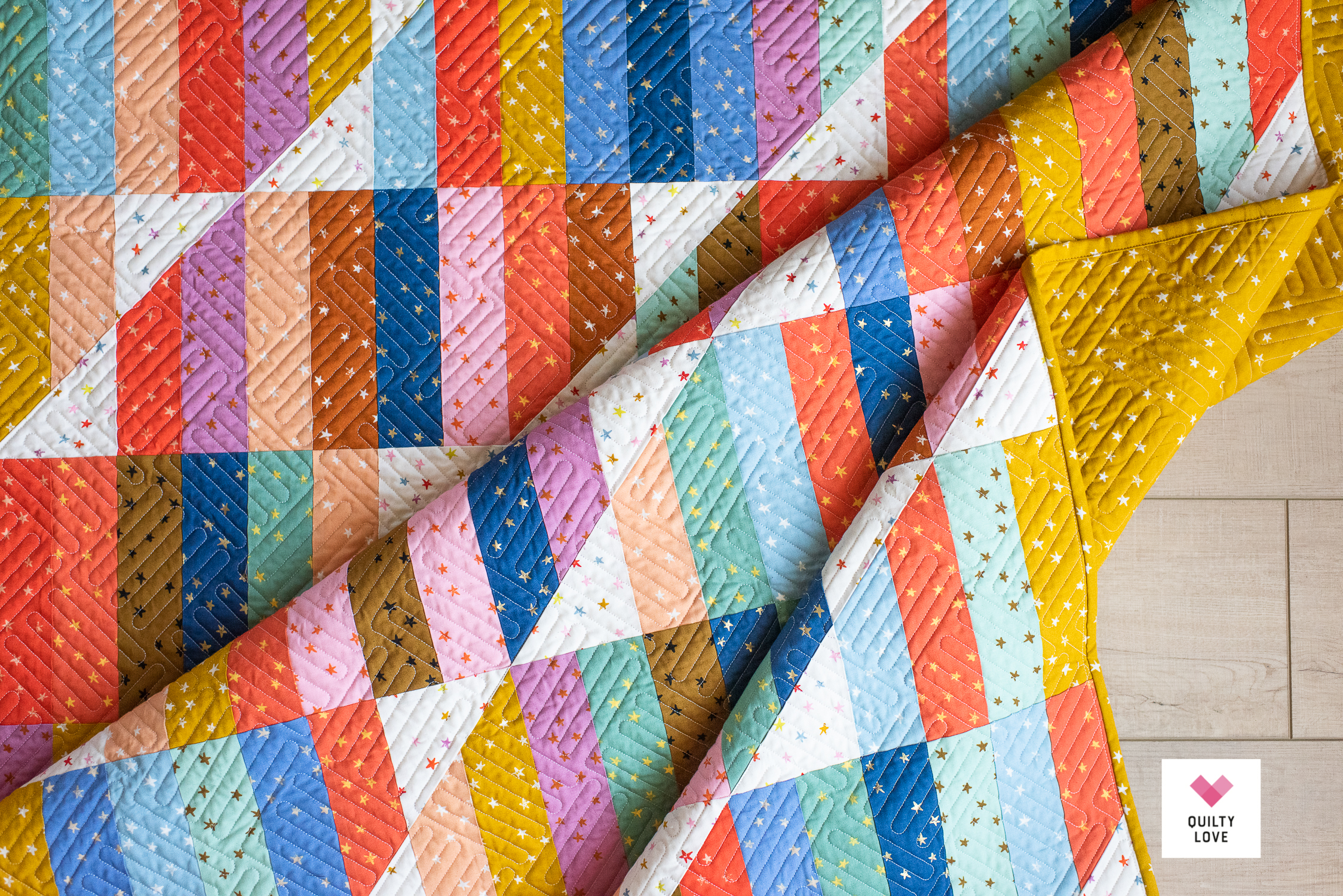 Bonus Quilt Pattern included with Happy Stripes
Happy Stripes includes two bonus patterns! There are some extra cut off half square triangles from Happy Stripes that you can turn into a cute little baby quilt.
One option is the simple patchwork quilt. I used all of the cut of half square triangles from the medium throw size to make a small little baby quilt. It turned out just as cute and happy as Happy Stripes.
The other bonus pattern is a sawtooth star quilt.
This cute little patchwork baby quilt turned out so happy! I added some additional rainbow starry fabric as the background to keep it nice and simple.
Wavy Stitch Quilting
I quilted this bonus baby quilt up myself using the wavy stitch quilting method.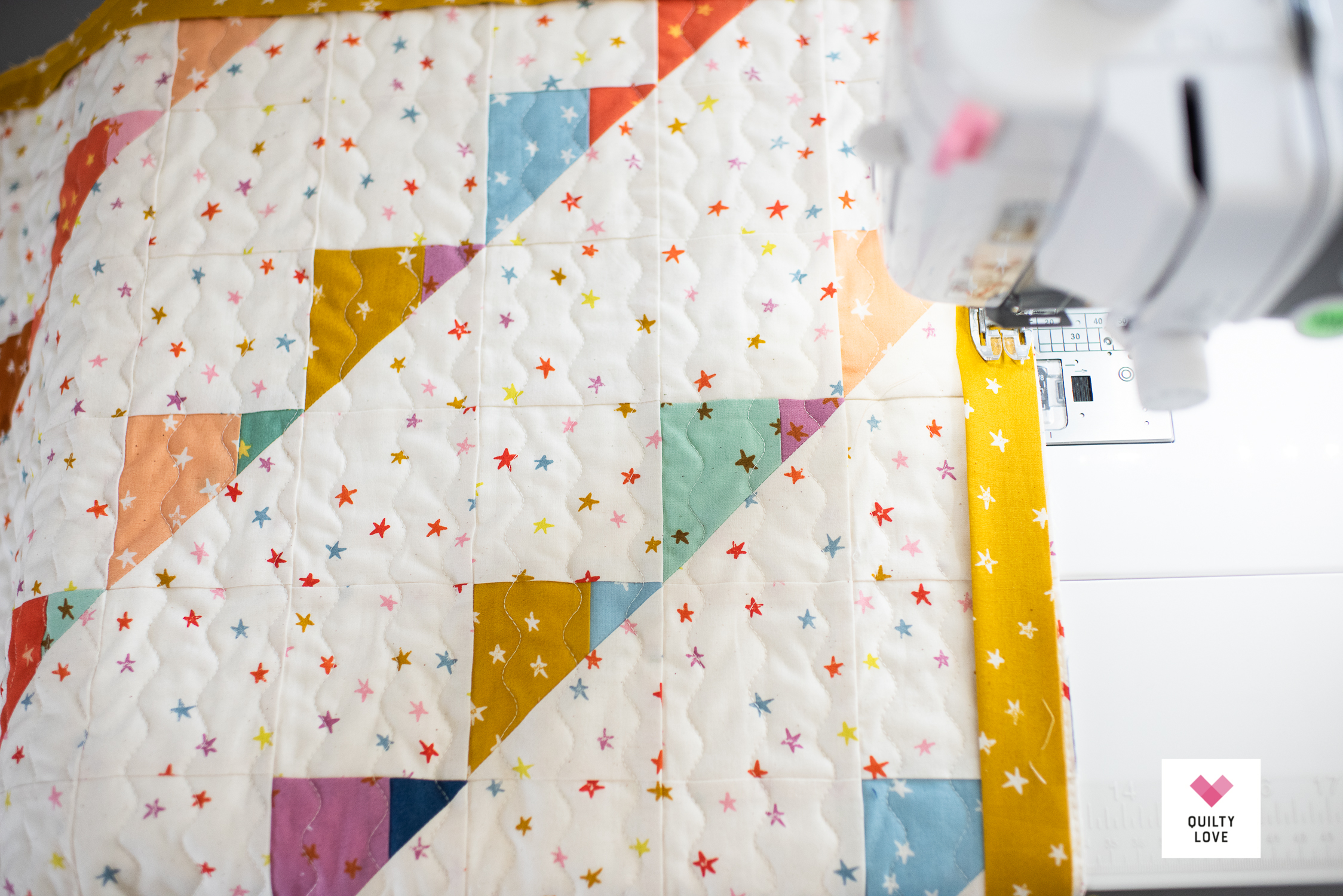 Starry Happy Stripes Materials Used:
Quilt pattern: Happy Stripes quilt pattern by Quilty Love
Fabrics: Starry fabrics by Ruby Star Society
Pieced on my Janome MC6700P
Long Arm Quilted by Modern Textiles