Hexie Framed Quilt – The essex linen one
Today I'm sharing this Hexie framed quilt using my favorite Essex linen fabrics.  Hexie framed is my first quilt pattern!  I've since revised the pattern and added a larger size hexie.  This hexie framed quilt uses the larger size.
Hexie Framed is such a rewarding quilt to sew together and it's a good one for using your very favorite fabrics.  This quilt uses traditional piecing with no Y seams.   This larger size hexagon is fat quarter friendly or pull from your scrap stash.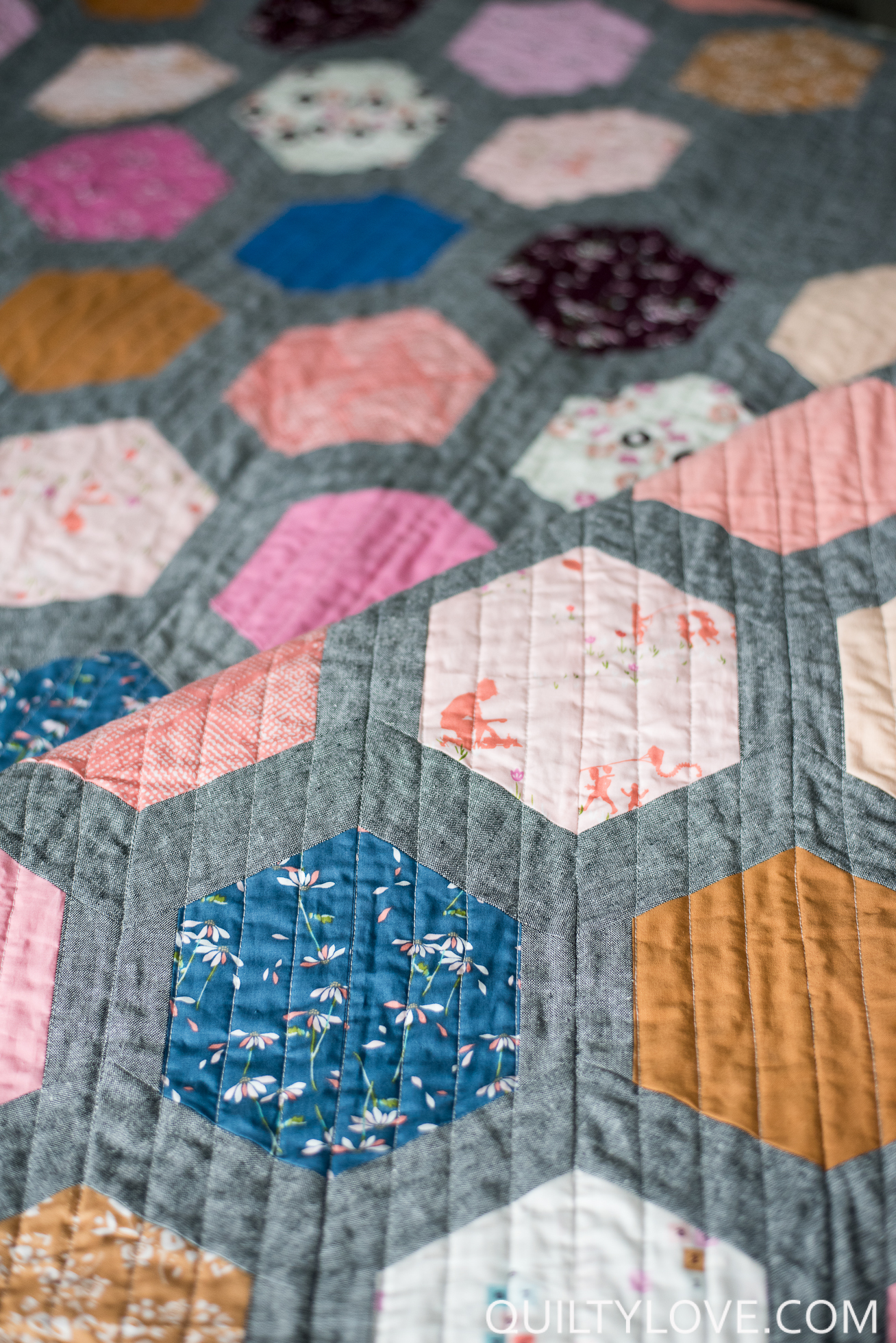 I love using Essex linen in my quilts but I don't recommend it for beginners.  I was a little hesitant to use it in this quilt with all of the bias edges.  You really need to be careful not to stretch it as it does stretch very easily.
I wrote an article all about quilting with Essex Linen here.   My number one tip… starch, starch and starch some more.  I use this starch liberally with most of my quilt piecing.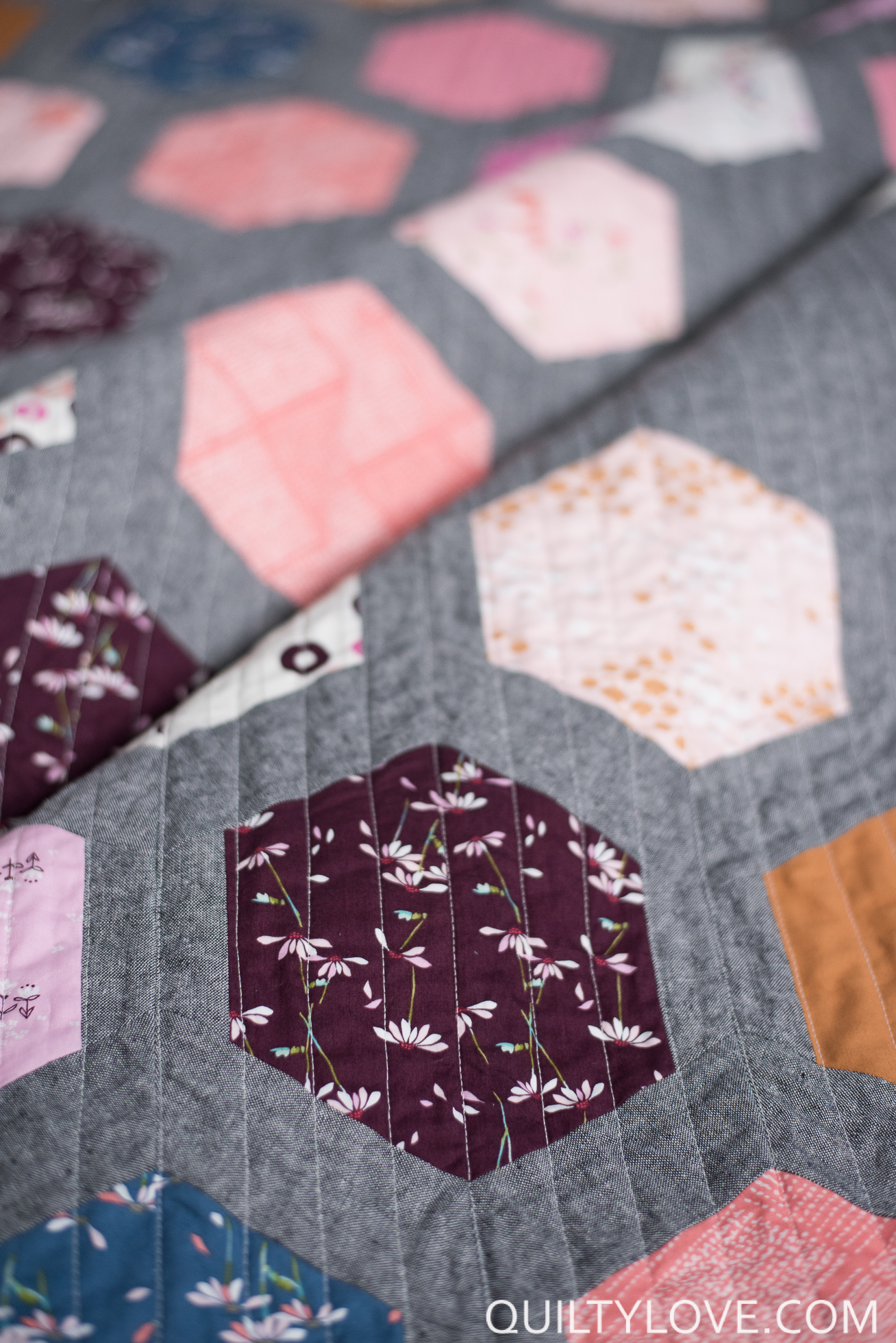 These fabrics are Playground fabrics by Amy Sinibaldi for Art Gallery Fabrics.  Such an adorable line and great color scheme.   I love everything Amy designs.  
Hexie Framed is straight line quilted using my walking foot.  I use this walking foot for my Janome machine.  The lines are spaced 3/4in apart.   Marking your lines first with a Hera marker is very helpful.  
Hexie framed is backed with a Target sheet 🙂   I really love using sheets as backing since they are inexpensive and so soft!   Just look for 100% cotton sheets.  Sometimes a finer needle like this one is helpful to quilt through these tighter woven fabrics.
These are my favorite Target sheets to use as backings.  I've successfully used them many times.   I'm just bummed that they discontinued my favorite print 🙁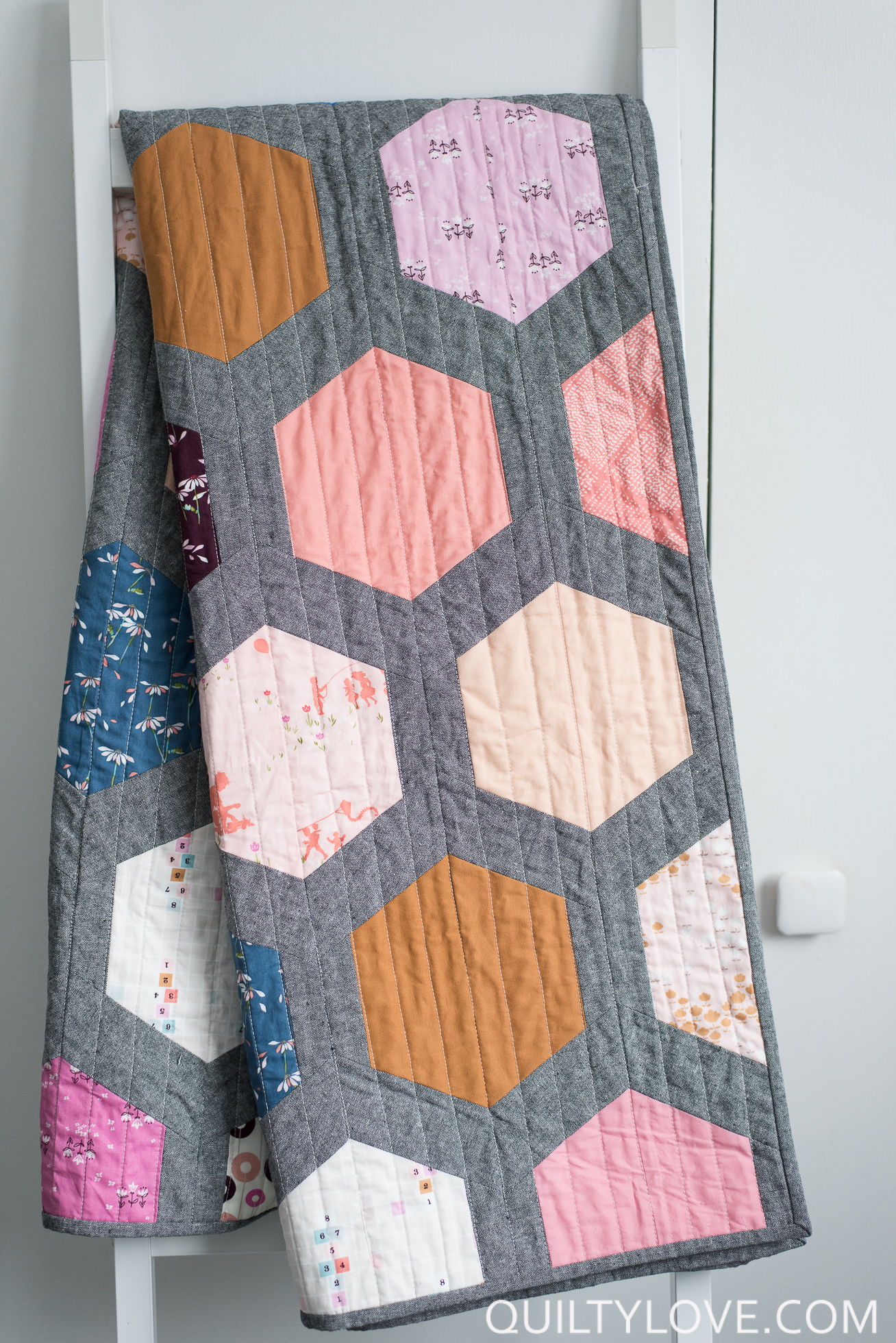 Hexie Framed is binded using essex linen.   This is the first time binding a quilt with Essex Linen.  I've always been hesitant in the past because I'm not sure how well it will hold up on these edges like this.  I guess time will tell!  It went on just fine and looks good now.  
You can pick up your copy of Hexie Framed in the Quilty Love pattern shop.  I use the HexNmore ruler for my Hexie Framed quilts.  It's a great ruler and I highly recommend it.
Check out all of the other Hexie framed quilts!
Materials Used:
Essex Linen by Robert Kaufman in Black
Playground Fabrics by Amy Sinibaldi for Art Gallery
Warm and White batting
Target Sheets for the backing
HexNmore ruler
Straight line quilting using a walking foot.
Pieced and quilted on my Janome Machine.