Night Stars Quilt – A bold star quilt pattern
I'm so excited to share this new pattern today! The Night Stars quilt pattern is brand new and in the Quilty Love pattern shop. Quilt kits available here!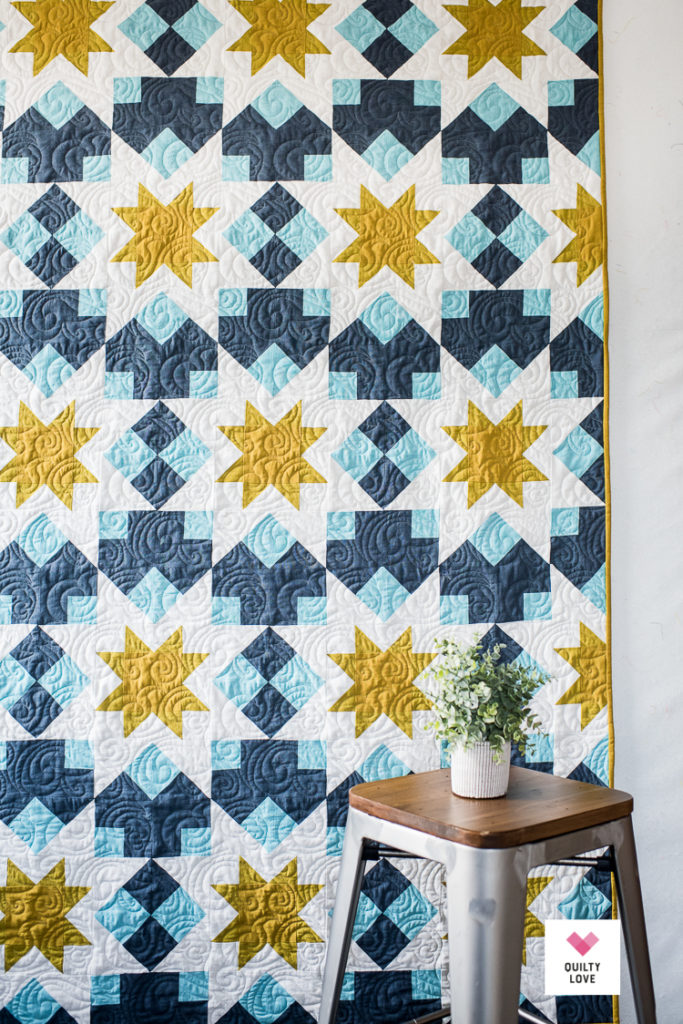 Night Stars Quilt Pattern
This quilt pattern is something a little different for me! The stars are no surprise along with the repeating blocks 😉 But the bold colors are! Night stars is written around using yardage but also includes instructions for fat quarters.
Choose 5 of your favorite colors to make up this bold and striking quilt. Night Stars was designed with Christmas in mind so it will make for the prettiest Christmas quilt. Check out the Christmas color mock ups below.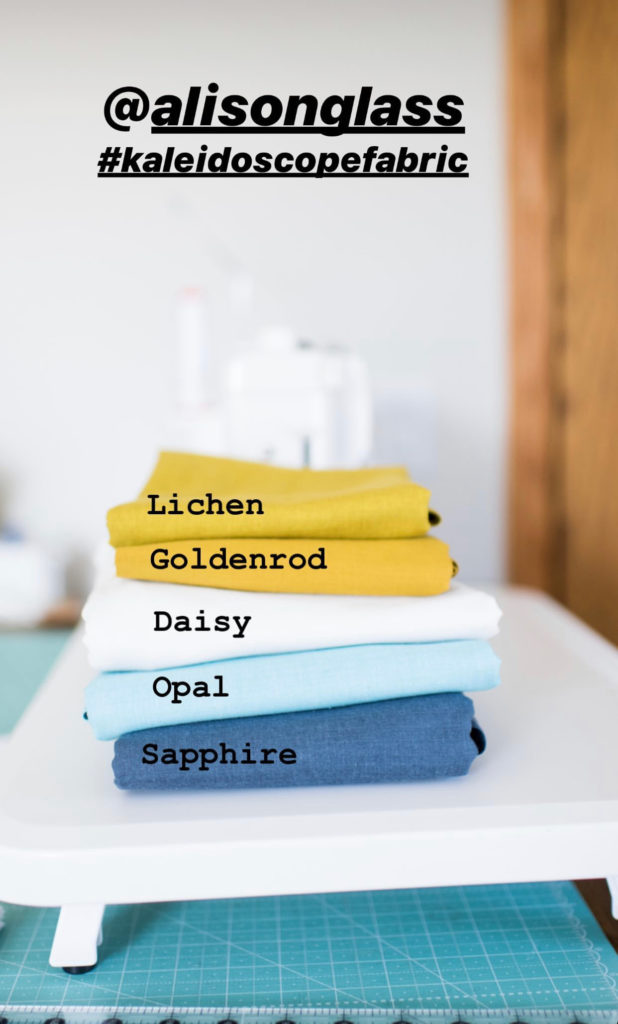 I used the Alison Glass Kaleidoscope fabrics for my version. These are a cotton linen. I really love quilting with linens because of that extra texture but definitely know they behave differently than cottons. This blog post talks about quilting with linen.
Using the bold blue as a the background for this quilt was such a fun change! I tend to stick with whites so much mostly because I always have it on hand. I definitely want to branch out more with color like this.
Colors and yardage used for this throw size:
Lichen – 3/8 yard
Goldenrod – 5/8 yard
Daisy – 2 1/2 yards
Opal – 1 1/3 yards
Sapphire – 2 yards
Binding is Goldenrod.
**ETA: If you are looking for the Alison Glass linens, Alison has more in her shop here.
Kona Colors
If you want to stick with Robert Kaufman Kona colors, here are the match ups:
A-Windsor, B-Azure (or Aqua), C-Ivory, D-Curry, E-Mustard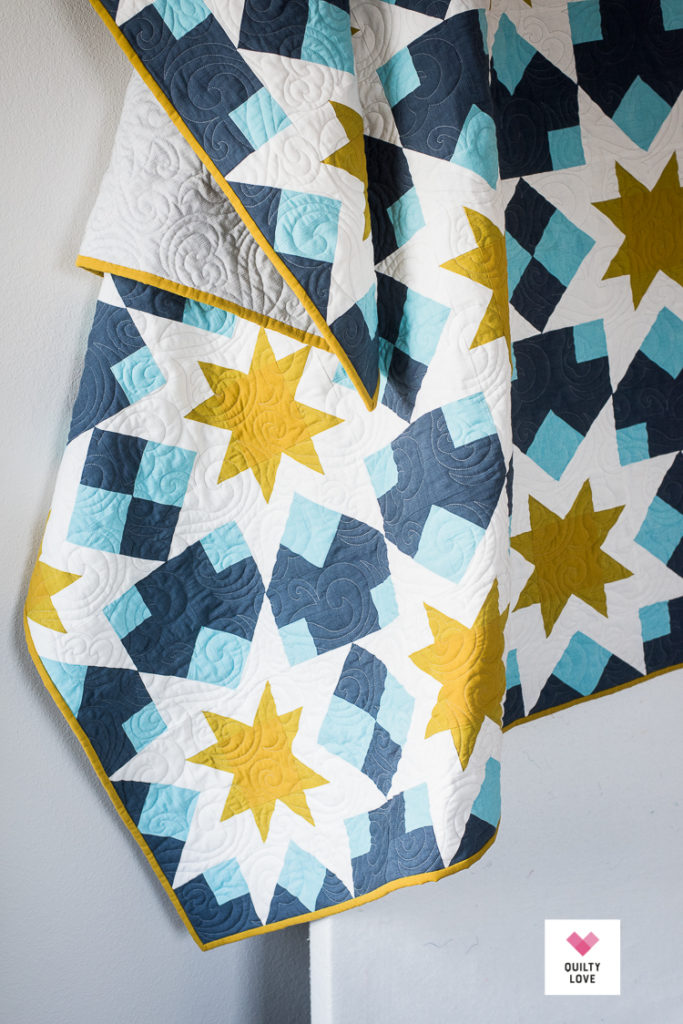 Night Stars makes for the prettiest bed quilt! Instructions include up to queen size. It was so much fun styling this quilt on my daughters bed. It looks so cozy on a bed.
Night Stars quilt pattern details
Night Stars uses yardage or fat quarters.
The quilt pattern includes instructions for a baby size, a generous throw size and a queen size.
This is an intermediate pattern as it includes making quarter square triangles, half square triangles and flying geese.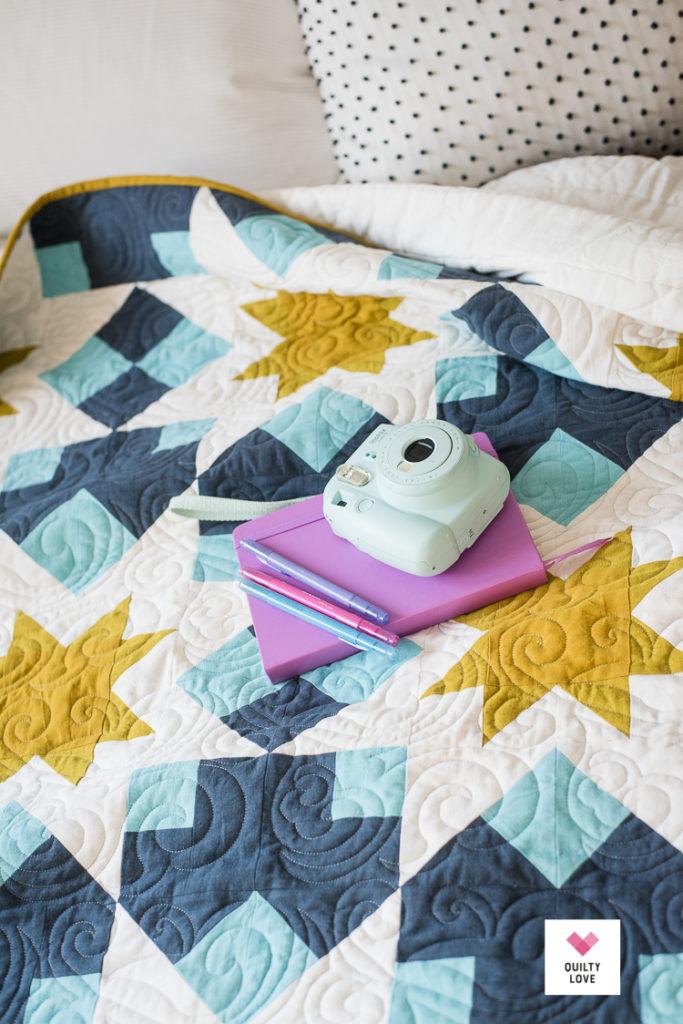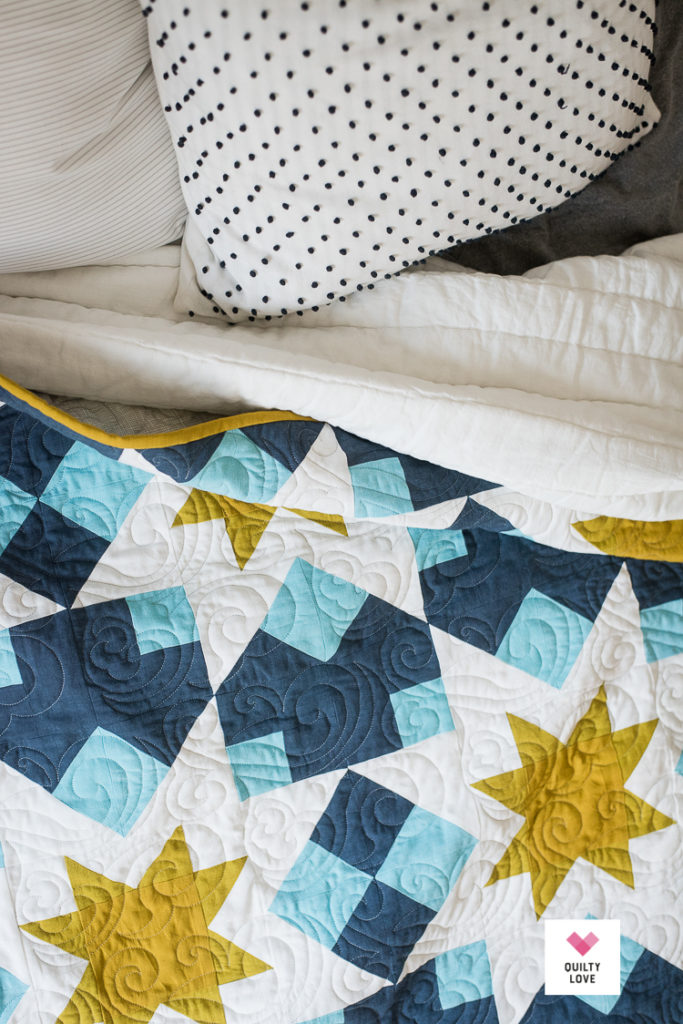 Quilting
Night Stars was quilted by my local quilter in this pretty loopy swoopy design. Ha… I have no idea how to describe quilt designs. I wanted something a little more flowing to go with the sharp points of the stars in this quilt. This quilt design gave it so much gorgeous texture.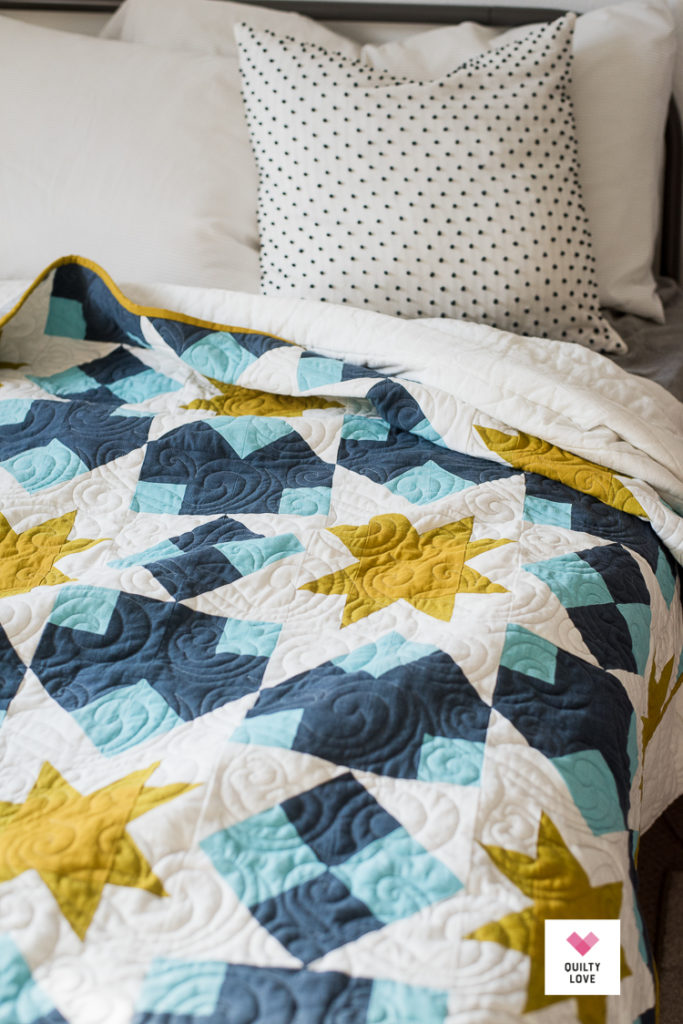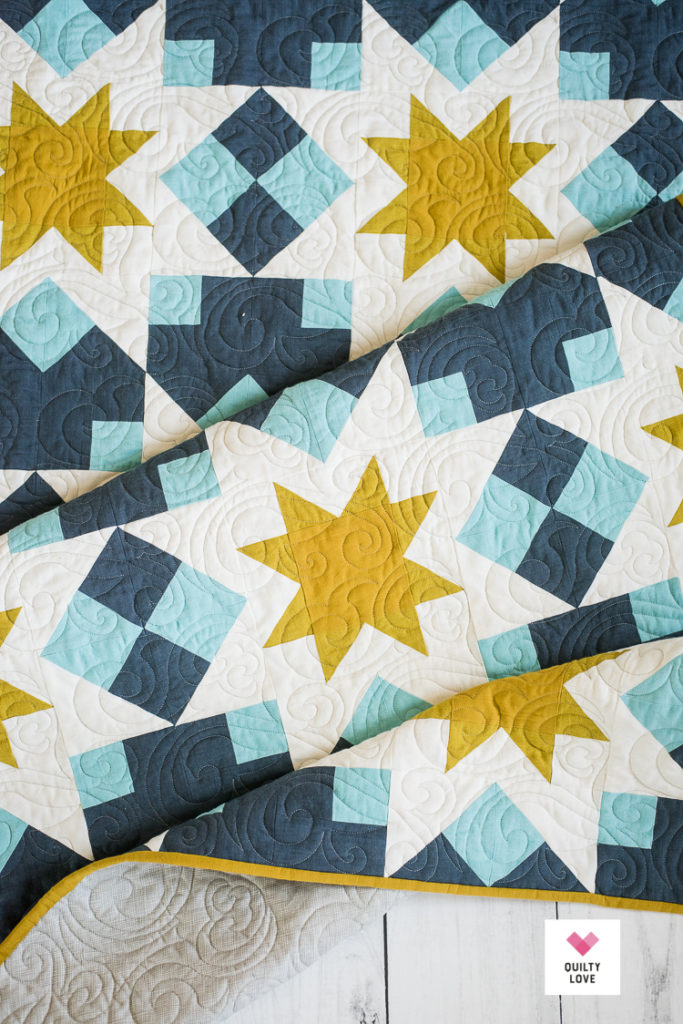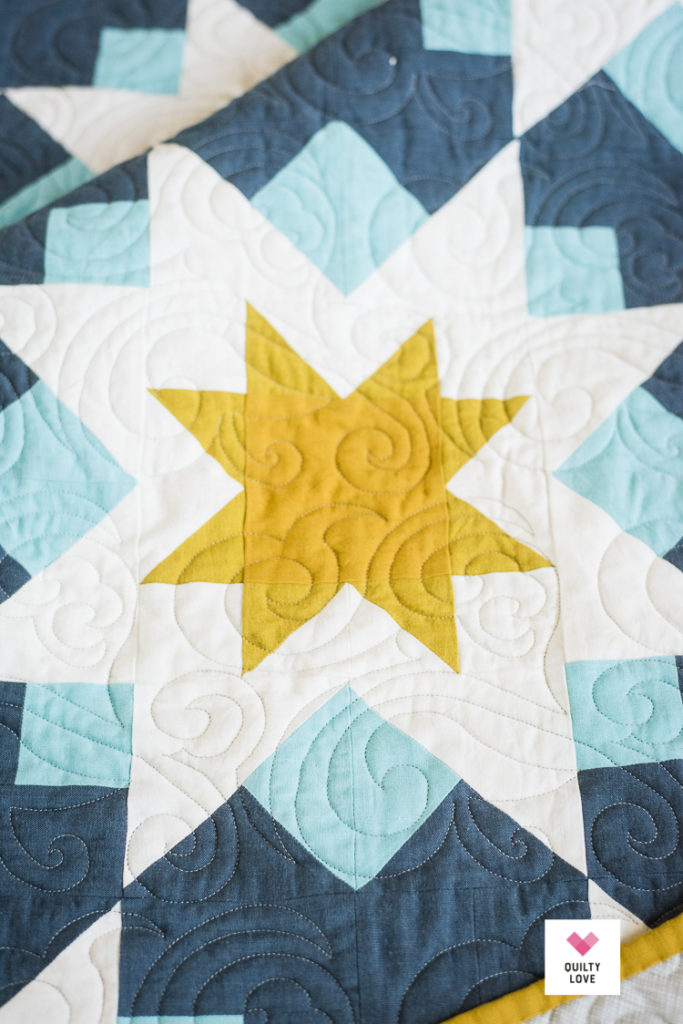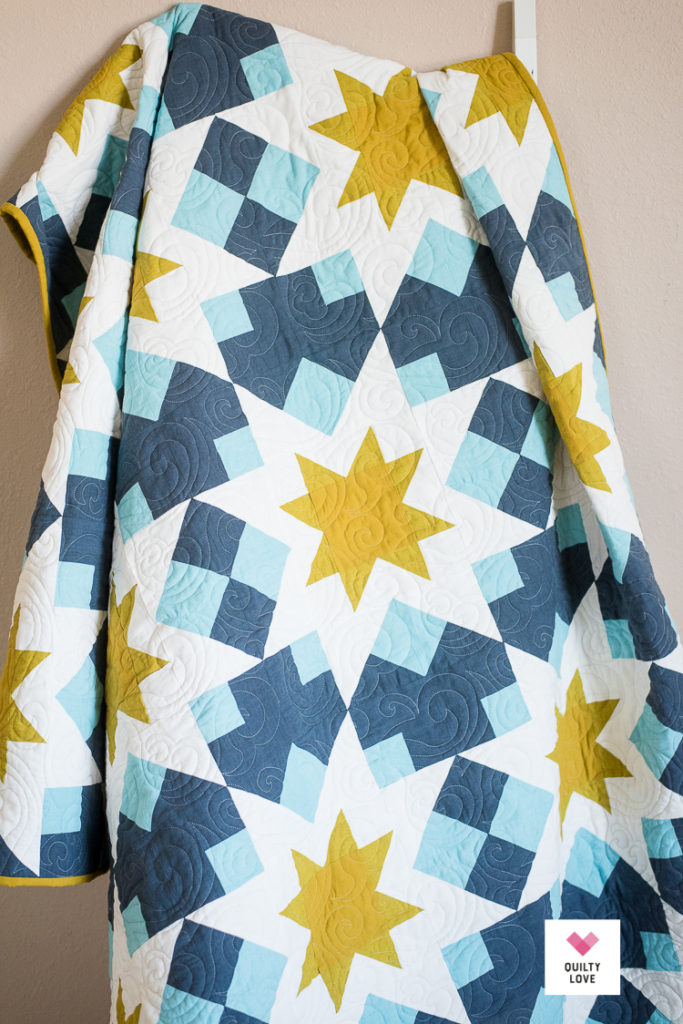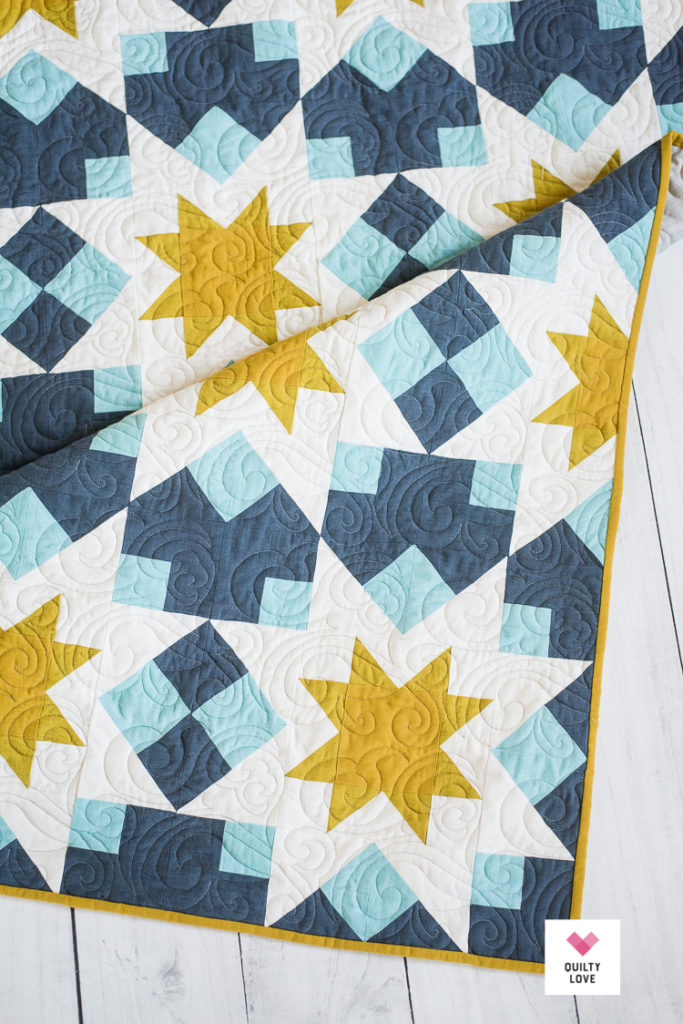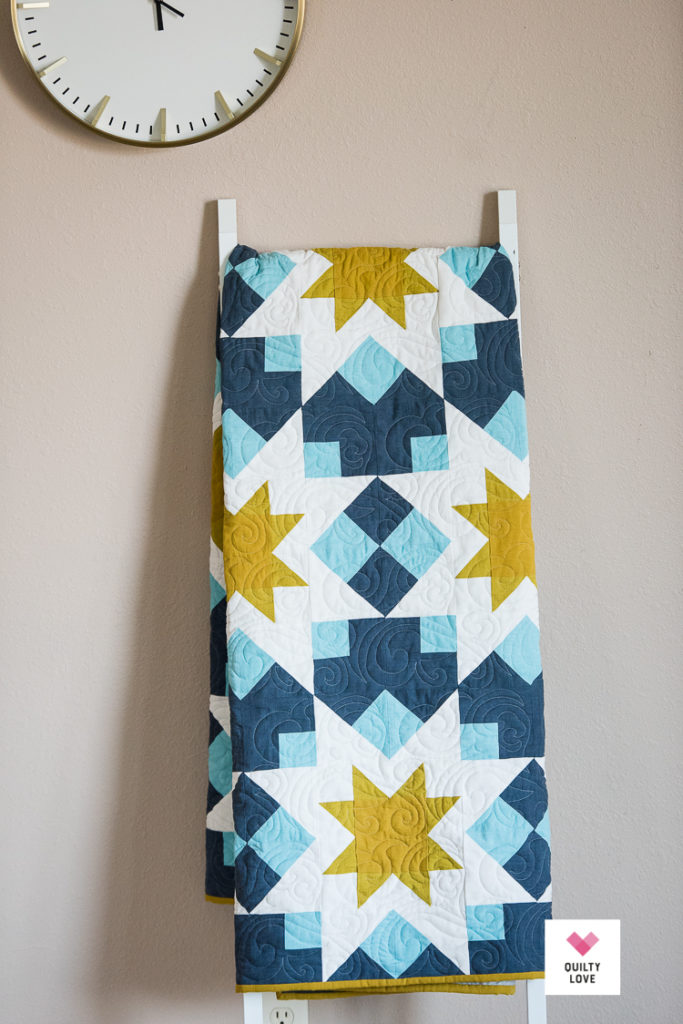 Christmas Color Mock ups
I'm including some Christmas color mock ups in this post to give you some ideas. The PDF pattern includes a coloring page to plan out your own version.
The Robert Kaufman Kona color match ups are listed below each image.
Holly – Asparagus – Rich Red – Graphite – Shadow
Cardinal (or red) – Azure – Silver – Caribbean – Cardinal
Rich red – Palm – Shadow – Curry – Mustard
Wine – Red – Silver – Forest – Old Green
Spruce – Cypress – Poppy – Salmon – Shadow
Forest – Leaf – Silver – Graphite – Shadow
Wine – Red – Shadow – Aqua – Everglade
Retro Colors! Candy Green – Azure – Lipstick – Primrose – Punch
Teal blue – Red – Silver – Peacock – Teal blue
Find Night Stars in the Quilty Love Shop.