Moonbeam Dreams Lucky Log Cabins Quilt
Today I'm sharing my Moonbeam Dreams Lucky Log Cabins quilt. Moonbeam Dreams is a brand new fabric line by Poppie Cotton coming out in November.
Lucky Log Cabins is brought to life with the enchanting fabric line by Poppie Cotton. This pairing of a quick and easy quilt pattern with this dreamy fabric creates a magical quilt that is not only stunning but also fun to make.
Lucky Log Cabins is a quick and easy make. A fat quarter bundle of Moonbeam Dreams was perfect for this large throw.
The Lucky Log Cabins quilt pattern is available in the Quilty Love pattern shop.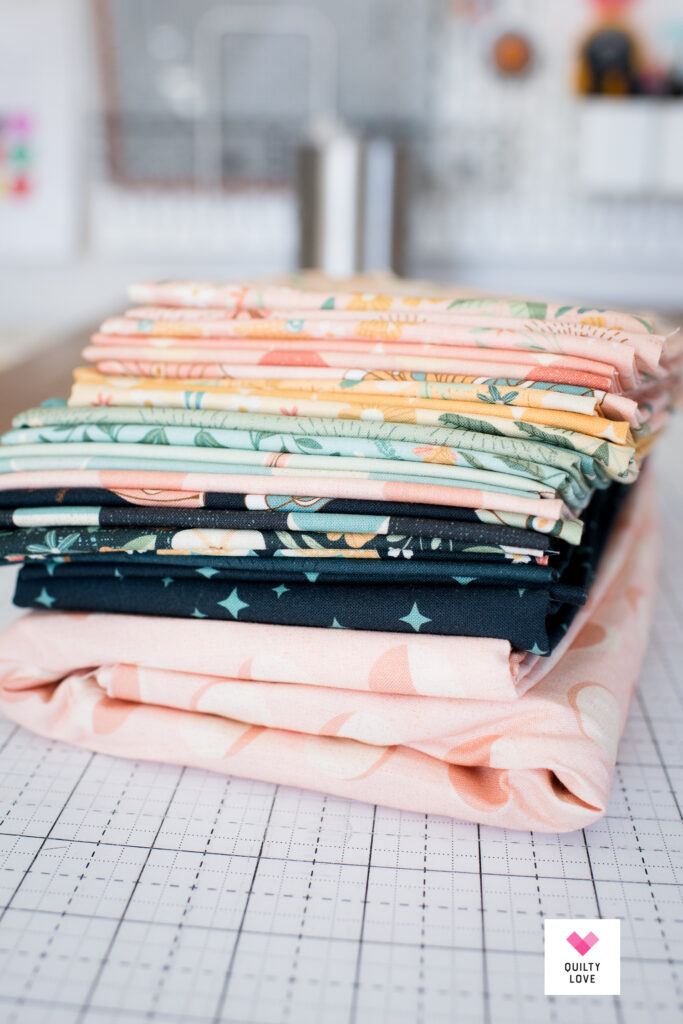 Moonbeam Dreams Fabric Tour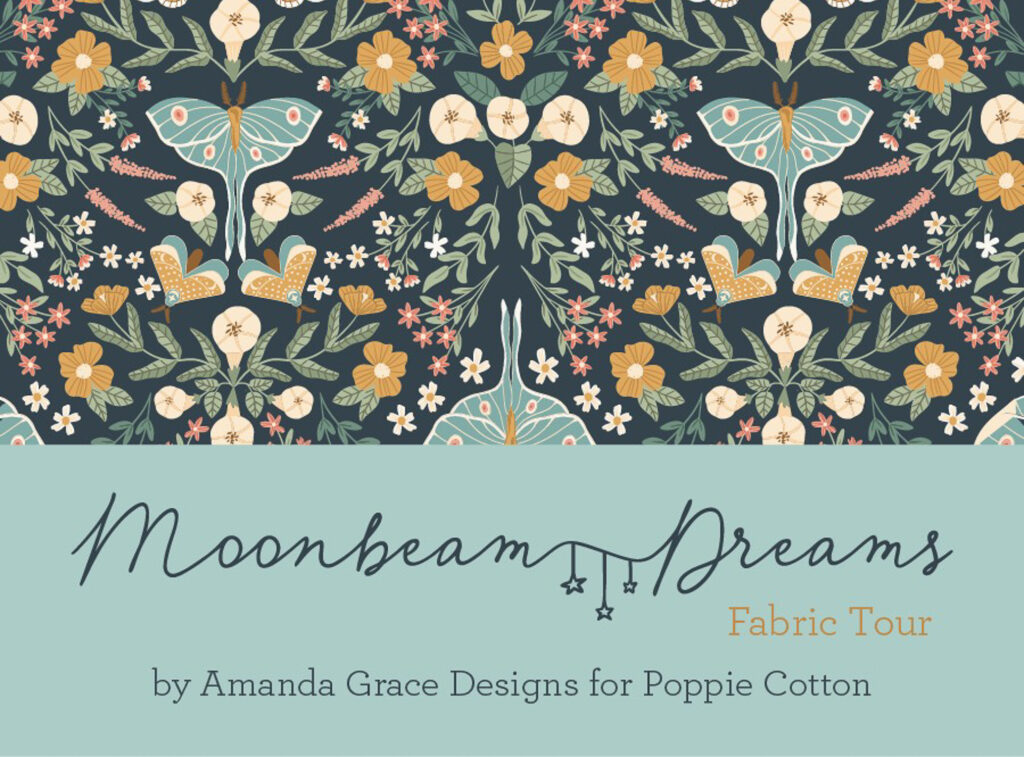 I am kicking off the Moonbeam Dreams fabric tour today! Be sure to check out each stop along the tour below:
Moonbeam Dreams fabric by Poppie Cotton
Moonbeam Dreams is a fabric line full of soft and dreamy colors. The color palette features coral pinks, shades of blue, soft greens, and yellows. You'll find fireflies, different stages of the moon, lunar moths, and delicate florals.
Moonbeam Dreams will be hitting quilt shops in November! Quilt shops can order from Poppie Cotton here.
This was my first time working with Poppie Cotton fabrics and I have to tell you that they are really nice and soft. I did really enjoy sewing them up and will be using them again.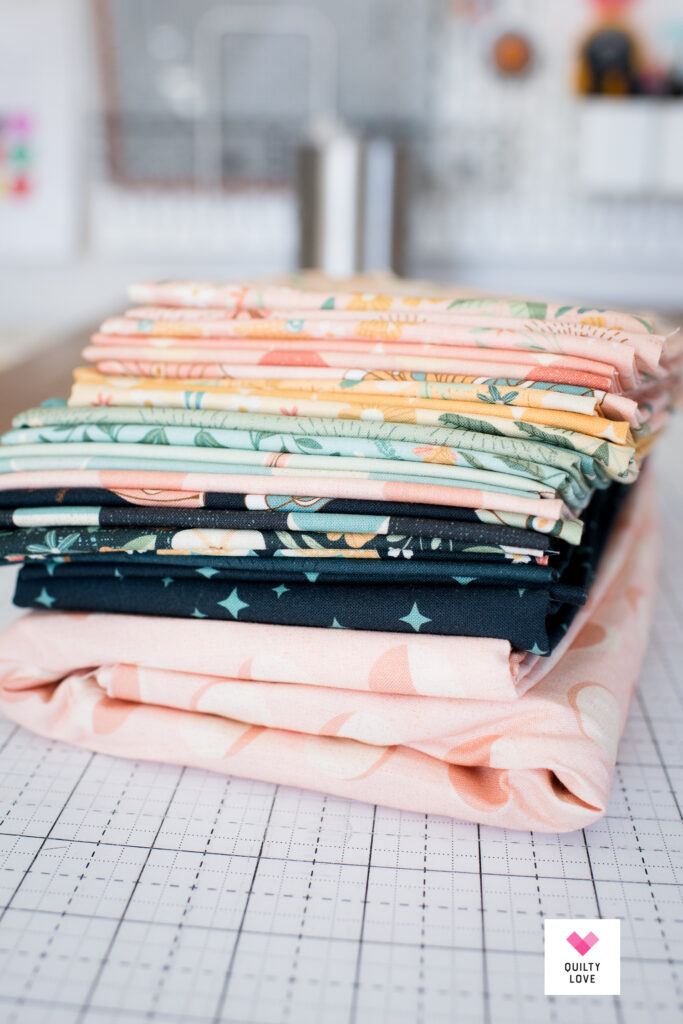 Lucky Log Cabins Quilt pattern
Lucky Log Cabins is a quilt pattern that quilters of all skill levels can appreciate. It's not just easy; it's super fast to make, thanks to its strip piecing technique.
This pattern is incredibly versatile, offering various size options, making it perfect for creating anything from a small lap quilt to a king-size. But what makes it truly special is its adaptability to different fabric choices.
For this project, I decided to make a large throw-sized quilt using a fat quarter bundle. The Lucky Log Cabins pattern is perfect for this, as it is fat quarter friendly, stash friendly, and can also be made with jelly rolls. The versatility of the pattern means you can easily adapt it to different fabric lines, making it an ideal choice for showcasing the variety in Moonbeam Dreams.
I've made quite a few Lucky Log Cabin quilts now and I'm convinced it looks great in everything! It's scrappy and happy so just about any fabric bundle will work. This one works great with bundles that have lights and whites mixed in since there is no background fabric needed.
Straight Line quilting on a Juki
Let me tell you about the quilting on this Moonbeam Dreams Lucky Log Cabins….. It was quite the challenge.
Unfortunately my Janome MC6700p broke about 1/4 of the way through the quilting so I had to switch over to my Juki 2010q to finish it up. So I finally got to really test out the walking foot quilting on the Juki whether I wanted to or not…lol.
I've raved and raved about my Janome MC6700p as being a quilting dream machine and after being forced to use the Juki for quilting, that still stands.
My Janome has been acting up and admittedly I haven't had it serviced in the 4? 5? years I've had it. (Terrible, I know…) It finally gave out on me so I am now forced to go give her a spa treatment. I haven't brought it in because I don't have any dealers very local to me:(
So back to the Juki….
I have tested out the quilting very briefly on the Juki 2010q. I wasn't super impressed because in my opinion it didn't go as smoothly as the Janome does. I shared all of this over on Instagram and I remember some quilters talking about how terrible the walking foot itself is and how some of them even use the regular foot for quilting.
Mistake number one… I tried the regular foot first. It didn't go well. See all of that pulled fabric…? I'm pretty sure most of it is from trying to use the regular sewing foot.
After quilting too many lines (most of which I ended up ripping out) I switched over to the walking foot. However, my walking foot was dropping fine metal shavings. I'm pretty sure Juki knows about this issue and will replace it but some mentioned they just taped the walking foot so that the shavings didn't get on the quilt. That solved that issue.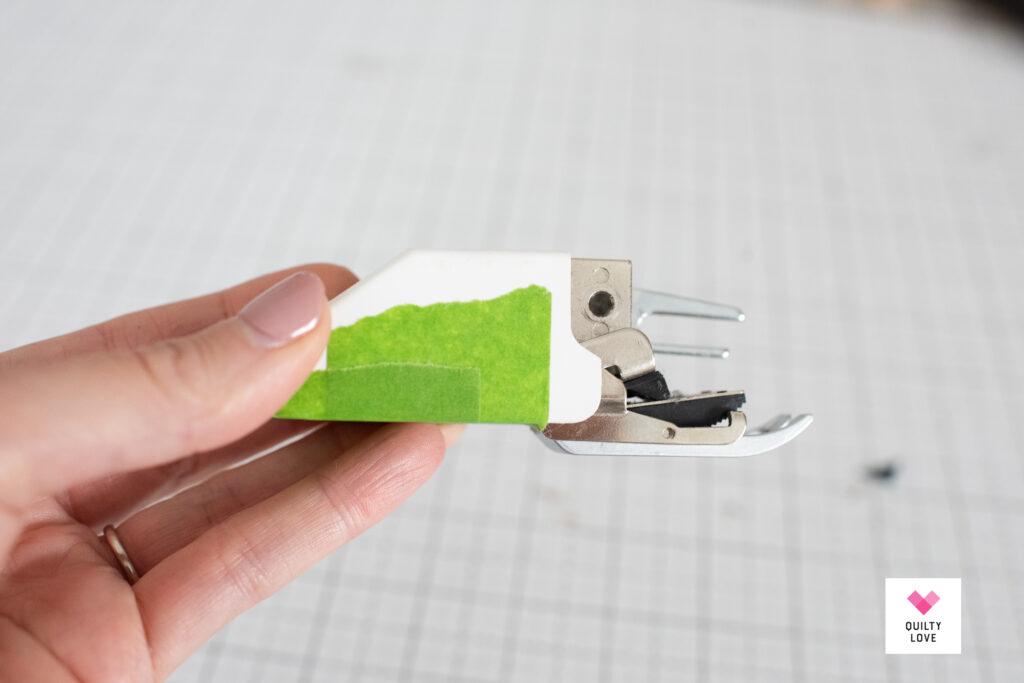 Once I started using the actual walking foot, it did go better. My biggest complaint is that it doesn't have a guide bar! I really missed that. I've been using a hera marker and ruler to mark lines more and more these days but without a guide bar you almost need to mark EVERY SINGLE LINE. With the guide bar, I just a mark a few and then fill in using the guide bar.
So the quilting on this is not my favorite but in the end it turned out ok. It was a good opportunity to really test out the quilting on the Juki. I will say, that I can see how you could get better with practice on that machine. I think we really tend to learn our machines and how to use and manipulate them to our best advantage.
My Janome vs Juki for quilting
I still very much prefer the Janome MC6700p for quilting but if you are a Juki user, it's definitely doable. There's just more pulled fabric with the Juki and overall it isn't as flat and smooth as I can get with the Janome.
I should mention that I prefer the Juki for piecing since it's so fast and responsive. So now I piece on the Juki and quilt on the Janome. Or at least I will after I get it fixed 🙁
These are 3/4 inch spaced lines.
Despite the quilting challenges, this quilt was fast and fun one to sew up.
Moonbeam Dreams Lucky Log Cabins Materials and Supplies
Quilt Pattern – Lucky Log Cabins quilt by Quilty Love
Fabrics: Moonbeam Dreams by Poppie Cotton
Piecing and quilting: Juki 2010q