Ombre Woven Star Fall Quilt
Today I'm sharing an Ombre Woven Star Fall quilt! Yes, another ombre quilt 😉 I should compile a blog post with all of my ombre quilts because there are a lot of them!
VandCo has a brand new ombre line hitting stores soon so I was so excited for a chance to sew up a couple of quilts using these new ombres. This ombre line is a wovens line and does not disappoint. These VandCo Ombre Wovens are a thinner fabric with ombre stripes throughout the width of fabric. The stripes and the color darkness changes through the width of fabric.
These ombre fabrics are a thinner fabric so they make for a nice, soft and lightweight quilt. I thought it would be fun to showcase the ombre colors in a Star Fall quilt. I stuck with the warm colors in the fabric line and used the cool colors in another quilt.
The Star Fall quilt pattern is available in the Quilty Love pattern shop.
Star Fall quilt pattern
Star Fall is a simple sawtooth star quilt pattern. You can use five different prints for the throw size or make it scrappy keeping each column the same color. The ombre effect is more subtle in these ombre wovens so I thought it would add a lot of interest using them in this quilt pattern.
I tried to keep the ombre fade going in this quilt but it didn't always work out. In the end it didn't really matter since the effect is subtle anyways.
I rarely worry about directional prints in my quilts and this star quilt was no exception. Since the Ombre woven fabrics have stripes they are directional. But I didn't worry about which direction the stripes were going in this quilt.
Star Fall quilt pattern sizes
The Star Fall quilt pattern includes three different sizes:
Crib Size or lap size (or baby size)
Throw size
King Bed quilt
The size of the block grows with each size quilt. So the baby size has a smaller star block while the King size has a much larger star block size. The layout is the same for each size quilt. Each size Star Fall quilt has five columns and requires five different prints or solids.
The baby size can be made using 1/4 yards or fat quarters. The throw size uses 1/2 yards and the king size uses 1-1/4 yards.
Make it scrappy
You can also make Star Fall scrappy by using the same color scraps for each column. I made a scrappy baby size Star Fall here.
VandCo Ombre Wovens
I'm a long time fan of all VandCo fabrics. One of my favorite lines ever is Vanessa's Color me Happy fabric line. She now does ombre fabrics only and I'm pretty sure I've sewn up a quilt using almost every ombre line.
I was thrilled to get my hands on this VandCo Ombre Woven fabric line because I was so curious how they would sew up in a quilt. All of the VandCo Ombres have been quilting cottons so this line is a little different.
The ombre wovens are a much thinner fabric. That makes them useable for both garments and quilts. There is a little more give and stretch so you want to handle them with care when using them in your quilts. I didn't have any trouble sewing them up and would gladly make more quilts using this type of fabric.
This Ombre Woven Star Fall quilt ended up feeling very lightweight and soft.
Bold star quilt blocks
Star Fall is a simple sawtooth star quilt pattern. The quilt is made up using all star quilt blocks. The only background fabric in this quilt is the stars themselves. Use a subtle print like I did here or choose something more bold for your stars.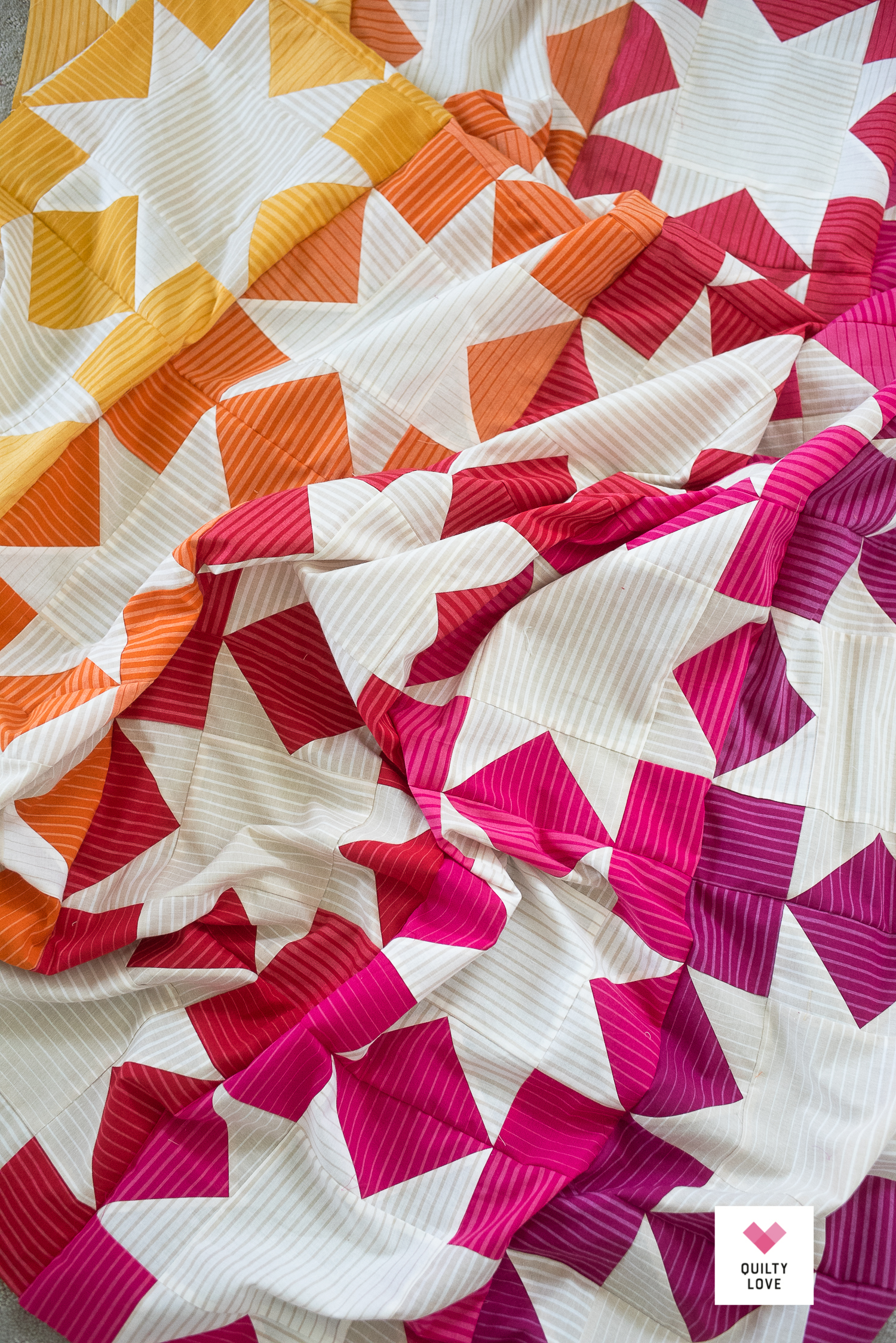 Long Arm Quilting by Knot and Thread
I sent this Ombre Wovens Star Fall quilt off to Knot and Thread for quilting. I always have Kait choose the quilting design so I'm not sure what this quilting pantograph is called. You can see the design better on the backing fabric below.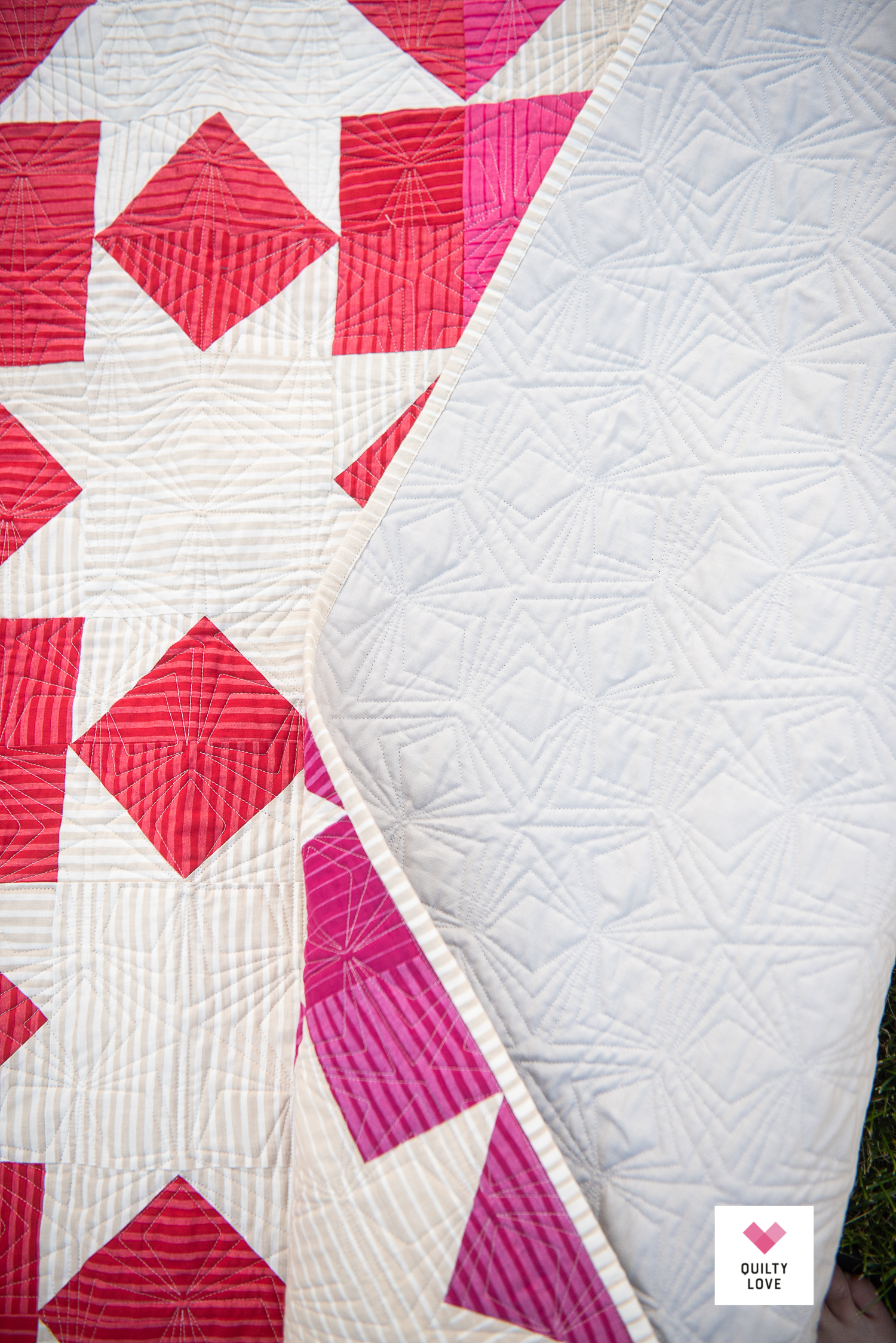 Bright and Vibrant Star quilt
I love how bright and vibrant this Star Fall quilt turned out using the warm colors from the Ombre Wovens fabric line. It's the perfect summer quilt since it's nice and lightweight too.
Star Fabric
I used the lighter beige ombre woven fabric for the stars in this star quilt. So the stars also have a subtle ombre effect to them.
I used that same fabric as the binding also.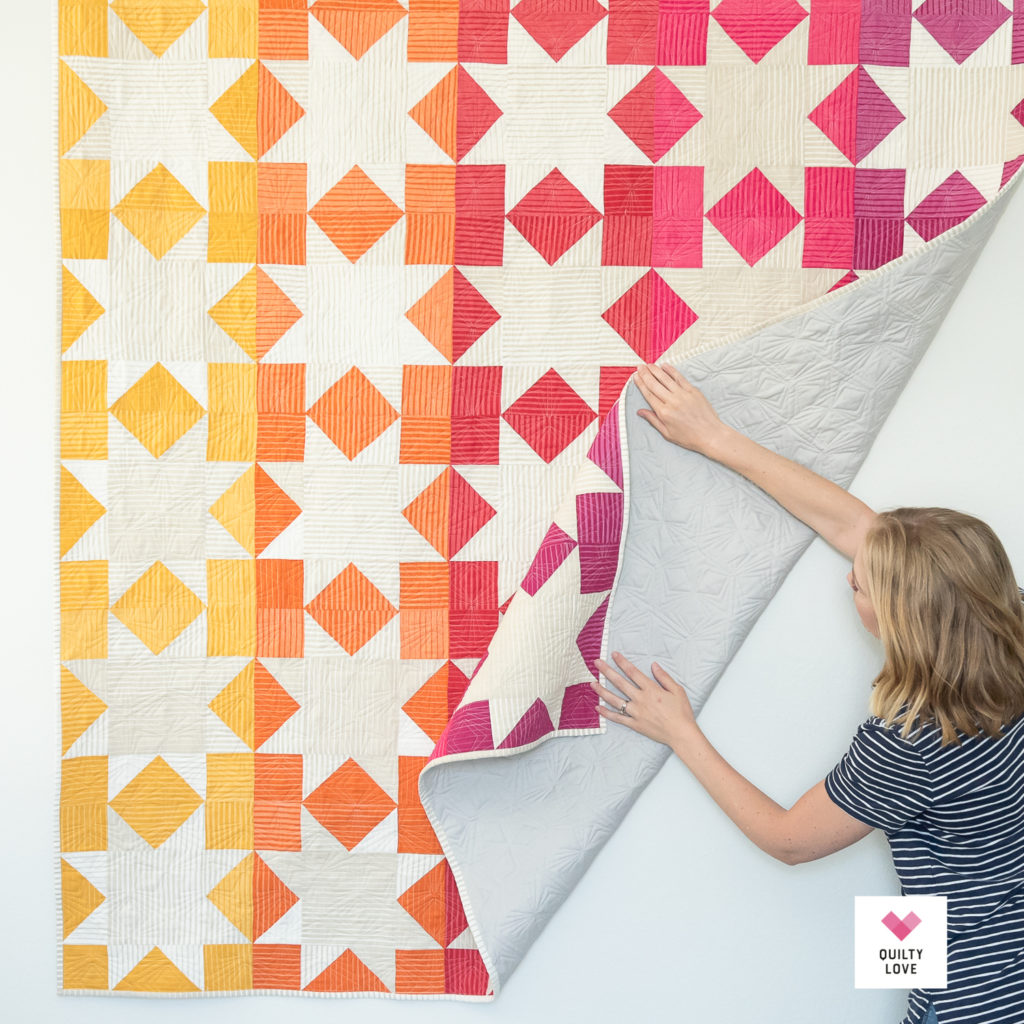 Ombre Wovens Star Fall quilt materials
Quilt Pattern: Star Fall by Quilty Love
Fabrics: VandCo Ombre Wovens for Moda Fabrics
Backing: Kona Cotton in Silver
Pieced on my Janome MC6700p
Quilted by Knot and Thread