Patchwork Hearts Quilt Pattern – Scrappy heart quilt
I'm so excited to introduce the Patchwork Hearts Quilt pattern! Patchwork Hearts is the fourth annual Quilty Love Heart quilt. It has become a tradition to introduce a new heart quilt each January and accompany it with a quilt along.
Each year these heart quilts are scrappy friendly making them easy to start by digging through your scrap stash or fabric stash.
Patchwork Hearts is a patchwork quilt with cute little hearts. It's charm friendly, layer cake friendly, fat eighth, fat quarter, quarter yard or of course scrappy friendly. The quilt pattern instructions include a baby size, a throw size and a twin size.
The Patchwork Hearts quilt pattern is available in the Quilty Love pattern shop. Sign up for the Patchwork hearts Quilt Along here.
Sincerely Yours Fabric by Sheri and Chelsi for Moda Fabrics
This Sincerely Yours fabric line by Sheri and Chelsi for Moda Fabrics is the perfect fabric bundle for a heart quilt. This cute Valentine's inspired fabric line came out a few months back and when I first saw it I knew I had to use it for this year's heart quilt.
It's the perfect combo of colors and prints for a heart quilt.
I used a fat quarter bundle of this fabric line and made two of the Patchwork Heart quilt samples with it. One is this throw size heart quilt and the other is a cute little baby quilt.
The throw size uses one yard of fabric for the hearts. I used the Spring Dots in Ivory fabric from Sincerely Yours.
The binding fabric is also from the Sincerely Yours fabric line. It's Criss Cross Petunia.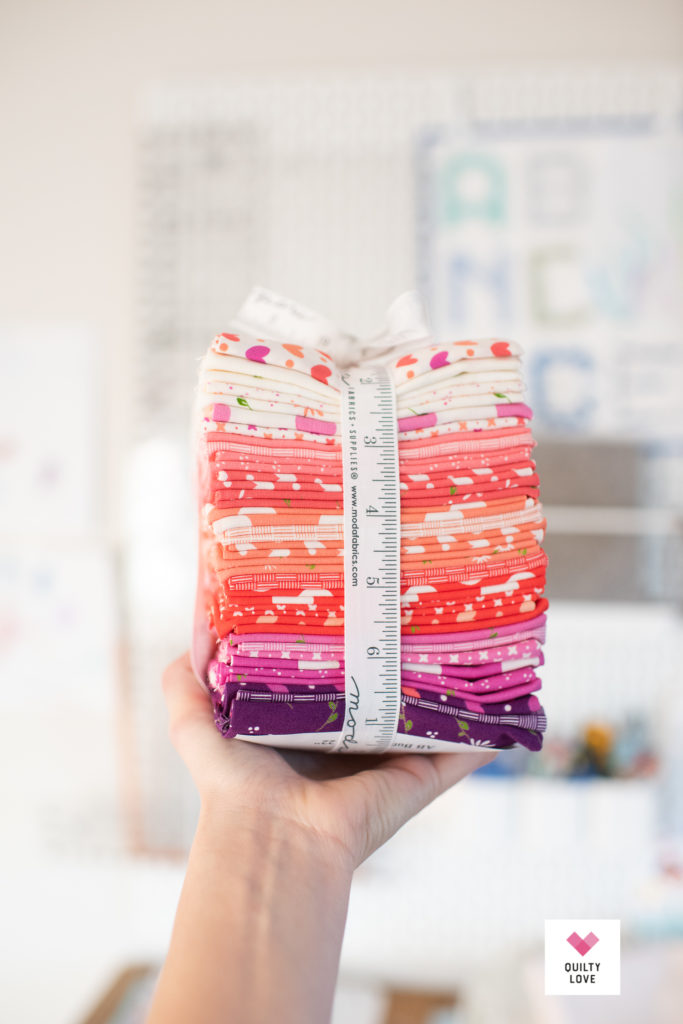 Patchwork Hearts Quilt Pattern
I'm so excited to share this year's heart quilt. It's inspired by Star Pop with the patchwork background. The patchwork background makes this one a really good scrap and stash friendly quilt pattern. Use a low volume for the hearts like this Sincerely Yours version or use the low volumes as the background like the baby quilt below.
Each year the Quilty Love heart quilt pattern is written specifically to be scrappy friendly. My hope is that you can dig through your scrap bins and use up those scraps! Or pull from your fabric stash and get right to sewing!
The Patchwork Hearts quilt pattern includes three sizes: Baby size, throw size and twin size. The Sincerely Yours version in this blog post is the throw size.
Scrappy and Pre-cut friendly quilt pattern
Along with being scrappy friendly, Patchwork Hearts uses the following pre-cuts:
Charm squares (5 inch squares)
Layer cake squares (10 inch squares)
Fat eighths
Quarter yards
Fat Quarters
Patchwork Hearts is a really great scrap buster quilt pattern!
Long Arm quilting by Modern Textiles
I sent this Patchwork Hearts quilt off to Katie of Modern Textiles for quilting. We chose this adorable little heart pantograph to compliment the heart quilt.
Peppered Cotton Backing Fabric
This Patchwork Hearts quilt is backed with a Peppered Cotton wide back. It's a really pretty creamy color called Oyster. It's a wide back so no piecing needed! I've used these Peppered Cotton wide backs quite a bit and I really like them. I have some Peppered Cotton Widebacks in The Wide Back Shop.
Since the Sincerely Yours fat quarter bundle is so big I was able to make two quilts using it! I used the low volume prints from the fat quarter bundle as the background of the baby size. The hearts are leftover fabrics from the throw size version.
Fourth Annual Scrappy Heart quilt pattern
The Patchwork Hearts quilt pattern is the fourth annual Quilty Love heart quilt. This has become a fun tradition starting with the very first scrappy heart quilt four years ago.
The first scrappy heart quilt is Quilty Hearts. I felt super inspired to create a project around my scrap stash and from that came Quilty Hearts.
Next up was Scrappy Hearts. Again, it was written with my scrap stash in mind.
Next was Infinite Hearts. Infinite Hearts was last year's heart quilt. This was a fun one to make and was super versatile since it uses scraps or 2.5 inch strips.
And now this year, it's Patchwork Hearts! This sweet and scrappy patchwork style heart quilt is still scrappy friendly.
You can check out all of the Quilty Love Heart quilts in the pattern shop here.
The first Quilty Love scrappy heart quilt started when the baby was just a few months old. So it's a little bittersweet to watch her grow with each quilt.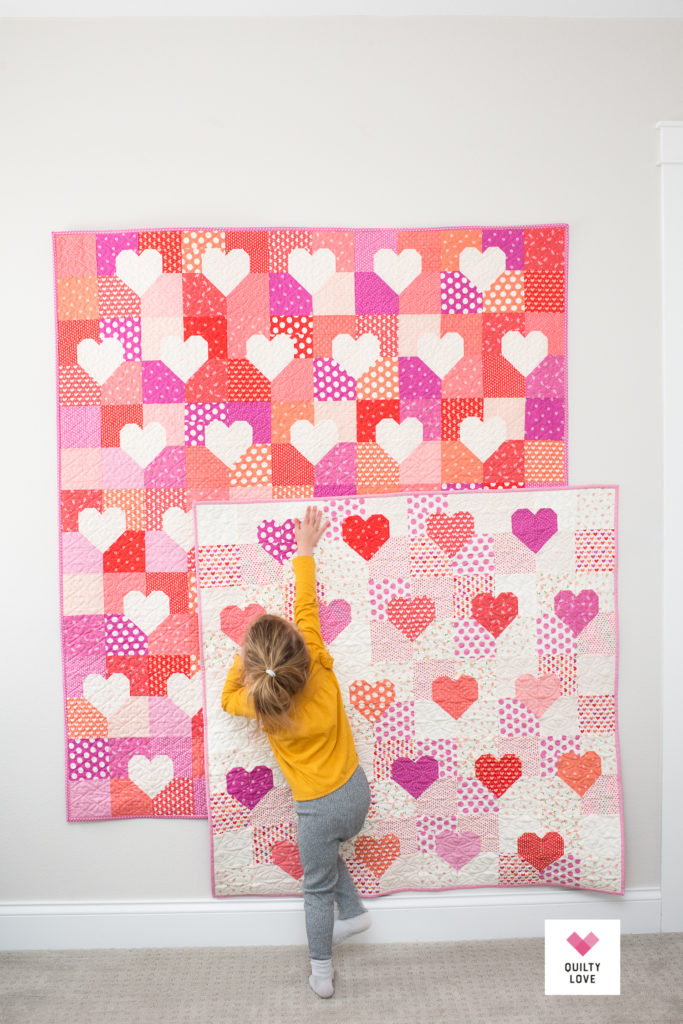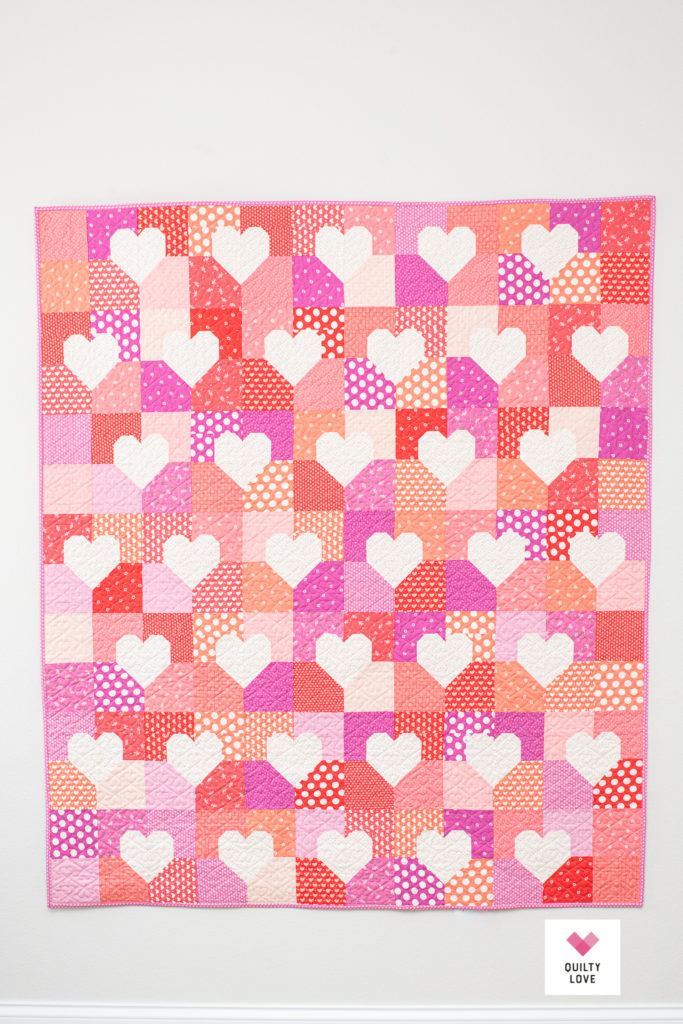 Patchwork Hearts Quilt pattern materials used
Quilt Pattern: Patchwork Hearts quilt pattern by Quilty Love
Fabrics: Sincerely Yours by Moda Fabrics
Binding: Criss Cross in Petunia
Backing: Oyster Peppered Cotton
Long arm quilting: Modern Textiles
Pieced on my Janome MC6700p