Patchwork Hearts Scrappy Rainbow Quilt
Today I'm sharing the Patchwork Hearts Scrappy rainbow quilt! This cute scrappy heart quilt may be one of my favorite quilts that I've ever made. It's scrappy. It's cute. It's a rainbow! It's all good things. My favorite thing about this scrappy rainbow heart quilt is that it is made entirely from my scrap bins.
Scrap Stash sewing is quickly becoming one of my favorite types of sewing. I find it super satisfying to sew a quilt using my scrap bins. The newest Quilty Love Heart quilt, Patchwork Hearts, worked perfectly for that!
Patchwork Hearts is part of the Quilty Love heart quilt series and is in the shop here. Check out all of the heart quilt patterns here.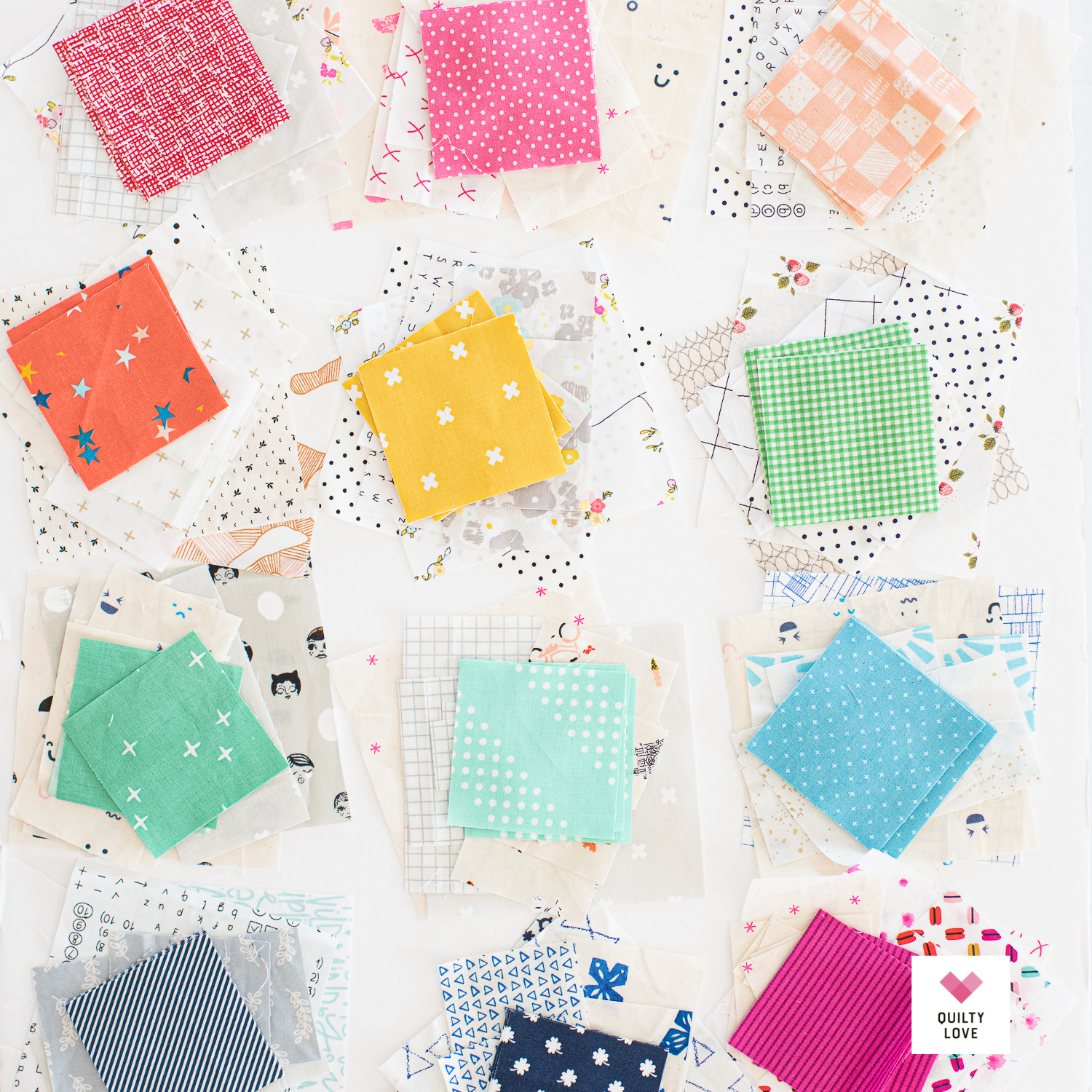 Patchwork Hearts Quilt Pattern
The Patchwork Hearts quilt pattern is the Quilty Love heart quilt pattern this year. Each January I design a new heart quilt pattern just in time for Valentine's Day. These heart quilts are always stash and scrappy friendly and are accompanied by a quilt along.
This year it was this cute patchwork style scrappy heart pattern. I love that you can use a lighter or a low volume print as your hearts like the cover quilt or as the background instead like this rainbow one.
The Patchwork Hearts quilt pattern is written for fat quarters, charm squares, layer cake squares or your scrap stash.
Scrap Stash Heart Quilt
I keep calling this rainbow heart quilt my scrap stash heart quilt because it's made entirely from my scrap bins. Each year I try to make a scrappy version of the annual heart quilt and I was super excited to sew this one up this year.
My low volume scrap bin is one of my more overflowing bins so anytime I can use a lot of them in a quilt is a good thing. And this scrappy heart quilt actually made a dent in the low volume bin! I swear sometimes when you sew scrappy quilts, the scrap stash multiplies. But this time, it actually used up those scraps.
Planning this Patchwork Hearts Scrappy Rainbow Quilt
I started this scrappy rainbow Patchwork Hearts quilt by planning out the colors I wanted to use. I used my Scrap Stash Plus quilt as a color inspiration for this heart quilt.
So to start with I made the first twelve blocks above. This determined the color family I would stay in for this scrappy heart quilt. I started with these colors:
Reds/Pinks
Peaches
Oranges
Yellows
Greens
aqua/ teals
blues
pinky-purple
Once those colors were determined then I could figure out how many blocks I should make of each color way. Divide the total number of blocks by the total number of colors. I ended up upsizing my quilt size so I made 6-7 blocks of each of those color families.
Once the colors were set it was easy to start pulling scraps and sewing blocks. I made a few blocks at time. I really enjoyed the process of digging through the scrap bins to find the perfect fabrics and slowly making blocks.
Low volume background
The background of this rainbow heart quilt is all low volume prints. I went through and cut all of my low volume prints first. So when I was ready to sew blocks I could grab a stack of the low volume sets and start sewing.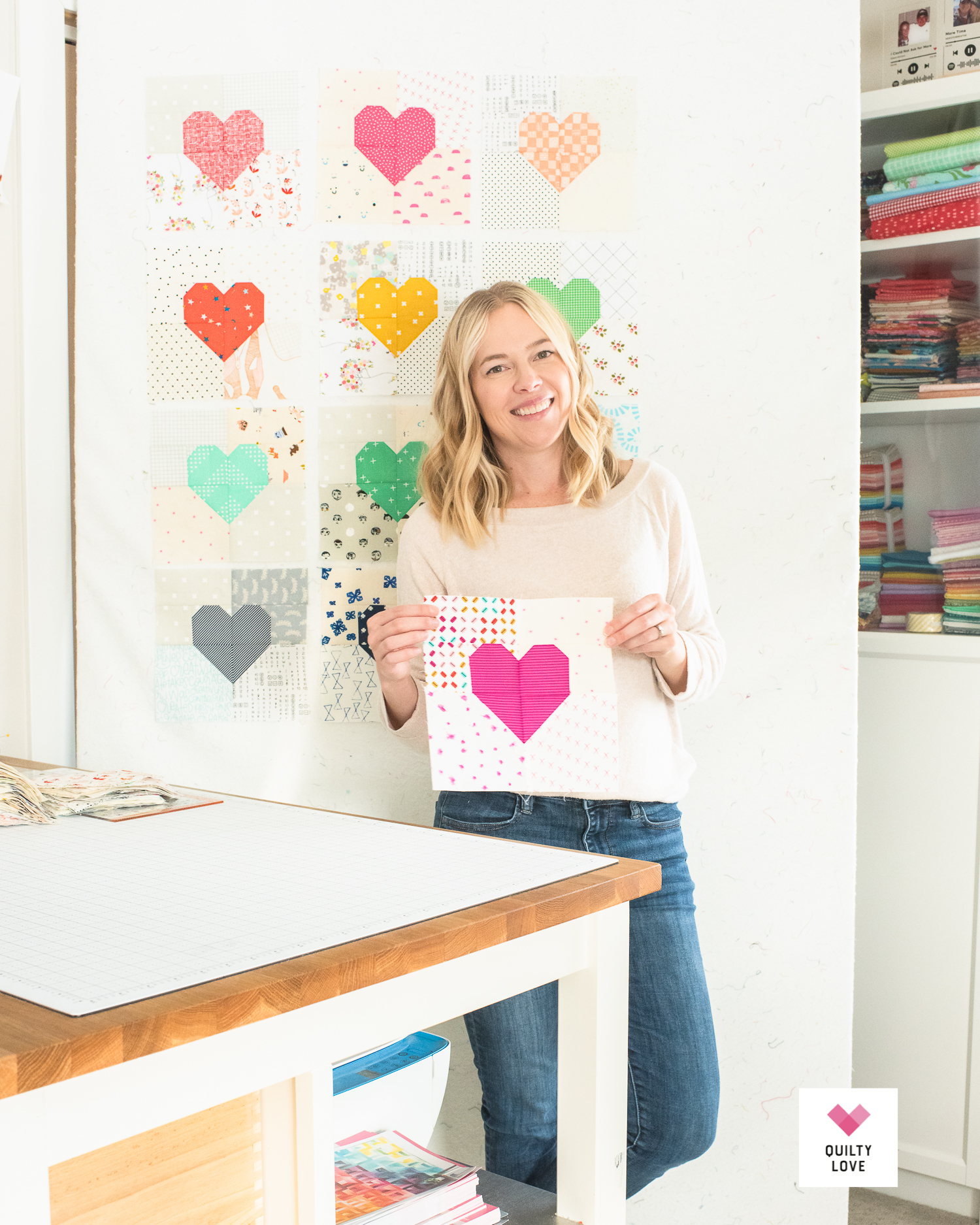 I varied the shades and tones of the colors slightly but tried to keep everything in the same color family. Mostly I just go by eye and make sure none of the prints I choose clash when they are all together. Instead they all flow nicely when next to each other.
Since my low volume backgrounds are busier prints I tried to stick with colored hearts that would pop. If you look closely at my low volume prints they are pretty busy! Not the "quietest" low volumes by any means but I love how they all work together in the end. Some are creams, some of white and some are even grey.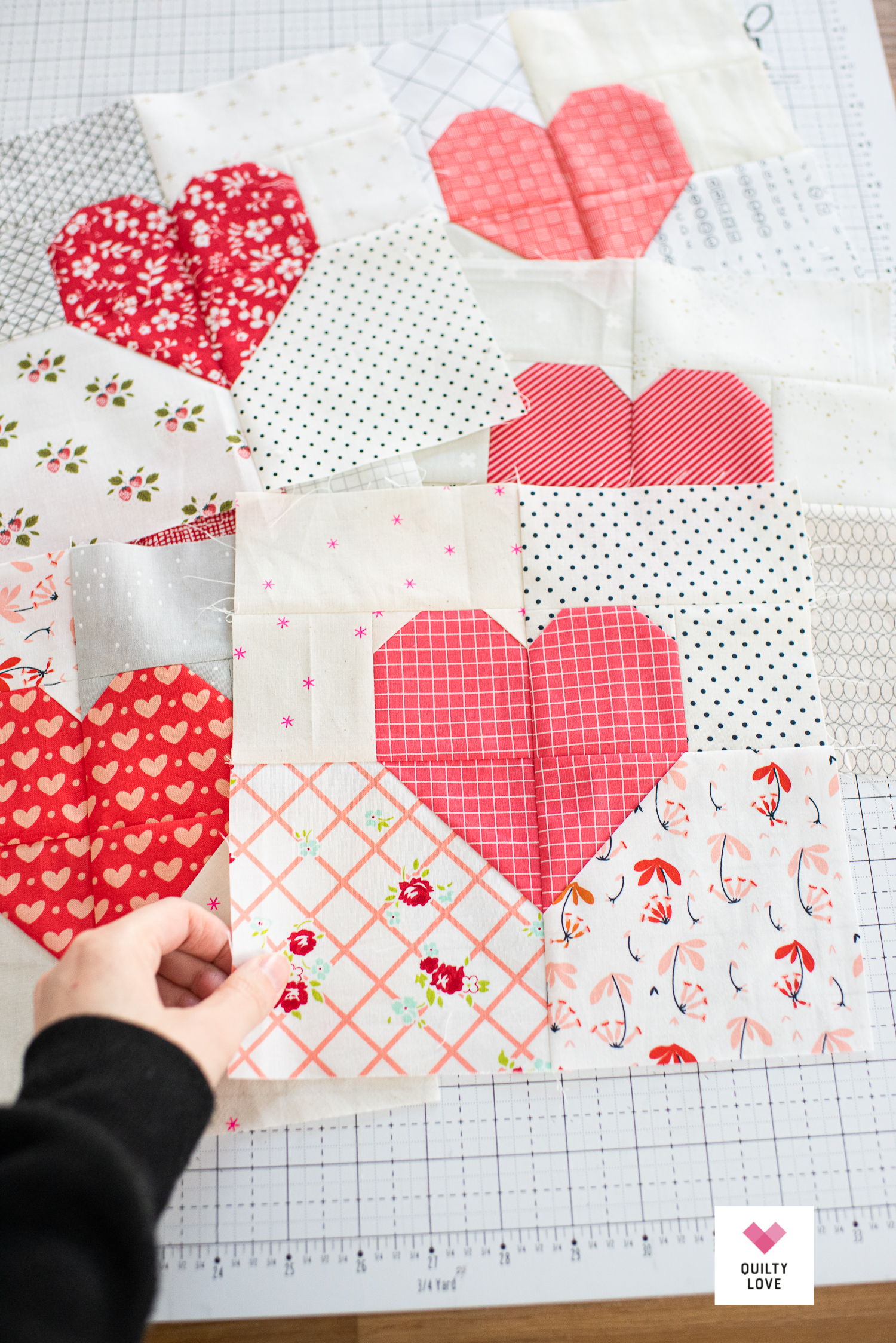 Scrap Stash Storage
I love keeping my scrap stash out in the open in these wooden bins in my sewing room (I have the larger size). They are the first thing I see when I walk in my room and it's a constant reminder to use them!
You can see more of my scrap stash storage in this blog post here.
The toddler loved watching this heart quilt come together. She was very interested from start to finish 🙂
Upsized Patchwork Hearts Quilt
I ended up upsizing my Scrap Stash Rainbow Patchwork Hearts Quilt. I originally planned on making the throw size but decided to upsize it by adding an extra column and an extra row. That just meant a nice and large throw size and more scraps being used!
Rainbow order heart quilt
I arranged my Scrap Stash Rainbow heart quilt in ROYGBIV order. You don't have to overthink this part. Just start placing the top corner color and try to keep the like colors together. I really love rainbow fade quilts but this scrappy heart quilt would look just as cute in a random color placement.
Patchwork Hearts Scrappy Rainbow quilt Long Arm Quilting
I sent this Patchwork Hearts Rainbow Scrap Stash quilt off to Katie at Modern Textiles for quilting. We chose this cute Marmalade quilting pantograph.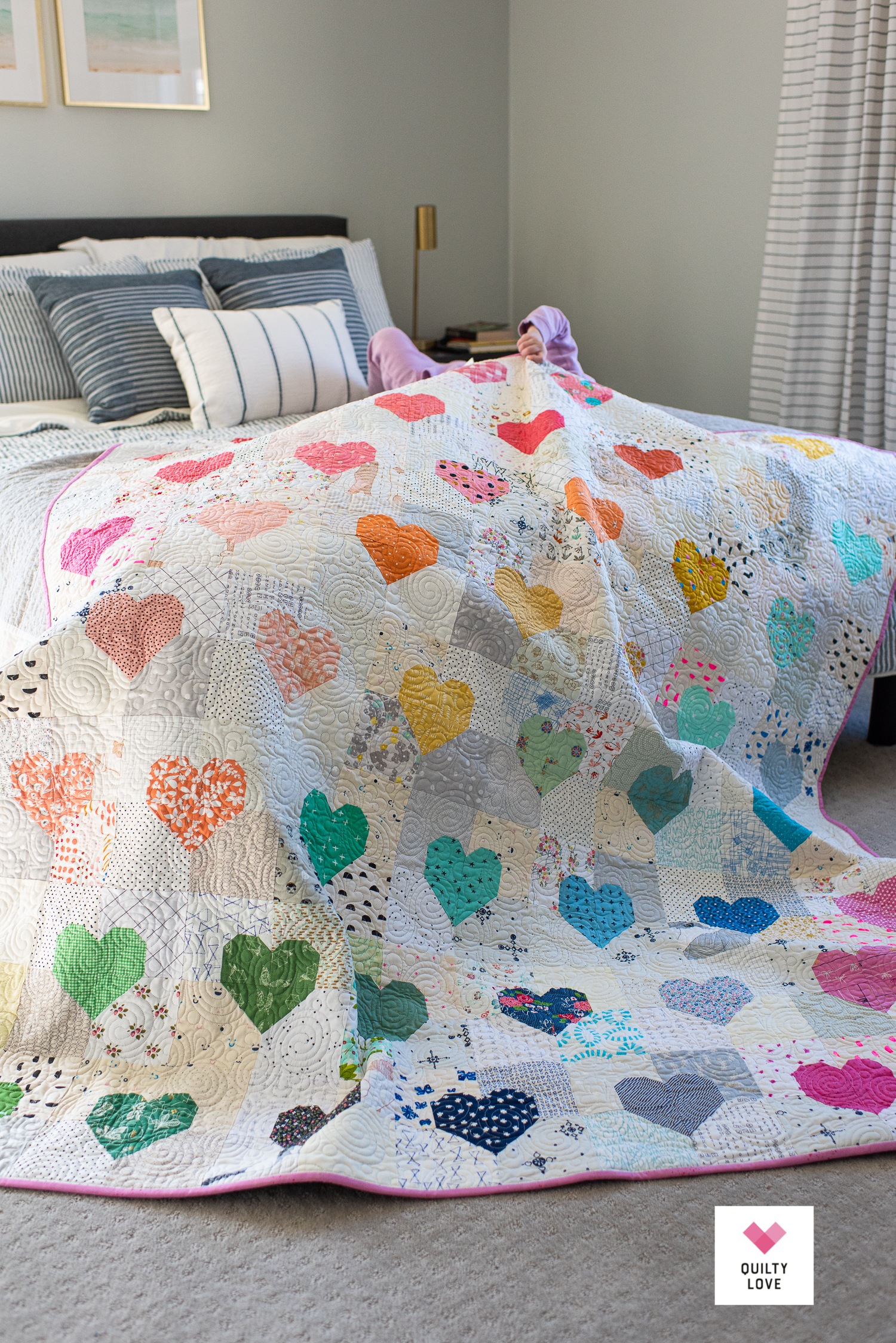 Look at that gorgeous texture!
And those happy hearts! This rainbow heart quilt has already made it's way into our quilt rotation around here. I don't add quilts often but this one was a given 🙂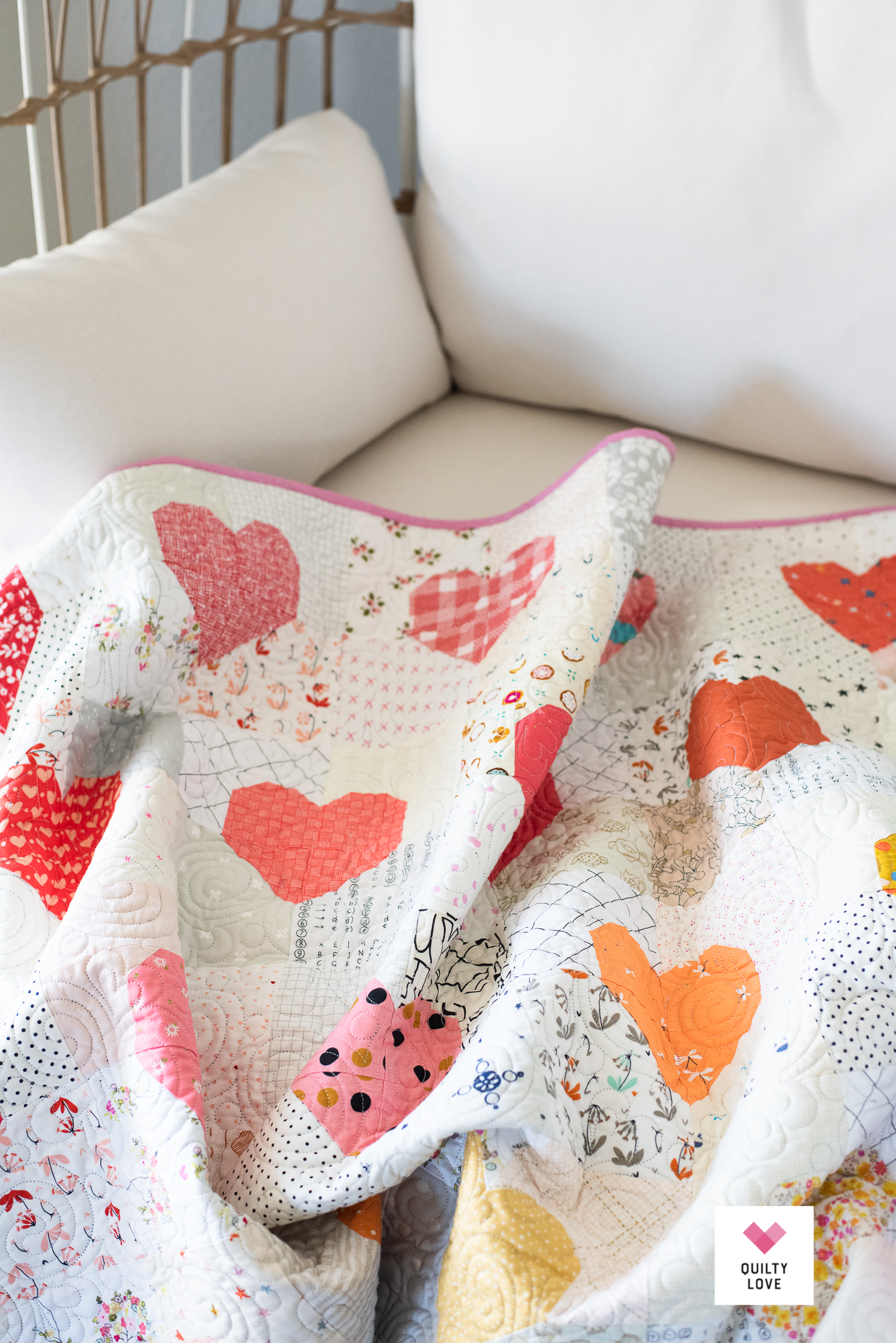 Minky quilt backing
I finished off this Patchwork Hearts rainbow quilt with a navy minky by Shannon Cuddle. I always use the Shannon Cuddle wide so you don't have to piece the backing.
Patchwork Hearts Rainbow Quilt Materials
Quilt Pattern: Patchwork Hearts quilt pattern by Quilty Love
Fabrics: Assorted scraps from my scrap stash
Backing: Shannon Cuddle Wide Minky in Navy
Binding: Ruby Star Society Speckled in Peony
Long Arm Quilting: Modern Textiles
Pieced on my Janome MC6700p