Star Pop II quilt pattern – Unruly Nature fabrics
Today I'm sharing the Star Pop II quilt pattern! Star Pop II is brand new and in the shop today. I've sewn up several samples of this fun and modern sawtooth star quilt and today I'm sharing the Unruly Nature fabrics one.
Star Pop II is a quick and easy modern sawtooth star quilt pattern. The Star Pop II quilt pattern features less stars and more fabrics than the original Star Pop quilt pattern. It has simpler piecing and goes together a little faster too.
Star Pop II is beginner friendly, very stash friendly and comes in multiple sizes.
Find Star Pop II in the Quilty Love pattern shop.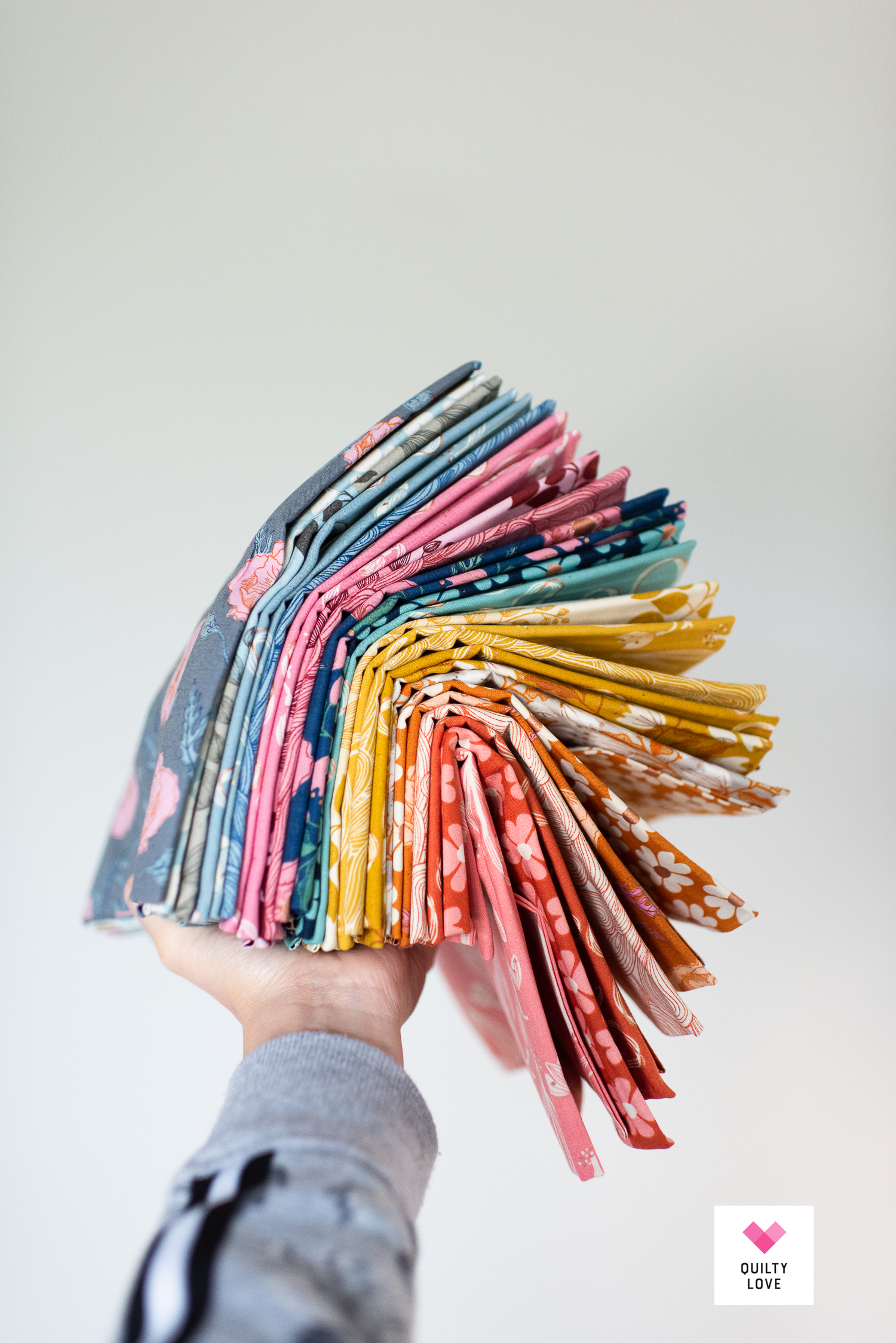 Star Pop II quilt pattern
Star Pop II is a spin off of the original Star Pop quilt pattern. I designed and wrote (and sewed up) both Star Pop quilt patterns last year at the same time. I couldn't decided which direction to go with it design wise so I made both and decided to release them a year apart. While both of these star quilt patterns are very similar, they do have distinct qualities.
Star Pop II is quicker and easier to sew together. It features more of the background fabric since it has less stars. It also features square patchwork, whereas the original Star Pop quilt pattern has rectangles.
Stash friendly star quilt pattern
Both Star Pop quilt patterns are very stash friendly! This star quilt pattern uses a variety of fabric cuts. You can use any of the following fabrics to sew up this modern star quilt:
Fat quarters
Fat eighths
quarter yard cuts
10 inch layer cake squares
Your scrap stash!
All the quilt quilt sizes
The Star Pop II quilt pattern includes mutiple size options! Sew up any of the following sizes using the quilt pattern:
Baby or lap size
Square throw size
Large throw size
Twin bed size quilt
Queen bed size quilt
King bed size quilt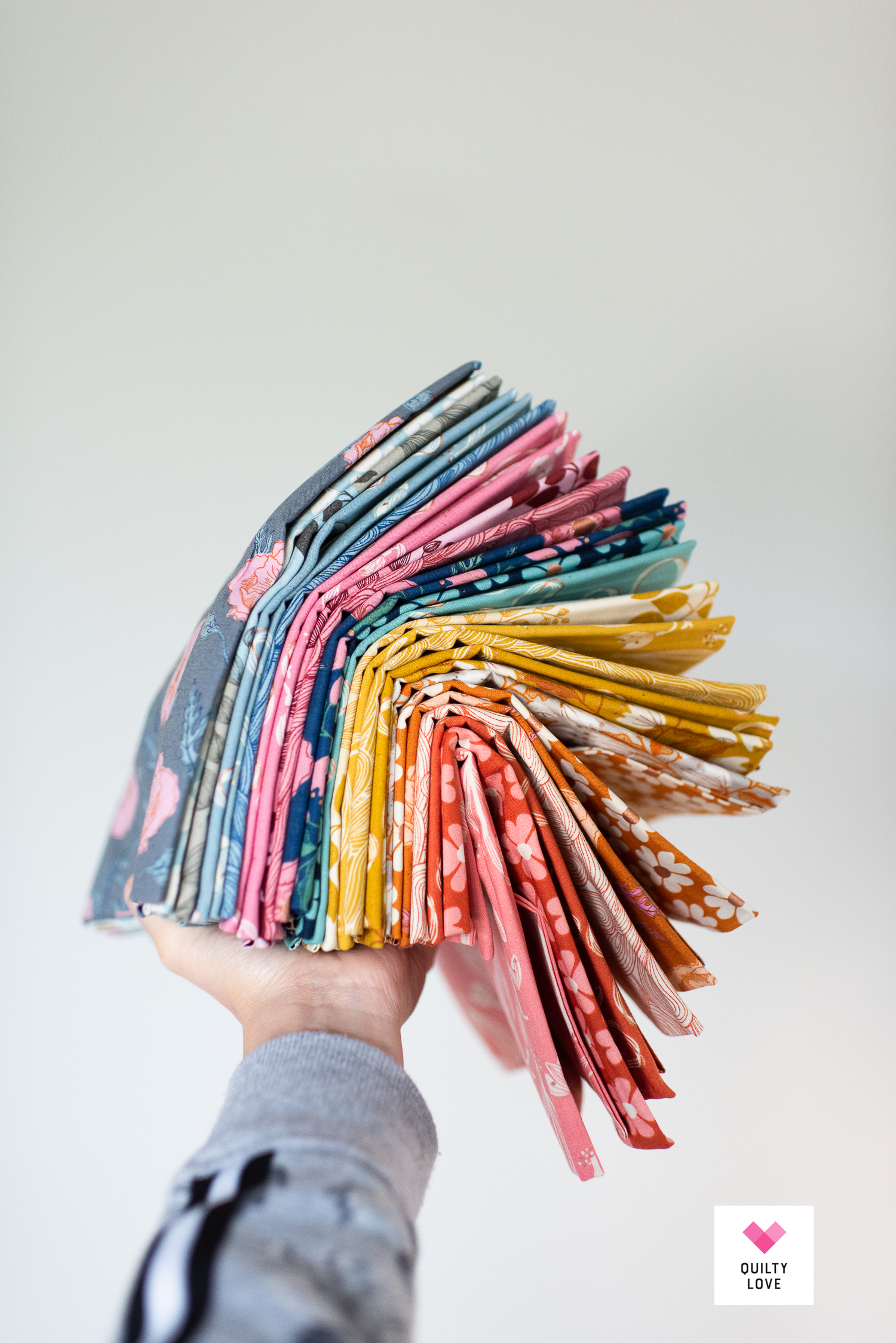 Quick and Easy Star quilt pattern
Star Pop II is a quick and easy sawtooth star quilt pattern. It's nice and beginner friendly. The piecing ensures that you won't lose any star points on this one!
Sometimes sawtooth stars require the perfect 1/4 inch seam in order to not lose any points. But the construction of this quilt pattern doesn't need that same allowance. It would be almost impossible to not get a perfect point on this quilt pattern!
Patchwork background
I've really been into more patchwork style quilts lately and I know my recent quilt patterns have reflected that. I'm finding my style to evolve more into busier background free type of quilts.
I love mixing fabric prints together and making quilts that don't have solid backgrounds. I used to go through bolts of white fabric like crazy and now I can't remember the last time I made a quilt with a white background. I love how our styles can evolve in so many different ways. It keeps quilting interesting.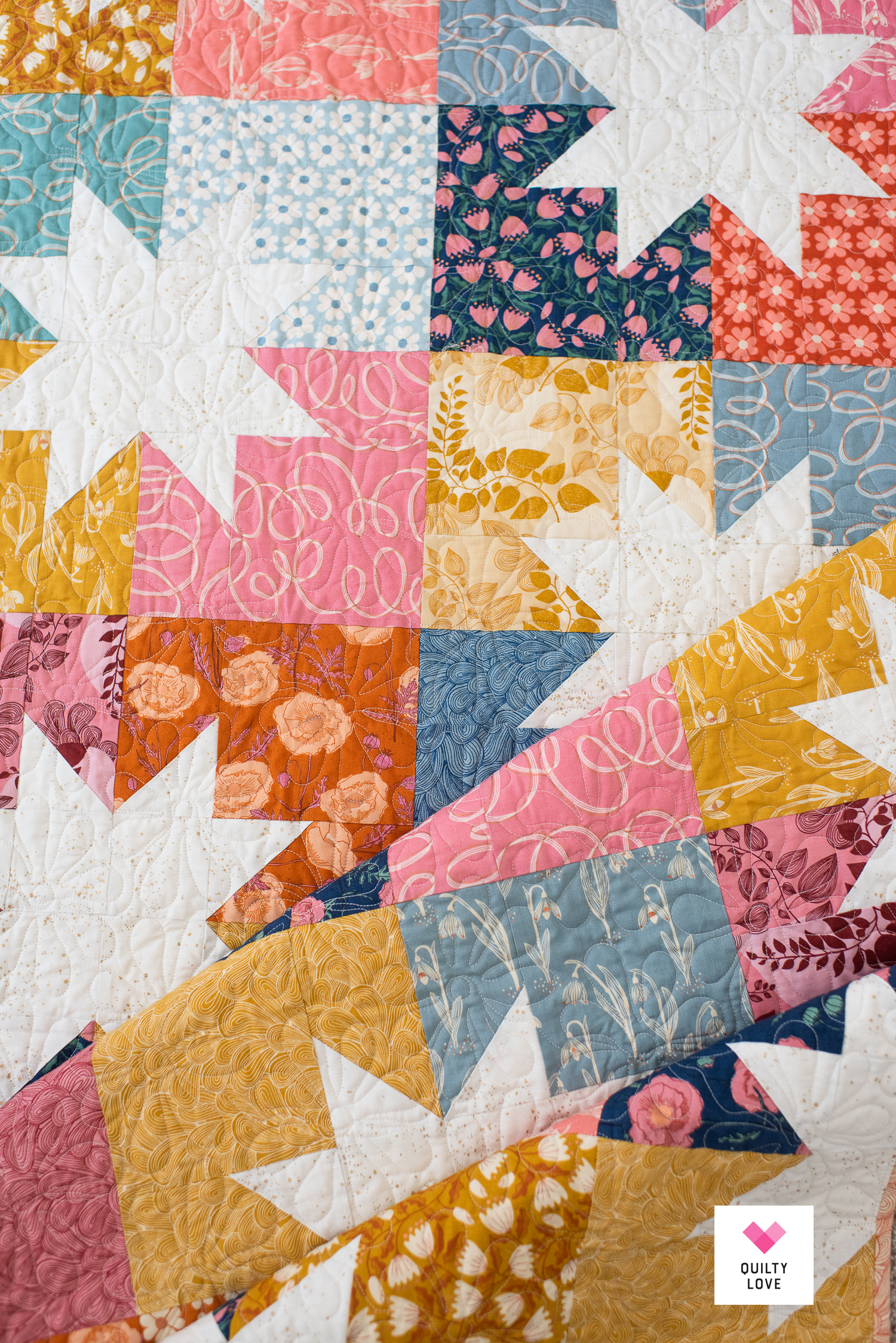 Unruly Nature fabric by Jen Hewitt for Ruby Star Society
I ended up with a half yard bundle of this beautiful Unruly Nature fabric by Ruby Star Society. This is the third quilt I made with that half yard bundle! The other two are these Scrappy Arrows quilts.
The Unruly Nature fabric line by Jen Hewitt came out last year sometime. It's such a beautiful jewel toned fabric line.
The stars are Speckled in white gold, also by Ruby Star Society.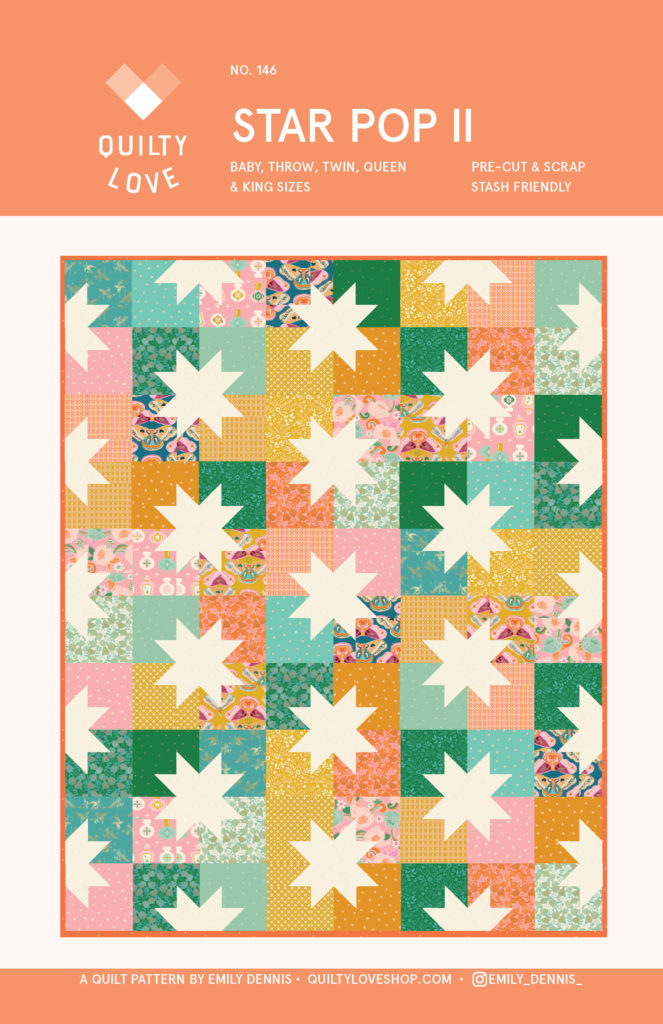 Long Arm Quilting
I sent off this Unruly Nature Star Pop quilt to Modern Textiles for quilting. We chose this Daisy Doodles pantograph for the quilting.
Wide Back quilt backing
This Star Pop II quilt is finished off with a Ruby Star Society Wide Back fabric in White gold. I tend to use neutral quilt backs when the quilt top is busier like this one. This Ruby Star white gold is one of my favorites.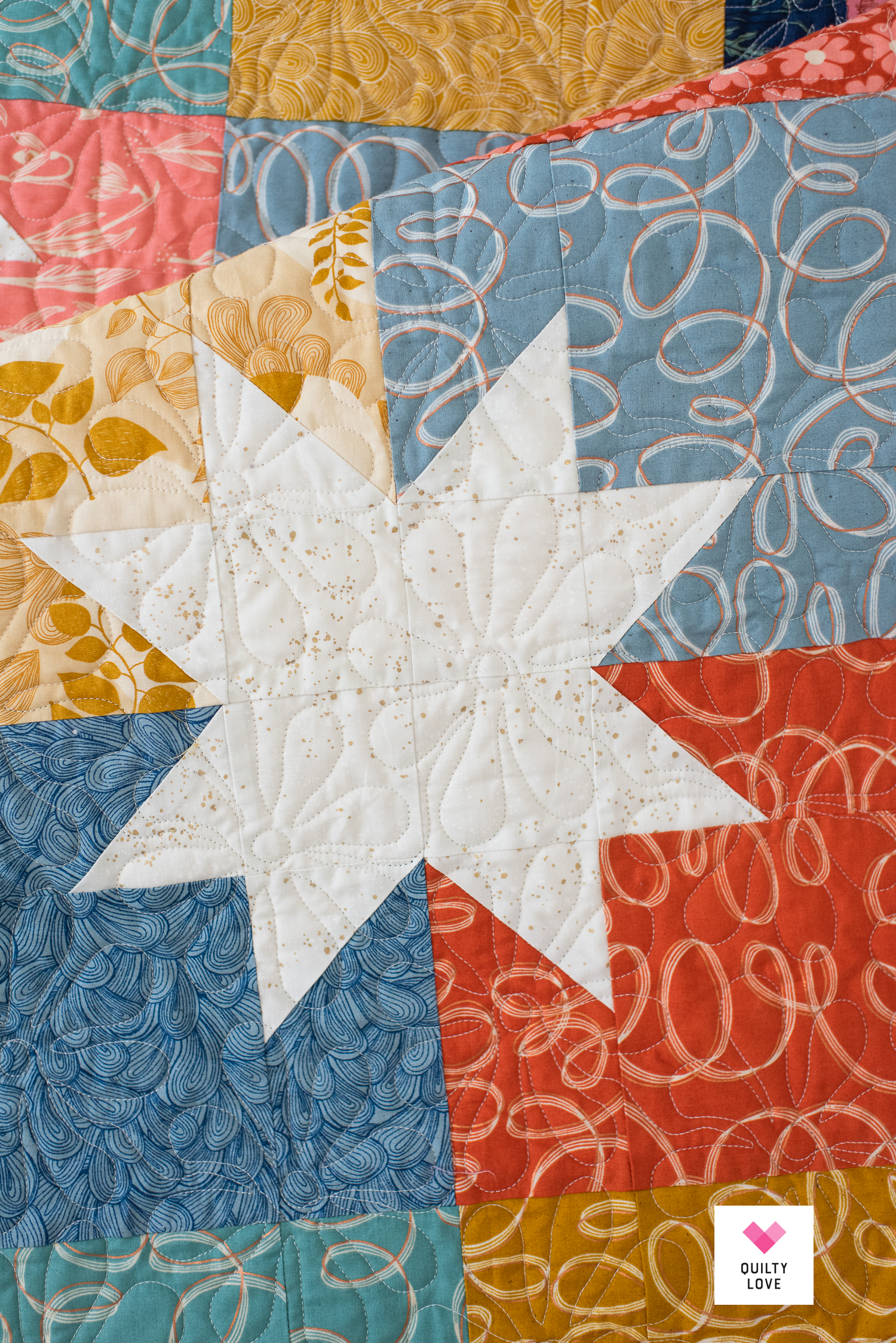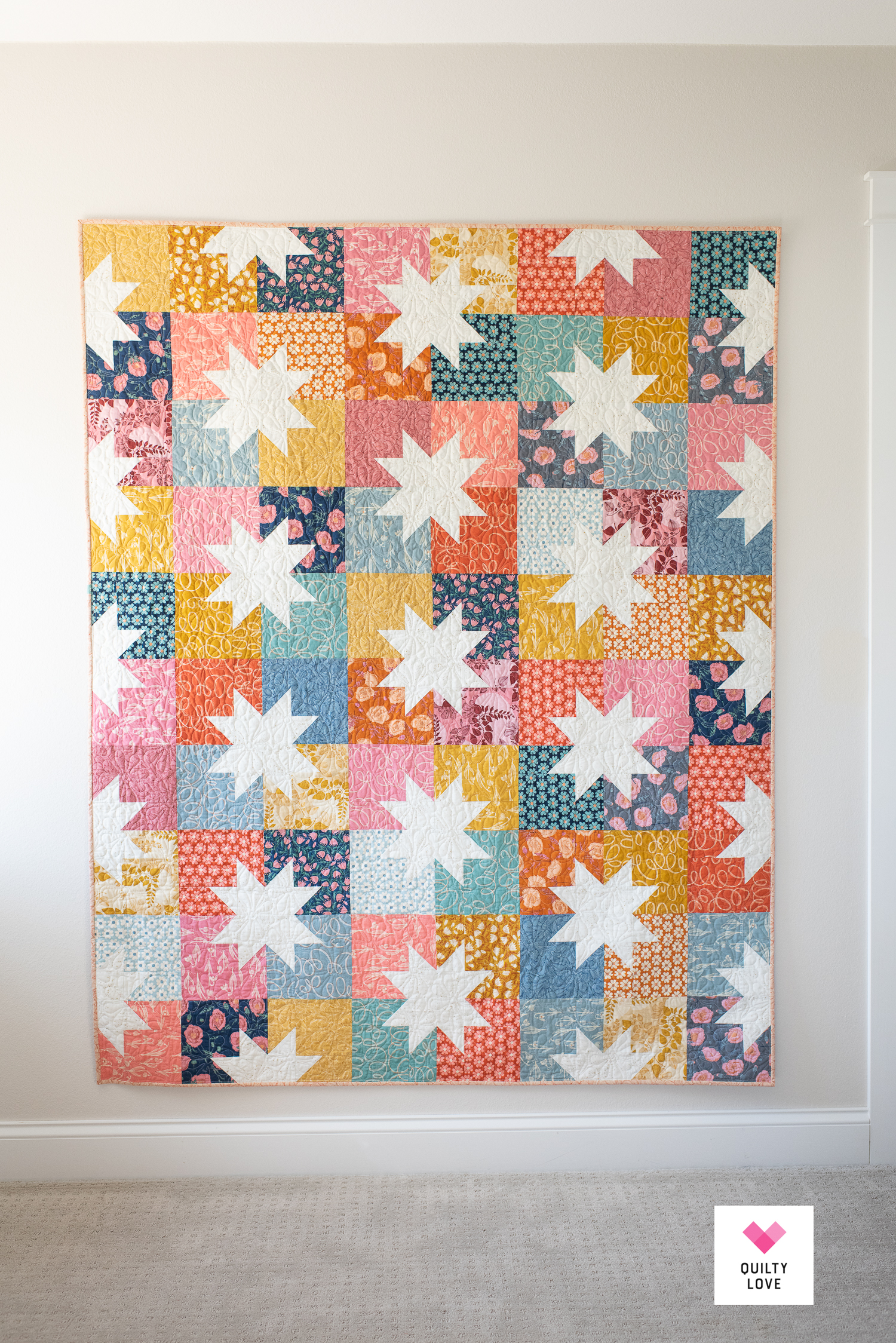 Star Pop II quilt materials:
Star Pop II quilt pattern by Quilty Love
Unruly Nature fat quarter bundle
Stars – Ruby Star Speckled in white gold
Backing – Ruby Star Wide Back in white gold
Pieced on my Juki 2010q
Long Arm Quilted by Modern Textiles