Sweet Summertime quilt pattern
These two new patterns have been in the works for a while and I'm excited to see you all make them your own.
Up first is the fat quarter friendly pattern:   Sweet Summertime
Be sure to check out the Friendly Stars Quilt blog post also!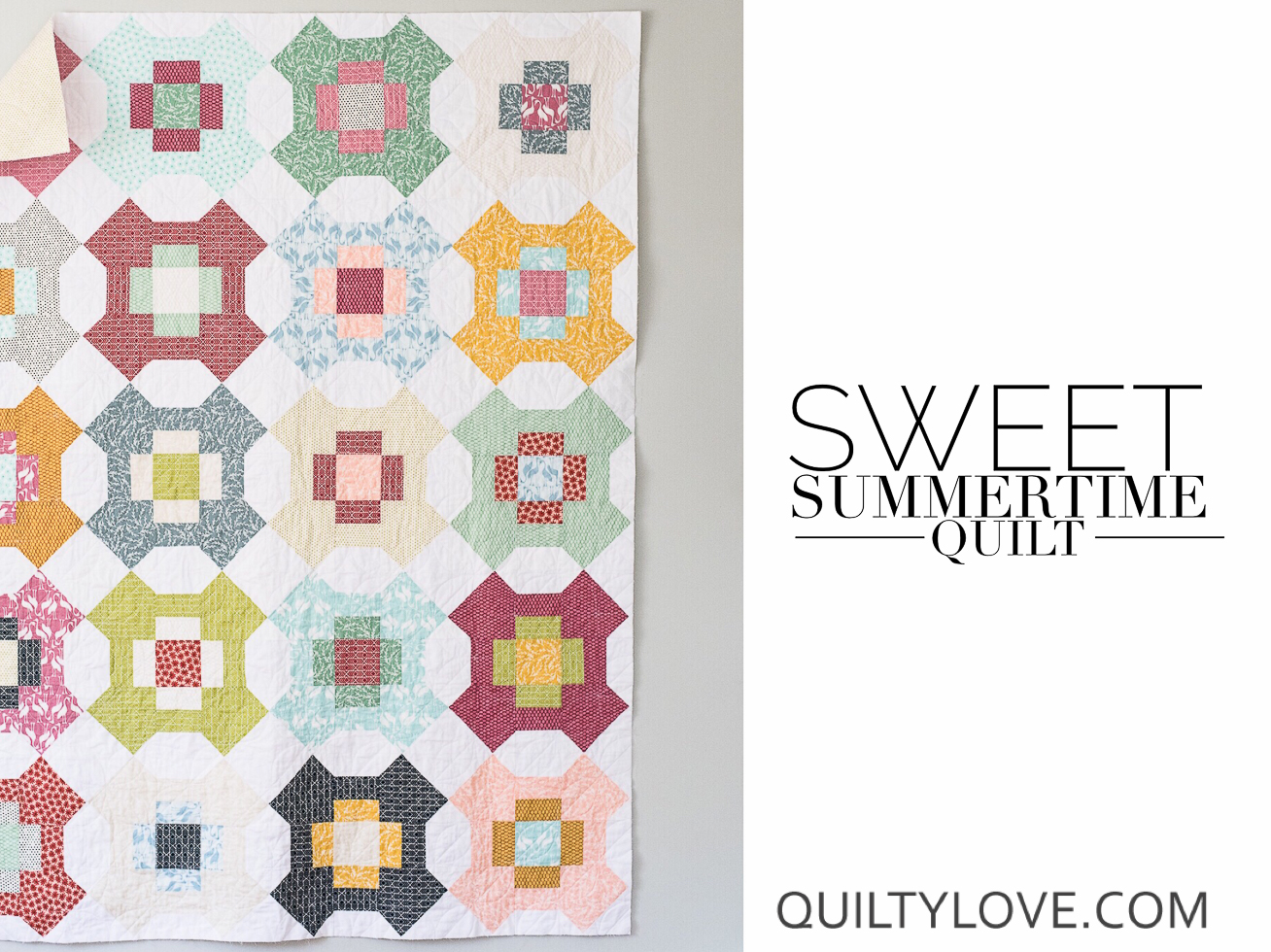 This quilt pattern combines fun modern shapes and shows off those favorite fat quarters of yours so well.   Mix and match your fat quarter pieces together to create your own bright and colorful blocks.  I love a good mix and match fat quarter quilt 🙂
The Sweet Summertime quilt pattern is available in baby, throw and queen sizes.   Pick up a copy in the Quiltylove pattern shop.
Sweet Summertime is sponsored by Fabric.com!   When fabric.com reached out about collaborating on a project together, it was an easy yes since I buy fabric from them all the time.
Fabric.com provided the fabrics for this quilt.  I chose Elizabeth Hartman's gorgeous Pond line for Robert Kaufman.  I've had my eye on this fabric line for a while now and was thrilled to sew them up into a quilt.  You can find the fabrics to make your own quilt here.
Orange Peel Quilting on a domestic machine
I tried something new on this quilt!   I really enjoy free motion quilting even though I'm still in the practicing stage.   I found a tutorial on pinterest to quilt orange peels using your domestic machine.   Orange peels is one of my favorite quilting designs so I decided to give it a try.
You first quilt a square grid using a walking foot.  (I use this walking foot for my Janome machine.) I quilted a diagonal grid on mine.
Then you quilt the arcs in one fluid motion starting at the top of your straight line.   First you quilt one side weaving back and forth using a free motion foot.   Then repeat on the other side.
Flip your quilt and free motion the arcs the other way.
I ended up making a template and marking all of my lines but if you are a confident free motion quilter, marking probably isn't necessary.  Or since I used the template, I could probably have skipped the straight line quilting and just used the template.
It was fun to try something new and I like how it turned out.


Sweet Summertime has big bold blocks that go together in no time.  The quilt pattern includes directional fabric cutting instructions.   I admit, I'm not very good at worrying about directional fabrics!   I figure no one knows which way is up when they are snuggling with it 😉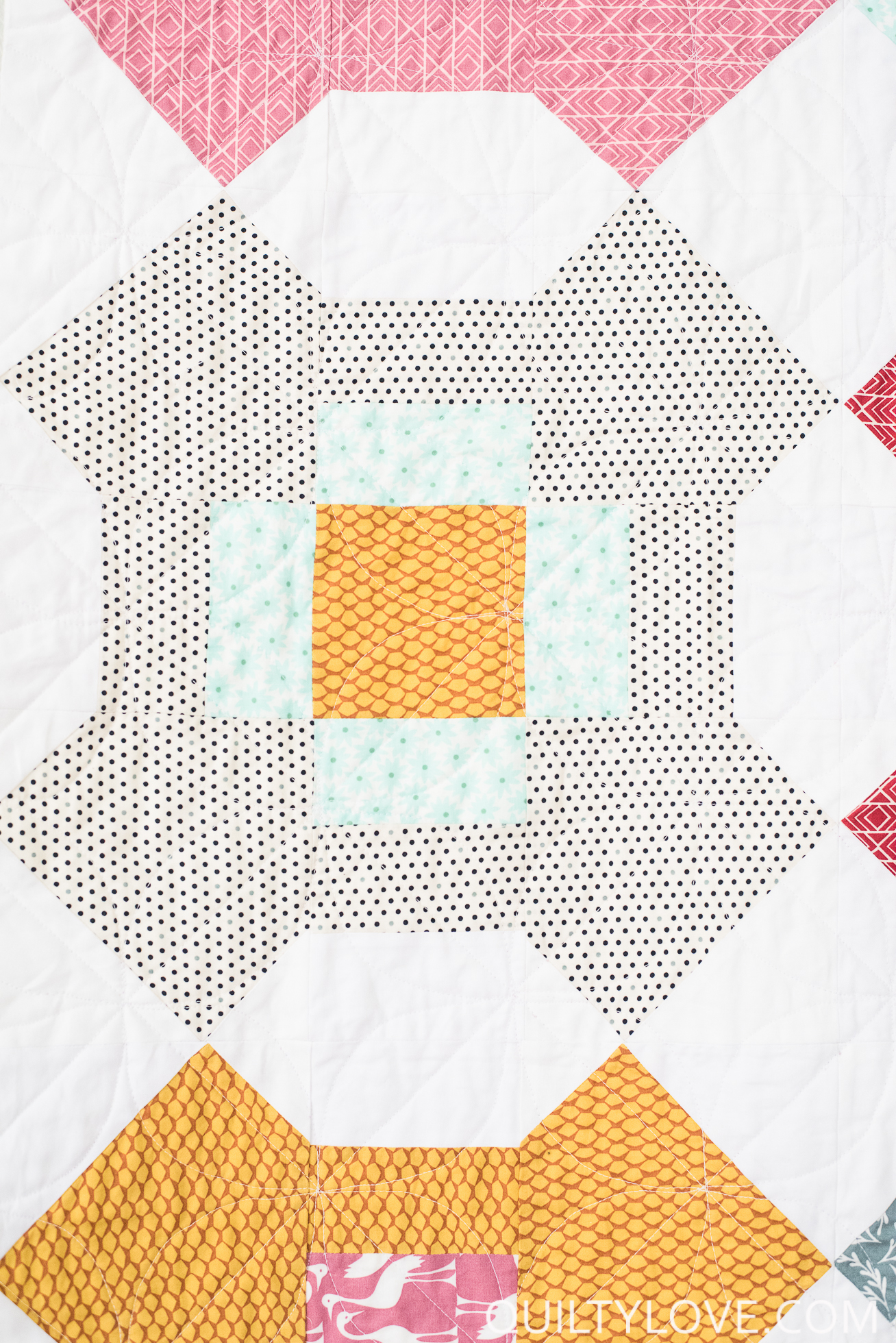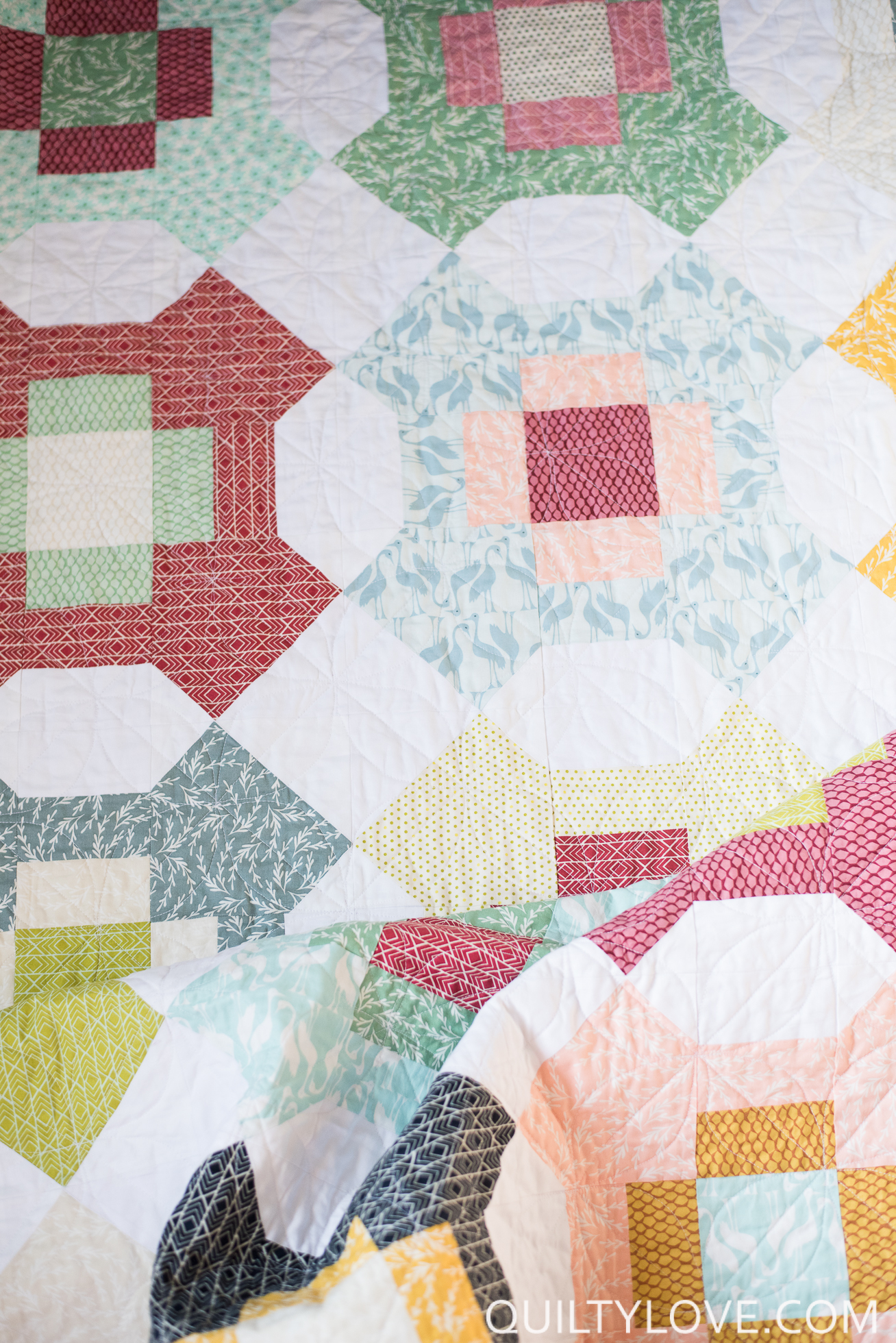 This yellow block is one of my favorites!  The color combos in this Pond fabric line are so good!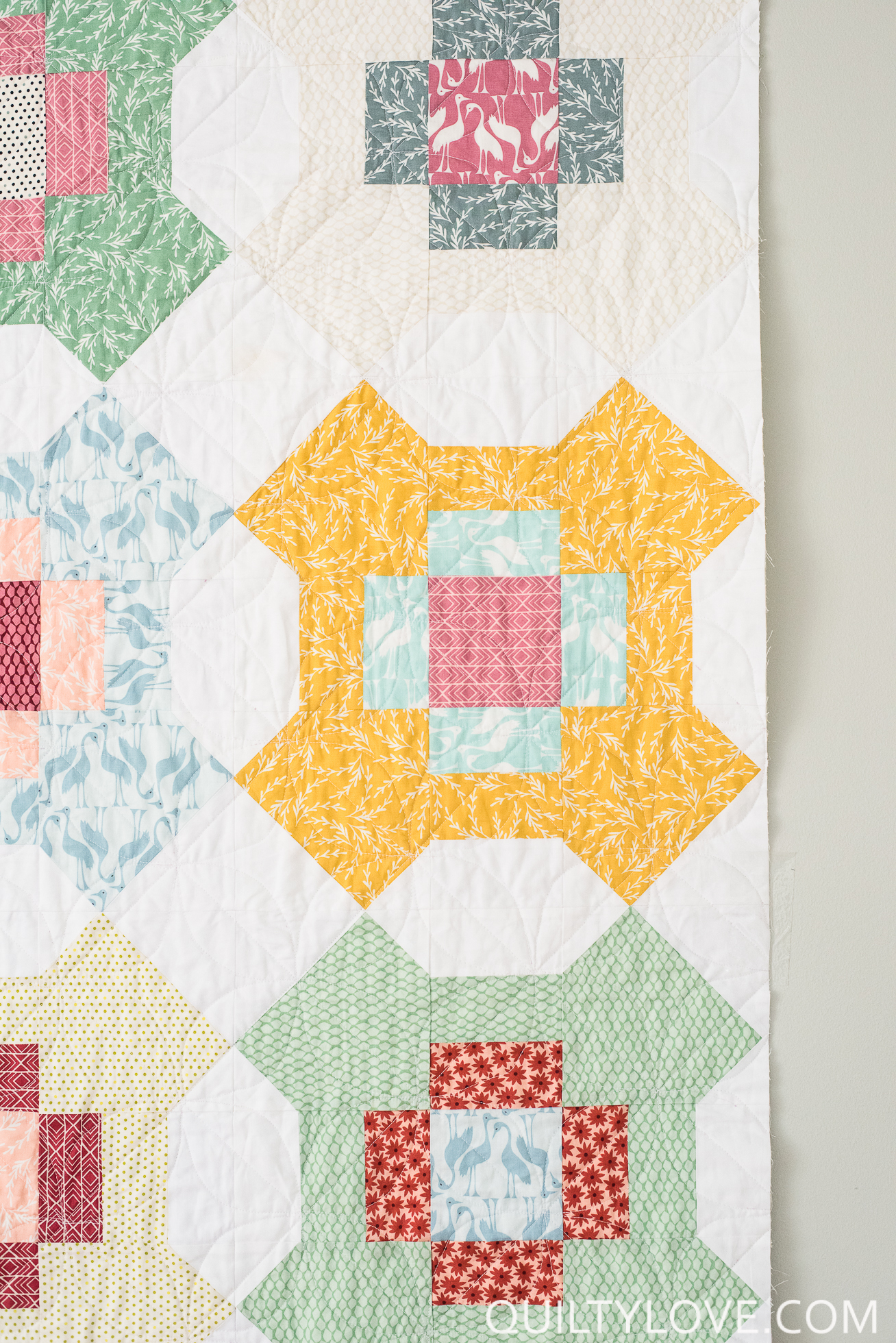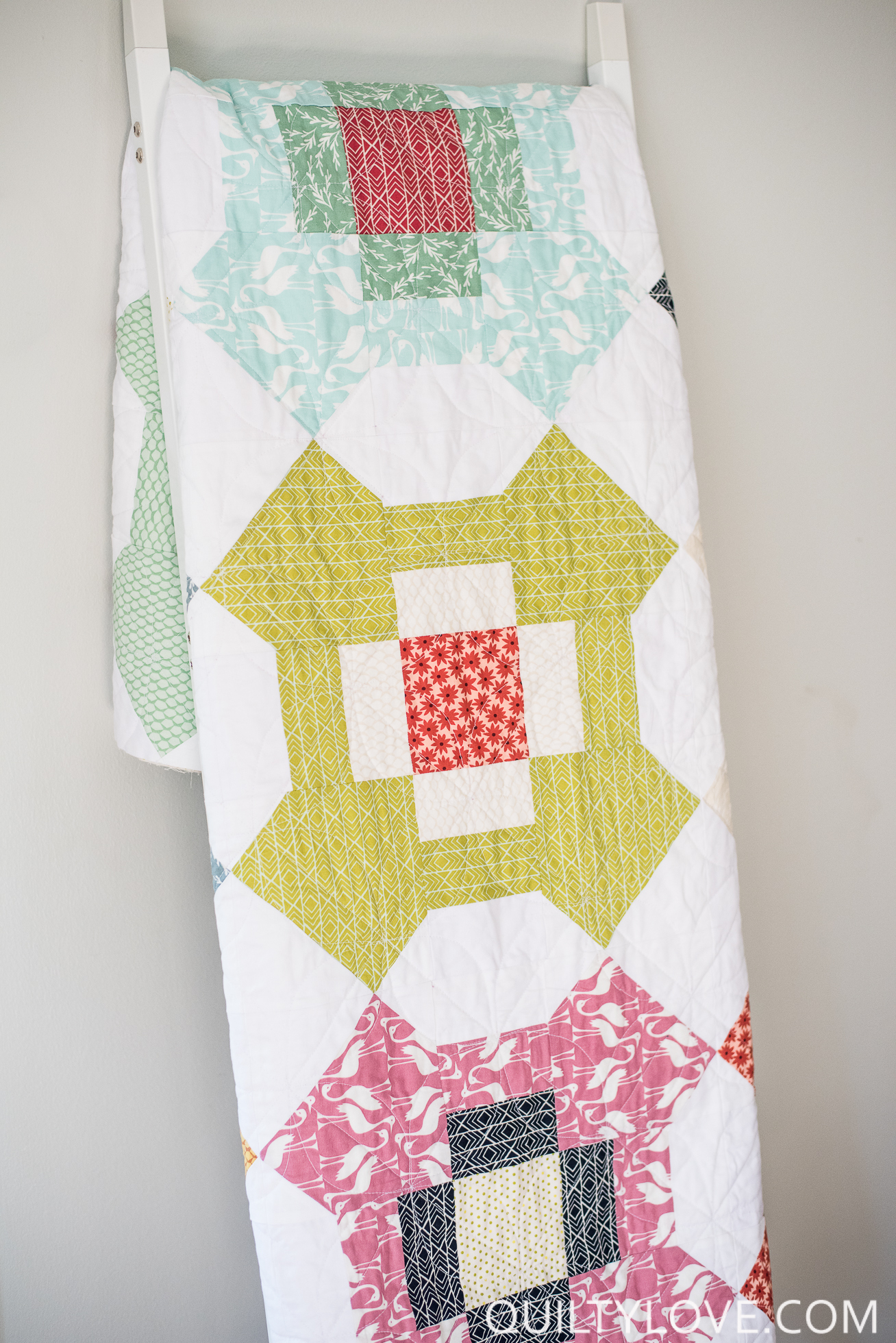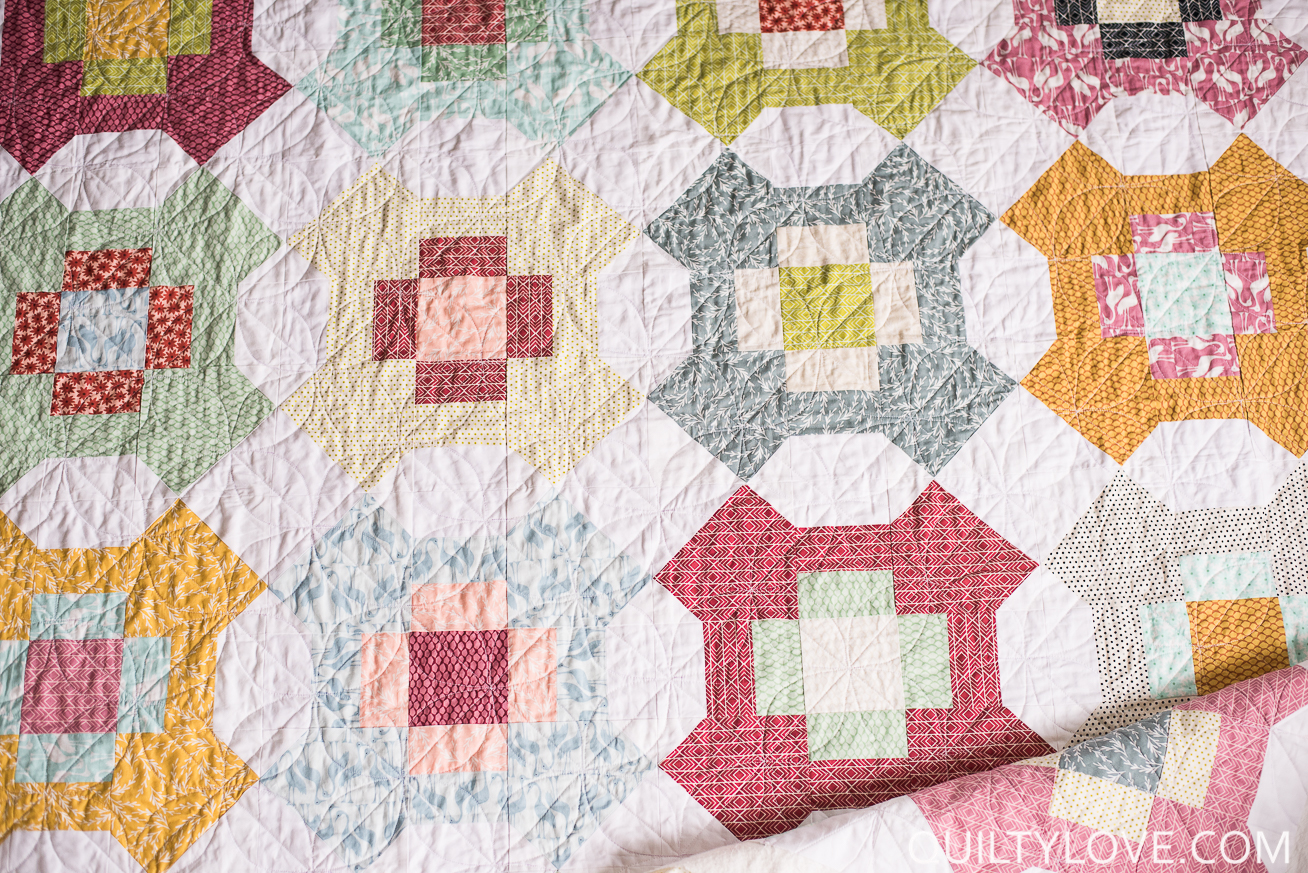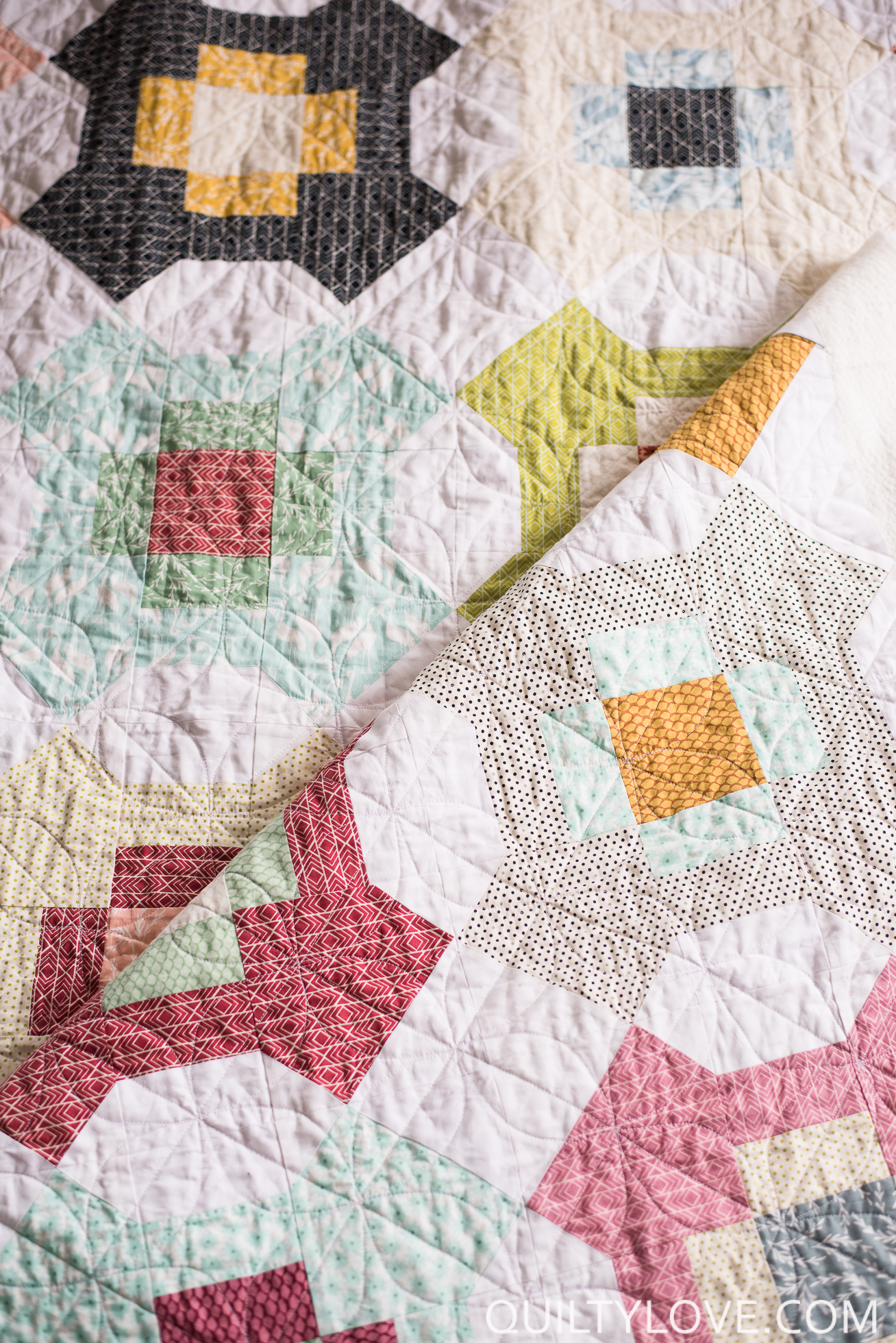 I still need to bind this quilt!  I couldn't decide on a binding fabric and didn't want to rush that stage.  It will either be a white binding or something dark like navy or dark  grey.   Or maybe even one of the yellows….
If you are on Instagram be sure to use the hashtag #sweetsummertimequilt to share your progress!    I would love to see it!
Fabrics:
Pond Fabrics by Elizabeth Hartman for Robert Kaufman
White:   Kona White by Robert Kaufman
Backing:  Pond dots in Pickle
Batting:   Warm and White
I use this spray baste.
Pick up your copy in the shop in printed format or as a digital download
.