Then Came June Revive Bundle Cake Dash Quilt
Today I'm sharing this quick and easy Cake Dash quilt using the brand new Then Came June Revive bundle. Cake Dash is the latest Quilty Love quilt pattern in the shop and it's a quick and easy one. Cake Dash is layer cake friendly since it uses 10 inch squares. You can also use fat quarters as I did here. More on that below.
I used my friend Meghan's brand new curated bundle Revive for this cute throw size quilt. Revive is a curated bundle that Then Came June did for Robert Kaufman. It's currently in quilt shops. Meghan has fat quarter bundles in her shop here.
Revive Bundle by Then Came June for Robert Kaufman
My friend Meghan of Then Came June just debuted her third curated bundle for Robert Kaufman. This bundle is called Revive and is a mix of textures and a soft color palette. Revive is in shops now. You can find it in Meghan's shop or in The Fat Quarter Shop.
Revive was perfect for a stash buster quilt pattern since it has those beautiful neutrals mixed in. I love finding a stash buster pattern that doesn't require a background fabric when a bundle has neutrals. The soft blues and greens in this color palette are so pretty. It has a pop of yellow and peach also. I did end up keeping the peach out of this quilt.
Cake Dash Quilt Pattern
Cake Dash was the perfect option for this Revive bundle since it doesn't require background fabric. Or at least this version doesn't! The Cake Dash Pattern includes a couple different options.
Cake Dash is the newest Quilty Love pattern and was released a few months ago. It's a great stash buster pattern since you can make one up without any background fabric.
Cake Dash includes seven quilt sizes from baby size all the way up to king size!
This Then Came June Revive Bundle Cake Dash quilt is the small throw size. It measures 48″ x 56″. It's the perfect lap size or even toddler size quilt.
Layer Cake friendly quilt pattern
Cake Dash is a layer cake friendly quilt pattern since you can use 10 inch squares for these blocks. I had a fat quarter bundle so I cut 10 inch squares from the bundle. There are fat quarter cutting instructions included but I decided to make this one with the squares since I had quite a few fabrics to work with.
So I cut two 10 inch squares from each fat quarter and then cut 2.5 inch strips from the remaining fat quarter for a Lucky Log Cabins quilt. I'll be sewing that one up soon!
Quick and easy quilt pattern
Cake Dash is a quick and easy quilt pattern. I cut my fabrics one afternoon and sewed the quilt top the next afternoon. It's a quick and satisfying quilt to sew up.
It's a beginner friendly quilt pattern because it's basic strips. However, the seams are all in one direction of the block so unless your quarter inch seam is perfect you may find your blocks don't line up perfectly. You can trim all of your blocks square to fix this.
I also press the seams of each block open which helps keep the seam allowance closer to that perfect 1/4 inch. If I skip the trimming then I press each row to opposite sides to nest the seams. That helps when the blocks are not all perfectly square.
Machine quilting – Straight line quilting with a walking foot
I decided to quilt this one up myself since it's a small throw and it's been a while since I've quilted anything. I used to quilt all of my own quilts but my time feels more limited these days so outsourcing the quilting has been helpful.
I do miss the satisfaction of making a quilt from start to finish completely on my own though so it's nice to quilt something every once in a while.
My go to quilting is usually the wavy stitch but I wanted to try something new this time.
So I did some Pinterest searches for straight line quilting designs and found these fun 60 degree triangles. They are super easy and only require three passes through the quilt. Scroll down to see diagrams.
First quilt 2″ spaced horizontal straight lines. (Or pick whatever spacing you want but use it for all three passes.)
Then quilt straight lines 2″ spaced on one diagonal at a 60 degree angle. I used a hera marker to mark these lines so they stayed nice and straight.
Lastly, quilt 2″ spaced lines on the opposite 60 degree diagonal. Make sure the lines go through the intersection of the first two lines you made to create the triangle. I used a hera marker for these lines also. They are mostly 2 inch spaced but I followed the intersections rather than worrying about an exact 2 inches for this last line.
There might be a common name for this straight line quilting design but I'm just calling it 60 degree triangles since that is what they are.
Hera Marker
The photo above shows two of the three lines already sewn. That tool in the photo is a hera marker. It's used to mark an indent in the quilt. It's my favorite way to mark lines on a quilt since it will wash out or relax over time. I don't trust pens and markers on my fabrics so this is a good alternative.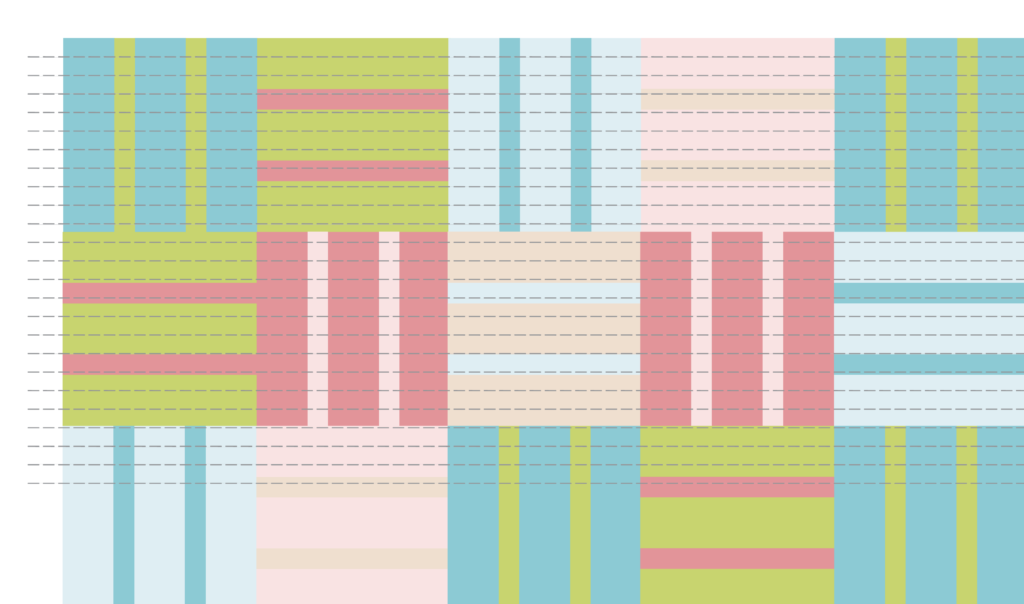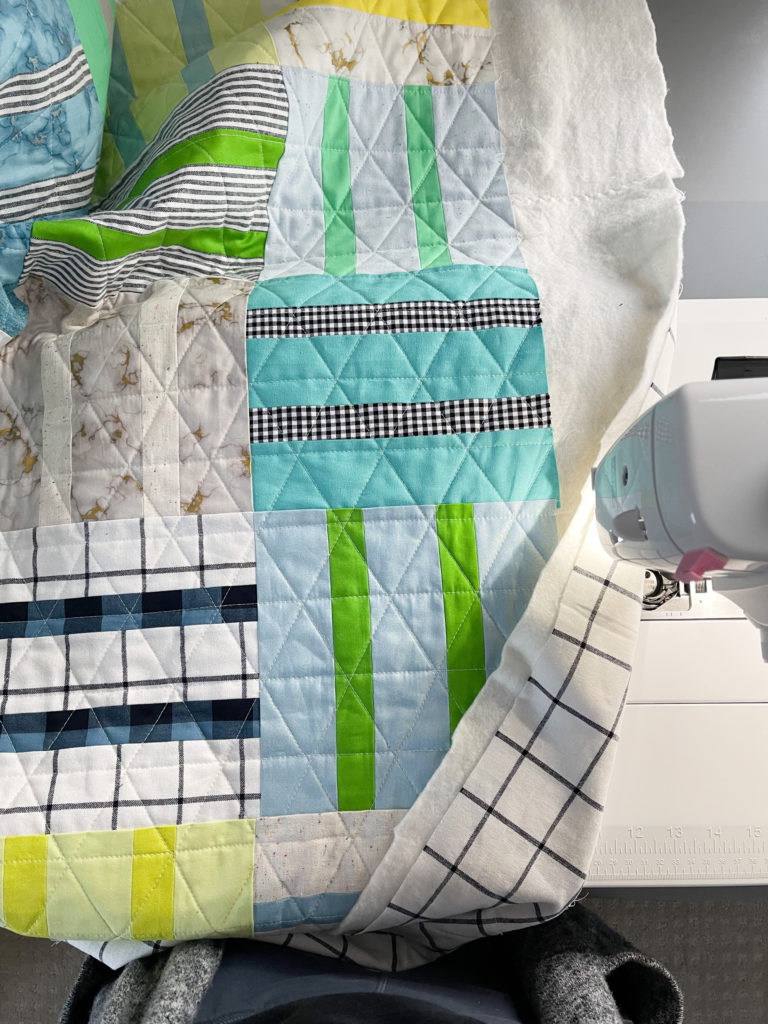 Black and White Striped Binding
I finished off this Then Came June Revive Bundle Cake Dash quilt with a black and white striped binding. A striped binding is so classic and I always have plenty on hand. I used this black and white striped fabric for the binding.
Grid backing fabric
The backing on this Cake Dash quilt is an Essex Linen grid by Robert Kaufman. I love backing my quilts with essex linen because it's much warmer than a quilting cotton. And this grid is one of my favorites to use as a backing.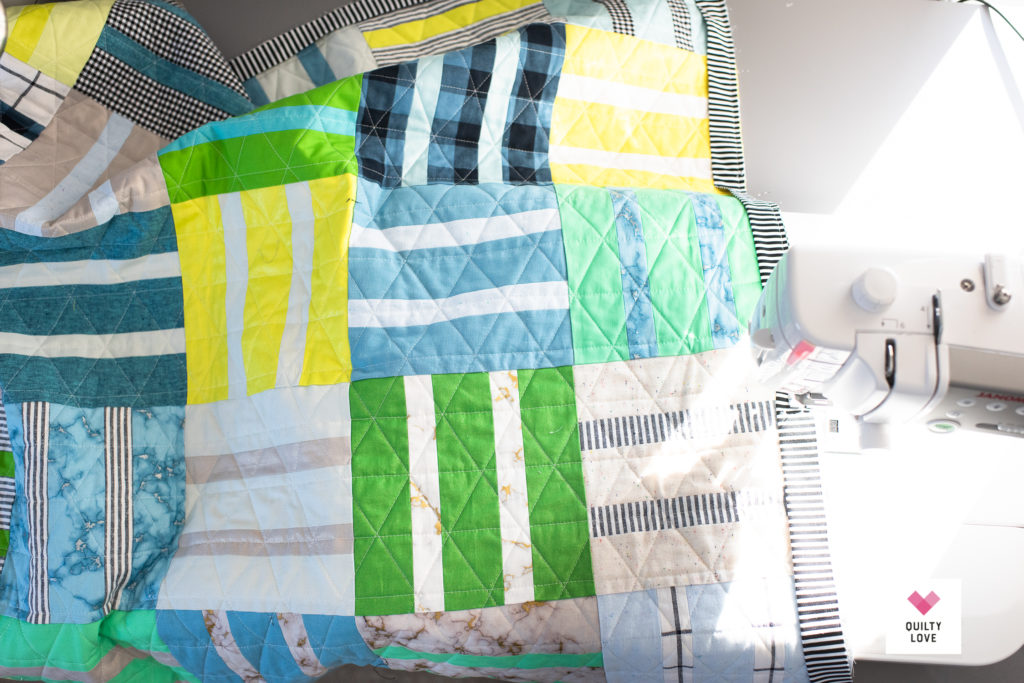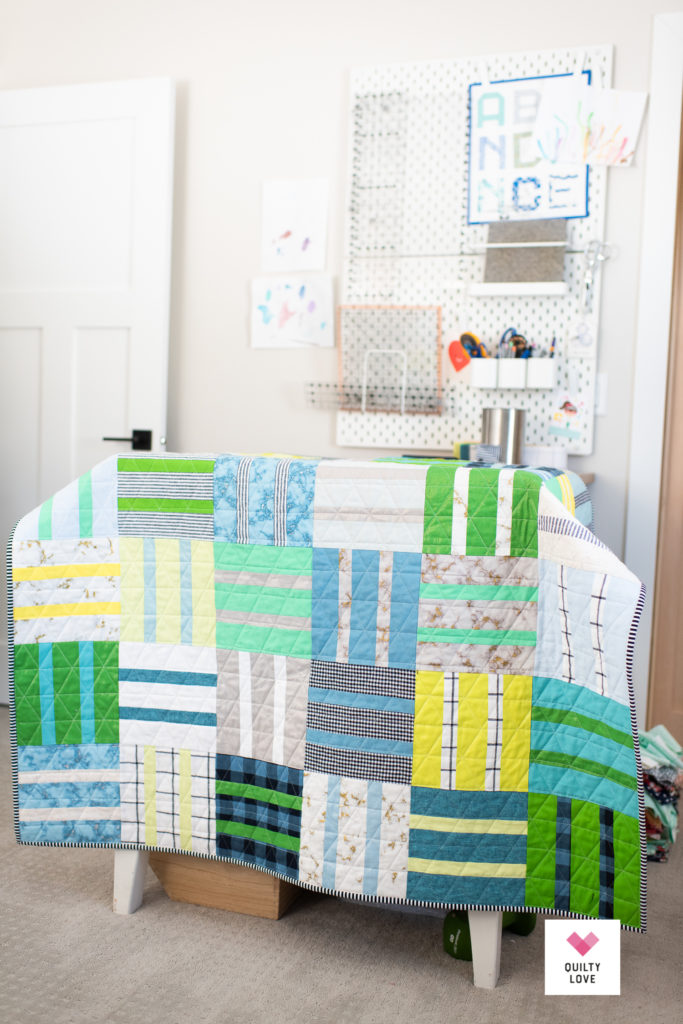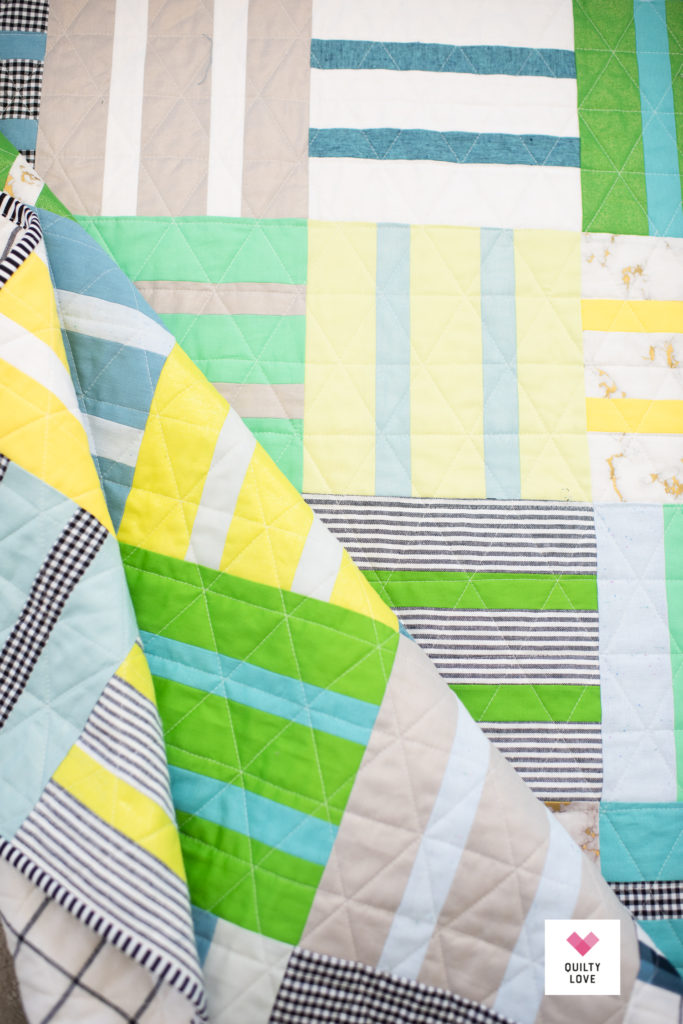 Then Came June Revive Bundle Cake Dash materials
Quilt Pattern: Cake Dash by Quilty Love
Fabrics: Revive Bundle by Then Came June for Robert Kaufman Fabrics
Backing: Essex Linen grid in black
Binding: Timeless Treasures Stripe
Batting: Quilters Dream batting
Spray basted with 505
Pieced and quilted on my Janome MC6700p