Baby Patchwork Hearts Quilt – Low volume scrappy heart quilt
Today I have a cute little baby Patchwork Hearts quilt to share. It doesn't get any cuter than a baby sized heart quilt. This baby heart quilt pattern is a fun and scrappy quilt to sew up. Sew through your stash using this quilt pattern.
The Patchwork Hearts quilt pattern is the newest heart quilt pattern in the Quilty Love pattern line up. This year the heart quilt is scrappy friendly like always.
This cute little baby heart quilt uses leftover fabrics from a Sincerely Yours fat quarter bundle by Moda Fabrics.
Patchwork Hearts is in the Quilty Love pattern shop.
Sincerely Yours Fabric by Moda Fabrics
This cute little baby sized Patchwork Hearts quilt is sewn up using the Sincerely Yours fabric line by Sherri and Chelsi for Moda Fabrics.
I was excited to use this cute Valentine's inspired fabric bundle for this years heart quilt. Because this fat quarter bundle includes quite a few fabrics I was able to make a throw size and this baby size heart quilt with it. I did use an additional one yard of a lighter print for the throw size hearts.
I used leftover fabrics from the throw size for the hearts on this baby size quilt.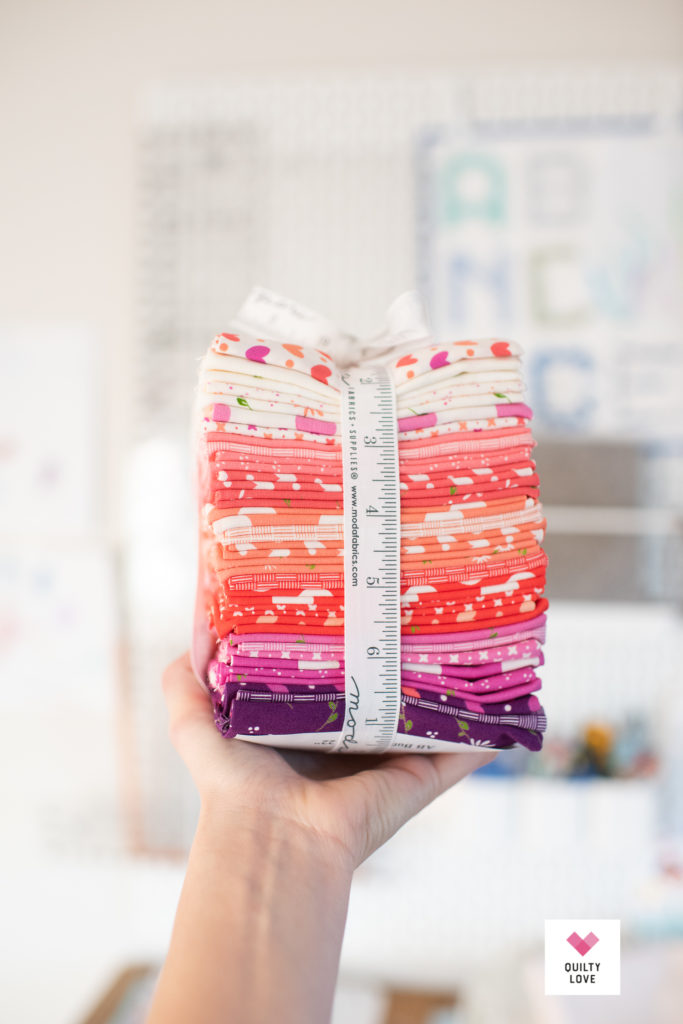 Scrappy baby heart quilt
I love how cute and scrappy this baby heart quilt turned out. The low volume fabrics from the Sincerely Yours fabric line were used as the scrappy patchwork background while the brighter reds and purples were used as the hearts.
I call this one an inside out heart quilt since it's the opposite of the throw size Patchwork Hearts. I just started a throw size version of Patchwork Hearts using all low volumes from my scrap bins as the background. I love how this baby size scrappy heart quilt turned out so I'm excited to make one like it in a throw size.
Patchwork Hearts quilt pattern
Patchwork Hearts is the fourth annual heart quilt pattern. This tradition started four years ago as an excuse to use up the fabrics in my scrap bins. These heart quilts are always stash and scrap friendly.
They always release in January just in time for Valentine's day.
In addition to being scrap friendly they are also precut friendly. The Patchwork Hearts quilt pattern can use the following precuts:
Charm Squares (5″ squares)
Layer Cake squares (10″ squares)
Fat Eighth friendly
Quarter Yard friendly
Fat Quarter friendly
Scrappy friendly
The Patchwork Hearts quilt pattern includes instructions for three different sizes:
Baby size
Throw size
Twin size
I snuck in a few photos of the throw size Patchwork Hearts quilt here. You can see the full blog post of the throw size quilt here.
Long Arm Quilting
Usually I will quilt baby sized quilts myself but I sent this one off to Modern Textiles along with the throw size Patchwork Hearts quilt. We chose this cute bow pantograph by Modern Textiles. I think it's called Twist Tie.
Minky Backing
I'm continuing my obsession with Minky backings by using it on this cute scrappy baby heart quilt. If ever there is a quilt to use a minky backing on, it's a baby quilt. Minky is so soft and so cuddly. I also treat it like any other quilting cotton backing and use batting.
I recommend sticking with a quality minky like Shannon Cuddle. Not all minky quality is the same and will wear differently over time. Cheaper minky fabrics might melt in the dryer so stick with a quality minky fabric.
I always use the wide Shannon Cuddle minky fabrics so no piecing required!
This minky backing is a Shannon Cuddle in the color Woodrose.
Binding Fabric
The binding on this cute patchwork hearts quilt is from the Sincerely Yours fabric line. This print is called Petunia Waffle. The binding on the throw size quilt is Petunia Criss Cross. And the heart fabric on the throw size quilt is the Ivory Dots.
Modern Textiles quilted up both of these quilts. I just love both quilting designs.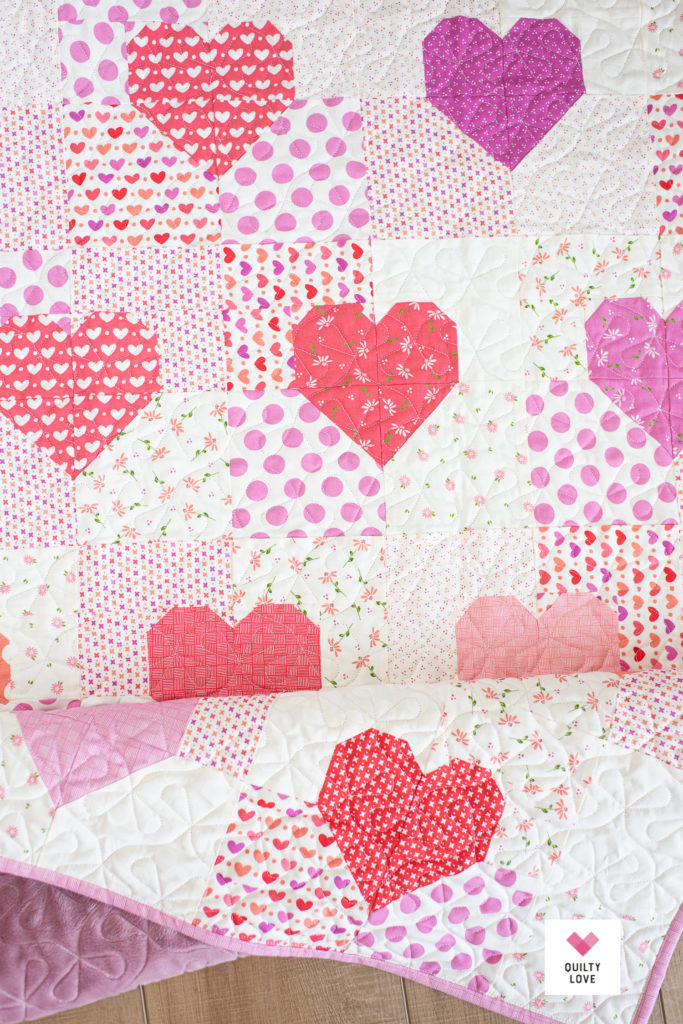 Minky is a little thicker than a quilting cotton so you'll want to use at least 2.5 inch strips for the binding fabric. I don't have any issues when I use 2.5 inch but you might even consider upsizing a little more if you find 2.5 inch strips to be tight with a regular quilting cotton.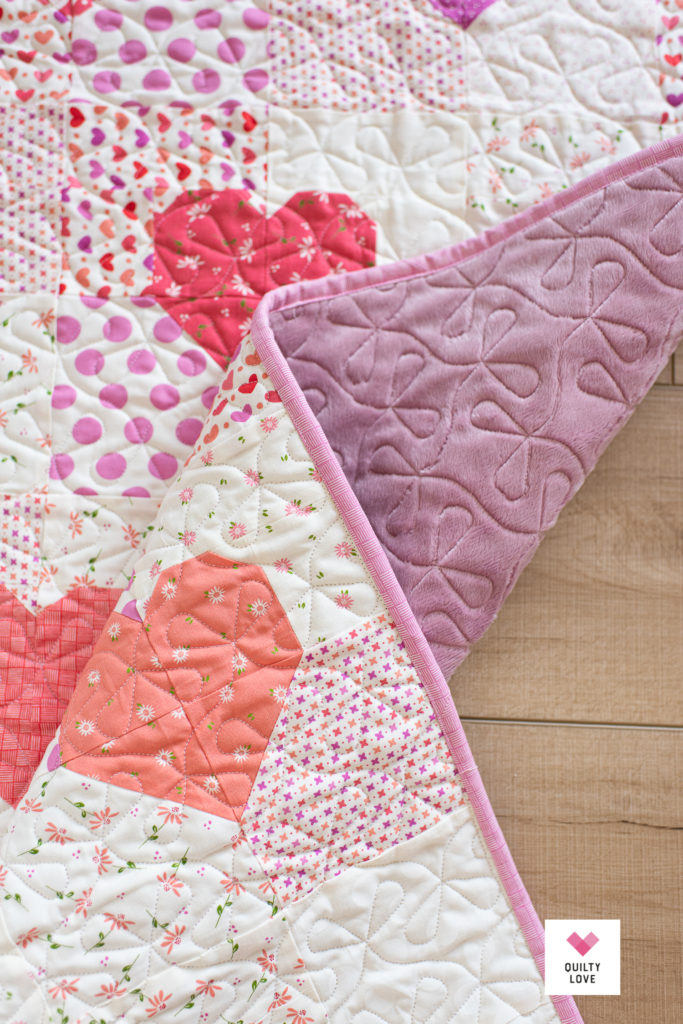 Baby Patchwork Hearts Quilt Materials Used
Quilt Pattern: Patchwork Hearts quilt pattern by Quilty Love
Fabrics: Sincerely Yours by Moda Fabrics
Backing: Shannon Cuddle Minky in the color Woodrose
Long arm quilted by Modern Textiles
Pieced on my Janome MC6700P