The Christmas Compass Star quilt
I can't believe I never shared this Christmas Compass Star quilt on the blog!
You can find the Compass Star quilt pattern in my shop.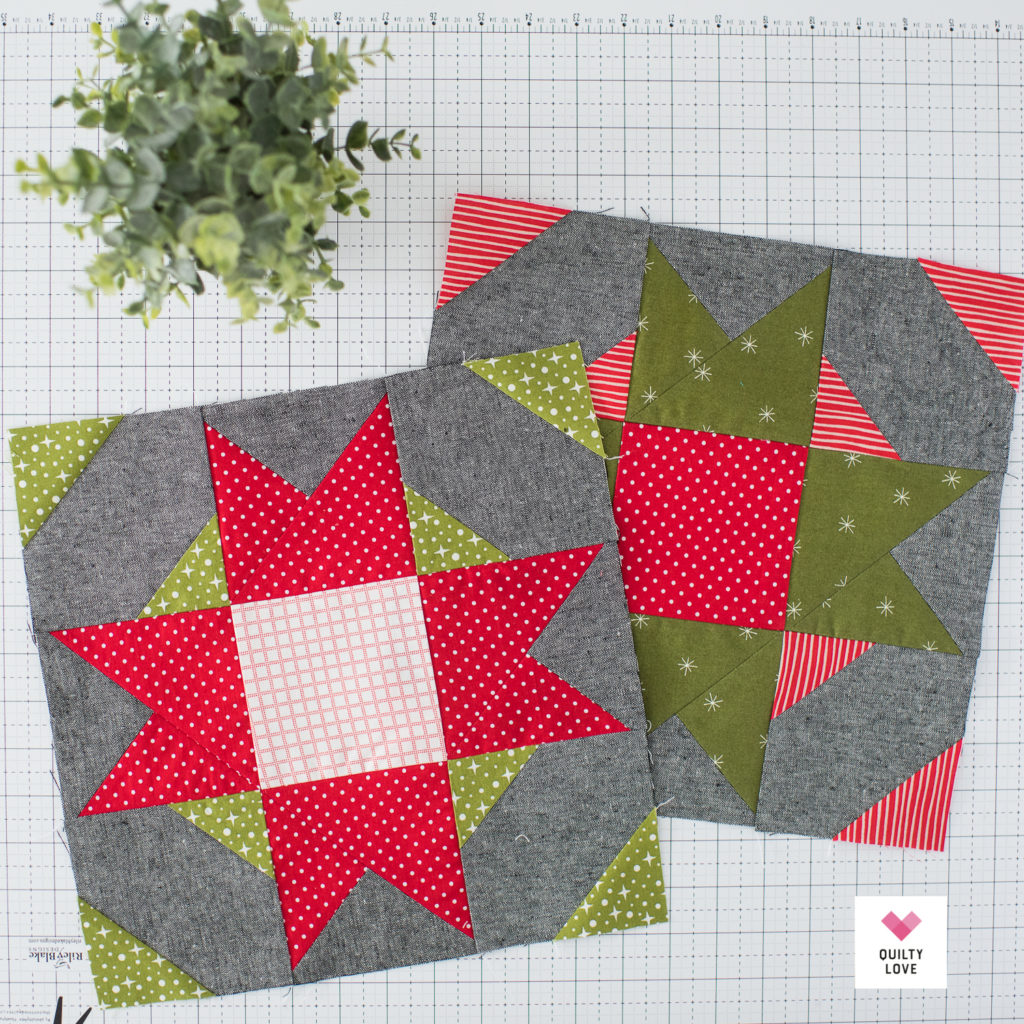 Christmas Compass Star Quilt Pattern
The Compass Star quilt pattern came out a few years. Star quilts make the prettiest Christmas quilts.
It's funny posting these photos because this quilt was made about two years ago in our last house. It's a little nostalgic seeing this quilting studio again. 🙂
Compass Star is a really fun star quilt to make up. It goes together pretty easily with quarter square triangles. I really enjoy making quarter square triangles and they don't have any waste so that is a plus!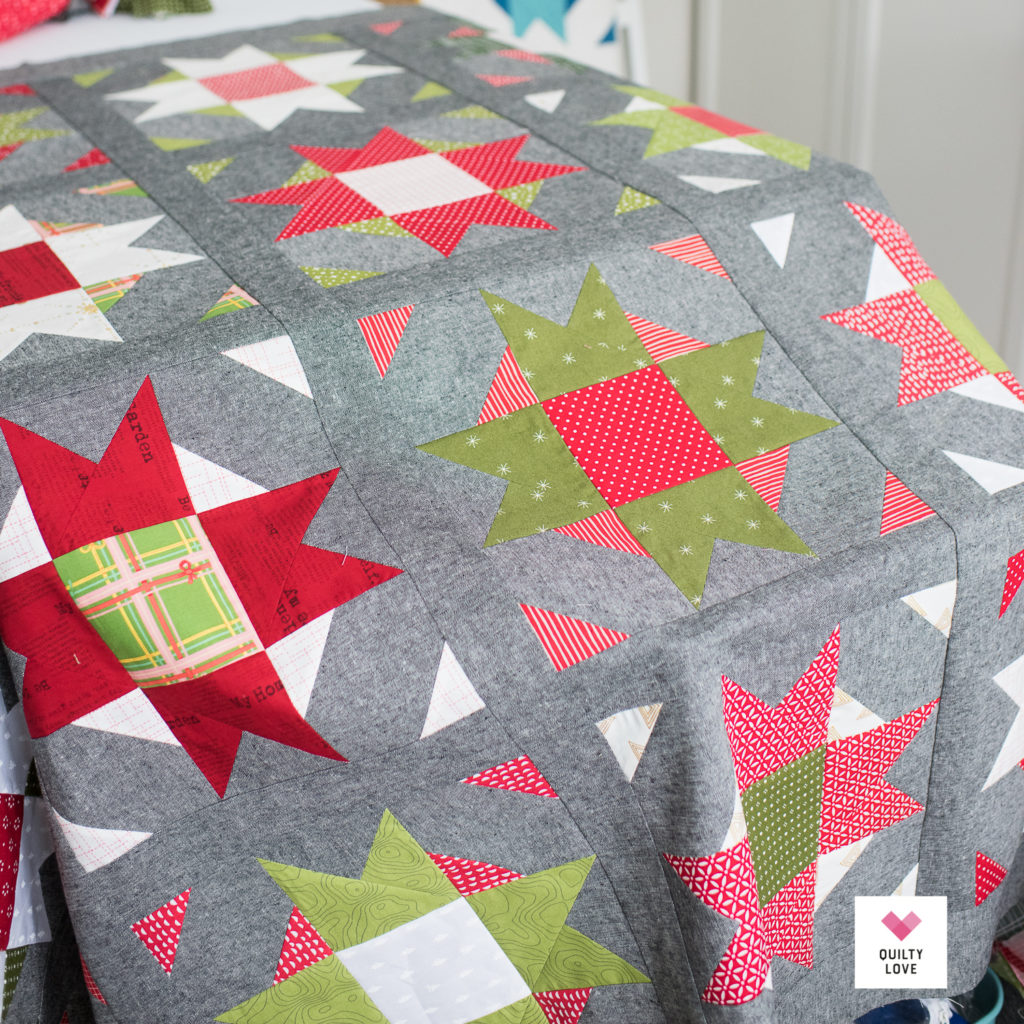 Fat quarter or Fat Eighth friendly quilt pattern
The fabrics in this Christmas Compass Star were a curated fat eighth bundle I bought from Pink Castle. It's a mix of different fabric lines all in pretty Christmas colors. I love a really great traditional Christmas color fabric mix like this one. It's all reds, greens and some pretty neutrals with gold accents.
Quilt Background – Using Essex Linen
The background of this Christmas quilt is Essex linen in the color black. Essex linen in the darker colors really makes the fabrics pop and helps keep the quilt nice and festive. Plus, Essex is a really WARM fabric so I love using it for holiday quilts that will be out in the dead of winter.
Essex does shrink quite a bit and fray pretty easily so I use a pretty small stitch length like 1.8. I wrote an entire blog post about quilting with Essex Linen here if you want to know more!
Throw size quilt pattern – Comes in all the quilt sizes
This Christmas Compass Star is the throw size. The pattern includes instructions for a baby size, throw size, twin size, queen size and a king size. So pretty much any size quilt you could possibly need!
I'm kind of kicking myself for not taking better photos of this quilt. It really is a pretty one. The dark Essex background is a little more challenging to photograph. I took these photos quickly before selling it in my annual quilt sale last November.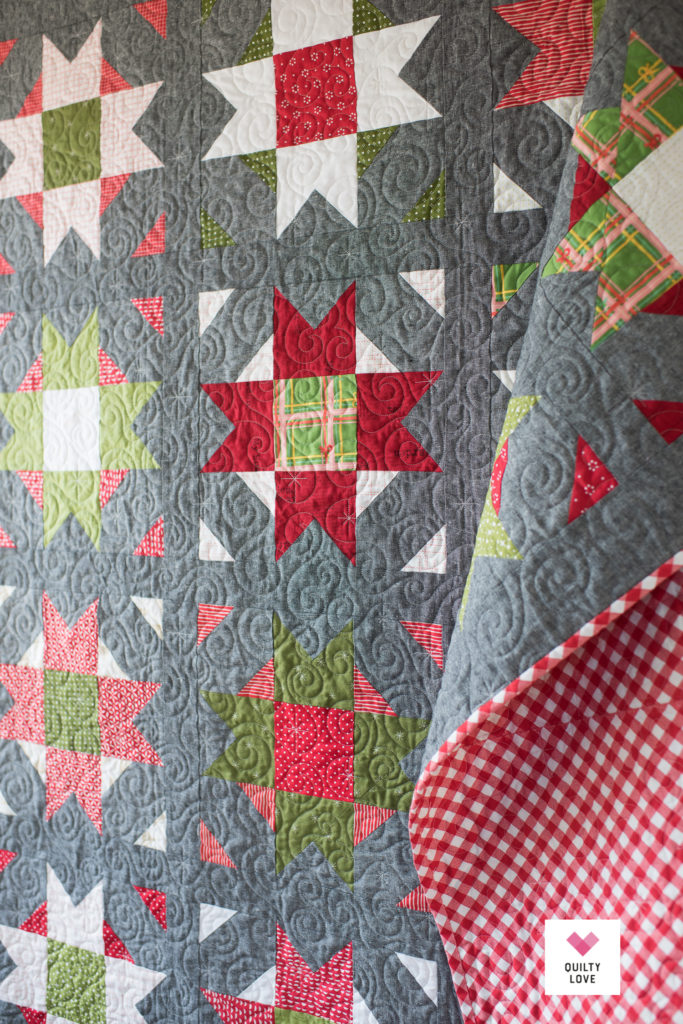 Gingham backing fabric
The backing on this Christmas quilt is a Bonnie and Camille Gingham that I had on hand. Isn't it the perfect Christmasy quilt backing?! It's an older print so is probably out of print by now. Here is a similar gingham print.
You can see I didn't bother to match the pattern on the backing. I rarely do to be honest. It's an extra step I don't like taking but it wouldn't have been hard with this print and then the backing would have looked seamless.
Quilt Binding
I used the leftover cut off backing fabric as the binding on this Christmas Compass Star. I love that it uses up that extra fabric and this one worked so well as a binding print. I don't mind that there is no contrast on the back side between the binding and backing.
I tend to use that left over fabric as binding more times than not.
Long arm quilting
Knot and Thread quilted this Christmas quilt for me. I always have her pick the quilting design and I really love this one that she chose. It's a pretty festive quilting design that works well with these blocks.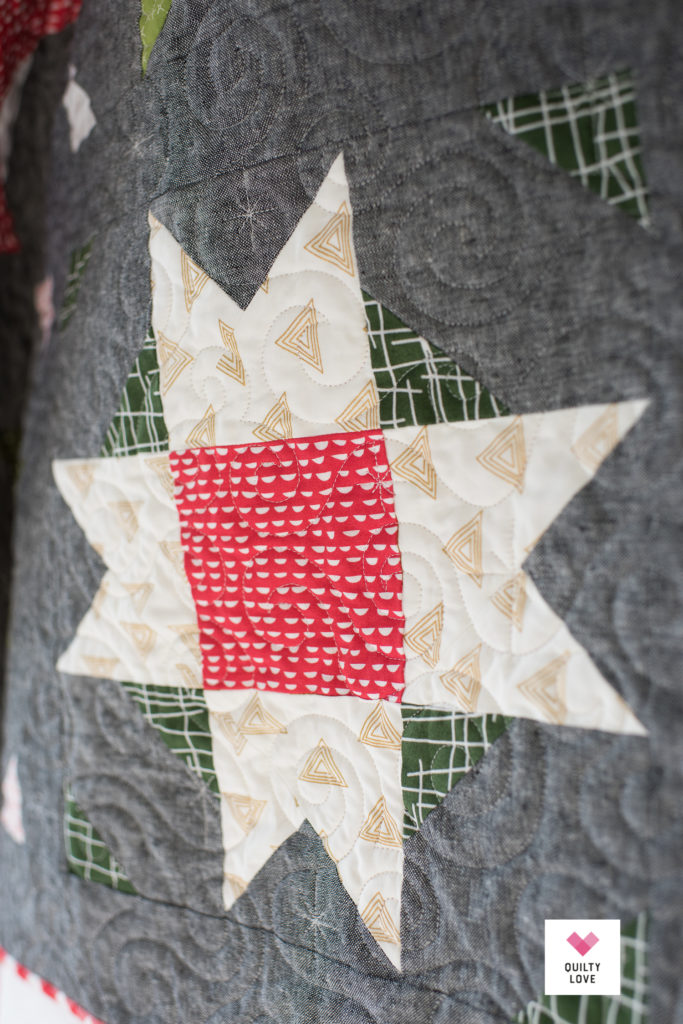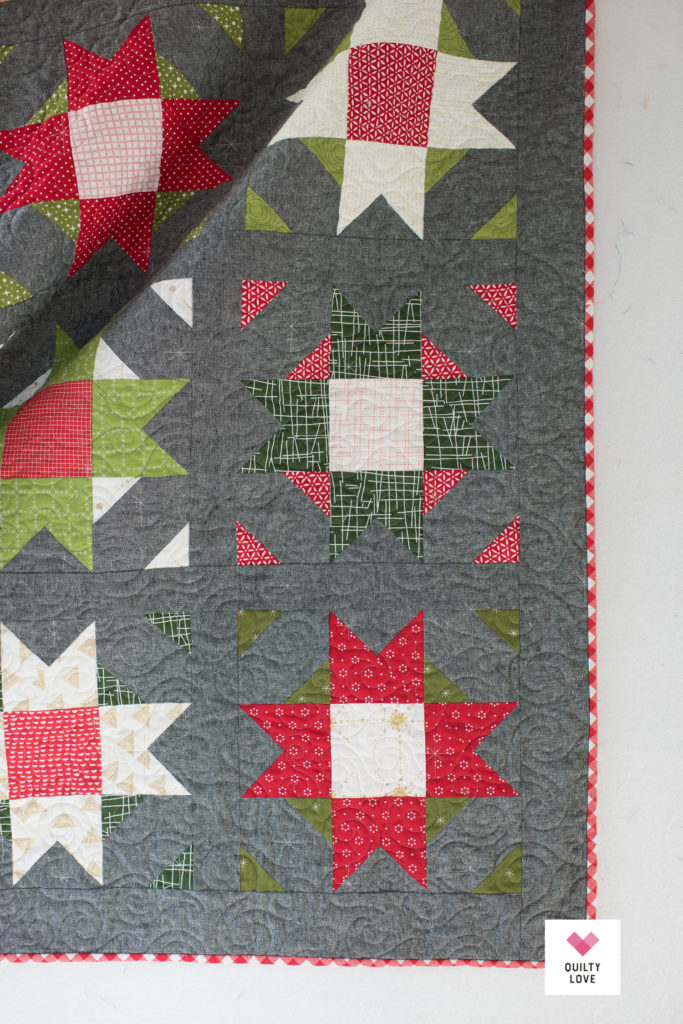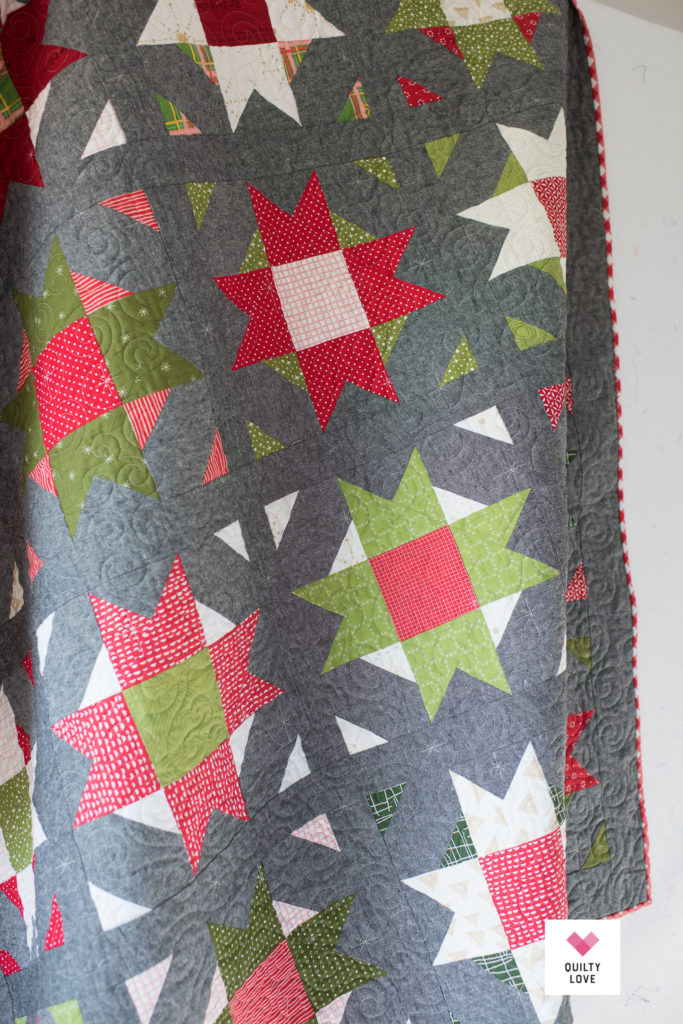 Annual Christmas Quilts
I usually make at least one Christmas quilt each year. I really enjoy sewing Christmas quilts around Christmas time so they aren't usually getting done in time for the season. But I'm totally fine with that as quilting is all about the process for me. The last thing we need in this house is another quilt…haha so I quilt purely for the joy of quilting.
I believe this was my 2018 Christmas quilt. I'll be posting the 2019 Christmas quilt next as I just got it back from the quilter. 🙂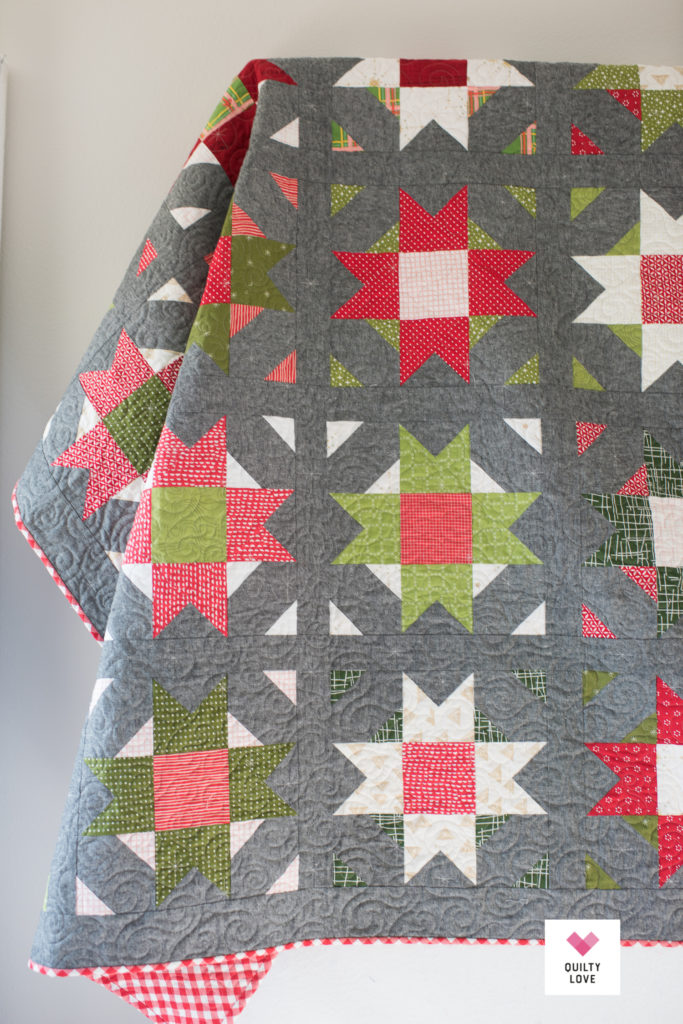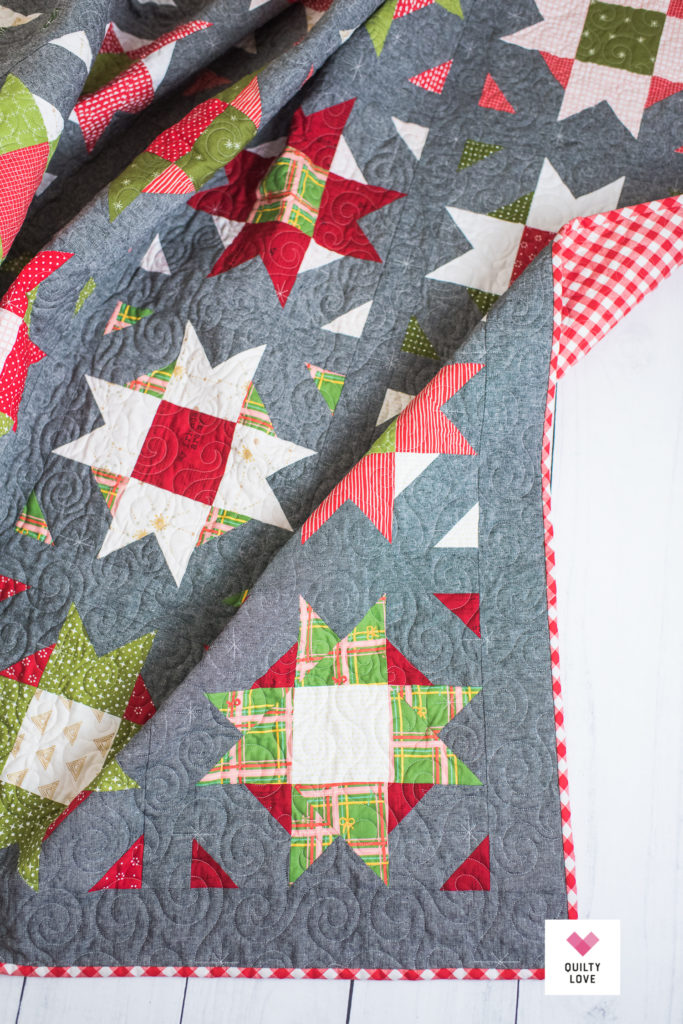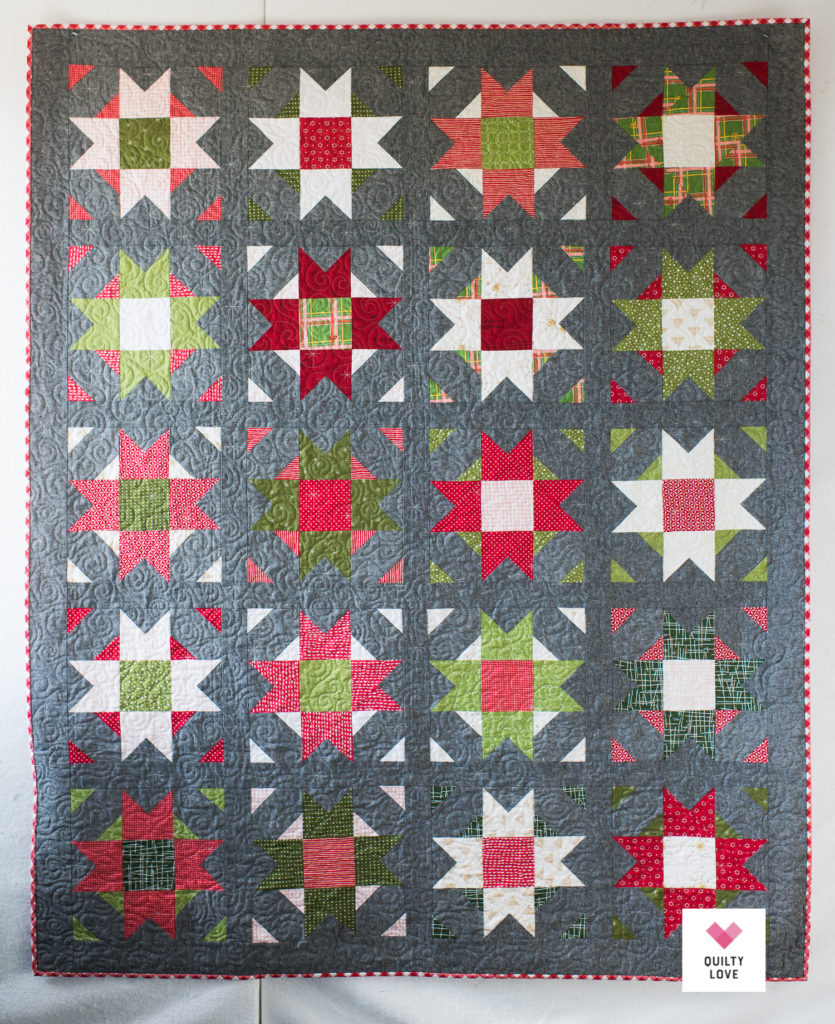 You can find Compass Star in my pattern shop.
The automatic download is available here.
The mailed paper option is available here.