Flying quilt – A flying geese quilt pattern
Today I'm sharing another Flying geese quilt! I didn't realize I made so many of these quilts…lol. I still have one more to share. Flying is fast, easy and satisfying to make.
Flying is in the Quilty Love pattern shop.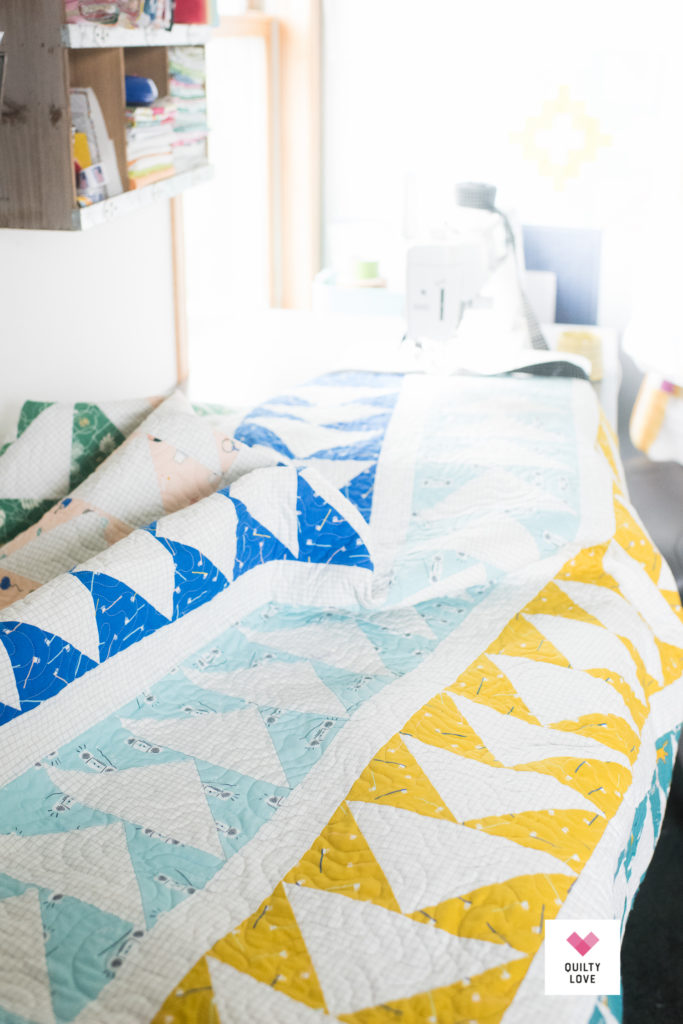 Whatnot fabric by Ruby Star Society
This version of Flying is made up using this darling Whatnot fabric line by Rashida Coleman Hale for Ruby Star Society. Whatnot will be shipping to stores in October.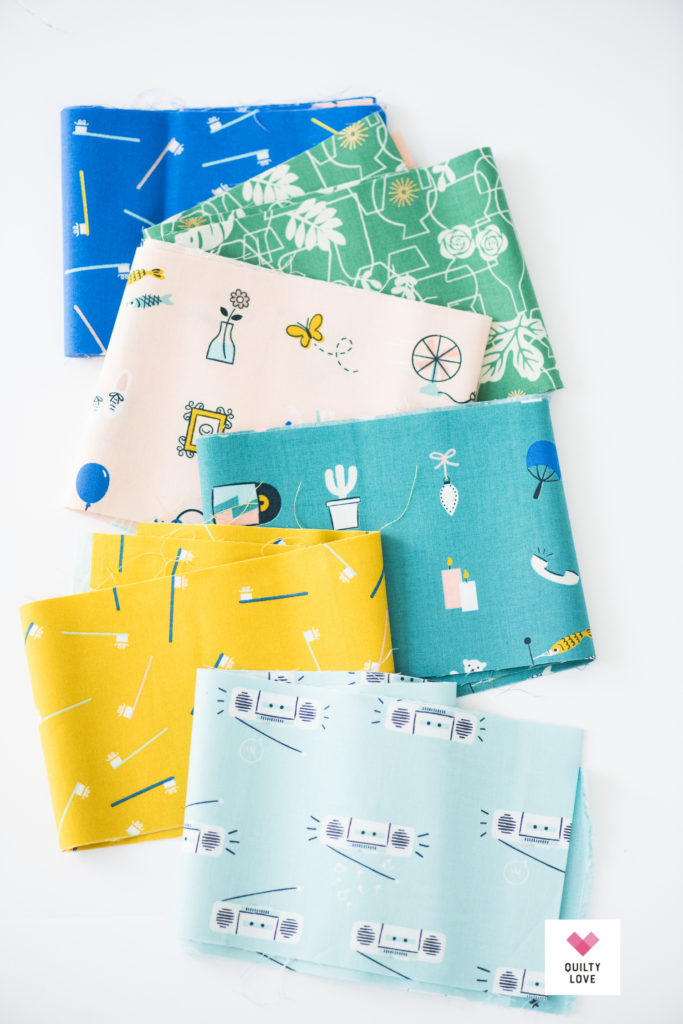 Whatnot is full of fun little motifs like toothbrushes, radios, butterflies and flowers. This line will be perfect for fussy cutting.
Choose six half yards
The throw size of this flying geese quilt needs just six half yard fabric cuts. So choose your six favorite prints in a single line like I did here or choose from the half yards already in your stash.
Flying geese quilt
Flying uses the four at a time flying geese method for fast construction and no waste! If you have never made flying geese like this, it's super easy and really quite slick.
All the quilt sizes
Flying is a modern flying geese quilt pattern that includes instructions for all the quilt sizes! Make either a crib size, throw size, twin size or queen size quilt. The flying geese size up and down for each quilt so the layout stays the same.
Check out the cute little scrappy baby size flying quilt I made here.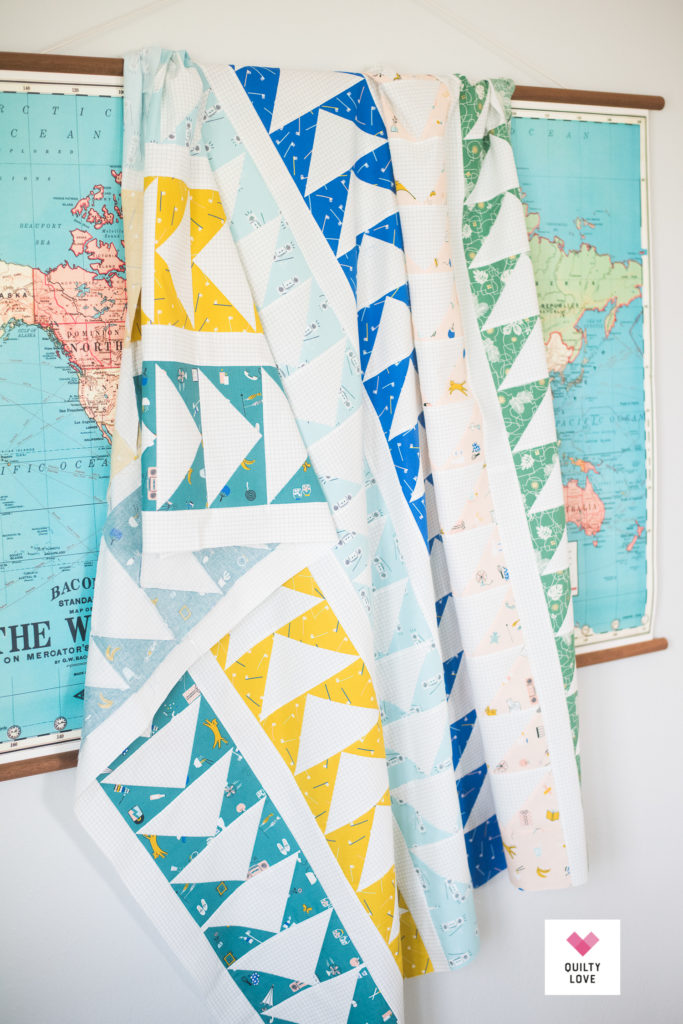 Long arm quilting
This quilt was sent off to Knot and Thread for long arm quilting. I had Kait surprise me with the quilting and I love this design she chose! The swirls complement the sharp lines of the flying geese in this quilt so well!
Background and binding
I finished off this Flying geese quilt with a black binding in the Ruby Star Society grid fabric (color is panther). I love this grid fabric! It's the perfect neutral. I used it as the background also in the color cloud. Cloud is a little harder to find these days.
Flying was pieced on my Janome MC6700p.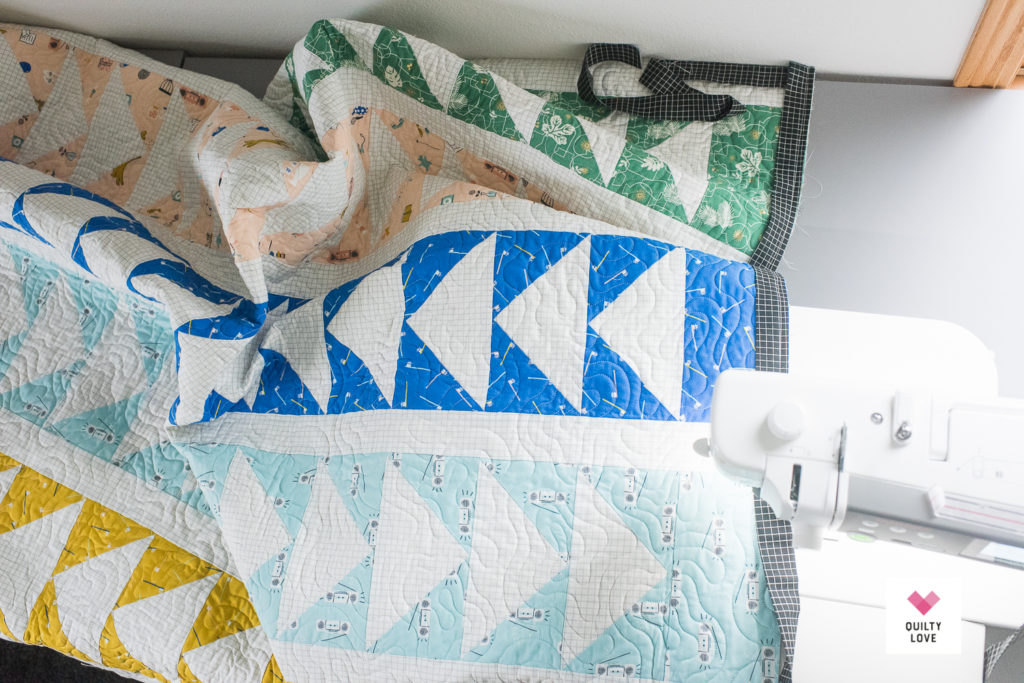 The colors in this Whatnot fabric line make for such a fun quilt. I love this one!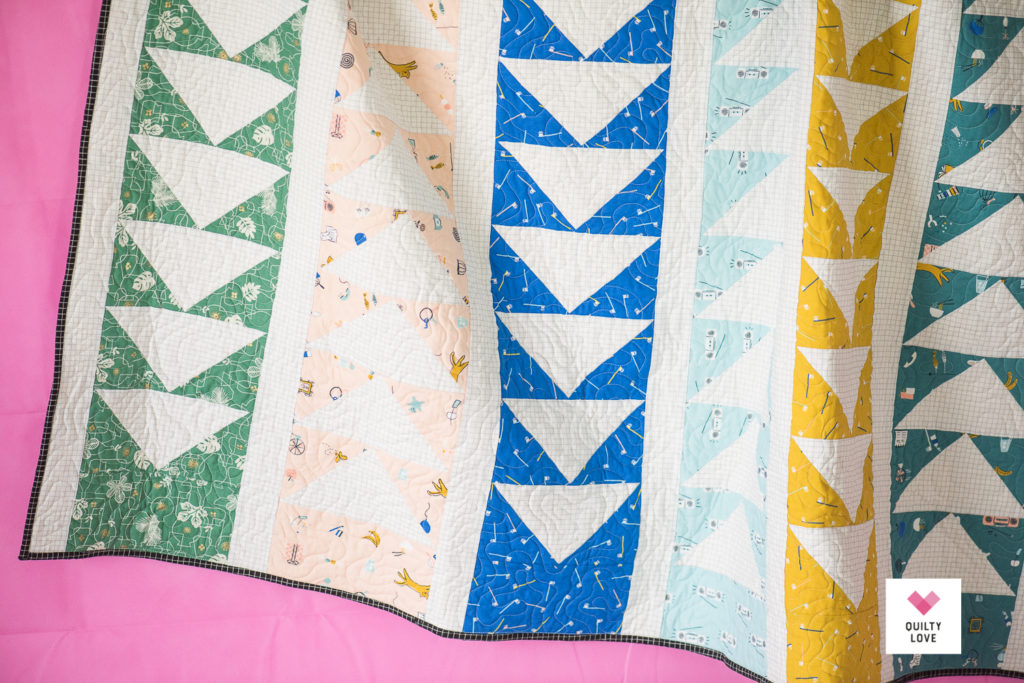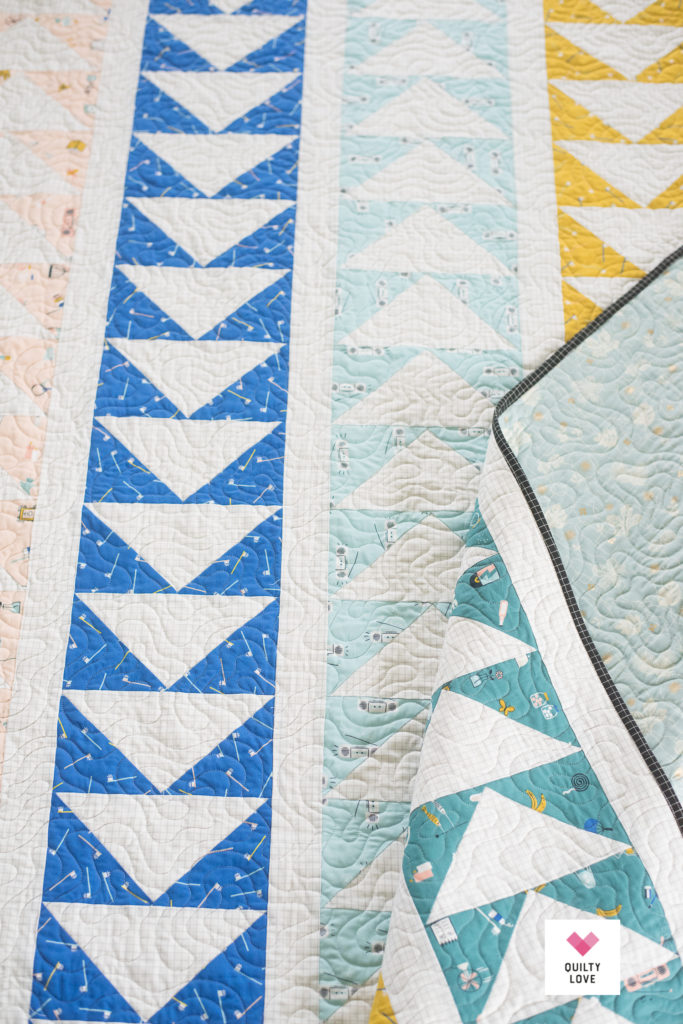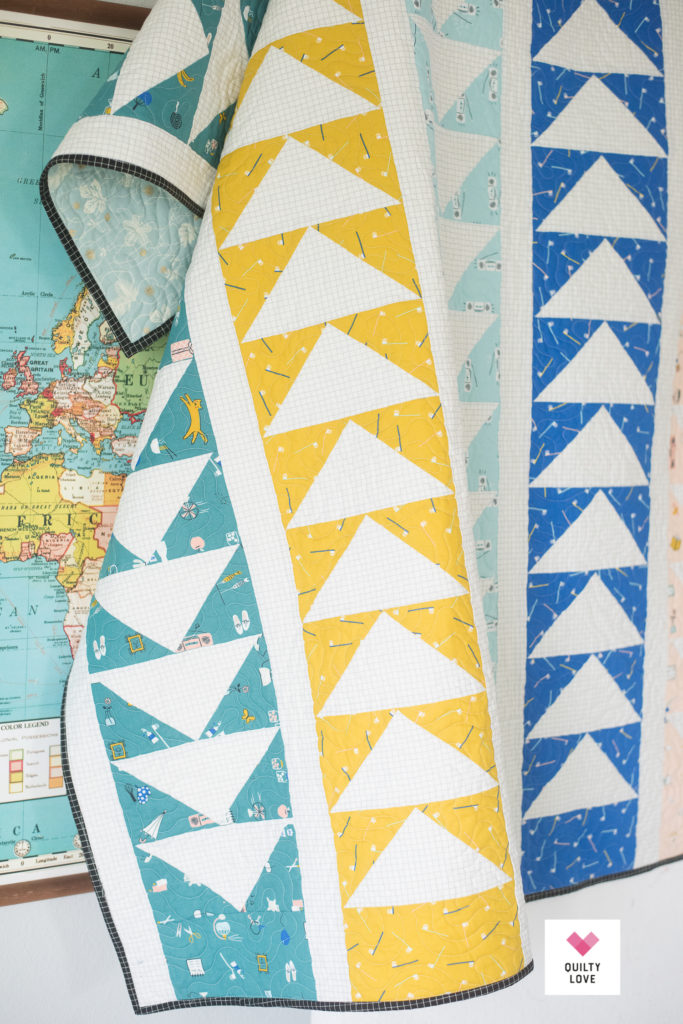 Here's a close up of the background fabric. This Ruby Star Society grid in the color cloud is my recent favorite background choice. I want to use it on everything! It's the perfect white replacement for quilts.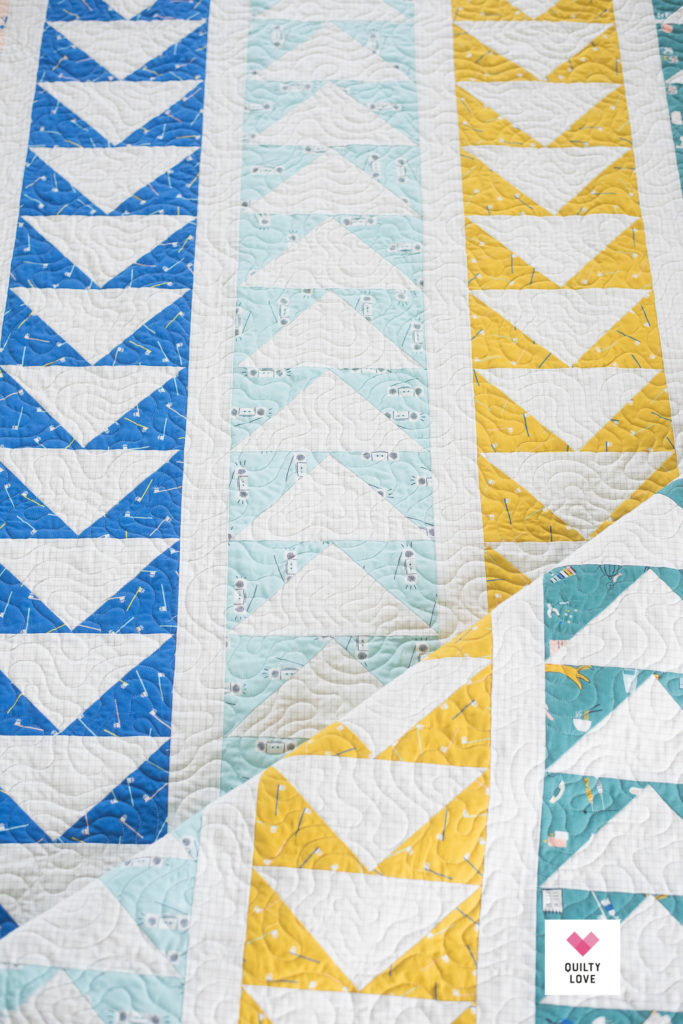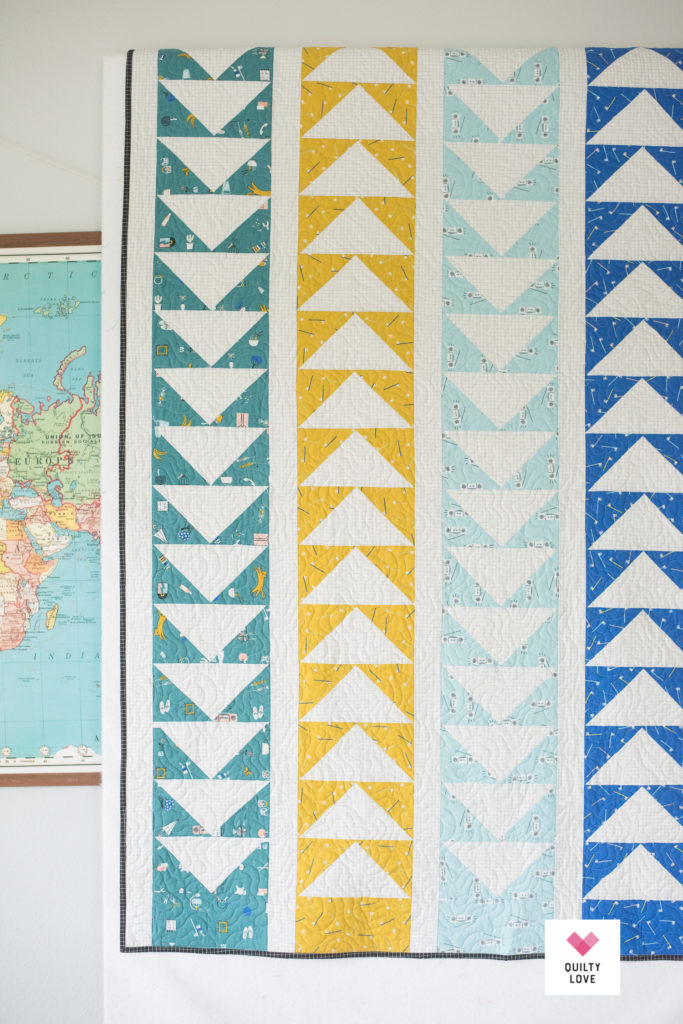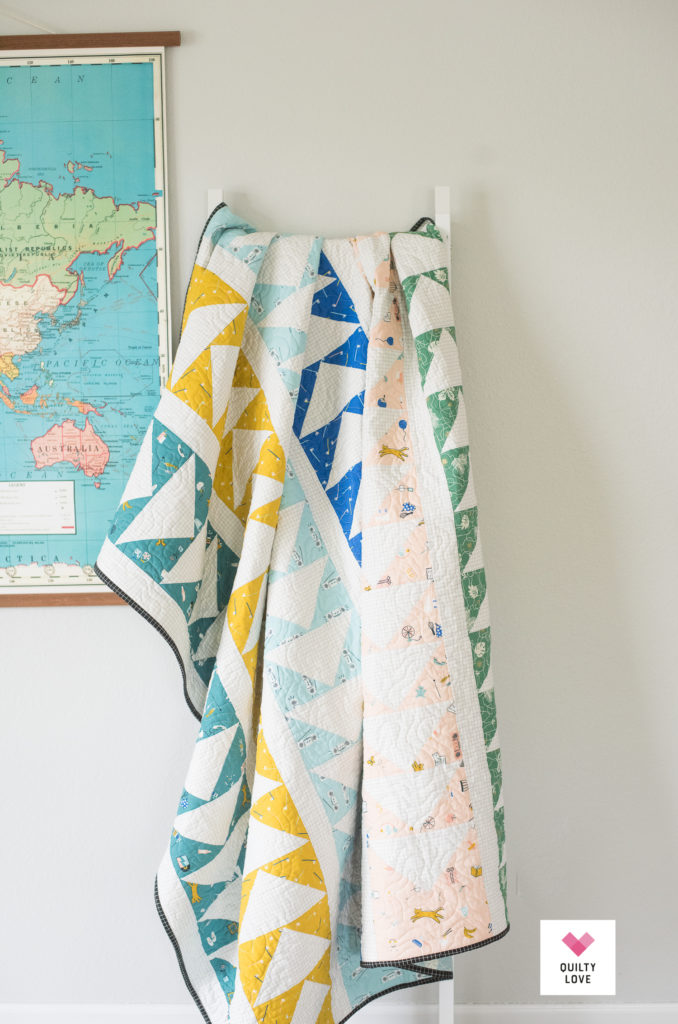 I actually took this quilt outside for some photos! The lilacs were in full bloom right around the time it was finished so they made for a pretty quilt backdrop.