Four Color Infinite Hearts quilt
I have a four color Infinite Hearts quilt to share today! I'm excited to get this one on the blog because it's one of my favorite Infinite Hearts quilts. Infinite Hearts is the latest in the Quilty Love Heart pattern series and it's a fun one to sew up.
The Infinite Hearts quilt pattern has a few options plus lots of sizes. You can sew up this cute heart quilt using your scrap stash, your fat quarter stash, jelly roll strips or make a repeating block version like this one using four different fabrics. This four color Infinite Hearts quilt is the medium throw size and it uses four different kona cotton pinks.
The Infinite Hearts quilt pattern is in the Quilty Love pattern shop.
You can sign up and do the self paced quilt along here. The quilt along has lots of tips, tricks and extra videos.
Four Color Infinite Hearts Quilt
This heart quilt was such a fun one to design and sew up. It's become an annual tradition to create a new heart quilt pattern each January and to host a sew along with it. These heart quilts are written with your scrap stash in mind because January is always a good time of the year to dig into those scraps.
When I was creating Infinite Hearts, this four color repeating block version came to mind so it's also included in the quilt pattern. Instead of using your scrap stash or fat quarters, you use four different colors of yardage and create a repeating block. I've arranged my four colors from dark to light for an ombre effect.
This four color heart quilt would look great in Ombre fabrics! Or these Ruby Star Society Speckled fabrics.
Kona Cotton Pink Solids
I wanted this four color Infinite Hearts quilt to be really pink. So I chose some true pink colors from the Robert Kaufman Kona Cotton line up. This heart quilt uses Azeala, Camellia, Bubble Gum and Medium Pink.
Ruby Star Society Grid background
The background of this Infinite Hearts quilt is Ruby Star Society Grid in the color cloud. This fabric has been discontinued but their speckled fabric is a really good replacement.
Infinite Hearts Quilt Pattern – precut friendly!
The Infinite Hearts quilt pattern is a scrap buster quilt. It's perfect for your pink or red scrap stash. Or pull pink and red fat quarters from your stash. You can also use jelly roll strips for this cute heart quilt.
Cutting instructions are included for scraps, jelly roll strips, fat quarters, fat eighths, half yards or quarter yards. So this heart quilt is pre-cut friendly!
Infinite Hearts quilt sizes
Infinite Hearts includes instructions for lots of quilt sizes!
Baby Size
Small throw size
Medium throw size
large throw size
Twin bed size
The baby Infinite Hearts quilt is such an adorable baby quilt. A twin bed size is also included. This would make an adorable quilt for a little girl's bed. Check out the baby size Infinite Hearts quilt I made here.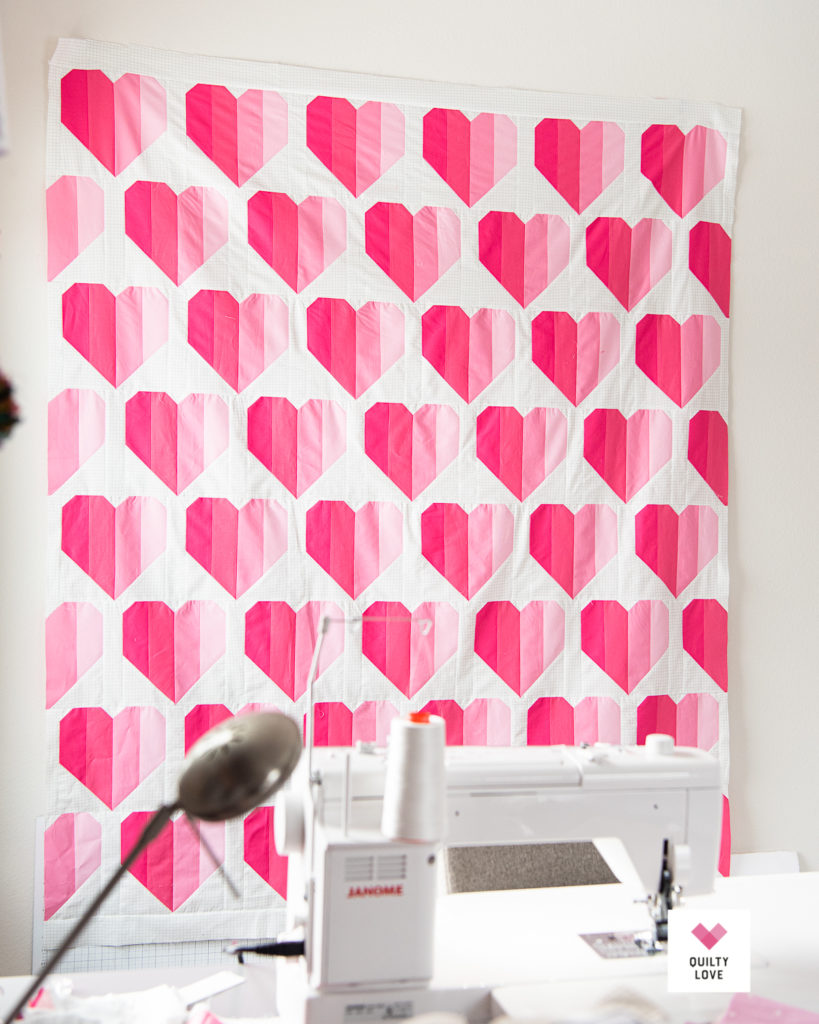 Long Arm Quilting
This four color Infinite Hearts quilt was quilted by Knot and Thread. This adorable clamshell pantograph is so perfect for this quilt. I'm not sure what the exact name of this quilting design is but it looks like a clamshell of some sort.
I pieced this heart quilt on my Janome MC6700p.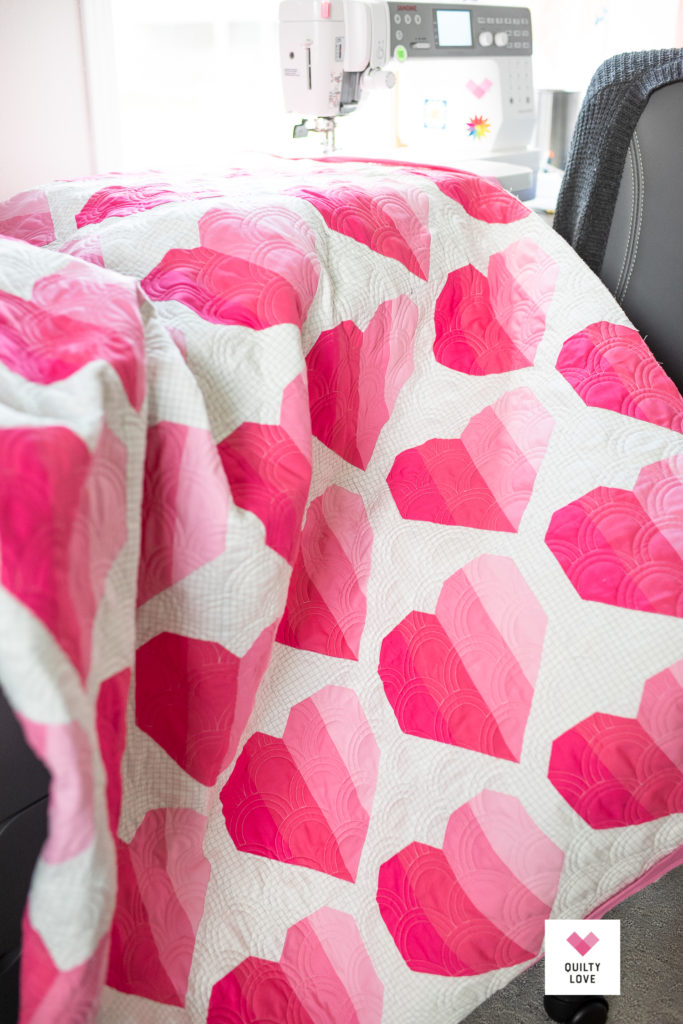 Riley Blake Blossoms Wide Back fabric
This four color Infinite Hearts throw size quilt is backed in a Riley Blake Blossoms wide back in the color Gray. This wide back fabric is a fun speckle print that comes in a few different colors. It's a wide back so no piecing required for that backing fabric. You know I love a good wide back fabric.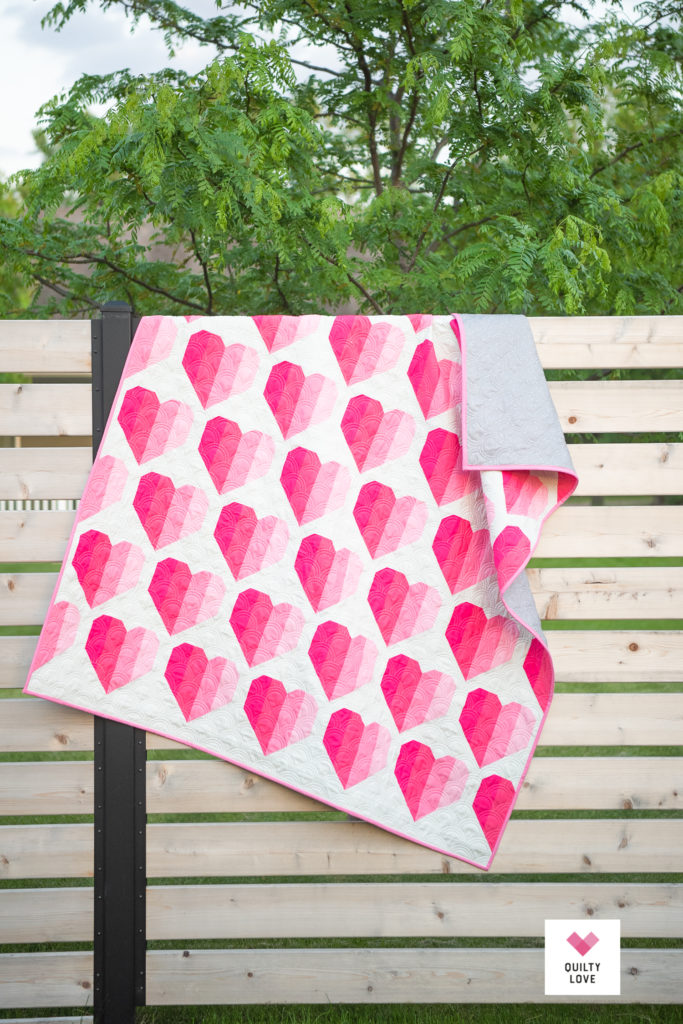 Four Color Infinite Hearts Quilt Materials
Quilt Pattern is Infinite Hearts by Quilty Love
Kona Cotton Solids in Azeala, Camellia, Bubble Gum and Medium Pink
Background is Ruby Star Society Grid (discontinued)
Binding is Kona Cotton Bubble Gum
Backing is Riley Blake Blossoms Wide Back
Pieced on my Janome MC6700p
Quilted by Knot and Thread