Quilty Trees Baby Quilt – The playful baby one
Quilty Trees is the newest quilt pattern in the Quilty Love shop. Today I'm sharing a baby Quilty Trees quilt.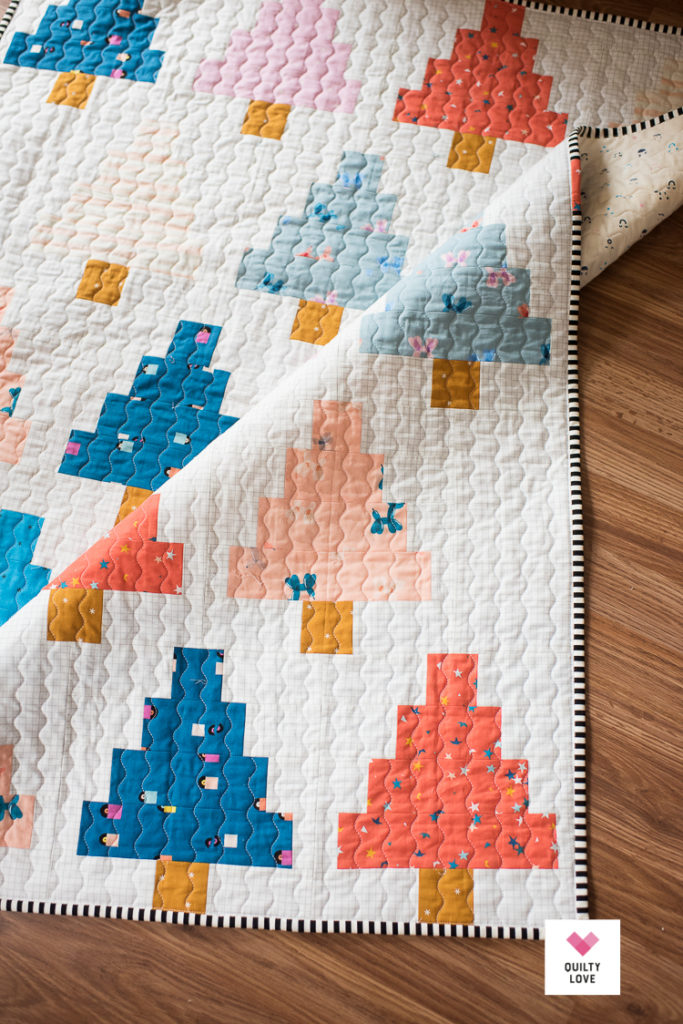 Quilty Trees Quilt Pattern
The original Quilty Trees quilt is blogged here. The obvious choice for a tree quilt is using green fabrics. But I thought it would be super fun to see what this tree quilt looked like sewn up in these playful Ruby Star Society fabrics.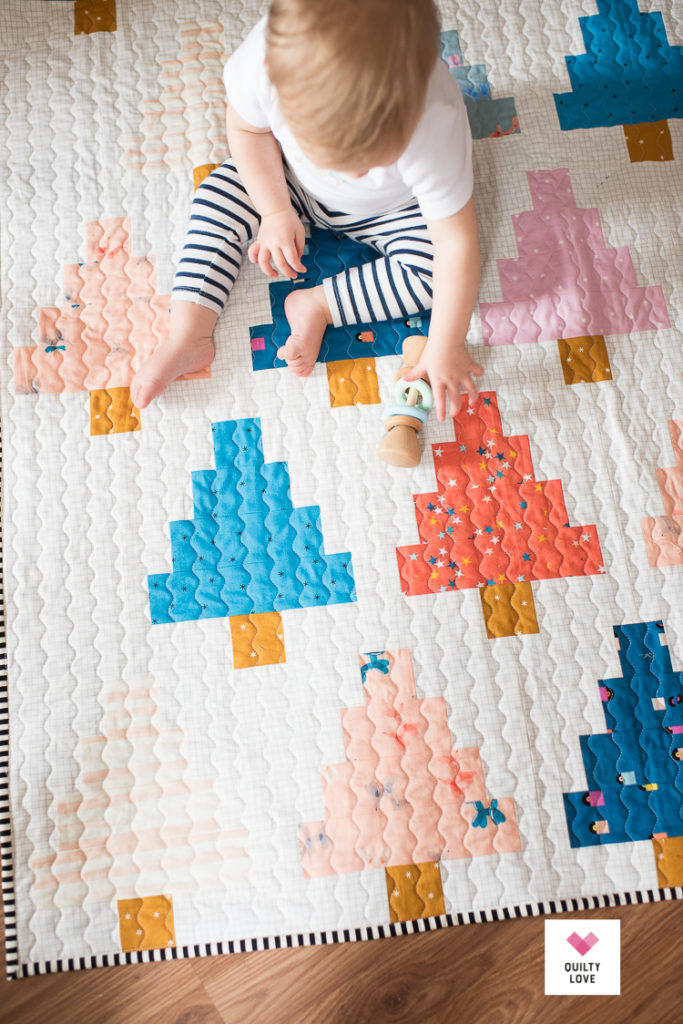 I'm lovingly referring to this one as the Dr. Seuss tree quilt. This is the baby sizes of the Quilty Trees pattern.
Ruby Star Society Fabrics
These fun and colorful fabrics are an assortment of Ruby Star Society. I had some leftover fat quarters from a previous project that I mixed together for a fun and whimsical tree quilt. I'm really loving these new fabric lines that the Ruby Star designers are coming up with.
Stash friendly quilt pattern
Quilty Trees is yet another quilt pattern in the stash/ scrap friendly Quilty Love line up. Each block uses a minimal amount of fabric making it the perfect stash quilt or scrap quilt.
Quilty Trees quilt sizes
The Quilty Trees quilt pattern includes instructions for a baby size, throw size, twin size and queen/king size. It has instructions for the blocks you see in this quilt and for a scrappier version.
My little miss crawled into my shot while I was photographing this quilt so I decided to put her to work as a quilt model ;). I absolutely adore how her tiny little fingers are playing with the quilt binding above.
Speaking of the binding… I used a wider black and white stripe to keep this quilt fun and modern. I added a little binding flair by using a scrap of orange fabric to join the binding strips.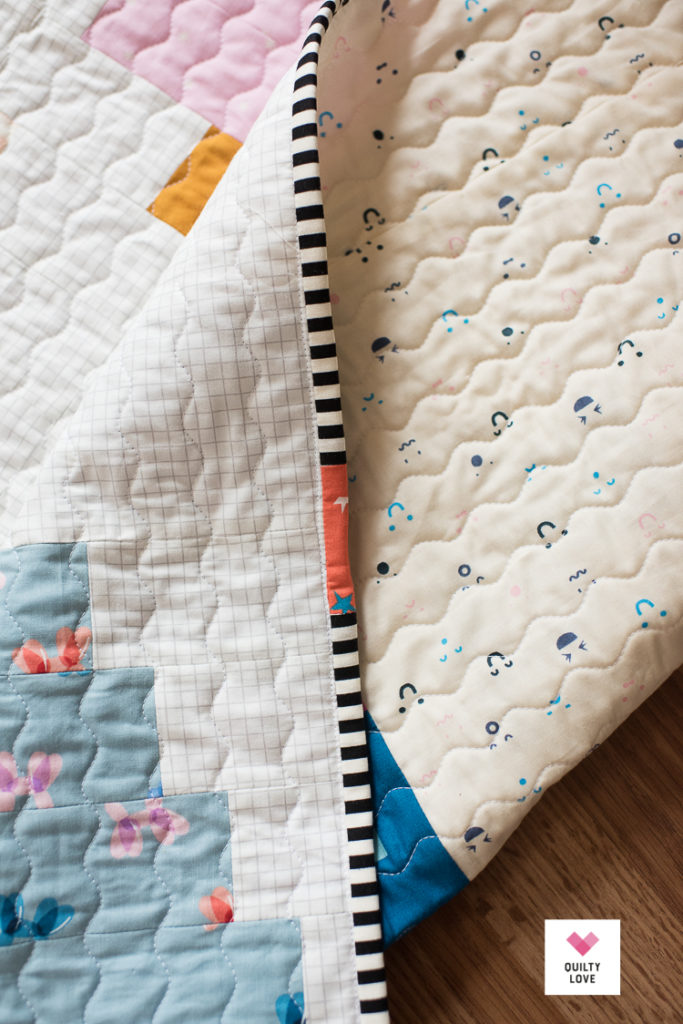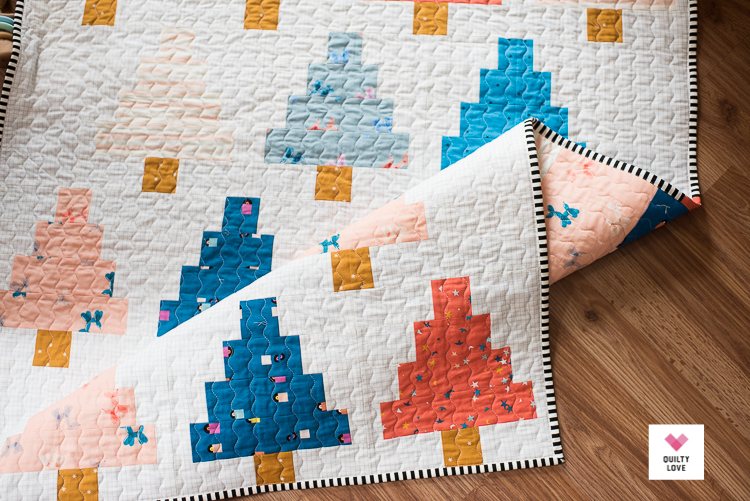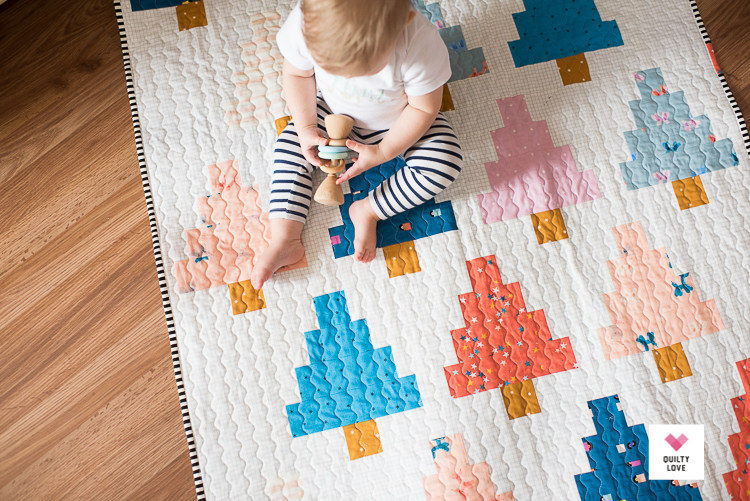 This Quilty Trees baby quilt has a pieced backing. I rarely piece quilt backings like this. Mostly because I don't enjoy piecing backings…ha, and I have a hard time keeping the backing lines straight when basting. But with this being a smaller size quilt I went for it. It was a good way to use up some of this fabric and it makes for a fun backing!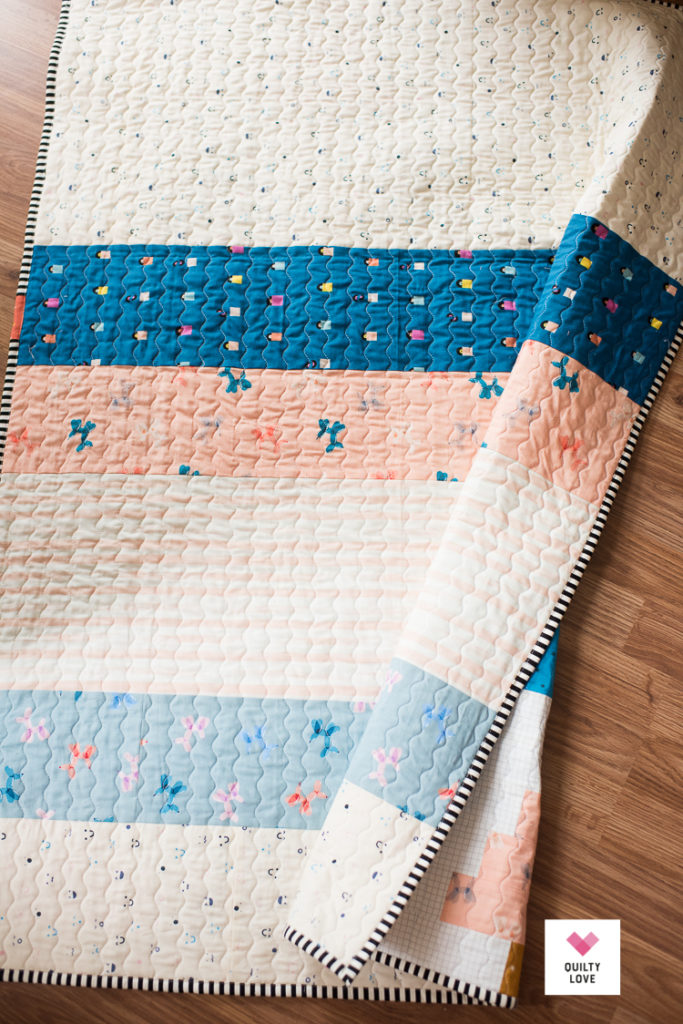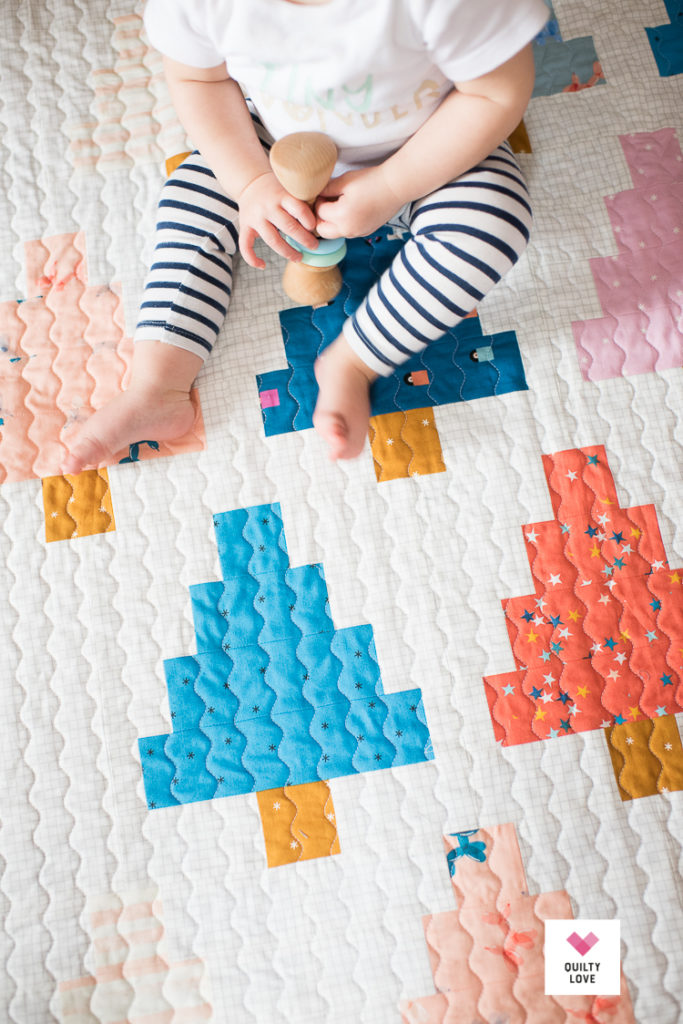 Wavy straight line quilting
I went with my favorite wavy line quilting for this Quilty Trees baby quilt. I needed to quilt it up quickly so this is my go to quilting stitch. It's done exactly like the zig zag quilting tutorial found here but with the wavy stitch instead of the multi stitch zig zag.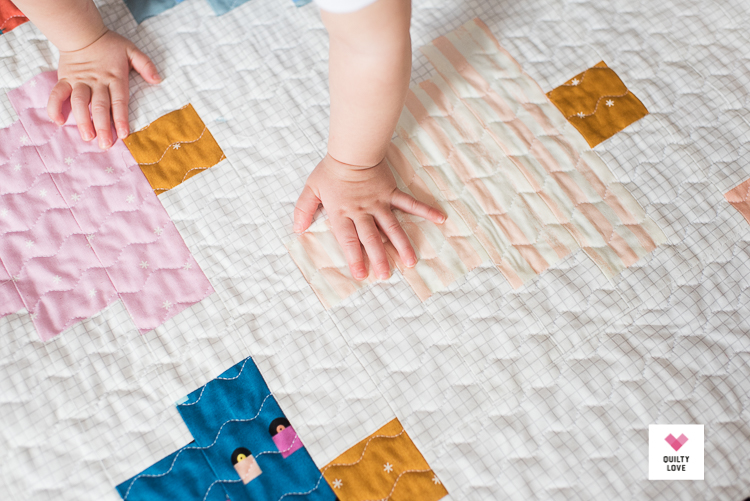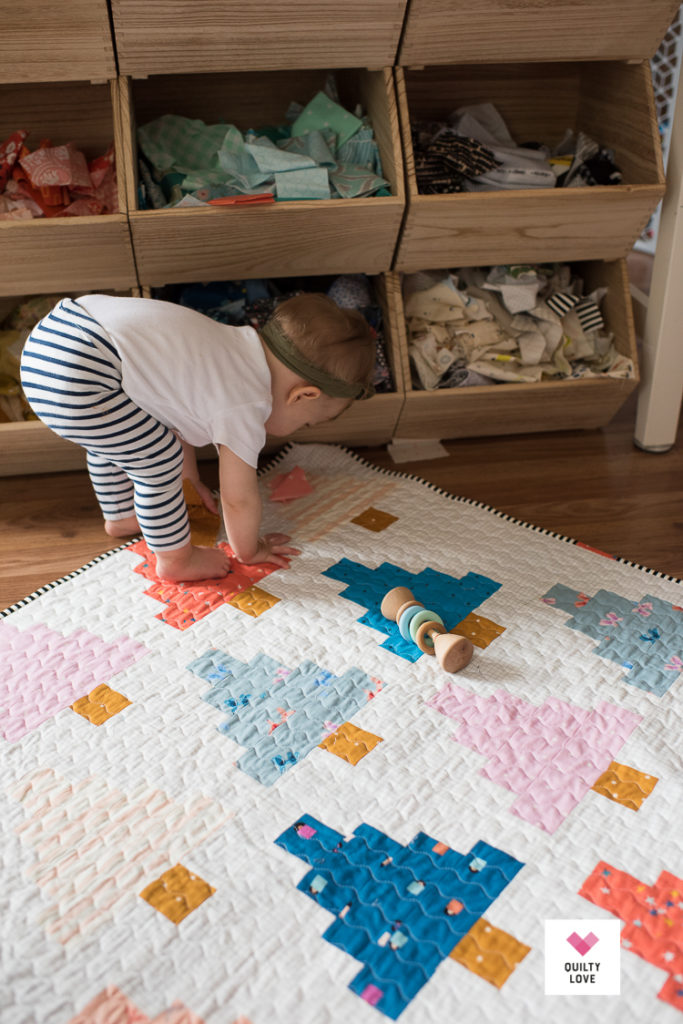 You can find those scrap bins here. They are awesome for scraps! These are the larger size.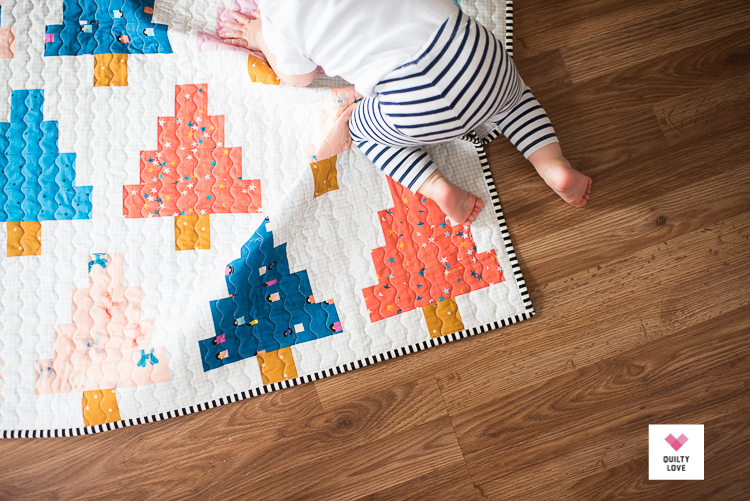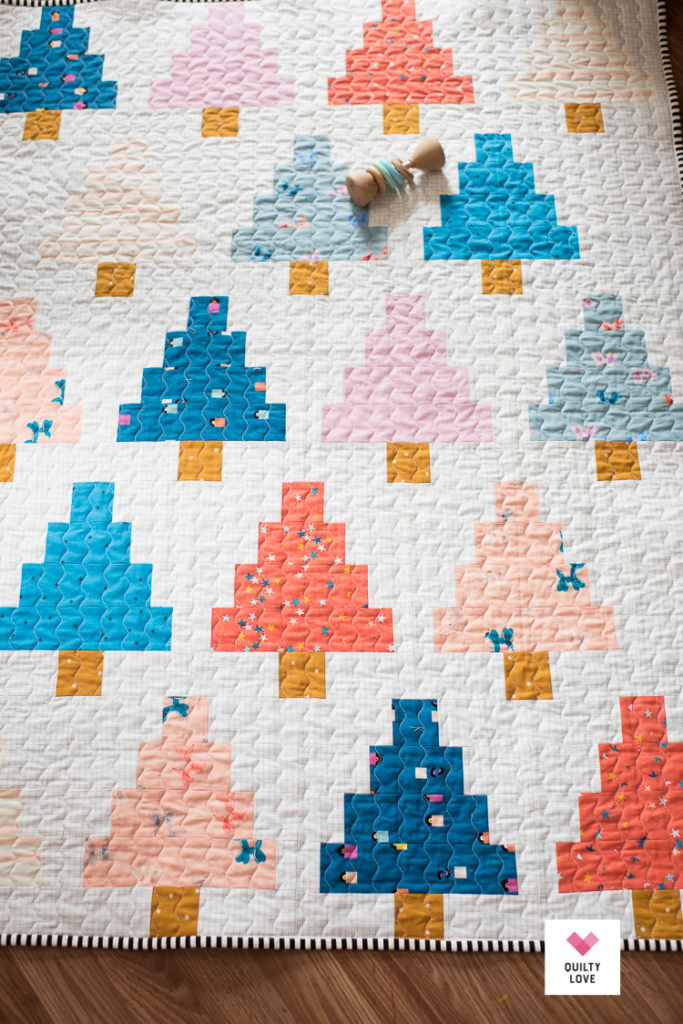 You can find Quilty Trees in the Quilty Love pattern shop.
Materials Used:
Ruby Star Society
Background: Ruby Star Society Grid
Binding: Black and white stripe
Batting: Quilters Dream Cotton/Poly
Pieced and quilted on a Janome MC6700p
505 Spray baste
Aurifil thread