I whipped up a few samples of the new flying geese quilt pattern and this Scrappy Patchwork Flying Geese quilt might be my favorite. Patchwork Flying Geese is the latest in the Quilty Love Stash Buster Series and it is fun and addicting to make.
I dug into my fabric stash for this Scrappy Patchwork Flying Geese quilt. I had a bundle of original Cotton and Steel fabrics that have been waiting for the perfect quilting project. The best part about this quilt is that the fabrics all have been sitting in my stash for years! It feels so good to sew up quilts using older fabrics like this.
Patchwork Flying Geese is in the Quilty Love pattern shop.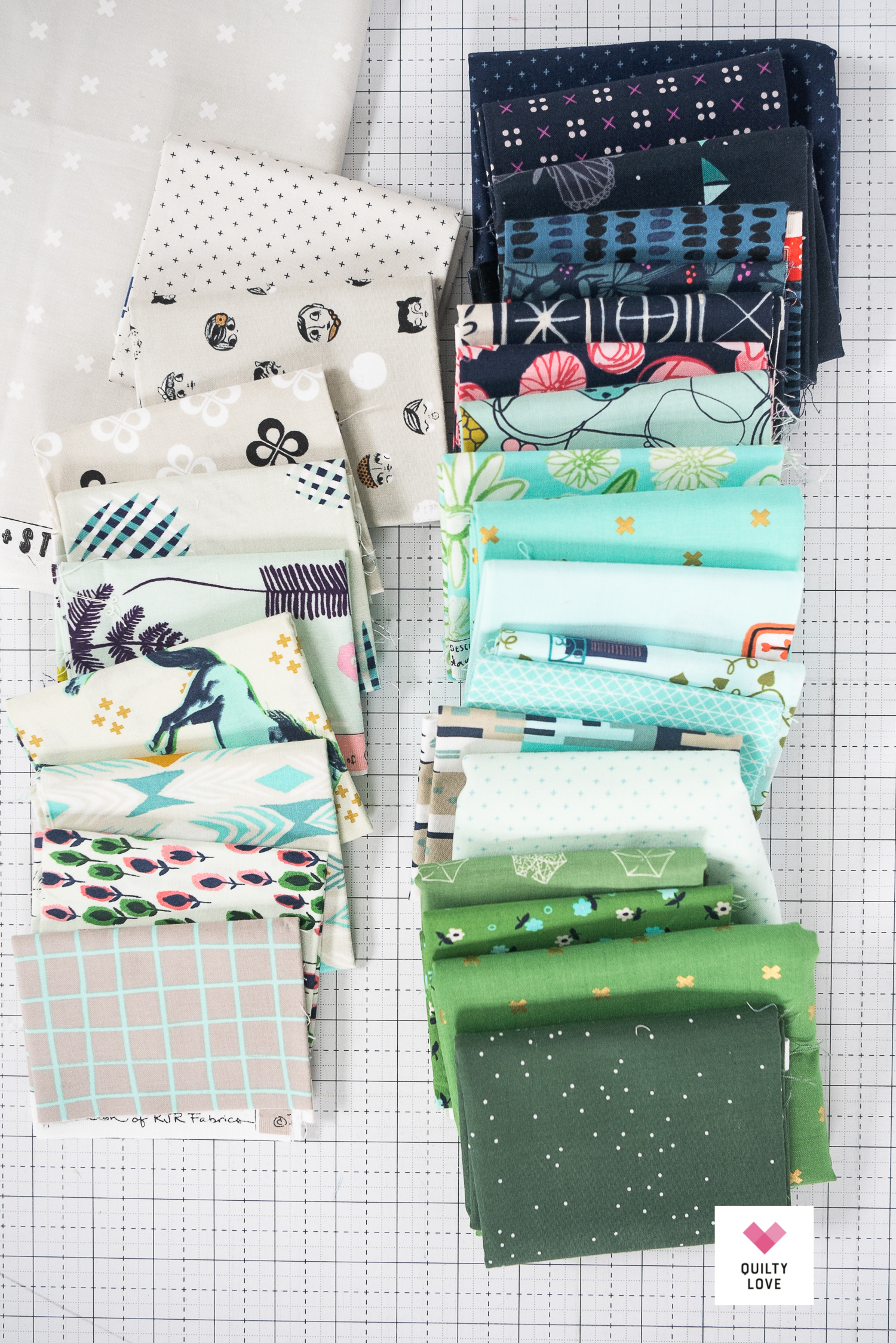 Scrappy Patchwork Flying Geese quilt
I've had this stack of original Cotton and Steel prints in my stash for so many years. I kept them all together like this hoping one day sew them all up together. Well I finally found the perfect quilt for them!
For this version of Patchwork Flying Geese I used that stack of prints and my low volume fabric stash. Somehow I've managed to collect quite a few low volume prints over the years and love using them as backgrounds all mixed together like this. The low volumes became the "geese" and the prints are the "sky".
Stash Buster quilt pattern
Patchwork Flying geese is a really great stash buster quilt pattern! It's the third in the Quilty Love Stash Buster series. Patchwork Flying Geese is written around Fat Quarters which most quilters have in their stash. I also include cutting instructions when cutting from your scrap stash just like this Scrappy Patchwork Flying Geese version.
This quilt pattern doesn't require any background or accent fabric making it a true stash buster quilt pattern!
All the quilt sizes
I've included 8 size options in the Patchwork Flying Geese quilt pattern! Sew a baby size all the way up to a king size using your fabric stash. The Patchwork Flying Geese quilt pattern includes:
Baby size
Small throw size or lap size
Medium throw size
Large throw size
Twin size bed quilt
Full size bed quilt
Queen size bed quilt
King size bed quilt
This Scrappy Patchwork Flying Geese quilt is the medium throw size quilt.
No waste flying geese
Patchwork Flying geese uses the four at a time no waste flying geese method. The flying geese go together nice and quick and don't waste any fabric!
I share some tips and tricks for making more accurate four at a time flying geese in this post. I say "more" accurate because I've yet to perfect them myself..haha. My preferred method for making four at a time flying geese is to add 1/8″ to both the smaller and larger squares which gives a little extra room to then trim to size.
Sewing your stash
The goal with the Quilty Love Stash Buster series is to hopefully inspire you to sew your fabric stash! You might have already curated bundles or loads of loose fabrics in your stash. It can be tricky mixing and curating your own fabric bundles from your stash. Here's a few simple tricks for making your own bundles from your stash:
Stick with 2-3 colors + neutrals. It's easier mixing fabrics when you are just using a couple of colors. You can grab varying shades of those colors and then add in neutrals such as greys or creams as fillers. For this scrappy Patchwork Flying Geese quilt I used three colors: Navy, aqua and green. And then of course added those low volume neutrals.
Find some inspiration. If there is a fabric line that you really love pull similar colors from it using your own stash! Pay attention to how the designer distributed colors. It might not be evenly spread throughout the colors in the fabric line. Instead it might have a primary color, secondary color and an accent or two. Try to mimic that ration within your own fabric pull.
Or maybe your inspiration isn't from another fabric line. Pinterest is full of color combinations that you can translate to a fabric combination.
Go monochromatic. I LOVE monochromatic quilts. Think all blue quilts or all red quilts. For a monochromatic quilt you might pull all of your fabric in one color in varying shades. As long you vary the shades it's going to look so great in this flying geese quilt!
Add some solids. If you are struggling to mix enough of your fabrics for a cohesive look throw in some coordinating solids.
Place in color order. I learned this simple trick from my friend Meghan of Then Came June. When you are mixing fabrics from your stash, line them up in color order. You will see if you colors are flowing better when you line them up this way as opposed to all mixed together.
Stick with fabrics from the same designer or manufacturer. This can be a simple way to mix fabrics! For example, the Ruby Star Society fabrics tend to mix and play well together. Another example is Bonnie and Camille fabrics. All of the Bonnie and Camille fabric lines tend to play well together.
I wrote all about mixing fabrics from your stash along with photo examples in this blog post (scroll down to the middle of the post).
Wavy stitch quilting on the Scrappy Patchwork Flying Geese quilt
I quilted up this scrappy Patchwork Flying Geese quilt myself on my Janome MC6700p. Of course I quilted it using the wavy stitch. I quilted another sample using straight lines and kind of regretted not just using this stitch.
This wavy quilting is super easy to do on your domestic sewing machine! If your machine has that wavy stitch it's basically quilting straight lines using a walking foot and the machine makes the wave. I like to space my lines 3/4 inch or 1 inch apart. I did 3/4 inch spacing for this scrappy quilt. This is stitch 8 on my Janome and I use a stitch length of 3.0 and a width of 7.
When I quilt a quilt myself like this I always start on one edge and quilt every other line and then go back and fill in the lines in between. When I quilt, I like securing the quilt as quickly as possible which is why I do every other line.
I also start on the edge and keep my quilt the same direction rather than starting in the middle and flipping. I do this because you can always see where you flipped. The fabrics tend to pull in opposite directions and that always drove me crazy. To be honest, this Janome MC6700p can probably handle flipping without pulling fabrics but it's a habit I picked up from using smaller sewing machines.
Scrappy Patchwork Flying Geese Grid quilt backing
I recently bought a ton of this Robert Kaufman Yarn Dyed Classics grid fabric to use as quilt backings. This scrappy Patchwork Flying Geese quilt is the first time using it. I love a good classic neutral quilt backing and this one is exactly that. The best part is it is a yarn dyed Essex linen! I love using Essex Linen in my quilts because it adds extra weight and warmth to quilts. Linen shrinks quite a bit so pre-washing is always a good idea.
Speaking of neutral quilt backings… that is where a lot of my low volume fabric stash has come from! A lot of the prints in this scrappy quilt are cut offs from quilt backings. I really love to tone down the backing of a quilt when the front is super busy like this scrappy flying geese one.
Low volume geese (kind of)
I really had fun playing with the low volume prints for this scrappy Patchwork Flying Geese quilt. As you can see some of the fabrics are more neutral than others. I really love the added dimension some of those busier backgrounds add. Some of the low volumes read more like a print but still work well since they contrast nicely with the navy, aqua and green prints.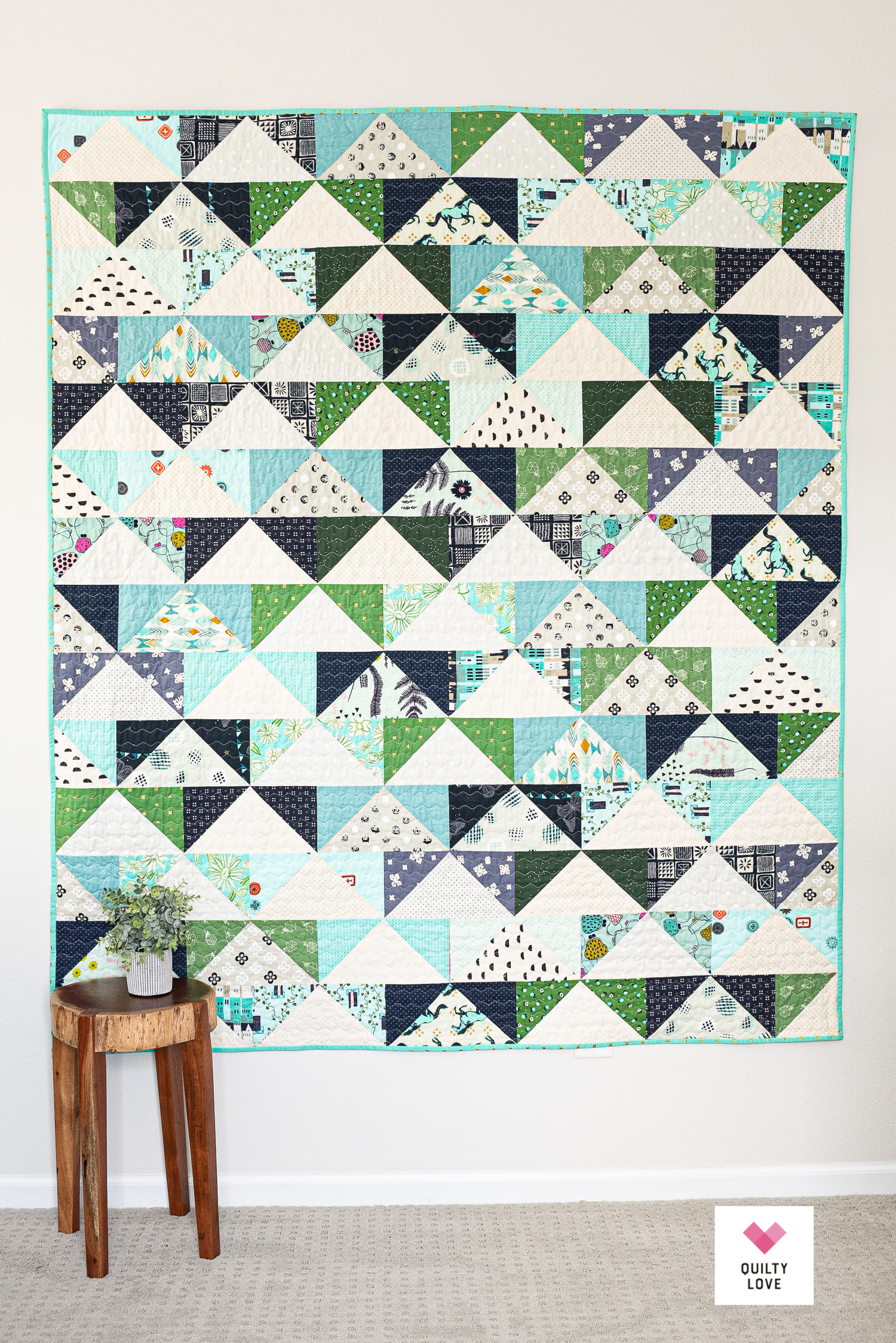 I hope this scrappy Patchwork Flying Geese quilt inspires you to dig through your stash and sew one up!
Materials:
Quilt Pattern: Patchwork Flying Geese quilt pattern by Quilty Love
Fabrics: Assorted old Cotton and Steel prints
Backing: Robert Kaufman Essex Linen Classic Yarn Dyed
Pieced and quilted on my Janome MC6700P
Batting: Quilters Dream Select white
Spray baste: 505 spray