3rd Annual Ombre Gems Quilt Along
The Ombre Gems quilt alongs are all finished but now you can join and sew along at your own pace!
Sign up for the self paced QAL below and you will have access to all of the planning pages, schedule, and extra tips tricks and videos.
---
---
With the release of additional beautiful new ombre colors and fabric lines it seems like a good time to do another Ombre Gems quilt along!
This will be the 3rd annual Ombre Gems quilt along! If you started last year and still don't have a completed quilt, join us! If you have been wanting to make this quilt, join us! If you love a good quilt along, join us!

If you want very specific instructions to finish your quilt using all of the Ombre colors, I've got you covered! The pattern includes the exact placement for the 20 original ombre colors.
I'm making a little different version this year using some of the new colors along with the original colors. I'll share my layout in the quilt along emails if you want to follow that one!
---
Dates
October 1st – November 30th 2019
9 weeks
---
How to follow along
Follow along on Instagram using the hashtag #ombregemsquiltalong.
Sign up to receive the weekly e-mails during the quilt along by hitting the RSVP button above. The e-mails will include additional tips, tricks and videos. There will only be e-mails during this QAL this time, no blog posts.
---
Ombre Gems quilt kits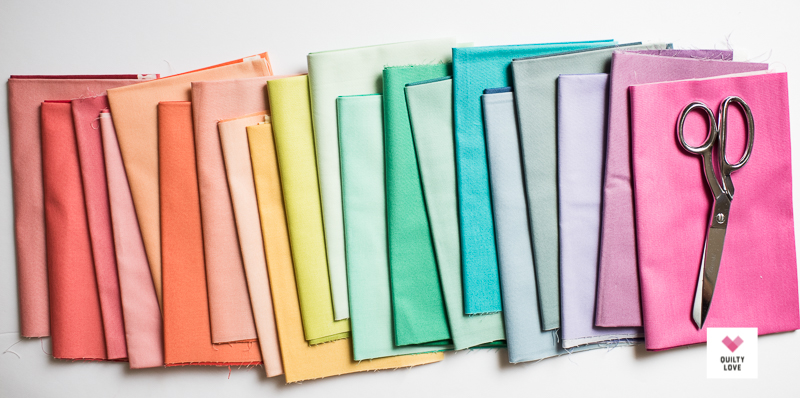 There will be quilt kits for this version listed in my shop.
The kits are currently sold out. Here is a list of the colors in the kit:
Cherry – 10800 314
Cranberry – 10800 318
Hot Pink – 10800 14
Popsicle Pink – 10800 226
Tangerine – 10800 311
Cayenne – 10800 313
Coral – 10800 221
Persimmon – 10800 216
Honey – 10800 219
Teal – 10800 31
Mint – 10800 210
Lagoon – 10800 207
Kelly – 10800 323
Turquoise – 10800 209
Nantucket – 10800 321
Slate – 10800 322
Mauve – 10800 319
Magenta – 10800 201
Plum – 10800 208G
Lime – 10800 18
Find other Ombre Gem quilt kits:
Handmade is Heartmade
Sew Elegantly
---
Supplies needed
Ombre Fabrics: Either a 20 count fat quarter bundle, 20 count 1/4 yard bundle or 2 jelly rolls. My favorite fabric cut to use is 1/4 yards 🙂
WHERE TO FIND FABRICS: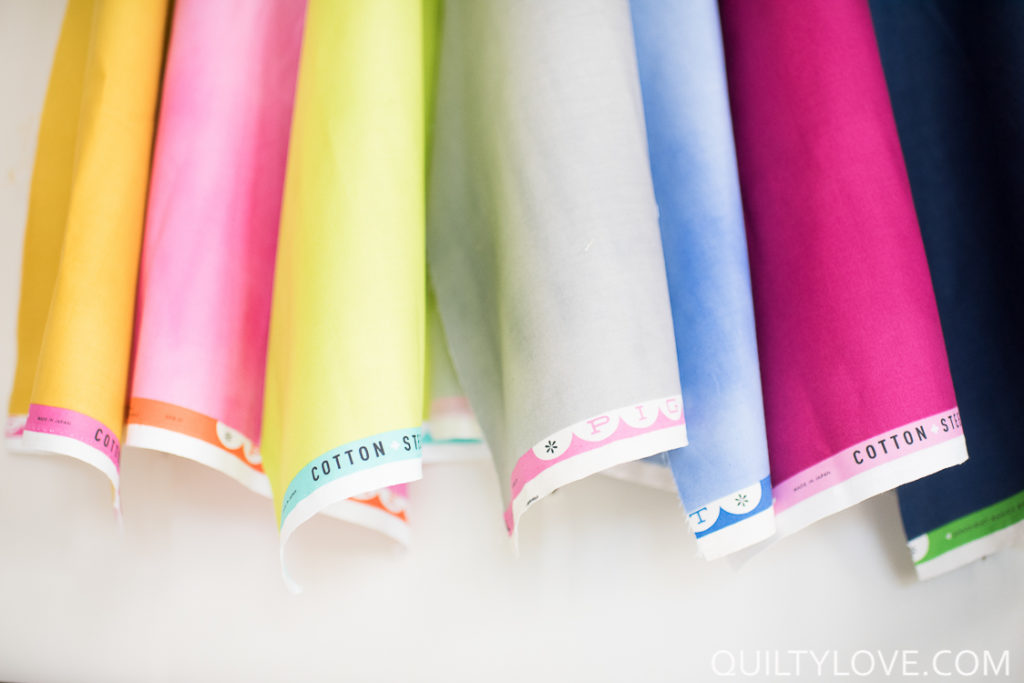 Limited kits will be available in my shop.
VandCo Original Ombres:
Fat Quarter Shop
Handmade is Heartmade
VandCo Confetti Ombres:
Fat Quarter Shop
Handmade is Heartmade

VandCo Ombre Blooms:
Fat Quarter Shop
Handmade is Heartmade

Cotton and Steel Pigment fabrics:
Fat Quarter Shop
Fabric.com
---
Extras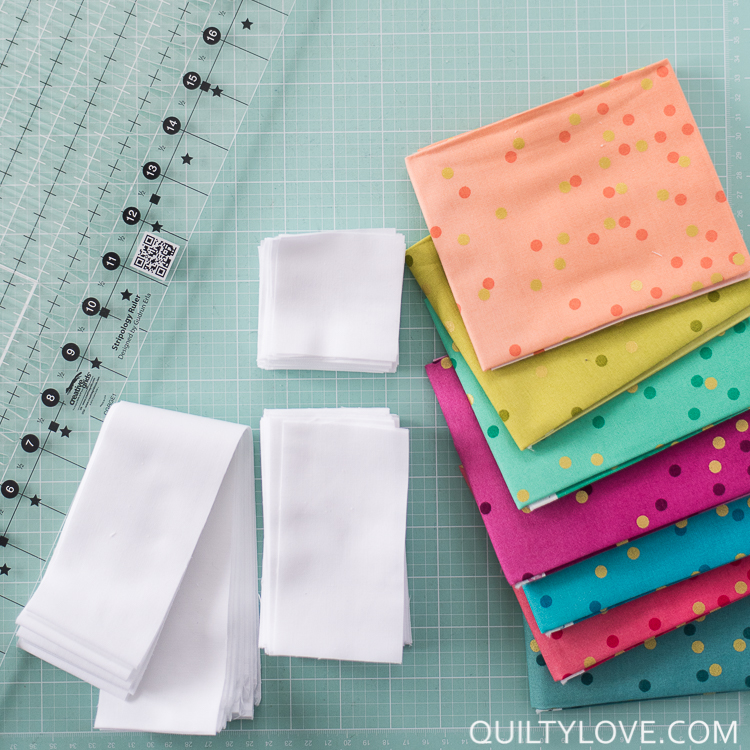 Stripology Ruler: This pattern requires lots of 2.5in squares. You will want to pull out your Stripology ruler for this one! It's a huge time saver. It's not a necessity at all but is helpful.
Starch: Starch will really be your friend for these blocks. I use this basic starch but get it from my big box store.
A lot of grace: Ha. I'm not kidding! Seams will not always line up, points will not always match. But it is still going to look beautiful when it's done! I promise!
---
Prizes
There will be a few prizes throughout the quilt along! Stay tuned for sponsors.
Ponderosa Creative
Cotton + Joy
Modern Handcraft
Rosie Girl Quilting
Traveling Dye Co.
Porcupinestew Threads
Cottoneer
Maechen Marie
Fabric Stork
Then Came June
Knot + Thread Design
---
The Ombre Gems Quilt
The Ombre Gems quilt has two options. One is a larger throw and one is a smaller throw. Make it with ombre fabrics, make it scrappy or do something unique.
Dig through your scrap bins for a scrappy version! I used all B&C fabrics for this one.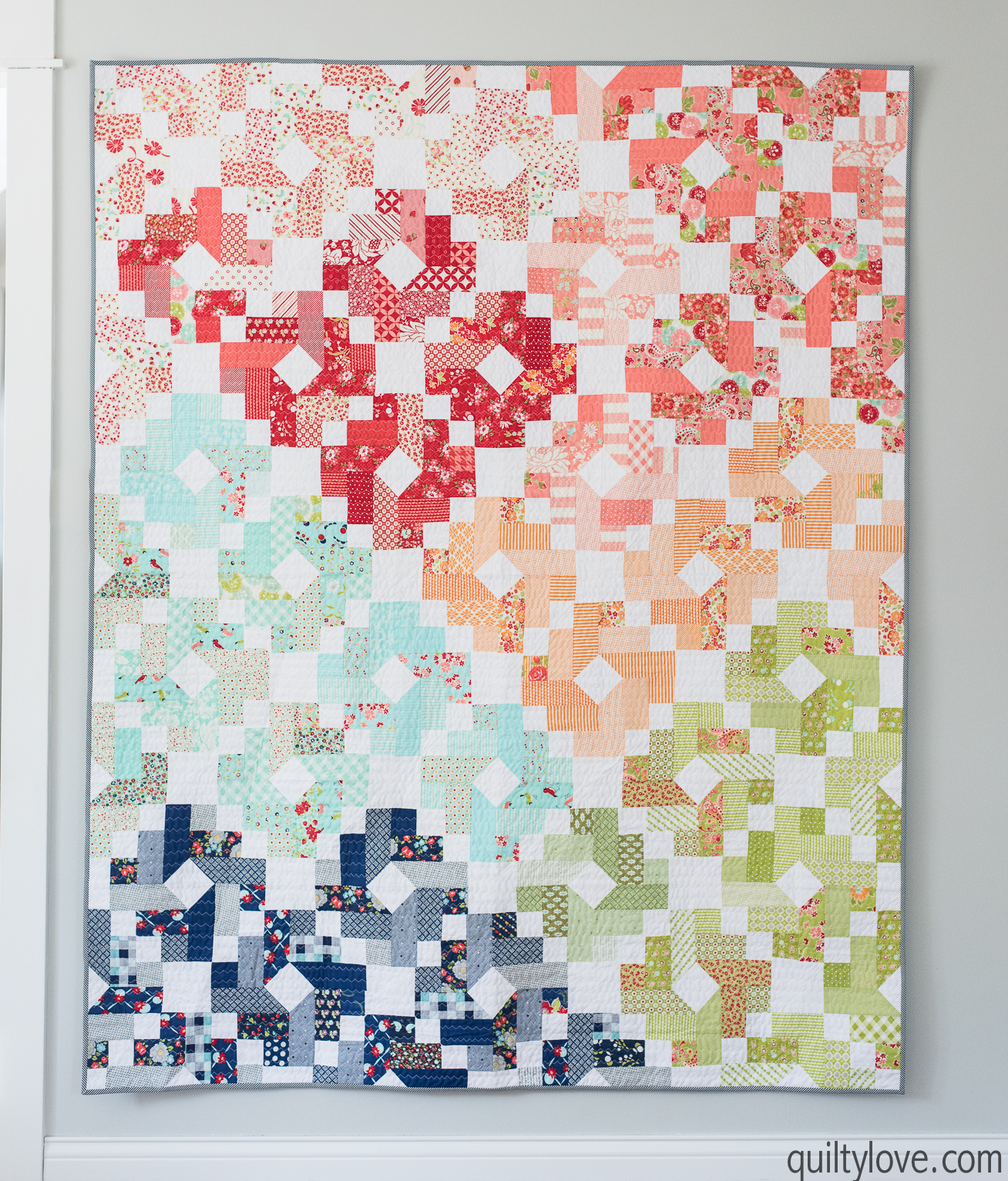 Cotton and Steel Small Throw Version
---
Who is this quilt along for?
This quilt along is best for those who have made a few quilts. You understand the 1/4in seam allowance and your cutting is decent. If you are a beginner and a perfectionist this might be a little frustrating for you since accurate seam allowances and cuts will be crucial!
But hey, if you are a beginner and aren't afraid of a few seams not lining up… go for it! If you look closely at my original you will find plenty of seams that don't line up. This one will test your patience of lining up seams but I'm not a quilting perfectionist so I'm ok with these little flaws.
I would love to have you join along!  Don't forget to sign up so you don't miss a thing.