City Tiles Quilt- The indigo one
If I had a favorite quilt, this just might be it. I love it so much that I've made it twice ;). This is my Indigo City Tiles quilt from the quilt along a while back.
City Tiles is available in the Quilty Love shop.
These Cotton and Steel blues and Indigos are so pretty together and they really pop against this flax Essex linen background. City Tiles is the second quilt pattern ever written for Quilty Love. It's still a favorite though. I gave my first City Tiles quilt to my dad so I made another one for myself 🙂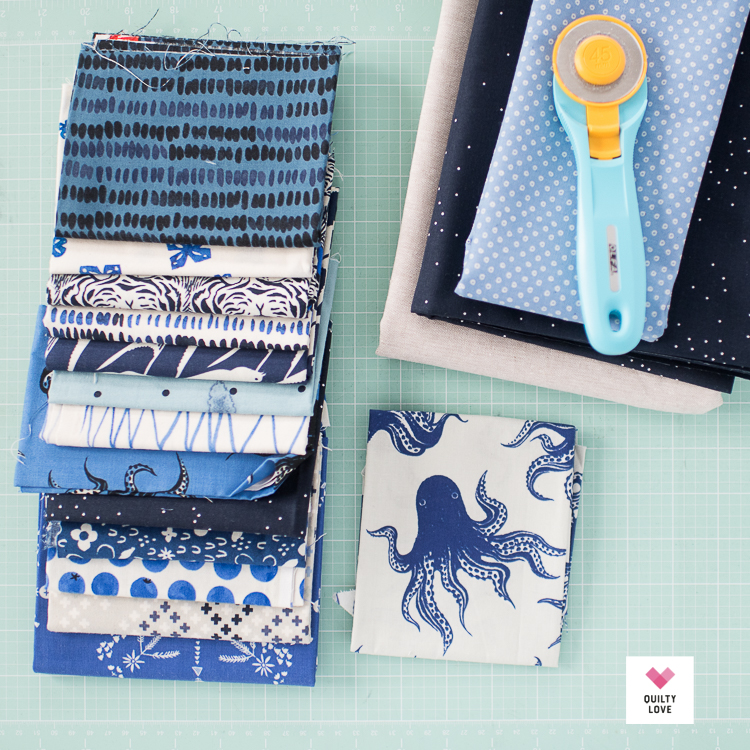 This block based quilt pattern is a fun and rewarding one to make.
This City Tiles is quilted on my domestic machine using my favorite serpentine stitch. It gives it this beautiful texture. The linen in this quilt makes for a really warm and heavy quilt. Just what we need during our midwest winters.
Did you see the Octopus blocks?! The fussy cut Octopi look like they are swimming around the block. That's got to be an all time favorite fabric. I left some of those pretty Cotton and Steel selvedges in my fabrics too. I like the unexpected pop of color they bring.
You can see a closer up view of the Octopus and selvedges here.
This City Tiles quilt is backed in this fun hand sketched backing. Cotton and Steel fabrics are some of the softer ones out so they make for the softest quilts!
These wavy quilting lines are spaced at 3/4in apart. I have a tutorial here for this machine quilting technique. Use the zig zag stitch or the serpentine stitch on your machine.
The City Tiles quilt pattern comes with instructions for a larger block like this one and a smaller block. It's available in the Quilty Love Pattern Shop.